Hi! I'm Aparna and I live in India, in the tiny state of Goa. I blog vegetarian food from India and the rest of the world at My Diverse Kitchen, and I'm happy to host a Daring Bakers' Challenge for the second time. You might remember the Tiramisu which I co-hosted the first time.
You might know that traditional Indian cuisine does not have a history of baking at all. Whatever baking is seen in Indian cooking today has been adopted and adapted along the way from recipes brought in by traders, invaders and colonial rulers.
This means that you will now find quite a bit of baking in regional Indian cuisines, especially those of the Christian community and to some extent, the Muslims as well. While you might recognize hints of the original recipes, most of them have taken on uniquely Indian identities through the use of indigenous ingredients and spices.
Download printable file HERE
For this month's challenge, I have chosen three recipes (because they are really very simple) for us to bake and these are the Mawa Cake, Bolinhas de Coco, and Masala Biscuits/ Cookies. These three recipes are very Indian in the ingredients they use and probably not very well known outside the country.
Recipe Source:
All the three recipes in this challenge are the result of my creating workable recipes based on my personal memories of flavours as well as sets of instructions and some hand-written recipes given to me by friends.
Blog-checking lines: Aparna of My Diverse Kitchen was our August 2013 Daring Bakers' hostess and she challenged us to make some amazing regional Indian desserts. The Mawa Cake, the Bolinhas de Coco cookies and the Masala cookies – beautifully spiced and delicious!
Posting Date: August 27, 2013
Notes:
For the Mawa Cake, you can make the "Mawa" a day or two ahead of making the cake and store it in an airtight container in the fridge. When you take it out, it will look dry and a little lumpy because of the fat in the milk solids. This is alright. Just let it come to room temperature before you use it to make the cake.
If you have never powdered cardamom, then crush the seeds after discarding the pods.
The Mawa Cake is usually served as it is, without any other accompaniment, as a snack with coffee or tea.
For the Bolinhas de Coco, once the first part of the dough has been made it must be refrigerated for at least 8 hours. About 10 hours to overnight is even better, because this allows the semolina to absorb moisture and become soft. It also produces fluffier cookies.
If you can find fresh grated coconut, please use that as it gives you the best taste and texture. If you're using frozen grated coconut let it come to room temperature before using it.
If using dehydrated shredded coconut or desiccated coconut, please look for the unsweetened kind. Also rehydrate your coconut by adding about 1/2 cup warm water to 2 cups of dehydrated/ desiccated coconut and let it sit for about half an hour. After half an hour, drain off any excess water, if any and then use in the recipe. You should have moist coconut not wet coconut.
For the Masala Biscuits/ Cookies, the measurements given for the spices in the recipes are a guideline and not absolute. These result in a mildly spicy biscuit/ cookie, but feel free to adjust quantities to suit your taste.
The baking time would depend on the how thin you roll out your dough and the size of your cookies.
Mandatory Items:
You must bake the Mawa Cake and any one of the two cookies. You must also make the "Mawa" for the cake, from scratch. This is the real challenge.
Variations allowed:
There are no variations allowed in this month's challenge because any change would alter the very essence of the bakes.
However, you may use blanched almonds instead of cashew nuts for the Mawa Cake. You may also substitute nutmeg for cardamom if using almonds though almonds pair up wonderfully with cardamom in this cake.
You may also use unsweetened frozen shredded coconut or dried shredded coconut (desiccated coconut) in the Bolinhas de Coco if you cannot find freshly grated coconut.
Similarly, if you cannot find curry leaves or fresh coriander/ cilantro leaves you may leave them out or use any other herb of your choice but remember that your Masala Biscuits/ Cookies will taste different.
Preparation time:
For the Mawa Cake :
1 to 2 hours to make the "Mawa".
15 to 20 minutes to mix the batter.
About an hour to bake the cake.
Cooling time.
For the Bolinhas de Coco:
About 20 minutes to make first part of the dough.
Cooling time
6 hours to overnight (depending on your choice) refrigeration.
10 to 15 minutes to complete making the dough.
1 hour refrigeration.
20 minutes to shape the cookies.
25 minutes baking time.
Cooling time.
For the Masala Biscuits:
About 1/2 hour to prepare ingredients and make the dough.
1 hour refrigeration/ resting time.
15 to 20 minutes ro roll and cut biscuits/ cookies.
25 minutes baking time.
Cooling time.
Equipment required:
For the Mawa Cake:
•Heavy thick bottomed deep pot/ pan, preferably non-stick, large enough to comfortably hold a litre (4 cups) of milk.
•Wooden spoons
•Hand-held electric beater
•Large mixing bowl
•Sifter for flour
•Mortar & pestle to crush cardamom
•8 inch (20 cm) round spring form cake tin with removable base
•Parchment paper to line cake tin
•Foil to tent the cake to prevent browning too much
For the Bolinhas de Coco:
•A processor/ hand blender/ mixer to run the coconut
•A large deep pan to cook the batter
•A large mixing bowl
•Two small mixing bowls for the eggs
•Mortar & pestle to crush cardamom
•A fork and wooden spoons
•A table knife to mark the biscuits/ cookies
•Baking trays
•Parchment paper to line trays (optional)
For the Masala Biscuits/ Cookies:
•Food processor OR
•Large mixing bowl
•Wooden spoon
•Rolling pin
•Biscuit/ Cookie cutters
•Baking sheets
•Parchment paper to line baking trays (optional)
MAWA CAKE (Cardamom Flavoured Milk Cake):
Servings: Serves 8 to 10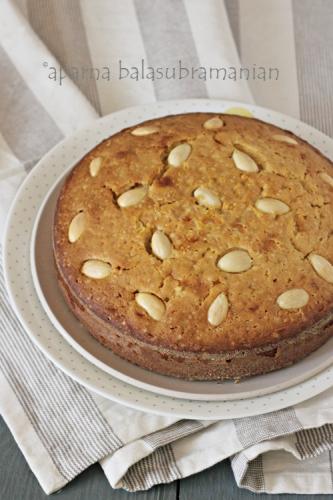 Mawa Cakes are a specialty cake that is the hallmark of Irani cafés in India. The Iranis are Zoroastrians who left Persia/ Iran in the 19th and early 20th centuries to escape persecution of non-Muslims, and settled down and thrived here mostly in the cities of Mumbai, Hyderabad and Pune. They're most famous in India for their friendly informal cafés/ restaurants that serve the most awesome food. The brun pav or maska pav(kinds of bread) with Irani chai (thick, strong, sweet and milky cardamom flavoured tea), their Shrewsbury biscuits and Mawa cakes are just a few of them.
Mawa (also known as Khoya/ Khoa) is made by slowly reducing milk (usually full-fat) until all that remain is a mass of slightly caramelized granular dough-like milk solids. Mawa is used in a wide variety of Indian sweets like Gulab Jamun and Peda, to mention just two. Mawa is pronounced as Maa-vaa; Khoya is pronounced as KhOh-yaa.
In this cake, Mawa lends a rich and a caramelized milky taste to this cake which is slightly dense and reminiscent of a pound cake. Cardamom and cashewnuts are typical of a Mawa Cake, though blanched almonds are also used. Mawa Cakes are also bakes as cupcakes.
The cake is very easy to make and the Mawa is not too difficult. It just requires some time, patience and a lot of stirring!
Ingredients
For the Mawa:
1 litre (4 cups) full fat milk
For the cake:
1/2 cup (1 stick) (120 ml) (4 oz) (115 gm) unsalted Butter (soft at room temperature)
3/4 cup (180 ml) packed crumbled mawa
1-1/4 cups (300 ml) (10 oz) (280 gm) castor sugar
3 large eggs
5 to 6 cardamom pods, powdered, (about 1-1/2 tsp powdered cardamom)
2 cups (500ml) (9 oz) (260 gm) cake flour
1 teaspoon (5 ml) (5 gm) baking powder
1/4 teaspoon salt
1/2 cup (120 ml) milk
1 teaspoon (5ml) vanilla extract (optional)
Cashewnuts (or blanched almonds) to decorate (about 18 to 20)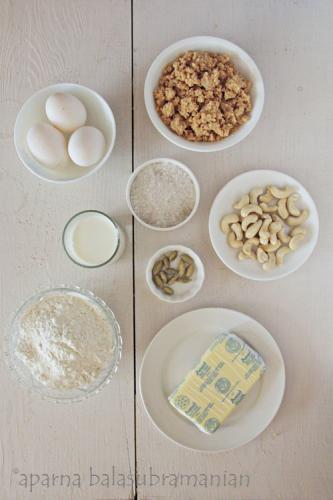 Directions:
1.First make the "Mawa". Pour the milk into a heavy bottomed saucepan, preferably a non-stick one. Bring the milk to a boil, stirring it on and off, making sure it doesn't stick to the bottom.
Turn down the heat to medium and keep cooking the milk until reduces to about a quarter of its original volume. This should take about an hour to an hour and a half.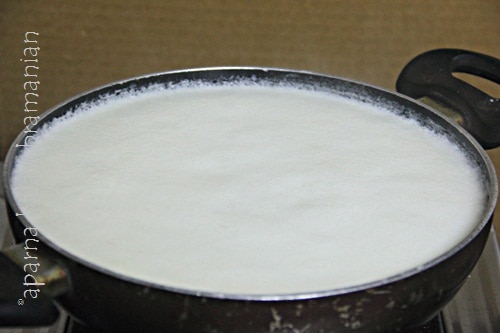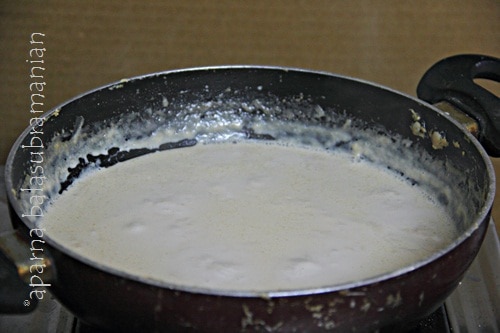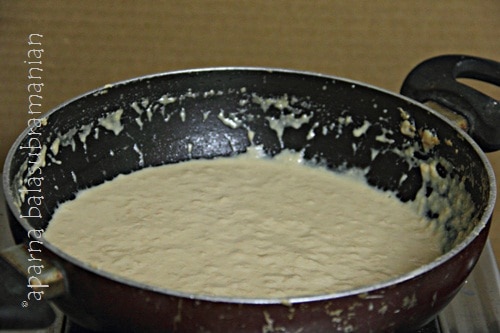 2.The important thing during this process is to watch the milk and stir it frequently to make sure it doesn't stick to the sides or bottom of the pan and get burnt. The danger of this happening increases as the milk reduces and gets thicker.
3.Once the milk it has reduced to about one fourth, 1/4 quantity, lower the heat to low and let cook for a little while longer. Keep stirring regularly, until the milk solids (mawa) take on a lumpy appearance. There should be no visible liquid left in the pan, but the mawa should be moist and not stick to the sides of the pan.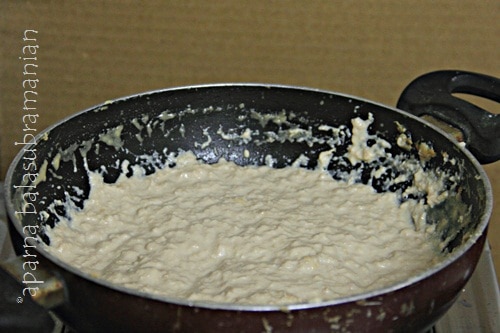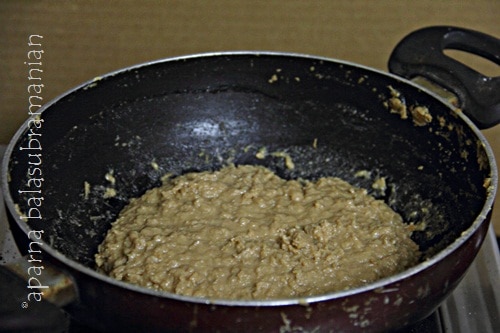 4.Remove the pan from heat and transfer the mawa to a bowl and let it cool completely. Then cover and refrigerate it for a day or two (not more) till you're ready to make the cake. It will harden in the fridge so let it come to room temperature before using it.
You should get about 3/4 to 1 cup of mawa from 1 litre (4 cups) of full-fat milk.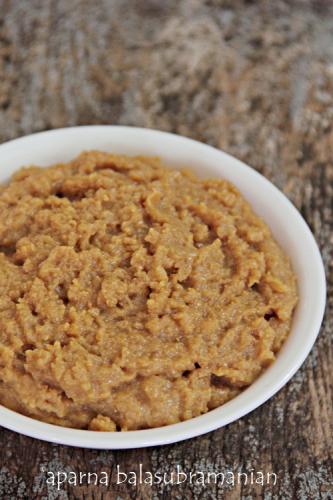 5.Now start preparations for the cake by pre-heating your oven to moderate 180°C/350°F/gas mark 4. Beat the butter, the crumbled mawa and the sugar in a largish bowl, using a hand held electric beater, on high speed until soft and fluffy.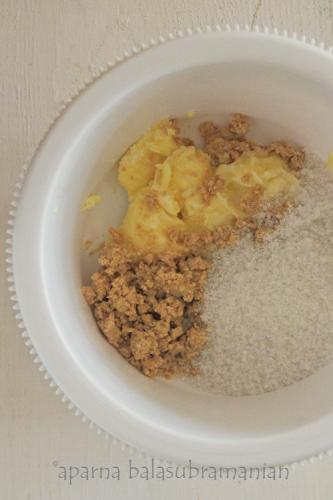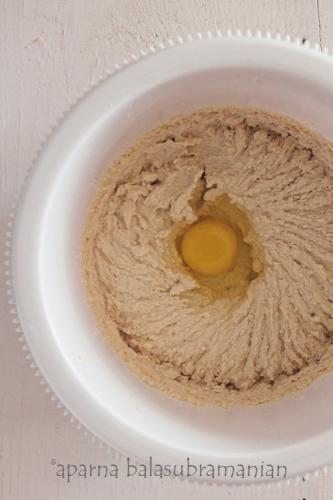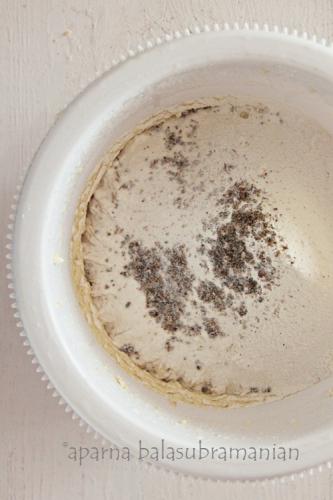 6.Add the eggs, one at a time, and beat on medium speed till well incorporated. Add the vanilla and milk and beat till mixed well.
7.Sift the cake flour, baking powder, cardamom, and salt onto the batter and beat at medium speed and well blended. If you cannot find cake flour, place 2 tablespoon of cornstarch in the bottom of your 1-cup measure and then fill it with all-purpose (plain) flour to make up to 1 cup.
8.Grease and line only the bottom of an 8 inch (20 cm) spring form pan. Pour the batter into this and lightly smooth the top. Place the cashew nuts (or blanched almonds) on top of the batter randomly. Do not press the nuts down into the batter. A Mawa Cake always has a rustic finished look rather than a decorated look.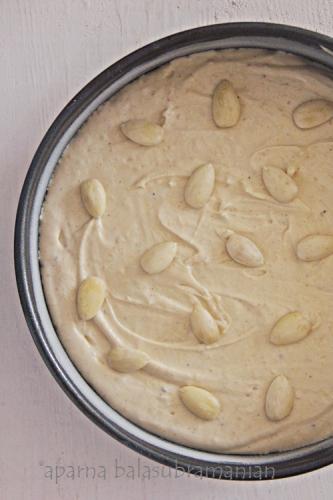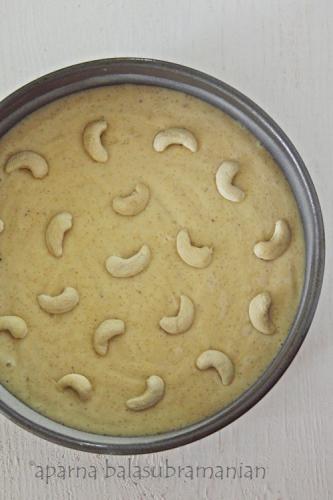 9.Bake in a preheated moderate oven for about 1 hour until the cake is a golden brown and a skewer pushed into the centre comes out clean. Do not over bake the cake or it will dry out. If the cake seems to be browning too quickly, cover it will aluminium foil hallway through the baking time.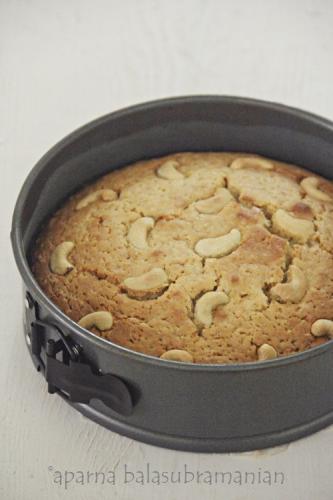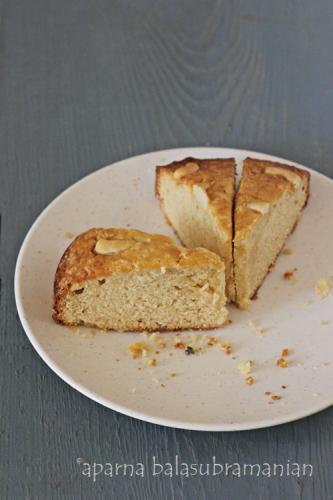 10.Remove from oven and allow it to cool for 10 min in the tin. Release the cake, peel off the parchment from the base and let it cool completely.
BOLINHAS DE COCO (Cardamom Flavored Coconut Biscuits/ Cookies):
Servings: Makes about 4 dozen cookies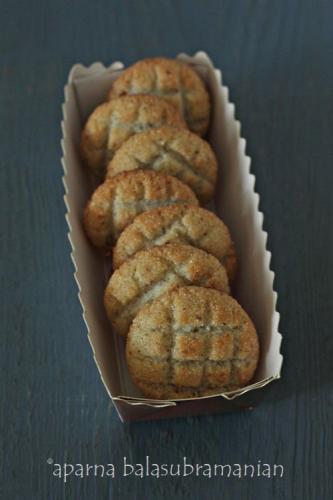 Bolinhas are cardamom flavoured coconut and semolina cakelets or biscuits (In India we call them biscuits and not cookies) from the Indian state of Goa. They are a little crisp/ crunchy on the outside and soft and have a melt-in-the-mouth texture on the inside.
As the name suggests this recipe, like a lot of Goan Catholic cooking, is very much influenced by the Portuguese occupation of Goa.
Bolinhas de Coco are a Christmas-time treat and a Goan Christmas sweet platter would be incomplete without them, though they're eaten throughout the year.
What is unusual about these biscuits/ cookies is they are made entirely with semolina and fresh grated coconut (no flour), and making the batter involves an overnight rest of at least 8 hours so that the semolina can soak up liquids and become really soft.
Ingredients:
2 cups (500 ml) (5-1/3 oz) (150 gm) fresh grated coconut, packed
1-1/2 cups (360 ml) (9 oz) (250 gm) semolina
1-1/4 cups (300 ml) (8-3/4 oz) (250 gm) granulated sugar
3/4 cup water (180ml) (6 oz) (175 gm) water
A pinch of salt
2 tablespoons (30 ml) (1 oz) (30 gm) ghee (clarified butter) or melted unsalted butter
2 large eggs
8 to 10 pods cardamom, powdered (about 1-1/2 teaspoon)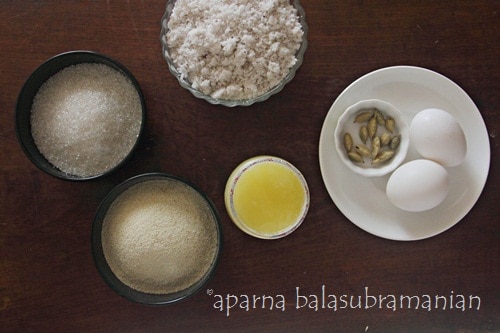 Directions:
1.Run the grated coconut in your processor or the small jar of your blender a couple of times so that the flakes are smaller and uniform in texture. Do not grind into a paste. Keep aside.
2.Put the semolina in a pan and toast/ roast it, over low to medium heat, until it starts giving off an aroma, and looks like it's about to start changing colour. This should take a couple of minutes. Do not brown. Transfer the semolina into a bowl and keep aside.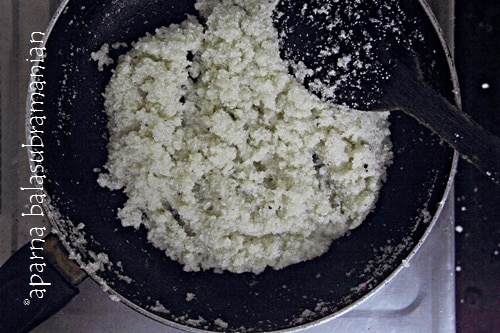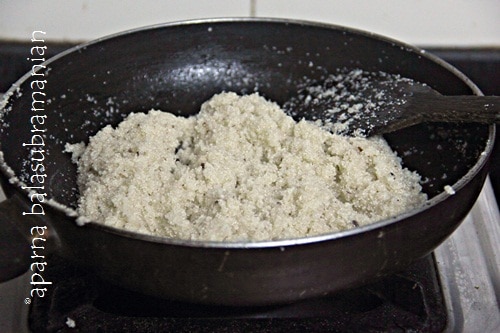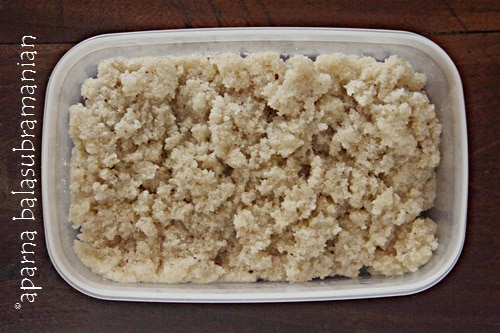 3.In the same pan, pour the water and add the sugar to it. Place it on medium heat and keep stirring until the sugar dissolves completely. Once the sugar has dissolved, keep stirring the solution and let it cook for about 2 minutes. Turn off the heat. The sugar solution should just begin to start forming a syrup but is still watery. Do not cook until it forms a thick syrup.
4.Add the toasted/ roasted semolina and mix well. Then add the coconut, salt and ghee (or melted butter) and mix well. Put the pan back on the stove, and over medium heat stir the coconut mixture until it is really hot and easily forms a thick clump. This should take about 2 to 3 minutes.
5.Take the pan off the heat and let the semolina coconut mixture cool to room temperature. Transfer this into a bowl or container, cover and refrigerate for at least 8 hours, ideally overnight. For really fluffy biscuits/ cookies, the overnight rest is recommended.
6.The next day, take the dough out of the fridge and let it come to room temperature. Separate the yolks from the egg whites. Lightly beat the yolks with a fork to break them and add to the dough. Also add the powdered cardamom and mix well with a wooden spoon or fork.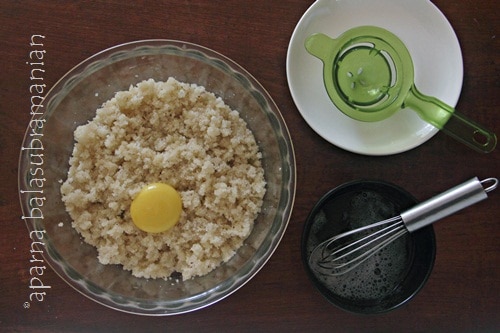 7.Whisk the egg whites by hand until frothy and add to the dough. Mix well till incorporated.
8.You will now have a slightly moist and sticky dough. Refrigerate this dough for about half an hour so it firms up a bit.
9.Pre-heat your oven to moderate 180°C/350°F/gas mark 4. Line your baking trays with parchment or grease them well with some ghee or melted butter.
10.Take the dough out and pinch off walnut sized bits of dough. The dough should be firm enough to handle without difficulty. If the dough is sticking to your palms, lightly dust your palms with flour before shaping the dough. Roll the bits of dough into balls and then flatten them very slightly.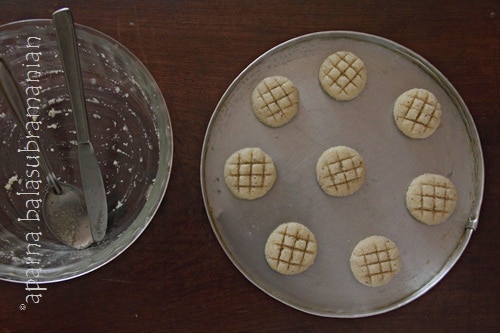 11.Decorate the top by marking criss-crosses (3 equidistant lines one way and another 3 crossing them at right angles), with a table knife. Press down a bit but not too deep or right through the biscuit/ cookie. Use up all the dough this way.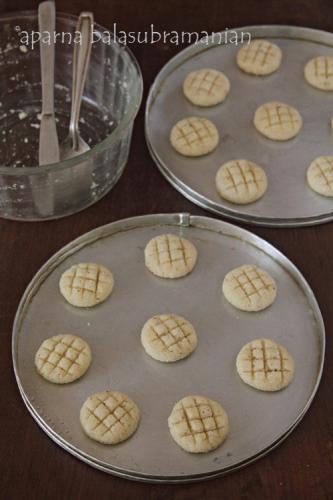 12.Place the shaped dough on the baking trays leaving a little space between them. Bake in a preheated moderate oven for about 20 to 25 minutes until they're a golden brown and done. Let them cool on the sheets for about 5 minutes and then transfer to racks to cool completely.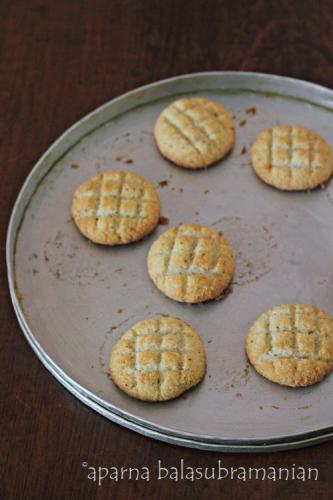 13.Store the biscuits/ cookies in airtight containers. This recipe makes about 4 dozen Bolinhas de Coco.
Masala Biscuits (Spicy Savoury Indian Cookies):
Servings: Makes about 2 dozen biscuits/ cookies that are 2 1/4" (55 mm) to 2 ½" (65 mm)wide.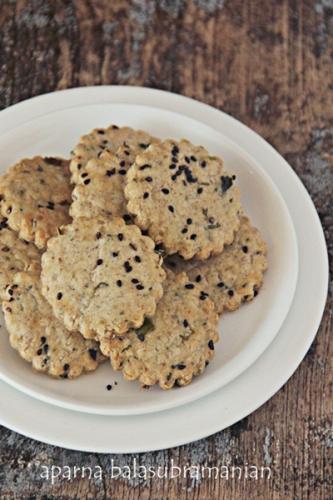 The word "Masala" means "spice mix" and so Masala Biscuits/ cookies are a savoury and spicy Indian snack that is quite popular in some of the Southern Indian states. I remember seeing these stacked in huge glass jars at the small local bakeries in my childhood. The Masala Biscuits/ Cookies of my childhood also had quite a bit of "heat" from the chilli peppers that went into them, making them more of an adult treat.
The recipe below is something I have come up with while trying to capture the flavours in my memory. These are thinner in size and not as "hot" as the originals, but please feel free to tweak the flavours to suit your taste. These Biscuits/ Cookies should be crisp/ crunchy on the outside and flaky on the inside.
Ingredients:
1-3/4 cup (420 ml) (9 oz) (250 gm) all-purpose (plain) flour
2 tablespoons (30 ml) fine white or brown rice flour (optional)
1 teaspoon (5 ml) (5 gm) baking powder
1/4 teaspoon baking soda
1/2 teaspoon salt (or according to your taste)
1/2 cup (1 stick) (120 ml) (4 oz) (115 gm) chilled butter, cut into small pieces
3 green chillies, deseeded and chopped
3/4 inch (20 mm) piece of ginger, finely grated
1-1/2 teaspoon whole peppercorn, crushed coarsely
1-1/2 teaspoon cumin seeds, toasted and crushed coarsely
1 tablespoon (15 ml) (½ oz) (15 gm) granulated sugar
1-1/2 tablespoons finely chopped curry leaves
1 tablespoon finely chopped fresh coriander/ cilantro
3 to 4 tablespoons (45 ml to 60 ml) cold yogurt
1-1/2 tablespoons black sesame seeds (or white sesame seeds)
A little oil to brush the tops of the biscuits/ cookies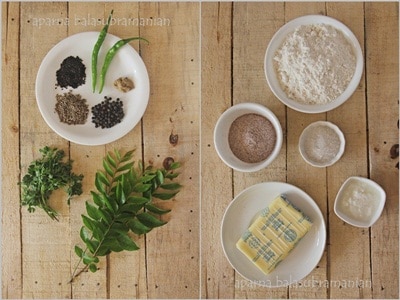 Directions:
1.You can do this by hand also, but I prefer to use my food processor. The advantage with using the processor is that the warmth of one's palms/ fingers doesn't warm up the dough and melt the butter.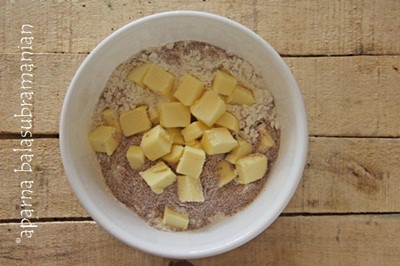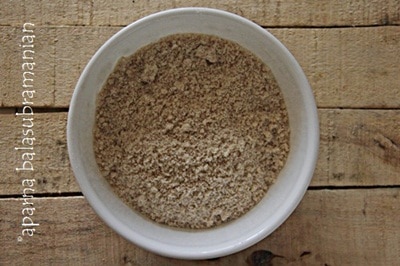 Put both flours, salt, baking powder and baking soda into the bowl and add the pieces of chilled butter. Pulse until the mixture takes on the texture of breadcrumbs.
3.Now add the chopped green chillies, finely grated ginger, crushed peppercorn and cumin, sugar, the chopped curry leaves and coriander leaves. Pulse a couple of times to mix well.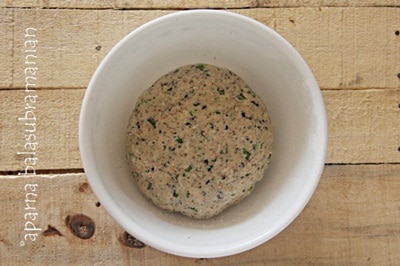 4.Then add 2 tablespoons of yogurt and pulse again. Add one more tbsp of yogurt (or two, as much as needed), and pulse again until the dough just comes together and clumps together. You want a moist dough, not a wet one – somewhat like pie dough.
5.Do not over process or knead. The dough should be just moist enough for you to use your hands and bring everything together to shape into a ball. Flatten it into a disc and cover the dough with plastic wrap and let it rest in the refrigerator for at least hour. You can also leave it overnight (up to about 24 hours) and work on it the next day.
6.Pre-heat your oven to moderate 180°C/350°F/gas mark 4 and line your baking trays with parchment or grease them with oil.
7.Lightly dust your working surface and roll out the dough to 1/8"(3 mm) thickness, not more or your biscuits/ cookies will not be crisp. Sprinkle the sesame seeds uniformly over the dough and use your rolling pin, very lightly, to press them in.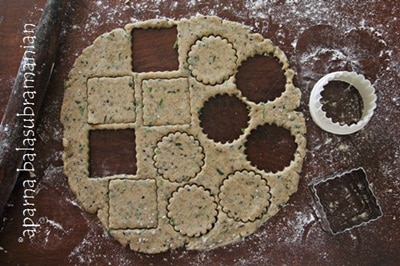 8.Using cutters of your choice (about 2-1/4 inch (55 mm) to 2½ inch (65 mm) in size), cut out biscuits/ cookies and place them on lightly greased baking trays. Brush a very thin coat of oil over them. This will help them brown while baking.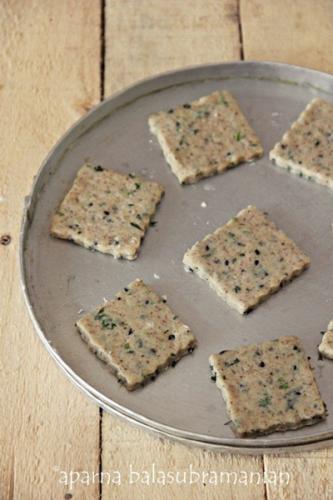 9.Bake them in a preheated moderate oven for about 20 to 25 minutes or till they're done and golden brown on the top. Remember the baking time will depend on the thickness and shape of your biscuits/ cookies. Let them cool on the trays for about 5 minutes and then cool them on racks. Once they're completely cool, they should be a bit crunchy and not chewy.
Storage & Freezing Instructions/Tips:
I have never frozen any of these bakes. The Mawa Cake is best eaten on the day it is baked but it will keep refrigerated for a couple of days. Warm it slightly before serving.
Both the biscuits/ cookies will keep in airtight containers for about 4 to 5 days.
Additional Information:
Making Mawa Cupcakes – The recipe is different and the video is not in English but you get an idea of how the cake is made – http://www.youtube.com/watch?v=5xpqGbcxIIM
Making Mawa (also known as Khoya) – http://www.youtube.com/watch?v=7VPybz_Z-dg
A Vegan Version of the Mawa Cake – http://www.holycowvegan.net/2009/09/mava-cake-labor-of-love.html
Egg-free Version of Mawa Cake – http://saffrontrail.blogspot.in/2007/11/diwali-delicacy-eggless-mava-cak…