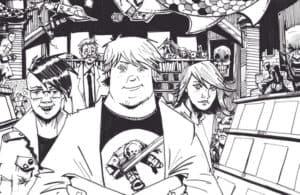 We've been mates since school, and three years ago we started to think about how we could combine our skills and passions to find a new and innovative way to change the debate about childhood obesity.
We wanted to find a way to speak to children and their parents, to get across the message that being overweight is not about being a lazy or greedy child. Or being a bad parent. We wanted to help parents and kids understand that the obesity epidemic is a normal response of normal families to an abnormal environment.
And that's what gave us the idea for LITE KNIGHT.
LITE KNIGHT is an exciting children's adventure set in a fantasy world. It tells the story of Roller, a lovable but overweight 11 year old who's now developed type 2 diabetes.
Roller's a massive comic book fan, and his favourite comic is the 'Guardian Knights of Eclados'.  It's full of fantastic tales of a futuristic Arthurian world powered by crystals. It follows the adventures of four superhero knights called Sir Bedivere, Sir Hengest, Sir Galeschin, and Sir Ecktor each of which has their own different superpower.
Part of the story goes that Sir Ecktor turns into a traitor, and has found a way to change these powerful crystals into food that gives ordinary people super strength. He uses these crystals to raise a whole army of evil knights. It turns out that Roller is the only one who can save his superheros and so he must enter the story and become part of his favourite comic book!
Eventually these food crystals have awful side effects, turning the good people of Eclados into lethargic overweight zombies.
On the surface this story is an exciting children's adventure, but on a deeper level it's about childhood obesity. To become a superhero, Roller will need the same skills he needs in the real world to take control of his life and manage his weight. Sir Ecktor and his evil plan is actually an allegory for the fast food industry – the real baddies in our world, and cause of our obesity epidemic.
We wanted to find a medium that speaks to children in a way that is both relevant, entertaining, and memorable. The idea is to turn the LITE KNIGHT story into a three part animated graphic novel that's free for children and parents to download.
Part animatic storyboard, like those used in the film industry, part graphic novel. We're calling our new medium an 'animatic novel'. We already have all the filming and sound recording sorted, including voice artists and music. Which means that we can create the first 30 minute episode of our LITE KNIGHT trilogy, if we can raise £17,600. If you'd like to back our LITE KNIGHT Kickstarter Campaign, or you'd like to see the opening scene of the animatic novel, click here.
The Food Revolution is all about making positive and meaningful change in the way our children access, consume and understand food and this project is one that will inspire and engage children in the revolution in a fun and fantastical way!