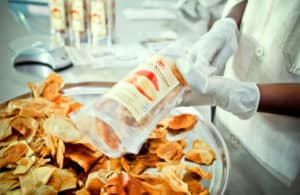 We've all heard about campaigns and initiatives to save our precious wildlife – elephants, giraffes and rhinos – but what are the benefits of saving mangos, too?
300,000 tons of mangos are wasted in Kenya every year – this works out at more than 60% of the entire harvest, which is staggering. The fruit is either not harvested in time or not processed quickly enough, mostly due to a lack of technical equipment or poor storage and transport conditions. This is all despite the fact that the local workers, whose existence often depends on the harvest of this national fruit, are incredibly committed.
The initiative bringing attention to this huge problem, and helping to prevent such food waste is the Mango Project by the SAVE FOOD Initiative in Kenya.
The scale of food loss around the world
Food loss is a global problem. In sub-Saharan Africa alone, approximately 50% of the fruit and vegetables harvested perishes during production, storage, transport or processing. According to calculations by the UN Food and Agricultural Organization (FAO), roughly one-third of all foodstuffs are lost somewhere between field and plate – on a global scale, this adds up to 1.3 billion tonnes every year and corresponds to carbon dioxide emissions of 3.3 gigatons.
Fighting food loss together
In 2011, the FAO and Messe Düsseldorf started addressing this important issue. As part of the world's number one trade fair for the packaging industry and associated process industries, interpack, they organised the SAVE FOOD Congress, thereby creating worldwide exposure for their cause. From there, the partners founded an initiative of the same name in order to place food waste and losses on the global agenda and promote the search for solutions to the problem. In the wake of this, the United Nation's Environmental Programme UNEP joined as a further partner initiating the global "Think. Eat. Save." Project within SAVE FOOD.
Turning surplus mangos into dried fruit
But back to the mangos: the first project for this alliance was to take its members to Kenya, to a mango plantation in Nairobi and to the garden of Tei Mukunya, the general manageress of Azuri Health, a small enterprise specialising in processing fresh fruit into dried fruit to stop it from perishing.
Previously working as a consultant on a German environment development project, Tei Mukunya had been commissioned to explain to mango farmers how to make their products ready for the market. Confronted with the high harvest losses on site, she decided to intervene and build her own mango business. Starting in a hut in her garden, there she stood with four other women from the village, day in day out, peeling, cutting and drying fruit in a single electrical dehydrating device and an old solar dryer.
Mangos on the rise!
Today, it is fair to say the toiling has paid off. With the support of the SAVE FOOD partners, Mukunya not only tapped into the necessary financial means but was also given a key role consulting on the construction and operation of new systems and more importantly, helpful contacts with business and industry in order to expand her business even further.
Right now, building of their first large production plant is underway. The hands-on firm, run by five women, has now developed into a team of 30 people with production volume scheduled to rise to some ten tonnes of mangos per month.
And this is only the beginning. The success story of the mango women of Nairobi seems to be producing copy cats – since 2011, mango exports from Kenya have gone up by 400%. This raises hopes that more food is becoming destined to end up where it should, on people's plates, rather than on the waste dump.