Purchasing new cookware can be a daunting task. With so many materials and options to choose from it can be a little overwhelming trying to separate the wheat from the chaff when it comes to quality cookware.
The Abbio saute pan makes it easy to bring home a great all-purpose saute pan/skillet without a lot of thought or worry. While a larger cookware package is perfect for some, I like to pick out individual pieces of cookware to build a smaller targeted set, and the Abbio large saute pan skillet is a great addition to any set of cookery equipment.
Abbio Cookware 10" Saute Pan
Abbio is well known as a direct-to-consumer producer of heavy-duty, high-end cookware and kitchen tools made from the finest materials possible. From incredible saute pans to stockpots, non-stick skillets, and utensils, Abbio does a great job creating cookware you'll want to cook in every day.
While many people go with a pre-picked cookware set, I find building a set from individual pieces can result in a much more effective range of pans to choose from when I'm cookign in my kitchen. For example, I don't often use a small saucepan so I only really need one around, this holds true for many parts of most cookware sets, and for my kitchen, it makes more sense to buy individual pans that I know I'll use over and over again.
The Abbio Cookware 10" Sauté Pan is a great example of a pan I would gladly have in multiples. At 10" in diameter this pan is perfect for so many different cooking processes, and is the perfect size for almost any stovetop. I could easily see myself using 2-3 at a time especially when cooking larger family meals like Thanksgiving or Christmas.
After a week of using the Abbio Sauté pan, I was absolutely smitten with this skillet. It handled everything I threw at it, and as the week went by I found myself reaching for it in place of some of my favorite pans.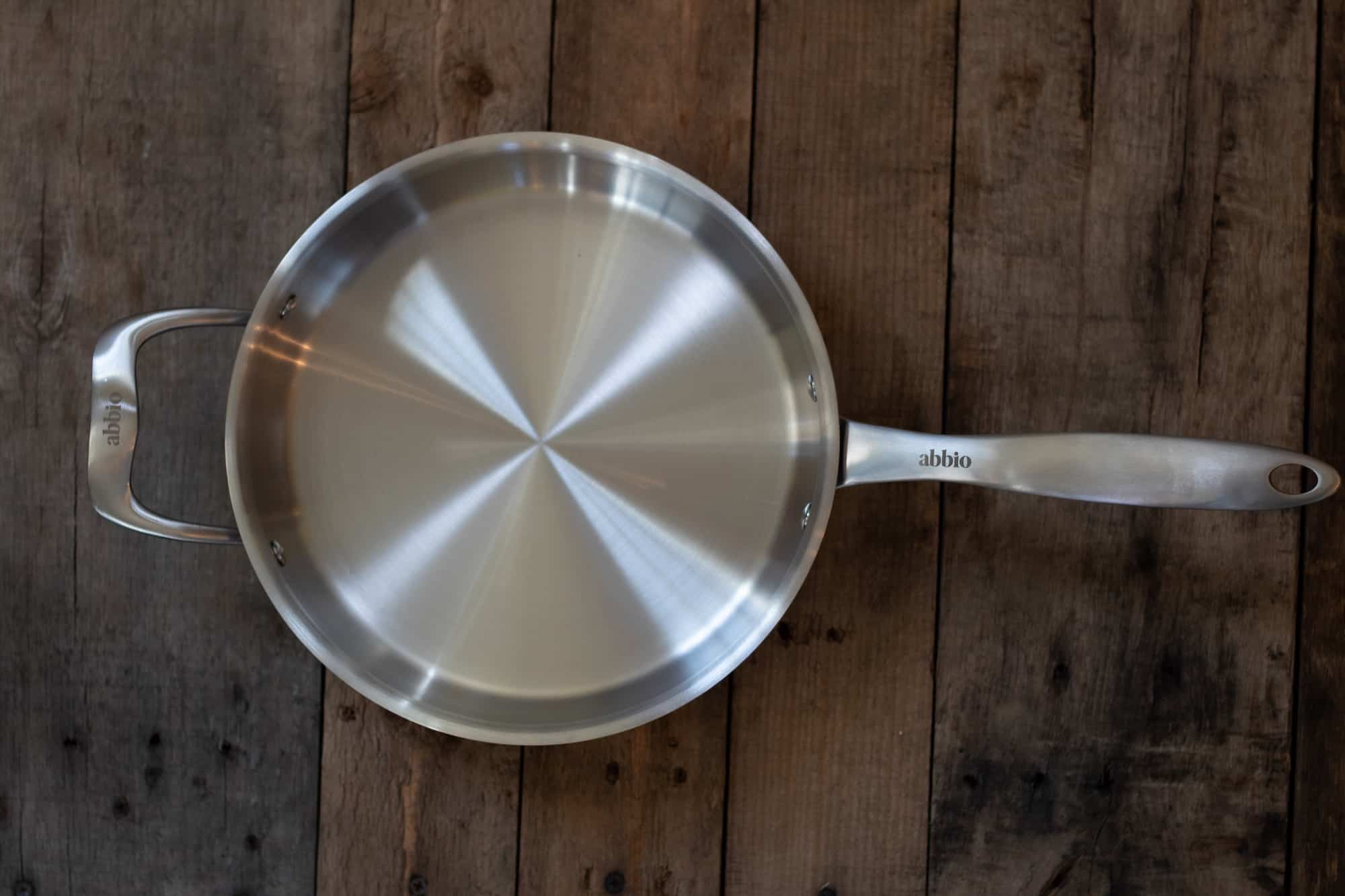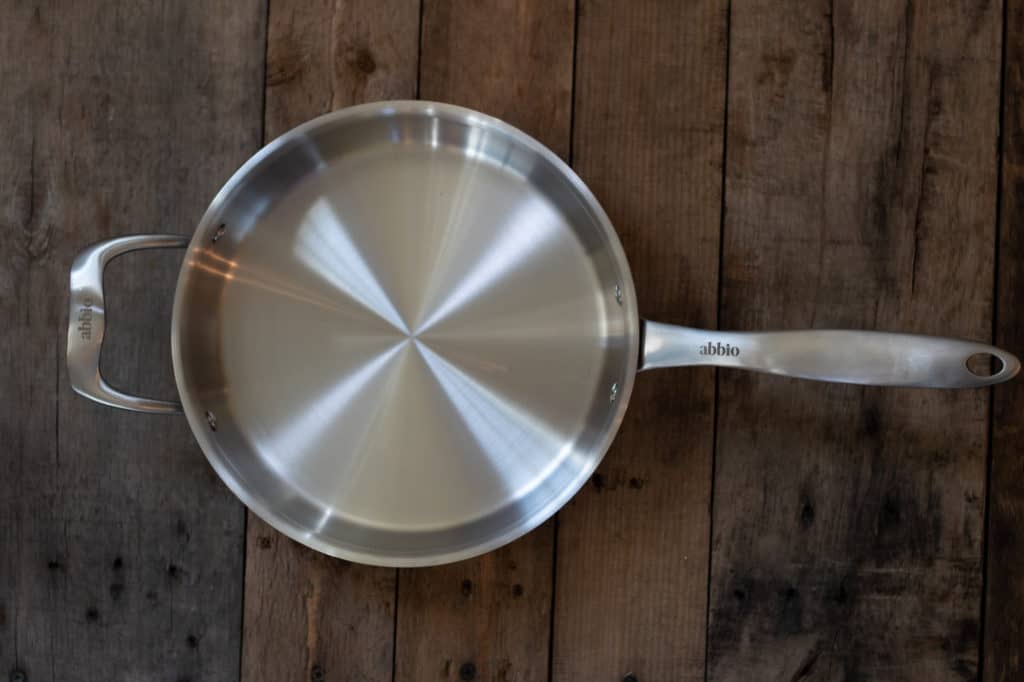 Pros:
all clad construction
scratch resistant
timeless aesthetic
snugly fitted lid
induction ready
includes a hot pad
dishwasher safe
oven safe
Cons:
not nonstick
slightly smaller capacity
What's in the Box.
The Abbio Saute Pan comes in a large branded box with a unique packaging that I absolutely loved. Each part of the pan was carefully stored in a branded Abbio cotton drawstring bag that really lent the entire package a high-end/luxury feel.
Inside the Abbio Saute Pan packaging I found:
1, 10" Abio Saute Pan
1, Abbio Saute Pan Lid
1, Salt Colored Silicone Hot Pad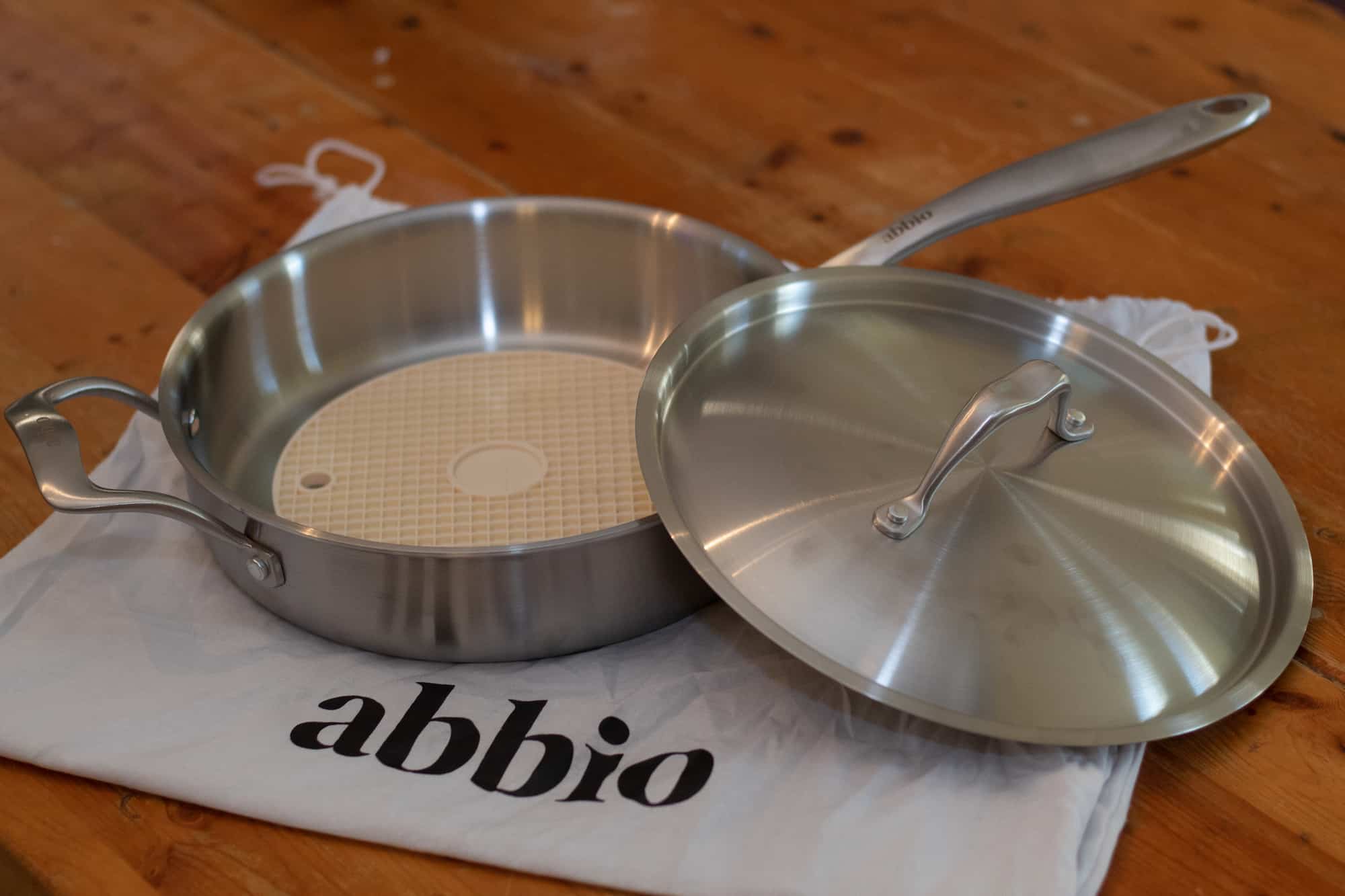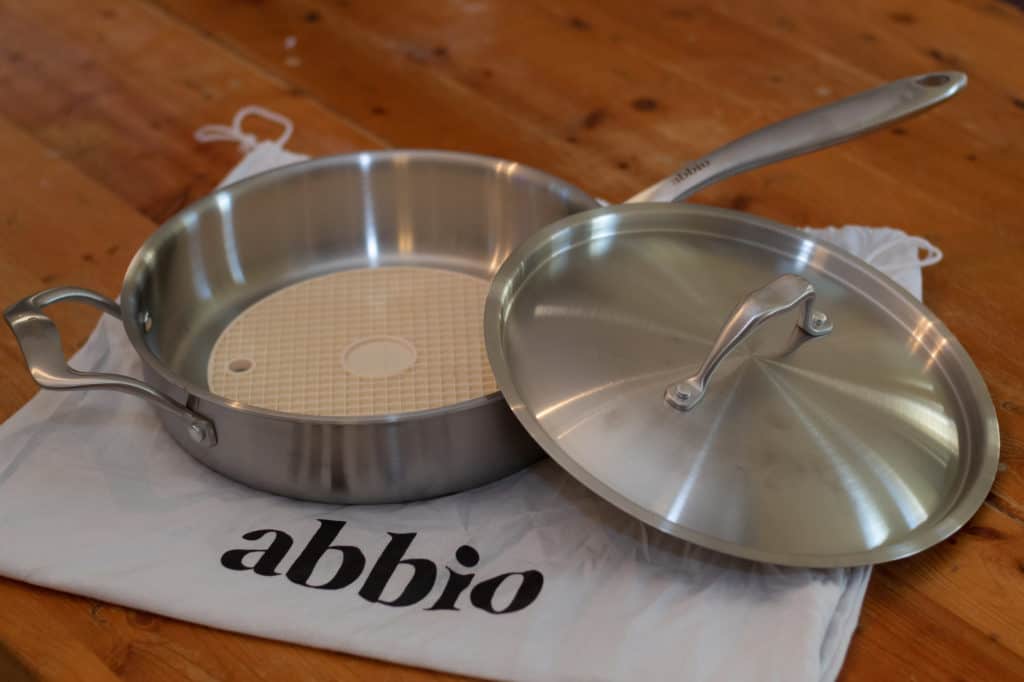 Using the Abbio Cookware Saute Pan
Cooking with the Abbio Saute Pan is a real joy. Thanks to the fully clad construction of the saute pan, the snug fit of the lid, and the ergonomic handle, it is easy to use this pan for almost any cooking process.
With nice high walls and a front handle to help lift the pan with two hands, you can prepare braises or stews, pasta, and sauces easily without having to break out a dutch oven or saucepot. At 10" in diameter, this pan can hold almost a gallon of ingredients. With a 3.5 quart capacity, you can use the Abbio Cookware Saute Pan for everything from an intimate date night for you and a friend or a big family gathering or dinner party.
When testing the Abbio Cookware Saute Pan I wanted to make some simple meals that I thought would test the overall capabilities of the pan, from the ability to cook evenly, to high heat searing and finally a saucy pasta dish. These three recipes gave me a decent overview of the high points of the Abbio Cookware and its fully clad construction, and at the end of my testing, I found that this pan was both easy to use, and of the highest quality in terms of performance and construction.
Cooking Eggs!
While the Abbio Cookware Saute Pan is not a non-stick skillet, it is important to me to understand how any pan I plan on purchasing handles egg cookery.
Eggs are one of my favorite things to cook, and they are an ingredient that not all saute pans and cookware handle equally. Most stainless steel pans can cook eggs well but lack the non-stick release of a traditionally non-stick skillet.
I've found that even without a non-stick coating as long as you use a decent amount of fat, like butter or pan spray, you can get a great release and awesome eggs with perfect unbroken yolks.
Growing up one of my favorite breakfast foods was "toad in a hole" which for the initiated, is a single egg cooked inside a piece of bread with a small circle cut out of the center of the bread for the egg to nest inside. I decided that Toad in a hole was the perfect way to the egg abilities of this saute pan so I got to work.
First I cut the center out of a slice of potato bread slices with a ring mold and heated the saute pan over medium/high heat on my stovetop. I sprayed the pan liberally with saute spray and placed a ½ tbsp of butter into the pan to melt.
Once the butter was melted I placed the bread in the pan and cracked an egg into the circle cut out in the center. I seasoned the egg with salt and pepper and allowed it to cook until I saw the whites starting to set and firm. At this point, I flipped the bread over easily with a spatula and allowed the egg to finish cooking.
After the egg had reached a perfect over easy, I carefully removed the bread and egg from the abbio cookware pan and got down to the business of eating breakfast.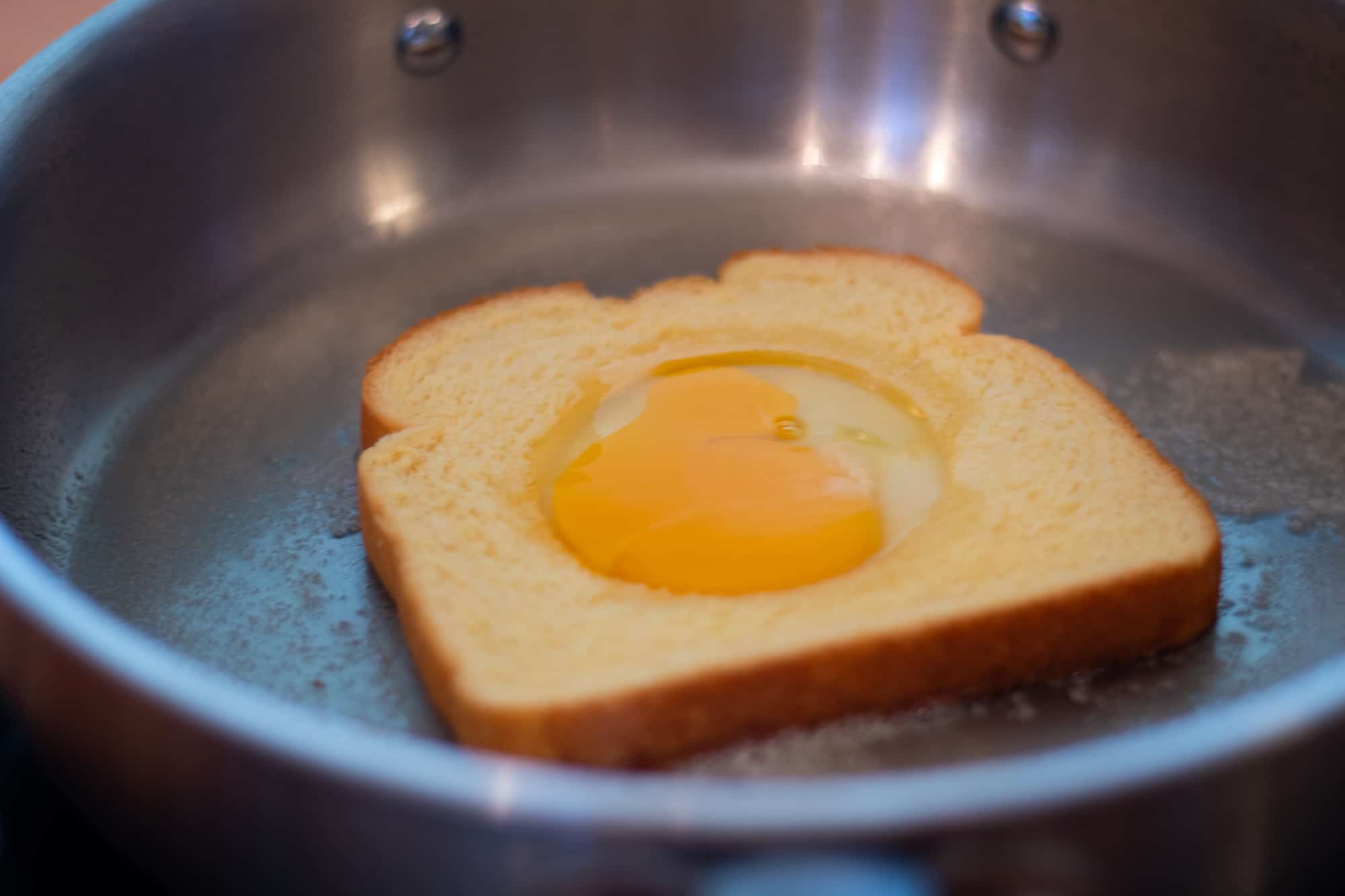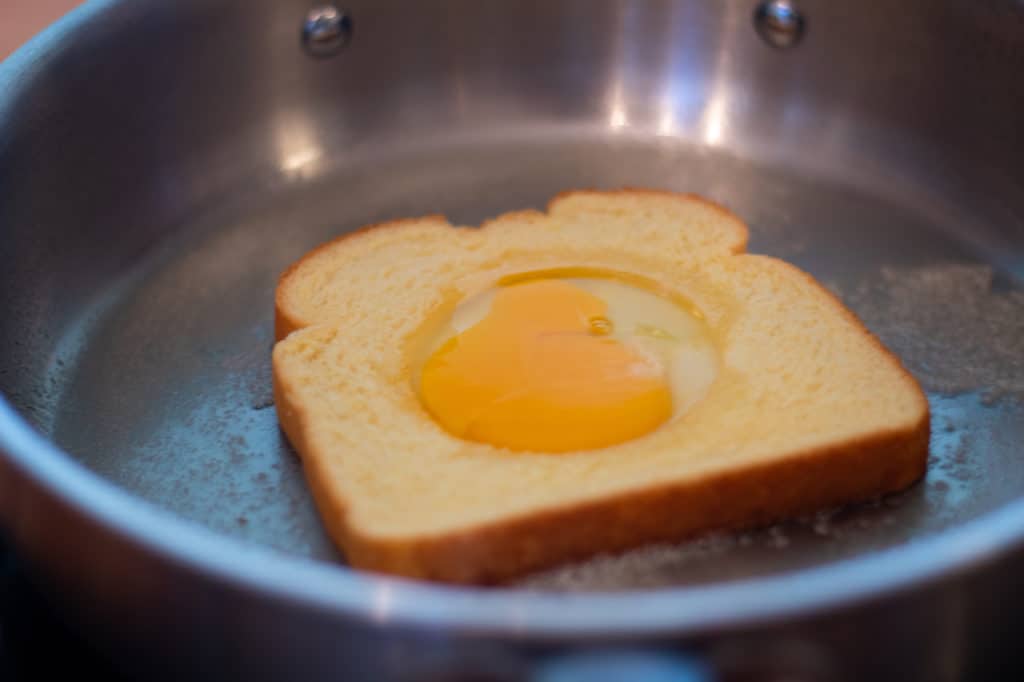 The Results.
Overall the Abbio cookware saute pan does a great job of cooking eggs. I did encounter a little sticking when I removed the toad in the hole from the saute pan once it finished cooking but that was more to do with the fact that the bread had soaked up the majority of the butter and there wasn't enough to properly lubricate the pan.
I definitely noticed an even consistent heat across the pan and a really nice level of heat retention. I cook eggs at a lower temperature to ensure perfect velvety whites, and the Abbio sauté pan did a great job of evenly distributing the burner heat and maintaining an even cooking surface.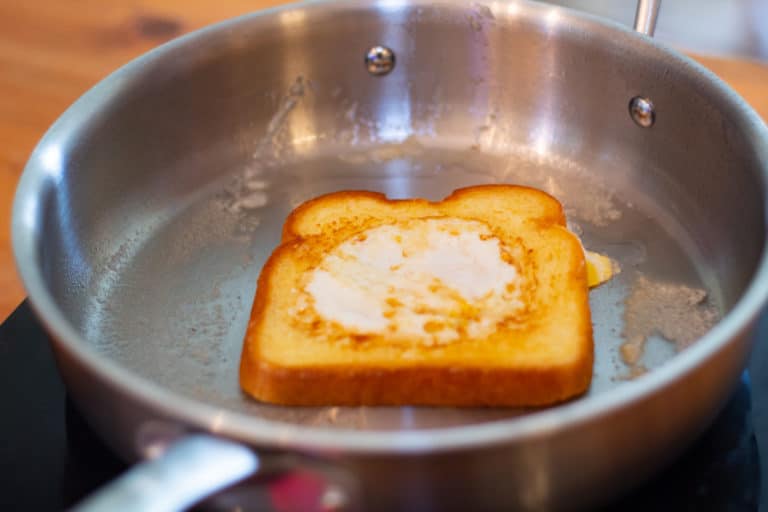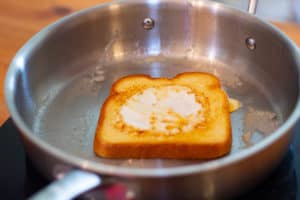 Cooking Pan Seared Ribeye Steaks!
I love grilled steaks, especially in the summer, but in my opinion fattier steaks like a nice ribeye do really well with a pan-seared/pan roasted method. I wanted to see how the abbio cookware saute pan could handle a high heat sear and an oven roasting step after which is how I like to prepare my steaks when cooking on the stovetop.
To start I seasoned a ribeye steak liberally with salt and coarse ground black pepper. Next, I preheated my oven to 425°F. Then, I placed the abbio saute pan onto my stovetop and turned the heat to medium/high. I allowed the pan to heat fully before coating the bottom in a thick layer of cooking oil.
I like to use high temp oils for searing like canola or safflower oil. You can use whatever you like best but try to avoid olive oils for searing as they have a much lower smoke point and will burn long before they get hot enough to properly sear.
After the pan and the oil had heated I carefully placed the ribeye steak into the bottom of the abbio cookware pan and allowed it to sear for 3-4 minutes without moving it.
Once the steak had been fully seared I flipped the ribeye and allowed it to continue searing for another 2 minutes. At this point, I placed a tablespoon of butter along with a clove or two of garlic into the pan along with the steaks and placed the entire pan into the oven to finished cooking.
After 5-7 minutes the steak was perfectly cooked and I removed the abbio cookware pan from the oven. I pulled the steak out of the pan and allowed it to rest for 5 minutes before slicing and enjoying.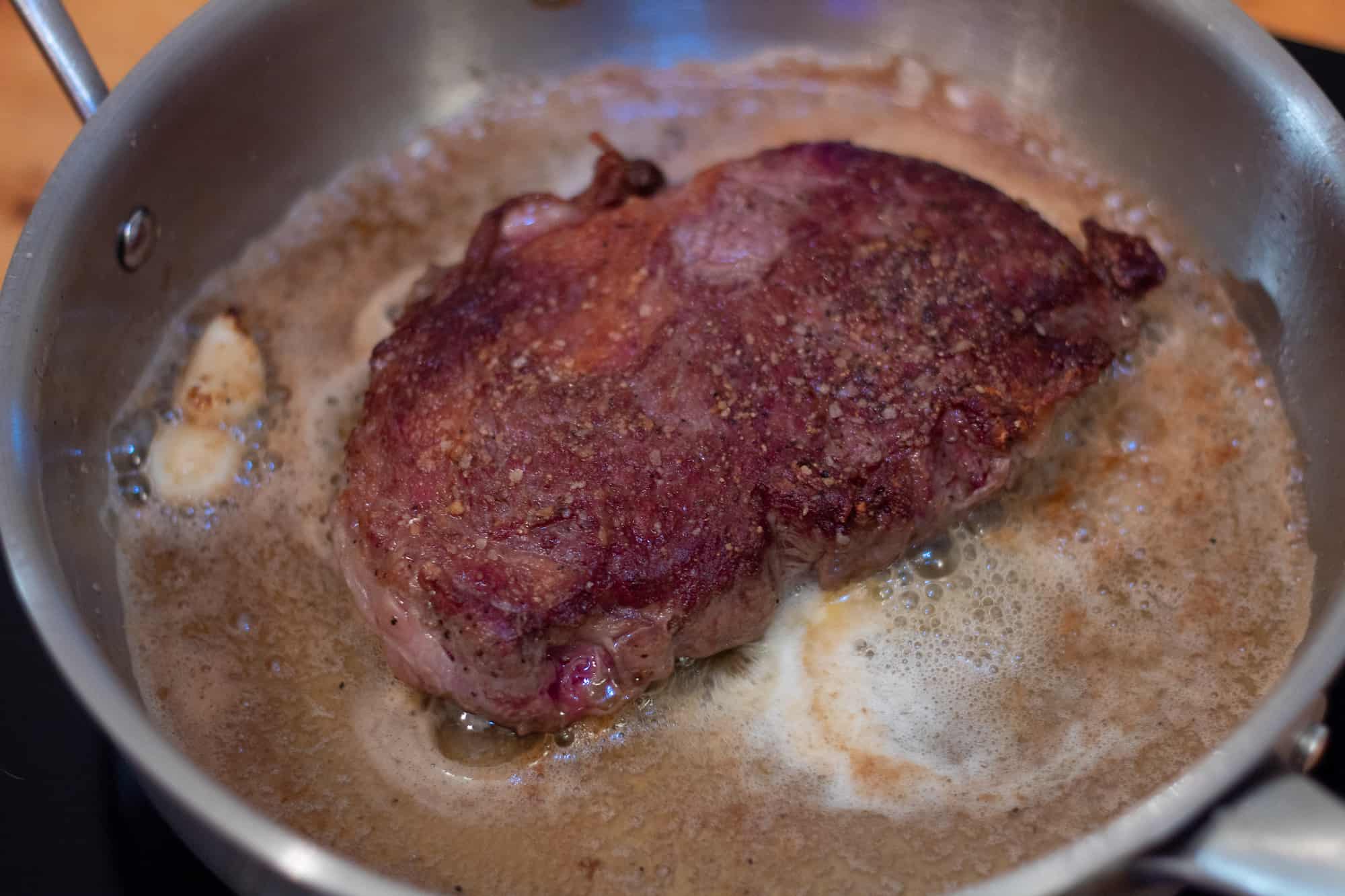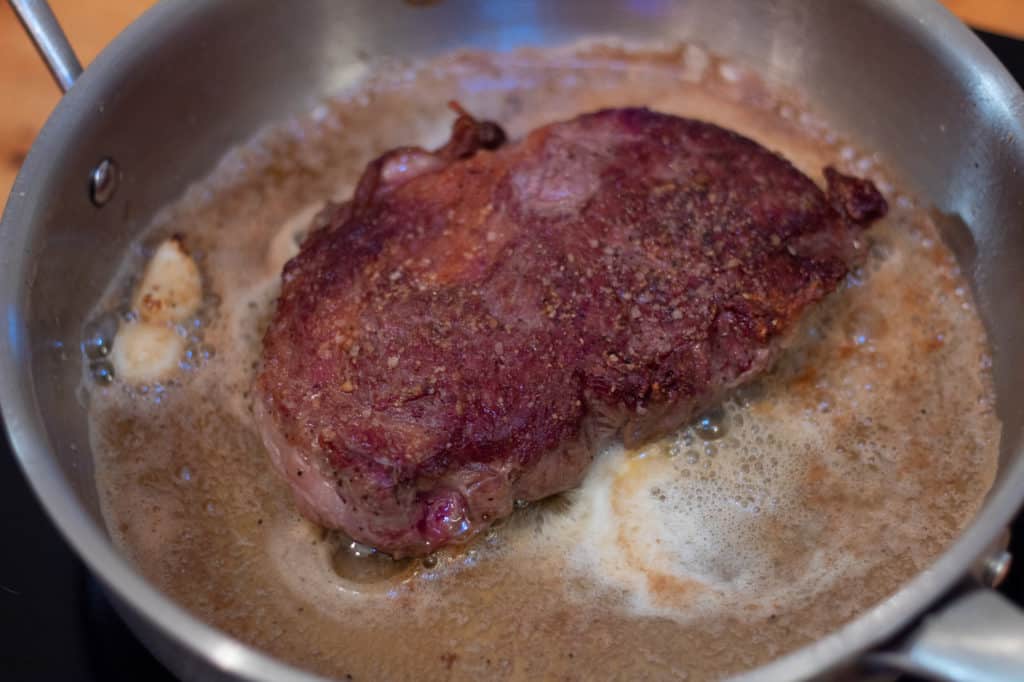 The Results.
Thanks to the oven-safe construction of abbio cookware, the abbio 10" sauté skillet handled the oven roasting phase of this test with ease. Thanks to the high lids the pan was able to allow the butter to bubble up the sides of the steak marinating it as it roasted and allowing the fat on the side of the steak to caramelize and render.
For steak cookery, I'm usually a purist and use only cast iron skillets, but with the Abbio Cookware oven safe saute pan around it is quickly becoming my favorite cooking implement for pan-roasted steaks, especially if I'm just cooking or 1 or 2 people.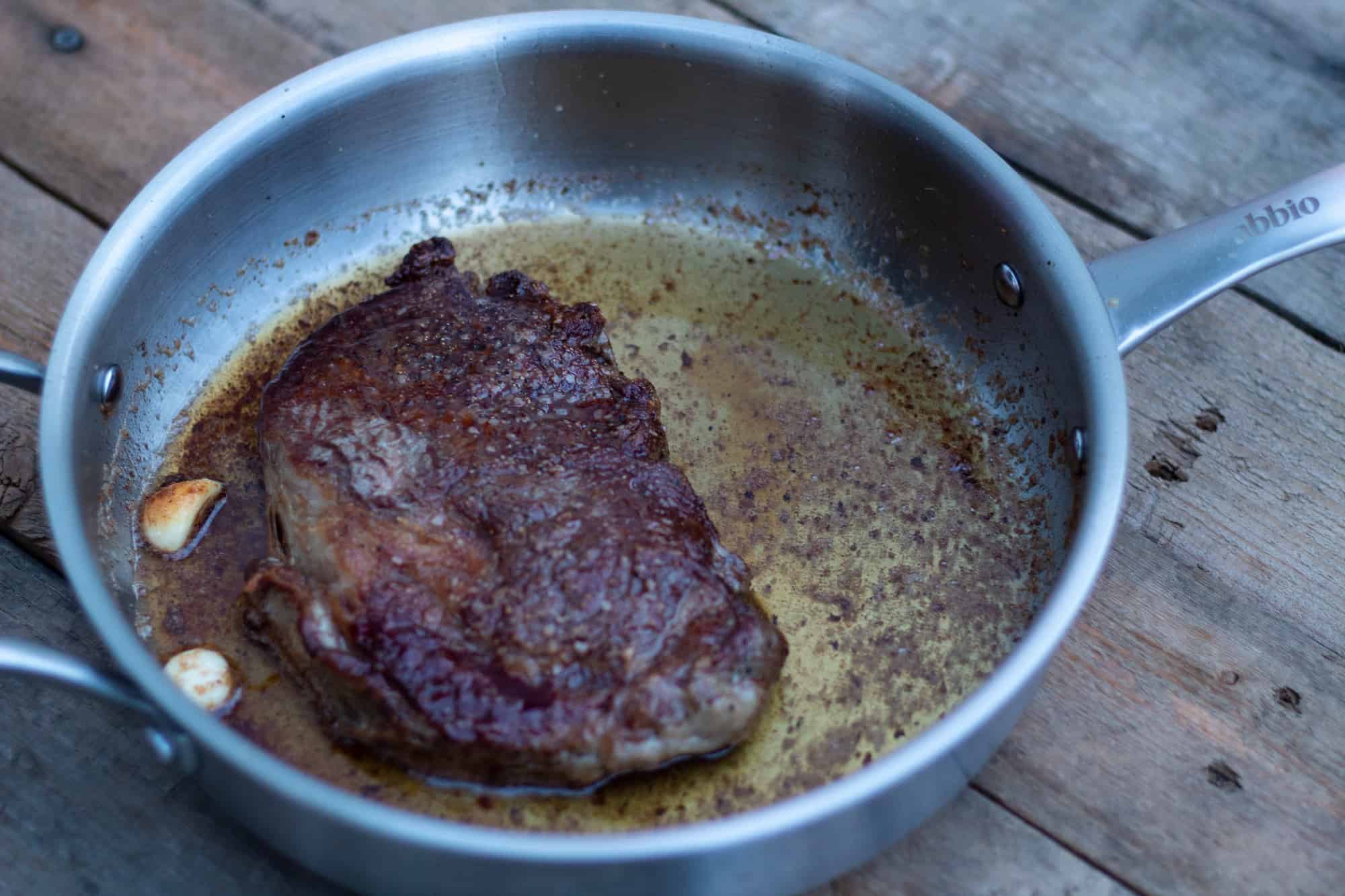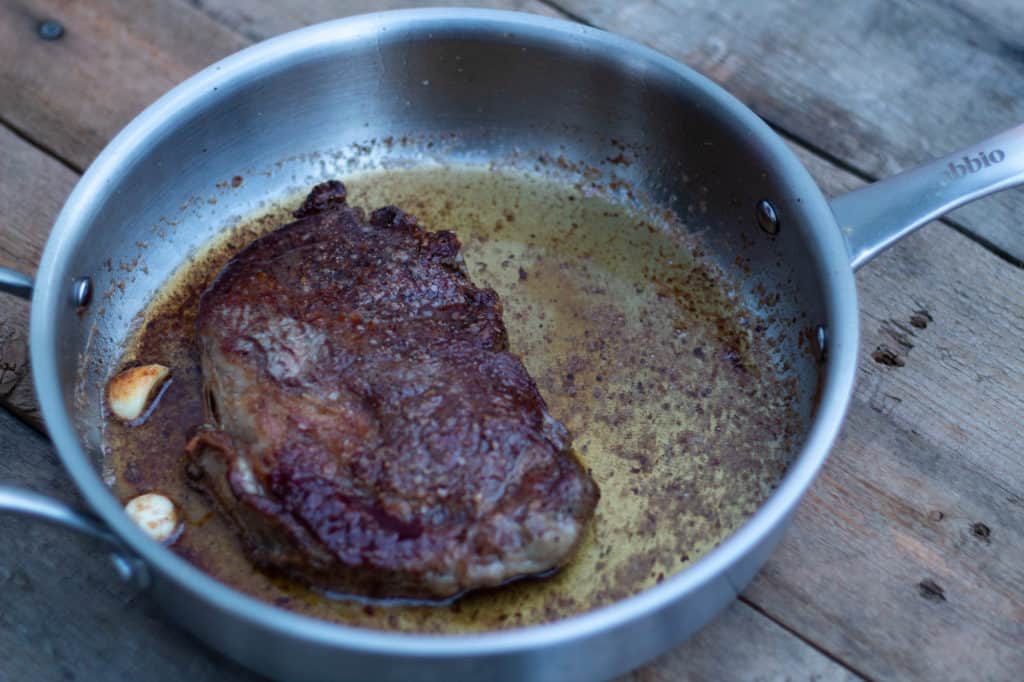 Cooking Pasta!
I love one-pot pasta meals and there is no better comfort food in my opinion than a piping hot pan of Ciaccio e Peppe.
Ciaccia e Peppe is a classic Italian pasta dish composed of thin pasta like spaghetti or linguini and a sauce made from a small amount of the water used to boil the pasta, black pepper, garlic, a hefty amount of butter, and lots of parmesan cheese.
With a 10" diameter and a 3.5-quart capacity the Abbio cookware sauté pan is perfect for sauce pasta dishes for 3-4 people. With nice high sides and dual handles, you can boil your noodles directly in the Abbio sauté pan and then strain it and build your sauce directly in the pasta pan.
To make Cacio e Pepe in the abbio cookware sauté pan I filled it to the rivets with water and then set it on my induction burner to boil. I set my induction burner to the highest setting to boil the water quickly and placed the lid on the pan to help get it boiling even faster.
One reason I wanted to use the induction burner for this recipe was to test the induction capabilities of the sauté pan overall. Though the abbio cookware sauté pan is listed as induction-ready I've found in the past that some pans perform better than others. Considering the high-quality production of the Abbio Cookware line I was happy to see that my induction burner was able to bring the water quickly and the sauté pan heated evenly without hot spots.
Once the water was boiling I dumped in a handful of spaghetti and allowed the pasta to cook completely. Once the pasta was al dente, I fixed a clip-on strainer to the side of the pan and drained the majority of the pasta water away. I left about a ½ of a cup of pasta water in the bottom and returned the abbio sauté pan to the induction burner.
At this point, I turned the heat down to low and added 4-5 tablespoons of butter. I stirred the pasta butter, and water until the butter was fully melted and had built a nice thick emulsion sauce. To finish the pasta I tossed in a pinch of chopped garlic, some black pepper, and a lot of parmesan cheese and continued to stir until the cheese was fully incorporated.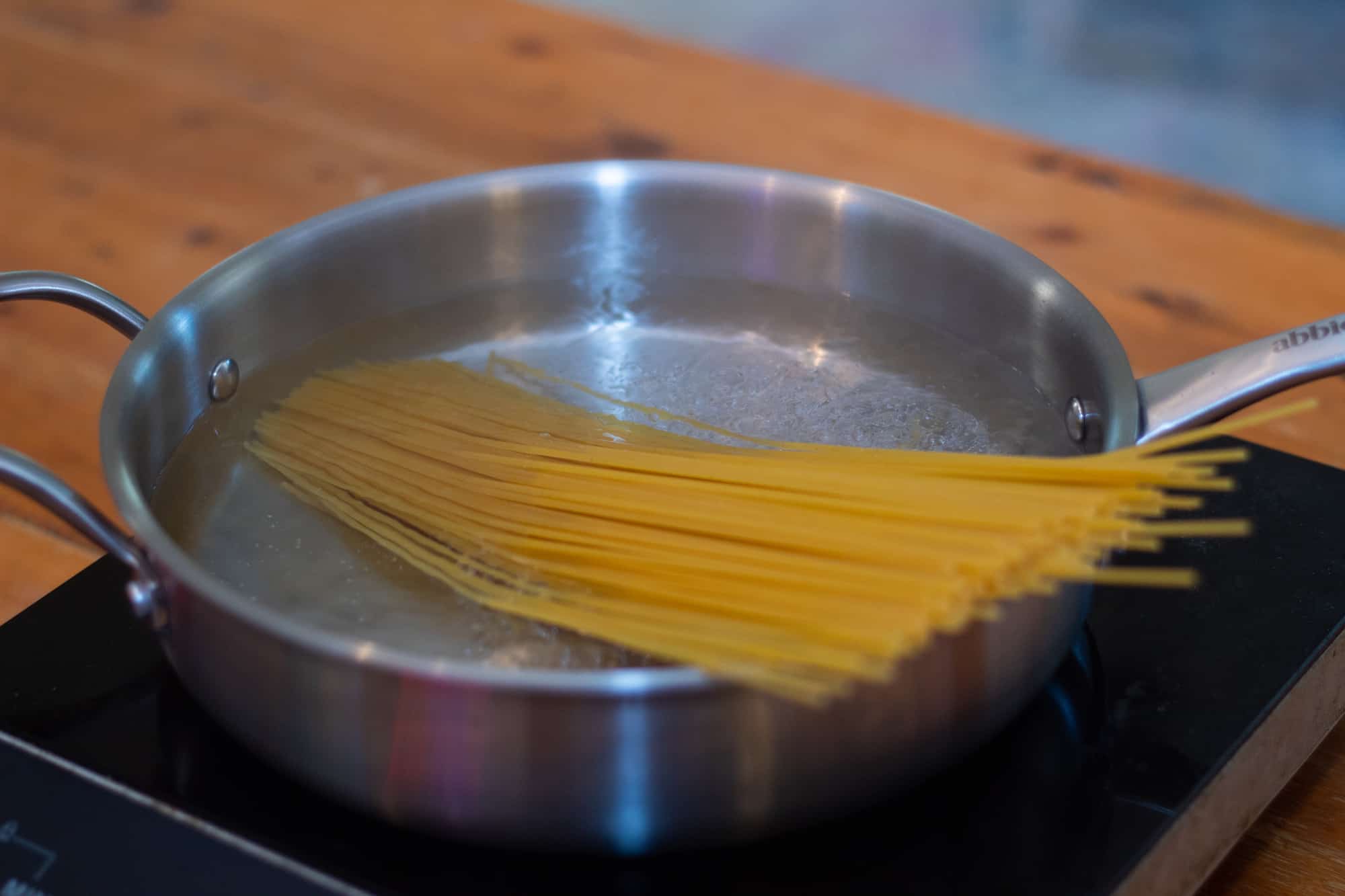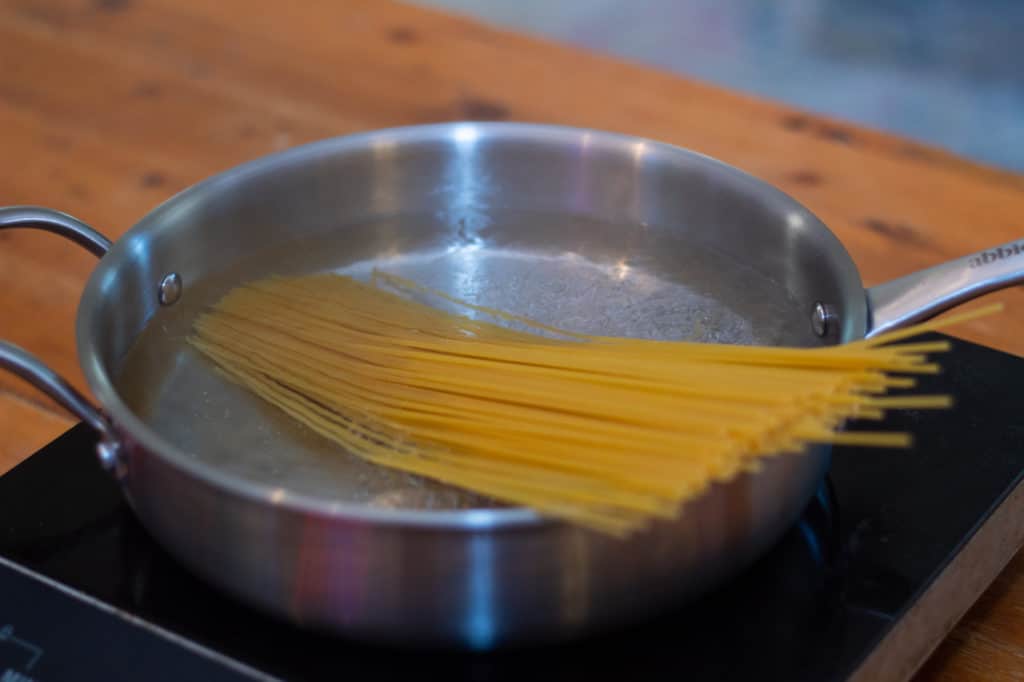 The Results.
Cooking Cacio e Pepe in the Abbio Cookware sauté pan was a joy. While I usually enjoy a slightly larger skillet than the 10" size of the Abbio pan, the high walls, ergonomic design, and even heating from the all-clad construction made this pan a real pleasure to use.
I loved that I could cook and serve directly from the pan, and thanks to the hot pad included in the abbio stoneware package I was able to place it directly on my countertop without fear of the heat from the pan damaging the surface.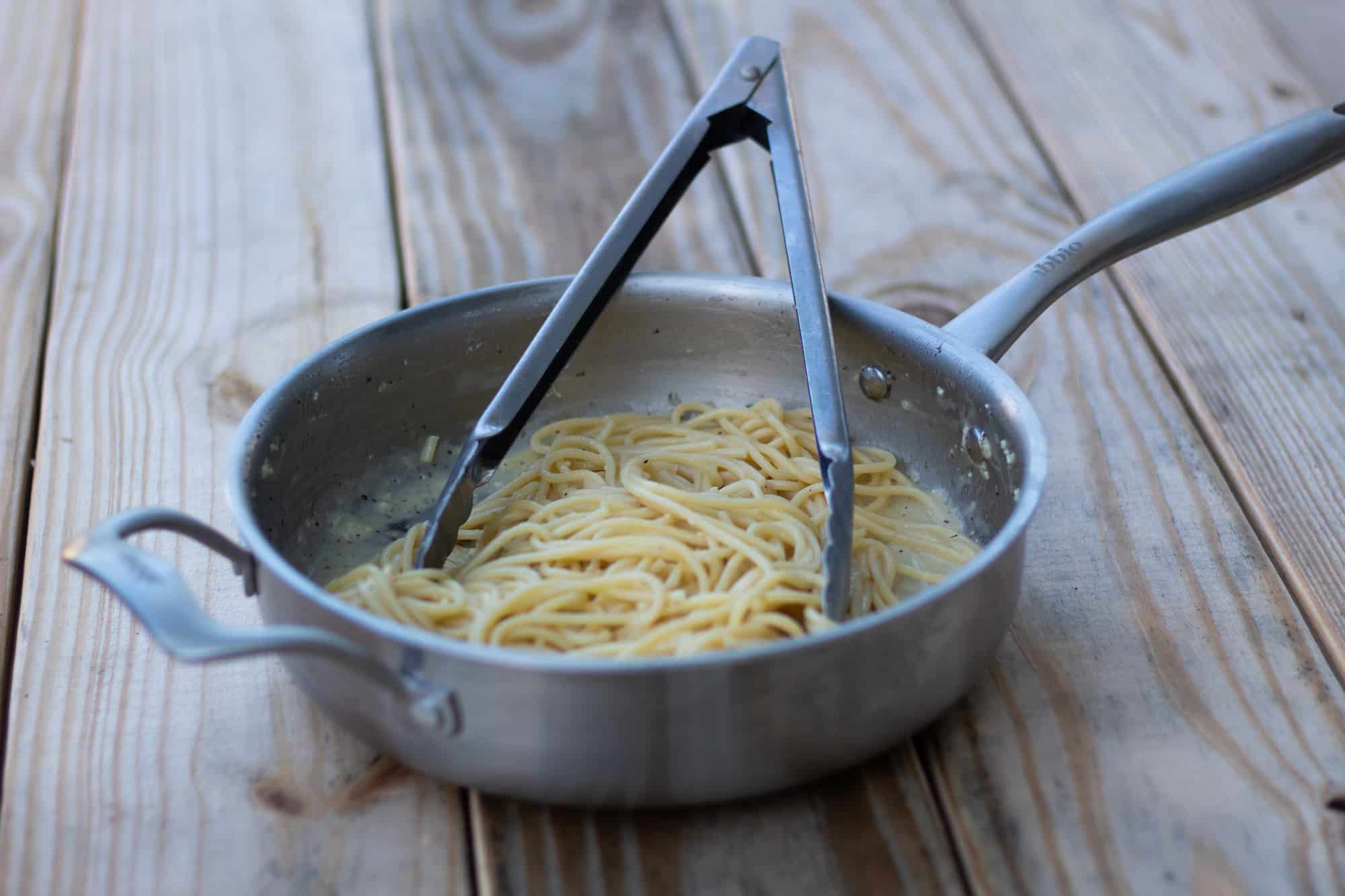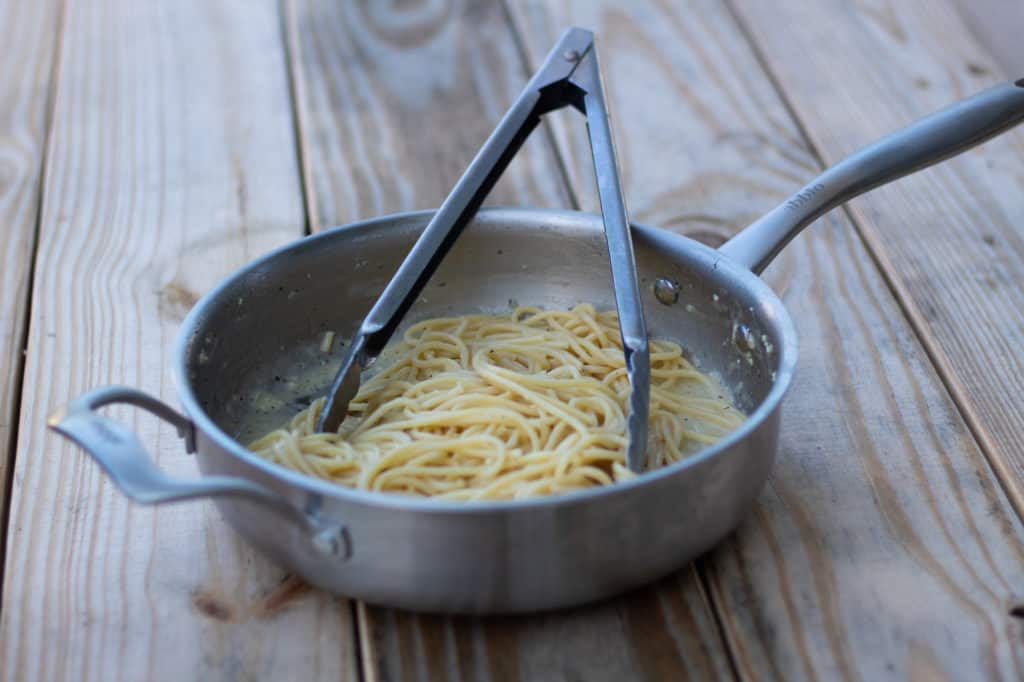 Cleaning the Abbio Cookware Sauté Pan.
Thanks to its dishwasher-safe construction you can throw this saute pan directly into the dishwasher and with the press of a few buttons have a freshly cleaned sauté pan in just a few hours.
Personally, I like to handwash my higher-end stainless steel cookware as over time the long exposure to high-powered water will weaken welds and rivets. In order to get the longest life span possible from my saute pans and skillets, I like to soak them in warm soapy water and then scrub them with a nonabrasive sponge.
If you get a really stuck-on stain you can soak the pan for even longer or resort to more abrasive cleaners like a scouring pad or grit-based soap. I like to use these as a method of last resort and in most cases find that a nice long soak is all even the most stuck-on stains need.
The silicon heat pad included with the Abbio pan is dishwasher safe as well, but for the most part, a simple rinse and air dry are more than enough to keep it clean.
Verdict.
After a week of testing, it became clear that Abbio makes incredible cookware and the Abio 10" Saute Pan is no exception. With all clad, induction-ready construction, a snugly fit lid and a silicone hot pad included in the package, it's easy to cook and serve meals directly from the abbio saute pan.
Despite its slightly smaller size at 10", the abbio cookware saute pan is perfect for almost any cooking task. With nice high walls you can boil pasta or sauces, or braise in it as you would a sauce pan or stock pot, and with all clad construction and a super even heat profile you can easily roast, saute, or pan-sear all of your favorite meats, seafood, or veggies!
The Abbio 10" sauté pan is a strong addition to any kitchen and a great option for someone looking for a go-to all-purpose saute pan/skillet!