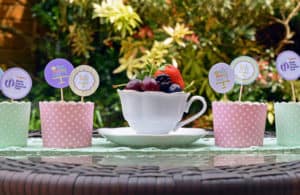 This summer, the World Cancer Research Fund are encouraging us all to host charity afternoon tea parties, to raise money to help beat cancer and spread their cancer prevention messages.
Afternoon tea is classically a very indulgent (and delicious!) occasion, filled with cakes, scones, sandwiches and the like. But this year, the Big Fruitea Party is all about bringing a healthy twist to afternoon tea celebrations – it's so easy to do, and just as tasty. With supporting resources including recipe cards and save the dates, there's no excuse not to get involved.
Why the Big Fruitea Party?
Obesity has been associated heavily with certain types of cancers, and increased fat has an association with 11 types of cancer, including the most common and most difficult to treat. After not smoking, maintaining a healthy weight is the biggest thing you can do prevent developing cancer.
However, skipping out on afternoon tea is never fun, so we've pulled together some healthier alternatives to inspire you to host the most delicious and nutritious party yet.
Healthy finger food
Homemade finger food and dips are a great addition to an afternoon tea spread. Homemade houmous, broad bean dip, guacamole and yoghurt dip are all super-easy to make and are great friends with freshly chopped veg, wholemeal toasted pitta fingers or homemade baked fish goujons (you can make these with chicken, too). Slices of frittata or omelette also make great finger food, and you can mix up the veg and flavour however you like.
Super sandwiches
Sandwiches are an essential part of any afternoon tea spread, but can often be laden with not-so-healthy ingredients such as processed meats, cheese and calorific mayo. However, small changes, such as switching to wholemeal bread and using veggies as your base, can quickly turn them into something super nutritious. Try making mini versions of our squash-it veggie sandwiches, veggie 'fish finger' sandwiches or our super-food protein loaf spread with different toppings – sweet and savoury both work well here.
Sweet treats
Satisfying a sweet tooth at the same time as being healthy can sometimes be a challenge. In these recipes we've tried to limit sugary ingredients as much as possible, while bigging up nutritious ingredients like oats, dried fruit, nuts and seeds. Why not try some crunchy granola bars, some sweet potato muffins or these delicious chocolatey energy balls?
No one should be deprived of afternoon tea during summertime, so if you're looking for some healthier, guilt-free options for your Big Fruitea Party, we hope this inspires you! Sign up and get more resources over at World Cancer Research Fund.