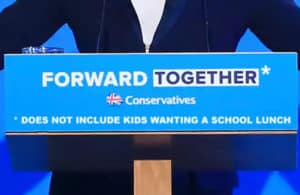 Today the Conservative party launched their manifesto and announced that, if elected, they would scrap the free school lunches that are currently offered to all children in their first three years at primary school.
This is a shock to all of us who care about child health. Access to free school lunches for all early years kids is at the heart of what we, and countless others, campaign for every day. These are the most important years of a child's development.
The logic behind this decision is extremely worrying. Why scrap a policy that gives every child access to a free school lunch and replace it with a policy that only gives breakfast to some? It doesn't add up.
Obesity hasn't just happened overnight. We've all heard the staggering facts that one in four British adults are obese, and one in three UK kids leave primary school overweight or obese. Yet we're continuing to walk into this crisis with our eyes now widely open, despite the impact it's having on our health, our public services and economy.
It's good that the Conservative party say they will "continue to take action to reduce childhood obesity". But it's the detail of what they would do (and what they wouldn't do) that we must all pay close attention to.
So what else did the Conservative party commit to today?
Labels we can actually all understand
As expected, the UK's departure from the EU played a starring role in the Conservative manifesto. Their plan to use Brexit as an opportunity to improve food labelling is something we certainly support. It is only by truly knowing what's in our food at a glance that we can make better, healthier choices.
Junk food – changing the recipe
The Conservative party says they will "promote efforts to reduce unhealthy ingredients." This kind of reformulation of unhealthy food and drinks is really important. But it sounds like the Conservatives will only continue voluntary measures. So, while the best businesses are already work hard to make their food healthier, we know that some businesses will only take action when the law says they must. Reformulation laws will create a level playing field for all business.
What about junk food marketing to kids?
Sadly the Conservative manifesto says nothing about stopping junk food marketing to kids. This is a real shame because it's one of the things that health experts say will have the biggest impact in tackling child obesity.
Children who watch TV from 8-9pm will see up to 11 ads for unhealthy food in that time, and 70% of parents say they have been pestered to buy unhealthy foods because of TV ads.
There are glaring holes in this manifesto and some extremely worrying logic behind the Conservative priorities. This is what we think a proper child obesity strategy should look like.
What the Conservative manifesto actually says
We will continue to take action to reduce childhood obesity
We will also continue to take action to reduce obesity and support our National Diabetes Prevention Programme. (under Exceptional standards of care, wherever, whenever)
Labelling We will promote efforts to reduce unhealthy ingredients and provide clear food information for consumers, as our decision to leave the EU will give us greater flexibility over the presentation of information on packaged food.
Reformulation We will promote efforts to reduce unhealthy ingredients
School Food In order to fund these commitments, we have taken an important decision. We do not believe that giving school lunches to all children free of charge for the first 3 years of primary school, regardless of the income of their parents, is a sensible use of public money. There is now good evidence that school breakfasts are at least as effective in helping children to make progress in schools. So under a new Conservative government schools in England will offer a free school breakfast to every child in every year of primary school, while children from low-income families will continue to receive free school lunches through their years in primary and secondary education. The savings made from this change will be added to the core school budget, meaning that every penny saved will go towards children's education.