The humble almond is a true jack of all trades. This single nut delivers such a wide range of delicious culinary products, from almond flour and almond butter to almond milk and almond paste.
One of the most useful almond derivatives? Almond extract of course!
It may not be a flavor you use in your everyday cooking, but when a recipe calls for the warm and nutty note of almond extract, it really calls for it. Sure enough, there's some backup options available, just in case you've found your stash has suddenly run dry.
What is Almond Extract?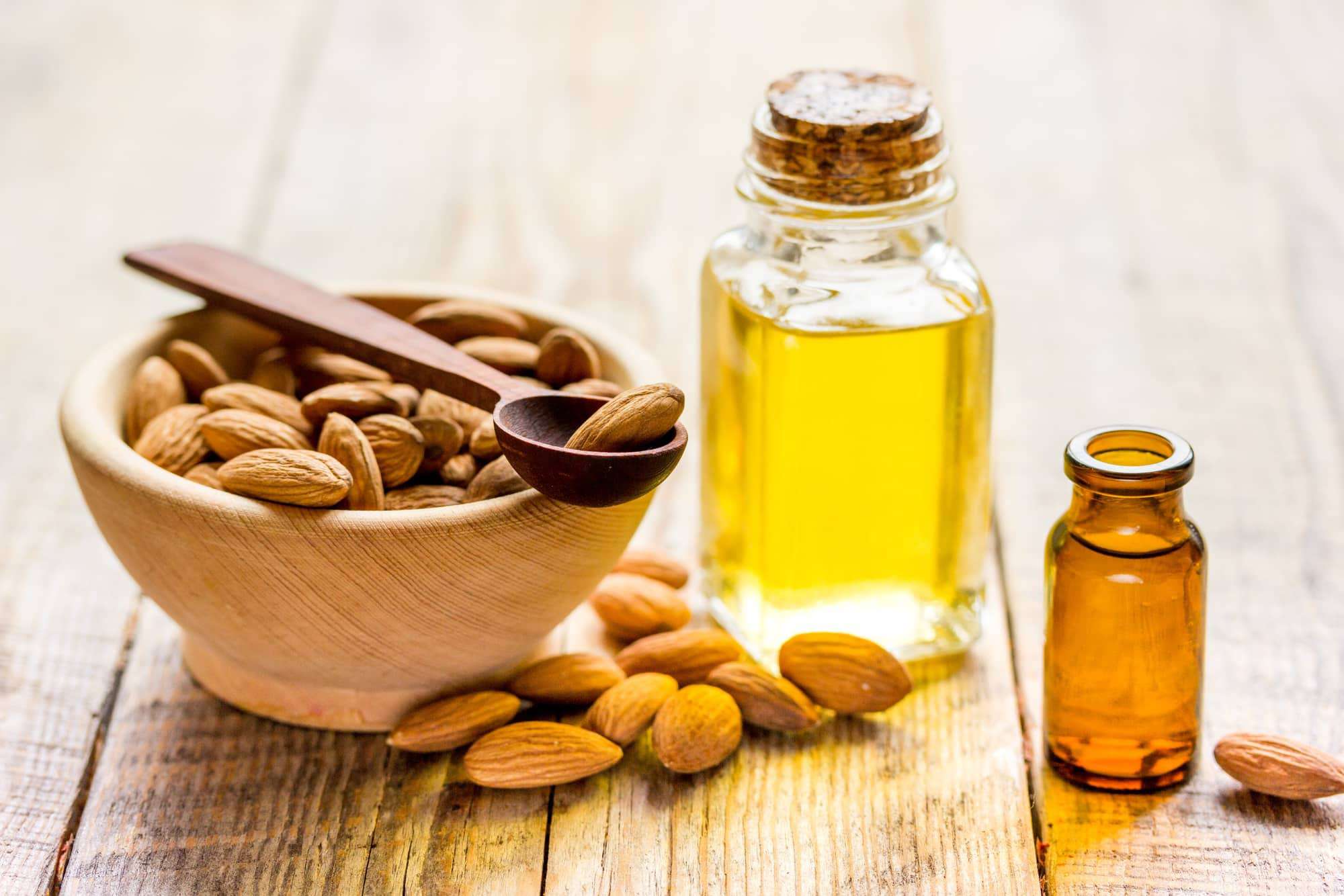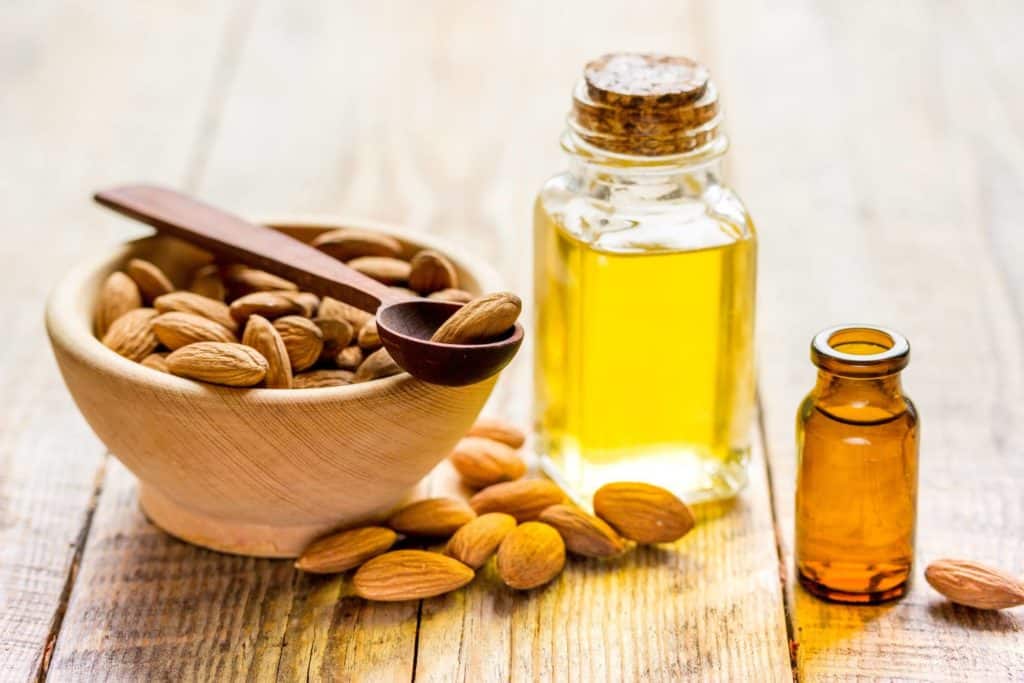 While not actually made from the almonds we eat by the handful, which are called "sweet almonds", almond extract is traditionally made from the oil of a relative known as the bitter almond. When combined with ethyl alcohol, this bitter almond oil results in an extract that has a warm, sweet, and nutty almond flavor. The flavor of almond extract is intense and depending on the brand or where the extract is produced, some varieties may have an even stronger flavor than others.
Upon entering the baking aisle at your local grocery store, you'll likely see a number of different almond extracts available.
Pure Almond Extract
This is the most authentic and true-tasting almond extract available. Any extract that is labeled "pure" must acquire its flavor only from actual bitter almond oil. Aside from the oil, pure extract should only contain water and ethyl alcohol.
Natural Almond Extract
A bottle labeled natural almond extract might be flavored by way of other sources such as the pits of stone fruits (such as apricots), cassia bark, or a combination of these. Each of these other sources contains compounds that are the same as, or similar to, the characteristic almond-flavor-producing compounds found in true bitter almond oil itself.
Imitation Almond Extract
This type of extract is not made from bitter almonds nor bitter almond relatives, but rather the almond flavor is created synthetically. Imitation almond extract does not mean fake tasting though! Food science has gotten quite advanced over the years, and many imitation flavorings can be virtually indistinguishable from the real thing.
What is Almond Extract Used For?
Despite its name, the intent behind adding almond extract into a recipe is not to make people say, "wow this tastes just like almonds!". Rather, it is used as a flavor enhancer. The strong, sweet flavor of this extract serves to amplify the rich and warm notes within many desserts, breads, and baked goods. Something about the nutty flavor and bitterness of the extract just brings certain flavors to life, especially chocolate, stone fruits such as peaches and plums, cherries, and honey.
In most recipes that call for almond extract, you'll notice that the measurements tend to be quite small. Don't let that fool you–this is powerful stuff. In fact, when cooking with this extract, you should always take extra care to measure accurately, as even a few extra drops or a bit of overflow can easily dominate a dish.
6 Best Almond Extract Substitutes
You can use any of the following ingredients to replace almond extract in a recipe, but depending on the other ingredients at play, some will work better than others. Another factor that will weigh heavily upon your decision: which of these substitutes you happen to have on hand!
Vanilla Extract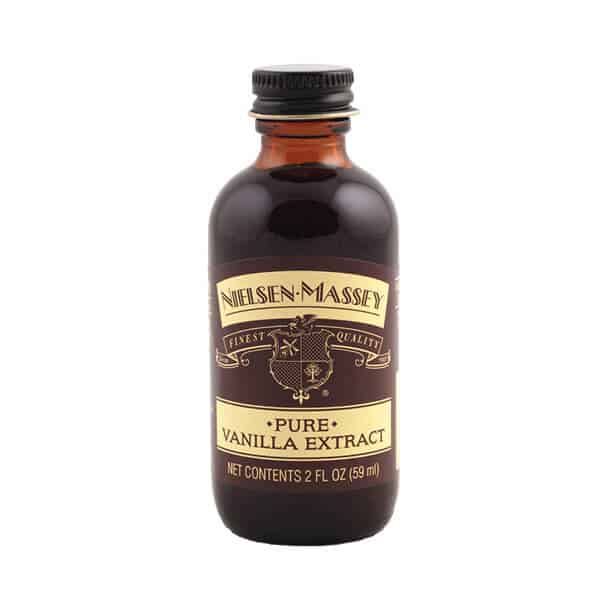 Vanilla extract is without a doubt the go-to extract when it comes to flavoring desserts, baked goods, and other sweet treats. Whether or not the dessert is vanilla flavored is of no issue, as the floral aroma of vanilla is easily able to accentuate nearly any other sweet flavor you could think of. This chameleon-like quality is what makes vanilla extract a great substitute for almond extract and although the flavor profile will most certainly be different, it will also surely be delicious.
How Much to Use:
Up to a 2:1 ratio of vanilla extract to almond extract, erring on the lighter side if the recipe already has vanilla in other forms (such as vanilla bean or vanilla bean paste).
Amaretto (Almond Liqueur)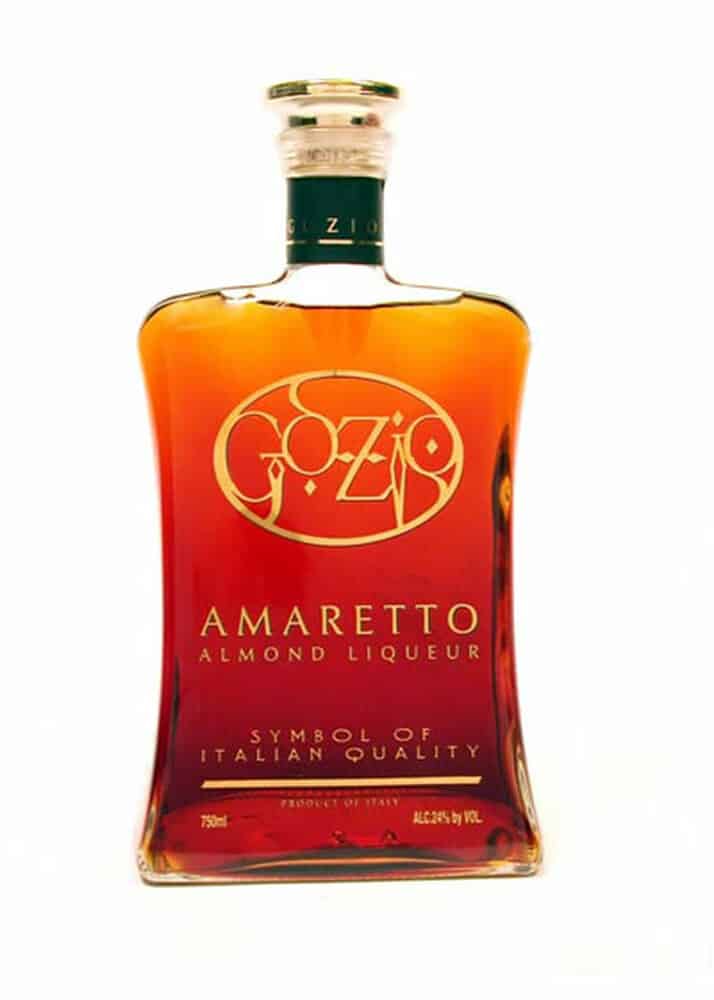 Although not always made from actual almonds (in fact, it's often made using apricot kernels which have all the same flavor components!) Amaretto is chock full of characteristic almond taste, making it one of the best substitutes for almond extract.
Almond flavored liqueur has a more mild almond flavor than the extract, therefore you need to add quite a bit in order to get that hit of flavor you're looking for. This could be problematic if you don't want to be adding that much alcohol into the recipe, or if your recipe is sensitive to the overall quantity of liquid, as most baking recipes are. If you opt for this choice as an almond extract replacement, you may want to reduce the amount of another liquid ingredient (such as milk or water) if possible.
How Much to Use:
Start with a 4:1 ratio of almond liqueur to almond extract, then check for consistency and taste, adding more as needed.
Other Nut Extracts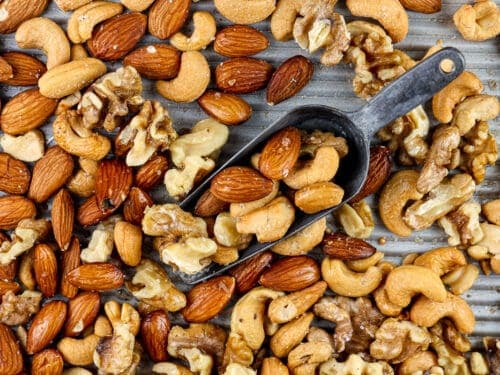 There's more than one nut extract out there in the world! There are actually a wide range of nut extracts, and they sometimes are labeled as "flavoring" rather than extracts. Some other commonly available nut extracts are walnut, pecan, hazelnut, or even pistachio extract. These little bottles deliver concentrated flavor, which while different from the specific flavor of almond extract, can lend the same warmth and nuttiness to a dish.
As you might expect, using other nut extracts will not be suitable in the case of a nut allergy unless it is known that the allergy in question is only to one particular nut and not another.
How Much to Use:
Use a 1:1 ratio! Whatever quantity of almond extract a recipe calls for, you can substitute the same amount of another nut extract.
Cherry Juice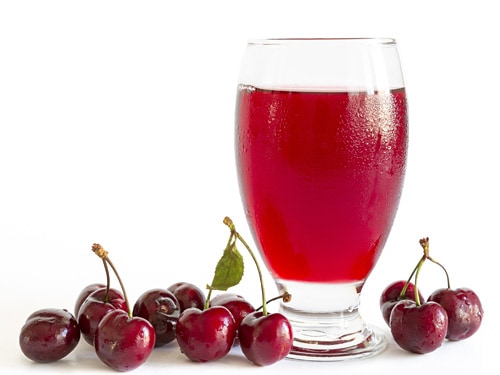 Well, this is an odd one, isn't it? Cherry juice as a substitute for almond extract, how does that work? It actually makes much more sense than you'd think! Just as apricot pits are used to give amaretto its "almond" flavor, cherry pits also contain benzaldehyde, the flavor compound that all of these have in common.
Now, while it is unsafe to eat cherry pits, or any stone fruit pits for that matter, there are traces of the same flavorings lingering in cherries and their juices. Whether you have a bottle of sour cherry juice or are looking to use up that jar of maraschino cherry juice that's been hanging out in the fridge, using cherry juice in place of almond extract will impart a similarly sweet nuttiness to your recipe.
How Much to Use:
Use a 4:1 ratio of cherry juice or maraschino cherry juice to almond extract, keeping in mind that this will add extra sweetness, as well as red coloring to the dish.
Cinnamon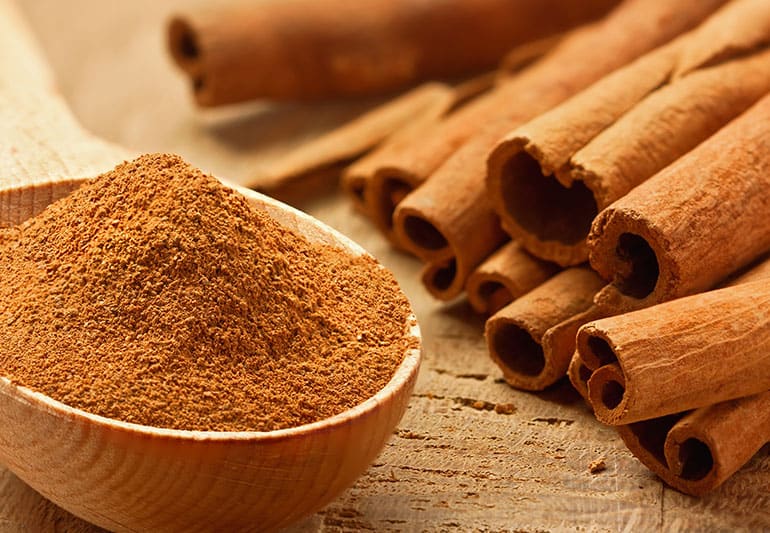 Cinnamon has a unique aroma–warm and slightly spicy, making it a good substitute for almond extract. While plenty different from almonds, the taste of cinnamon is likely to pair well with the other flavors in most any other sweet dishes. In fact, as mentioned above, some almond extract is made using cassia bark, and cassia just so happens to be a cousin of cinnamon!
How Much to Use:
Start with a 2:1 ratio of cinnamon to almond extract. If the flavor seems to be lacking, add a pinch more, or dust a bit on top of the finished product, if desired.
Orange Zest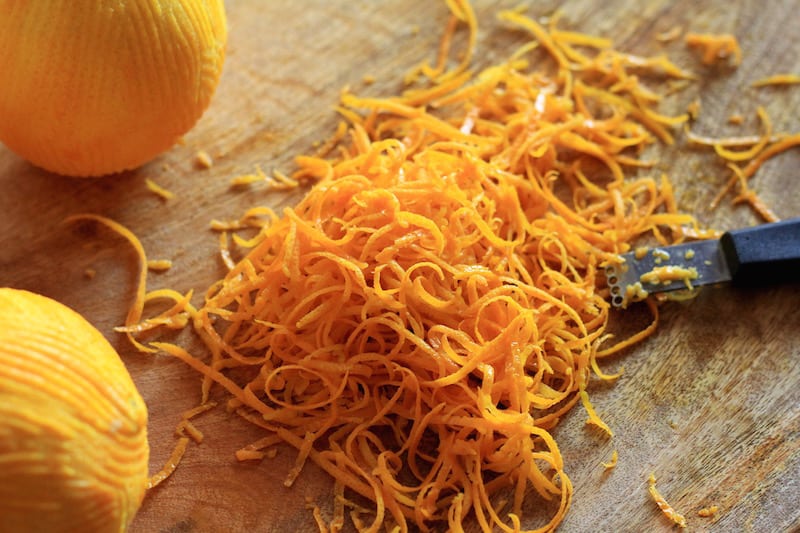 Like most citrus fruits, oranges have an inherent balance of bitterness and tang, making them a good choice as an almond extract substitute. You want to be sure to only use the zest however, as the orange juice itself will be too sweet and add too much liquid into the equation. Orange zest will work especially well in dishes that have strong flavors of chocolate, honey, or cinnamon!
How Much to Use:
Try a 4:1 ratio of orange zest to almond extract.
How to Make Your Own Almond Extract
One final option for you, if you're looking to set yourself up for the next time you need some almond flavoring in your life, there's an easy way to prepare almond extract at home! However, this process takes several to make so, therefore it won't be of any assistance in this particular moment.
In order to make homemade almond extract, you will need 2 parts vodka to every 1 part almonds. For example: 1 cup vodka to ½ cup almonds. When making homemade extract, make sure that you have raw and unsalted almonds–this is key!
Give the almonds a rough chop and then place them into a glass jar that has a well-fitting lid.
Pour the vodka with the chopped almonds, tighten the lid, and place the jar in a cool dark place such as your pantry closet.
Allow the extract to soak for about 6 weeks, giving the jar a good shake about once a week or so!
At the end of 6 weeks, the vodka will have extracted as much flavor as possible from the almonds. Use a fine mesh strainer to remove the chopped almonds, discard them, and transfer your fresh homemade almond extract into a clean, new container.
Best Almond Extract Substitutes, The Final Say
Despite the unique flavor of almond extract, there are actually many different ingredients that provide the same flavor compounds that are specific to it, thereby giving you plenty of options when it comes to substitutes for almond extract!
Vanilla extract is hands down, always a win. If you happen to have a bottle of almond liqueur, or by chance you have some different types of nut extracts on hand, these will be great choices. Cherry juice? Oddly successful! And when all else fails, give orange zest or cinnamon a try! The flavor will not be the same, but there's a high likelihood of these ingredients playing nicely with those already in your recipe.
Whichever substitute you choose for today, go ahead and take a few minutes to start your very own batch of homemade extract. Your future self will thank you!