Apple Galette With Puff Pastry - Crispy, delicious puff pastry crust filled with warm spiced apples. The apples are arranged beautifully and cooked in a cinnamon and brown sugar glaze that compliments the sweet, yet tartness of the apples perfectly. Top the galette off with some slivered almonds for a nutty flavor, and you have a dessert the whole family will be drooling over. 
If you are looking for an easy dessert to wow the family, look no further than this apple galette with puff pastry recipe! It is so simple to put together and doesn't require any extreme baking skills. The only skill you will need is a little patience while the galette is baking in the oven, and even that doesn't take very long. The end result is a beautifully delicious free-form crust and a rustic-looking dessert that is sure to impress your friends and family. They will think that you have spent the whole day in the kitchen.
Why You'll Love This Apple Galette Puff Pastry
Eye-catching-

Not only is this apple galette sweet and delicious, but it is absolutely beautiful too!

Simple –

This recipe is so easy that anyone can make it, even if you've never baked before. It's perfect for beginner bakers.

Versatile –

You can customize this pie however you want by changing up the type of apples or using a different fruit completely. 

Easy to find ingredients-

Some baking recipes require complicated ingredients that are difficult to find, but not this recipe! The ingredients in this apple galette recipe can easily be found at any grocery store, and you probably already have most of them at home!
Equipment Needed To Make Easy Apple Galette
Baking sheet 

Knife

Mixing Bowl

Pastry brush

Rolling pin

Parchment paper

Ingredients For Your
Apple Galette
Gala apples

Lemon juice

Cinnamon

Brown sugar

Egg

Almonds
How To Make A Easy Apple Galette With Puff Pastry
To make this apple galette, all you have to do is get your oven ready - slice the apples, coat with the lemon juice, cinnamon, and brown sugar, roll out the puff pastry, and arrange the apples on the sheet. Once you've got your apples arranged how you'd like, fold over the edge of the puff pastry, creating a pocket for the apples. Give it a quick brush with an egg wash, bake and serve!
What to Serve/Pair with Your Apple Galette Puff Pastry
While apple galette with puff pastry may taste great by itself, serving it warm right out of the oven with vanilla ice cream on top makes it out of this world amazing! Apple galette with puff pastry is also perfect served with hot tea, cider, or coffee.      
Popular Substitutions & Additions
The possibilities are endless when it comes to fruit filling for galettes! Apples are usually the most popular filling in the fall, but here are a few other options that can be used year-round!
Peach

Blueberry

Cherry

Strawberry

Pear
Galettes are not just for desserts either! They can also be used for savory lunch or dinner options as well. Fill the puff pastries will your choice of meats and or vegetables.
Zucchini

Potatoes

Chicken

Ham

Asparagus

Mushrooms 

Tomatoes 

How To Reheat & Store Easy Apple Galette With Puff Pastry
The best way to store leftover apple galette is in an airtight container left out on the kitchen counter. When stored on the counter, the apple galette is good for up to 3 days.
How Long Will Easy Apple Galette Last In the Fridge?
I don't suggest putting your apple galette in the refrigerator. Storing it in the refrigerator will cause the galette to become soggy mushy, and will not preserve the galette any longer than keeping it on the counter.
Can I Freeze Apple Galette With Puff Pastry
Yes, you can freeze your precooked apple galette. Place galette on a baking sheet in the freezer for an hour. Once frozen, wrap the apple galette in plastic wrap and store it in an airtight container for up to 3 months.
How To Reheat Easy Apple Galette
The apple galette shouldn't need to be reheated after cooking if left out on the counter, but if you do want to warm up a piece to enjoy with ice cream, I suggest popping it in the microwave for about a minute or until heated to your preference.

Easy Apple Galette With Puff Pastry
FAQs
Can I make an apple galette with puff pastry ahead of time?
Yes, you can prepare a puff pastry apple galette in advance and freeze it for later use. However, I do not recommend attempting to freeze a galette that has already been cooked.
Will other types of apples work in this recipe besides gala?
Yes, of course! You may use whatever type of apple you like. If you enjoy a more tart dessert, try this recipe with granny smith apples. The granny smith apples' tartness and the glaze's sweetness create a fantastic sweet and sour taste!

Do I put just one layer of apples on the galette?
No. The more apples you use, the better your galette will be! I suggest using 3 to 4 layers of apples on your galette. As the apples cook, they will shrink and soften, causing them to spread out the galette.

Am I supposed to warm or heat the puff pastry before using it?
No. The puff pastry should not be warmed or heated before being used. Heating the dough will cause it to cook ahead of time, resulting in an unevenly cooked crust in the long run. The puff pastry should always be cold or cool, never warm to the touch. Also, frozen or extremely cold pastry sheets will result in them breaking and falling apart when handled.

How will I know when my apple galette with puff pastry is done cooking?
When your galette is done cooking, the crust will be a deep golden brown, and the filling will be bubbling and slightly browned on top. By the time your apple galette is done, your house will smell like heaven!


Other Delicious Dessert Recipes You'll Love
Don't Forget To Come Back And Let Me Know How Your Easy Apple Galette Recipe With Puff Pastry
Turned Out!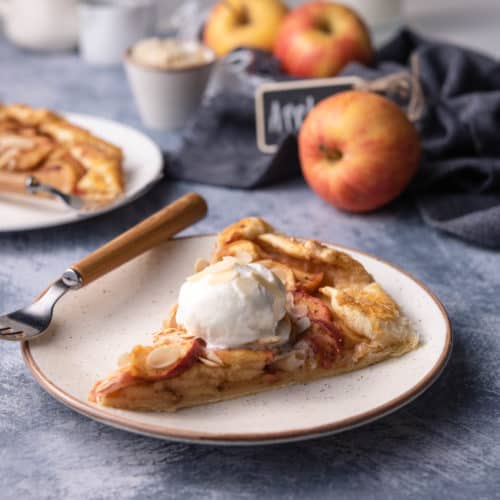 Apple Galette with Puff Pastry
This puff pastry-based apple galette is filled with warm spiced apples and brings the perfect balance of sweet and tart. The puff pastry crust is perfectly flakey and crisp!
Print
Pin
Rate
Ingredients
3

Gala apples

washed

1

tbsp

lemon juice

1

tsp

cinnamon

3

tbsp

brown sugar

1

sheet puff pastry

1

egg

beaten

3

tbsp

slivered almonds
Instructions
Preheat oven to 350F. line baking sheet with parchment paper.

Core and thinly slice the apples. If they are organic, you do not have to peel them.

In a bowl, toss the apples with lemon juice, cinnamon, and brown sugar.

Roll out the puff pastry to ¼-inch thick.

Arrange apples on top of the pastry sheet. Trim excess pastry and fold the edges over the first and nearest layer of apples.

Brush the edges with a beaten egg. Sprinkle the galette with slivered almonds.

Bake the galette for 20 minutes.
Nutrition
Calories:
504
kcal
|
Carbohydrates:
58
g
|
Protein:
8
g
|
Fat:
28
g
|
Saturated Fat:
7
g
|
Polyunsaturated Fat:
4
g
|
Monounsaturated Fat:
16
g
|
Trans Fat:
1
g
|
Cholesterol:
41
mg
|
Sodium:
172
mg
|
Potassium:
269
mg
|
Fiber:
5
g
|
Sugar:
24
g
|
Vitamin A:
135
IU
|
Vitamin C:
8
mg
|
Calcium:
53
mg
|
Iron:
2
mg