We all know the saying "an apple a day keeps the doctor away." Yet, in all honesty, we don't always heed that advice. We should all probably be eating more apples than we do. But if you're like us, peeling, coring, and slicing them can sometimes be tedious, making us reach for easier-to-eat snacks. Call it what you will, it happens! Fortunately, there's a pretty ingenious hack out there to make us eat more of this incredibly healthy fruit: getting the best apple peeler for your kitchen.
Besides cutting through apple skin, this invention also cuts down your food prep time. It's one of those must-have kitchen tool essentials (just like vegetable choppers and french fry cutters) if you want to spend less time in the kitchen. They come in especially handy if you have to peel and core several pounds of apples for desserts, such as the all-American apple pies, for example! 
Because there are so many different apple peelers on the market, finding one that actually works and fits your kitchen can be a bit tricky. To make this easier, we're reviewing the top five best apple peelers. You'll even find a short but definitive peeler buying guide toward the end of this piece! We're sure you'll find the apple (peeler) of your eye in no time with our help.
1. Best Handheld Apple Peeler: OXO Good Grips Swivel Peeler

Our favorite handheld manual peeler is this OXO Good Grips model. It's easy to use, easy to clean, and easy to store. Moreover, it's an all-around great-quality piece that will save you a lot of time during your weekly food prep.
The best thing about this peeler is its smart ergonomic design. The handle is made from a soft non-slip material that is gentle on your hands, yet ensures a steady and strong grip. Hence the name!
The blade is also of the highest quality. The stainless steel is rust-proof and allows for it to stay sharp for much longer. On top of that, the swivel twin extra-sharp stainless steel blades adjust to your food's shape and keep up with its curves. This means you'll be able to get more of the skin off without wasting any of the fruit's good bits.
Another clever feature is the built-in potato eye remover. You can easily get rid of those unappetizing growth points and other blemishes without having to cut out a larger portion of the potato.
Luckily, clean up is just as easy. Since the blade is rust-proof and the handle is sturdy, you can put the peeler in the dishwasher when you're done using it.
2. Best Affordable Apple Peeler: Spring Chef Premium Swivel Vegetable Peeler

The Spring Chef Premium Swivel Vegetable Peeler has a similar design and is just as handy, but it comes with a more budget-friendly price tag.
Once again, the blades on this model are also twin swivel blades. This means that they're not fixed in place and can shift from one side to the other slightly. This doesn't mean that they're brittle or not well made; quite the contrary. With a twin swivel blade, you can get most of the skin off with less effort.
The handle is incredibly sturdy and (un)surprisingly ergonomic. Despite being made of hard plastic, the rivets on the side make room for your fingers, offering you a great grip. It's great for peeling pounds and pounds of apples or potatoes in one sitting.
We also really like the fact that the blade is made from extra-smooth and sharp stainless steel material. This means that the skins will slide off more easily, preventing any clogging up and saving you time in the long-run.
Since the Spring Chef Peeler has such a minimalistic and compact design, you can fit it just about anywhere in your kitchen. It goes great inside a kitchen drawer or hung up on a kitchen hook rack.
Lastly, this kitchen tool is dishwasher-safe and won't rust with each wash. Just leave it to dry and store it away.
3. Best Manual Countertop Peeler: VKP Brands Johnny Apple Peeler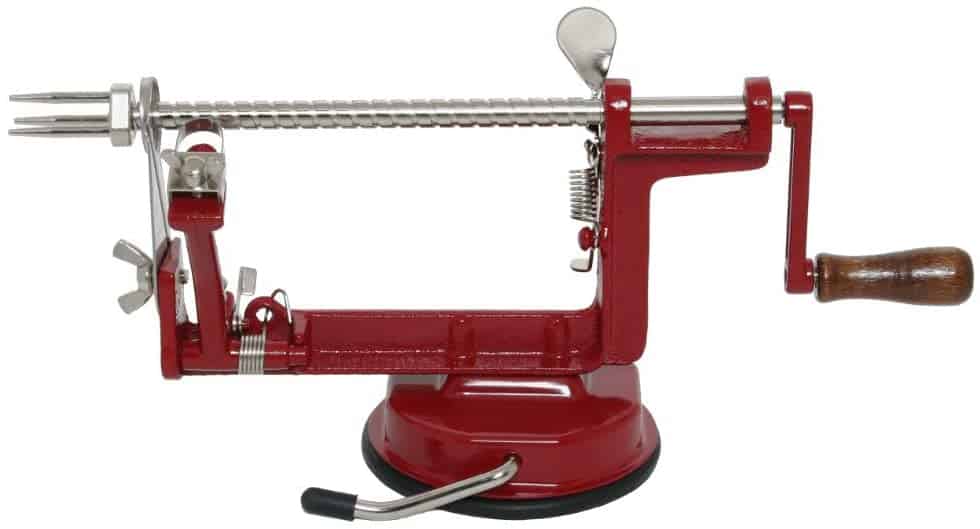 If you have enough room on your counter, you should think about getting the VKP Brands Johnny Apple Peeler. Its beautiful design and incredible performance make it a must-have for any avid and impatient meal preppers.
The metal structure may look odd, but it's very ingenious. It replaces your handheld manual peeler and cuts down the time needed to peel an apple or potato. Pull back the metal rod, firmly stick your fruit or hard vegetable on the spikes, attach the correct blade, and turn the handle until all the skin is off. We promise it's easier than it sounds.
What sets this manual peeler apart is its strong suction cups at the base. It adheres to your work surface and ensures the peeler doesn't shift around while you're using it. You can adjust the suction cups strength using a lever so that the appliance is perfectly in place. This is not only a brilliant safety feature, but it's also a super convenient and time-saving design choice.
On top of peeling, this appliance will also core and slice your fruits and veggies for you. All you have to do is adjust the peeling blade and arm into the desired position and then turn the handle. There is no greater time-saving feature than this!
All the metal parts that come in contact with your food are made from stainless steel. When you're done using the peeler, you can either pat them dry or wash them with some warm water and gentle soap. And the best part? You won't ever have to worry about rust.
4. Best Apple Peeler with Electric Motor: Starfrit Rotato Express 2.0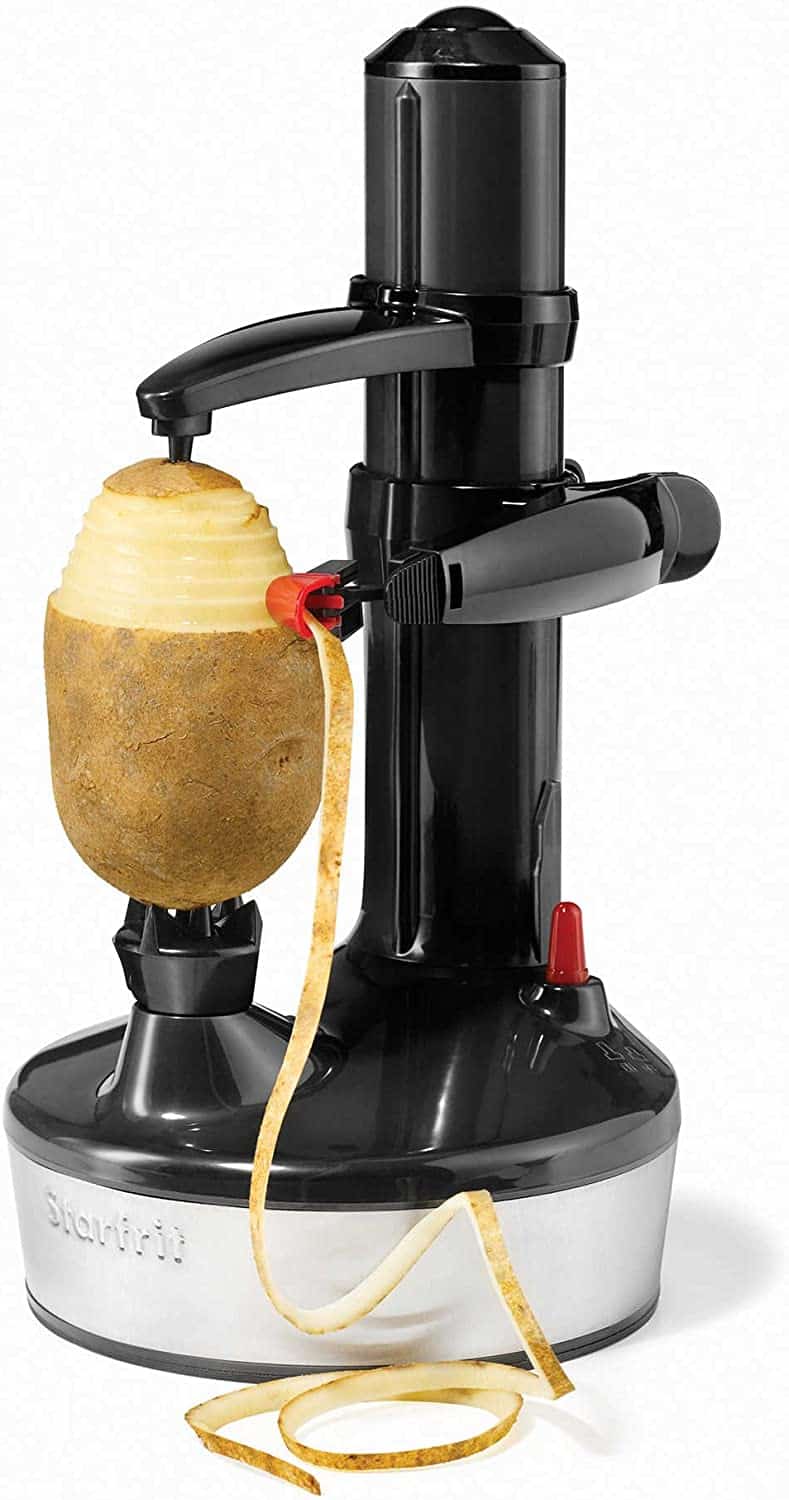 There's a special peeler for all you tech-savvy home chefs; meet the Starfruit Rotato Express 2.0. It's one of the most convenient picks out there and great-looking; most definitely worth the price tag.
With this electric peeler, you can get the skin off several pounds of apples without ever breaking a sweat. Since it's an electric machine, all you have to do is place the fruit into the holder and press a button. It couldn't be easier.
The Starfruit machine handles a lot more than just apples. You can also peel pears, peaches, and even mangoes. Hard vegetables are also an awesome pick for this electric appliance; give zucchinis, potatoes, and carrots a run on the Starfruit. It's the perfect tool for canning, preserving, and apple pies season!
Luckily, you can use this peeler by either plugging it into an outlet or placing four AA batteries. Thus, you can use it at home, in your kitchen, or take it somewhere away from outlets and still have it ready to go.
When you get the Starfrit peeler, you'll get six additional peeling blades. They're pretty good at staying sharp for a long time, but if anything happens to a peeling blade, you can simply replace it.
Do keep in mind that this peeler can be quite noisy. However, you'd be hard-pressed to find a quieter alternative that requires so little effort and does such an amazing job at peeling fruits and veggies.
5. Best Versatile Pick: Spiralizer Magnesium-Cast Multi-Function Peeler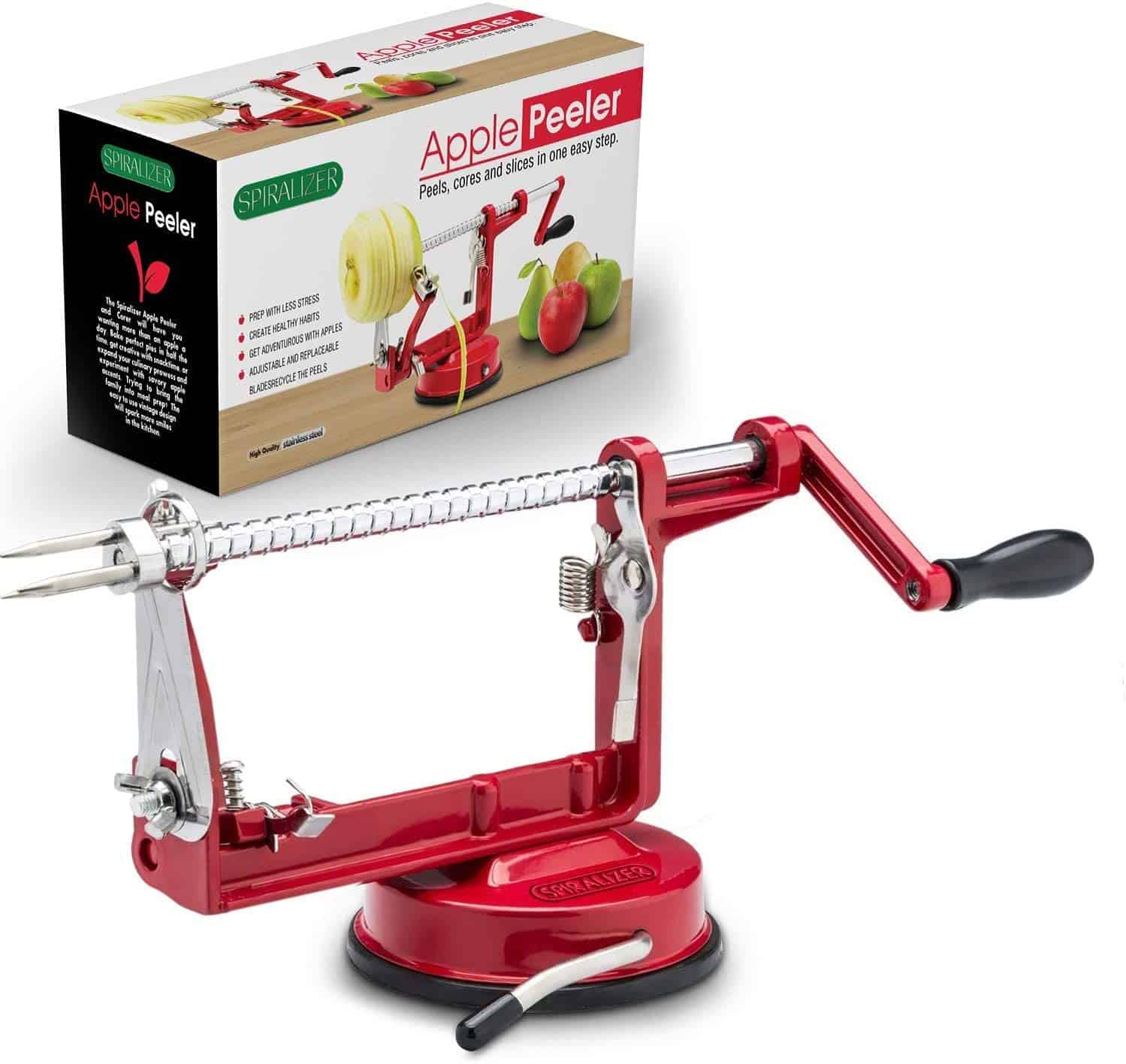 We've saved one of the best apple peelers for last. The Spiralizer Magnesium-Cast is of the highest quality, perfect for heavy-duty tasks, and incredibly versatile. It's the most multi-purpose tool on our list.
The first thing you'll notice about this peeler is how sturdy it looks. That's not by accident. It's made from cast magnesium alloys, one of the strongest and longest-lasting materials in kitchen appliances out there.
Despite all this, it's still incredibly easy to maneuver. The suction base grabs onto your work surface and ensures the peeler doesn't move around. This way, you can avoid freak accidents in the kitchen and keep your food from falling on the floor.
You can quickly and easily adjust the peeling arm to change what you want the gadget to do. Set it in a shallow position if you just want to peel an apple. Or set it in a deeper-set position to core and slice the piece of fruit. Alternatively, you can also get the peeler to spiralize your hard vegetables, for a healthier alternative to pasta. This is what makes this a great peeler, corer, slicer, and more! It's the ultimate all-in-one.
When you're done peeling your fruit, you can easily take apart this gadget and clean the parts individually. Since every metal component of the machine is resistant to rust, you can get water on them and have them still stay in tip-top shape after months and months of use.
Different Types of the Best Apple Peelers
There are three different types of apple peelers available in the market. Which one you should buy is entirely up to you. Since they all boast different features, they're great for different situations. Let's look into what makes each of them unique.
Handheld Apple Peeler
This is your standard, old-fashioned fruit and vegetable peeler—but no less effective! You hold it in your hand and make up-and-down motions to peel your apples. You can also use it to peel other fruits and vegetables, such as pears, carrots, and potatoes.
The main upside of this gadget is how easy it is to store. It fits into just about any kitchen drawer, alongside your cutlery. It's also very portable and affordable, making it a budget-friendly pick.
On the downside, handheld apple peelers do still require you to put in some work. They can be less handy than other peelers, at least until you get the hang of them. Moreover, most of these apple peelers only help you peel; they cannot core or slice your fruits and veg.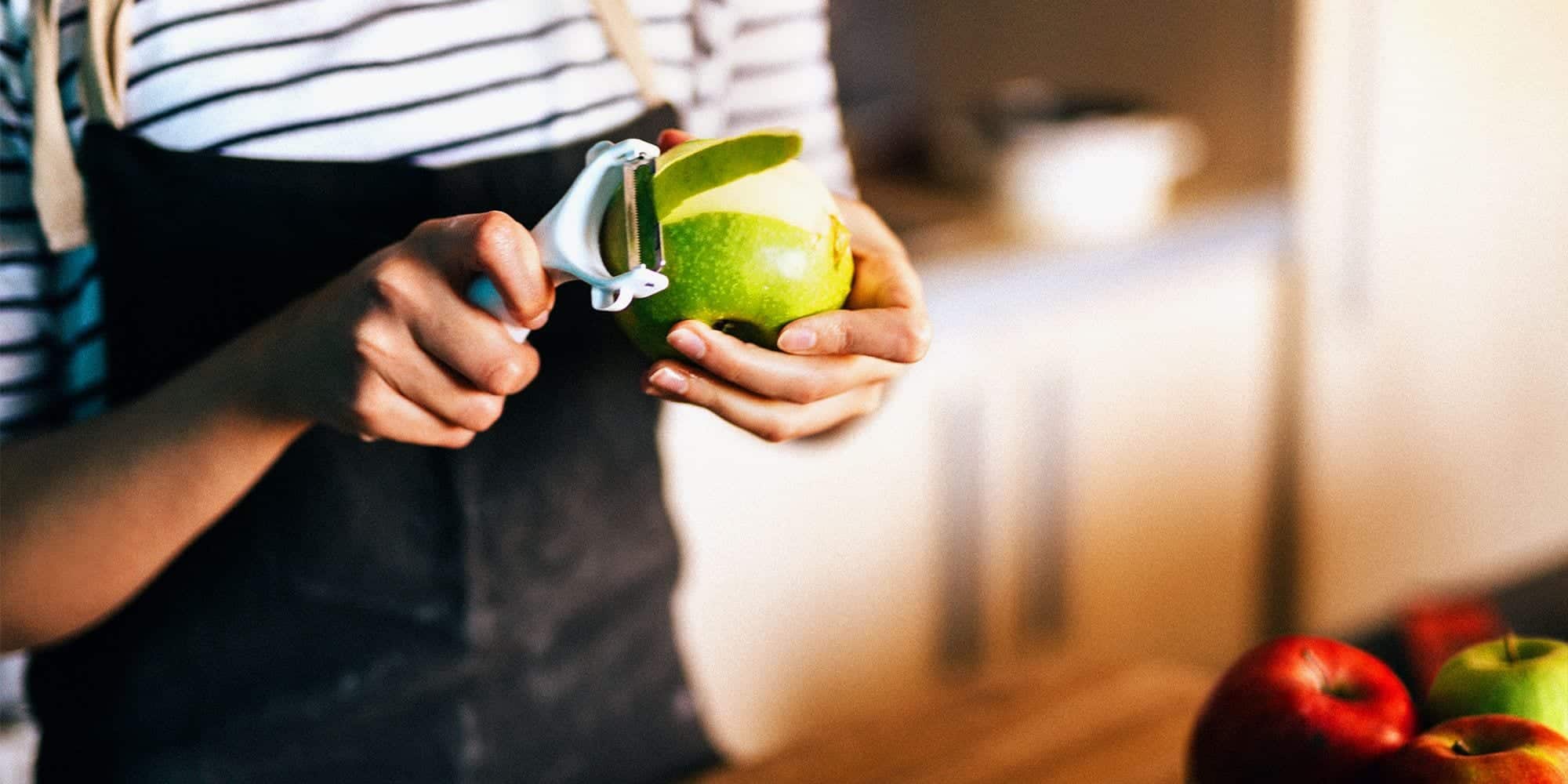 Manual Countertop Apple Peeler
If you have more counter space available, you might want to get a manual crank peeler. They're easy to use and can peel apples and potatoes much quicker than if you were using a handheld manual apple peeler. Additionally, many countertop apple peelers will also core and even slice your fruits and vegetables, as long as you use the proper blade attachment.
There are a few not-so-good things about this type of peeler. For starters, they're pricier than handheld peelers. They're also much bulkier, meaning they're not a good addition to a small kitchen.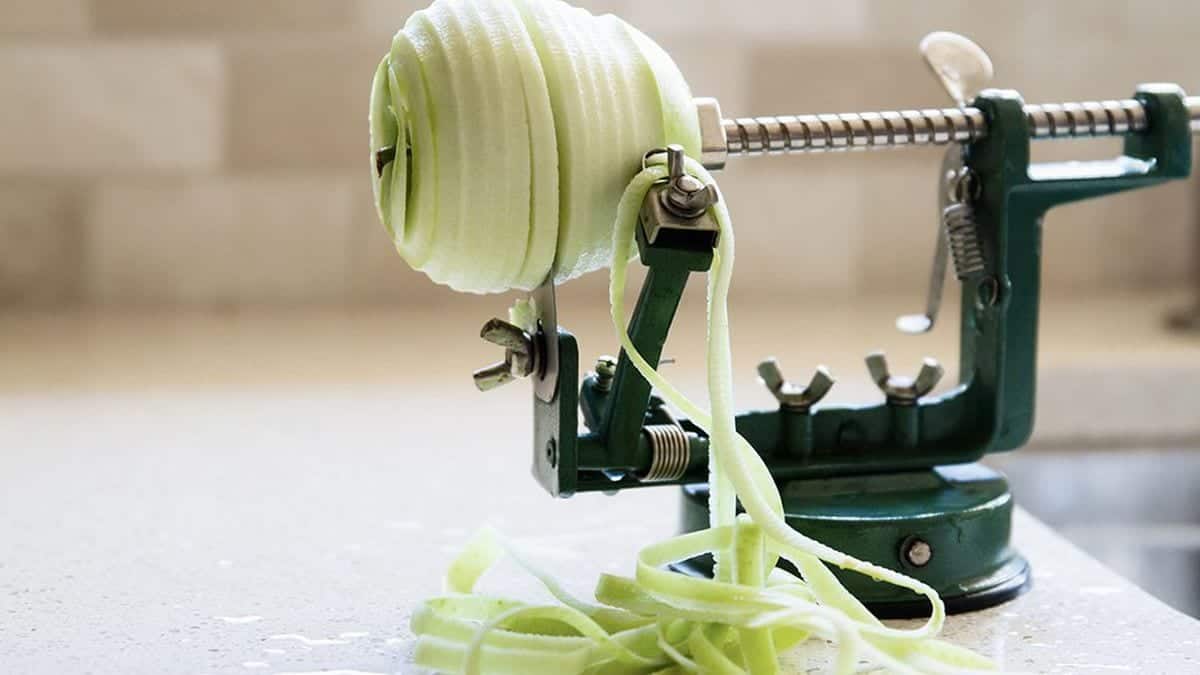 Electric Apple Peeler
Electric apple peelers are the cream of the crop: incredibly easy to use, super fast at peeling, and very versatile. Most models will peel, slice, and core your hard fruits and vegetables in no time. As a matter of fact, all you have to do is press a button and wait. It's as hands-free as you can get.
As you probably have guessed, electric peelers are the most expensive model out there. Moreover, they're bulky and not very portable.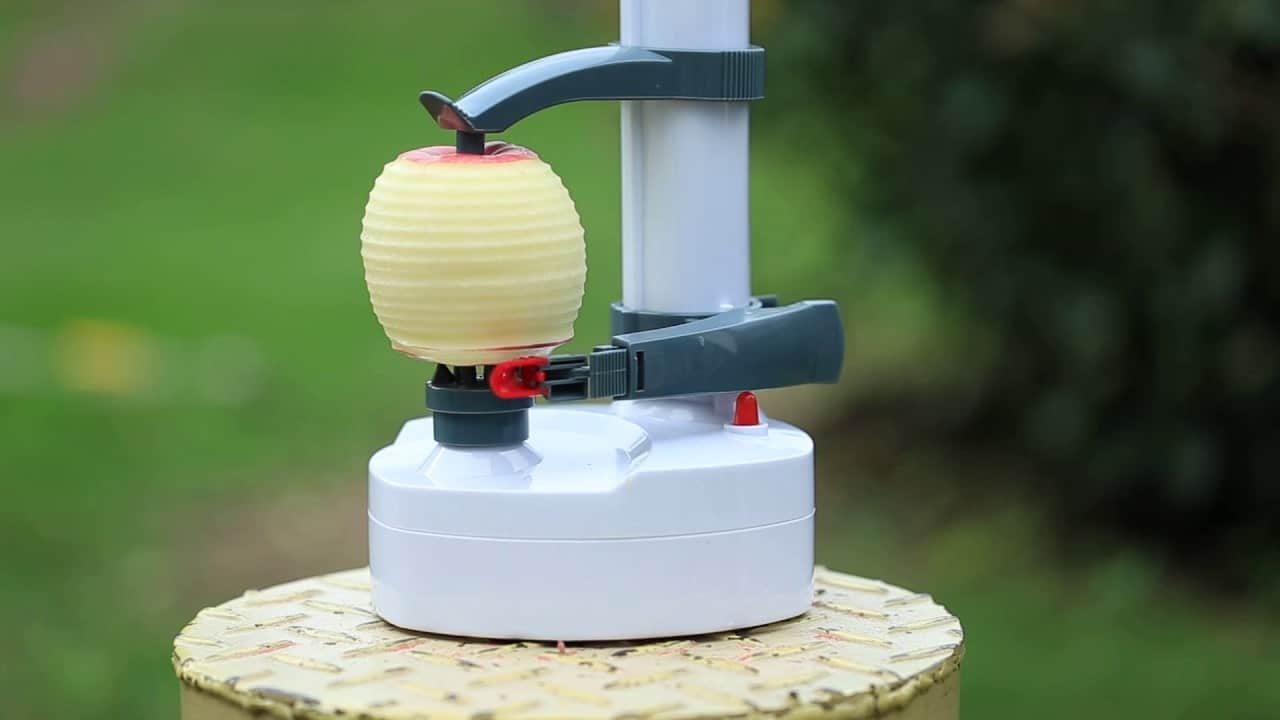 Apple Peeler vs Potato Peeler: What's the Difference?
We've been calling these gadgets "apple peelers" this entire time. Yet, we could have called them "potato peelers" just the same. Most peelers can handle pretty much all round- or cylindrical-shaped hard fruits and vegetables. Think of potatoes, pears, carrots, zucchinis, and so on. They're surprisingly versatile!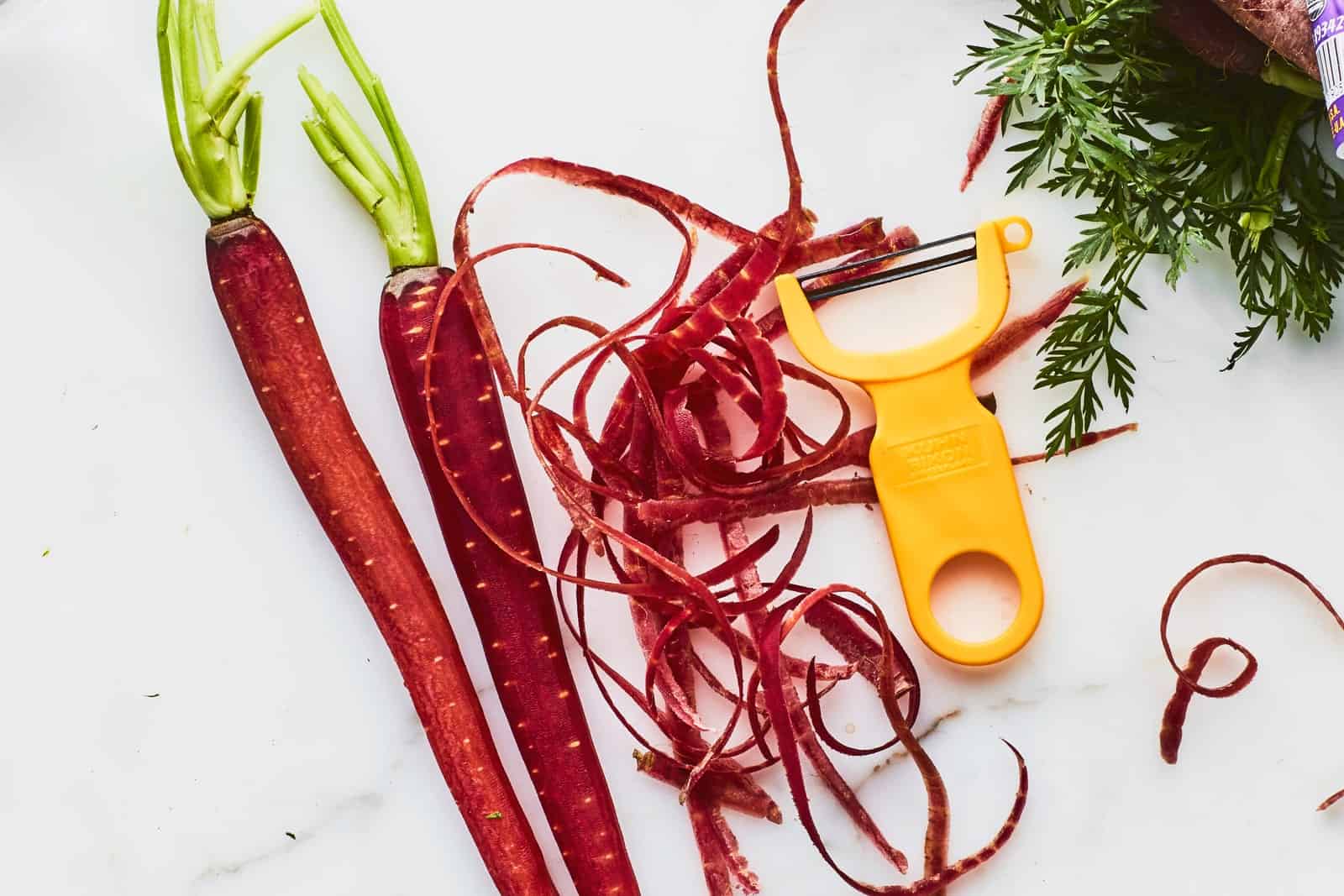 What Is the Best Apple Peeler?: Ultimate Buying Guide
So you haven't found the ideal apple peeler for your kitchen. That's okay; there are dozens of more gadgets you can check out on your own. To make your search easier, we've compiled a list of features to look out for. The best peelers on the market check off most of these boxes.
Best Apple Peeler Style
Which style do you like best: handheld, manual crank, or electric? This is the first thing you should decide on.
If you don't have much room to work with, we recommend getting a handheld peeler. But if you do have counter space and you're on a stretchier budget, why not splurge and get an electric peeler?
Sturdiness
Regardless of which style you choose, you need a sturdy peeler. The sturdier the model, the more heavy-duty it will be. That way, you're protecting your investment by ensuring your appliance will be useful for years and years to come.
If you're looking for handheld peelers, choose one that has a strong handle that won't break off. If you're looking at other models, make sure all the components are made from durable materials, such as stainless steel or strengthened ABS plastic.
Another crucial thing to look for is sharp blades. Regardless of which model you pick up, the blades need to be razor-sharp and good at retaining their edge.
If your appliance is more high-end and has a complex design, it's a good idea to spend some time looking over every single component and deciding if they'll hold up over time. For example, you should only invest in a manual countertop peeler if the suction cups at the base are strong and latch onto your work surface efficiently. 
Ergonomic
This is especially important if you want to get a handheld peeler: is the handle ergonomic? Can you see yourself holding it to peel apples for long periods of time? Could you comfortably peel three pounds of apples for a large apple pie? If you've answered yes, you've probably found the perfect tool for you.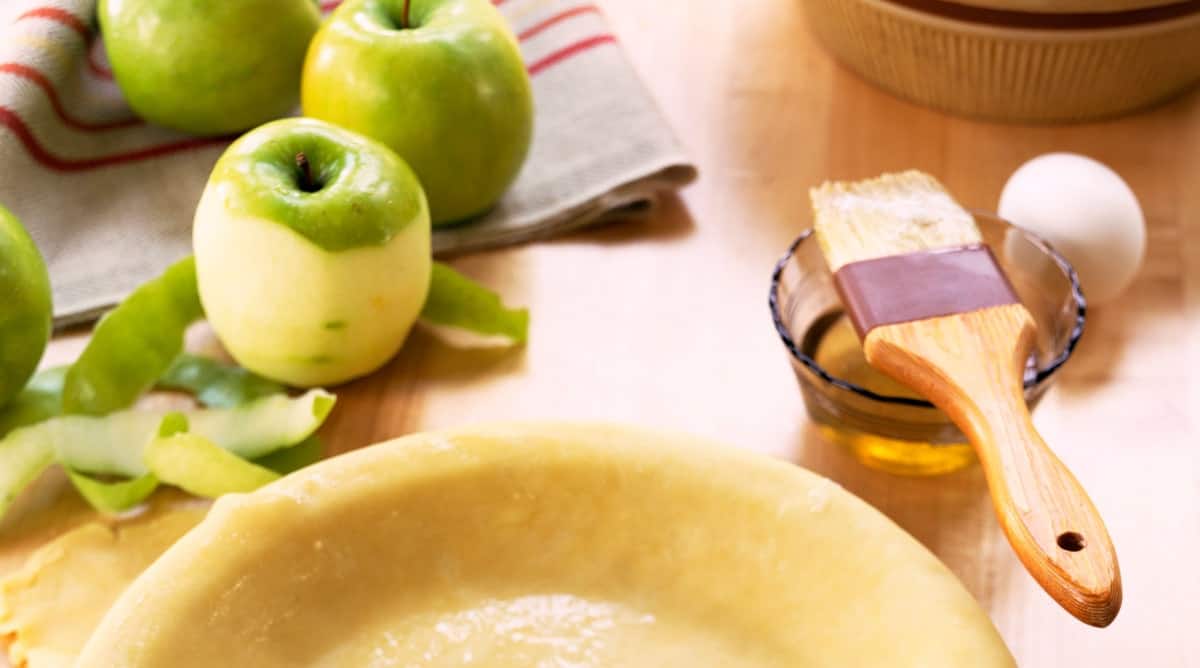 Sharp Blade
The best apple peelers have strong, sharp blades. That is what makes them good at their job. If the blade becomes too dull, you won't be able to peel any apples; at least not without ruining the fruit. 
You can always sharpen your blade once it loses its edge. But it's not always an easy process, depending on the design of your apple peeler. You're better off looking through other customer reviews to see if the blade will still be useful after months and months of use.
Versatility
When we talk about versatile apple peelers, we're talking about kitchen tools that do more than just simply remove the skin off of pieces of fruit. Did you know that you can find an apple peeler, corer, slicer, and even spiralizer out there? They work on all kinds of fruits and vegetables, too! When you have a three-in-one gadget, you can do a lot more stuff in the kitchen.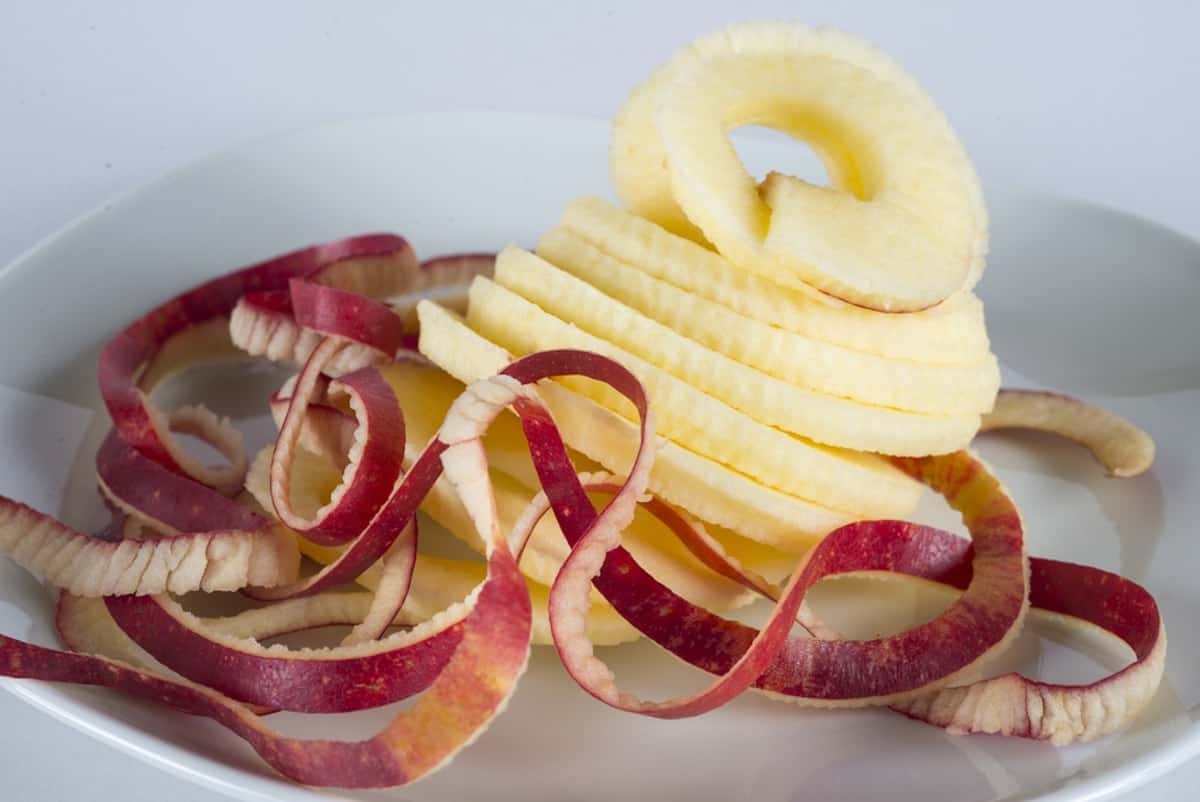 Easy to Use
This is a super important feature: you need a peeler that is easy to use. No matter if you're thinking of getting a manual apple swivel peeler or an electric countertop model, it needs to be convenient. Otherwise, how would it be any different from using a small paring knife?
Easy to Clean
Not all models are as easy to clean as they are easy to use. If you're getting a manual swivel apple, potato, veggie peeler, it should have a stainless steel blade that is rust-proof. If you're adding a manual or electric countertop peeler to your kitchen, look for one that has easily removable parts made from rust-proof materials. Bonus points if they're all dishwasher-safe!