There's no denying, nothing sums up the festive season better than candy canes. While they are a core part of every Christmas, you've probably never given much thought to their origin.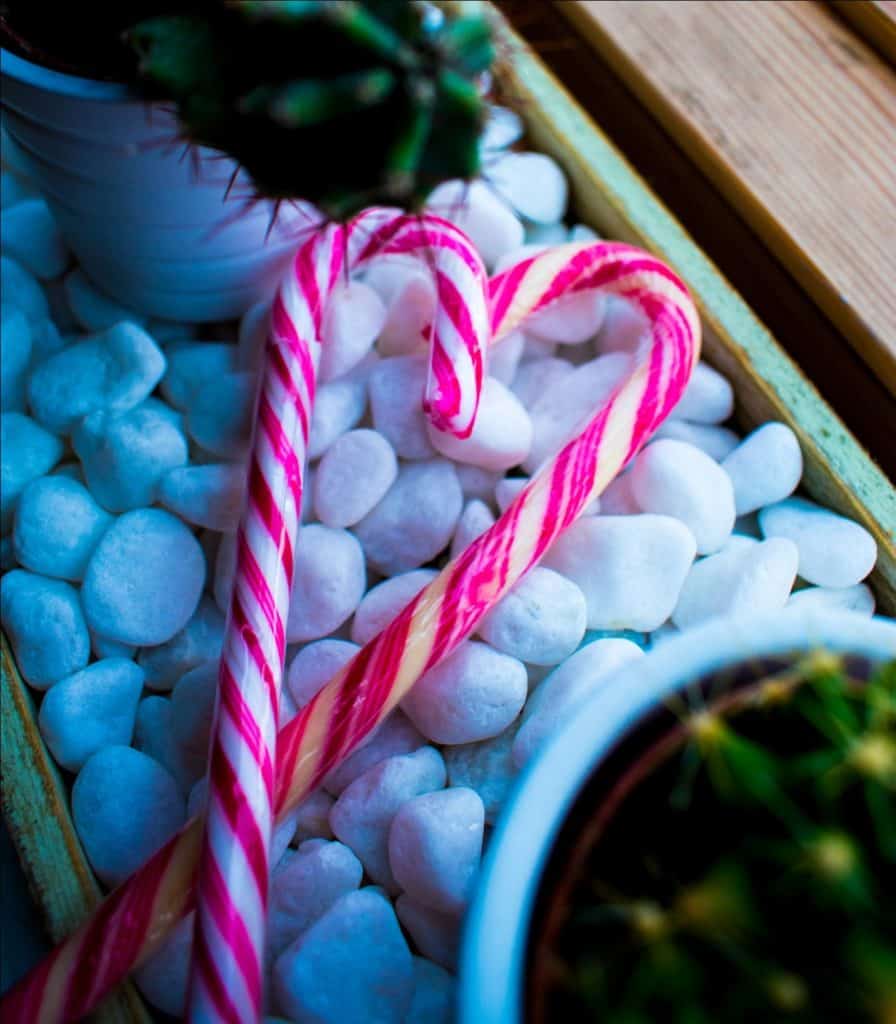 However, adopting a healthier, plant-based lifestyle means questioning the ingredients of everything you eat. Therefore, if you're racking your brain on the question, 'Are Candy Canes Vegan?' then you've come to the right place. Read on as we give you a detailed answer.
What Is a Candy Cane?
Long, thin sticks with red stripes bent at the top, candy canes typically come in wintergreen or peppermint flavors. August Imgard was the first man in America to decorate his Christmas tree with a myriad of candy canes in the 1800s.
While these candies were initially crafted by hand, by the mid 20th century, Gregory Keller built a machine that can churn out Candy Canes. To date, they are a favorite among adults and children across the globe every time the holidays roll around.
Are Candy Canes Vegan?
For the most part yes, candy canes are vegan. The main ingredients are sugar, corn syrup, natural flavourings and colourings. Some do contain animal products so just check the ingredient list carefully, especially if they contain additional ingredients to add different flavors. In the past, candy canes red coloring was made from crushed beetles - not vegan and kind of weird. However, that practice is out-dated and the majority of candy canes don't do that anymore. Again, to be on the safe side, always check the label to make sure they're suitable for vegans or vegetarians and to be beetle-free.
Nutrition Facts
Here's a breakdown of the nutritional value of candy cane.
Total Carbohydrates: 12 grams
Number of Calories: 50
Sugar: 12 grams
Candy canes don't contain cholesterol and fats, only sugar and carbohydrates.
Ingredients in Candy Canes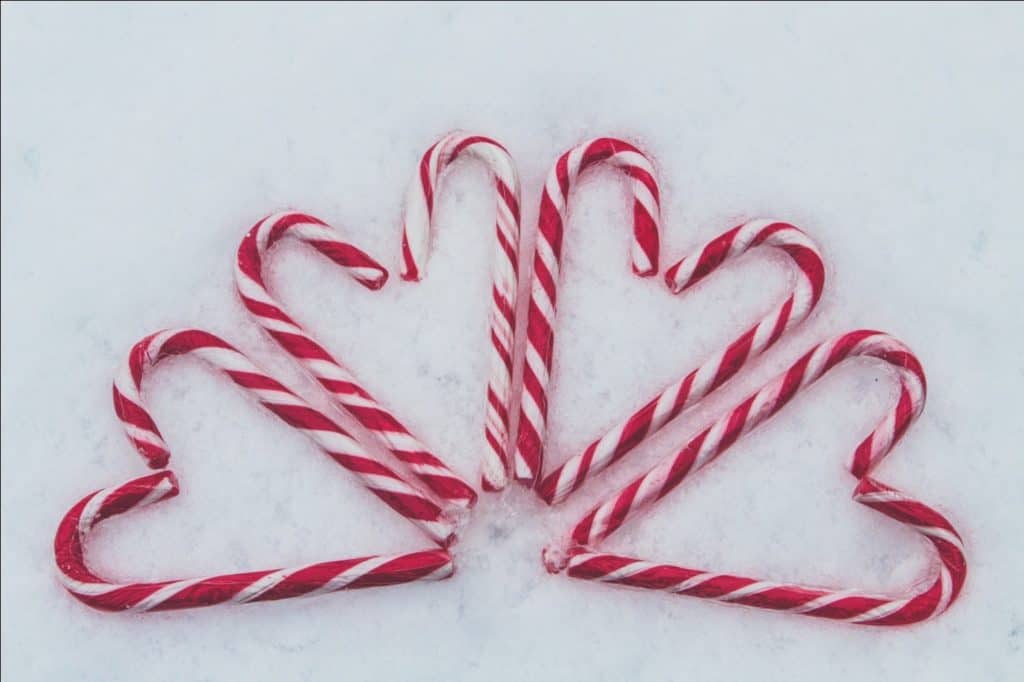 Circling back to the question, are 'candy canes vegan?' the short answer is that while some are vegan, others are not. To steer clear of animal byproducts, it's essential to check out the ingredients list, as discussed below. However, your best bet is a candy cane that is labeled as vegan.
Gelatin
It's present in some candy canes. Gelatin is a derivative of the bones and skin of sheep, rendering it non-vegan.
Carmine
It's the coloring that gives candy canes the vibrant red color. However, what you may not realize is that it's the product of a multitude of killed insects known as cochineal, so it's advisable to avoid it.
Sugar
It can be animal-based. Bone char that gives sugar its crystal white color is a product of cattle bones. Vegan sugar is typically labeled as raw, unrefined, organic, or natural.
Shellac
It gives candy canes that shine or sparkle. However, its production entails killing a myriad of insects known as Keria Lacca.
Glycerin
While it's originally animal-based, nowadays, it can be a plant byproduct. Typically, the glycerin in food products is plant-based. Nonetheless, if there's no information about its origin, we recommend steering clear of it if you follow a vegan diet.
Which Popular Candy Cane Brands are Vegan?
With the various brands churning out candy canes, which ones are suitable for vegans? To answer this question, we'll discuss their ingredients.
1. Jolly Rancher
With a fruity, creamy taste, this brand produces candy canes in three flavors (watermelon, strawberry, and mixed berry) with the following ingredients.
Corn Syrup: May or may not be vegan
Artificial and natural flavors: 100% vegan
Sodium lactate: may or may not be vegan
Malic Acid: Vegan
Artificial color (Blue 1, Red 40, and Yellow 5): 100% Vegan
Glycerin: May or may not be vegan
2. Spangler
All candy canes produced by this brand are free of milk, gluten, eggs, and soy. Moreover, they have a kosher certificate, lack common allergens, and constitute the following.
Corn syrup: 100% vegan
Colorings such as Red 40: Entirely vegan
Refined Sugar: May or may not be vegan
Natural flavors: Vegan
3. Brach's
The most renowned White and Red Mint Canes from this brand are made from essential peppermint oil. They comprise:
Sugar: May or may not be vegan
Peppermint oil: 100% vegan
Corn syrup: vegan
4. Allan
Available in the peppermint flavor, candy canes from this brand have a long list of ingredients as outlined below.
Hydrogenated soybean oil: Entirely vegan
Calcium carbonate: 100% vegan
Sugar: May or may not be vegan
Diglycerides and Monoglycerides: May or may not be vegan
Hydrogenated palm oil: non-vegan
Corn starch: Entirely vegan
Sunflower lecithin: 100% vegan
Color with tartrazine: Non-cruelty-free but is vegan
Glucose syrup: 100% vegan
Organic Candy Cane Brands
Popular candy cane manufacturers use ingredients whose origin is unverified or unknown. While we recommend steering clear of them due to the presence of animal byproducts, this doesn't imply you should deny yourself the simple joy of enjoying these candy sticks when Christmas rolls around. Therefore, here's a list of organic, plant-based candy cane brands you should consider.
Wholesome
Diabetic Friendly's
Hammond's
The Bottom Line
The days of wondering, 'Are candy canes vegan?' are now behind you. You can differentiate those partly plant-based from the 100% vegan counterparts, based on the brand and the ingredients.
Nonetheless, it's important to keenly check out the ingredients as most manufacturers don't mention the secret sources of their Christmas candy sticks. Remember, you can always reach out to them for more information about their items.