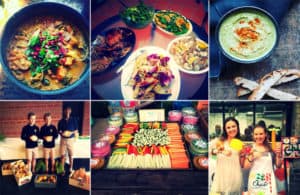 Did you know 40% of British crops are rejected because of their shape and size? Our Supermarkets throw away a combined 300,000 tonnes of food waste each year and the adult population adds a staggering 7 million tonnes on top of that. ⅓ of the food we produce in the UK is never eaten and 600,000 tonnes of food is wasted in restaurants per year. Food waste is gaining more public awareness, but what are we doing about it? This is my food waste story.
From cooking in wonderful places to the days of waitressing at large sporting events I have been exposed to mounds of glorious, delicious food. The variety of food that is produced on a daily basis around the world, from one small meal, to huge banquets, often results in some sort of food waste. It is estimated that 8.3 million tonnes of food and drink waste, is generated by households in the UK. This is just the food on people's plates. Unopened packets of fruit, meat, cheese and all of the 5.3 million tonnes (per year) of household food waste is completely avoidable. My protests were ignored and I was always given the standard reply of "our health and safety regulations in this country do not allow us to distribute food or use it again". As staff we weren't allowed to take any left over food home, none of it was distributed to the homeless or local charities, and there was no positive action. I found this throughly depressing.
ChicP evolved a year or so later, having experimented by making hummus every evening from the fruit and vegetables I bought (or found) at London markets. Hummus is a versatile product that everyone loves; great eaten together with a pasta or salad dish, also great as a dip for quick, healthy snack, or even straight out of the pot with a spoon. ChicP even has an innovative sweet hummus, perfect for breakfast or as a dessert, and is just the thing for a quick pick-me-up. Cooking delicious, healthy and nutritious food from leftovers, is one of the most inspirational ways to cook. It requires being creative and grabbing ideas from your fridge and cupboard (and using sites like Pinterest to inspire) without having to go to the supermarket. Everyone can do this, it's fun and helps reduce your waste, while saving you money. Buying ingredients from local grocery stores rather than supermarkets is much more satisfying. It helps you to buy produce in season, supports local businesses and helps to reduce packaging, as well as only buying the quantities you actually need.
This year, ChicP has collaborated with London Nursery Schools (LNS), Kensington Nursery. Every day we cook for the children a delicious, hearty and healthy lunch using seasonal, and where possible, organic produce. Pudding is always tasty but given a healthy alternative, and there is homemade ChicP hummus on the table most days. It is hugely important that the younger generation are educated about their food – where it comes from, how to eat well and healthily, how to reduce waste and to be as sustainable as possible. What is fantastic is that at LNS and the other schools I have attended, the children are incredibly interested in eating good and healthy food as well as being wholly engaged and curious in discussions about sustainability and how their schools can make a difference. This will determine the future of our food industry and the environment, and help create a new and dynamic attitude to waste.
We need more people to get involved in the food revolution and help us spread the word of food waste and create a more informed, happier, healthier and more resourceful society! Don't be afraid, waste is not a bad thing when it comes to food. Join the conversation on food waste and what you are doing about reducing household food waste using the hashtag #foodrevolution.