Packed with protein, these delicious and beautifully green baked falafels make an excellent appetizer or even entree for any occasion.
Easy Vegan Falafel Recipe
I adore falafels. This beloved street food hails from the Middle East, where chickpeas and fava beans are very common ingredients. Their small size makes them a perfect snack any time of day. But, falafel can easily be turned into a delicious vegetarian sandwich or meal.
The best part about falafel is that they are naturally vegetarian. The beans add protein and fiber that fill you up. In this recipe, I used chickpeas. I make a lot of hummus and I always have them on hand. It is really important to use fresh chickpeas in falafel. They give the right flavor and texture to the dish. All you need to do is soak dried chickpeas for at least 8 hours prior to making the falafel.
With just chickpeas, fresh herbs, and spices, these small patties or balls are fried and crispy delicious. In this recipe, I chose to bake them. Baking falafel helps preserve a lot of the valuable health benefits in the ingredients. And, it saves you a lot of kitchen mess! When frying, oil can get everywhere. It also can be quite dangerous too.
All danger aside, this vegan falafel recipe is super easy. You only need two appliances: a food processor and a baking sheet. Once you have all your ingredients prepped and ready, you will have some delicious and bright green falafels in no time!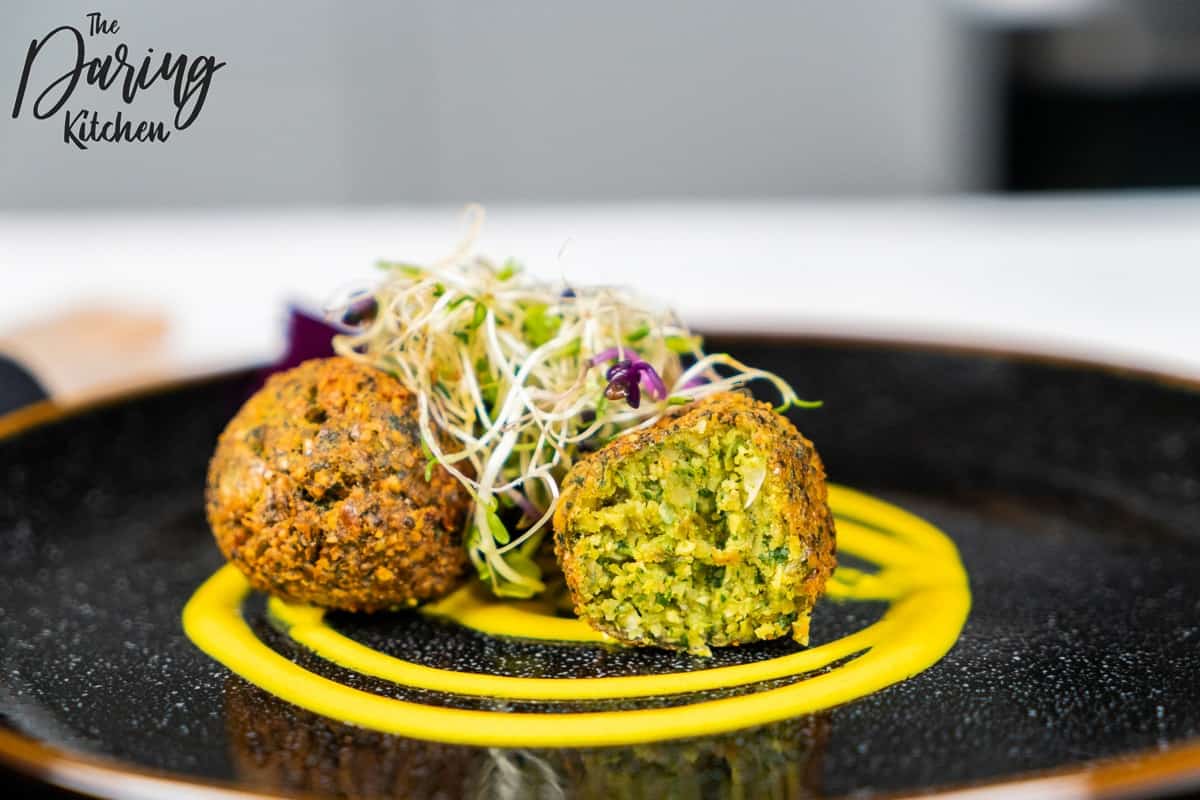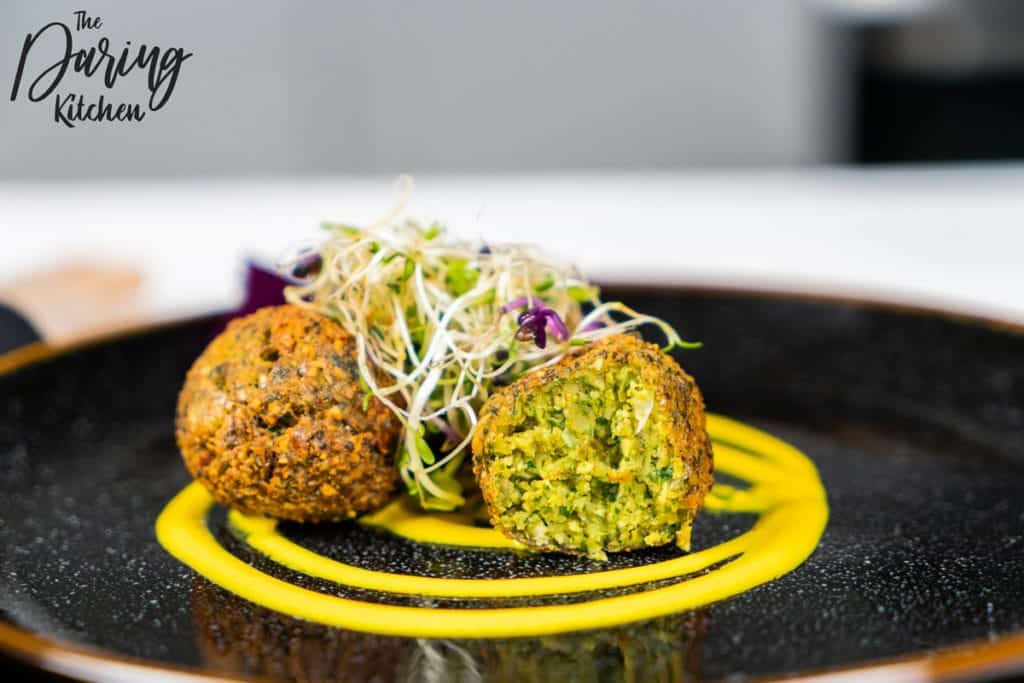 What Makes these Falafels Green?
When it comes to falafel, there is a bit of variation in how they are prepared. For example, some are made with chickpeas, while others are made with fava beans. If you choose the latter, you are definitely getting some extra green color.
For the most part, falafel ingredients stay in a pretty tight range of ingredients. In this recipe, I used chickpeas. But, they are still green! Why is that? Well, there are some seriously vibrant herbs in falafel recipes! These can vary, but the most common herbs in falafel are:
Parsley

Mint

Cilantro

Dill
These herbs all have a green color that comes alive in falafel batter. No matter what you choose, the falafels will come out delicious. And, absolutely green!
With lots of experimentation, I decided to use parsley and green onion. I love the freshness of these two ingredients. They are also very easy to find in the grocery store. Green onion may not be traditional, but it adds brilliant color and a nice touch of sweetness. Combined with garlic, red onion, and cumin, these falafels burst with flavor.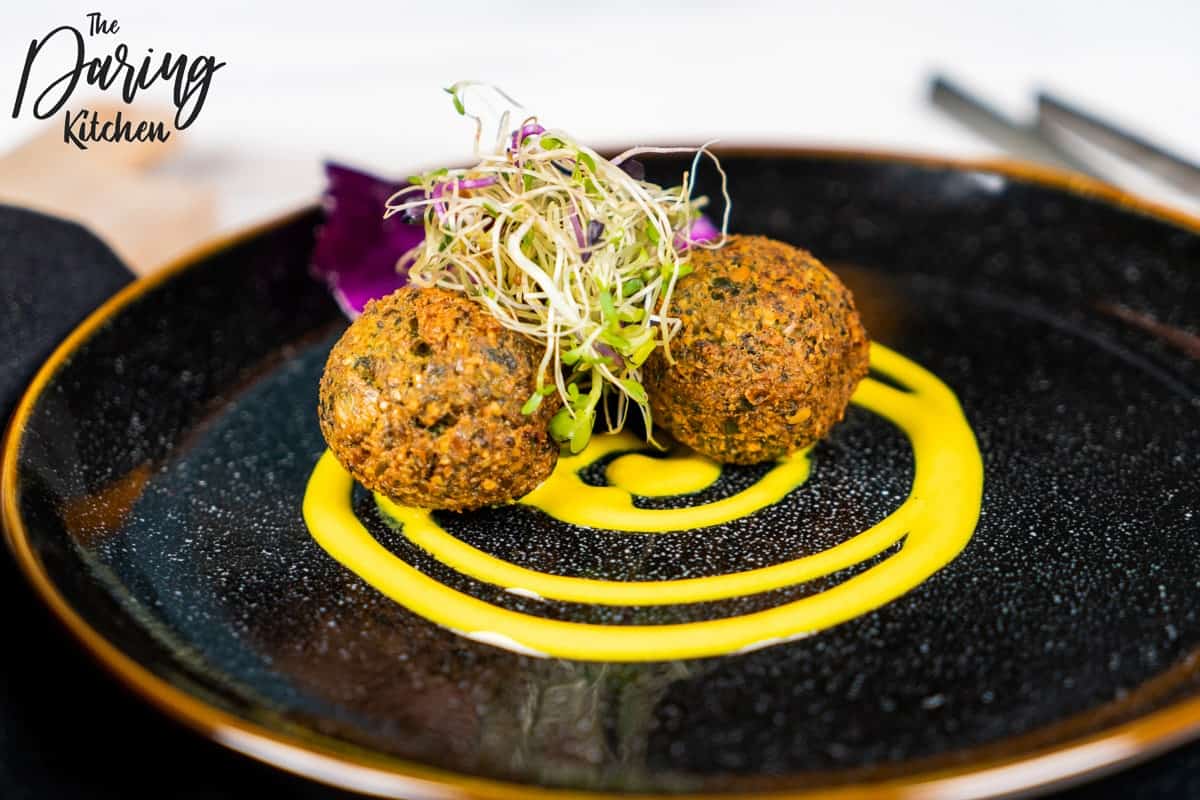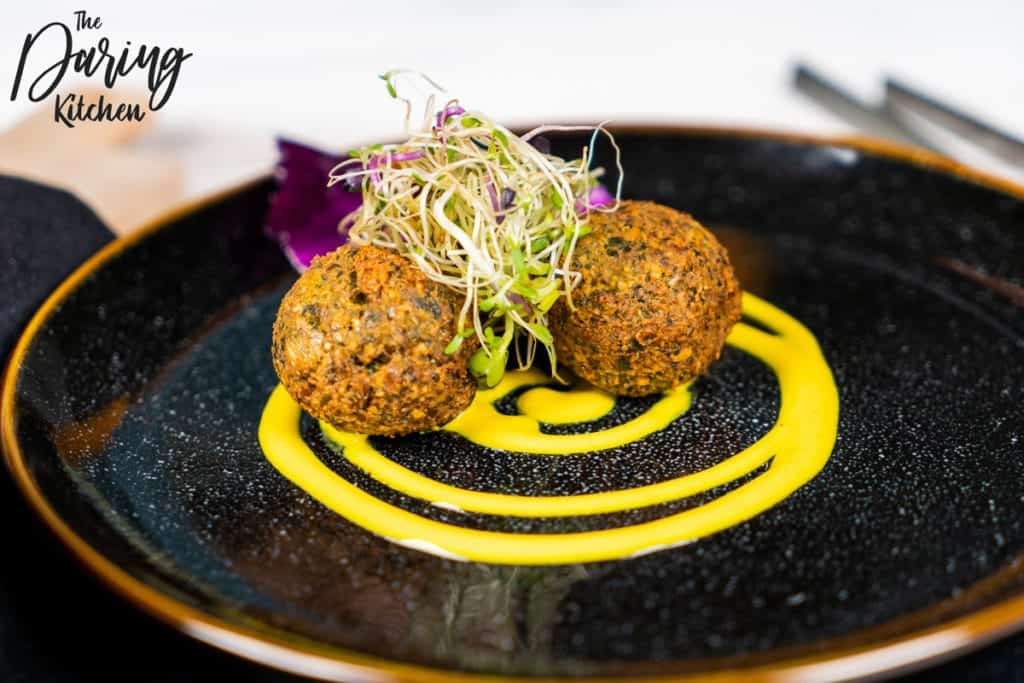 How to Plate your Green Falafels to Impress
While falafels are traditionally a casual snack, they can also make for an elegant dish. With a couple of components, you can turn your baked falafels into a dish to impress. It will capture the eye of not just vegans and vegetarians, but everyone who loves to eat.
When it comes to plating, you need two things: dressing and greens. The dressing needs to be bright colored and eye-catching. I always suggest a tahini-based dressing, as it is the classic pairing with falafels. Tahini is the typical dip or dressing on falafels. It is naturally very creamy. It also has the perfect thickness to keep up as a decoration on a plate. To brighten up your dressing, try adding in some turmeric. This mighty spice has tons of health benefits and it will lend a bright yellow color to just about any recipe.
I suggest putting your dressing in a handy squeeze bottle. This keeps things less messy. It also lets you have more fun in making decorations on your plate. You will feel just like a top chef. And, trust me, a little decoration will impress any dinner guest!
For greens, you can have fun here. I always love sprouts or any kind of micro-greens. They typically have a nice bitterness and overall great texture. Plus, they do not take up much room on the plate. This keeps your presentation simple and organized.
Whatever you choose, don't forget to take a photo of your beautiful falafel dish. You need to keep a memory of your kitchen creativity. And, don't be shy to share the photo with me. I would love to see how you dazzled up this baked falafel dish.
How to Make the Best Vegan Falafels
The first thing to do is to soak your chickpeas in water. These will need to soak for at least 8 hours (or overnight.) Then, you can rinse and drain them.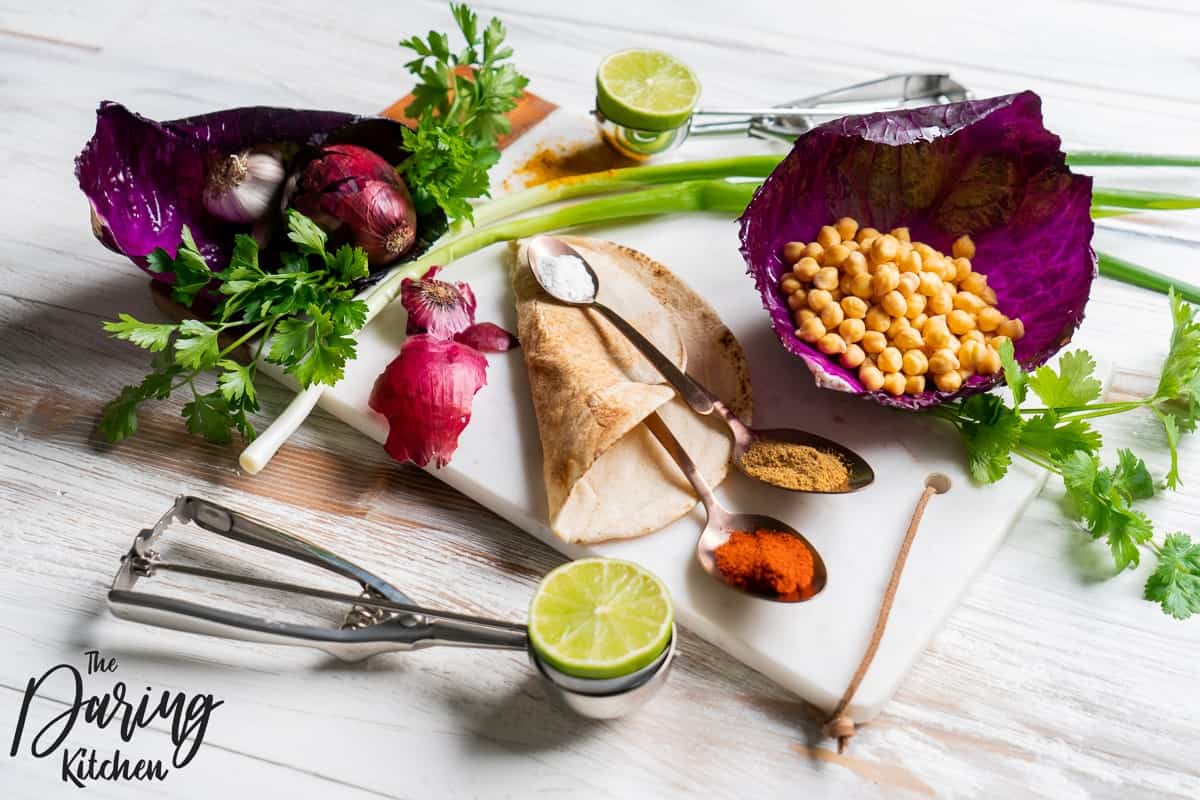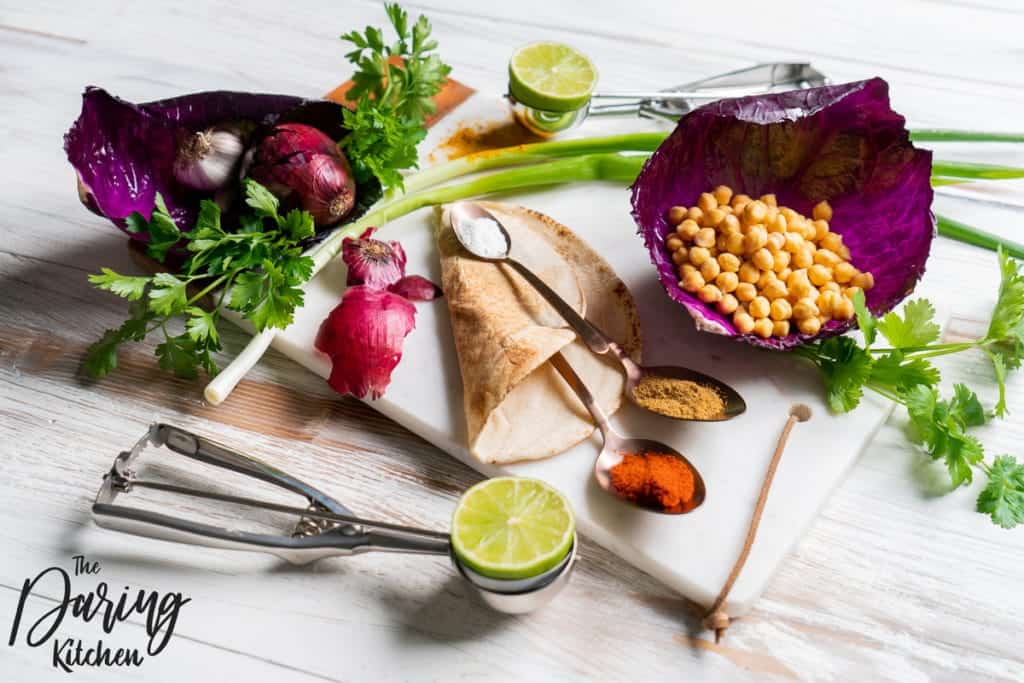 Preheat your oven to 400 degrees Fahrenheit. Then, line a large baking sheet with parchment paper.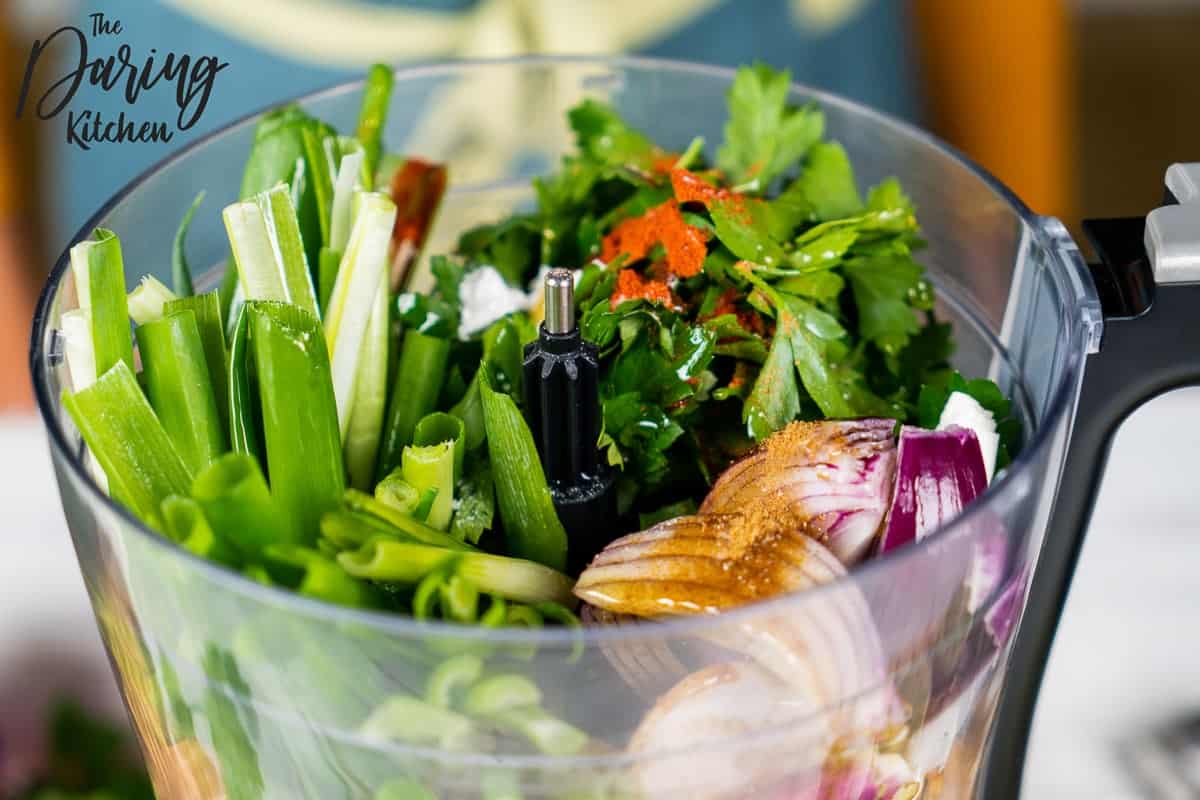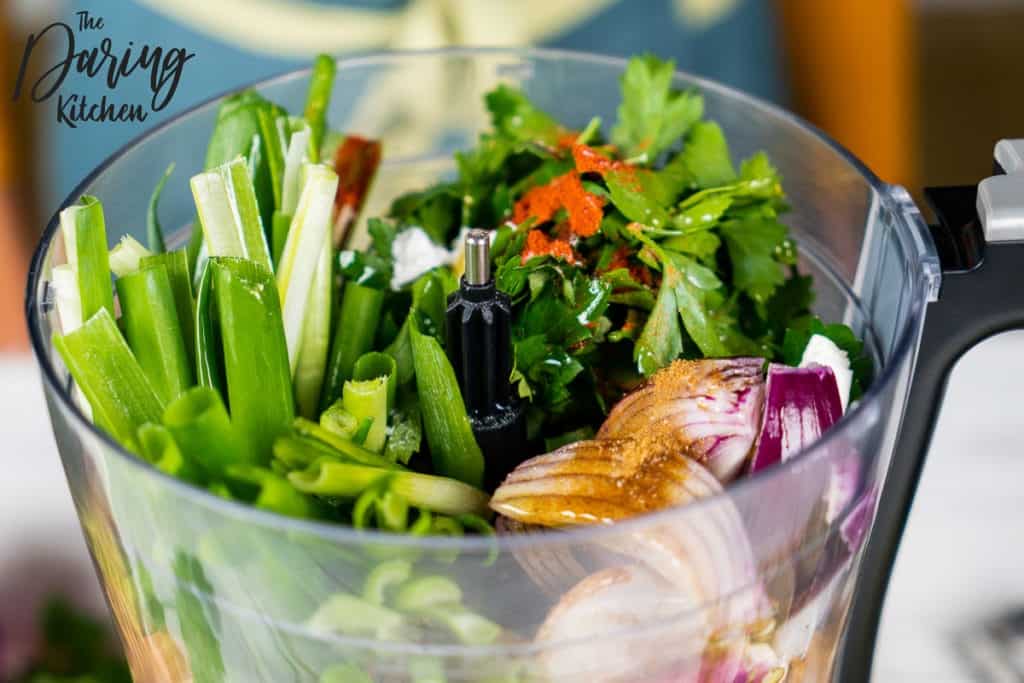 With a food processor or blender, combine your chickpeas with all your herbs, spices, and olive oil. Blend until everything turns into a crumbly mixture. It will be a little dry, but that is expected. When you reach this point, it's time to form your falafels.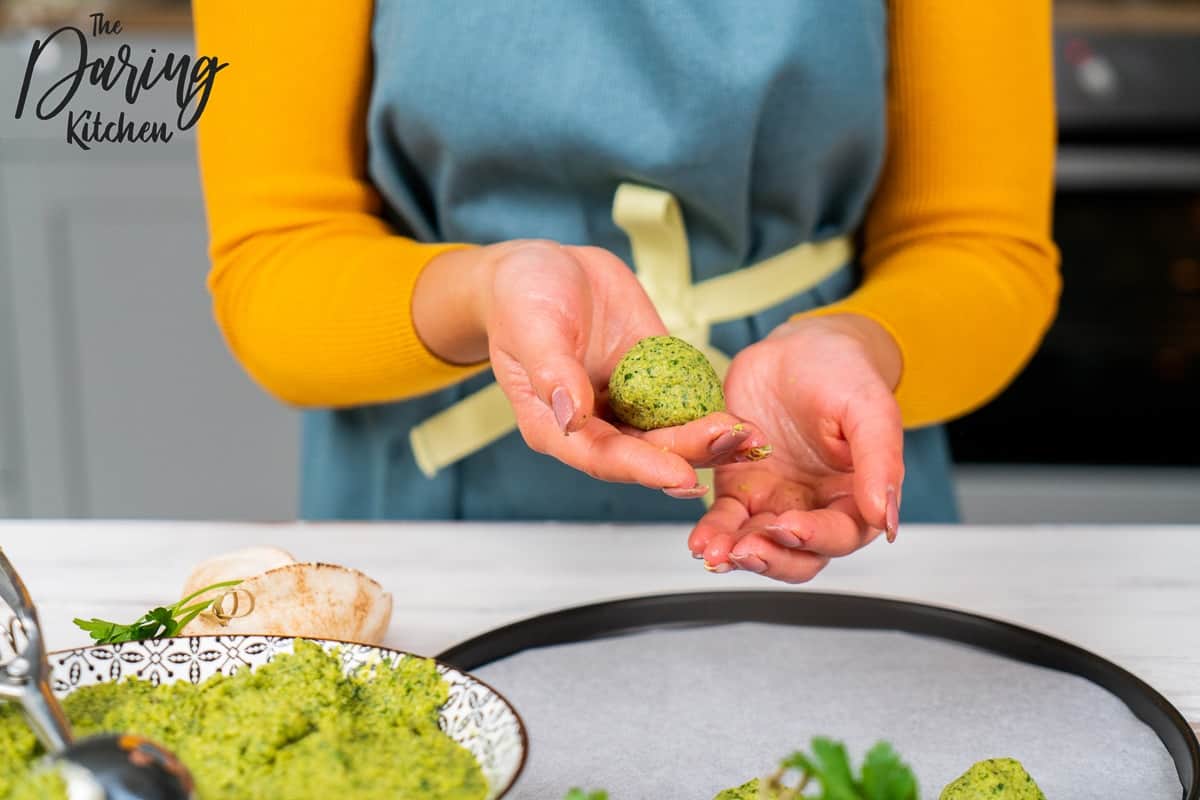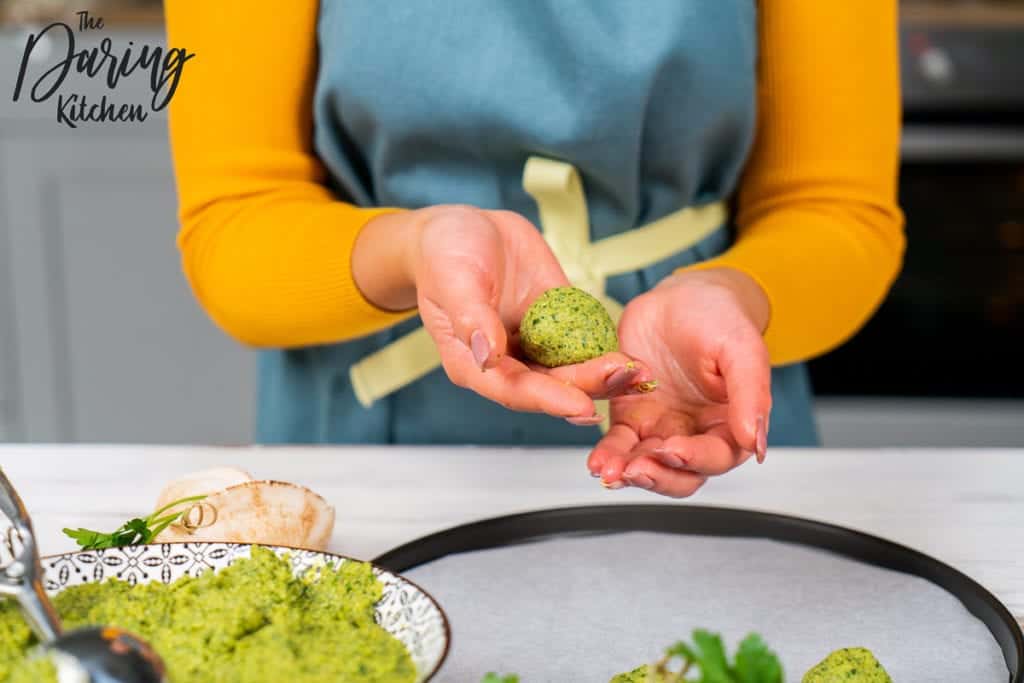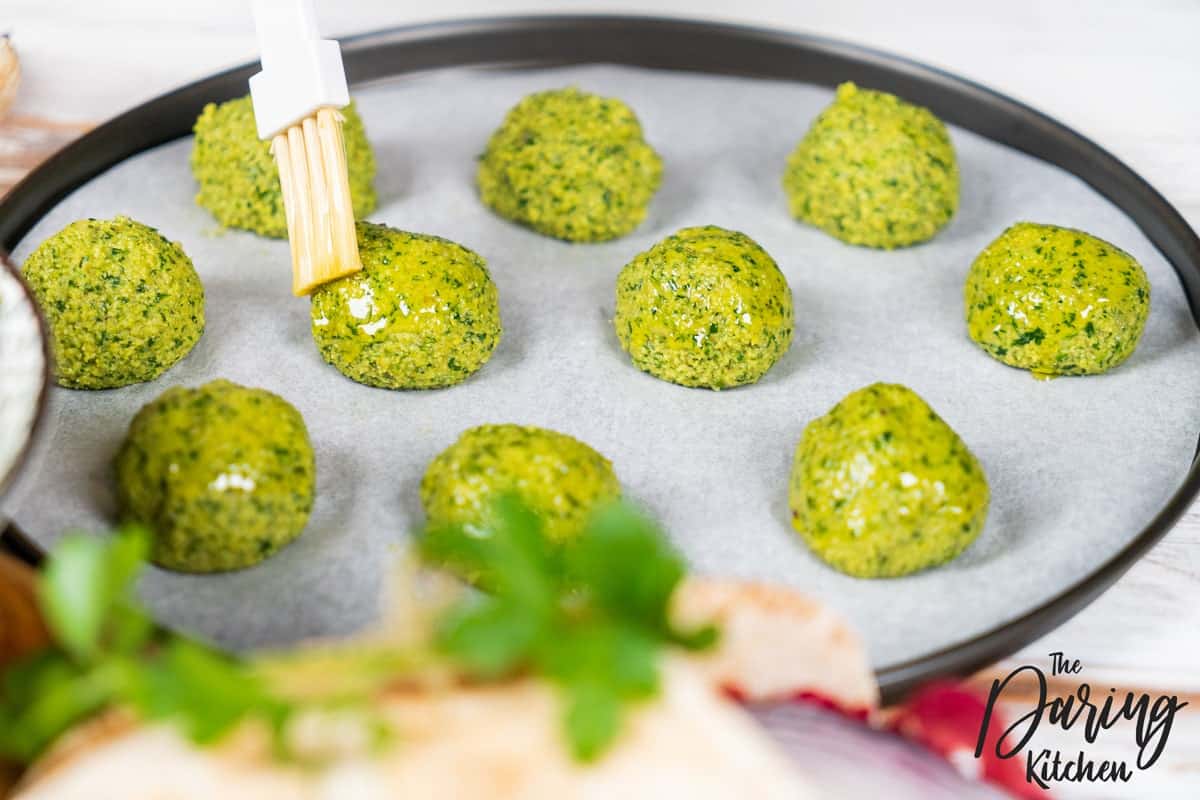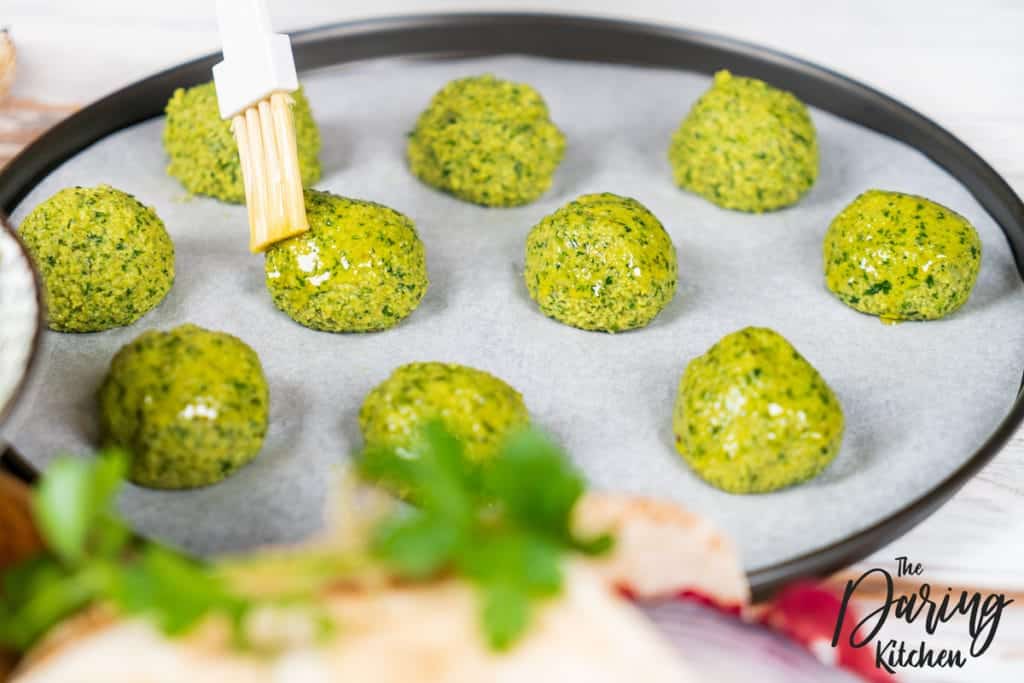 Using your hands or a spoon, form your falafels into balls. Line them on a parchment-lined baking sheet, leaving at least an inch between each falafel. With a brush, coat each falafel generously with olive oil. Place the falafels in the oven for at least 25 minutes. You want the falafels to have a nice and crispy brown exterior.
When your falafels are ready, take them out and let them cool. With your dressing of choice, decorate your plates for your falafel. Or, fill little ramekins with dressing as a dip. Place as many falafels as you'd like and garnish them with fresh greens. If you want, add some more dress on top.
Dig in (fork and knife optional!)
Green Baked Falafels
These brillantly green falafels are vegan and super simple to make.
Print
Pin
Ingredients
1 ½

cups

Chickpeas

2

bunches

Parsley

1

Red Onion

5

Green Onion

1

tsp

Red Pepper Flakes

½

tsp

Baking Powder

3

cloves

Garlic

⅔

tbsp

Olive Oil

1

tsp

Cumin
Instructions
Let the chickpeas soak in water for at least 8 hours. Rinse and drain.

Transfer the chickpeas to a blender. Add the parsley, red and green onion, dry spices and olive oil, so they blend easier.

The mixture should be dry and not oily and sticky.

Use a scoop to shape the falafels and drizzle them with oil. Bake for 25/30 minutes at 180 degrees.

Let the falafels cool and serve with a fresh salad and dressing.
Nutrition
Calories:
154
kcal
|
Carbohydrates:
24
g
|
Protein:
7
g
|
Fat:
4
g
|
Saturated Fat:
1
g
|
Polyunsaturated Fat:
1
g
|
Monounsaturated Fat:
2
g
|
Sodium:
94
mg
|
Potassium:
446
mg
|
Fiber:
7
g
|
Sugar:
5
g
|
Vitamin A:
2722
IU
|
Vitamin C:
44
mg
|
Calcium:
131
mg
|
Iron:
4
mg