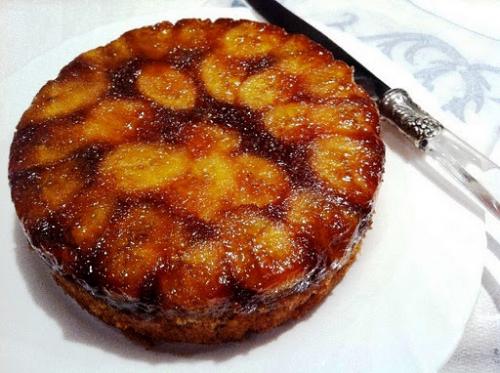 When it comes to baking, bananas are one of my favorite ingredients. They are delicious and versatile but bananas are not just simply good: they are actually good for us!
A banana has more or less like 100 calories per piece. They are very satiating and easy to digest when eaten as a snack.
Bananas are fat-cholesterol-sodium free and they contain, among others:
Vitamin B6 (pyridoxine), often called the "mood vitamin" because helps our brains and metabolism. Our body requires vitamin B6 to convert amino acid L-tryptophan into a neurotransmitter called serotonin.
Vitamin C (15% DRA) is a powerful antioxidant that boosts our immune system. It also helps regulate your blood sugar and grow and repair body tissue.
Potassium (13% DRA) Low potassium is linked to high blood pressure and increased risk of stroke. Besides, potassium helps to prevent muscle cramps.
Now I want to share with you, a few of my favorite recipes with bananas. I love them because they are simple, authentic, and so easy and quick to make. Maybe the amount of butter, sugar, flour and so on that these recipes involve contradicts all the benefits stated above but… What can I do, I'm a sweet tooth. And I'm a Baker, a Daring Baker, yay!!!
Upside down banana cake (picture above)

Ingredients:
1 cup caster sugar
1 cup water
2 medium bananas, sliced thinly
2 eggs, beaten lightly
2/3 cup vegetable oil
¾ cup firmly packed brown sugar
1 teaspoon vanilla extract
2/3 cup plain flour
1/3 cup self- raising flour
2 teaspoons mixed spice
1 teaspoon bicarbonate of soda
1 cup mashed banana
Directions:
Preheat oven to 180ºC/160ºC. Grease deep 22 cm-round cake tin line base with baking parchment.
Stir caster sugar and the water in a medium saucepan over heat, without boiling, until sugar dissolves; bring to a boil. Boil, uncovered, without stirring, about 10 minutes or until caramel in color. Pour toffee into prepared tin; top with the sliced banana.
Combine eggs (slightly beaten), oil, brown sugar and extract in a bowl. Stir in sifted dry ingredients, then add the mashed banana.
Pour mixture into tin; bake about 40 minutes. Turn cake onto serving plate; peel off baking parchment. You can serve cake, warm or at room temperature, with thick cream if desired.
Source: Australian Women's Weekly: "100 Classic Cakes"
Banana bundt cake
Ingredients:
185 grs butter, softened
1 ¼ cup caster sugar
3 eggs
2 ¼ cups self.raising flour
½ teaspoon bicarbonate of soda
1 ¼ cup mashed banana
1/3 cup milk
Directions:
Preheat oven to 180ºC/160ºc. Grease a bundt or savarin tino r a 24 cm patterned silicone tube tin.
Beat butter and sugar in the bowl of your electric mixer until pale and fluffy. Beat in eggs, one at a time. Stir in sifted dry ingredients by hand, then mix in mashed banana and milk.
Spread mixture into prepared tin. Bake about 40 minutes. Stand cake tin at least 10-15 minutes before turning onto wire rack to cool.
Source: Adapted from Australian Women's Weekly: "100 Classic Cakes"
Banana molasses bread
Ingredients:
4 tablespoons of butter, softened
¾ cup molasses
¼ cup sugar
1 ¼ cup flour
½ teaspoon salt
½ teaspon baking poder
2 eggs
3 bananas, mashed
½ cup chocolate drops
½ cup pecan nuts, chopped
½ teaspoon orange zest
½ teaspoon nutmeg
Directions:
Preheat oven to 180º
Mix butter, molasses and sugar. Beat until creamy.
Stir in dry ingredients sifted. Mix until dough resembles Brown sugar. Add eggs, one at a time, mixing well after each addition. Beat in the rest of ingredients. Do not overmix. Bake for 50-60 minutes, stand the tin for at least 10 minutes. Turn onto wire rack to cool.
Banana muffins with white chocolate
Ingredients:
1 3/4 cups (225 grams) all purpose flour
1/2 cup (100 grams) white granulated sugar
1/4 cup (55 grams) light brown sugar
1 teaspoon baking powder
1/2 teaspoon baking soda
1/4 teaspoon salt
1/2 cup (2 ounces) (65 grams) white chocolate chips or chunks
3 large ripe bananas (approximately 1 pound or 454 grams), mashed well (about 1-1/2 cups)
1/2 cup (113 grams) unsalted butter, melted and cooled
2 large eggs, lightly beaten
1 teaspoon pure vanilla extract
Directions:
Preheat oven to 350 degrees F (180 degrees C) and place the oven rack in the middle of the oven. Either line 12 muffin cups with paper liners, or you can butter or spray them with a non stick vegetable spray.
In a large bowl combine the flour, sugars, baking powder, baking soda, salt, and white chocolate chips.
In a medium-sized bowl combine the mashed bananas, melted butter, eggs, and vanilla. With a rubber spatula or wooden spoon, lightly fold the wet ingredients (banana mixture) into the dry ingredients just until combined and the batter is thick and chunky. (The important thing is not to over mix the batter. Over mixing the batter will yield tough, rubbery muffins.) Spoon the batter into the prepared muffin tins. Bake about 20 – 25 minutes or until a toothpick inserted in the center comes out clean. Place on a wire rack to cool for five minutes and then remove muffins from pan. Serve warm or at room temperature.
Makes 12 regular sized muffins.
Bananaccino shots
This is so obvious, so easy and quick to make that I can hardly call this a recipe but I love them.
Ingredients for 4 shots:
3 ripe bananas
3 teaspons brown sugar
½ cup milk foam
Cinnamon
Directions:
Put bananas and sugar in the bowl of your electric mixer. Mix until completely blended. Divide the mix into 4 shot glasses, top with a spoonful of fresh milk foam and sprinkle with cinnamon.
And what are your favorite recipes with bananas?