One of my best roasted mushrooms recipes yet - these balsamic soy roasted garlic mushrooms will absolutely blow your socks off! The best part? These mushrooms are vegan and take only 25 minutes to make. Enjoy them as a side dish or main course for dinner tonight.
The Ultimate Balsamic Soy Roasted Garlic Mushrooms Recipe
There's no doubt that both meat-eaters and vegans alike will love this recipe. These balsamic soy roasted garlic mushrooms taste as good as grilled steak.
Why? Because the ingredients in this recipe all work together to create an amazing sauce that coats the mushrooms just magically. Fresh herbs, soy sauce, and balsamic vinegar are just meant for each other!
Plus, all you need is just the oven. No pan, no crazy appliances - just a delicious sauce, your mushrooms, a baking pan, and a little time in the oven. That's all it takes to make these delicious roasted mushrooms, I swear!
Balsamic is one of my favorite condiments. It has the best balance of sweetness and acidity. When added to any sauce, it creates an unbelievable glaze, especially for mushrooms. The natural sugars in balsamic make creating a glaze easy, without the need for brown sugar.
With the addition of a little soy sauce, this sauce gets all the salty umami flavor that makes your tastebuds go crazy! If you want to get a little more flavor-intensive, pairing these mushrooms with some creamy mashed potatoes is never a bad idea...It's like having Christmas dinner (especially if you throw in some green beans too!)
It doesn't stop there- fresh thyme makes an herbaceous appearance in this recipe too. Thyme and mushrooms are one of the perfect matches, along with a little garlic. There's something unbeatable delicious about a garlic herb sauce.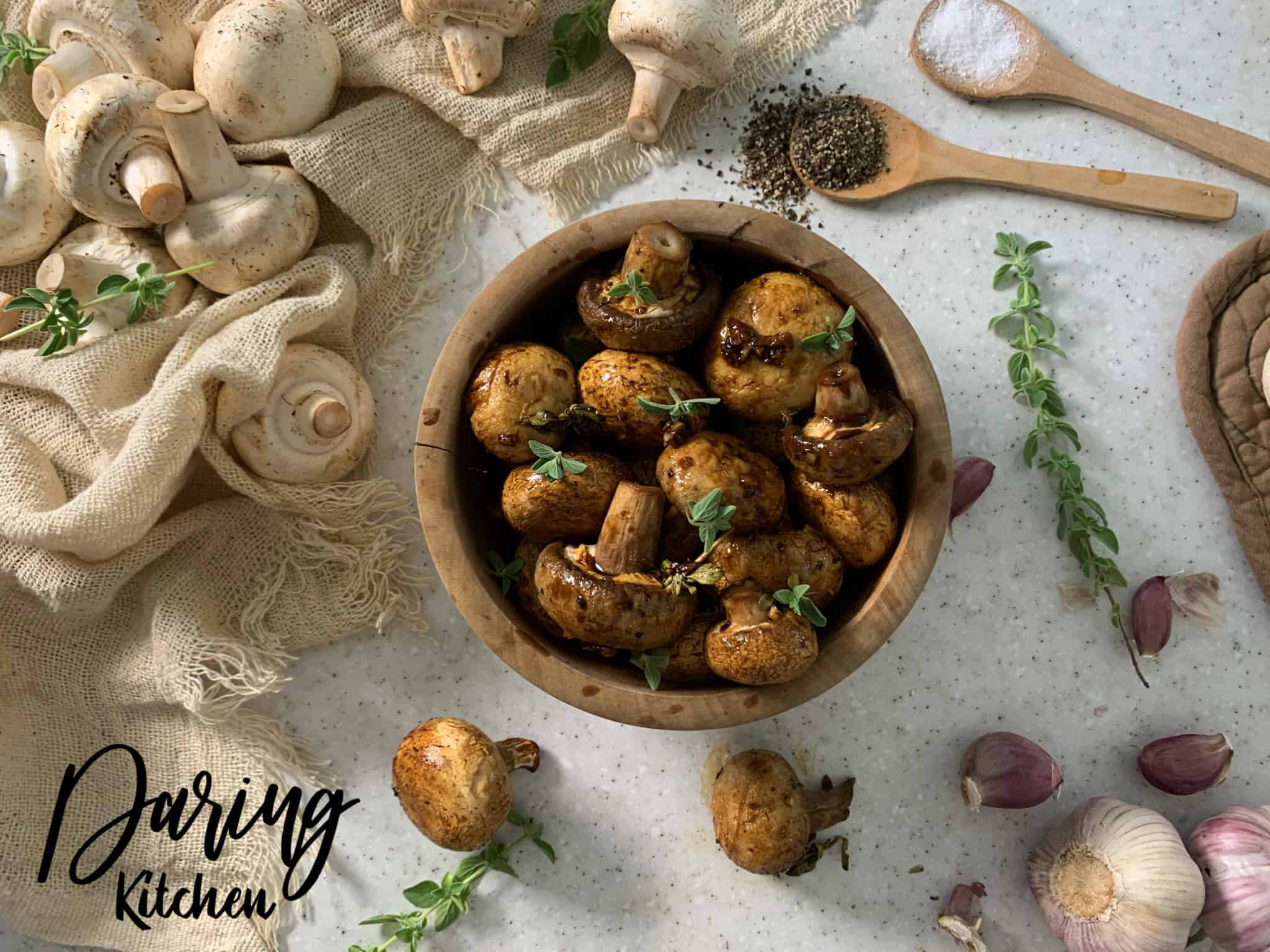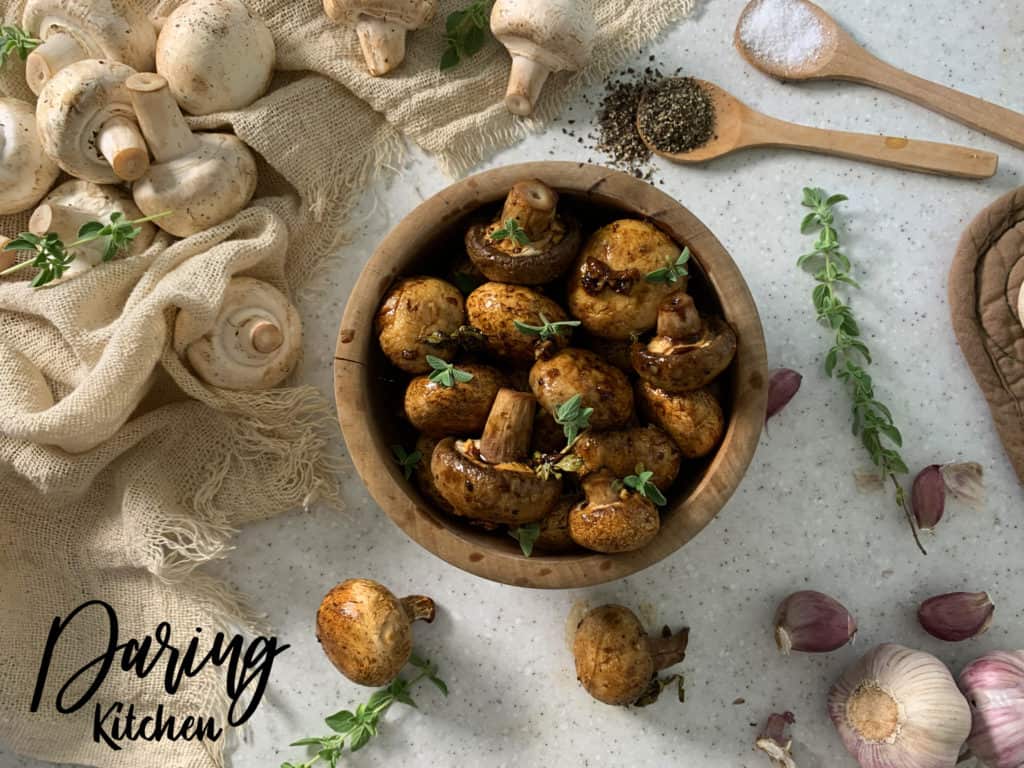 Why I Love to Roast Mushrooms
If there's something I cook often in my household, it's mushrooms. As someone who eats as plant-based as possible, mushrooms help satisfy my cravings for meat and also give me loads of brain-boosting vitamins.
Mushrooms are a major gift from Mother Nature. They are meaty, juicy, and also crazy diverse! I mean, there are so many kinds of delicious mushrooms out there.
What I love most about them is that it doesn't take much to make simple and tasty mushrooms. You can eat them with nearly everything! As someone who loves a good vegan sauce, this dish recipe was born pretty organically. I've seen balsamic glazed portobello before. So, I thought: why not expand on that with different mushrooms and a delicious thyme sauce?
For this recipe, you can use any kind of mushrooms you want. I love button mushrooms because they're easy and bite-sized. Plus, you don't need to chop them up - just throw them right into the pan!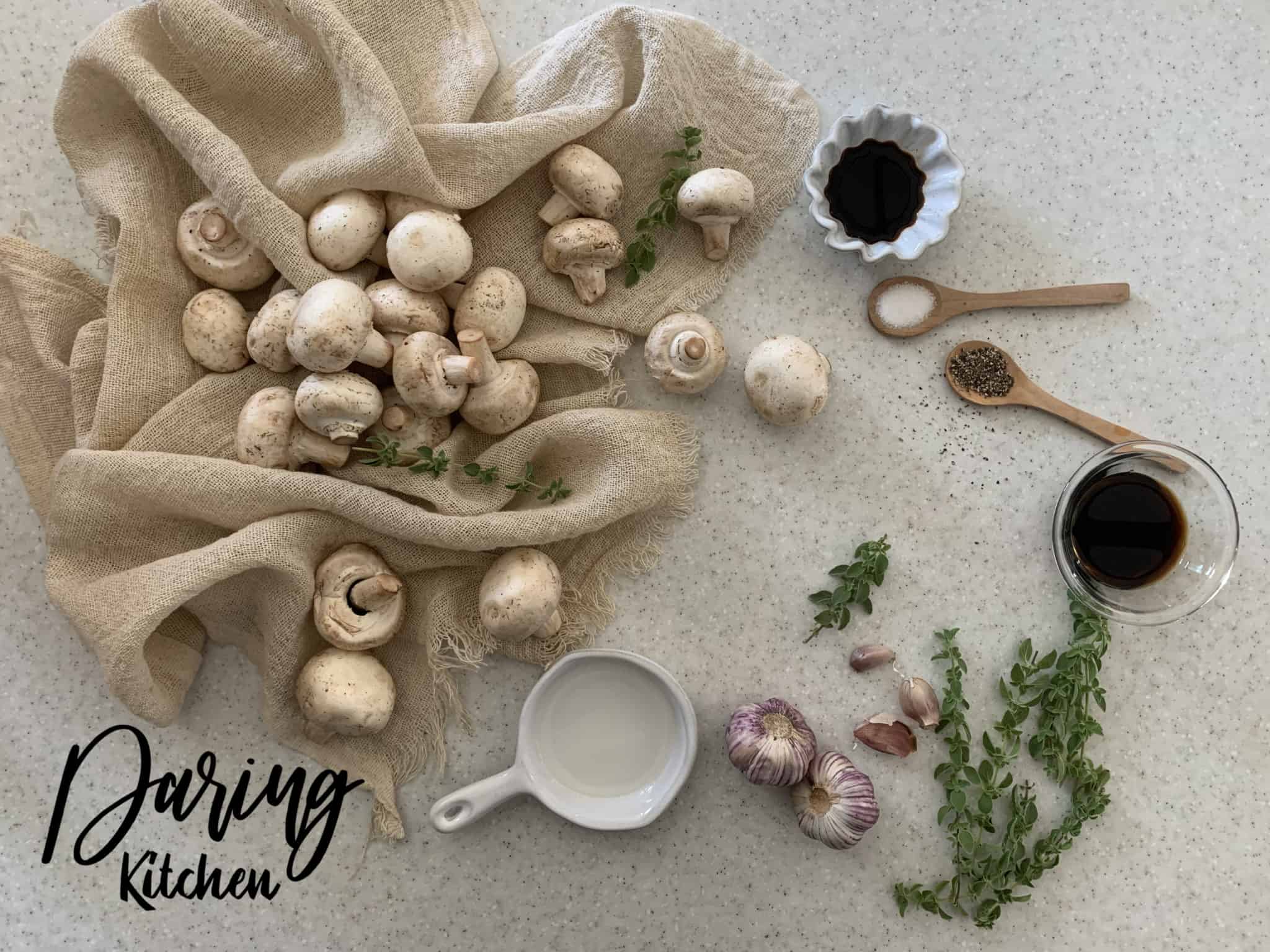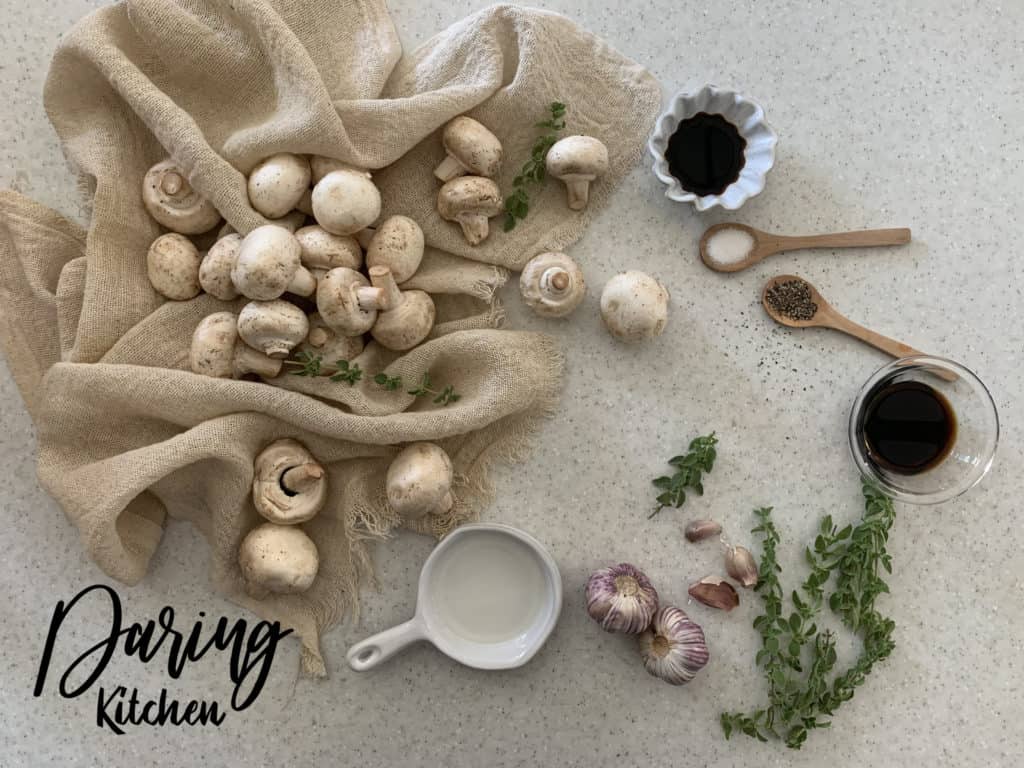 What Ingredients Do you Need for Balsamic Soy Roasted Garlic Mushrooms?
Obviously, there are mushrooms in this recipe! But, what else will you exactly need to create these balsamic soy roasted garlic mushrooms?
whole mushrooms (or any kind of mushroom you want!)
Balsamic vinegar - Make sure you do not buy balsamic glaze for this recipe, which is already condensed. You will need balsamic vinegar as it will lend the right acidity to the sauce.
Soy sauce - Any soy sauce works for this recipe. If you are looking to make this mushroom dish gluten free, use tamari (a reliably gluten free soy sauce.)
Garlic - Minced garlic melts beautifully into this sauce, giving it a nice amount of zest!
Thyme - This herb gives a wonderful essence to the dish. You will only need the leaves for this recipe. If you want to play around with the herbs, you can also use sage or rosemary.
Salt and pepper - I always suggest doing this to taste, as soy sauce does come with a decent amount of sodium on its own
I bet you already have a lot of these ingredients at home, as the sauce consists of common pantry ingredients. That's what I love about this dish recipe - you don't have to try that hard to make some amazingly delicious roasted mushrooms.
How to Make Balsamic Soy Roasted Garlic Mushrooms
Making these balsamic soy roasted garlic mushrooms doesn't take much effort - I'm 100 percent serious! Follow these simple steps and you will be good as gold.
First, preheat your oven to 400 degrees Fahrenheit.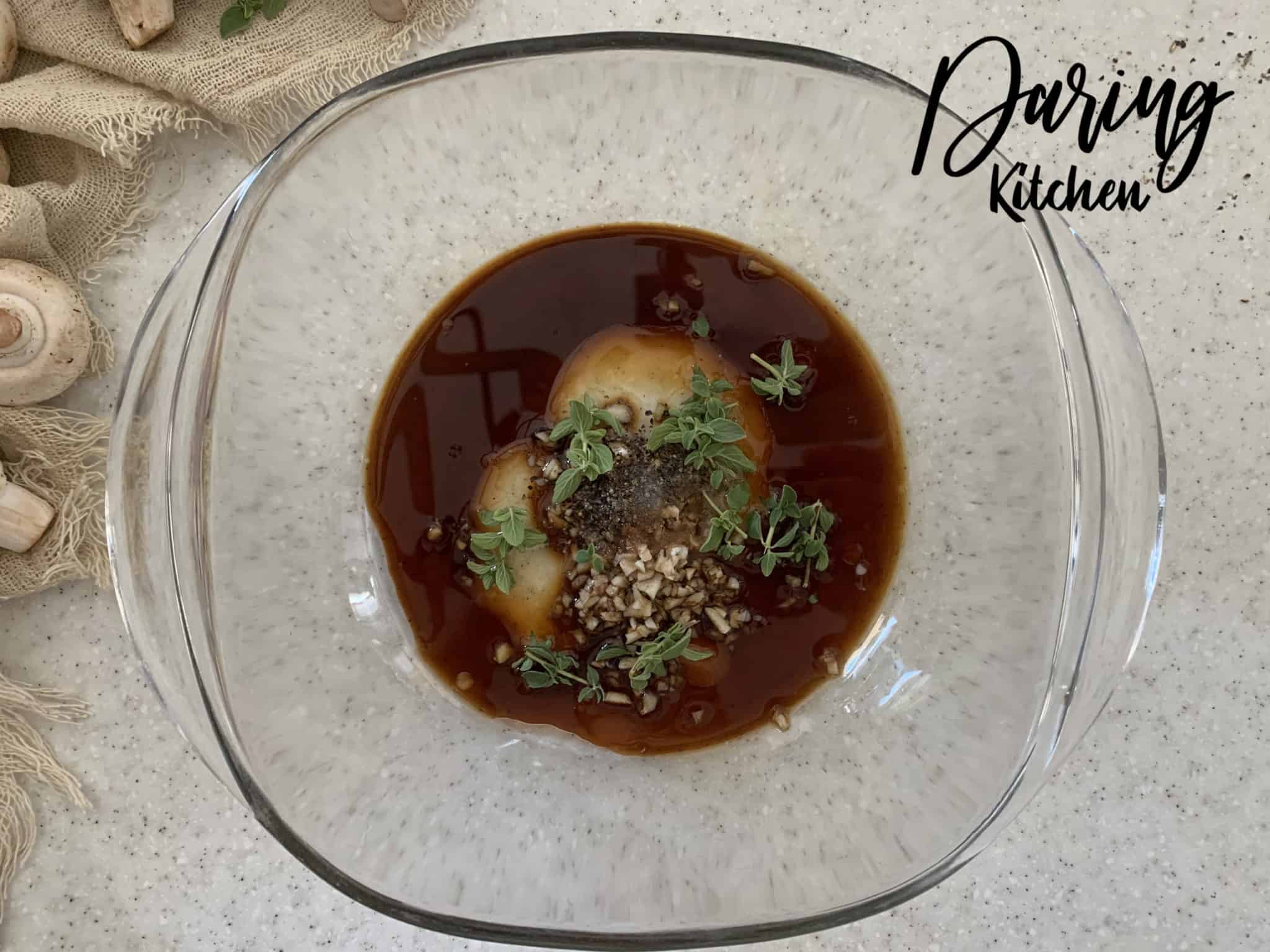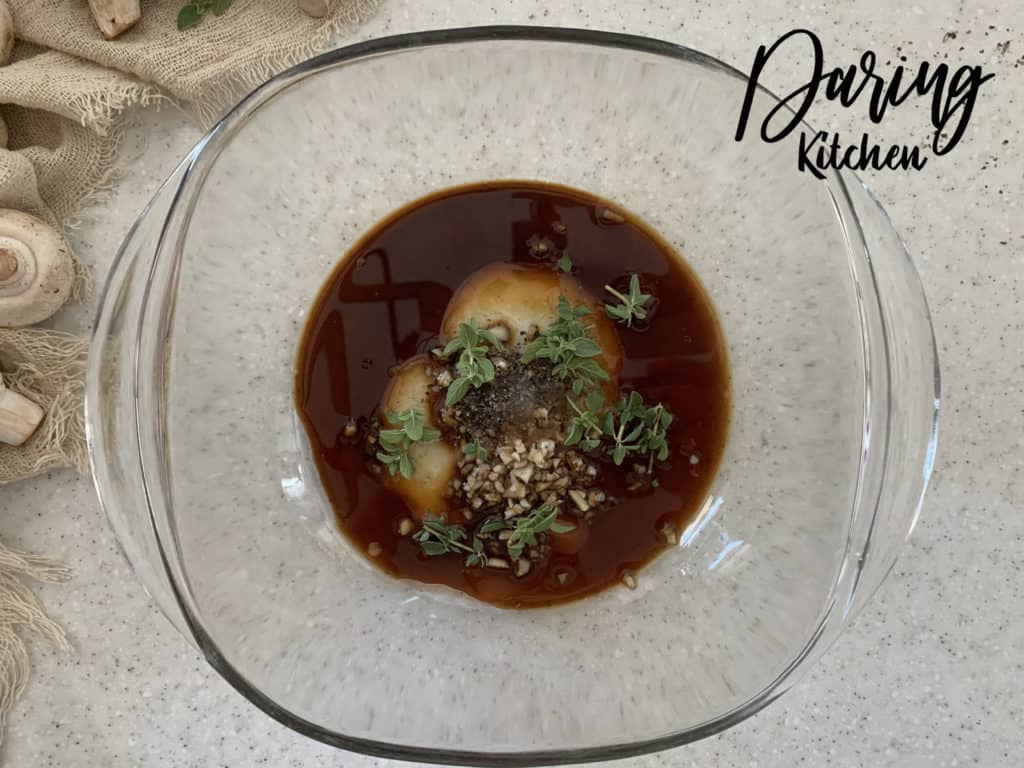 In a large bowl, add balsamic vinegar, soy sauce, minced garlic, and thyme. Whisk everything together until even.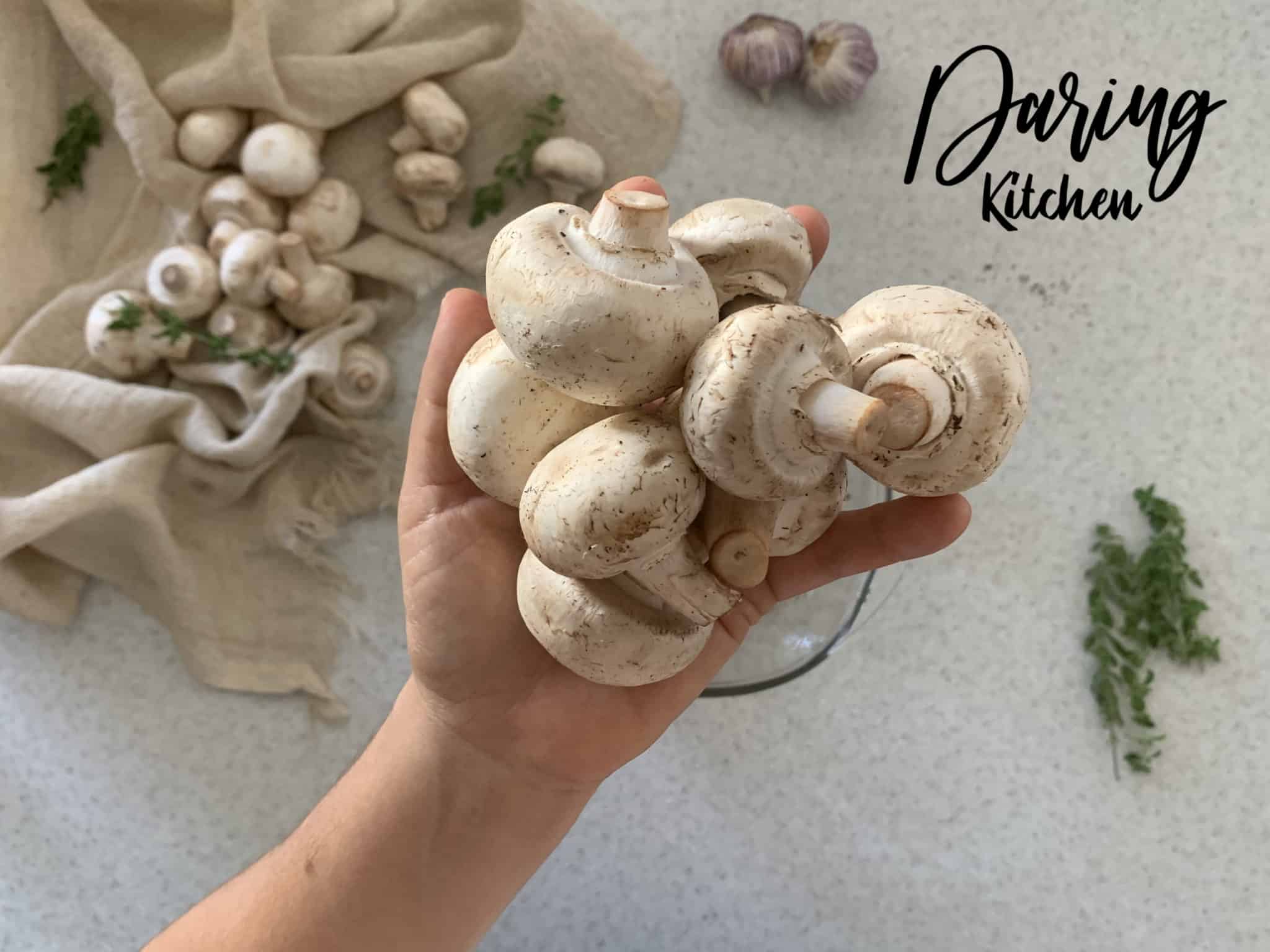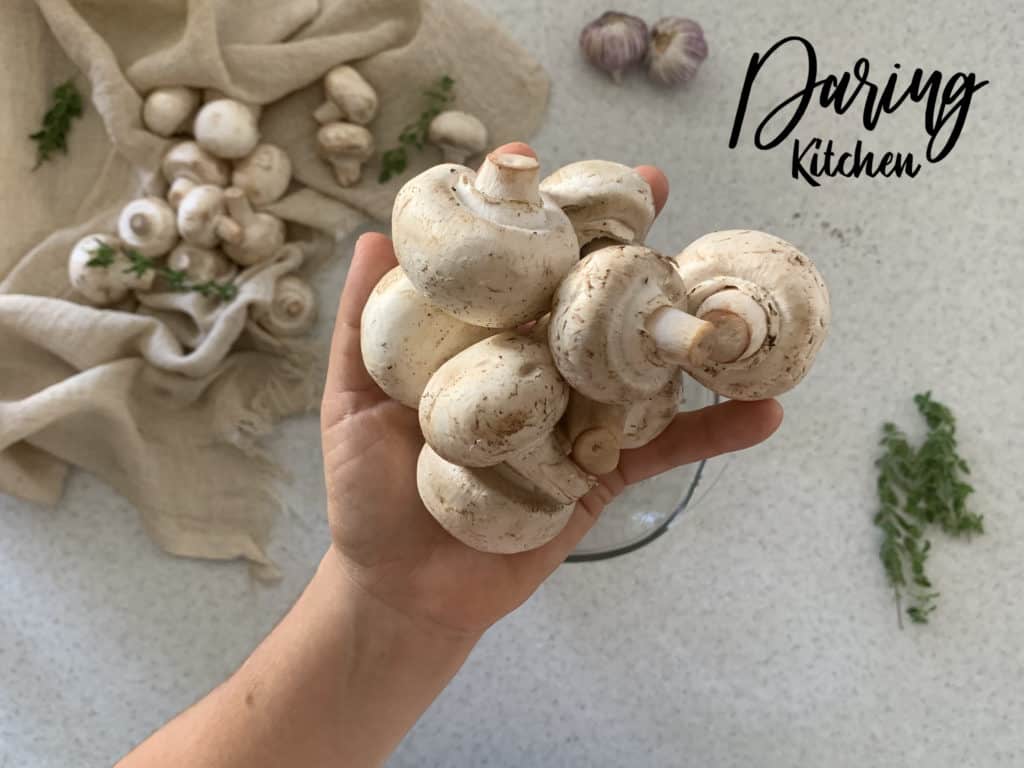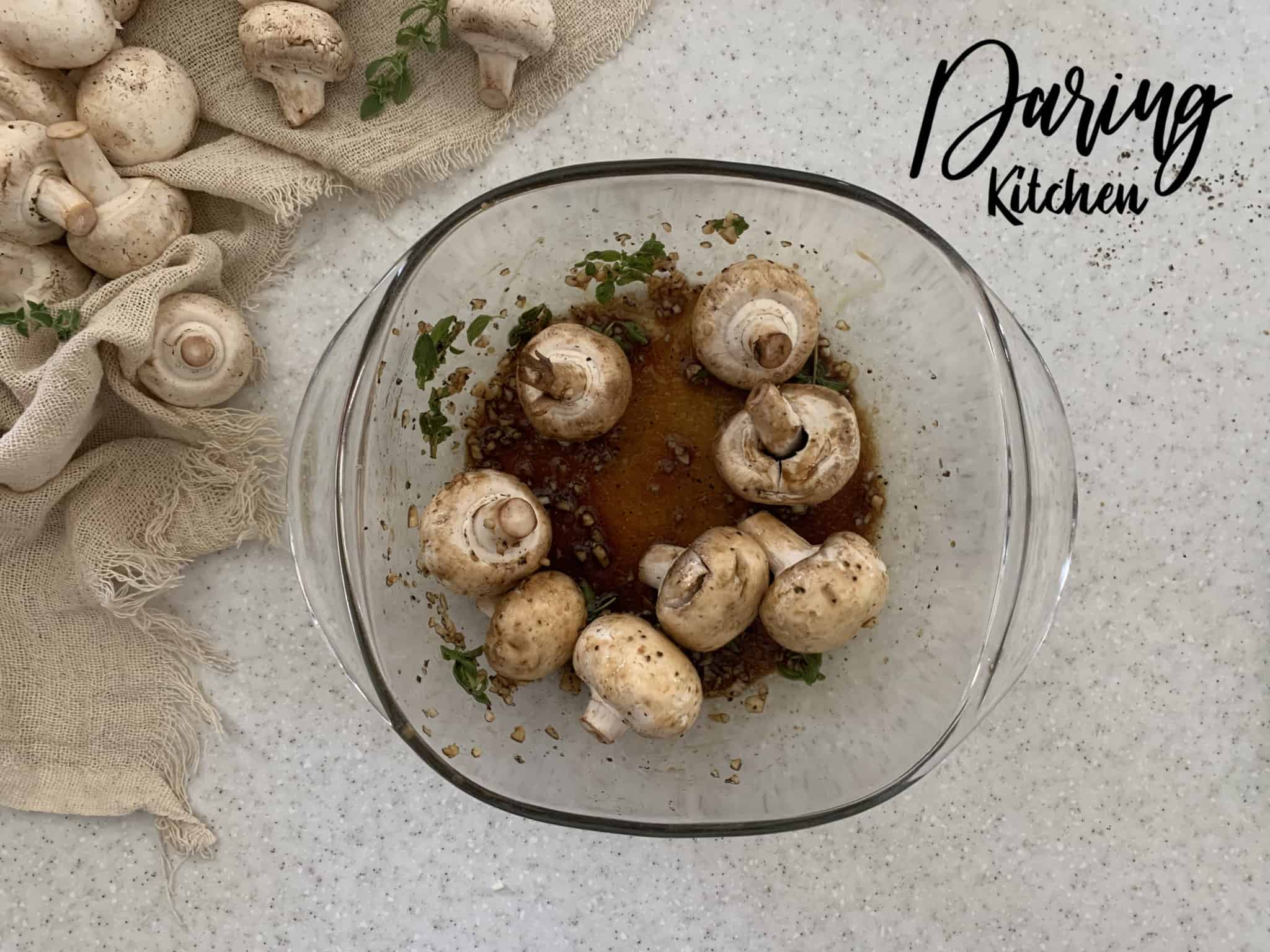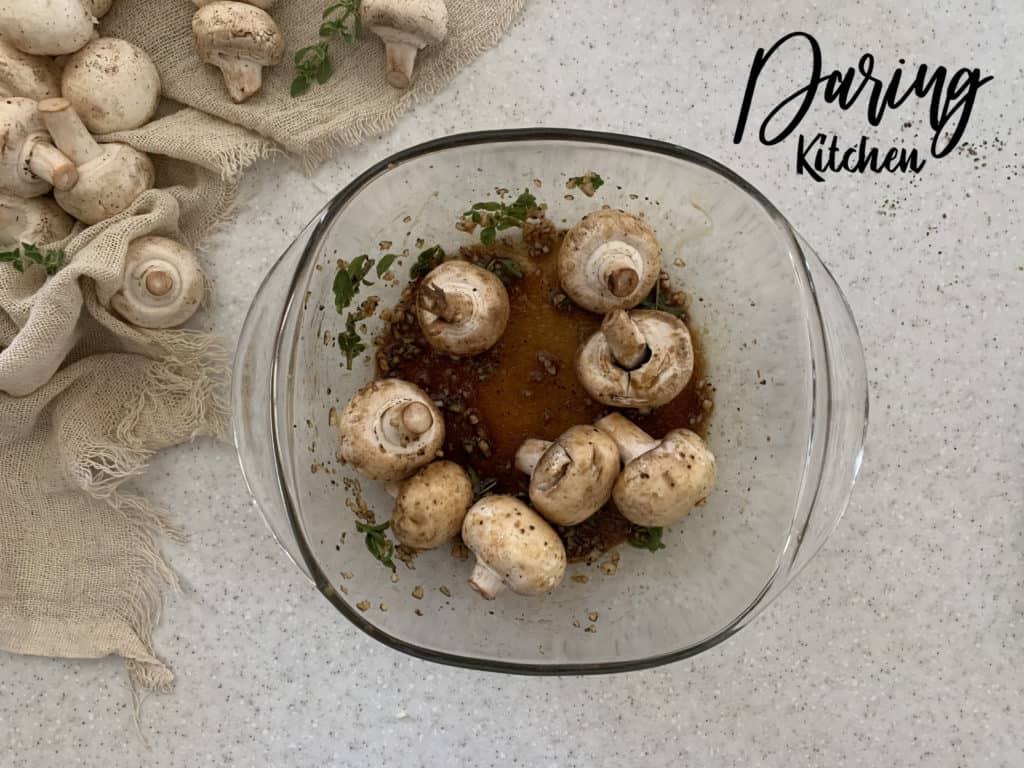 Add in your mushrooms and toss them together. Then, add salt and pepper to taste.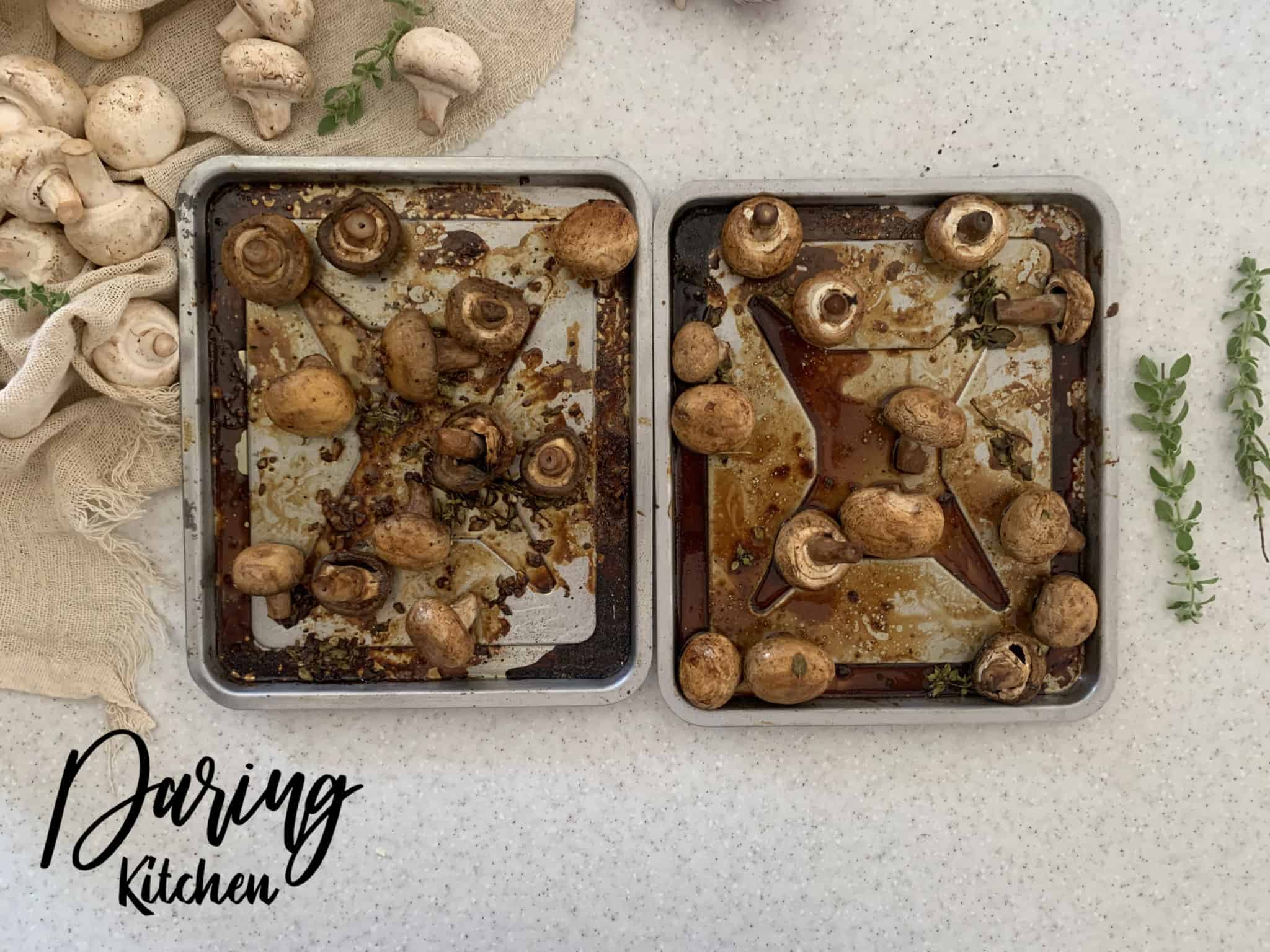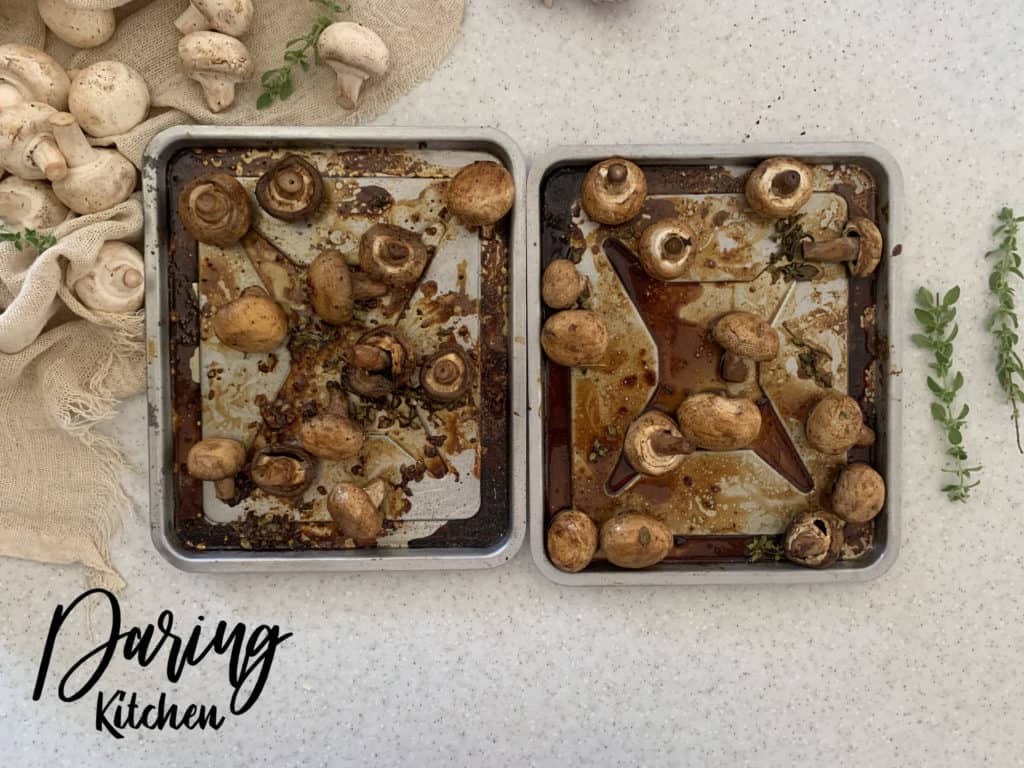 Scatter your mushrooms on a baking pan or baking sheet with the sauce. Bake for 20 minutes, or until the mushrooms are tender.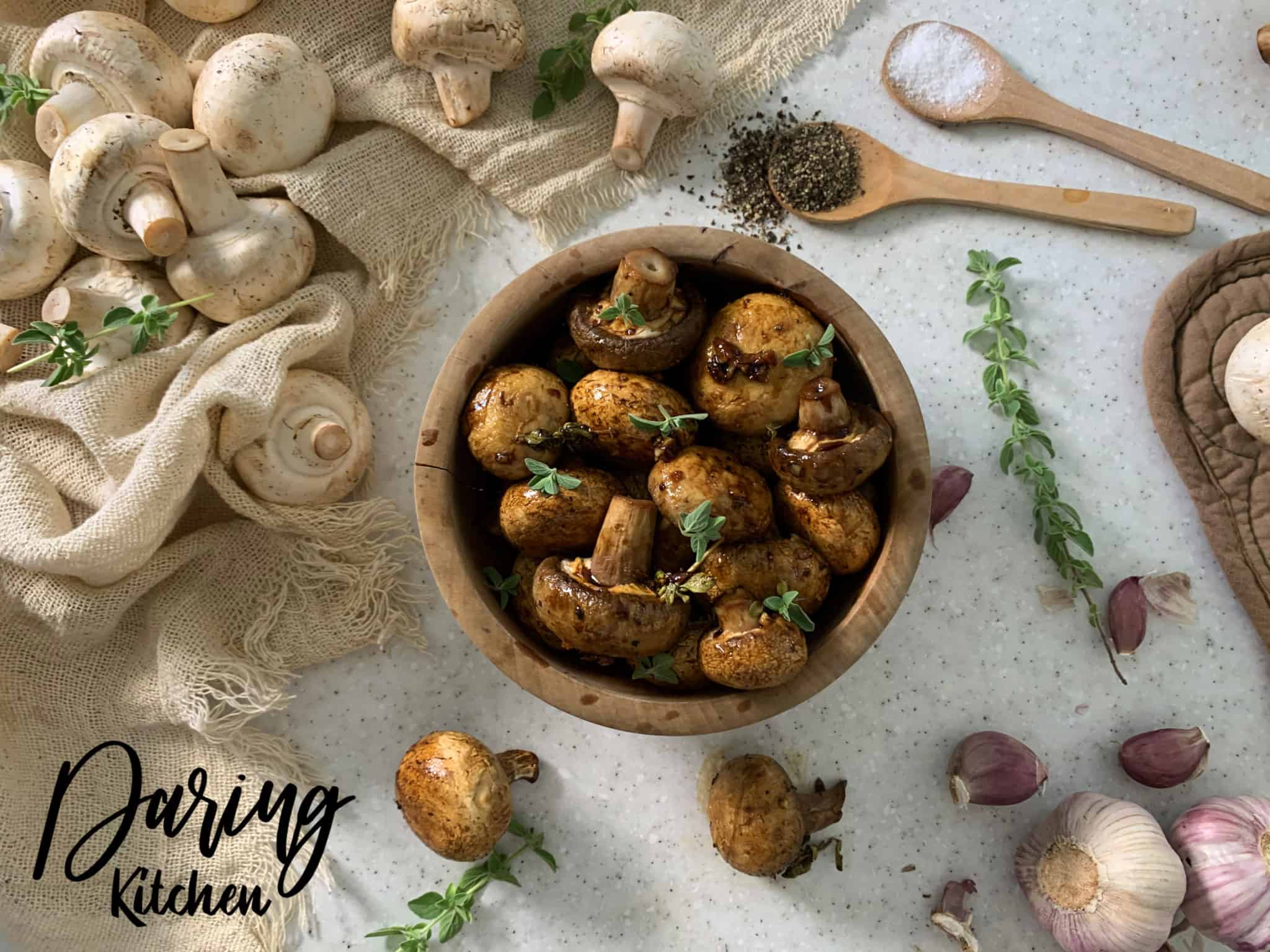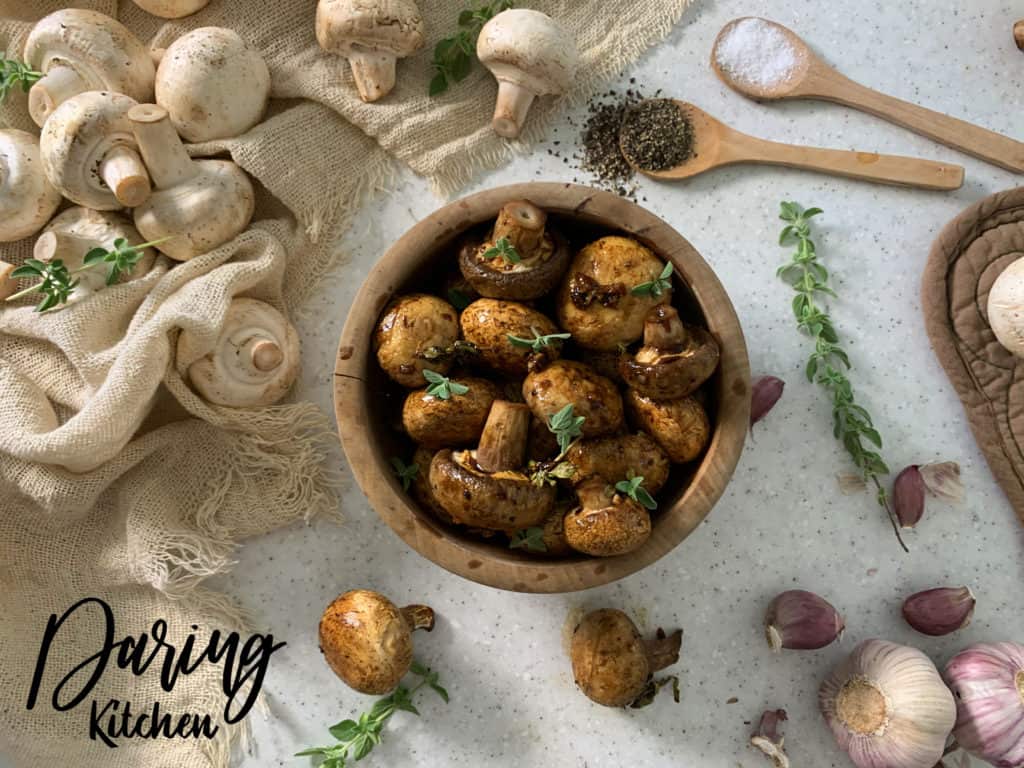 Serve your mushrooms however you like! I love them as a main course, with a side of veggies and potatoes drizzled in the extra sauce. It makes for an awesome and complete meal, with no need for meat!
If you have leftovers, I love eating these mushrooms with eggs on toast in the morning. Garnished with more black pepper, it makes for a mighty breakfast!
Do you love mushrooms? If so, I hope you enjoyed this balsamic soy roasted garlic mushrooms recipe! I'd love to hear all your thoughts in the comments below.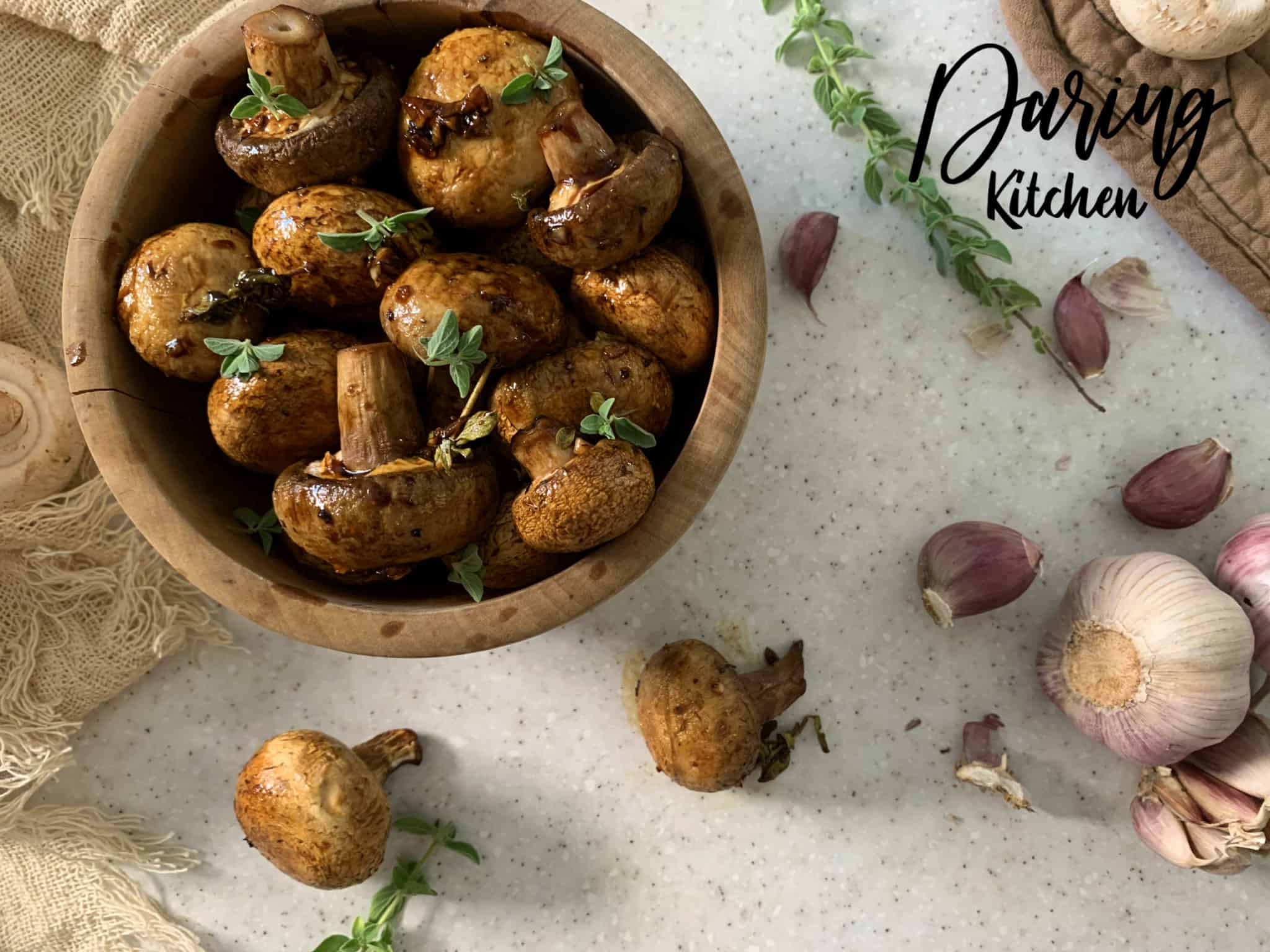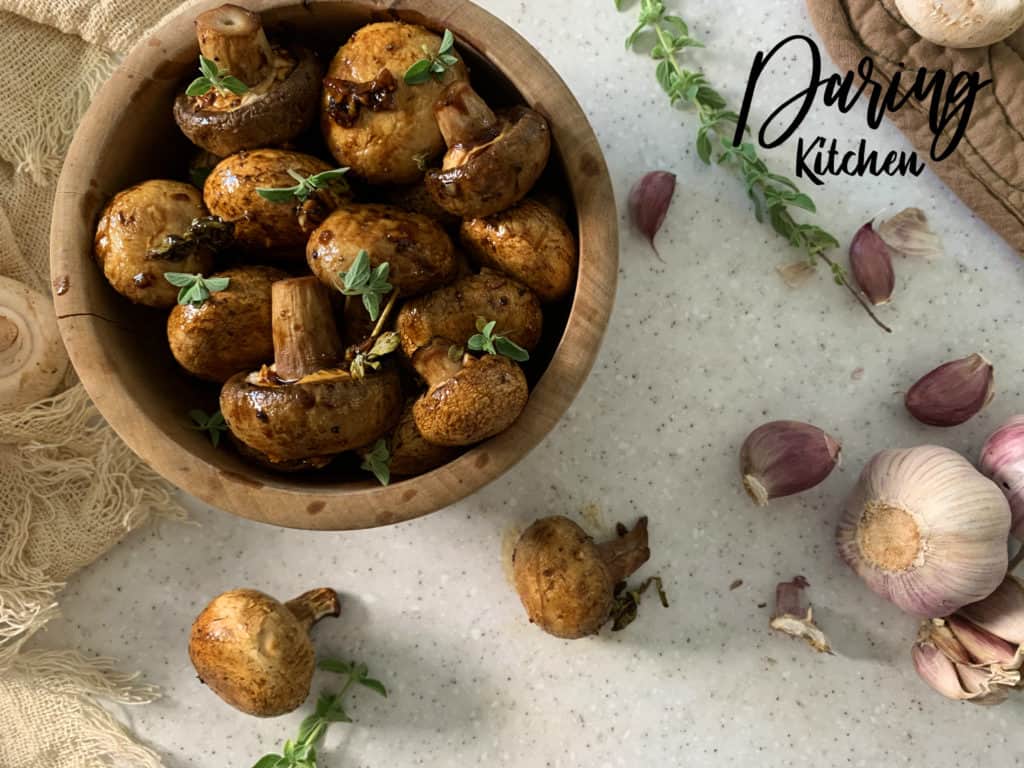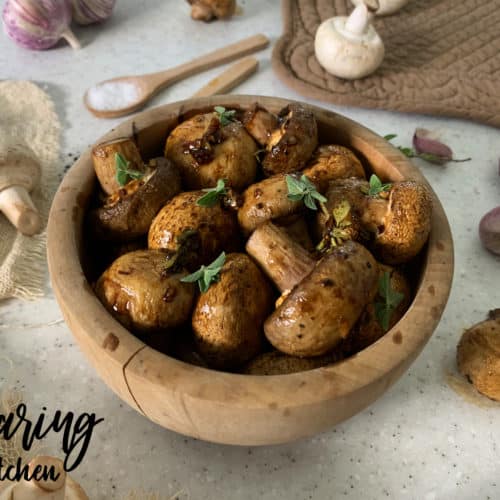 Balsamic Soy Roasted Garlic Mushrooms
Easy oven roasted mushrooms with a sauce that will make your tastebuds go crazy!
Print
Pin
Rate
Ingredients
2

lb

mushrooms

1

tbsp

oil

3

tbsp

balsamic vinegar

3

tbsp

soy sauce

3

garlic cloves

½

tsp

thyme

salt

to taste

pepper

to taste
Instructions
Mix the Soy Sauce, Oil, Minced Garlic, Minced Thyme Salt, Pepper and Balsamic Vinegar in a Bowl.

Add the Mushrooms to the mixture.

Lay on a tray and Bake for 20 min.
Nutrition
Calories:
103
kcal
|
Carbohydrates:
11
g
|
Protein:
9
g
|
Fat:
4
g
|
Saturated Fat:
1
g
|
Polyunsaturated Fat:
1
g
|
Monounsaturated Fat:
2
g
|
Trans Fat:
1
g
|
Sodium:
769
mg
|
Potassium:
774
mg
|
Fiber:
2
g
|
Sugar:
7
g
|
Vitamin A:
12
IU
|
Vitamin C:
6
mg
|
Calcium:
18
mg
|
Iron:
2
mg