Many people (myself included) have struggled with making a delicious veggie burger that is not only tasty but has a nice texture as well.  Most of my previous attempts turned out like complete mush! And sure, I could go to the store and purchase a Beyond Burger or another patty that has a similar texture to meat, but those things are loaded with calories and fat.  So for this recipe, I skipped on the beans and decided to experiment with beets and grains. What I got was an incredibly delicious and juicy burger that is full of nutritious ingredients that are lower in calories and a much better alternative to bean burger recipes and store bought patties. And guess what? The texture is just right! Hooray!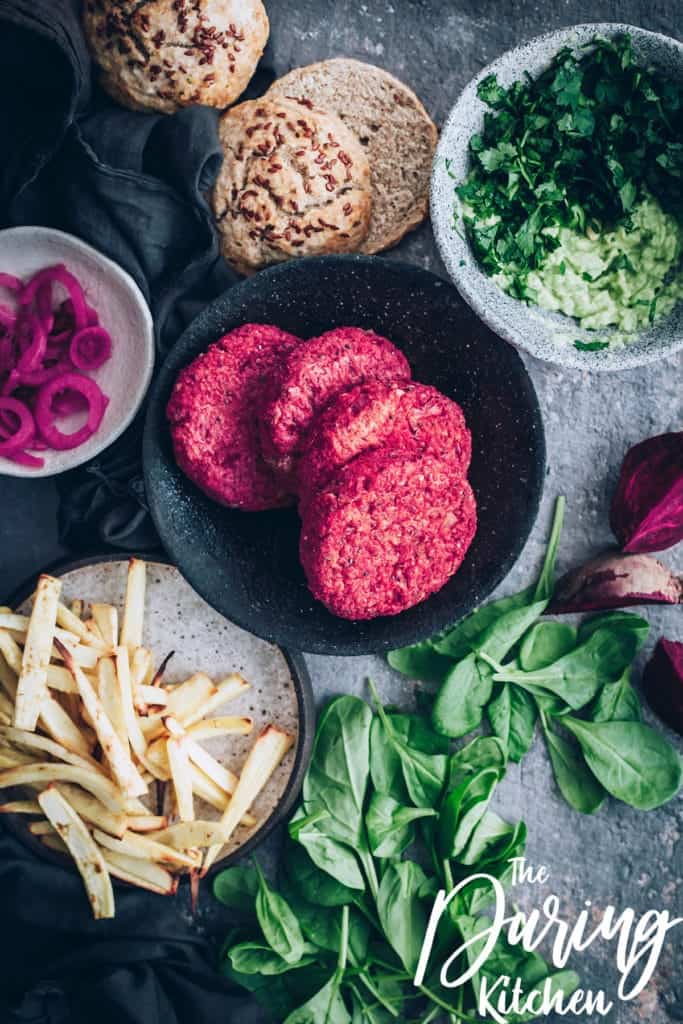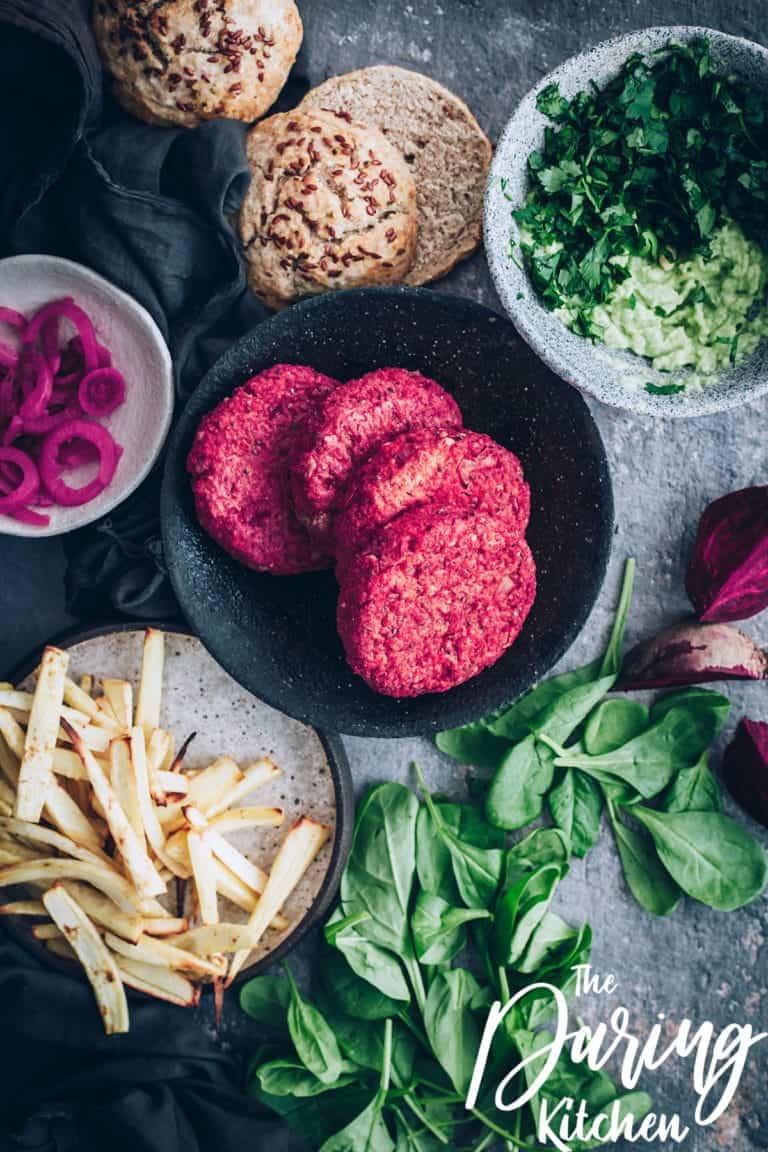 The main components of the burger are the beets, millet, and tofu.  Beets give the burger some color and nice texture while also helping to improve digestion, lower blood pressure, and since they are a great source of dietary fiber, they aid in weight loss as well. Millet is one of those super grains (even though it is technically a seed) so packed with nutrients that you really should just add it to recipes wherever you can!  Like the beets in this recipe, the millet enhances the texture of the burger but it also packs a nice protein punch. The real protein star of this recipe, however, is the tofu which contains all nine essential amino acids making it a perfect protein source for those following a plant-based diet. As an added bonus, you'll get a protein boost form the eggs that bind the burger together, so no need to worry about your intake for this meal.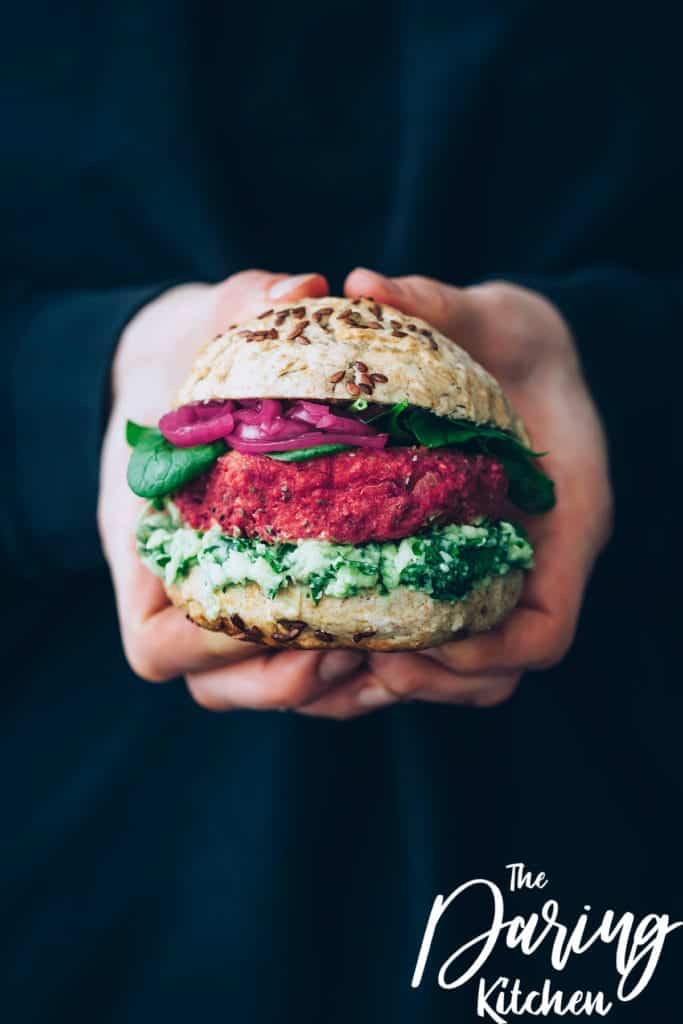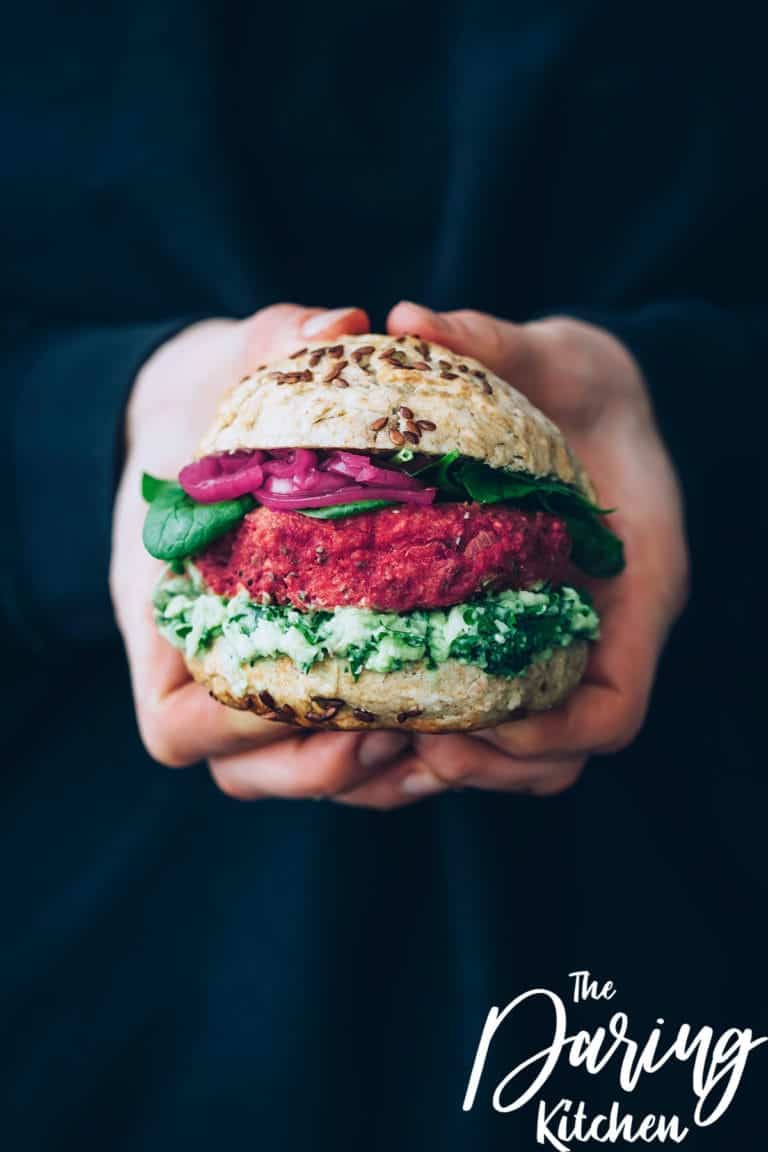 When preparing the burger patties, lightly pulse the ingredients in the food processor, taking care not to overmix. We're trying to avoid the mush, remember? Once the burgers are shaped and placed onto the baking sheet, you'll want to get started with your seasoned parsnip fries, which are to die for btw! If you're watching your calories like me, you'll be glad to know that parsnips are lower in calories and higher in fiber than potatoes.  You can praise the root vegetable gods, because these tubers are also lower in carbohydrates than spuds so you can enjoy them with absolutely no guilt! Once the burgers and fries are in the oven, whip up the herbed guacamole spread.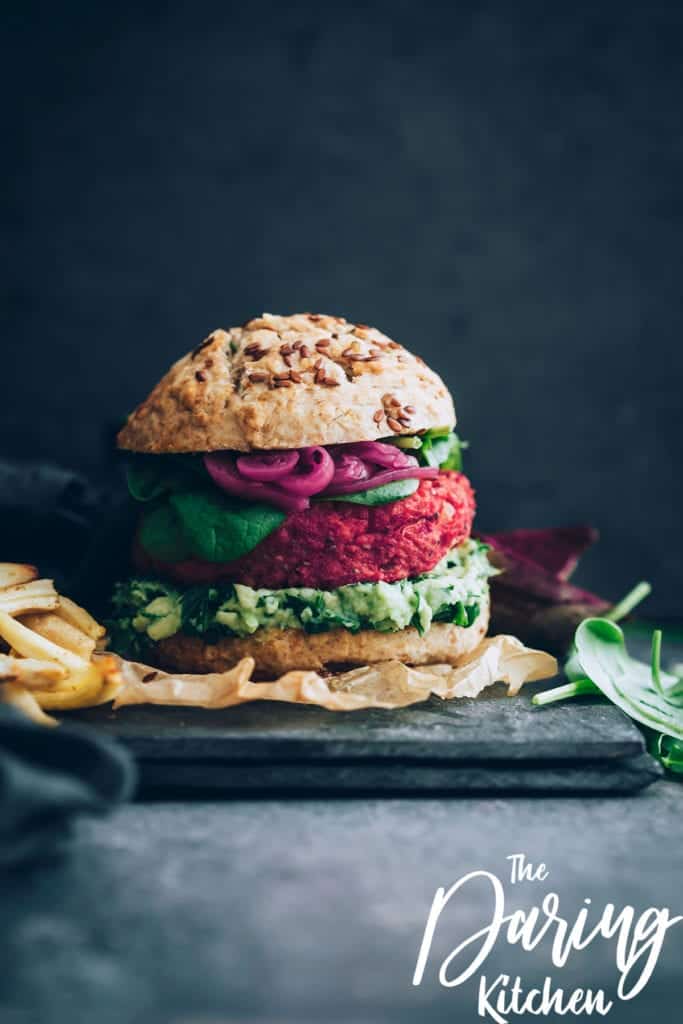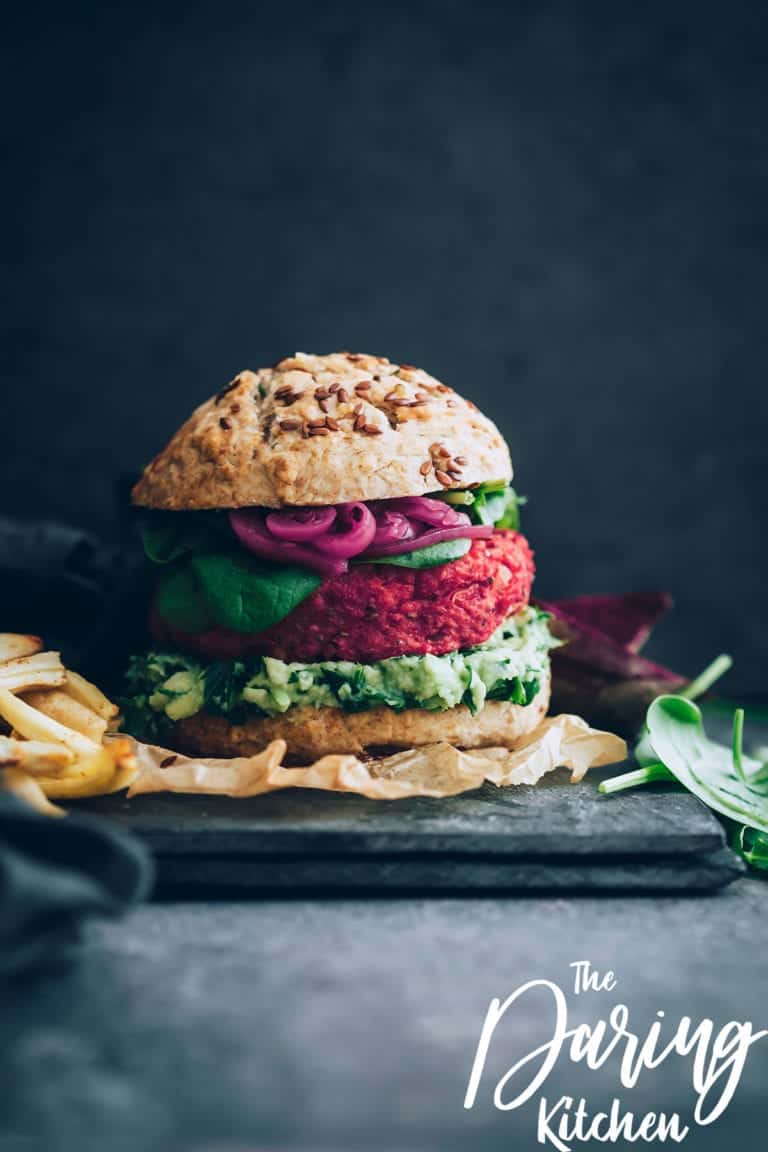 Look for nice, ripe, avocados for this recipe, they'll give you the creamiest texture.  You've probably heard that avocados are full of "good fats," but what the heck does that mean, anyway?  Well, good fats = unsaturated fats which help to lower cholesterol, provide essential nutrients, and improve digestion.  So, this creamy guacamole spread will give you a healthy dose of those good fats while making an excellent substitute for mayonnaise on your burger. Once your patties and fries are done cooking, assemble your burger with a whole wheat bun, some pickled onions, a crisp green lettuce (or maybe even some spinach) and then slather that top bun with a heaping dollop of guacamole before placing it on top of your burger. Is your mouth watering yet?  What are you waiting for? Go make this dish!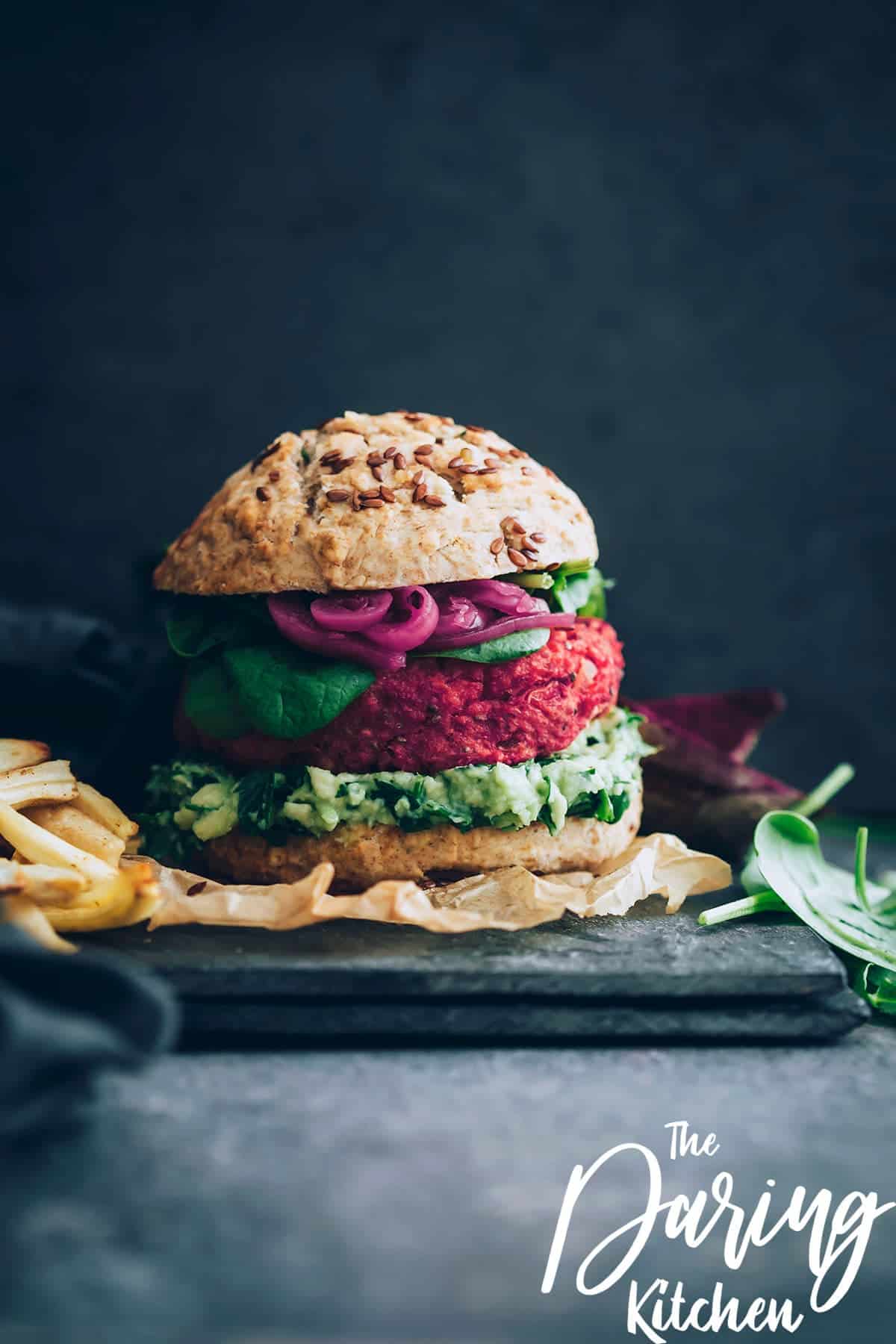 Ingredients
For the Burgers
3

medium

Beets

peeled and grated

1

cup

Cooked Millet

1/2

cup

Tofu

crumbled

2

Eggs

organic

2

tbsp

Whole Wheat Bread Crumbs

1

tsp

Chia Seeds

1

Onion

finely diced

3

cloves

Garlic

minced

pinch

Sea Salt
For the Herbed Guacamole
2

ripes

Avocado Fruits

peeled and cut into cubes

1

tbsp

freshly squeezed lemon juice

1

bunch

Fresh parsley

1/2

tsp

Sea Salt
For the Baked Parsnip Fries
3

Large Parsnip

peeled and cut into strips

1

tbsp

Coconut Oil

1

tsp

Ground Cumin
Instructions
Preheat the oven to 180C/350F.

Line two baking sheets with parchment paper.

Add the burgers ingredients into a food processor and pulse three or four times to obtain a crumbly mixture (do not over-process to avoid a mushy composition).

Shape the mixture into burger patties, line them in one layer onto the baking sheet and bake for 15 minutes, then flip upside down and bake for 15 more minutes.

Add the parsnip stripes onto the second baking sheet, drizzle with coconut oil, add the spices and mix to coat evenly.

Bake for 20 minutes, then remove and set aside.

Meanwhile, add the herbed guacamole ingredients into the food processor and pulse to obtain a creamy paste.

Assemble the burgers and serve warm, with parsnip fries.
Notes
To assemble: pickled red onion, baby spinach, whole wheat buns
Nutrition
Calories:
308
kcal
|
Carbohydrates:
53
g
|
Protein:
11
g
|
Fat:
7
g
|
Saturated Fat:
3
g
|
Cholesterol:
55
mg
|
Sodium:
316
mg
|
Potassium:
743
mg
|
Fiber:
10
g
|
Sugar:
11
g
|
Vitamin A:
908
IU
|
Vitamin C:
33
mg
|
Calcium:
106
mg
|
Iron:
4
mg