What a perfect way to start your morning than with a cup of perfectly brewed coffee? With your own automatic espresso machine, you can enjoy the aroma of the coffee as it brews and has it ready in a minute or less. The key is to find the right automatic espresso machines.
Espresso machines are expensive, and you would rather buy the right one the first time. This article will offer you all the tips and information you need to buy the right espresso machine. It also reviews some of the best automatic espresso machines in the market.
Review of the Best Automatic Espresso Machines
Here is a look at our top picks for the best automatic espresso machines
1. Best Overall Choice: De'Longhi ESAM3300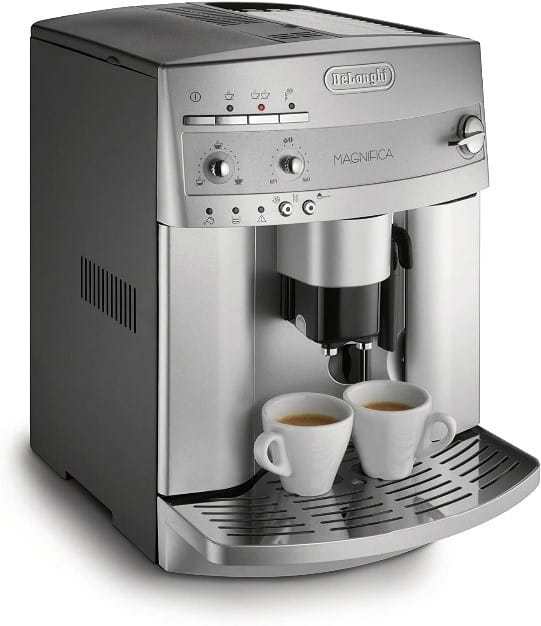 The De'Longhi ESAM3300 is a medium-sized, compact, silver, super-automatic espresso machine. Its metallic parts are made of stainless steel.
The machine incorporates the De'Longhi patented cappuccino system that mixes milk and water for a creamy froth. It can make espresso, cappuccino, latte, macchiato, and flat white coffee. It has two-thermal blocks such that you can prepare two shots at a go.
This espresso machine has an easy-to-use push-button control panel that has programmable menu settings. It has a bean capacity of 8.8 ounces.
Its collecting cup height allowance is 4.25 inches. The manufacturer positions this automatic coffee machine as one that requires less cleaning than most of the other competitor brands in the market. It comes with a charcoal filter.
The most commonly reported issue of this machine that ground coffee blocks the funnel. This issue can be easily resolved by removing the ground coffee from the funnel using a plastic knife and then flushing the infuser and entire brewing system with water.
De'Longhi has a specialized call center to assist customers in setting up and maintaining their espresso machine.
Pros
Consistently brews coffee the same way each time
Easy to maintain
Can make a wide range of coffee beverages
Affordable
Responsive De'Longhi customer support
Offers programming versatility
Has an easy to use control panel
Cons
The funnel tends to clog with ground coffee
Difficulty getting parts for the earlier models of the machine
2. Best Budget Choice: Breville BES870XL Barista Espresso Machine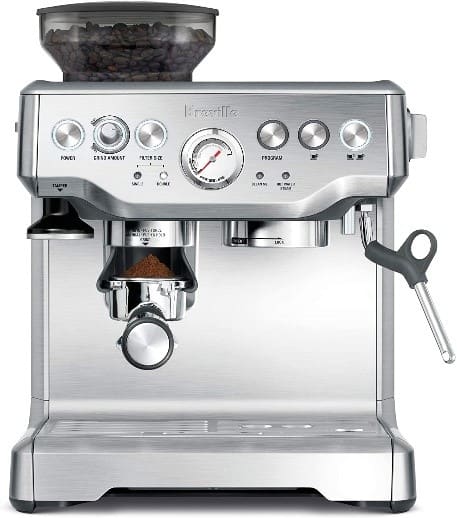 The Breville BES870xl is a large automatic espresso machine. It is available in two colors: sesame black and stainless steel. All its metallic parts are made of heavy-duty stainless steel.
The machine incorporates a conical built in-grinder whose grinding dose can be controlled for your preferred taste of coffee. It utilizes a high-precision espresso extraction technology that is digitally programmed to deliver water at the right temperature.
The machine is also fitted with a steam wand that allows you to manually texture your milk foam to your preferred flavor and froth. It also allows you to control the grind size to your preference.
Unlike the manual espresso machines, this automatic machine is built for a hands-free, intuitive operation of the grinding cradle. Its bean hopper has a capacity of 0.5lb and a 67oz water tank capacity. It only supports one cup at a time.
Pros
Large, compact, and high-quality
Offers dose control of coffee beans for grinding
Allows for grind size control
Precise espresso extraction
Easy-to-use analog button control interface
Cons
Difficulty getting spare parts for earlier models
Requires regular cleaning
Unresponsive customer support
3. Best Premium Choice: Gaggia Anima Prestige Automatic Coffee Machine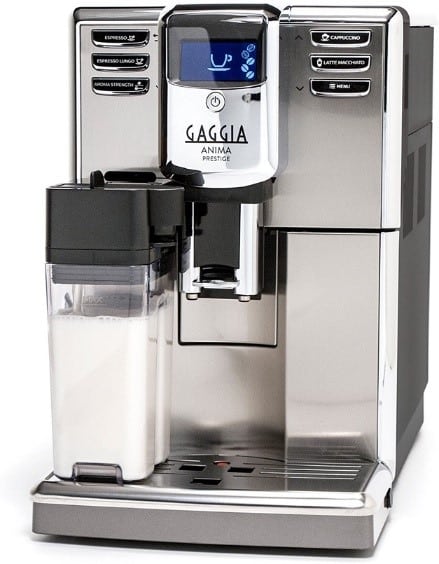 The Gaggia Anima Prestige Automatic Coffee Machine is a super-automatic espresso machine. It is designed for a sophisticated, hands-free operation. The machine can prepare a wide range of beverages, including latte, macchiato, cappuccino, and espresso.
It has a 60oz water reservoir capacity and 8.8oz bean hopper capacity. Its milk carafe, brew group, and hot water dispenser are detachable.
The water tank is continuously accessible for refilling and cleaning. It comes with a 48 inches long power cord for easy installation at a site of your choice.
This silver-colored espresso machine provides convenient notifications such as low water indicator, empty bean hopper, descaling alert, and maintenance needed that are displayed on the simple and stylish LCD. It goes on standby mode when not actively in use to conserve energy.
The machine offers programming versatility for functionalities such as temperature setting, choice of drink, aroma strength, and shot size. It has a user-friendly touchscreen control interface. The manufacturer offers a 2-years warranty.
Pros
A sophisticated super-automatic espresso machine
Has a detachable brewing group, milk carafe, and hot water dispenser
Comes with a 2-year hassle-free warranty
User-friendly touch screen control
Simple and stylish LCD
Offers programmability
Cons
Pricey
The detachable milk carafe is difficult to fix
4. Saeco Xelsis Super Automatic Espresso Machine SM7684/04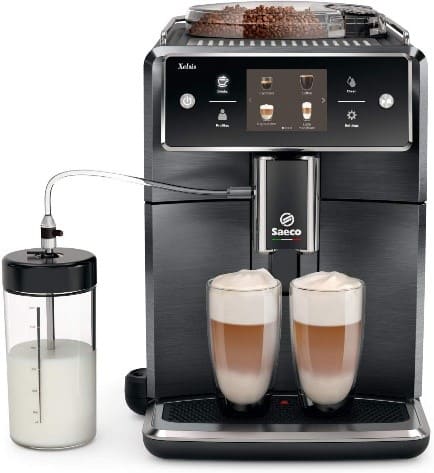 Saeco Xelsis Super Automatic Espresso Machine has a silver body and a titanium metal front. It is a high end, super-automatic espresso machine.
You can program nearly all machine functions, including milk volume, espresso dose, temperature, grind size, and coffee texture. Its programming also allows you to set up your user profile for your favorite drinks, up to 6 user profiles. The espresso coffee maker has a user-friendly touchscreen interface.
You can make up to 15 types of beverages with this espressos machine, including espresso, flat white, espresso lingo, Americano, cafe latte, macchiato, latte macchiato, espresso macchiato, ristretto, espresso doppio, café cortado, milk froth, warm milk, café au lait, and hot water. It supports two cups for simultaneous processing of two shots.
Its build incorporates the upgraded Hygirsteam system that enables you to use fridge-cold milk in the milk carafe. It has dedicated double thermos-blocks for brewing and steaming at accurate temperatures.
The Saeco Xelsis Super-automatic espresso machine comes with an AquaClean water filter to improve the quality of your coffee and reduce the need for descaling.
Its ceramic grinder preserves the coffee flavor and ensures that your coffee beans are adequately ground without overheating the grinder.
Its ergonomic design is not only easy to use and maintain but also durable. You can easily access the water tank from the front. The spots are detachable, and the drip tray is rust-resistant.
Pros
Offer a wide range of programmable functionalities
Can make up to 15 types of beverages
Comes with an AquaClean filter
The grinder is quiet and durable
You can set up to 6 user-profiles
Can make up to 5000 cups without needing to descale
Easy to set up
Cons
Quite expensive
Does not heat adequately
Unresponsive customer support
5. Mr. Coffee Automatic Dual Shot Espresso/Cappuccino System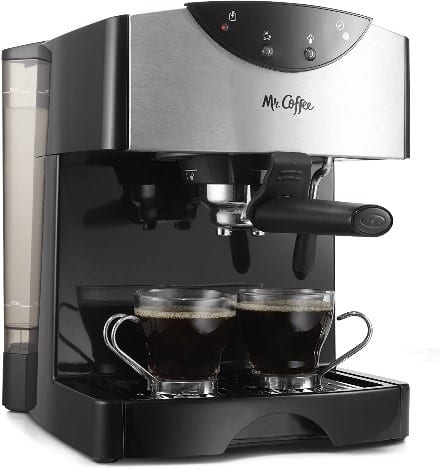 The Mr. Coffee Automatic Dual Shot Cappuccino system is a simple espresso machine that has automated all other functions except frothing. It has a 15-bar pressure pump system.
It has a frothing arm to make rich, creamy froths for your cappuccinos and lattes. The froth is released through a powerful, rust-resistant nozzle.
It has a stainless-steel drip tray and a removable water reservoir for easy cleaning. It allows for dual brewing and offers space for two cups on the drip tray. It comes with a 26 inches cord length.
The thermal block heating system enables you to heat water instantly to the desired temperatures. It has a simple to use analog control button and brew, steam, and ready indicators.
Pros
Quite affordable
Simple to use analog button control
Detachable water reservoir and drip tray
Supports dual-shot brewing
Produces rich, creamy froth
Cons
Not durable
Noisy when steaming
6. De'Longhi EC685M Dedica Dulexe Automatic Espresso Machine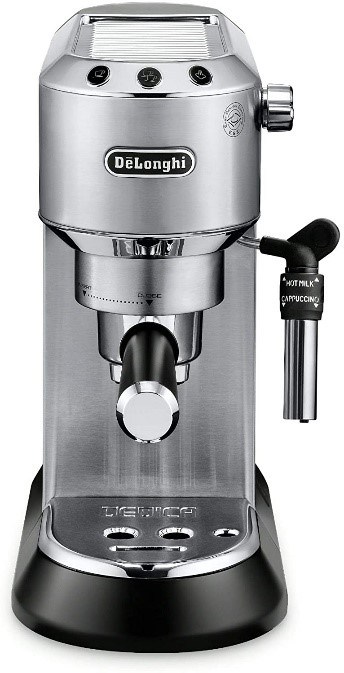 The De'Longhi Dedica Deluxe Automatic Espresso Machine is a 15-bar pressure coffee machine for making espresso, cappuccino, and latte. It has a simple, sleek, space-saving design. It is easy to use and clean. It has a removable water tank.
It is programmable using button control to adjust the various functions for your preferred coffee taste. The frother is adjustable to allow you to adjust foam and steam levels to your preference. It has a fast heating time of 40 seconds.
Its design incorporates an automatic flow-stop feature that stops beverage dispensing right away. The double tray is adjustable and can be removed to allow bigger cups and for easy cleaning.
Pros
Affordable
Has a simple, sleek design
It is easy to use
Suitable for small spaces
Adjustable milk frothing
Accommodates taller cups and latte glasses
Cons
Can only make a limited variety of beverage
Not durable
7. KRUPS EA8250 Fully Auto Espresso Machine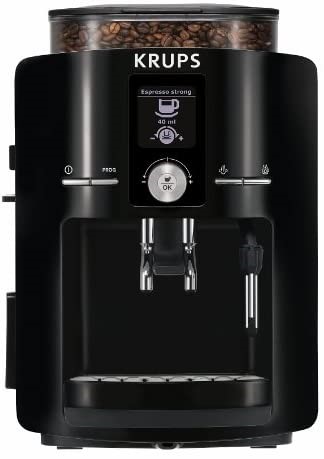 KRUPS EA8250 Fully Auto Espresso Machine is a fully automatic 1450-watts espresso machine made in France. It has a water capacity of 1.8L. It also has a built-in, conical burr grinder with an adjustable grinder setting. Its bean hopper is sealed.
The machine can be programmed and operated through simple to use knobs. It has an intuitive LCD. This 15-bar high-pressure pump coffee machine utilizes thermoblock heating technology for automated tamping. It comes with a 2-year warranty.
Pros
Easy to use
Has a large sealed bean hopper
Easy to clean
2-year warranty
Cons
Difficulty finding spare parts
Expensive to repair
Its grinder is not durable
8. Jura D6 Automatic Coffee Machine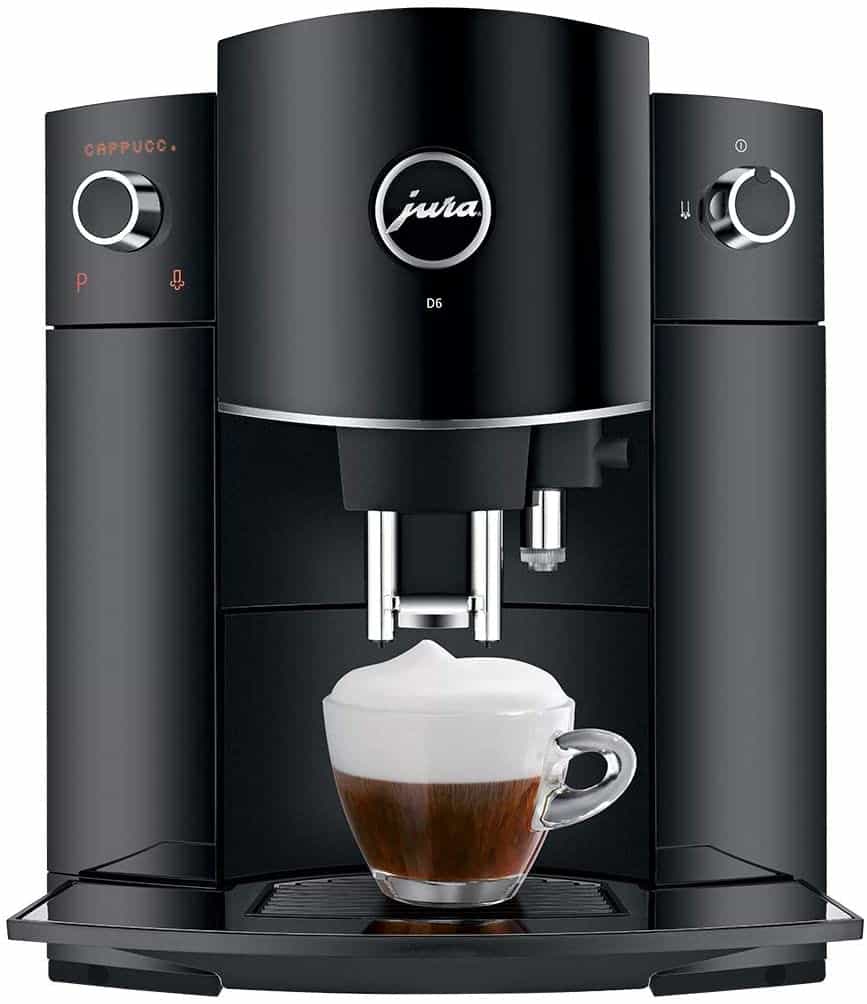 Jura D6 Automatic Coffee Machine is simple, sleek, and fully automatic. It has a water tank capacity of 1.9L and a bean hopper capacity of 7.1oz.
Its design incorporates a thermoblock system and a 15-bar pump for taste, full flavor coffee. It can make up to 7 specialty coffee beverages.
Its design incorporates a built-in milk foaming system that allows you to hook a milk packet or milk container, and you get a creamy froth. Although its spout height is adjustable and it has two dispensing spouts for double shots, its drip tray is too small for two cups.
It has a sophisticated smart connect app control option and a plain text display. You can customize your desired temperature, coffee strength, and temperature.
Its design also incorporates a fast and precise AromaG2 integrated grinder and Pulse Extraction Process technology for flavor optimization
Pros
Has a smart connect app control feature
Has an adjustable spout height
Adjustable temperature, coffee strength, and water level
Cons
Its drip tray is quite small
Clogs when grinding dark roast coffee
Automatic Espresso Machine Buying Guide and FAQs
Below is detailed information to help you decide on the right espresso machine to buy. We also answer some of the most common automatic espresso machine FAQs.
What is an Automatic Espresso Machine?
An automatic espresso machine is designed to do all the work a barista does to deliver high quality brewed coffee in less than a minute. All you have to do is provide good quality medium or dark roast beans in the machine, and you will have perfectly brewed coffee in a few seconds.
It grinds the coffee beans, sets the portafilter and tamp, brews the coffee, extracts it, and pours it out in the glass you have placed on the tray with just a few settings and a tap a button. Some super-automatic espresso machines have sophisticated features such as an automatic milk frother and a cup warmer.
How does an Automatic Espresso Machine work?
Before starting to brew, ensure that the water tank and bean chopper have enough water reserves and beans, respectively. Once you have programmed the necessary settings and placed a cup or glass beneath the dispensing spout, start the machine.
The coffee beans move down the grinder and into the brew unit. In the brew unit, they are evenly tamped, and pressurized hot water is passed through the ground coffee to make brewed coffee dispensed through the spout.
Automatic espresso machines are preprogrammed to control the amount of water to be passed through the ground coffee, after which the pump turns off.
Difference between an automatic espresso machine and a super-automatic espresso machine
The main difference between an automatic espresso machine and a super-automatic espresso machine is that in the former, grinding and tamping is done manually, but in the latter, these processes are automated.
While automated grinding and tamping simplify the process entirely, it takes away the ability to control grind size, affecting the coffee quality. With that said, a few super-automatic espresso machines offer sophisticated programmability that enables you to control grind size.
What to look for in an Automatic Espresso Machine
Your most suitable automatic espresso machines should have the following features:
Ability to make your favorite coffee beverages
Easy to use
Easy to maintain
Easy to program
A price range within your budget
How to Choose the Right Machine for Your Needs
When deciding which automatic espresso machine to buy, there are certain factors you should consider to determine which one is best suited for you.
These factors are in regards to size, installation site, build, and functionality. Below is a detailed look at the factors to consider when choosing an espresso machine.
Range of Drinks It Can Make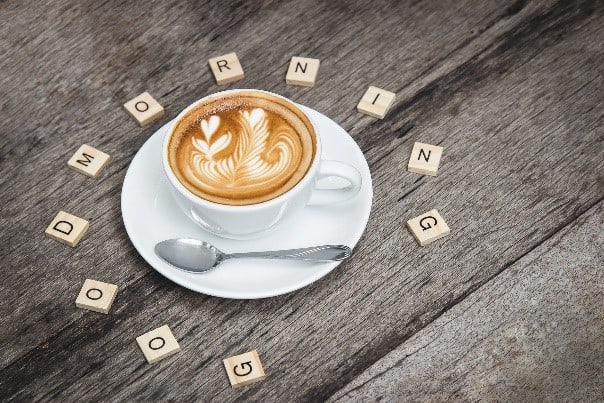 Some automatic espresso machines make a wide range of beverages, including espresso, macchiato, cappuccino, latte, Americano, milk-based frothy drinks, and hot water, among others. Determine your favorite beverages and get a machine that can make them.
Programmability
An automatic espresso machine's programmability offers you versatility in customizing the machine's functionalities. For instance, you can control the temperature, shot strength, and grind size. Super-automatic espresso machines offer Bluetooth connection and an in-app operation option to not have to leave your couch to brew your coffee.
Ease of Maintenance
Espresso machines require to be cleaned regularly, often referred to as decalcifying or descaling. Ideally, you should clean the machine weekly, especially if you use it daily.
Generally, the cleaning procedure is quite simple. You remove the detachable parts, clean them with soap and water, and then flush the rest of the unit with water. However, you should do a thorough cleaning after every 200 shots using the recommended cleaning tablets or powder.
With that said, check your owner's manual for instructions on descaling frequency and process. Some machines have an indicator that notifies you when the machine needs descaling.
Also, some automatic espresso machines have a water filter. This is a particularly important feature to consider if you use hard water. Otherwise, you will need to descale more often. On the flip side, you will incur at least $10-$20 every month in water filters.
Average Heat Up Time
The average heat up time determines the average time an automatic espresso machines takes to grind the coffee beans, brew the grow coffee, and churn a shot through the dispensing spout.
Most have a heat up time of between 30 seconds and 90 seconds. Either way, this a relatively short time, and you can count on your espresso machine to make the coffee in time.
Built-In vs. Removable Brew Group
The brewing unit does most of the heavy lifting in an espresso machine. It presses hot water through the ground coffee to derive your brewed coffee. Automatic espresso machines either have an in-built brewing unit or a removable one.
A removable brew group has two main advantages over a built-in one. First, it is easy to clean. You can detach it and clean it with running water soap and cleaning cloth or sponge. Secondly, in case the unit breaks, it is easier and less expensive to replace.
Type of Grinder
Most automatic espresso machines have two types of grinders: conical and disc. Conical grinders are the most common in automatic espresso machines. They are small, come in two parts (a positive and negative) that are joined.
The conical shape offers a steep descent for the coffee beans to flow downwards under the influence of gravity. Conical grinders are noisy but do not heat up.
On the other hand, disc coffee grinders are less common. They are made of two concave discs, one is fixed, and the other rotates, grinding the coffee through centrifugal force. Disc grinders are quieter, but they tend to heat up.
The grinders are made from either ceramic porcelain or heavy-duty stainless steel. Steel is more durable as it can withstand even small pebbles that you may occasionally find in your coffee beans. However, steel grinders tend to heat up. On the other hand, porcelain is more likely to break, but it does not heat up.
Pressure Bars
The standard espresso machine has 9 bars of pressure. However, they are other machines that have 12, 15, or 19 bars. While you may think that you need more pressure bars to push down the coffee, 9 bars are often enough. The key is to ensure that you have a well-functioning brew unit that packs the coffee tightly for the pump to produce adequate pressure.
Installation Site
Before you make your order for your automatic espresso machine, think about where it will be installed. The site of installation should give you easy access to the bean compartment, water tank, and drip tray. It should also be near a power socket. Determine what dimensions of the espresso machine would be ideal for the installation site in your kitchen.
Water Tank and Bean Hopper Capacity
The size of the water tank and bean hopper capacity determines how many shots of coffee the espresso machine can brew without needing to be refilled.
If you want a machine for making coffee for one or two people, a smaller water tank and bean hopper will do. Conversely, an espresso machine for a family, office, or cafe needs to have a bigger water tank and bean hopper.
How Is One Automatic Espresso Machine Different from the Others?
While all automatic espresso machines have a similar operation mechanism, they differ according to size, design, capacity, type of grinder, type of brew unit, the types of beverages they can produce, programming options, etc. Consider the factors discussed above to help you determine which automatic espresso machine is best for you.
Which Coffee Beans Are the Best for Espresso Machines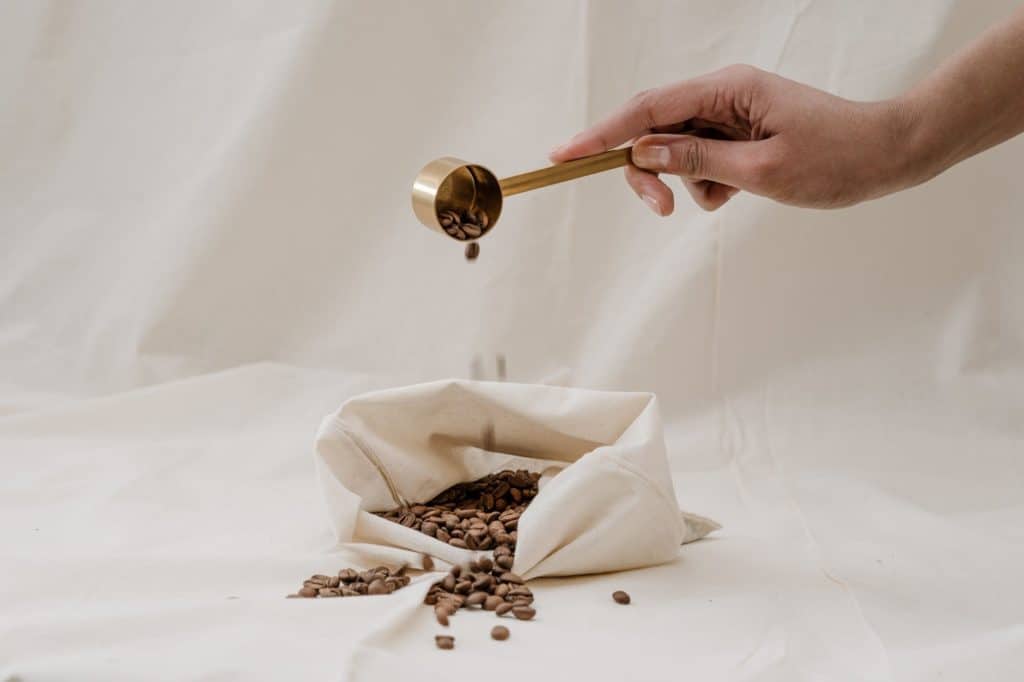 While you can use any coffee beans in your espresso machines, the best are freshly roasted (less than two weeks), medium or dark roast coffee beans. Avoid oily coffee beans as they tend to clog the machine.
Conclusion
There you have it, all the information you need to make the right choice for an automatic espresso machine. With a wide range of options at different price ranges, decide which key features you want in an automatic espresso machine, set a budget, and order one that has at least a 4-star rating.
Our pick for the best automatic espresso machine is The De'Longhi ESAM3300. It makes great-tasting espresso and other coffee beverages. It is affordable, easy to maintain, and easy to customize.