Do you enjoy making your own candy or chocolates? Making candy at home can be lots of fun and a great activity for the entire family to enjoy. However, candy making requires a certain amount of precision and skill, and when you make candy, you must get it to the right temperature.
So, what can you do to make sure that your candy will always come out at the right temperature?
The best candy thermometer will help make the entire candy making process much easier to handle. However, since candy thermometers come in various shapes and sizes, it can be hard to know which is the best candy thermometer for you.
In this article, we're going to look at some of the best candy thermometers that you can find on the market to show you what makes each one special and help you find the best candy thermometer for your needs.
Best Overall – Harbor 022 Meat Thermometer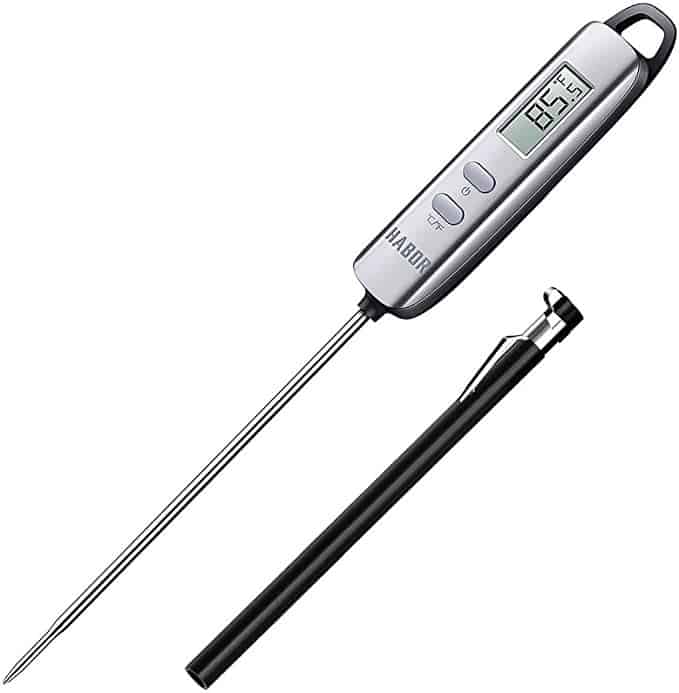 Do you want to add some color to your candy-making process? The majority of candy thermometers are made from stainless steel and have a dull design. However, that is definitely not what you get with the Harbor 022 Meat Thermometer.
This candy thermometer is the best candy thermometer overall and comes in a variety of colors. It also has an extra-long probe and a digital display on the handle. There's also a clip so you can attach it to the side of your pot.
The Harbor 022 is designed to be easy to use. All you have to do is insert the candy thermometer into your candy mixture for around six seconds before the temperature appears on the digital display.
Pros:
Temperature range between -58 degrees F to 572 degrees F
Stainless-steel probe
Quickly gives off a temperature reading
Auto shutoff
A variety of color options
Cons:
The battery cover might not close correctly
You can't leave it in the pot when the candy is cooking
Best Premium – Gourmia GTH9185 Digital Spatula Thermometer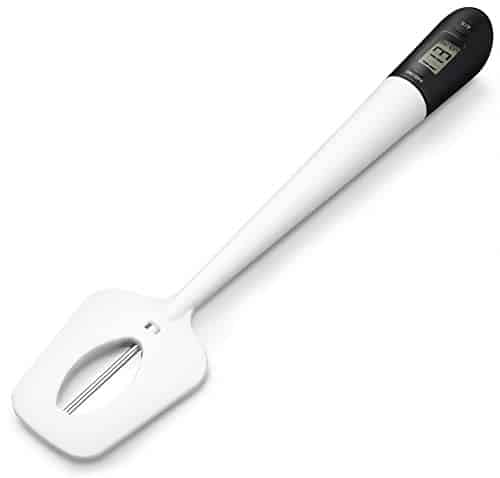 If you're on the hunt for something different, the Gourmia GTH9185 Digital Spatula Thermometer is a thermometer that looks like a spatula. This amazing design means that you can stir your candy mixture and have a constant temperature reading at the same time.
This silicone spatula is made from BPA-free food-grade plastic that's very durable and safe to use. The handle is rounded, so it'll fit comfortably in your hand and shows you the temperature of your candy mixture on the handle.
The thermometer probe reaches all the way to the top, where the thermometer is housed in the spatula. This makes it so you can get constant up to date temperature readings. If you need to make calibration adjustments to the temperature reading, you can easily change it.
An additional bonus is that you can remove the spatula part of this best candy thermometer, so the stainless-steel probe is exposed. Once you have the probe exposed, you can use this thermometer to check the meats and liquids' temperature.
Pros:
Very versatile
Made from food-grade plastic and silicone
Can be used as a spatula
Instantly displays the temperature
Temperature range of -58 degrees F to 572 degrees F
Cons:
You have to calibrate it every so often
Changing and activating the battery can be tricky
The handle is short
Best Budget – CIA Masters Collection Thermometer

If you're on a budget, this is the best candy thermometer for you. Embrace the basics and the traditions of making candy. This retro candy thermometer features a durable stainless steel probe and a large dial.
It has a compact design, so it'll fit into any kitchen drawer. You should note that the dial marks are close together, which can make reading the temperature difficult. A bit of downside to this candy thermometer is that it's not very accurate.
While you can alter the accuracy a little bit through recalibration, it might not be worth it. This thermometer comes with a special wrench and nut designed for calibration, but again, this can be more trouble than it's worth.
Pros:
Calibration tools included
Easy to store and clean
Lifetime warranty
NSF certified
Cons:
Temperature is hard to read
Pot clip isn't effective
Calibration must be done regularly
Anpro DT-10 Instant Read Digital Cooking Meat Thermometer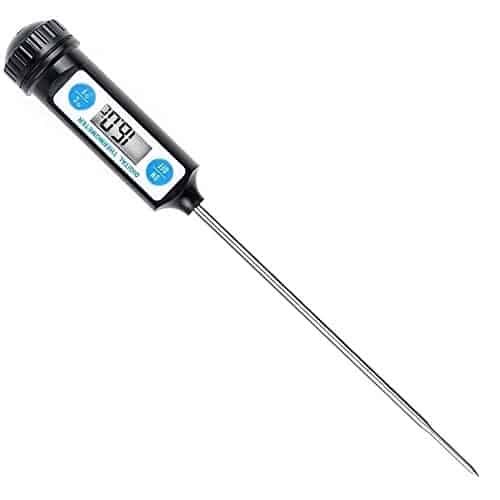 When the candy you're making is boiling, the very last thing you want to do is get too close to it. While you must get an accurate reading, you're going to want to keep your distance. Fortunately, this is the best candy thermometer for keeping your distance from the boiling candy.
It's made from stainless steel and is capable of taking on temperatures up to 400 degrees F. It features a large display on the handle, so you'll be able to see the temperature reading at a quick glance. This very well might be the best candy thermometer that's digital because of how easy it is to use and how safe it is.
An extra touch of safety has been added to this candy thermometer in terms of an auto-shutoff feature. After the probe has been sitting in the hot candy mixture for around ten minutes, the thermometer will shut down to conserve power.
Those who love making candy will also love the recipe book that comes with this candy thermometer. It's sure to inspire you to experiment a little bit and to let your creative sideshow.
Pros:
Auto shutoff feature
Measures temperatures from 60 degrees F to 400 degrees F
Comes with a recipe book
Easy to read temperature display
Durable stainless-steel design
Cons:
Must be regularly be calibrated
It's not programmable
Polder THM-515 Candy/Jelly/Deep Fry Thermometer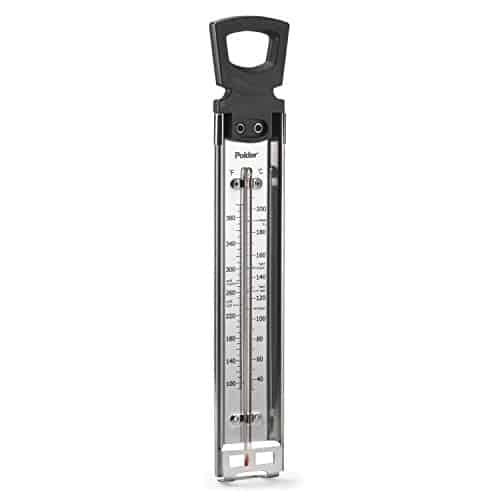 This candy thermometer features a stainless-steel build that promises to be durable and easy to use. It comes with a clip that you can attach to your pot's edge and a steel handle. You have to simply insert the thermometer into the candy mixture and read the temperature to use this candy thermometer.
There is a downside to this candy thermometer: it's not always accurate. In many ways, this inaccuracy undermines the best candy thermometer's purpose, which is very disappointing. While it might be cool looking, it's not the best choice for anyone who needs pure precision for their candy making.
You should also use the handle of this model with care. The glass is fragile, and the stainless-steel edges can be sharp. Another downside to this candy thermometer is that the numbers can rub off.
Pros:
Temperature range between 90 degrees F to 400 degrees F
Easy to read
Easy to use
Easy to clean
Features a useful handle and clip
Cons:
Not always accurate
Glass is fragile
Winco Candy Thermometer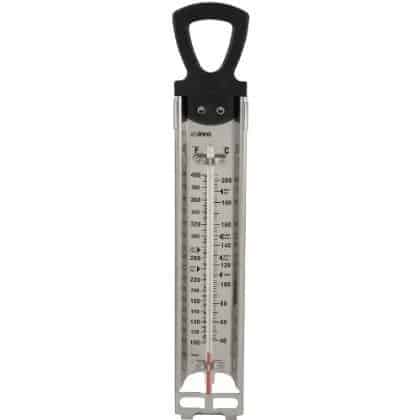 Traditionally, the best candy thermometer is made from stainless-steel or plastic. Instead of having an LED display, these traditional candy thermometers have a glass tube down the middle that's filled with liquid.
When you insert the thermometer into your boiling candy, the liquid rises, and the numbers on the sides of the tube will show the exact temperature.
This traditional method of temperature measuring has been used for several generations. Unlike digital candy thermometers, these don't require batteries and is just easier to use in general.
The main problem with this particular candy thermometer is that the numbers rub off during use. This is a big problem because once the numbers have been rubbed off, the candy thermometer is useless.
Pros:
Comes with a hanging loop and pot clip
Made from stainless-steel
Temperature readings range from 100 degrees F to 400 degrees F
Cons:
Not very durable
Doesn't come with a warranty
CDN DTC450 Digital Thermometer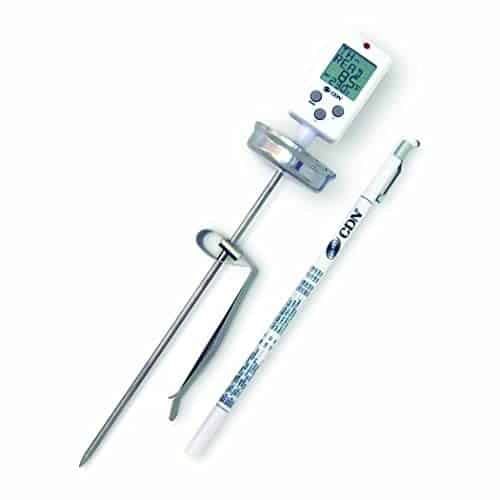 Do you want to have complete control over your candy making process? This can be easily done with the CDN DTC450 Digital Thermometer. This model features a large display near the thermometer's top and a long metal probe with an adjustable clip.
Even those who haven't made candy before will find that the candy-making process is easy because of this best candy thermometer.
This is due in part to the seven pre-programmable candy stages. All you need to do is choose the candy stage you want, program it, and then let the candy thermometer alert you when the candy is ready.
This is what makes this the best candy thermometer for making fudge. When you purchase this thermometer, you're also getting a five-year warranty.
You should note that this thermometer does run on batteries, which isn't a problem unless the batteries die during the candy making process.
Pros:
Auto shutoff
Adjustable pot clip
Large display
Pre-programmed candy making stages
Temperature ranges from 40 degrees F to 450 degrees F
Cons:
The recalibration process can be tricky
The batteries need to be replaced every so often
Kona Wireless Thermometer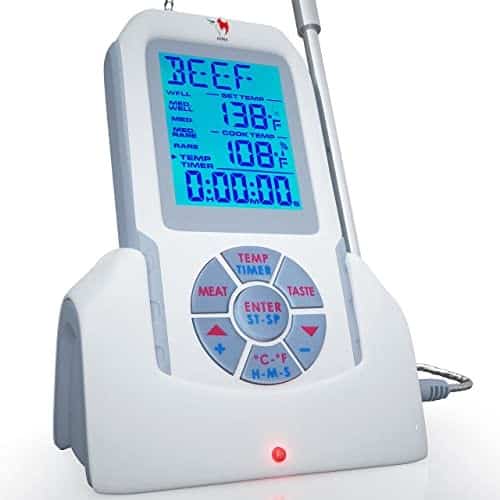 Are you looking for a candy thermometer that's a little more high-tech? The Kona Wireless Thermometer uses the latest technology to provide you with something different. This thermometer has been designed to be versatile and can be used for a variety of tasks.
This thermometer is great for people who multi-task. All you have to do is insert the probe into the candy mixture and go about doing other things. You'll get consistent and accurate temperature results sent to the remote control that comes with this thermometer.
The remote can work wirelessly up to 150 feet. It also has a backlight, which is great for candy making in low light conditions.
However, those who haven't used this kind of technology before might have trouble understanding and using this candy thermometer. Because while there are instructions included with this candy thermometer, they're not very clear.
Pros:
Audible alerts
Backlight feature
Magnets keep the thermometer in place
Can be used remotely
Cons:
The instructions on how to use this candy thermometer aren't clear
Wilton Candy Thermometer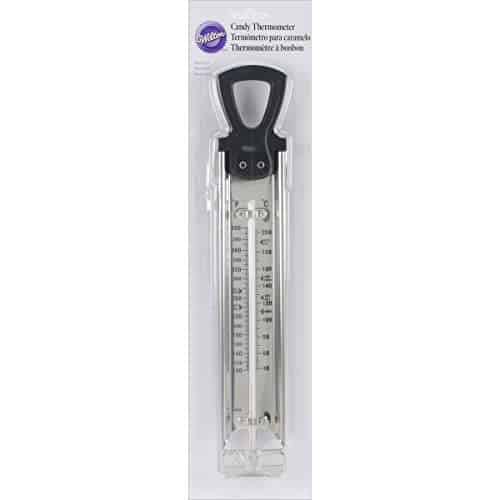 If you want a versatile candy thermometer, this is the best candy thermometer for you. This candy thermometer has been designed to be used in various ways, and it promises to be easy to clean and use.
This is a traditional candy thermometer, so it doesn't require any batteries, and it doesn't require any calibration. It's also easy to store when it's not in use because of a hook at the thermometer's top.
The downside to this thermometer is that it isn't as durable as you might hope. The glass bulb is extraordinarily fragile and can shatter with frequent usage. This isn't just inconvenient, but also incredibly dangerous.
The pan clip will also become loose over time, and the printed numbers will wear off. So, while this candy thermometer might work great at first, its lifespan is rather short.
Pros:
Temperature range of 60 degrees F to 400 degrees F
Hanging loop and pot clip
Doesn't need to be calibrated
No batteries required
Cons:
The pot clip and glass bulb are very fragile
The temperatures rub off easily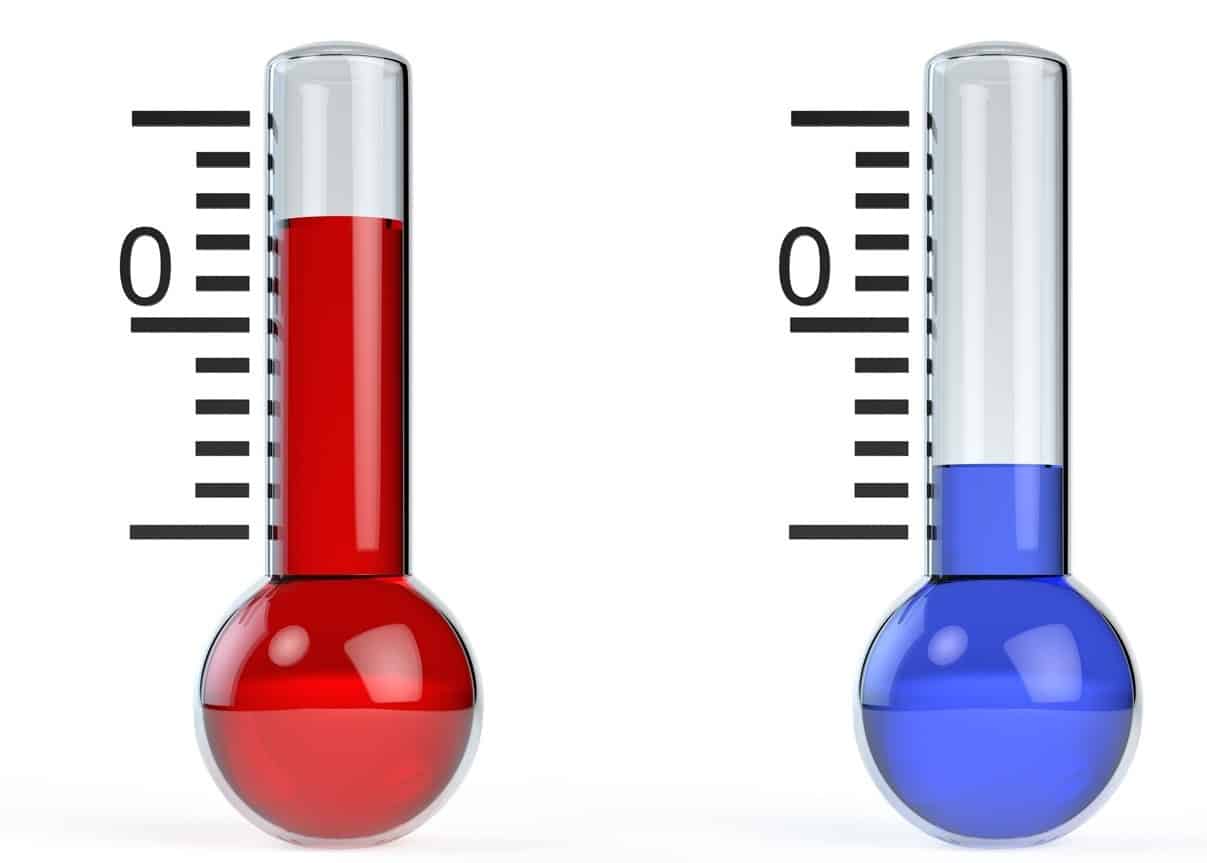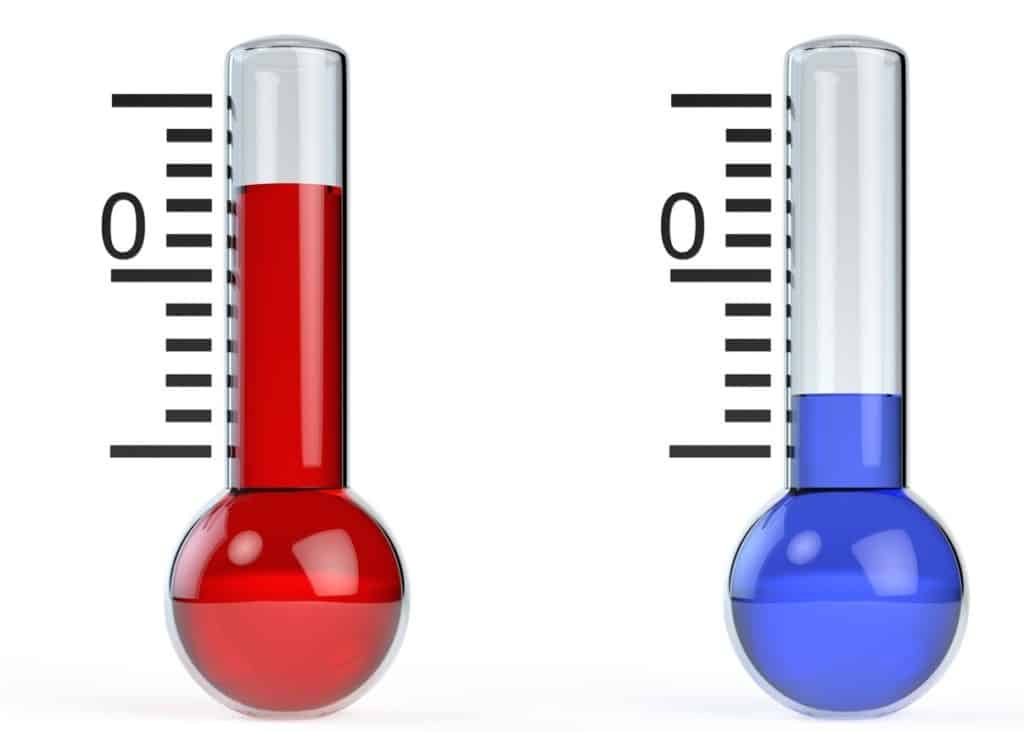 Buyer's Guide for the Best Candy Thermometer
It's clear that candy thermometers come in various styles and can be made to look and work differently. So, how do you know which one is the best candy thermometer for your needs? Below you'll find some of the things you should consider when buying the best candy thermometer.
Accuracy
Purchasing a candy thermometer is to have accurate temperature readings because the temperature is critical when making candy. To achieve this level of accuracy, most candy thermometers need to be calibrated regularly.
Digital thermometers won't need to be calibrated as often as manual thermometers. The calibration process doesn't take very long and can be rather easy, but there is room for errors to happen or that the user won't realize that a thermometer needs to be calibrated.
To check your digital thermometer's accuracy, you need to bring a pot of water to a rolling boil. If the thermometer is accurate, then it will read 212 degrees F with the water boiling.
Digital or Analog?
Analog thermometers are the cheapest options on the market and are much easier to find than digital candy thermometers. They often have a glass tube that's full of liquid that rises and falls to show the temperature of a liquid. They also require a few minutes to give you a temperature reading.
Digital thermometers read and show temperatures electronically. The best candy thermometer can be set to a certain temperature and then beep to alert you that the candy mixture has reached that temperature. They can also come with a variety of features that you can customize to match your personal preferences.
When thinking about the accuracy, supplied features, and ease of use, digital thermometers are the better option. Another great thing about digital candy thermometers is that you don't have to calibrate them as often as you would analog candy thermometers.
Probe and Handle
Traditional candy thermometers will come with a pot clip to provide you with a hands-free temperature reading. The pot clip allows you to attach the candy thermometer to the edge of the pot, and you can leave the thermometer in the pot while the candy mixture is cooking.
However, you need to pay attention to whether your pot distributes heat evenly. If it doesn't, you need to have enough space to stir the candy mixture with your thermometer.
So, with an analog candy thermometer, make sure that you're getting one that has a long handle so you can stir the candy mixture without putting your hands too close to the hot mixture.
When looking at the best digital candy thermometer, look for a long probe to help you avoid the hot steam while you're stirring the candy mixture.
Calibration: Why, When, How
When a traditional candy thermometer is heated, the liquid inside the glass bulb is expanded and shows your mixture's current temperature. When it cools down, the liquid compresses. After a few heating and cooling cycles, the volume of the bulb will have a minor alteration.
Additionally, after purchasing a candy thermometer, you need to check the calibration to ensure that the temperature readings are accurate. This needs to be done to both analog and digital thermometers.
You should calibrate your candy thermometer weekly or monthly, depending on how frequently you use the thermometer.
Need to find other thermometers to include in your kitchen arsenal? Check out our review of the best oven thermometer to add to your kitchen.