Pass the chickpeas, please! These little legumes may hail from the Mediterranean and Middle Eastern regions of the world, but have since grown to be beloved in home kitchens across the globe. If you've ever cooked a bag of dried chickpeas though, you know what a pain it can be. The sorting, soaking, rinsing and boiling!
Picking up a can of chickpeas is arguably one of the best supermarket hacks in town. They're affordable, nutrient dense, and best of all: ready to eat!
Not all canned chickpeas are created equal though, and we're putting our trusty can opener to the test, cracking our way through 15 different varieties of canned chickpeas. What are the best chickpeas money can buy? Let's find out!
What Are Canned Chickpeas?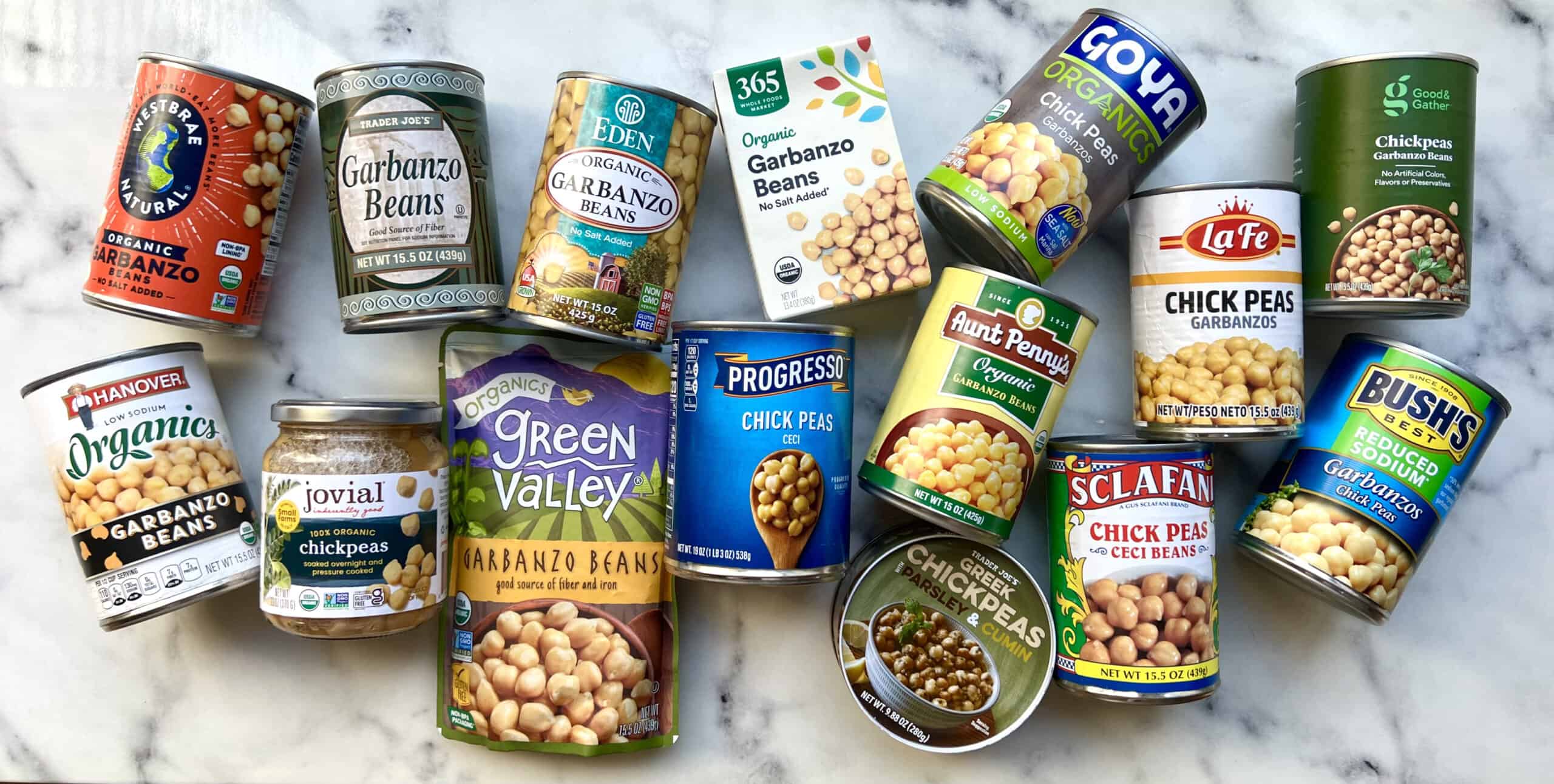 As mentioned above, chickpeas are members of the legume family, making them close relatives to other bean varieties such as black beans, soybeans, lima beans, and peanuts! Chickpeas also go by the names "garbanzo bean" or "ceci bean", both of which you'll see featured on the labels of our test subjects.
To make canned chickpeas, freshly harvested chickpeas are taken through a process of soaking and blanching before being packed into cans and then cooked in a high-heat, high-pressure environment. Sometimes other ingredients are to enhance flavor or preserve color and texture. After the ordeal is said and done, that can of chickpeas is rendered shelf stable for years to come!
Ranking the Best Canned Chickpeas
The Test Subjects
Our bunch of canned chickpeas in the hot seat today include the following 15 brands and varieties:
365 Whole Foods Market No Salt Added Organic Garbanzo Beans
Aunt Penny's Organic Garbanzo Beans
Bush's Best Reduced Sodium Garbanzo Chick Peas
Eden Organic No Salt Added Garbanzo Beans
Good & Gather Chickpea Garbanzo Beans
Goya Organic Low-Sodium Chick Pea Garbanzos
Green Valley Organics Garbanzo Beans
Hanover Organics Low Sodium Garbanzo Beans
Jovial 100% Organic Chickpeas
La Fe Chick Peas Garbanzos
Progresso "Ceci" Chick Peas
Sclafani "Ceci Bean" Chick Peas
Trader Joe's Garbanzo Beans
Trader Joe's Greek Chickpeas with Parsley & Cumin
Westbrae Natural Organic No Salt Added Garbanzo Beans
The Methodology
Our aim in evaluating these varieties of canned chickpeas was to select the best representation of each of the following 7 categories of review:
Best Classic Canned Chickpeas
Best Low Sodium Canned Chickpeas
Best Organic Canned Chickpeas
Best Seasoned Canned Chickpeas
Best Budget Canned Chickpeas
Best Premium Canned Chickpeas
Best All Around Canned Chickpeas
The Taste Test
For the taste test phase, we actually opted to experience the chickpeas at room temperature due to the simple fact that many applications for chickpeas--homemade hummus, salads, and antipasti platters--are often enjoyed cool or at room temperature.
Each can of chickpeas was drained and rinsed prior to tasting.
The Criteria
After the taste test and any pertinent research, each chickpea variety was given a score according to the following 5 criteria. These scores were then used to calculate an overall average, which we utilized to determine our final category winners.
Taste & Texture: considering the inherent flavor and mouthfeel of the chickpeas, as well as how these factors impact their usefulness in a range of culinary applications.
Nutrition Content: specifically taking into account the number of calories, protein, fats, fiber, and sodium per serving as well as the general quality of ingredients used.
Unique Characteristics: ranging from special flavors, unusual preparation techniques, or other unique factors that may set one chickpea apart from other brands.
Value: price per ounce.
Production & Packaging: where and how each canned chickpea variety is produced, how widely available it is, and any other special characteristics of the packaging or parent company.
Best Classic Canned Chickpeas: Sclafani "Ceci Bean" Chick Peas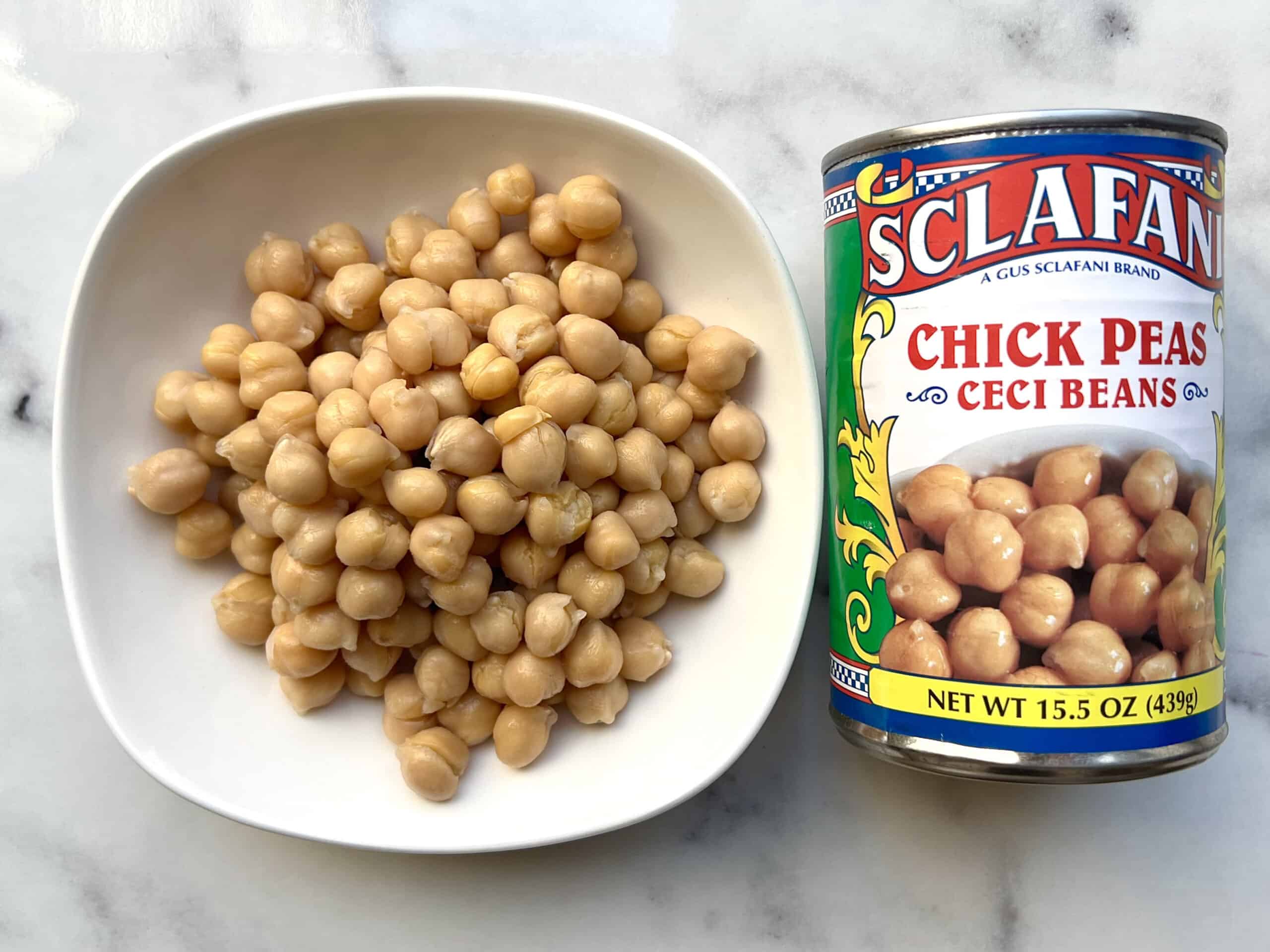 Size: 15.5 oz can
Here is how Sclafani "Ceci Bean" Chick Peas scored in each of our criteria categories:
Taste & Texture: 5.0 / 5.0
Nutrition Content: 4.1 / 5.0
Unique Characteristics: 4.5 / 5.0
Value: 4.9 / 5.0
Production & Packaging: 4.5 / 5.0
Overall Score: 4.6 / 5.0
Sclafani Foods is a family owned specialty foods product company which has been bringing classic and quality Italian ingredients to the US since 1911--over 100 years! With such a history, one tends to have high expectations of products from this brand, and their Ceci Beans did not disappoint.
Our tasters found these chickpeas to have especially good flavor, as they are nice and savory without tasting overly salty. We love how they have a defined outer shell, giving you that subtle "pop" you look for when biting into a chickpea, yet are soft and creamy on the inside.
Nutritionally speaking, these chickpeas are the clear winner in the protein department as they offer 9 full grams per ½ cup serving--the highest of all the chickpeas we evaluated! They also have 0 added sugars and provide 10% your DV of blood cell-supporting iron per serving.
On the downside, these chickpeas feature the highest calorie content (aside from the chickpeas packed in oil, which we'll get to in a moment), coming in at 180 per serving as well as the highest fat content, with 3 grams per serving.
We also found there to be a greater proportion of split and broken beans in this can as compared to the other chickpeas we examined. In addition, these chickpeas run on the smaller side so if you're looking to go big, you may want to go with a different brand!
Pros:
Comes from a company with vast experience in the specialty ingredient sector!
One of the best, most savory flavors we tested.
Excellent texture--defined out shell with a creamy interior.
Provides 9 grams of protein and 10% DV of iron per serving.
Contains 0 sugars.
Cons:
The highest in both fats and calories, with 180 calories and 3 grams fat per serving.
Decent amount of broken and split chickpeas in the can.
Overall smaller in size than other varieties.
Best Low Sodium Canned Chickpeas: Westbrae Natural Organic No Salt Added Garbanzo Beans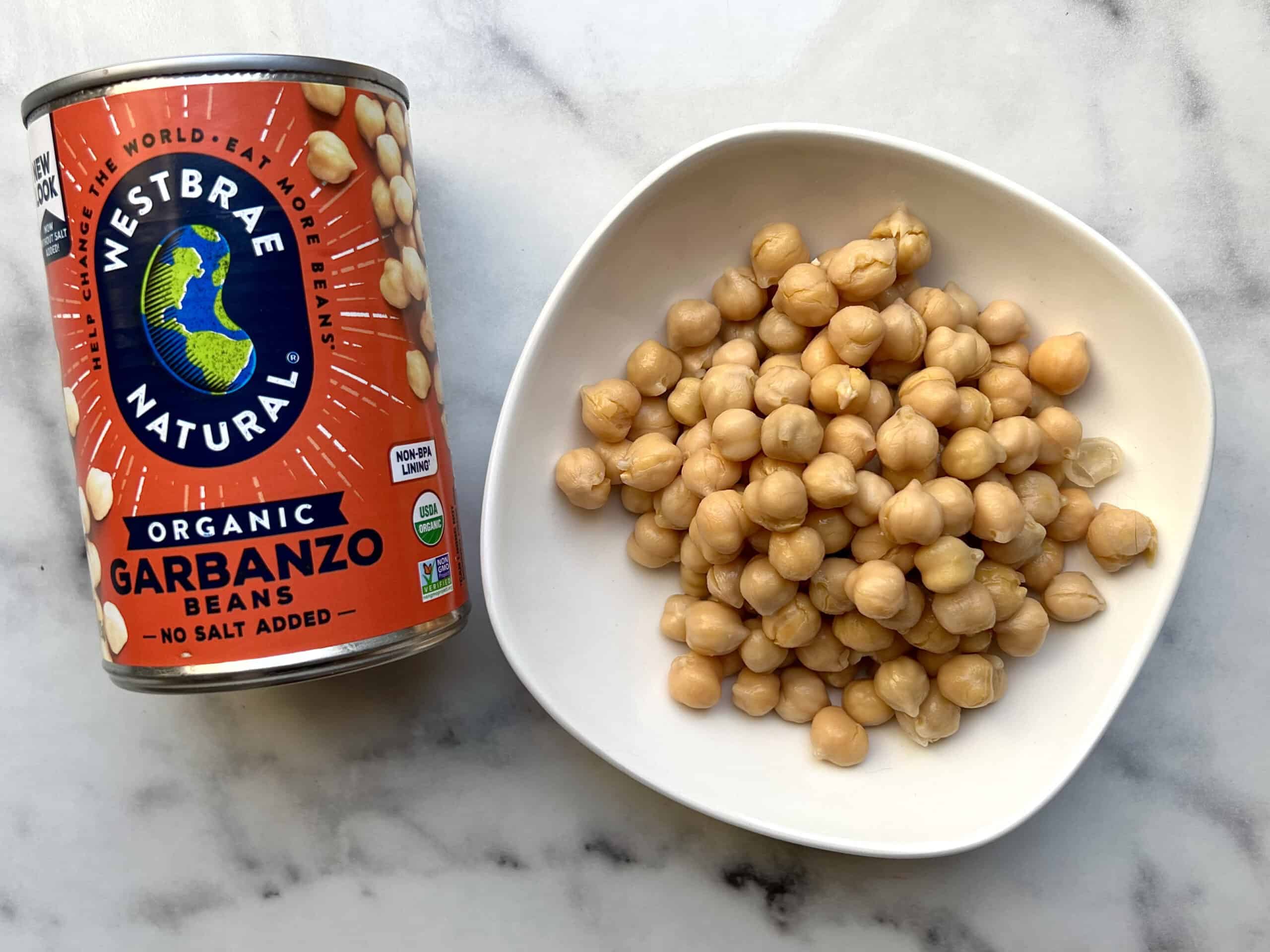 Size: 15 oz can
Here is how Westbrae Natural Organic No Salt Added Garbanzo Beans scored in each of our criteria categories:
Taste & Texture: 4.5 / 5.0
Nutrition Content: 4.6 / 5.0
Unique Characteristics: 4.8 / 5.0
Value: 4.4 / 5.0
Production & Packaging: 5.0 / 5.0
Overall Score: 4.7 / 5.0
As part of the Hain Celestial group--a natural foods company which brings us plenty of other qualityfood products such as the Terra Chips we featured on our Best Salt and Vinegar Chip countdown--these chickpeas from Westbrae Natural have all the support they need to succeed!
Seeing as it's no secret that canned foods can be exorbitantly salty, it's always a breath of fresh air to come up with a low-sodium alternative that doesn't skimp on flavor. These chickpeas retain plenty of earthy, bean-y taste with only 10 milligrams of sodium per serving to show for it. For comparison, the average sodium content of chickpeas we tested clocked in at 202 milligrams per serving!
These chickpeas are certified USDA organic by Quality Assurance International as well as are non-GMO project verified. The label is sure to point out that these beans are packed in a non-BPA lined can and even features a tasty sounding recipe for Mediterranean Garbanzo Stir Fry on the back!
You'll get 10% your DV of iron from these chickpeas as well, and we love to see that each purchase from Westbrae does a bit of extra good. The company works to support a number of organizations making positive impacts in issues like food insecurity and climate change.
We weren't huge fans of these chickpeas texturally speaking though, as they definitely have a bite on the crunchier side. There are also a couple of smaller, oddly colored chickpeas in the mix that have almost a gray tinge--probably just straggler beans which were harvested less riper than their neighbors but still, not exactly appetizing!
It's also worth noting that at the expense of that low sodium content, these chickpeas feature the highest sugar content with 4 grams per serving. This is about a teaspoon, which may not sound like much but is still worth clocking, especially for those who monitor their sugar intake carefully.
Pros:
Have a savory, well-rounded chickpea flavor.
Only 10 milligrams of sodium per serving.
USDA organic and non-GMO verified.
Packed in a non-BPA lined can.
Label features recipes for chickpea inspo!
Provides 10% of your DV of iron.
Company supports a number of philanthropic efforts
Cons:
Chickpeas have a crunchier, less creamy texture.
There are some misshapen and discolored chickpeas in the mix.
Have a higher sugar content as compared to other chickpeas we evaluated.
Best Organic Canned Chickpeas: Jovial 100% Organic Chickpeas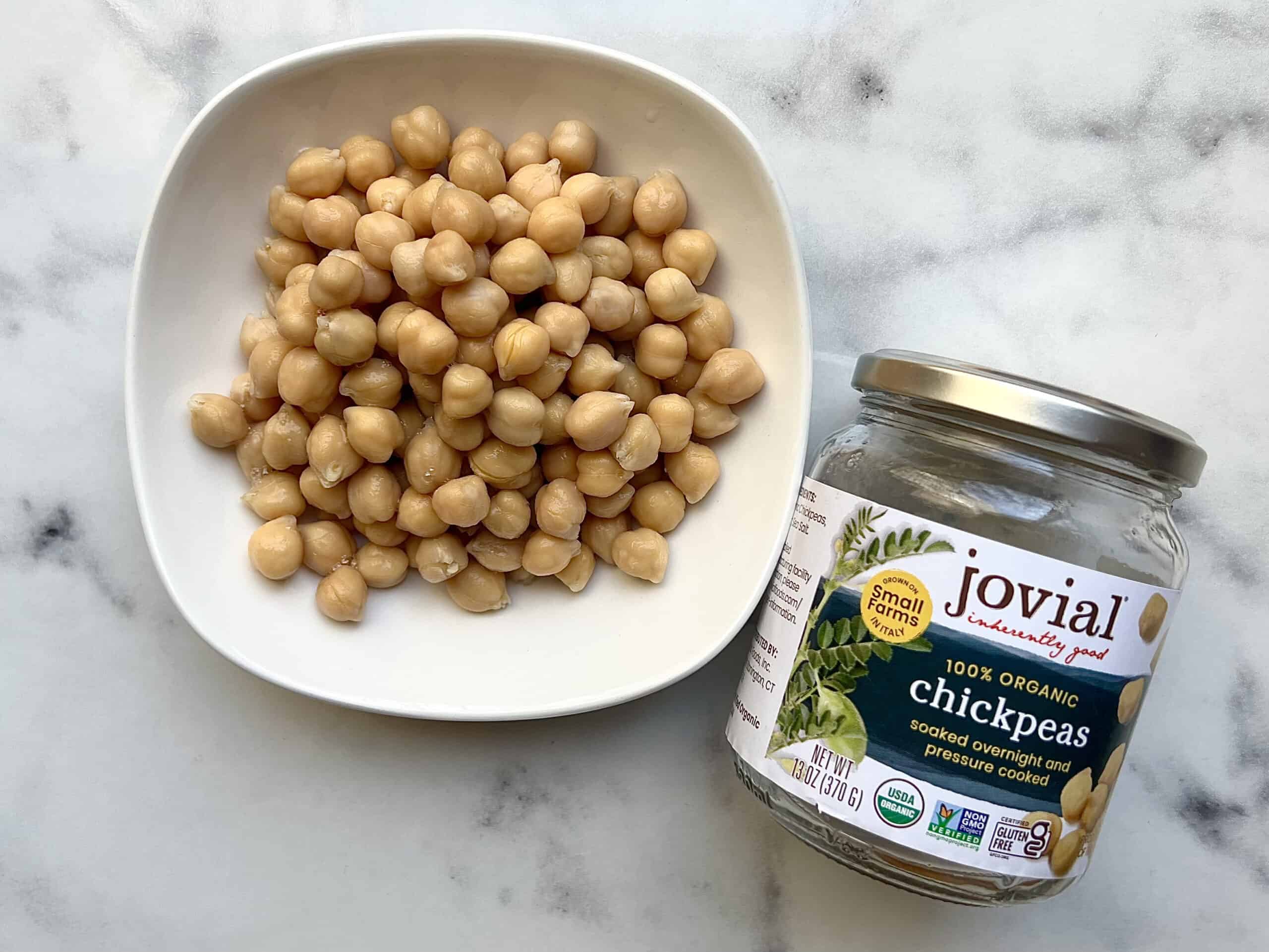 Size: 13 oz jar
Here is how Jovial 100% Organic Chickpeas scored in each of our criteria categories:
Taste & Texture: 4.3 / 5.0
Nutrition Content: 4.8 / 5.0
Unique Characteristics: 4.7 / 5.0
Value: 4.3 / 5.0
Production & Packaging: 4.6 / 5.0
Overall Score: 4.6 / 5.0
Ok so maybe these chickpeas aren't technically in a can, but they have gone through the required heat and pressure treatment to make this little jar shelf stable for just as long as their canned counterparts!
We actually quite love the fact that these beans come in a glass jar as it enables you to store any unused portion in the original container--just pour those garbanzos back in and replace the metal lid.
You may have a tough time winding up with leftovers though, as the taste of these chickpeas were at the top of our charts. They have a very nutty flavor, almost like roasted peanuts, making them an especially wonderful addition to any pasta dish or salad.
One serving of these little guys provides you with 9 grams of protein and they also feature the lowest net carb count per serving, with just 13 grams. With a bit of poking around on Jovial's website, we found that they have an extremely thorough page dedicated to allergen and cross contamination information for each of their products, which earns major points in our book.
Sadly, the texture of these chickpeas is our least favorite as we found them to be even more crunchy then the Westbrae Natural chickpeas which we already mentioned were on the al-dente side of things.
It was also unfortunate how the bottom half of the chickpeas were packed into the jar quite tightly, making it difficult to scoop them out without smashing and breaking them up. And, these chickpeas are way up there in terms of price too, costing us $.26 per ounce.
Pros:
Packed in a glass jar which can be resealed for easy leftovers storage.
Deeply savory, nutty flavor gives them excellent versatility.
9 grams of protein per serving.
Lowest carb content of all the chickpeas we evaluated.
Company takes extra steps to ensure their products are very clear in terms of allergen ingredients and exposures
Cons:
Have quite a crunchy texture, almost as if slightly undercooked.
Chickpeas in the bottom of the jar were very tightly packed which affected their shape and structure
At the higher end in terms of price, the 13-ounce jar ran us almost $3.50
Best Seasoned Canned Chickpeas: Trader Joe's Greek Chickpeas with Parsley & Cumin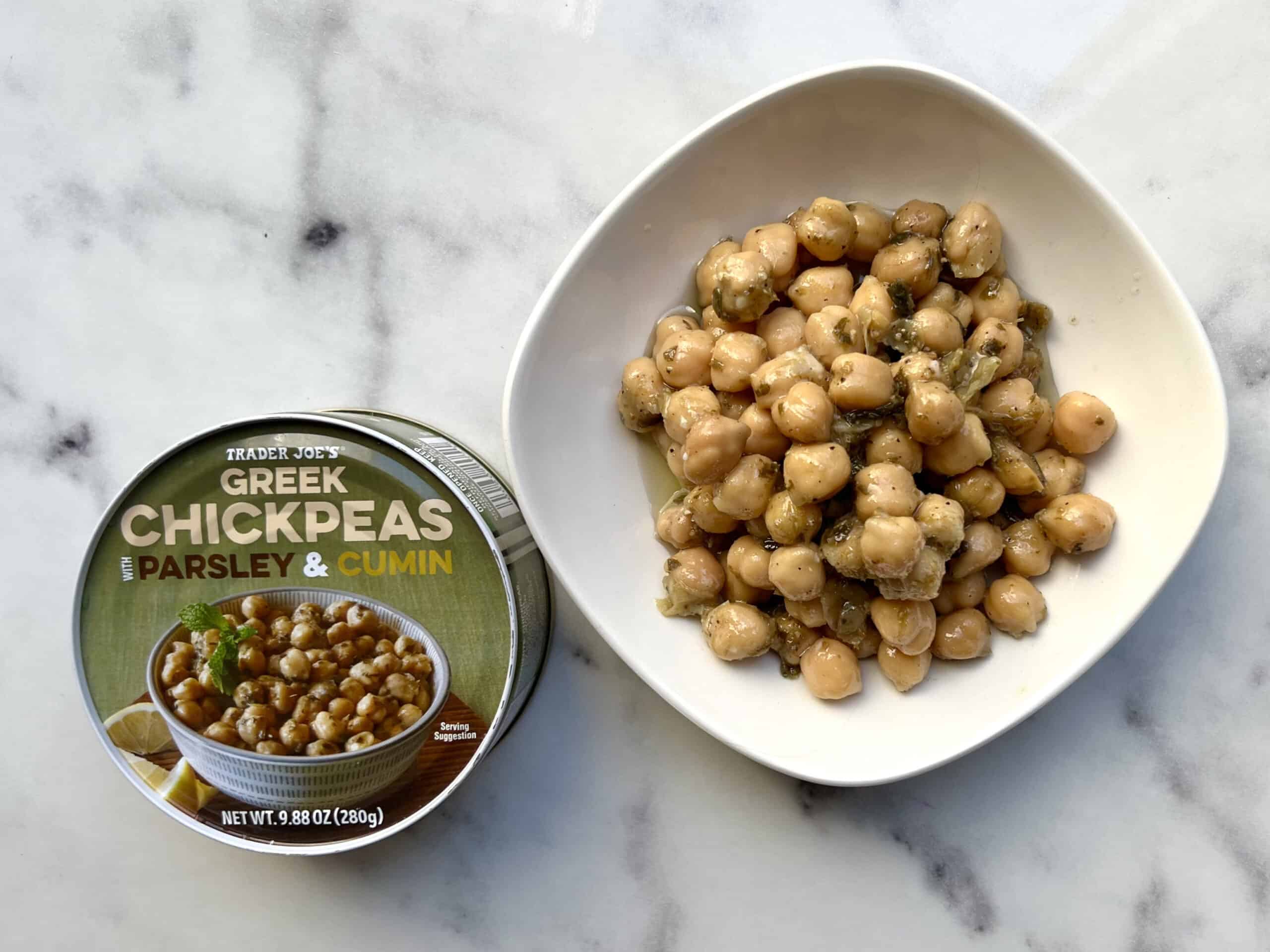 Size: 9.88 oz can
Here is how Trader Joe's Greek Chickpeas with Parsley & Cumin scored in each of our criteria categories:
Taste & Texture: 5.0 / 5.0
Nutrition Content: 3.8 / 5.0
Unique Characteristics: 5.0 / 5.0
Value: 4.4 / 5.0
Production & Packaging: 5.0 / 5.0
Overall Score: 4.7 / 5.0
Most of the chickpeas available in cans are of the plain variety, however, we did come across a few products which are pre-seasoned and/or marinated and these Greek-style chickpeas from Trader Joe's were by far the favorite according to our tasting panel.
To put it simply, these chickpeas were so tasty, they're the ones that our tasting panel wanted to keep eating when the official taste testing was said and done! The punchy flavors of lemon juice, garlic powder, and plenty of black pepper combine perfectly with the smokiness of abundant cumin powder. There is also a generous sprinkling of fresh parsley leaves floating around in the soybean oil based marinade, providing a pop of color and freshness to boot.
Despite all of these spices and seasonings, we found Trader Joe's Greek Chickpeas with Parsley & Cumin to be supremely versatile and can see stirring them into cooked pasta for a quick pasta dish, using them as a topping to make salads more hearty, or even just eating them straight from the can as part of a quick and portable lunch! Yeah. They're that good.
One serving of these chickpeas contains 8 grams of fiber per serving, the highest we found in all of our testing. We also love the packaging on this one, as the shorter, wider can makes it stand apart from other canned chickpeas and the label which is printed on the can itself gives this product quite a modern feel. The can also features a handy pop top--no can opener required!
Our only complaints about these chickpeas unfortunately come in the form of nutrient related ones. Due to the fact that they are marinated in oil, one serving of these chickpeas comes with a whopping 320 calories and 20 grams of fat attached. They also manage to pack in 700 milligrams of sodium which is nearly a third the average recommended daily intake!
We also can't help but wonder why they opted to use soybean oil here as opposed to something richer like a flavorful olive oil. While we thoroughly enjoyed these chickpeas, we definitely would have preferred something just a bit more elevated to round out one of the best chickpea experiences we've ever had.
Pros:
Offers a perfectly complex balance of savory, smoky, and tangy flavors!
Gets a boost from fresh parsley.
Offers a great deal of versatility as they can be eaten as is or used to amp up a recipe.
Provide 8 grams of fiber per serving.
Shape and design of the can are distinct and opens via a handy pop top.
Cons:
Very high in both calorie and fat content.
Contains a huge 700 milligrams of sodium per serving.
We wish they had opted for a flavorful olive or avocado oil for the marinade as opposed to neutral soybean oil.
Best Budget Canned Chickpeas: Good & Gather Chickpea Garbanzo Beans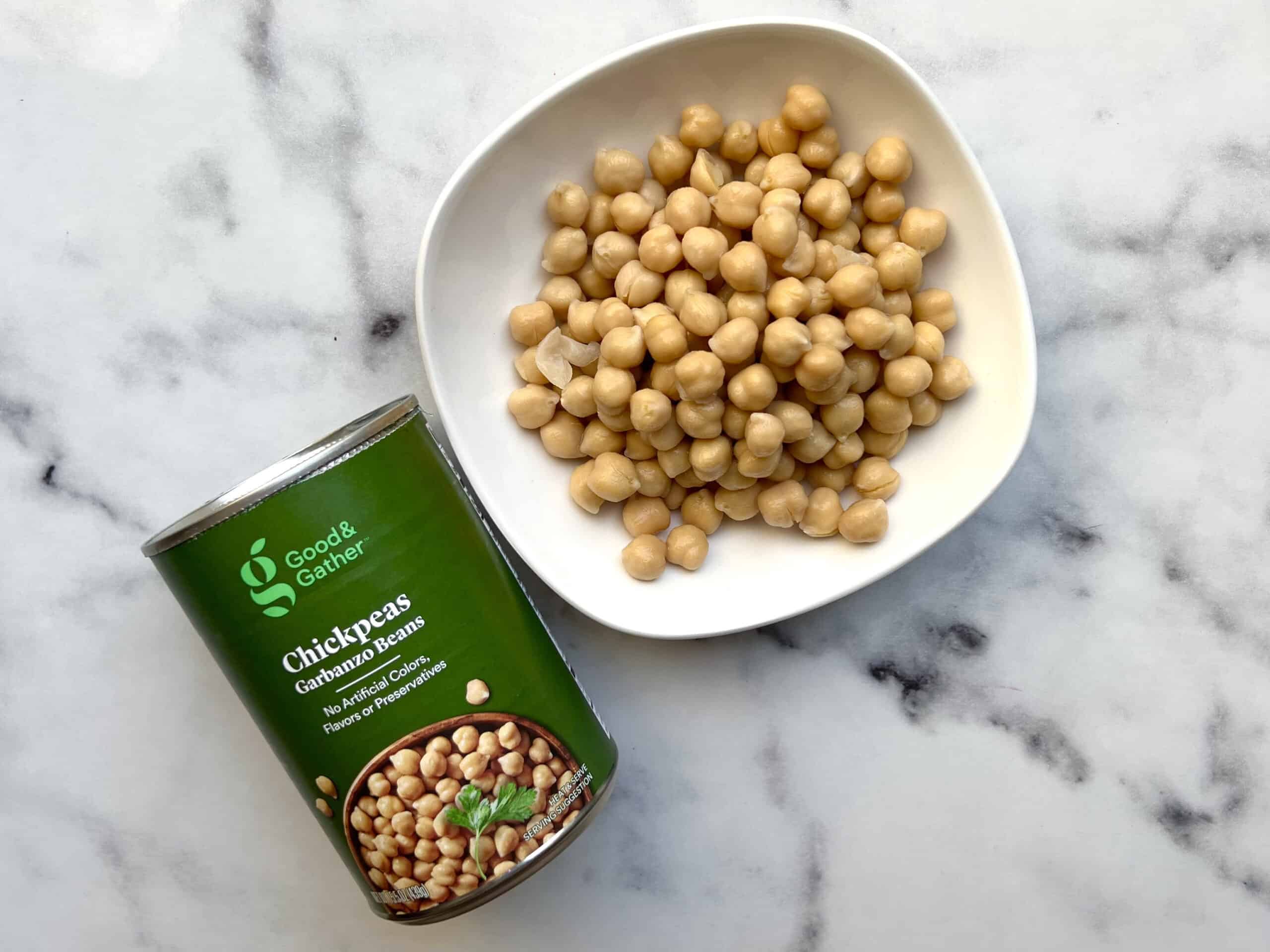 Size: 15.5 oz can
Here is how Good & Gather Chickpea Garbanzo Beans scored in each of our criteria categories:
Taste & Texture: 4.7 / 5.0
Nutrition Content: 4.5 / 5.0
Unique Characteristics: 4.3 / 5.0
Value: 5.0 / 5.0
Production & Packaging: 4.2 / 5.0
Overall Score: 4.5 / 5.0
Once again, we have Good & Gather (the in-house brand of Target) at the top of our rankings for delivering a quality product at an insanely affordable price point. Costing us a mere $.05 per ounce, these chickpeas are supremely economical, especially when you consider the fact that chickpeas are both nutritious and satisfying enough to serve as the basis of a meal.
There are no artificial colors, flavors, or preservatives in this particular can o' beans and we love that they come with the Good & Gather Promise--a 100% satisfaction or your money back guarantee! The label on the can has a few different heating instructions you can opt for, as well as a few simple recipe ideas such as one for oven-roasted crispy chickpeas!
And as for the all important taste? These chickpeas, well, they taste like chickpeas! Nothing special but nicely predictable in terms of nutty flavor and creamy texture.
On the textural note, we did notice a decent number of "skins" floating around in this can of chickpeas. While these outer hulls are a natural component of the chickpeas themselves, the in-can separation between skin and legume in this case is a bit of a nuisance.
Also, we were excited to see this can had a handy pop top tab just like the Trader Joe's version above, but you can imagine our dismay when the tab promptly failed and broke off. After trying to use a can opener (which also didn't work due to the shape of the can) we finally had to pry the lid off with a butter knife. Suffice to say, major packaging issues on this one--open at your own risk!
Pros:
The least expensive chickpeas we tested, costing just $.05 per ounce.
Free from artificial colors, flavors, and preservatives.
Comes with a money back guarantee.
Labeling features preparation instructions as well as simple recipe ideas.
Flavor is good, consistent, classic chickpeas taste.
Cons:
Lots of separated chickpea skins are mixed in with the whole chickpeas themselves.
Pop top on the can broke and did not work, leaving us to pry the package open in a less than safe manner.
Best Premium Canned Chickpeas: Eden Organic No Salt Added Garbanzo Beans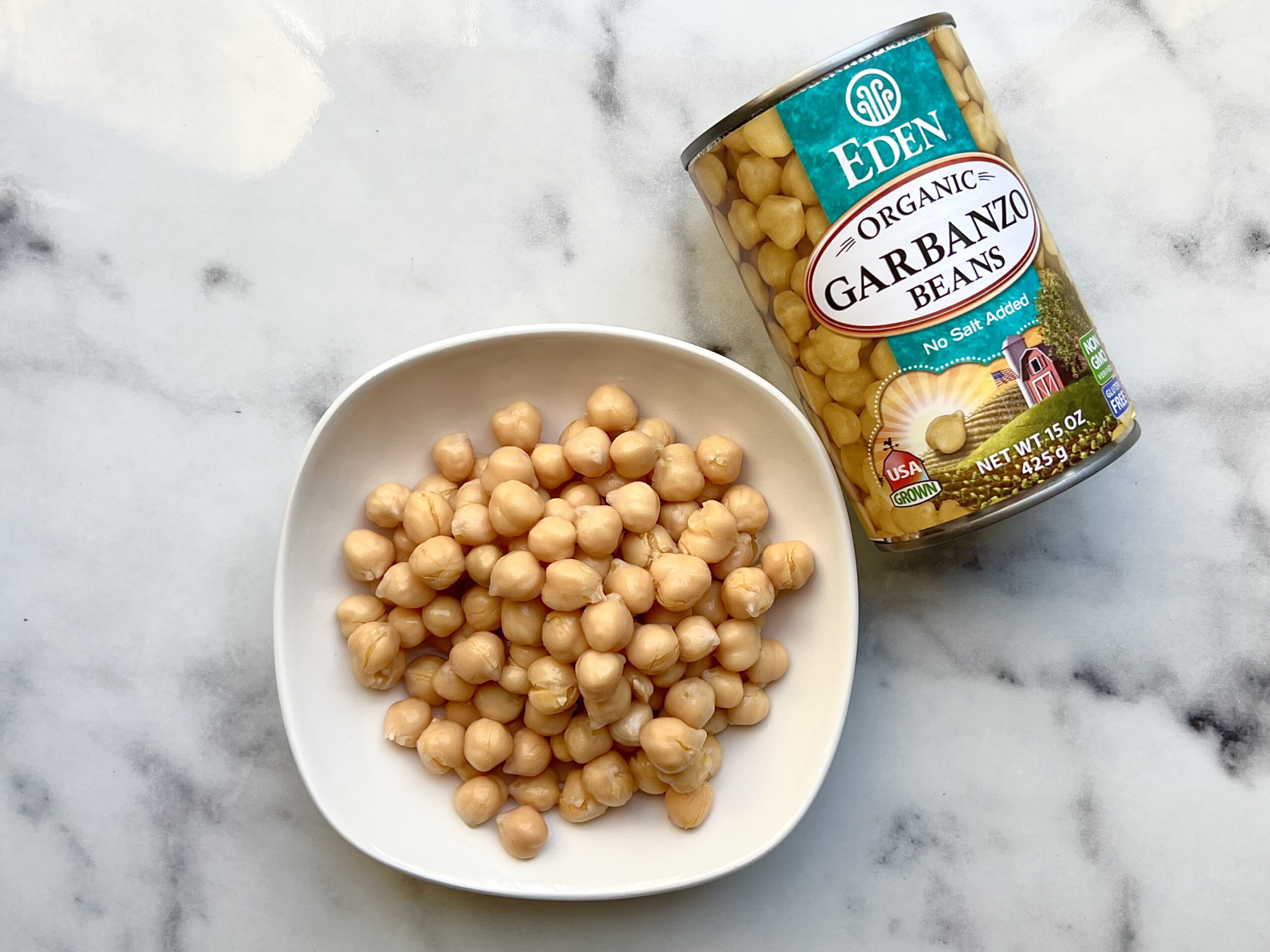 Size: 15 oz can
Here is how Eden Organic No Salt Added Garbanzo Beans scored in each of our criteria categories:
Taste & Texture: 4.7 / 5.0
Nutrition Content: 5.0 / 5.0
Unique Characteristics: 4.8 / 5.0
Value: 4.1 / 5.0
Production & Packaging: 4.6 / 5.0
Overall Score: 4.6 / 5.0
Without a doubt, these chickpeas from Eden are the most beautiful looking we encountered during our evaluations. The large, nicely plump chickpeas have a lovely peachy-tan color as opposed to the washed out beige we encountered in many of the other varieties.
You could definitely use these to cook with but honestly they are so perfect on their own, they don't need much more than a drizzle of olive oil, splash of red wine vinegar, and a sprinkling of black pepper or fresh herbs to really shine.
1 serving of these garbanzos comes with just 1 gram of fat per serving--the lowest we found--and just 50 milligrams of sodium! They also feature an excellent micronutrient profile, providing 25% your DV of folate, 10% your DV of zinc, and smaller quantities of iron, calcium, potassium, thiamin, and magnesium. The can they are packed is lined with a BPA, BPS, and phthalate-free coating and the beans inside are certified organic, non-GMO verified, and grown in the USA.
In terms of price, this 15-ounce can of chickpeas hit our wallets harder than any of the others, costing just under $4.30 for the container. This works out to $.28 per ounce which is nearly 6 times as much as the price point of our budget winner!
Another thing to note about these chickpeas is that they are cooked with kombu, a type of seaweed. While this addition does boost flavor and is thought to provide certain digestive benefits, the inclusion of this unexpected ingredient could cause an issue for some, as folks who have seafood allergies sometimes prefer to steer clear of seaweed products as well.
Pros:
By far the most appetizing looking chickpeas with a warm coloring and uniform shape and size throughout.
Low in both fat and sodium content.
Features the best vitamin and mineral content of all chickpeas we tested.
Can is free from several common packaging chemicals.
Certified organic and non-GMO verified.
USA grown and harvested.
Cons:
The most expensive of all chickpeas we tested, coming in at $.28 per ounce.
Includes seaweed, an unexpected ingredient which may pose an issue for those with food allergies.
Best All Around Canned Chickpeas: Progresso "Ceci" Chick Peas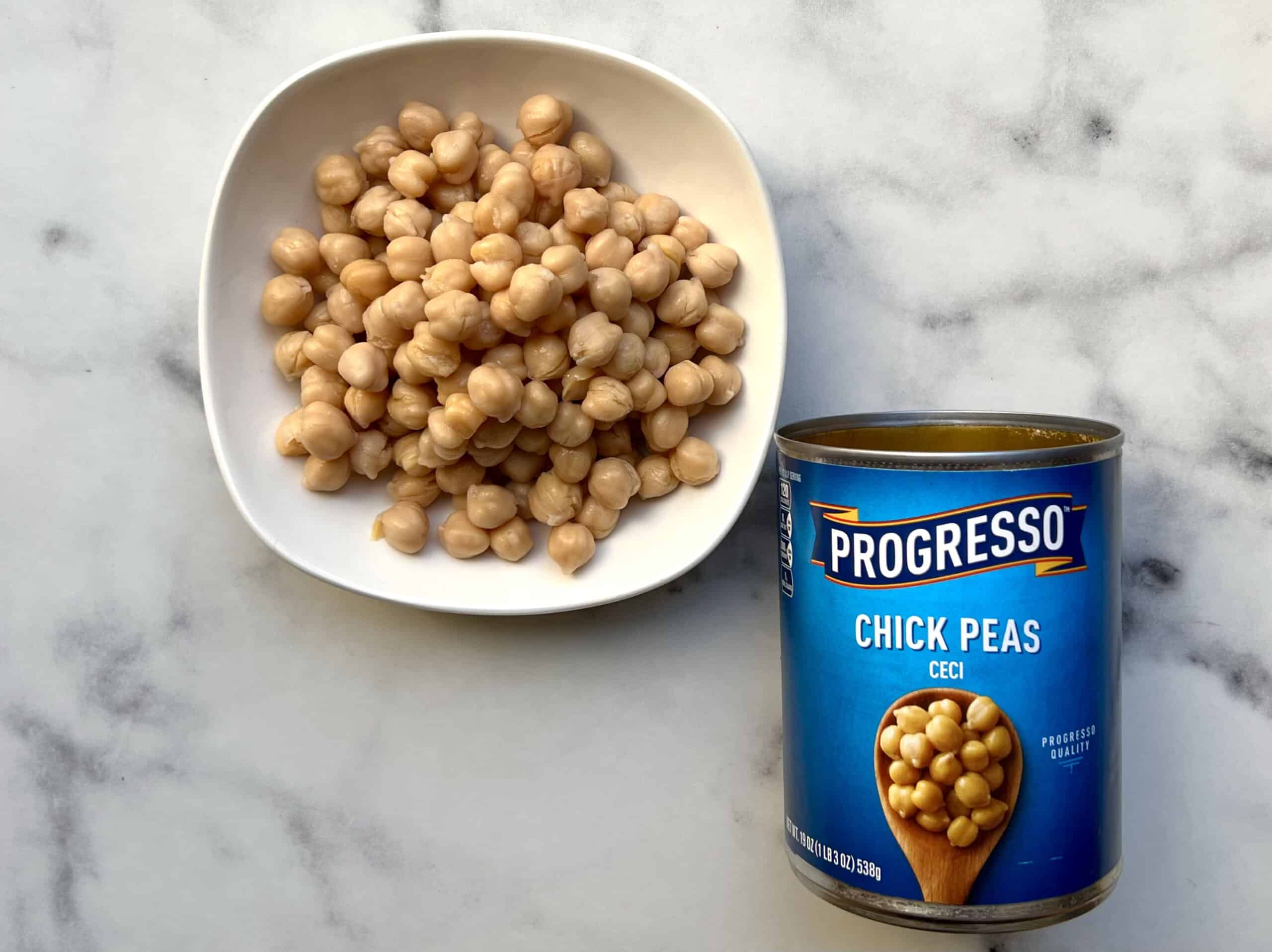 Size: 19 oz can
Here is how Progresso "Ceci" Chick Peas scored in each of our criteria categories:
Taste & Texture: 4.3 / 5.0
Nutrition Content: 4.2 / 5.0
Unique Characteristics: 4.3 / 5.0
Value: 4.8 / 5.0
Production & Packaging: 4.5 / 5.0
Overall Score: 4.4 / 5.0
Finally, the chickpea to reach for when you just need a reliably good tasting, ideally textured, quality can of garbanzos is none other than Progresso's Chick Peas or "Ceci" Beans.
We're big fans of the larger container size here (1 pound + 3 ounces of chickpeas at your service!) as it means you'll have plenty for incorporating into recipes or making big batches of your favorite hummus. The chickpeas themselves look great with a nice coloring and good uniformity as well as have a super savory flavor and near perfect texture for just about any purpose.
These chickpeas are a great source of digestive health supporting fiber, providing 6 grams per serving which works out to be about 20% of your DV. And, the characteristic blue label on the can features simple recipes and snack ideas for putting your ceci beans to good use.
Among our gripes with this brand is the fact that the chickpeas are incredibly salty, with 300 milligrams of sodium per serving. Thankfully, some of this can be avoided by rinsing the beans before using them.
They also have the lowest protein content as compared to the other chickpeas we tested, offering only 5 grams per serving while others were nearly twice this amount! And our tasting panel agreed that despite the nicely savory taste, the chickpeas also had a hint of a synthetic flavor, our guess is perhaps due to the types of sodium added during processing.
Pros:
Packed in an extra large can, giving you plenty of chickpeas to work with!
Appealingly uniform in shape, size, and color.
Savory flavor and excellent texture.
Excellent source of dietary fiber.
Packaging includes some great ideas for chickpea based meals or snacks.
Cons:
Very high in sodium.
Lowest in protein content, just 5 grams per serving.
Have sort of a chemically aftertaste, likely due to one of the additives.
Best Canned Chickpeas FAQs
Is There a Difference Between Chickpeas and Garbanzo Beans?
Nope! A chickpea and a garbanzo bean are the exact same thing. The different names are merely attributed to a difference in regionality.
Chickpeas became the preferred term for these legumes in France and later, England and the Americas while Spanish-speaking countries refer to them as garbanzos.
Are Canned Chickpeas Healthy?
In most cases, canned chickpeas are an extremely healthy choice as they are loaded with protein and fiber as well as provide a natural source of some important vitamins and minerals.
As you have seen in our featured products however, depending on processing, canned chickpeas can also be extremely high in fats and sodium. If you're reaching for a can of chickpeas with nutrition in mind, be sure to check the nutrition panel and choose varieties which are lower in sodium and not canned in oil.
Are Canned Chickpeas Gluten Free?
All the canned chickpeas we included in our review are indeed gluten free, as are most any variety of canned bean. As always though, it pays to double check the ingredients panel. Though chickpeas do not naturally contain gluten, it's always possible they may have an unexpectedly glutinous additive or seasoning.
Should You Rinse Canned Chickpeas?
Many recipes that call for canned chickpeas will often specify that they be drained and rinsed first, however this isn't always necessary! If adding chickpeas to a soup or stew, that canning liquid will impart a wonderful layer of flavor and thickness to the broth.
Keep in mind though that in salted varieties of chickpeas, the canning liquid will be holding onto a lot of that sodium content. In addition, if you are making foods such as hummus, stir fry, or are planning to dry roast your garbanzos, you will surely want to drain the liquid away first.
Do You Need to Cook Canned Chickpeas?
Nope! While a chickpea straight out of the can is likely not the most enjoyable way to get your beans in, there is actually no requirement that you cook them prior to eating them. Canned chickpeas are already cooked!
Whether you plan to eat them at room temperature or roast them in a high heat oven, canned chickpeas can be eaten at any temperature point. Once opened though, be sure to promptly refrigerate any leftovers.
Ideas for Using Canned Chickpeas
Turn that can of chickpeas into your next pizza night with our Gluten Free Loaded Cauliflower Crust Pizza complete with tomato sauce, pesto, and shaved parmesan.
Have a meat-free meal, as chickpeas are a great way to add protein to just about any dish from soups and stews to stir fries or salads!
Break out the food processor and make a quick hummus from a can of chickpeas, a squeeze of lemon juice, a drizzle of tahini (or sesame paste!) and some salt and black pepper. Jazz it up to your liking with any other herbs, spices, or seasoning blends.
Rinse and dry canned chickpeas then toss in olive oil and seasonings of your choice, then roast in a hot oven until golden and crispy for a healthy, crunchy snack!
Final Thoughts on the Best Canned Chickpeas
After working our way through such a gaggle of garbanzos, we came to realize that one of the most basic canned food products is actually not so simple after all!
There are many different types of canned chickpeas to choose from, each with its own set of strengths and weaknesses. Whether you seek canned chickpeas that are low in sodium or rich in flavor, there is clearly a can of ceci beans out there with your name on it.
Once you make your choice, try a few of our favorite canned chickpea centric recipes: Creamy Coconut Chickpea Couscous Curry, Vegan Buddha Bowl, or this Mediterranean Chickpea Salad and let us know how you like them!