People who love cooking always prefer homemade chilis rather than canned ones. However, with busy schedules, it becomes impossible to find enough time to make them. On the other hand, the canned market chilis are equally fascinating as they are delicious and taste similar to ones that are home-cooked.
However, not every brand will deliver the taste you've been looking for.
We understand that you can't figure out the best brand without tasting them first. That is why we are here. We have listed our top 8 choices for the best canned chili with a few considerations in mind.
Review of 7 Best Canned Chili Brands
1. Amy's Organic Chili with Vegetables, Medium - Best Overall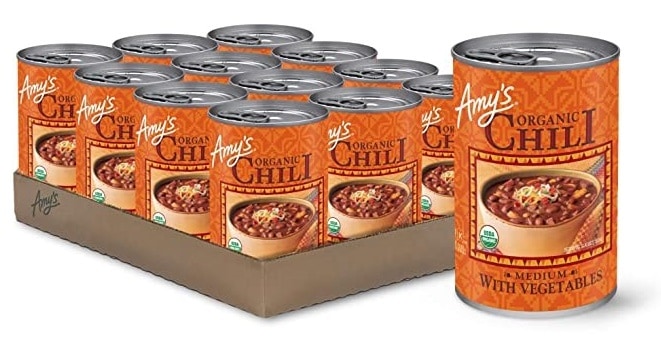 A perfect combination of spiced chili and vegetables, Amy's organic medium chili comes with the rich flavor of carrots, corns, potatoes, and organic bell peppers.
It is dairy-free, gluten-free, tree nut-free as well as soy-free. It is best for kosher and vegan diet followers as it is free from eggs, peanuts, meats, poultry, and shellfish.
Every fruit and vegetable used in the recipe is organically grown and free from insecticides and chemicals. Above all, Amy's chili is made from flavorful ingredients, is a preferred brand for canned chili, and a great option if you're looking for meatless meals.
Pros:
A perfect blend of vegetables and chilies
Organic, flavorful product
Made using fresh ingredients
Kosher and vegan-friendly
Cons:
Chili flavor is not predominant
2. Hormel Chili with Beans – Best Budget Choice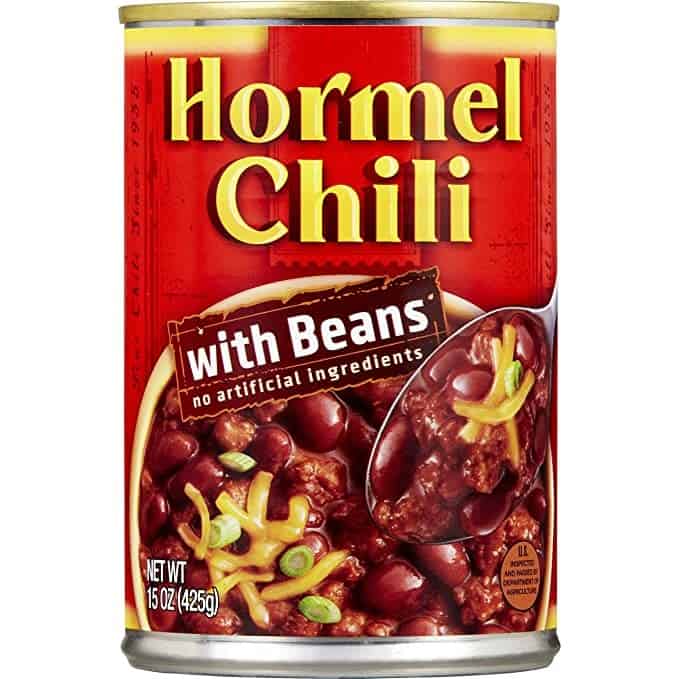 Hormel is the USA's number 1 chili brand, and this chili with beans is a great budget choice to consider. There are no artificial ingredients or preservatives added to this canned chili.
The ingredients found in this canned chili include water, beef, crushed berries, legumes, starches, textured vegetable protein, flavoring, sugar, etc. You don't need a can opener to open it, just follow the pull top procedure.
Overall, considering this chili with beans for your dips, bowls, and hot dogs won't just give added flavor but will also be light on your pocket.
Pros:
Healthy as it includes great content like vegetable proteins, berries, etc.
Provides 14 g proteins per serving
Ideal consistency
Follows a simple pull top procedure to open the can
Cons:
May not be consumed directly
3. Campbell's Chunky Chili, with Bean – Best Premium Choice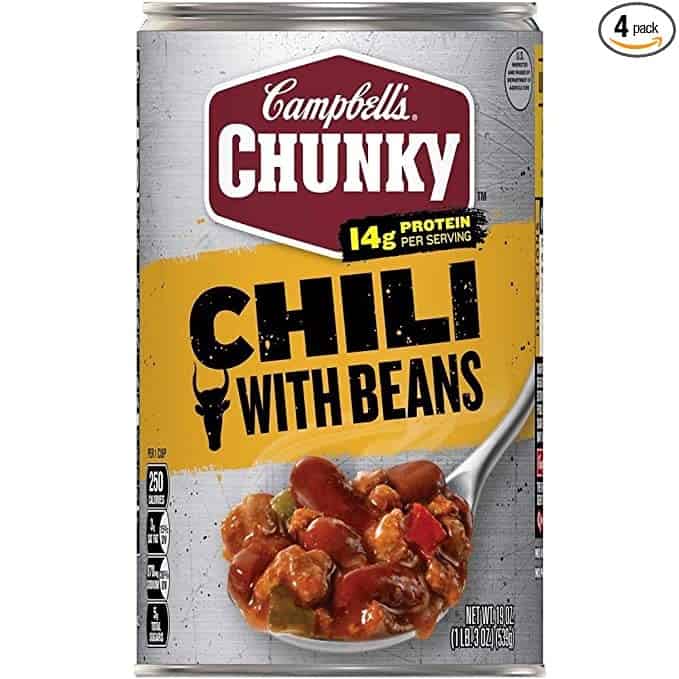 In the canned products department, Campbell is king. Their Chunky Chili is no different from their other products when it comes to quality, as it is loaded with great ingredients, including beans, beef, veggies, and pork crumbles.
This versatile canned chili option is also full of nutrition. Hot and ready to go, it is best when paired with hot dogs and makes a great party food.
Pros:
Contains less fat and calories than other canned chilies
Cooked in the USA
Versatile and nutritional canned chili
The packaging gives a retro feel
Convenient opening using pop top
Microwave-friendly container saves time
Cons:
Sharp sodium count for the nutritional value
Can't be used by people with allergies to soy and wheat
4. Skyline Canned Chili Pack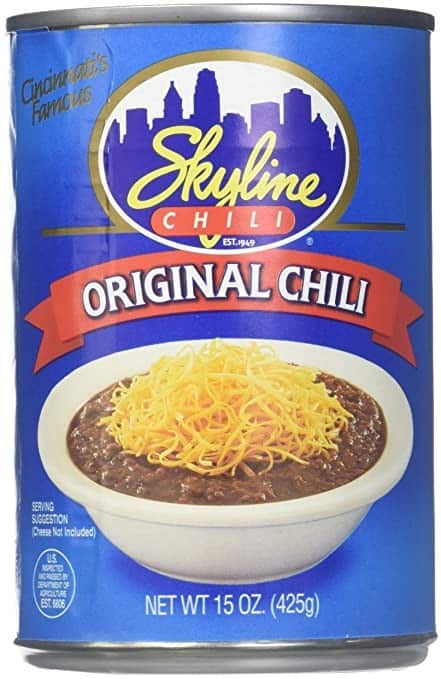 If you need to pour chili over nachos or pasta, go with Skyline Canned Chili Pack. You can enjoy it with a combination of delectable flavors like spaghetti, chili, sharp cheese, and oyster crackers. It also goes great with nachos and hot dogs.
It will not disappoint. The consistency is not runny; it is rather similar to a pasta sauce. Additional flavors include cinnamon and paprika, another reason you should consider trying this brand for your next canned chili meal.
Pros:
Great taste
Great consistency
Delectable flavors
Various buying options available
Cons:
May not be consumed directly
Requires simmering for at least 20 minutes
5. Bush's Best Magic Canned Chili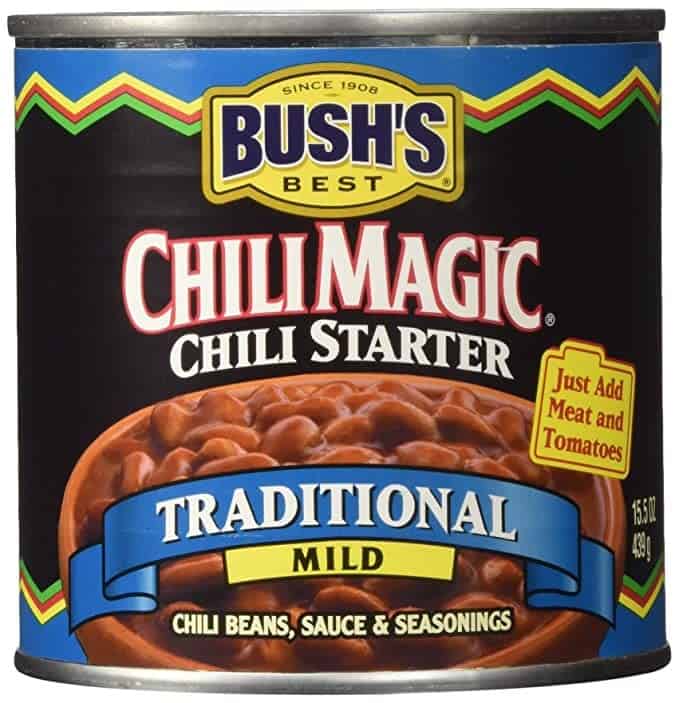 Looking for a traditional chili starter? Get Bush's Best Magic Canned Chili. As it is a chili starter, you have the chance to make awesome chili varieties with this can. The exclusive feature of this canned chili is that it is both cholesterol-free as well as fat-free.
Additionally, it is loaded with great ingredients like onion, garlic, tomato paste, modified corn starch, pinto beans, oregano, paprika extract, and chili powder flavor. The mild, delectable flavor of these canned chilies are sure to serve as the best topping for some of your favorite recipes.
Pros:
Fat-free and cholesterol-free
Great consistency
Great taste
Gluten-free
Canned chili from the renowned brand of the USA
Cons:
It cannot be consumed straight away
6. Nalley Original Canned Chili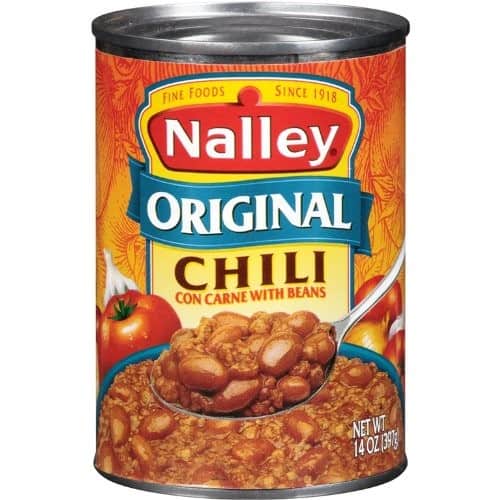 If you're interested in a medium spicy canned chili, Nalley Original Canned Chili is the one for you. It includes beans, tomato paste, seasonings, and a great blend of spices. The best part of choosing this canned chili is that the taste is similar to homemade chili.
The pleasant flavor and mild spiciness take all the charm, making it a notable product to buy. It comes with loads of nutritional content.
Try adding some cheese to take its taste to the next level. Overall, everything about this canned chili is great, including the packaging, the simple ingredients, and great taste.
Pros:
Loaded with nutritional content
High in fiber
Low in fat
Amazing taste
Can be consumed directly
Attractive packaging
Cons:
7. Cattle Drive Gold Beef Canned Chili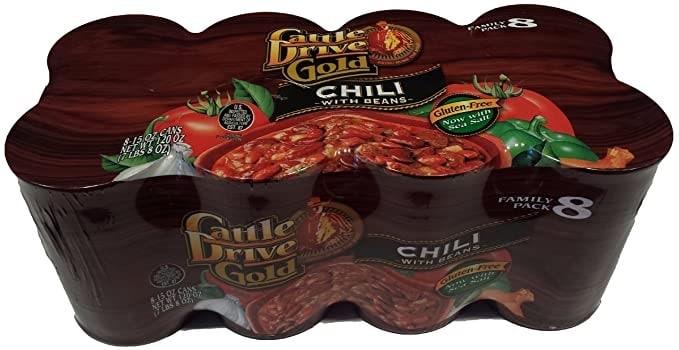 Your search for a beef chili loaded with beans and spices has come to an end with this Cattle Drive Gold Beef Canned Chili. It is FDA evaluated and contains jalapeno peppers, tomatoes, beef, kidney beans, modified corn starch, dehydrated onions, dehydrated bell peppers, chili seasonings, and water.
With a simple heat and eat recipe, you can pour it over different dishes as you wish. You may also consider teaming it up with fresh tomatoes, green chili peppers or toss it with a couple of eggs or some pasta for that extra flavor.
The best part of this canned chili option is that it uses special sea-salt instead of regular salt. This makes it a healthy as well as a delicious option to consider for your next canned chili night. All you have to do is open the can and simmer it on the stove for a few minutes.
Pros:
Healthy
Gluten-free
Good consistency
Uses sea-salt
Mild taste
Cons:
You may use chili as a part of your meal or just as a dip or topping – the choice is yours. However, getting the right brand canned chili is important, depending on the purpose.
So, be sure what type of chili you're looking for and choose one from the above-canned chili brands list. But, before you do so, let's take a look at some other aspects that will help you find your ideal canned chili.
Why Buy Canned Chili?
People generally avoid buying canned items thinking that they are not healthy. The truth is, they are missing out on something that is not only delicious but can save so you so much time in your kitchen.
We agree that not every canned food is created equally. However, there are certain things that, when used, make the product healthier. Buying canned chili is similar. Just be careful with certain aspects, and you're sure to get a healthy chili to try.
Check if the can is damaged in any way. If you see severe bumps, dents, leakage, don't buy it. Go with the BPA-free cans. Additionally, make sure to read the label for nutritional content and information – buy one showing it has organic ingredients, a low sodium count, and no added preservatives.
Different Types of Chili
You are already aware that there are several canned chili varieties to choose from. Every chili type has a different depth, taste, and level of spiciness. Chili Con Carne, Chili Verde, and White Chili are a few of the choices available.
The most common chili that you get canned is Chili Con Carne. When it comes to Chili Verde, it adds to the overall spiciness. You can expect a rich and spicy flavor when it comes with a combination of serrano peppers and jalapeno. If you want a milder flavor, White Chili is for you.
Things to Consider When Finding the Best Canned Chili
Thickness
You may think it's not important, but people who are fascinated with chili are aware of the big role the texture of each chili has. Many enjoy thicker chili varieties.
Read through customer testimonials to get a better idea of the thickness and texture of each chili variety. Customers will gladly answer your queries.
A good, thick chili will remain on your spoon when you pick it up. It will not be too liquidy or slide off the spoon.
Thinner chilis are best suited for dips and sauces and work great on chips and hot dogs.
Level of Spice
If you like spicy foods, then your chili's spice level will definitely be a big consideration to keep in mind as you taste test. Some of the more common ingredients you will find in chili that lends to its spice and flavor are cumin, chili powder, and cayenne powder. If you want to experiment, you can also add other spices to your canned chili, including smoked paprika, turmeric, or garam masala.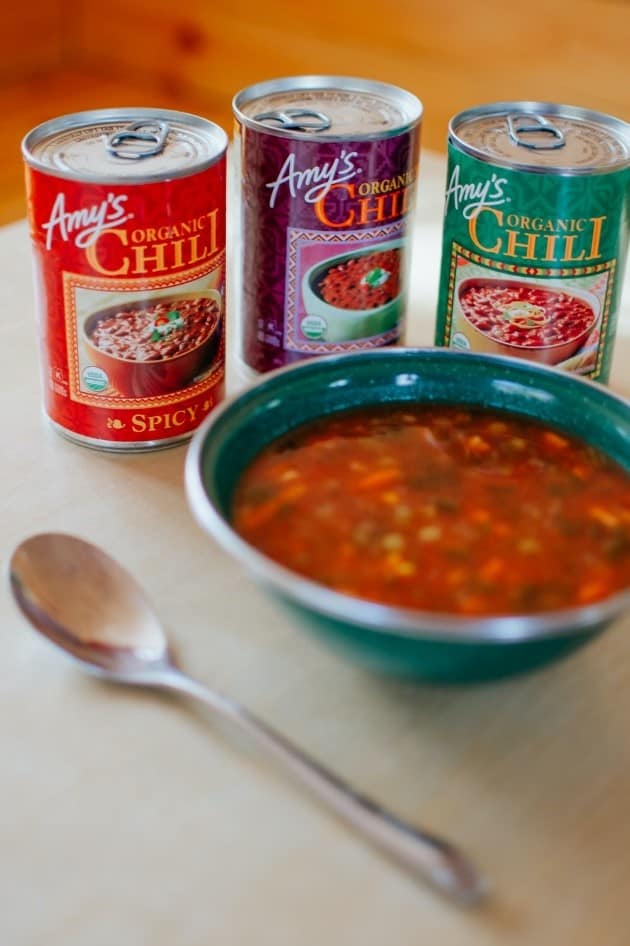 List of Ingredients
What are the ingredients in your preferred canned chili? The best canned chili is one that has a variety of spices along with the flavor of cinnamon. Consider the blend and ratios of the ingredients used to get a better idea of the taste. If you are vegan, make sure to check the ingredients in detail.
Types of Meat
If you are non-vegan, you must be looking for canned chili that has meat. Generally, there are two types of meat in it – cubed pieces and ground meat. Generally, people prefer ground meat as it contains the right blend of meat.
On the other hand, even cubed meat has its fan following as it lets you experience the taste of authentic meat pieces while tasting the chili peppers. It makes for a delicious and flavorful, chunky chili.
Nutritional Value
You can get this information easily on the packaging. The best canned chili is the one that comes loaded with nutrients, minerals, and vitamins. Never go with a canned chili just because it has finger-licking flavors and zero nutritional value.
In general, you may see nutrients like proteins, fibers, vitamin A, vitamin C, and minerals like iron, magnesium, sodium, and calcium in the best canned chilis. Always be sure to check the nutrition label and have a good understanding of what's in your food before purchasing it.
How to Cook the Best-Canned Chili
Want to consume your canned chili in the right way? Begin with pouring the can into a saucepan. Heat the chili. You may consider thinning it a bit with water if it isn't the texture you want.
Next, garnish it with onions, raw tomatoes, and cheese. You can also combine your canned chili with rice, pasta, or noodles – whatever you prefer. Closely follow the instructions on the can.
If you want to enhance the taste and texture of your ready-made canned chili, include some of your other favorite things after heating it. For instance, add crackers or tortilla chips. Sprinkle some cheddar cheese or place a dollop of sour cream on the side to make it even more flavorful.
Conclusion + Our Top Pick
Situations have changed today, and canned foods are now welcomed whole-heartedly by more people. Above all, even the manufacturers take supreme care when preparing canned products so the food can retain its taste and nutritional value.
The best canned chili will differ from person to person, depending on the level of spiciness and ingredients used. However, Amy's organic chili is our favorite as it not only flavorful, but it offers a perfect blend of vegetables and spice.
Best Canned Chili FAQ
Still have questions about choosing the best canned chili? Check out our brief FAQ below.
Is fried chili a healthy food thing?
Canned Chili is a healthier option when compared to other canned products or fried foods. The components provide more nutritional value, including minerals and vitamins.
Do canned peppers contain gluten?
You can check this in the description of the specific canned chili brand you are interested in trying. The nutritional details will give you much more insight into whether the canned chili contains gluten or not.
Do canned chilies include expiry dates?
Yes, every food comes with an expiry date, and canned chili is no exception. Whether it is mentioned or not, it is recommended to use it within six months, but it does store well in the pantry like other canned goods.
Could I warm canned chili together with its container?
Generally, cans are not microwave-safe. However, you can consider warming the can on a gas cooker. Place the pan in a saucepan with warm water. Keep stirring it occasionally while heating. This is a great heating option for your next camping trip.