There is hardly any culture in the world that doesn't consume beans. Not only are they a great source of fiber, but they are also a wonderful addition to pretty much every meal.
Whether you want to add them to your tacos, wraps, or just want to eat them as a meal, well cooked and flavored beans are delicious.
The only problem with them is that the raw beans take a while to cook. Even if you use a pressure cooker, you will be boiling and cooking them for well over an hour. That is the time that most people just don't have!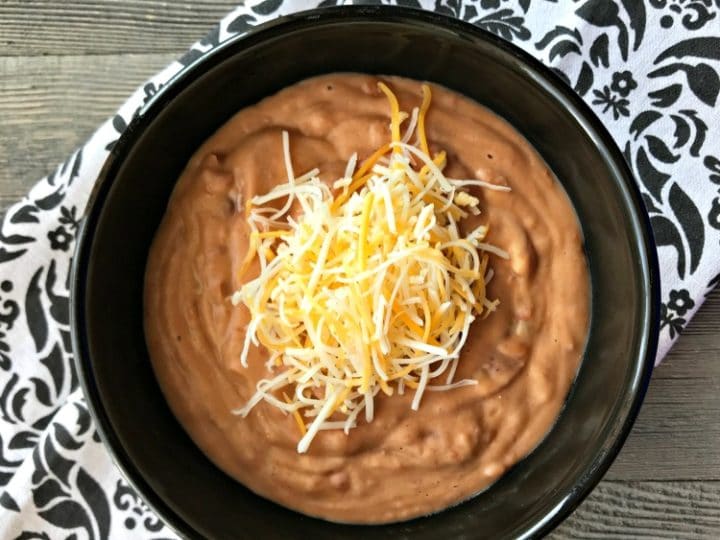 Introducing: canned refried beans.
However, just because beans take forever to cook doesn't mean that you should forever go without their nutritious goodness and wonderful taste. You can simply buy an assortment of the best refried canned beans and enjoy them whenever the craving strikes.
Also Read: Vegetarian Tacos with Quinoa
Best Canned Refried Beans
Here are some of the best canned refried beans in the market:
1. Best Overall - Rosarita Traditional Refried Beans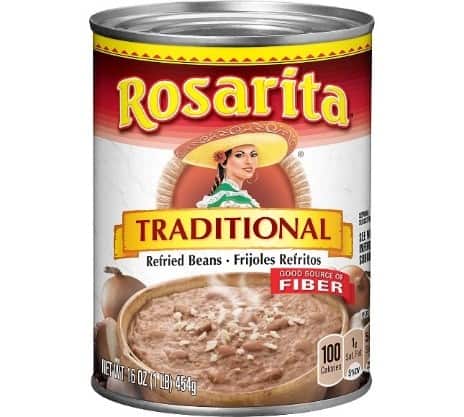 This can of Rosarita Traditional Refried Beans is what you need to get when you are in the mood for authentic Mexican flavors that come alive in your mouth.
Rosarita is a brand that is well known for producing some of the best and tastiest Mexican cuisine on the market, and this can of refried beans more than lives up to that reputation.
Perfectly cooked with a delicious, well-rounded taste, these beans have a creamy texture that goes well with pretty much every Mexican dish. With a balanced flavor and perfect spice profile, this is the kind of meal you can serve in your home and be sure that everyone will enjoy.
Manufactured to be warmed first then served hot, this can of beans is the best "on the go" meal for people who love the great outdoors, don't feel like cooking every day, or just want something tasty on their plate. The beans work well with rice or as filling for your wraps or tacos.
One of the good things about trying this can of Rosarita Traditional Refried Beans is the fact that once you go down this path, you may never want to come back.
The brand realizes that, and that's why they offer you a wide variety of options, including spicy jalapeno beans, lower-sodium options, vegetarian refried canned beans, black beans, and a host of other variants to satisfy your cravings.
Pros:
Tastes wonderful
Low in fat
Affordable
Slightly sweet
Cons:
The vinegar is quite pronounced; something that might not go down well with some people
2. Best Vegetarian Option - Amy's Organic Refried Beans

If you love canned refried beans, then you will love Amy's Organic Refried Beans. The manufacturer is particularly good at making beans, and the packaging is designed to show you exactly what kind of beans you are buying.
This particular option contains a bit of chili and is specifically refried to suit a vegetarian diet. Furthermore, all the ingredients used in it are purely organic as well as Kosher certified. While there are some added flavors, the brand does a good job of balancing them out and making sure that the beans taste as good as the real thing.
Formulated with low sodium levels, these beans are perfect for the health-conscious individual looking to enjoy a can of beans on their tacos or even on their pizza.
It works perfectly well on a burrito or even as a side dish on its own. This can be the perfect source of gluten-free protein and fiber.
Pros:
Tastes like the real thing
Good for an assortment of dishes
Low on sodium
Comes from a trusted brand
USDA certified
Cons:
The taste is a bit mild and needs seasoning
3. Best Vegan Option - La Preferida Refried Beans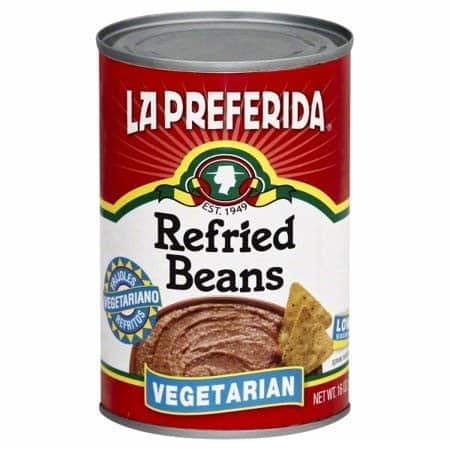 This can of La Preferida Refried Beans is refried to suit the vegetarian and vegan diets without compromising the delicious flavor. The beans are low on fat, have no preservatives, and contain no lard whatsoever.
Made using simple ingredients that bring out the original bean flavor, there aren't any unnecessary additives in this can. The recipe is simple enough: precooked pinto beans, salt, soybean oil, and water.
All you need to do to this can of beans is heat and serve. You can do that in a pan, cook the beans over med-low heat or even microwave it. This is one of the simplest and most hassle-free meals on this list. It takes less than two minutes for your meal to be ready.
Pros:
Vegan and vegetarian beans
Conscious packaging with BPA free lining of cans
Simple and organic ingredients
Heat and serve option
Cons:
4. Best Taco Bell Option - Taco Bell ORIGINAL REFRIED BEANS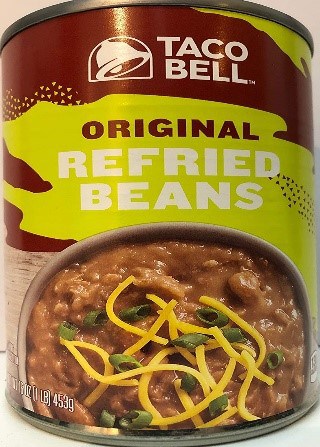 A well-known food brand, Taco Bell has dedicated years of its existence to bringing you some of the best tasting dishes and services today. This means that any time you see the Taco Bell brand on anything, you can correctly assume that it's going to be good.
And that is exactly what you get with this can of Taco Bell ORIGINAL REFRIED BEANS.
This can of beans closely replicates the sweet taste of restaurant refried beans. The beans have a distinctly chunky texture, making them stand out from the rest of the pack.
These beans are very well seasoned to give them a deliciously earthy taste and a mild saltiness, which ties all the flavors into one delightful orchestra in your mouth.
The can features a combination of pink beans with pinto beans. That mixture gives these beans a one-of-a-kind texture and aroma that makes it perfect to use as a dip or as a meal on its own.
Pros:
Unique chunky texture
Well-seasoned
Nice sweet and earthy taste
Sweet aroma
Fat-free
Cons:
5. Old El Paso Traditional Refried Beans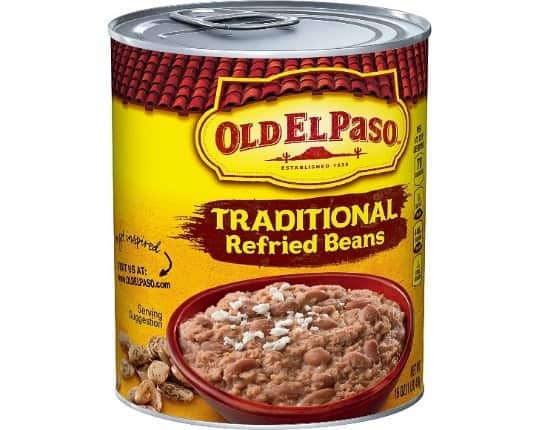 This can of Old El Paso Traditional Refried Beans is the perfect choice for people who are looking for a little taste of the old country.
Fried using a mixture of herbs and spices, this can of beans has that unforgettable taste and flavor that can only be found in homemade cooking where the cook uses their grandma's secret recipe.
Blended to fit in both worlds, this is the kind of dish that works well for vegetarians and non-vegetarians alike. It's fat-free, cholesterol-free, and makes for an excellent accompaniment to a host of Mexican dishes, including tacos and burritos.
The best part about this can of beans is that, despite being fat-free, it still tastes just as good as the full-fat option without all the associated health issues.
Manufactured to be a "cook and serve" alternative, these beans are so richly flavored as is that you don't really need to cook them first. Every can of Old El Paso Traditional Refried Beans is rich in protein, fiber, and delicious goodness.
Pros:
Cooked using old country recipes
Tastes amazing
Richly flavored
Fat and cholesterol-free
Works well with almost every Mexican dish
Cons:
Originally manufactured as a "cook and serve" option
Factors to Consider When Buying Canned Refried Beans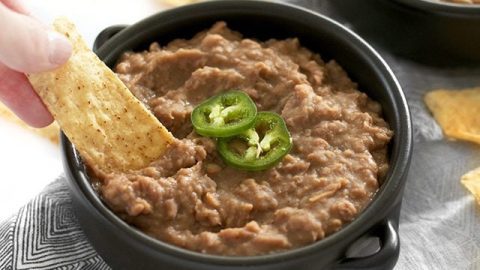 Canned refried beans, much like every other product you buy, come in a wide variety of options. While they might all have the base nutritional value that beans have in general, they aren't all created equal. That is why you need to take a bit more care when choosing the canned beans you buy. Here are some questions you need to ask yourself first:
What do I intend to use these beans for?
How do I intend to serve these beans? Do I want something that needs to be cooked first or a simple "heat and serve" option?
What kind of beans does the family like?
The answer to these questions will help steer you in the right direction. That being said, here are some other factors that you need to consider when choosing canned refried beans.
The Texture of the Beans
There are two main textures of canned beans - smooth or chunky. Different people prefer one or the other. Furthermore, the type of texture you choose will determine what you can do with the beans in terms of meals.
For example, when you want to pair the beans with rice, the chunky texture is better than smooth. If you intend to use the beans on pizza or tortilla, then you might want to stick with smooth.
Spices and Other Ingredients
There is an entire world of options when it comes to the type of spices you can find on canned refried beans. Some are extremely hot, like the jalapeno options, while many are extremely mild. It all depends on what you like and what level of heat you can stand.
The overall ingredients also matter. Some excellent options don't feature many different ingredients. In fact, some are just boiled, salted, and given very little seasoning, while many are heavily seasoned to give them different types of tastes.
Vegetarian or Vegan Options
Yes, there are vegetarian and vegan canned beans options. You might assume that since beans can technically identify as plant-based foods, they are automatically good for vegetarian consumption. This assumption would be wrong.
Vegetarian canned beans are expressly labeled as such, and so are the vegan options. Otherwise, you might buy any old can of beans and find that it contains lard, an animal by-product, and an absolute no-no for vegans.
Whichever way you choose to go, the best canned refried beans often taste amazing and are very easy to prepare. The options above will get you started on the right path to your discovery of canned refried beans.
Why Eat Canned Refried Beans?
Let's assume that the delicious taste is just not reason enough for you to go crazy over canned refried beans. Here are some other excellent reasons why you should stock up your kitchen with as many different varieties as possible:
Beans Are Healthy Food
Let's start with the most obvious reason - beans are a healthful addition to any diet. In fact, the government recommends that you should consume about half a cup of beans every single day.
One of the most outstanding factors about beans is that they qualify as both a protein source as well as a vegetable. This is mostly because they are a wonderful source of fiber, plant protein, vitamin B1, folate, and plant iron.
Beans are also chock full of useful minerals such as potassium, copper, phosphorous, and magnesium. Finally, beans are naturally quite low on sodium, making them the perfect food for any health-conscious individual.
There Are a Lot of Options
The thing about beans is that there are so many different types. They come in a wide variety of shapes, sizes, and colors - all of which taste just a little bit differently from each other yet hold all the same nutritious qualities that beans are well known for and loved.
Some of the most common varieties include kidney beans, chickpeas, navy beans, black-eyed peas, split peas, etc. This variety also translates to the different types of canned refried beans you can get in the market.
Now add to that the fact that most brands have their own recipes, and you have a wonderful array of choices to enjoy when it comes to delicious canned refried beans.
They Can be Stored Long-Term
The biggest advantage of canned goods is that they have a very long shelf life. Canned beans, for example, can keep for about 3 to 4 years. However, once opened, you need to consume them within four days, even when refrigerated.
That's because beans tend to have a low acid content, which makes them a bit more perishable than most other canned goods.
One point of note is that you shouldn't refrigerate canned beans while still in the can. The USDA recommends that you take them out and put them in a plastic or glass container first.