What do you turn to when you need some leafy greens in your life but don't have all the time for washing, seasoning, and cooking? Canned spinach of course! Canned spinach is one of the most popular canned veggies, all thanks to one special sailor man.
To help you make your canned spinach selection the next time you decide to stock up, we've done the dirty work of tasting and testing a bunch of the top canned spinach varieties in order to provide you with the best canned spinach in each of 4 main categories. Let's dive in!
What is Canned Spinach?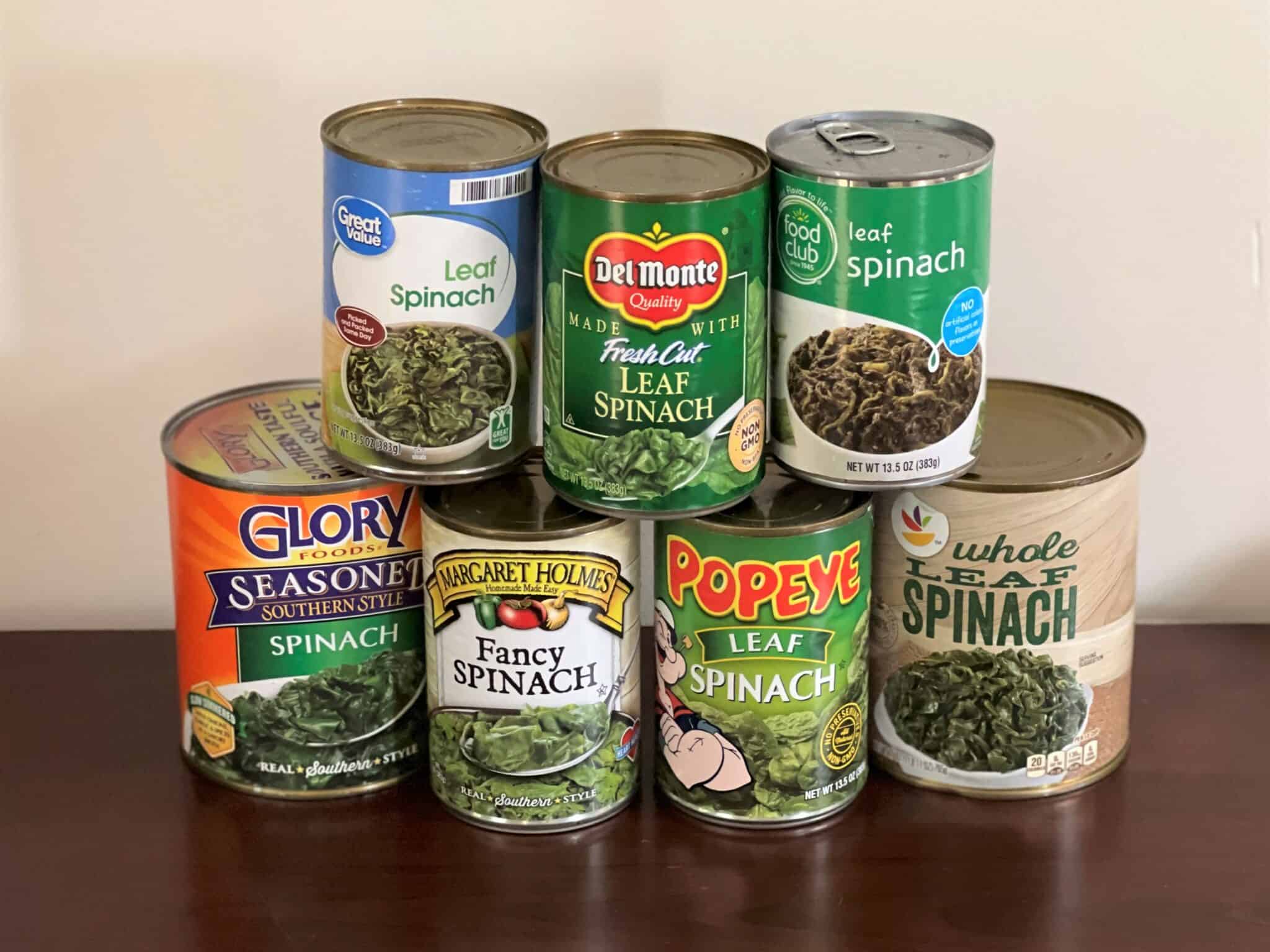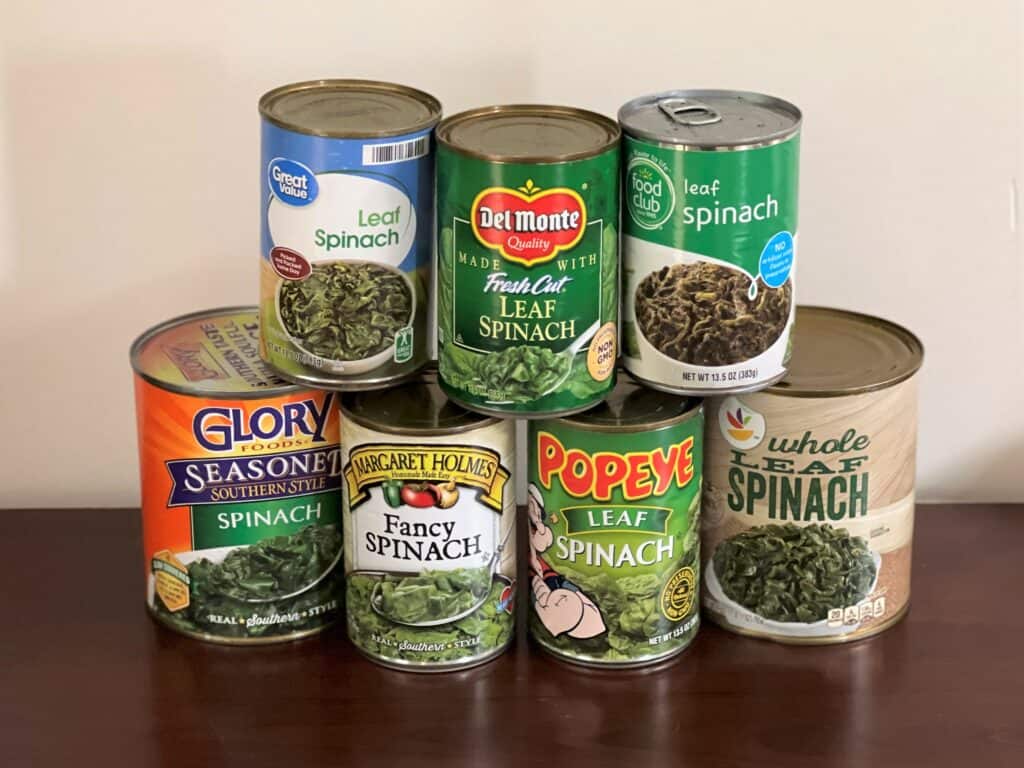 Canned spinach is fresh spinach which has gone through a special heat-treatment and sealing process--the same that other canned fruits and vegetables go through. This process effectively sterilizes the spinach, thereby rendering it shelf-stable and safe to consume for actual years to come. Try getting your fresh spinach to last that long!
Types of Canned Spinach We Tested
There may not be a ton of canned spinach options out there these days, but nonetheless, we were able to pull together a respectable pile of this preserved leafy green! We evaluated the following 7 brands and varieties:
Del Monte Fresh Cut Leaf Spinach
Food Club Leaf Spinach
Glory Foods Seasoned Southern Style Spinach
Great Value Leaf Spinach
Margaret Holmes Fancy Spinach
Popeye Leaf Spinach
Stop & Shop Whole Leaf Spinach
How We Tasted and Reviewed These Products
In order to maintain an even playing field, we gave each product the same preparation. We drained each canned spinach variety, transferred it to a microwave safe dish, and cooked it on high heat for about 2 minutes until hot.
We then evaluated each canned spinach variety based on the following key factors:
Taste & Texture: the flavor of the spinach as well as the mouthfeel.
Appearance: how the spinach looks in terms of color and shape.
Nutrition Content: including macronutrient profile, sodium level, and vitamin/mineral content based on a standard ½ cup serving size.
Unique Characteristics: such as additional flavors or preparation style.
Value: price per ounce.
Production & Availability: where each product is made and whether or not each type is readily available to most folks.
Packaging: including container size, labeling, and inclusion (or lack of!) of additional helpful information.
1. Best Tasting Canned Spinach:
Del Monte Fresh Cut Leaf Spinach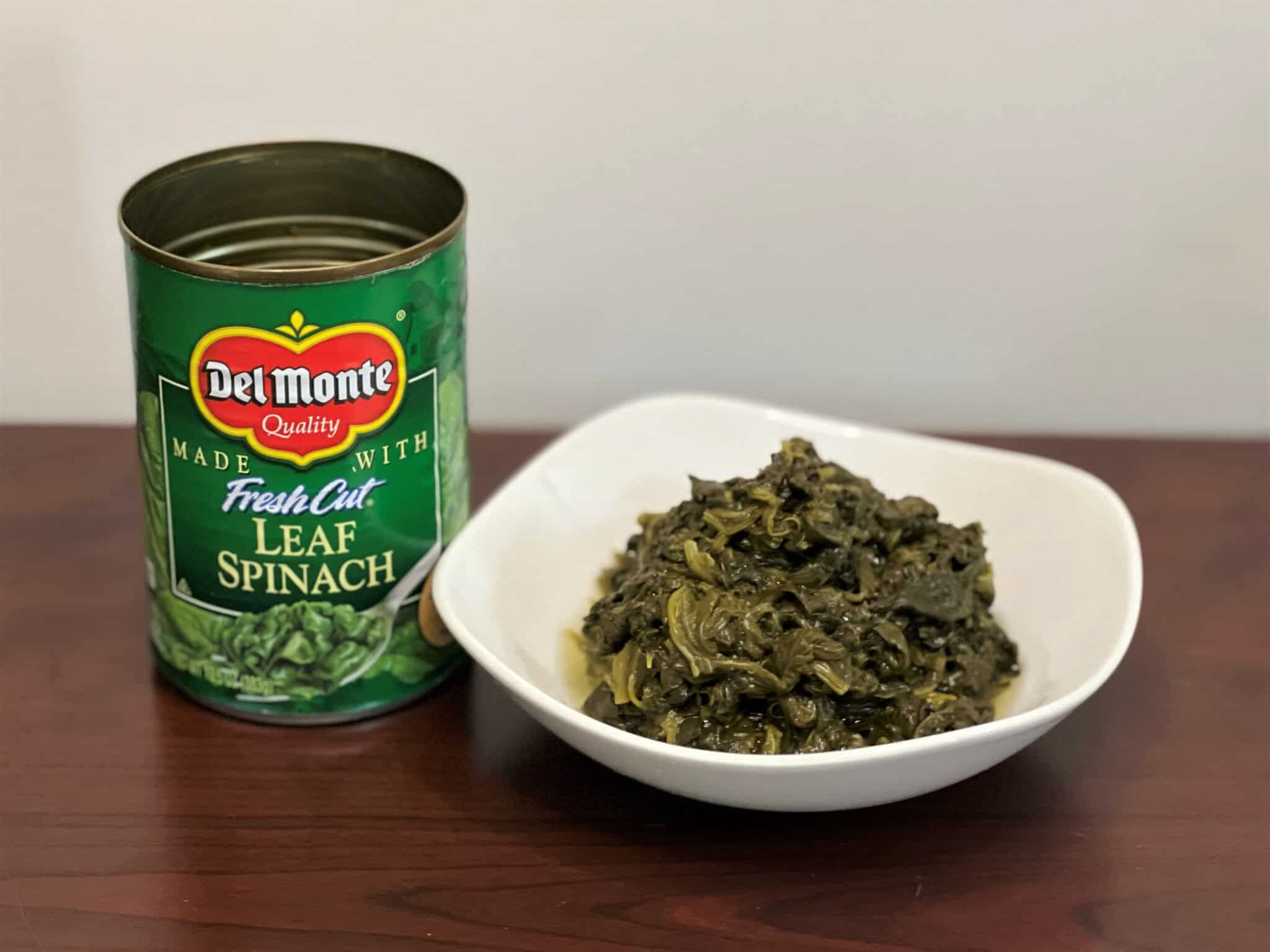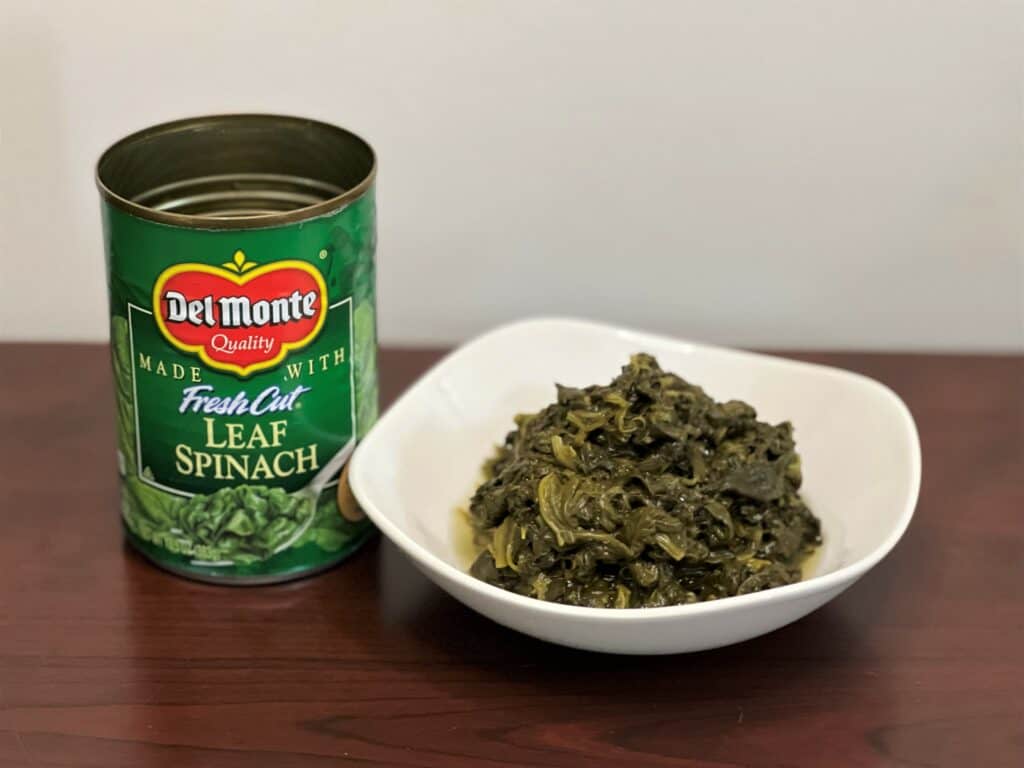 It's no secret that many canned foods don't taste all that great. Something about the cooking process and sealing technique often has a way of concentrating a funky, metallic taste within the food itself begging the question: does canned spinach taste good?
While some of the canned spinach brands and varieties we tested did not taste that great and therefore did not make our top picks, one option was a clear stand out: Del Monte Fresh Cut Leaf Spinach.
About Del Monte Fresh Cut Leaf Spinach
From a company that has been canning fresh fruits and vegetables for over 100 years, it should come as no surprise that Del Monte Fresh Cut Leaf Spinach ranks right at the top in several of our key evaluation factors. First things first, the flavor of this canned spinach was especially good and fresh tasting--arguably as close to steamed fresh spinach as a canned option can get in terms of both flavor and texture.
The appearance of this spinach is also rather nice, with a rich green color and large pieces of spinach as opposed to the stringy mess we discovered upon cracking the cans of some other brands. The label also boasts that this product is non-GMO, non-BPA (in reference to the lining of the can), and preservative free. And, in case you need a bit of culinary inspiration, there is a canned spinach recipe on the back. Our can featured a great sounding dish for "Easy Spinach Lasagne"!
On the downside, there is significantly less iron in this particular canned spinach option as it provides only 6% your recommended daily value per half-cup serving, while almost every other type we evaluated contained a full 15%! Also, the packaging on this can warns that it is processed in a facility that also processes peanuts, so be wary if you have food allergies.
Pros:
Features the best taste of all brands we tested, as close to freshly steamed spinach as can be!
Appearance is good, with a pleasant green coloring and large, leafy texture.
Non-GMO.
Non-BPA.
Preservative free.
Includes an easy recipe for "Spinach Lasagne".
Cons:
Less iron content as compared to other options, with only 6% the recommended DV.
Food allergy cross-contamination warning, as it is not produced in a peanut-free facility.
2. Best Specialty Canned Spinach:
Glory Foods Seasoned Southern Style Spinach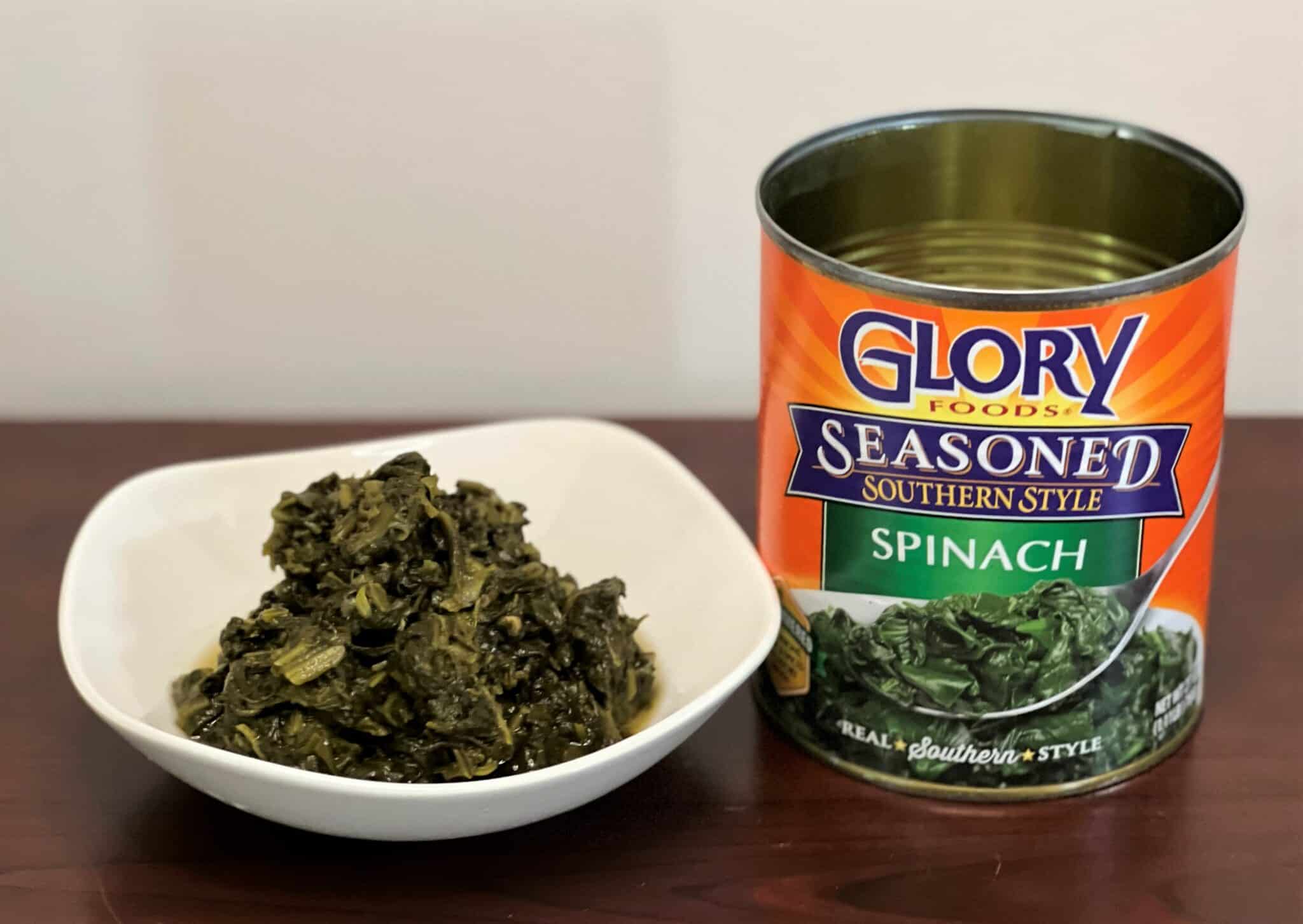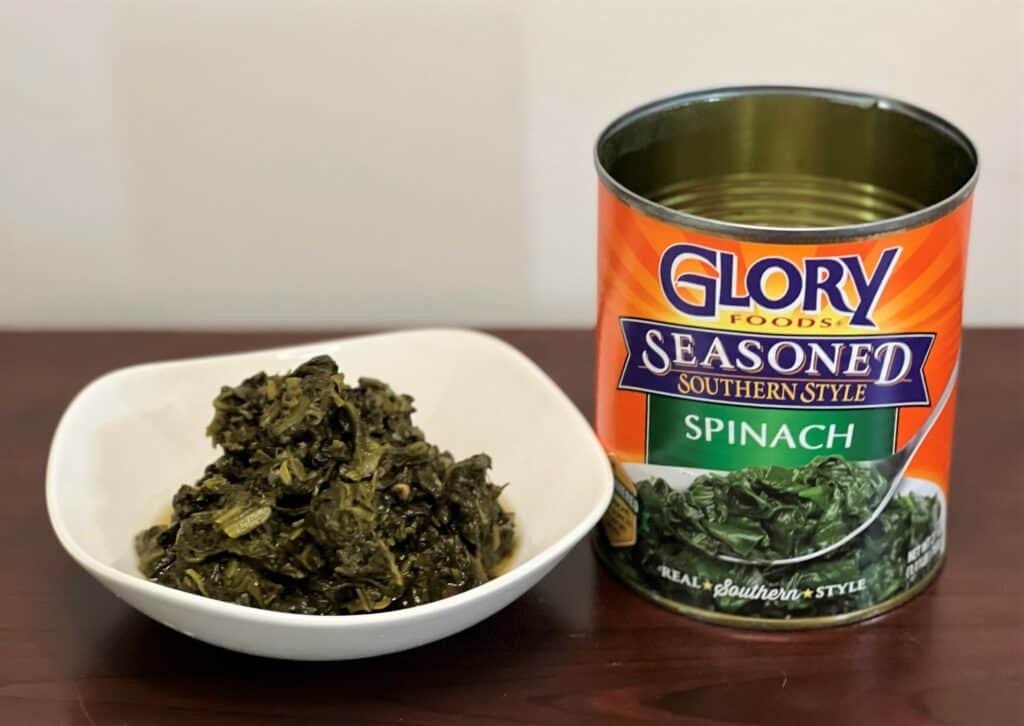 While Del Monte takes the cake in terms of classic spinach flavor, there was another spinach variety in our lineup which stood out to us in terms of taste--but for completely different reasons! This can of spinach may not be the basic leafy green you're always looking for, but it contains plenty of flavor which is all its own.
About Glory Foods Seasoned Southern Style Spinach
Glory Foods Seasoned Southern Style Spinach gets an extra kick of flavor thanks to being simmered with garlic, onions, seasonings, and hickory smoke. We had to check the ingredients panel twice because you could swear there must be smoky bacon somewhere in the mix! The vegetal flavor of the spinach gets a bit lost among all of these strong flavors but honestly, we didn't mind, and we don't think you will either.
There is a scannable QR code on the reverse of the label which takes you to the Glory Foods website for even more product/nutritional information, and we are happy to report that this spinach is a product of the USA! The packaging also features a recipe for "Spinach, Broccoli, and Mushroom Frittata", but to be honest, we think you'll be happy eating this spinach straight up.
Unfortunately, as with many other things that are super tasty, this spinach is also super salty--containing 680 milligrams of sodium per serving. That's a whopping 30% your recommended daily amount so be sure not to add salt to this one before tasting! This spinach also seems to be a more regional product and not as easy to locate as some others. We actually had to turn to Amazon to get our hands on some, but with such a unique and tasty flavor, we're glad we made the extra effort to score a can of this stuff! It's also worth noting that this spinach also contains some highly processed ingredients such hydrolyzed soy protein (soy allergy alert!), so you may want to skip this one if you prefer to avoid ingredients such as these.
Pros:
Truly delicious rich flavor of spinach simmered with onions, garlic, and hickory smoke.
Informative scannable QR code on the reverse of the package.
Product of the USA.
Label features a great sounding Spinach Frittata recipe!
Cons:
Super high sodium content of 680 milligrams (30%DV) per half-cup serving.
Not as readily available as other canned spinach options so you may need to order online.
Contains small quantities of highly processed ingredients like hydrolyzed soy protein.
3. Best Low-Sodium Canned Spinach:
Stop & Shop Whole Leaf Spinach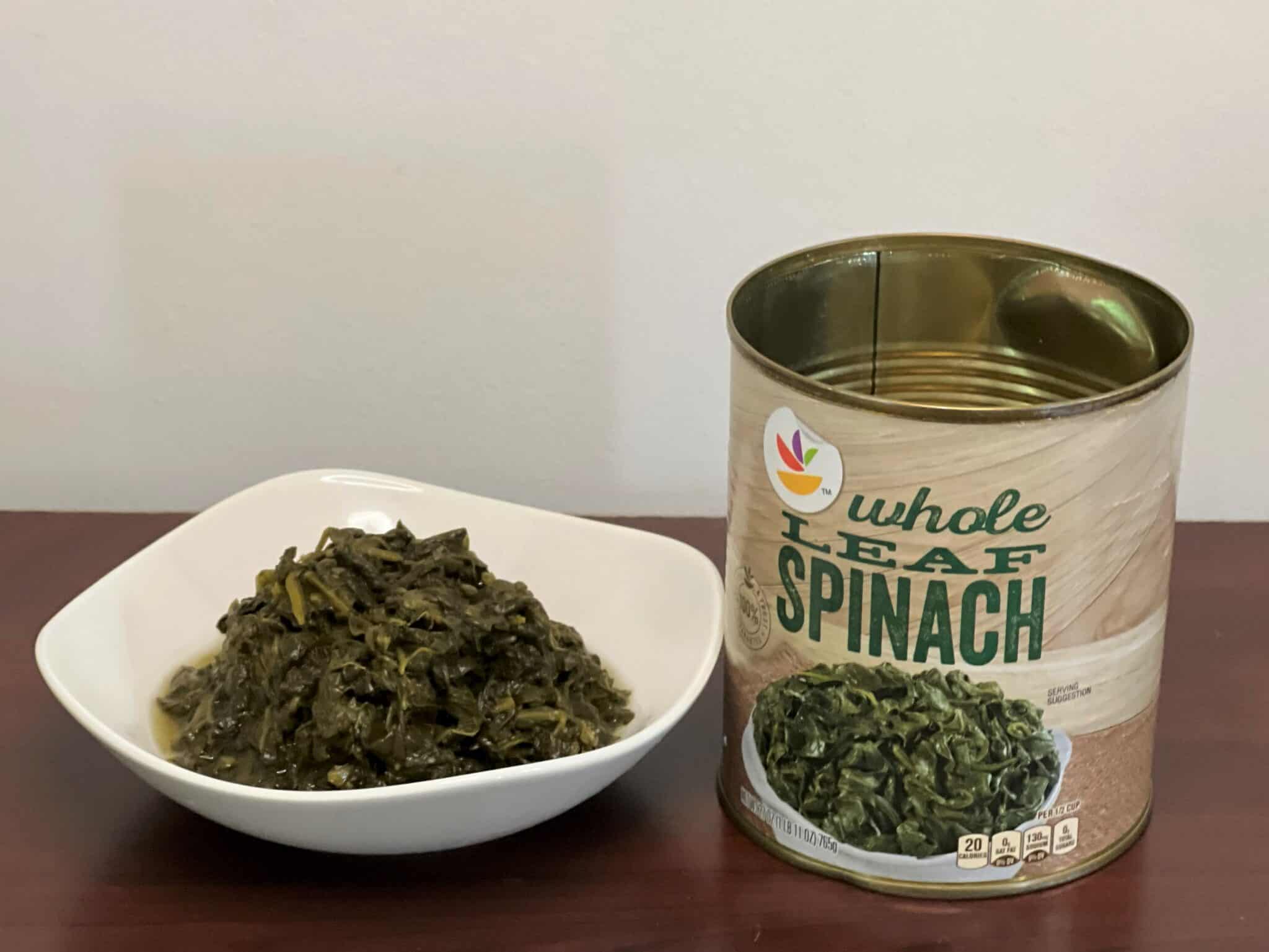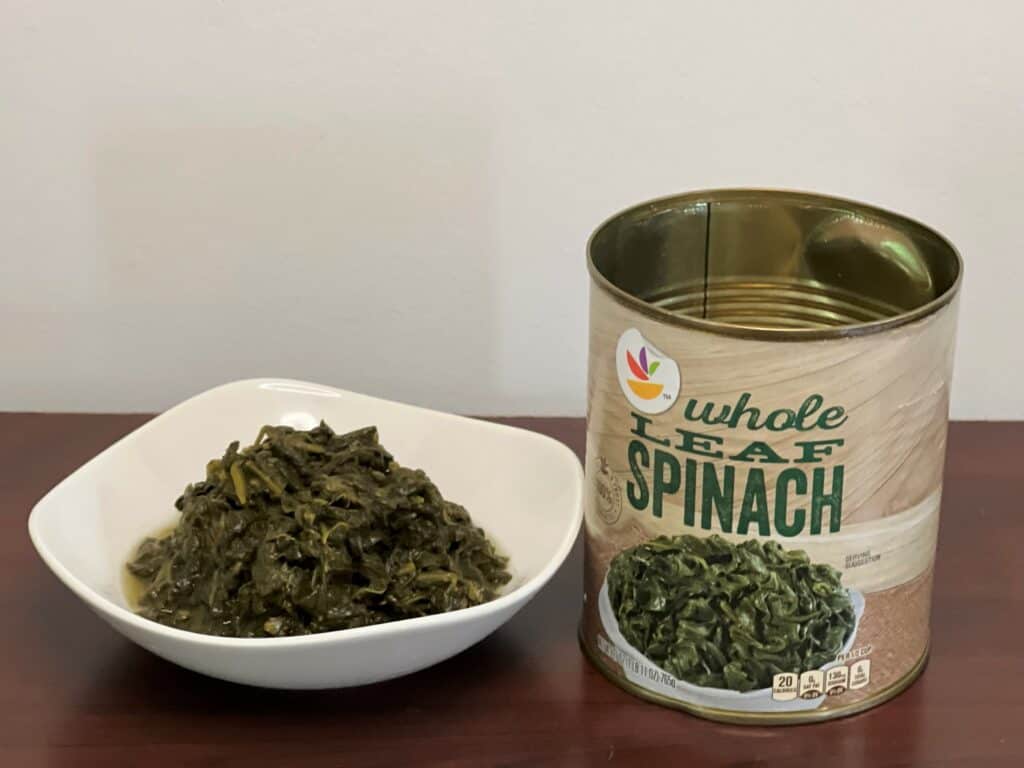 From one end of the salt spectrum to another, it only made sense to nail down the best low-sodium canned spinach option as well. Too much sodium in the diet is a known health concern, contributing to a number of different conditions such as high blood pressure, heart disease, and hypertension. Therefore, some folks with existing health issues must watch their sodium intake very carefully. This is not so easy to do when shopping for canned veggies as many of them are loaded with salt for preservation and taste purposes.
About Stop & Shop Whole Leaf Spinach
Despite these challenges, Stop & Shop comes through with a lower-sodium canned spinach option that still maintains decent taste and texture qualities. Their can of Whole Leaf Spinach contains just 130 milligrams (6% DV!) per half-cup serving, as compared to many of the other canned spinach options on the market which hover around 300 milligrams per serving--that's nearly 15% your daily value, just in a small pile of greens!
Now, you may know Stop & Shop as a regional grocery chain which may or may not be in your area. However, what you may not know is that it operates under the name "Giant Foods" in other areas as well, thus widening the availability of their products. Another pro for this can of greens is that it rang it as one of the most affordable options we evaluated, coming in at just $.07 per ounce! And just in case you aren't satisfied, the product comes with a money back guarantee.
One (understandable) effect of this lack of salt is a slightly less desirable taste profile. The absence of sodium seems to allow the bitter flavor of the spinach to come through a bit more than the other choices. However, this is easily rectified with the addition of some seasonings of your choice. In addition, we could only find this option in a BIG 27 ounce can. Though it was affordable, we think most folks might prefer two cans so that there is not as much leftover spinach to worry about storing and using up.
Pros:
At just 130 milligrams of sodium per ½ cup, it contains less than half the amount of other canned spinach options.
Available in a wide range of areas, as it is produced by a grocery group that backs several different store chains.
One of the most economical canned spinach varieties we found--just $.07 per ounce!
Money back satisfaction guarantee.
Cons:
A bit less tasty than other canned spinach varieties, but you can season and adjust to your liking.
Only available in a large can--not ideal if you are just looking for enough spinach for a single meal!
4. Best All-Around Canned Spinach:
Popeye Leaf Spinach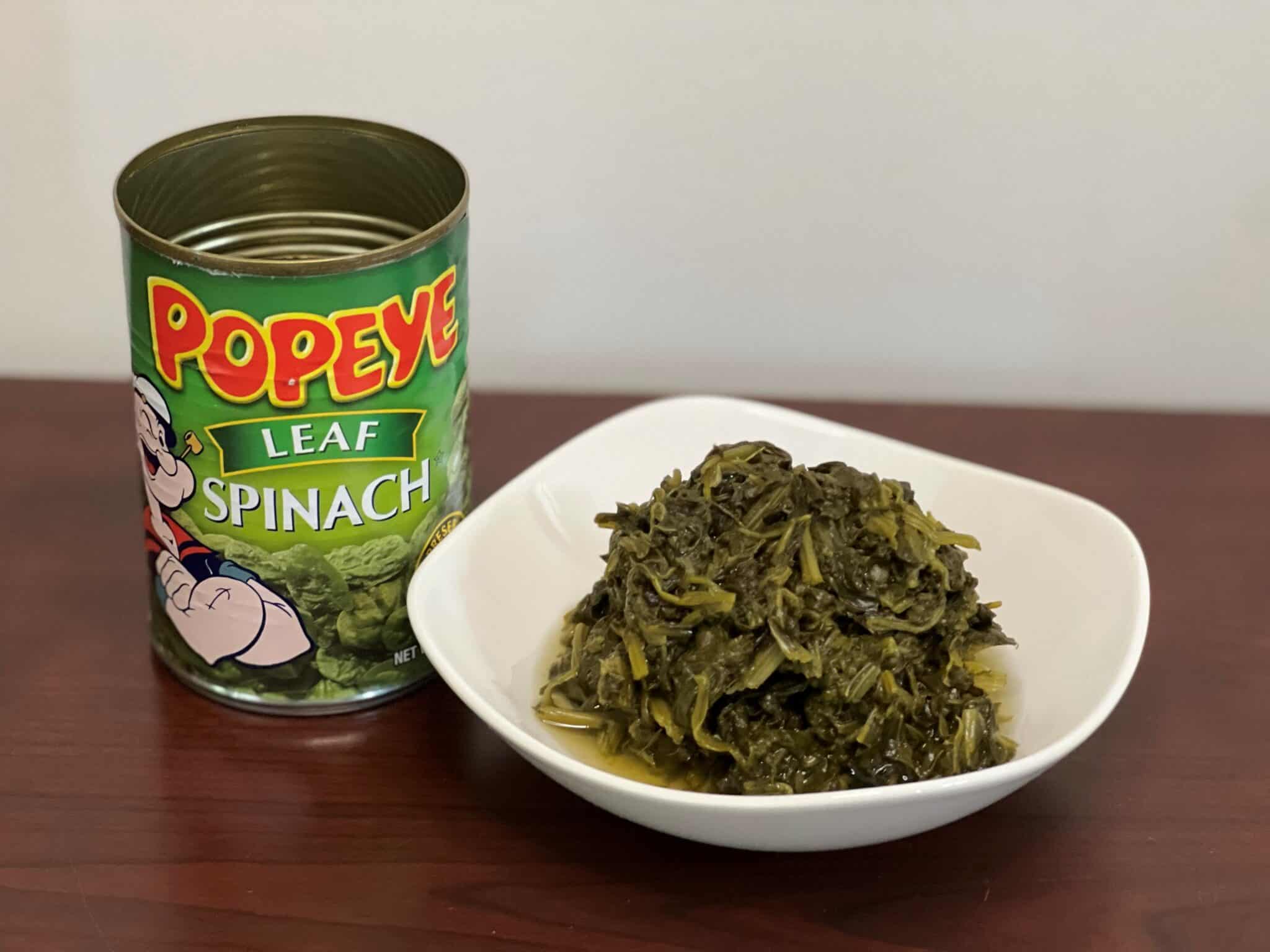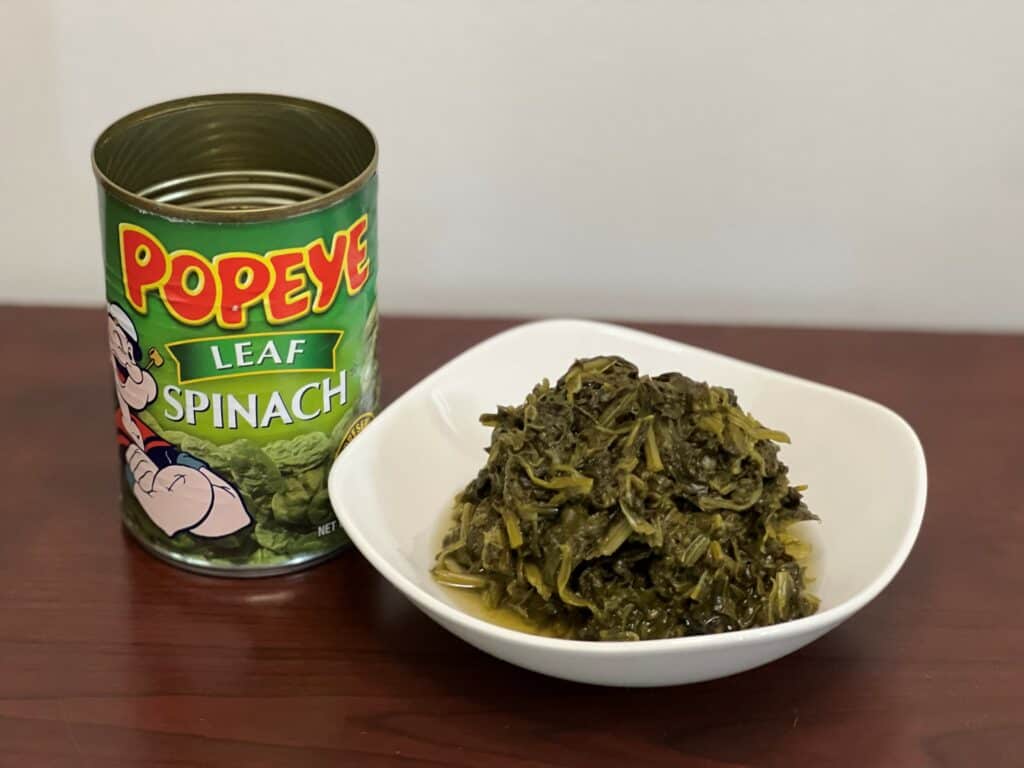 Aside from being a life lesson, the old adage "you can't win 'em all" speaks to the world of canned veggies as well. Some products are standouts in certain categories, but this success often comes with the expense of compromise. Rarely does an excellent tasting product also boast the most impressive nutritional profile, value, or any of the other key factors of evaluation. When you are seeking a canned spinach that meets in the middle and gives you the best of all worlds, the Best All-Around Category is for you!
About Popeye Leaf Spinach
Hailing from the same parent company as a few of the other canned spinach varieties we tested (Glory Foods Seasoned Southern Style Spinach and Margaret Holmes Fancy Spinach), there's no doubt that Popeye Leaf Spinach is one of the most popular and sought after spinach brands out there! Named for the cartoon character who started the canned spinach craze way back in 1929, Popeye canned spinach has a nice appearance and good hearty texture without being stringy.
It also features a good nutrition profile, providing 3 milligrams (15% DV) iron, 110 milligrams (8% DV) of calcium, and 370 (8% DV) milligrams of potassium per half-cup serving! It provides 3 grams of protein which, we admit, is not a ton, but will still help you be on your way to your protein goal for the day. This leafy green is a product of the USA and is non-GMO. It also has an easy to scan QR code on the back which takes you straight to the Popeye Spinach website!
Oddly enough though, when you do go to the website, the nutrition information provided for this product does not match that on the actual can itself. The differences are slight, but still rather confusing. And, while Popeye himself had no issue downing this stuff by the can, we unfortunately did not love the taste of this canned spinach variety as much as some others. Far from being unpleasant, it was still a bit on the metallic side, tasting more like dark bitter greens such as collards instead of bright and sweet green spinach. Also we found some bites of this spinach to be a bit gritty in a way that other varieties weren't.
Pros:
Nice appearance and hearty texture--not mushy or stringy.
Overall good nutrition, delivering decent amounts of iron, calcium, and potassium especially.
Contains 3 grams of protein per serving.
Product of the USA.
Non-GMO.
Scannable QR code which takes you to the Popeye Spinach website for more products and information.
Cons:
Nutrition information on the website does not match the actual packaging.
Taste is not the best as it is slightly metallic and bitter-green heavy.
This canned spinach was noticeably more gritty than the other varieties.
How to Use Canned Spinach
Loving your canned spinach but need a few ideas on how to change it up? Try out one of our recipes and ideas for how to cook canned spinach!
Stir some drained canned spinach into a pot of store-bought or homemade tomato sauce as it heats up! No need to cook it for very long as the spinach itself is cooked during the canning process.
Lightly sauté some well-drained canned spinach in olive oil over medium heat, then season with salt and pepper and a squeeze of fresh lemon juice at the end!
Add canned spinach (drained and rinsed, in this case) to your next batch of soup! It goes nicely with chicken noodle, Italian wedding, minestrone, or any dried bean soup.
Whip up a Homemade Spinach Omelette for a quick and healthy breakfast!
Spinach and feta cheese are a match made in heaven. Simply heat spinach in a skillet, season with black pepper as desired (hold the salt!), then stir in crumbled fresh feta cheese and serve hot.
Canned Spinach FAQs
How Long Does Canned Spinach Last?
Most of the canned spinach brands and varieties we tested had a stamped expiration date that was somewhere between 2-3 years from our date of purchase. However, several sources suggest that canned spinach--and most canned goods for that matter--will retain best quality for up to five years so long as they remain sealed and kept in a stable temperature, away from direct sunlight.
Once opened, any leftover canned spinach should be transferred to an airtight container and stored in the refrigerator. Just be sure to use it up within 3-4 days!
Is Canned Spinach Good For You?
Yes! Spinach is a highly nutritious vegetable whether in canned, fresh, or frozen form. Among these preparation methods however, canned spinach unfortunately tends to be the least nutrient dense as the high heat of the canning process causes some of the naturally occurring vitamins and nutrients to be destroyed.
It is also worth noting that canned spinach is an excellent source of vitamin A which is fat soluble, as opposed to others such as vitamin C which are water soluble. To help your body absorb as much of the good stuff as possible, try cooking spinach in olive oil, or eat it with healthy fat-laden fish such as cobia, mackerel, or salmon!
What are the Differences Between Canned Spinach and Fresh Spinach?
In terms of how they stack up to one another, canned spinach and fresh spinach are quite different from one another. Canned spinach is always cooked, therefore it is softer in texture and will never have the same vibrant green coloring as fresh spinach.
Fresh spinach is generally considered to be more versatile, but canned spinach is far more convenient as it requires no cleaning or prep work, and the shelf life is much longer than that of fresh spinach. For a full comparison of these two spinach options, here is our full guide to all things Fresh Spinach vs. Frozen Spinach vs. Canned Spinach.
Can You Do Anything With the Canned Spinach Juice?
We know we know, it seems wasteful to be dumping all of that green-tinged juice from your can of spinach down the drain! Unfortunately, the canning liquid is not so easy to make use of for the fact that it tends to be quite salty as well as typically has a bit of a can-funk flavor.
Nevertheless, canned spinach juice would give vegetable stock or soup a flavor boost while simultaneously diluting the saltiness and flavor intensity of the canning liquid itself. Allow the stock to simmer for a while, so as to give the flavors a chance to meld and soften. Be sure to taste test before seasoning--the salt content of the canned spinach juice may be all you need!
Ranking the Best Canned Spinach: The Takeaway
As always when making your grocery purchasing decisions, it comes down to considering the factors that are most important to you and those you are cooking for, as opposed to trying to find a product which is the best of the best in all criteria.
Whether you prioritize taste or nutrition, are looking for the best value for your money or are looking for something that is a bit different, there is a great canned spinach variety to suit your needs! If canned spinach isn't your thing but you'd still like the convenience of having ready to prep fresh greens on hand anytime, we have a guide to the Best Frozen Spinach: Tasted and Reviewed as well!