Whether you're making marinara sauce or tomato sauce, carefully crafting the perfect eggplant parmesan or simmering a tomato-based stew, professional chefs and home cooks alike know that canned tomatoes are your best friend! No matter how often you cook, it would behoove you to consider this useful ingredient a pantry staple, keeping a can or two stashed in your kitchen cabinet at all times.
The catch is, however, that there are just so many different canned tomatoes to choose from. All the different brands, different preparation styles, different processing, and different seasonings can turn the task of selecting a humble can of tomatoes into a somewhat daunting task.
For this reason, we have tasted our way through twenty--yes, twenty--cans of these robust red fruits to nail down the best canned tomatoes in a few different categories, making your shopping all that much easier!
What Are Canned Tomatoes?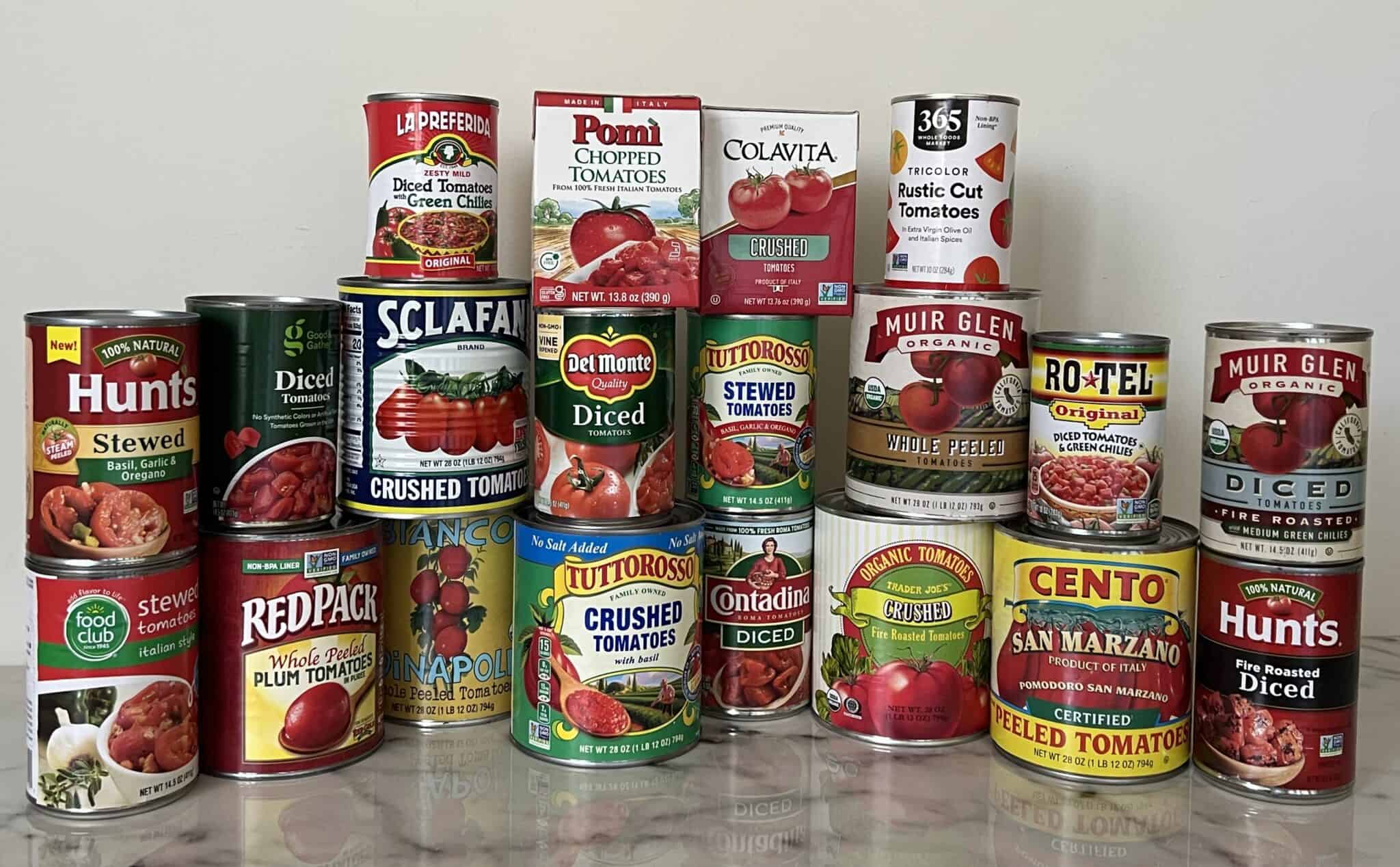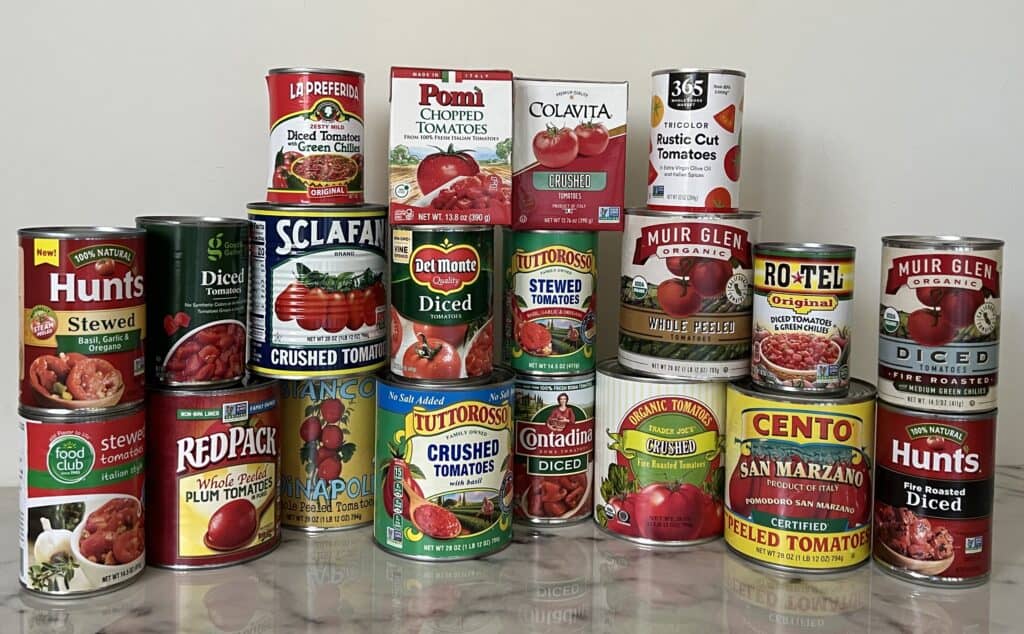 Once they are picked and cleaned, the tomatoes are cooked (either a little or a lot, depending on the desired finished product) before being portioned and sealed into sterilized containers. Many canned tomatoes have citric acid and calcium chloride added, which have additional preserving properties, helping the tomatoes to taste fresh for longer and hold their shape better.
No matter which type of canned tomatoes are in question, more often than not, you'll find that they are made using either plum or roma tomatoes as these have an ideal texture and water content ratio for the canning process. You're unlikely to ever find heirloom varieties or cherry tomatoes in cans as they simply don't hold up all that well, on top of the fact that the canning process would only serve to strip them of some of their inherent and best characteristics.
Types of Canned Tomatoes We Tested
In order to nail down the best we tested the following 20 canned tomato brands and varieties:
365 Whole Foods Market Tricolor Rustic Cut Tomatoes in Extra Virgin Olive Oil and Italian Spices
Bianco Dinapoli Tomatoes: Organic Whole Peeled Tomatoes
Cento Pomodoro San Marzano Whole Peeled Tomatoes
Colavita Crushed Tomatoes
Contadina Roma Diced Tomatoes 
Del Monte Quality Diced Tomatoes
Food Club Italian Style Stewed Tomatoes
Good & Gather Diced Tomatoes
Hunt's Fire Roasted Diced Tomatoes
Hunt's Stewed Tomatoes with Basil, Garlic, & Oregano
La Preferida Original Zesty Mild Diced Tomatoes with Green Chilies
Muir Glen Organic Fire Roasted Diced Tomatoes with Medium Green Chilies
Muir Glen Organic Whole Peeled Tomatoes 
Pomi Chopped Tomatoes
RedPack Whole Peeled Plum Tomatoes in Puree
Ro-Tel Original Diced Tomatoes & Green Chilies
Sclafani Crushed Tomatoes
Trader Joe's Organic Crushed Fire Roasted Tomatoes
Tuttorosso No-Salt-Added Crushed Tomatoes with Basil
Tuttorosso Stewed Tomatoes with Basil, Garlic, & Oregano
How We Tasted and Reviewed These Products
To organize the many different canned tomato product varieties listed above, we divided our selections into 6 specific categories: Best Canned Whole Peeled Tomatoes, Best Canned Diced Tomatoes, Best Canned Crushed Tomatoes, Best Canned Stewed Tomatoes, Best Canned Diced Tomatoes with Green Chilies, and Most Unique Canned Tomatoes.
Within each of these unique categories, we took several key factors into consideration when it came to making our judgements.
Taste & Texture: evaluating the tomato flavor of each variety as well as the overall consistency.
Appearance: because looks matter!
Nutrition Content: including sodium content (a key factor when it comes to canned foods especially), macronutrient profile, and any additional vitamins/minerals.
Unique Characteristics: such as additional flavor ingredients or a unique preparation style.
Value: price per ounce.
Production & Availability: where each item is produced and how available it is likely to be for most shoppers.
Packaging: including container size, package specifics, label information, and any other details.
1. Best Canned Whole Peeled Tomatoes:
Cento Pomodoro San Marzano Whole Peeled Tomatoes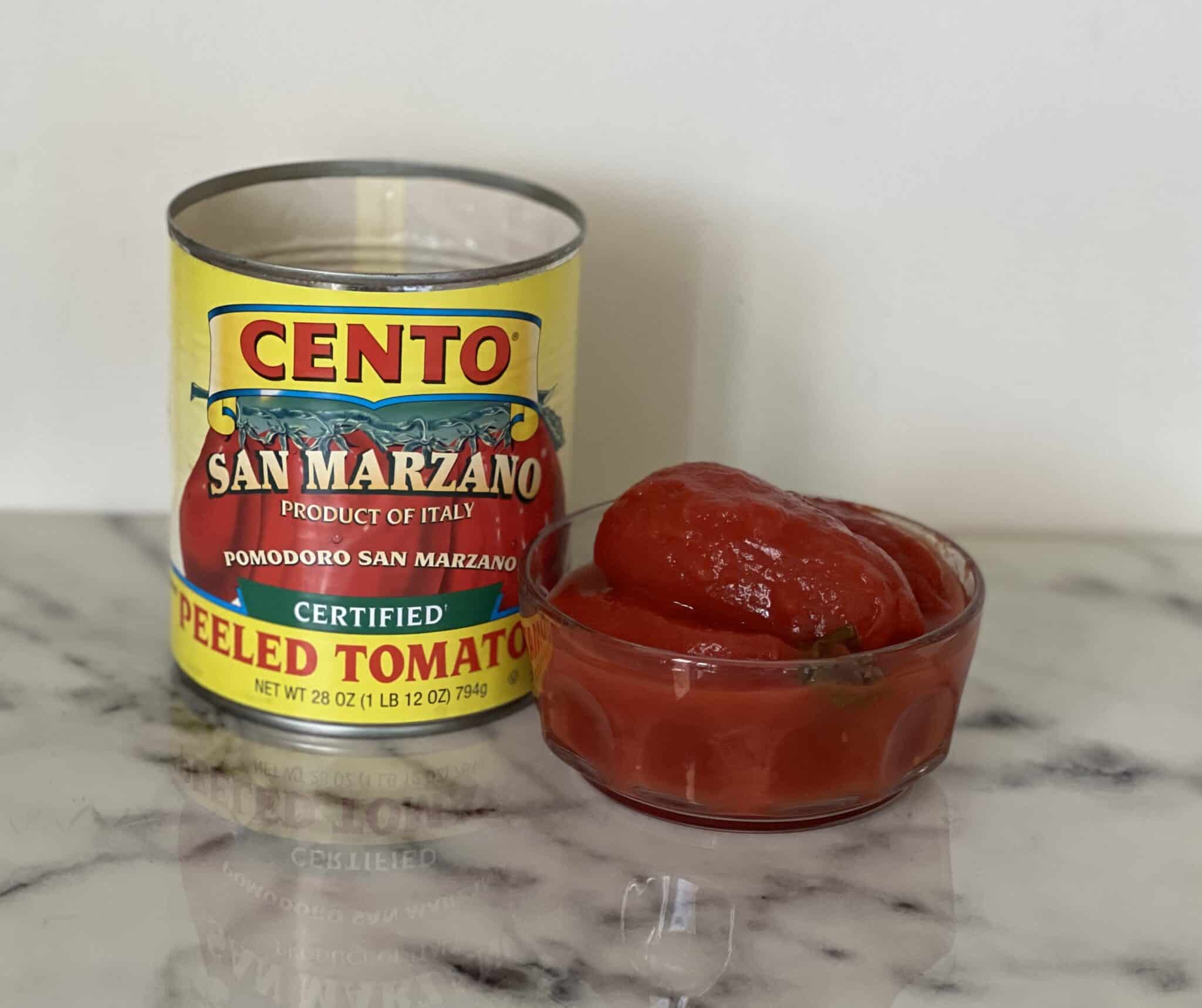 Canned whole peeled tomatoes are exactly as advertised. Roma or plum tomatoes are quickly blanched in order to remove the skins, then packed in cans with either tomato juice or tomato puree. Some canned whole peeled tomatoes are seasoned while others remain quite basic.
Canned whole tomatoes are arguably the most useful variety, as you can do just about anything with them! Dice them, slice them, or puree them for sauces or stews.
About Cento Pomodoro San Marzano Whole Peeled Tomatoes
In any conversation about canned tomatoes, the term "San Marzano" will undoubtedly surface. San Marzano tomatoes are a specific variety of plum tomato grown in the volcanic, rich soil of Southern Italy and are an extremely popular choice when it comes to canned tomatoes.
We found Cento Pomodoro San Marzano Whole Peeled Tomatoes to be pleasantly firm and have a rich tomato flavor. Rather than being packed in tomato juice like some others, these tomatoes essentially come in their own canned tomato puree--a thick blend that has a nice, velvety texture. The large leaves of fresh basil add some interest and a lovely, bright flavor without overpowering the taste of the tomatoes themselves.
Also helping the tomato flavor stay front and center is the fact that the sodium level in this can is quite low--the lowest of all varieties we tested in fact with just 40 milligrams per ½ cup serving. And, we love that the ingredients label features just 4 super simple ingredients: whole tomatoes, tomato puree, salt, and basil!
On the downside, these canned whole peeled tomatoes feature a less impressive nutrition profile as compared to many others we evaluated, containing a smaller variety and lower quantities of vitamins and minerals.
Perhaps more importantly though, is the continued lack of clarity about the authenticity of these San Marzanos. This particular can claims it is certified by an "independent third party agency", but it's worth noting that it does not bear the D.O.P. (protected designation of origin) seal which is the true mark of an authentic can of San Marzano tomatoes. However, our can does feature a handy code and a URL address which you can find the exact location where your tomatoes are from, so, it's all a bit mysterious. What is clear however, is that this is a tasty can of tomatoes!
Pros:
Nice, firm texture and robust tomato flavor.
The whole tomatoes are packed in a rich tomato puree as opposed to watery tomato juice, like some other brands.
Packed with full leaves of fresh basil that provide a contrast of flavor without being overpowering.
Lowest sodium level of all varieties we tested with just 40 milligrams per half cup.
Features a minimal and straightforward ingredients label with nothing added.
Cons:
Not as nutritionally loaded as many of the other canned tomato brands and varieties we tested.
Some debate over whether or not these tomatoes are D.O.P certified San Marzanos or simply "San Marzano Style" tomatoes.
2. Best Canned Diced Tomatoes:
Hunt's Fire Roasted Diced Tomatoes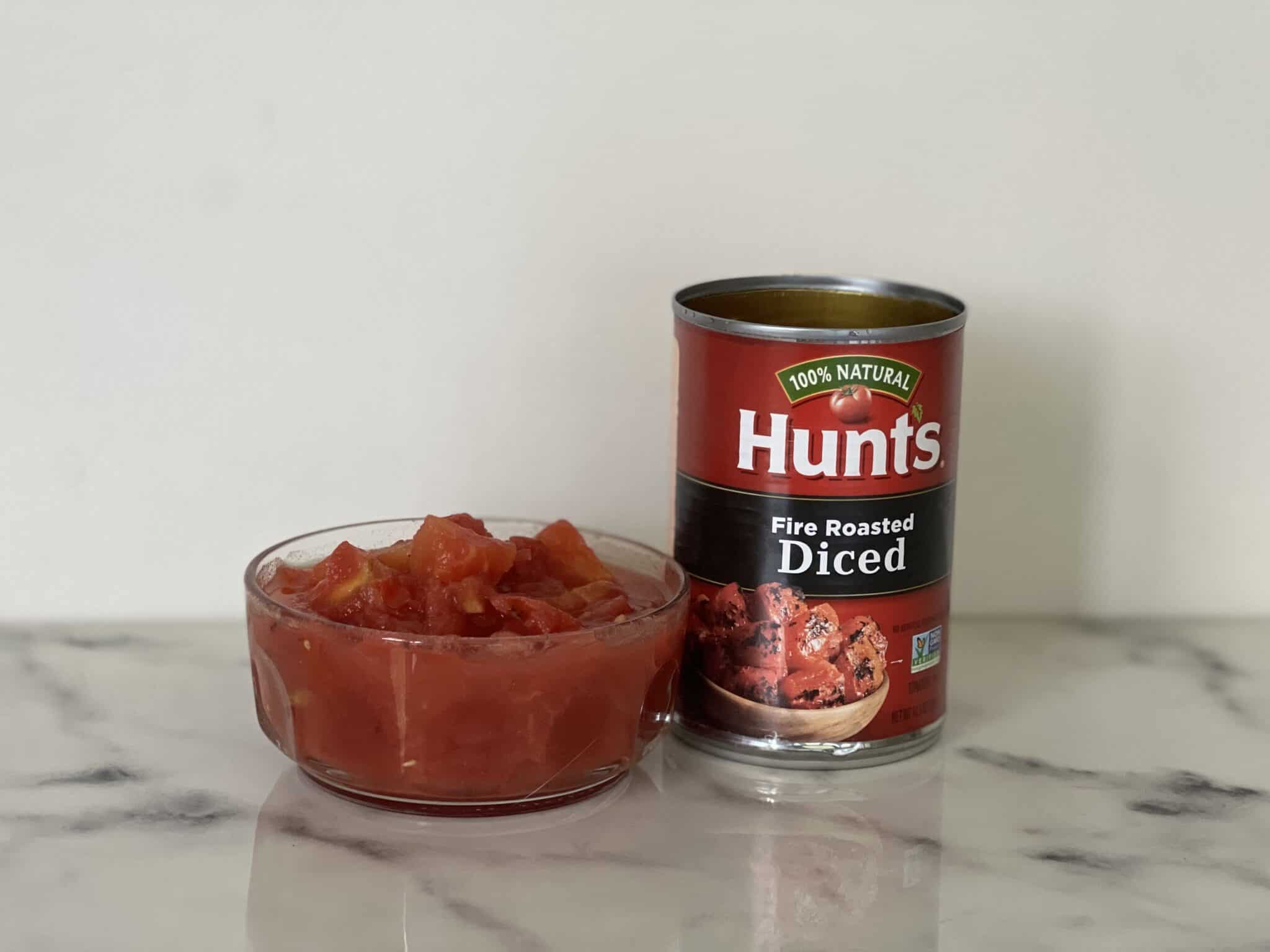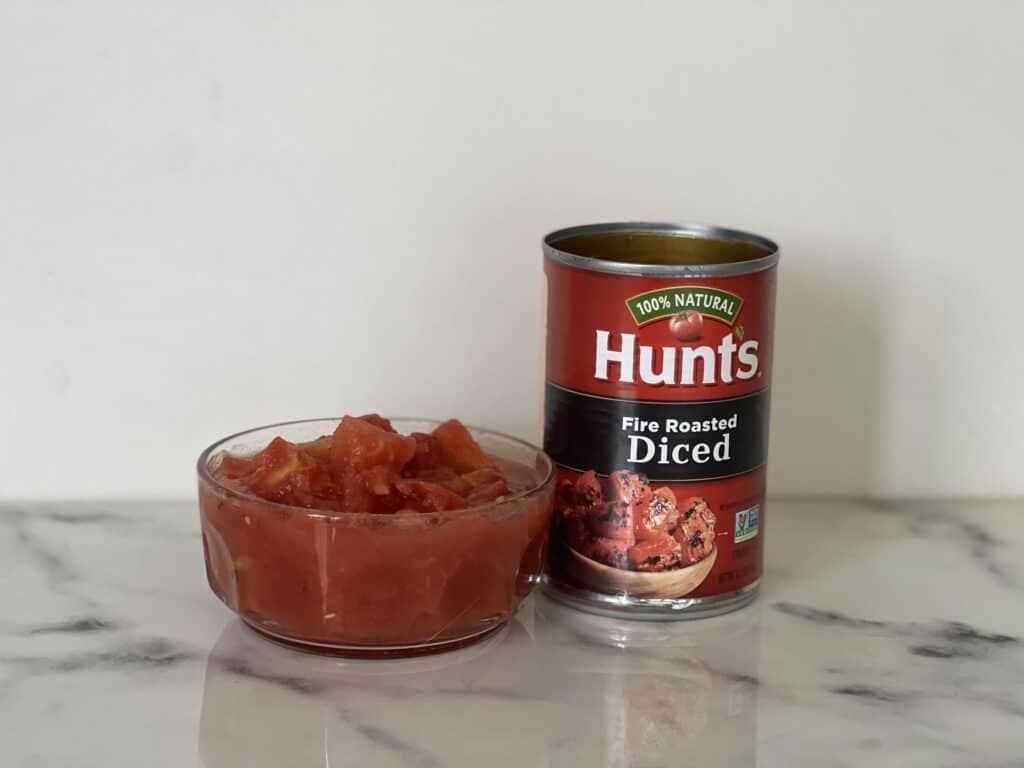 Canned diced tomatoes are supremely versatile as they add flavor and texture to soups (such as our Classic Lasagna Soup), stews, casseroles, sauces--or can even be used straight out of the can!
Unlike whole peeled tomatoes, diced tomatoes are canned with those calcium chloride and citric acid ingredients we mentioned earlier, which help the cubes of tomato to retain their shape and structure under the high heat of the canning process. This makes them ideal for recipes where you want the pieces of tomatoes to be a noticeable part of the final product.
About Hunt's Fire Roasted Diced Tomatoes
Almost every major canned tomato brand has their own version of canned diced tomatoes, which gave us a ton of varieties to choose from. However, once we tried this variety of diced tomatoes from Hunt's, it was almost a no-brainer.
Thanks to that extra step of fire-roasting, these diced tomatoes have an amazingly deep, rich flavor. Whether you are making your own batch of salsa or incorporating diced tomatoes into another recipe such as pizza sauce, Hunt's Fire Roasted Diced Tomatoes are one way to easily ramp up that flavor profile. We also felt that the texture of these tomatoes was more satisfying, as opposed to many other varieties which had a tendency to feel quite watery.
In addition to these diced tomatoes being downright delicious, they possess several other positive qualities such as being non-GMO verified, coming in a BPA-free can, and featuring a scannable "smart label" QR code which takes you to their website for complete nutrition and product information. And, speaking of nutrition, we love that this can of tomatoes provides 240 milligrams of potassium per ½ cup serving! This is about 6% your total recommended daily intake--pretty high among all canned tomato varieties we tested.
Our least favorite thing about these diced tomatoes however, is that while many other diced tomato options are steam peeled before being diced and canned, Hunt's Fire Roasted Diced Tomatoes retain their skins. This is important as the skins are necessary for the fire-roasting process, but they do add a certain amount of chew and roughness to the overall experience of the tomatoes.
In addition, these were by far the most expensive of the diced tomato varieties we evaluated, as well as had the highest sodium content of all--300 milligrams per serving.
Pros:
The tomatoes are fire-roasted before being diced and canned, delivering an extra level of savoriness and concentrating the natural tomato flavor.
Satisfying texture due to the additional cooking they undergo, as opposed to many other brands and varieties which were a bit watery.
Non-GMO verified.
Packed in a BPA-free can.
Provides an impressive 240 milligrams of potassium per serving!
Cons:
Unlike many other canned tomatoes, these are not peeled, adding a bit of roughness and requiring some extra chewing.
Most expensive canned diced tomato variety we encountered.
Highest sodium content of all canned tomatoes we tested, with 300 milligrams per serving.
3. Best Canned Crushed Tomatoes:
Sclafani Crushed Tomatoes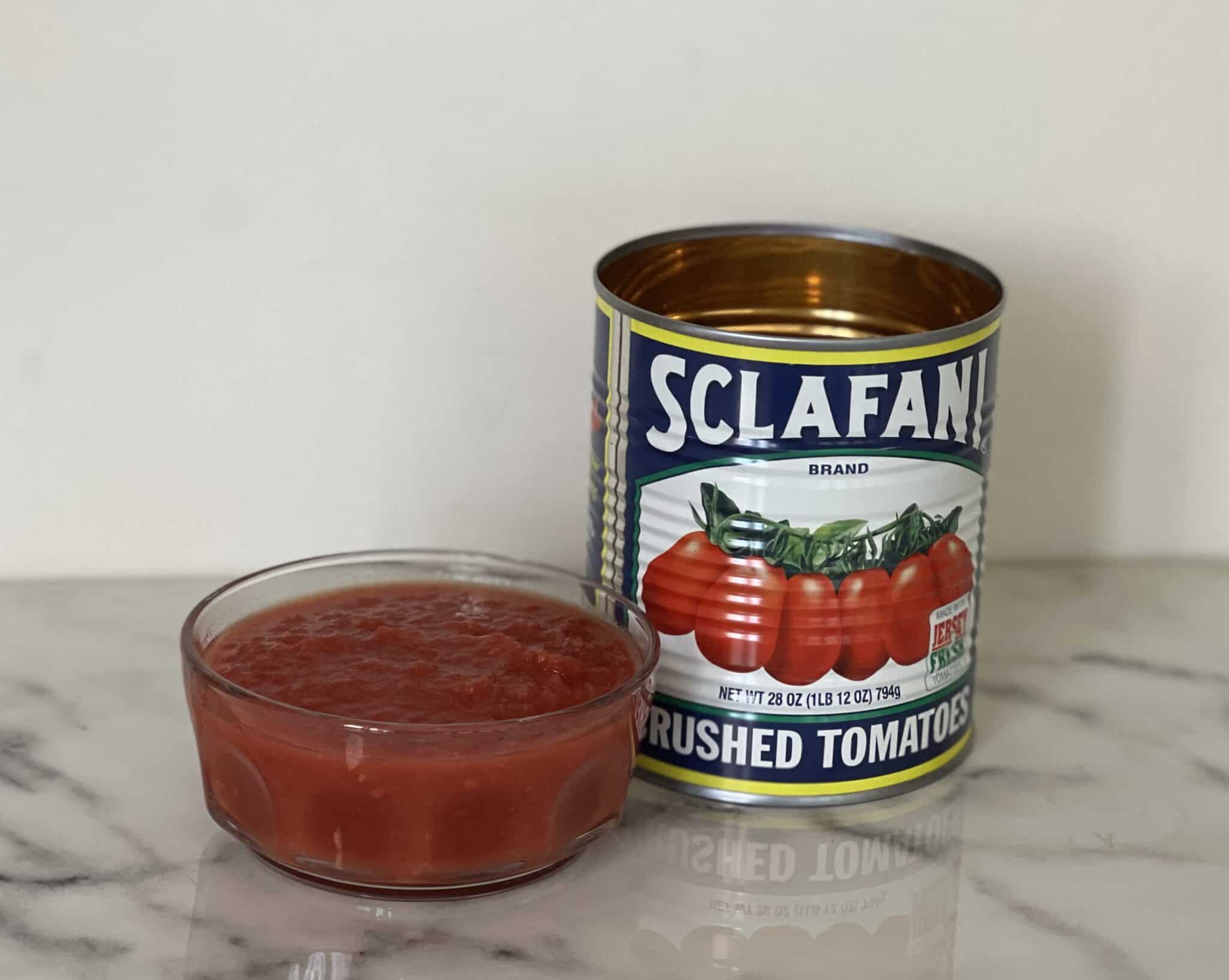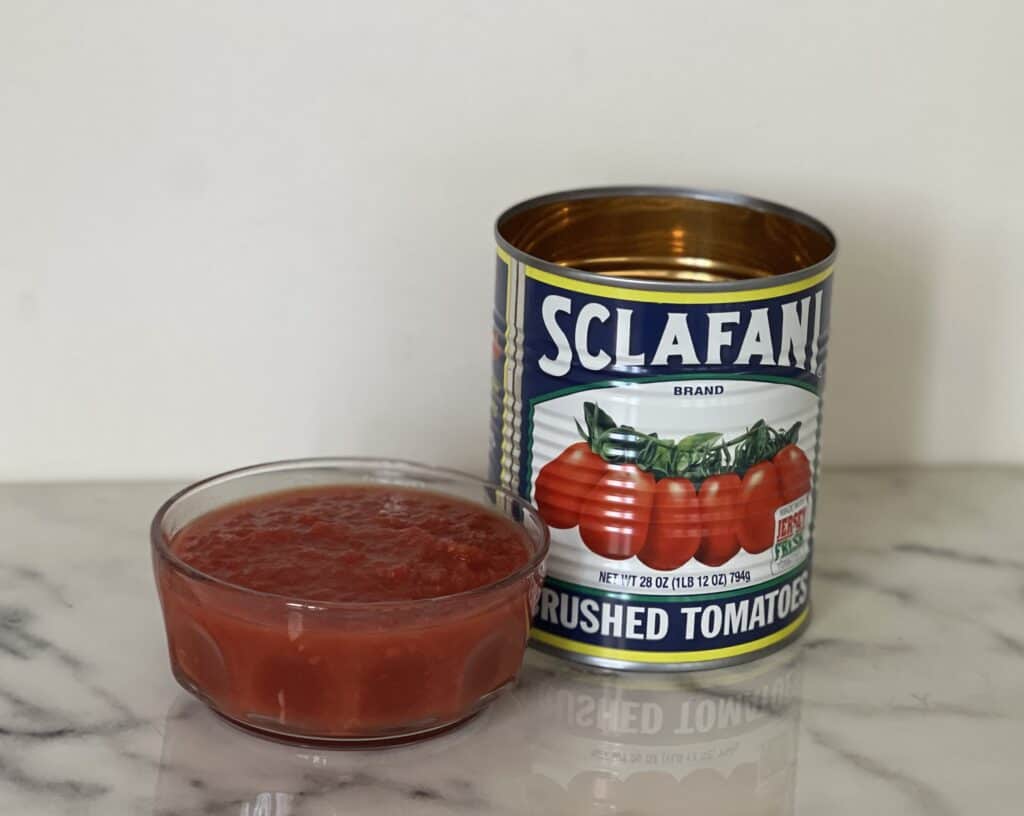 The idea of canned crushed tomatoes that they strike somewhere in between canned diced tomatoes and fully pureed tomato sauce. They should be much more broken down than diced tomatoes, but still feature some pieces of tomatoes and a somewhat irregular texture.
When we opened up the different containers of crushed tomatoes though, there were actually a range of different textures afoot! Some crushed tomatoes were rather runny or had a smooth texture like sauce, while others were thick and chunky, but we settled on this can of Sclafani tomatoes as being just right.
About Sclafani Crushed Tomatoes
The Sclafani line of products was born in a small Italian grocery store in 1911--over 100 years ago! Today, this well-known specialty foods line continues to be family owned and operated under the B&G foods brand, allowing the products to retain this authentic, handcrafted feel and flavor.
Our navy blue can of Sclafani Crushed Tomatoes gave us that exact feeling, from the bright, pure tomato flavor straight down to the fact that the label is printed on the can itself--a notable diversion from the more modern paper-wrapped cans you usually see. The texture is exactly what you look for in a can of crushed tomatoes, perfectly toeing the line between chopped and pureed tomatoes.
While many of the best canned tomato purveyors boast that they only use Italian-grown tomatoes, Sclafani proudly states their tomatoes are "Jersey Fresh", and we found them to be an excellent tasting, more local alternative to imported fruit. We also appreciated that this can of crushed tomatoes was not overly seedy, as were many of the other varieties we tried. And, as always, it's always highly impressive when a product is able to be as superior as this one without the use of additional or complex ingredients. This can of crushed tomatoes contains just two ingredients: tomatoes and salt.
On the downside, Sclafani brand products may be a bit harder to source for some folks, depending on location. This company has strong ties in New Jersey and Connecticut and as such, their products are most common in the Northeastern Corridor of the United States. Although they may not be found in most grocery stores throughout the entire country, they do offer many products for sale at online retailers including Amazon. It's also worth noting that whether or not this company implements BPA-free packaging remains unclear.
Pros:
Product has an authentic, small-batch, handcrafted feeling in everything from the product itself to the packaging.
Perfect crushed tomato texture--more processed than chopped tomatoes but not fully pureed either.
Uses tomatoes grown in New Jersey as opposed to importing from Italy.
Not overly seedy, as are many other varieties of crushed tomatoes.
Super simple ingredients panel: just tomatoes + salt!
Cons:
Sclafani is a somewhat regional brand, which may limit ease of access for some shoppers.
Lack of clarity as to whether or not BPA is used in the lining of this brand's canned tomato products.
4. Best Canned Stewed Tomatoes:
Tuttorosso Stewed Tomatoes with Basil, Garlic, & Oregano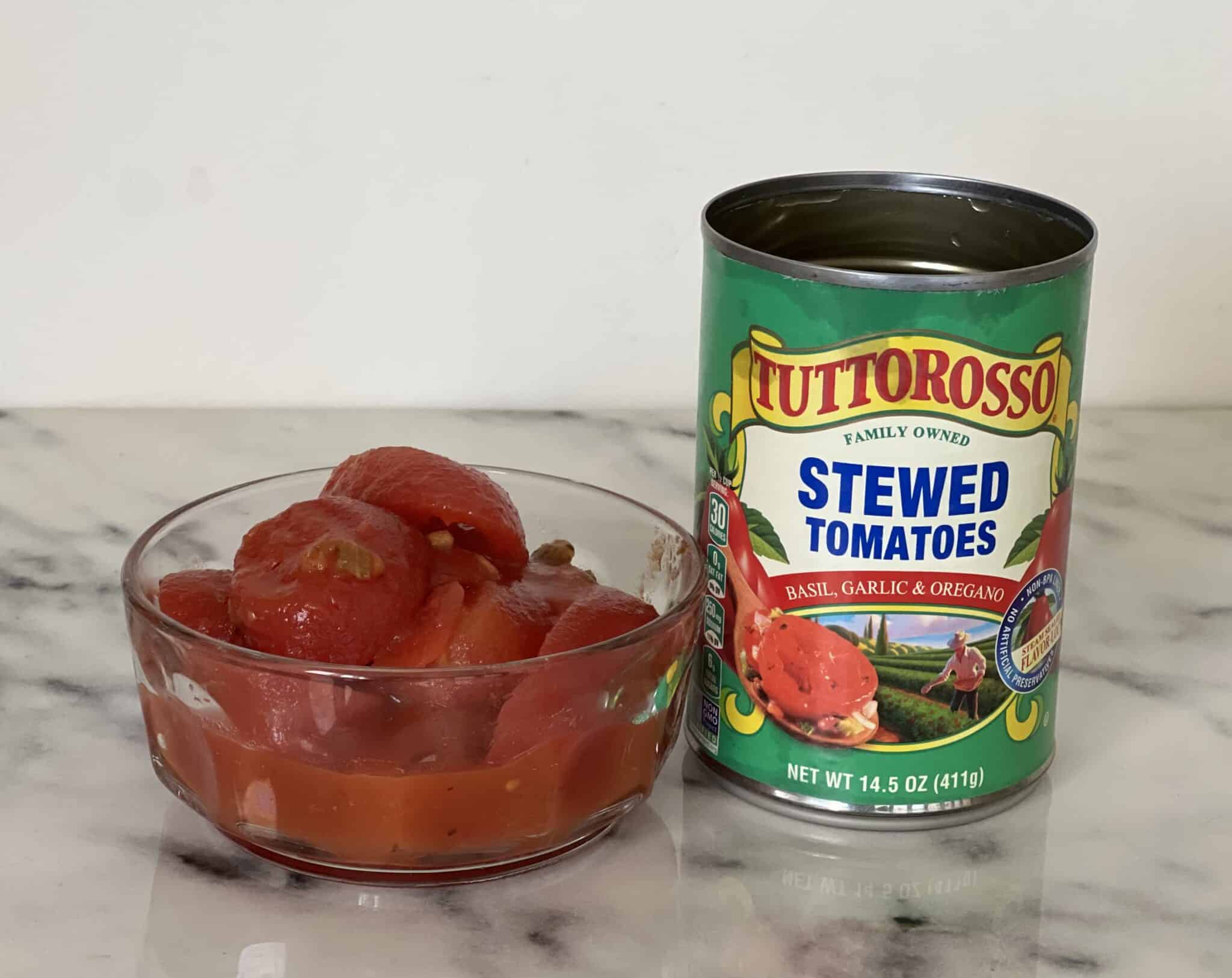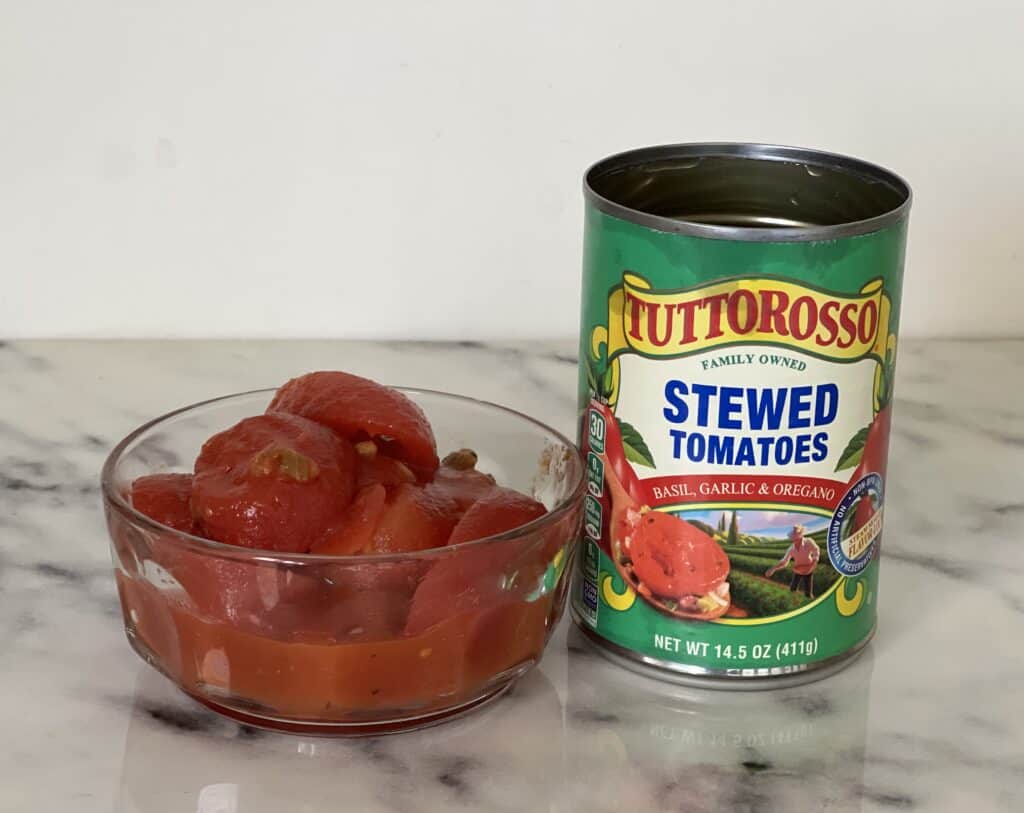 Also known as "Italian Style Tomatoes", stewed tomatoes are generally halved or sliced plum tomatoes which have been simmered and canned with flavorful ingredients like onions, vegetables, herbs, and spices. Stewed tomatoes can vary widely from one brand to the next and can therefore be a bit unpredictable in terms of what you'll get when you crack open a can. Nevertheless, they are an excellent starting point when making a flavorful sauce or recipe!
About Tuttorosso Stewed Tomatoes with Basil, Garlic, & Oregano
Yet another family owned and operated canned tomato producer, Tuttorosso has made a name for itself in the canned tomato market. They produce canned tomatoes and only canned tomatoes and we think that this type of focus is likely one of the reasons why their stuff is so great.
Immediately upon opening this can of Tuttorosso Stewed Tomatoes, the aroma took hold of us and we strongly suspected we might have a category winner right then and there! Inside, there were large tomato halves and slices intermingled with visible chunks of onion, celery, and bell pepper as well as plenty of oregano and basil.
The flavors of all of these different ingredients complemented one another quite nicely, and, upon inspecting the packaging, we found even more good news. This product is sustainably produced in the USA and is free from artificial flavors, colors, and preservatives. It also features a pretty great nutritional profile, providing 20 milligrams (20% daily value) of vitamin C, 34 micrograms (4% daily value) of vitamin A, 16 milligrams (2% daily value) of calcium, and 230 milligrams (4% daily value) of potassium.
One major bummer about these stewed tomatoes is that we found the bell pepper and celery pieces to be quite crunchy, almost as if they were completely uncooked. Now, this might be a moot point if you plan to use your stewed tomatoes in a dish that is to be cooked for a while, but as is, they make for a fibrous bite.
Also keep in mind that this is one assertively flavored tomato product, therefore it comes with a few more limitations of use as compared to plain whole peeled, crushed, or diced tomatoes. Being as heavily seasoned as they are, you shouldn't use them in a recipe where you want pure tomato flavor and also must consider the other ingredients in your dish to be sure that they'll play nicely with one another.
Pros:
These stewed tomatoes were super aromatic and inviting right off the bat!
Composed of large tomato pieces and slices complemented by the inclusion of other vegetables and fresh herbs.
Sustainably produced in the USA.
Contains no artificial colors, flavors, or preservatives.
Provides a nice mix of vitamins and minerals like vitamin C, vitamin A, calcium, and potassium.
Cons:
The additional vegetables--onions, bell pepper, and celery--have an unpleasantly and overly crunchy texture as is.
These stewed tomatoes are strongly seasoned and therefore it requires a bit of additional consideration of overall flavor profile before tossing them into a recipe.
5. Best Canned Diced Tomatoes With Green Chilies:
Muir Glen Organic Fire Roasted Diced Tomatoes with Medium Green Chilies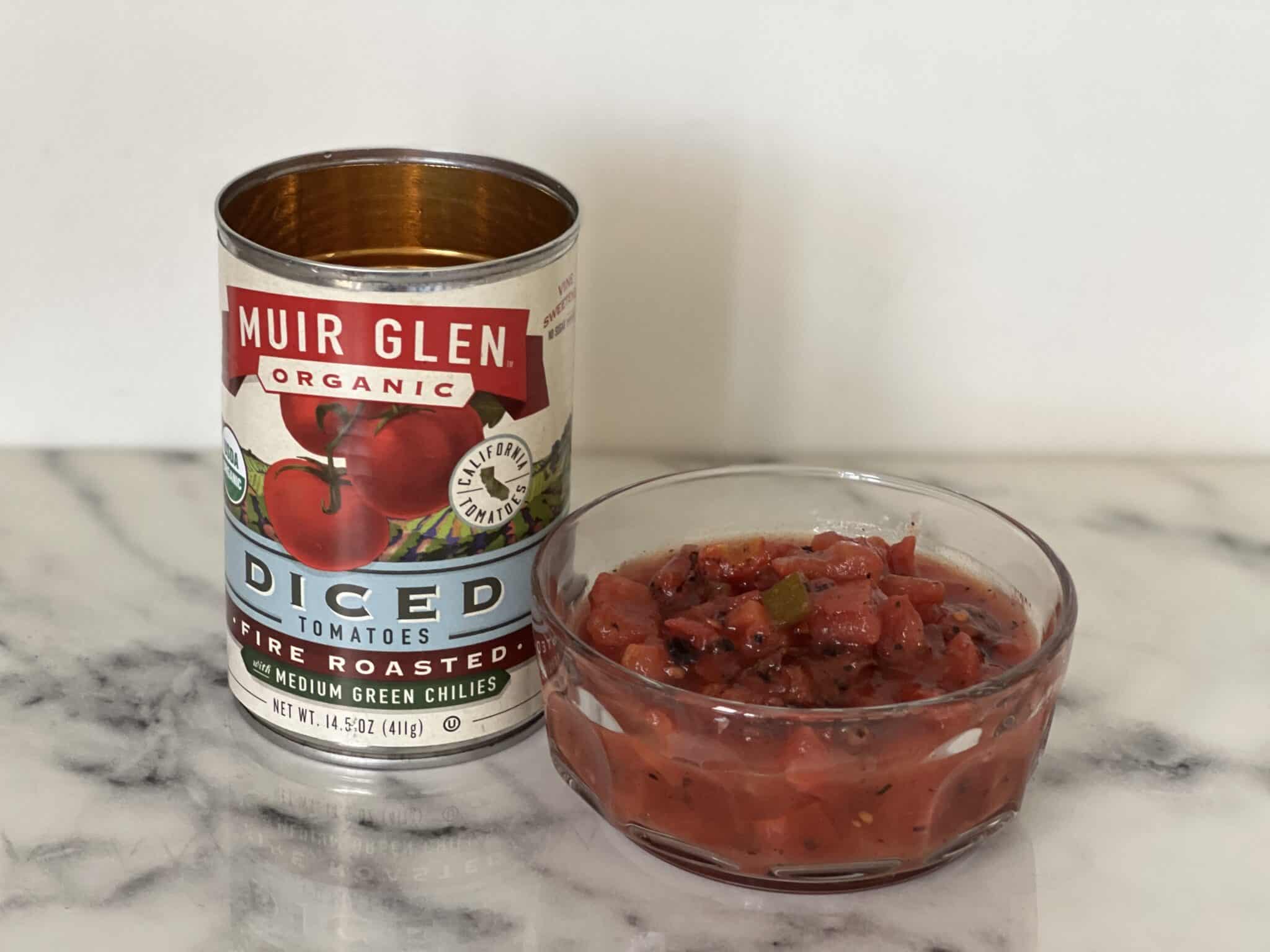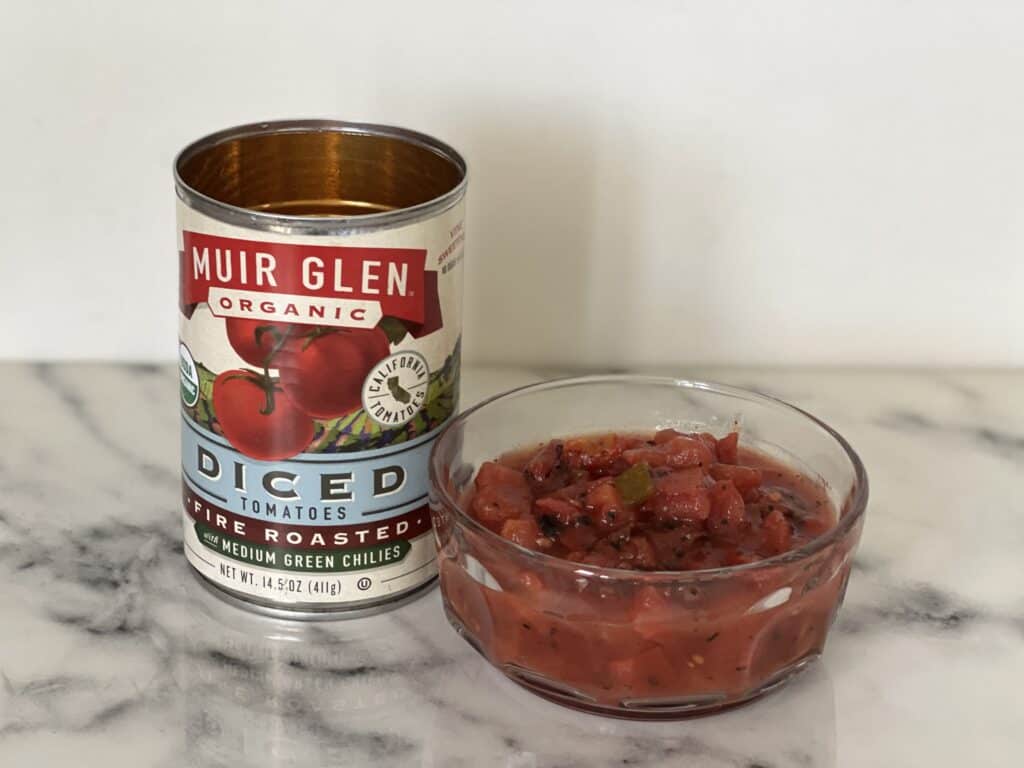 Diced tomatoes with green chilies might not be the most common of all the canned tomato varieties, but a bit of this stuff is actually quite important for certain dishes! Think queso dips, spicy pasta salads, cozy casseroles, or any other time you seek bright tomato flavor with an extra zing!
About Muir Glen Organic Fire Roasted Diced Tomatoes with Medium Green Chilies
We were actually quite surprised by the entire line of Muir Glen canned tomatoes for the wide range of products they offer. From canned whole peeled tomatoes to tomato paste to salsa, these folks seem to have it all. However, most of their items from the other categories didn't exactly stand out to us.
In the case of their Fire Roasted Diced Tomatoes with Medium Green Chilies, however, they certainly left a positive impression on us! Out of the different varieties we tested, these by far offered the best taste--undeniably spicy without being scalding with a pleasant roasty flavor that seemed to balance everything out. These canned tomatoes are certified USDA organic by Oregon Tilth, an independent organic certification outfit, and as such, are also non-GMO verified. The packaging includes a scannable QR code which offers access to recipes and other product information.
Not to mention, these spicy diced tomatoes offer some great nutritional bonuses as well! Not only do they contain a few important minerals like iron, calcium, and potassium, but they are also the lowest in sodium with just 190 milligrams per ½ cup serving. Because hey, if you're going to be eating chips and queso dip, you might as well be getting some nutrients in there!
Our biggest complaint about these organically grown diced tomatoes with green chilies is the texture. They are actually a bit more sauce-like as compared to the other options, most of which offered a more firm texture and defined structure. Therefore using these might not have the effect you're looking for in every dish, especially when it comes to making dips. Also, these organic tomatoes with green chilies were the most expensive and a bit harder to find than the bigger, more common brands. However, we were able to find them at our local Whole Foods, indicating they should be available through Amazon to many folks as well.
Pros:
Best flavor out of all the spicy diced tomato varieties we tested--moderate heat perfectly balanced by savory tomato flavor and roasted taste.
USDA certified organic and non-GMO verified.
Scannable QR code on the label will take you to detailed product info and fun recipe ideas!
Each serving provides important minerals like iron, calcium, and potassium.
Has the lowest sodium level of all the varieties we tested, just shy of 200 milligrams per serving.
Cons:
Texture is saucier than other varieties of canned tomatoes with green chilies, therefore may yield a different result than expected when used in certain dishes.
Most expensive can of diced tomatoes with green chilies we tested.
Not carried in many of the grocery stores we checked, but we did find them at Whole Foods.
6. Most Unique Canned Tomatoes:
365 Whole Foods Market Tricolor Rustic Cut Tomatoes in Extra Virgin Olive Oil and Italian Spices
When we came across these tomatoes, we immediately knew they would be in a category of their own as we didn't really find anything else comparable out there. What we didn't know, however, was whether or not they would be good enough to include in our list of best canned tomatoes. We're happy to report: they are indeed!
About 365 Whole Foods Market Tricolor Rustic Cut Tomatoes in Extra Virgin Olive Oil and Italian Spices
Neither whole nor diced, stewed nor crushed, this little can of tomatoes contains a rainbow of colorful tomato pieces which are haphazardly cut in a rustic fashion. Don't mistake us, we use the term "haphazard" with love here.
Not only is the taste of this tomato mix surprisingly fresh, but the combination of red, yellow, and orange hued fruits cut in an endearingly imperfect manner make for an entirely beautiful presentation. Needless to say, these tomatoes are best used in applications where looks matter, such as gently tossing them into a pasta salad or serving with a big ball of fresh burrata. Honestly, they are even enjoyable to eat straight from the can as is!
The touch of extra virgin olive oil these tomatoes are packed in is complementary and far from overbearing, and does not at all dampen the naturally bright sweetness of the tomatoes themselves. The packaging also informs us that these tomatoes are picked and packed on the same day, are a product of the USA, and that the can lining is BPA-free. Good, good, and good!
Our main disappointment in these tomatoes is that there are simply not enough of them. At just 10 ounces, the can is rather small and is among one of the smallest containers we picked up of any of the different brands and varieties.
In addition, these Tricolor Rustic Cut Tomatoes are quite high in sodium. The serving size is ½ cup but when it comes to a product like this that strikes the same spot as fresh tomatoes, you're likely to eat more. The small can only contains just over 1 cup worth of product and packed within it is a whopping 690 milligrams of sodium--30% your recommended daily intake!
Pros:
The taste is as close to that of fresh tomatoes as we encountered in all of our testing and evaluating!
Contains red, yellow, and orange tomato pieces in rustic cuts for a beautiful presentation.
Packed with a bit of extra virgin olive oil for added flavor and balance.
Picked and packed on the same day.
Product of the USA!
Lining of the can is BPA-free.
Cons:
The can is pretty tiny--just 10 ounces in there, with no larger cans available for purchase that we saw.
Pretty high in sodium, especially if you eat more than the suggested "serving size" of ½ cup, which for tomatoes that taste as fresh as these, doesn't seem like quite enough.
Ranking the Best Canned Tomatoes: The Bottom Line
We hope that all of this tasting and evaluating has served to streamline your tomato shopping. As always, there are upsides, downsides, and unique characteristics to each and every product out there, meaning you may find that your favorite canned tomatoes differ from ours!
Whether you are seeking the most delicious diced tomatoes for topping your tacos, or you require tomatoes with the best texture for making marinara sauce, the bottom line is that there are plenty of great options to choose from!