Although it is dubbed a casserole dish, it can be used for much more than just serving casseroles. A casserole dish can be used when making lasagna, a cobbler, and many other dishes. Casserole dishes can even be used to serve or store various types of food, like finger foods or cookies.
To put it simply, if you don't have a great casserole dish onhand, you need one. And that's why we're here.
We've compiled a list of the best casserole dishes with a comprehensive buying guide to help you choose the best one.
Best Overall Casserole Dish
1. Pyrex Easy Grab Glass Casserole Dish

The best overall casserole dish is this simple, affordable, and durable 9x13 (2-quart) glass casserole dish by Pyrex. It is simple but extremely effective for cooking, serving, and storing.
It has two easy-to-grip handles on both sides of the casserole dish. This makes it easy to transfer the casserole dish to and from the oven, as well as to transport to other locations, like offices or friends' houses. The lid also makes it easy to transfer the casserole dish to another location or store leftovers in a refrigerator. Just make sure you never put the lid in the oven as it will melt.
The casserole dish is oven, dishwasher, microwave, and freezer safe. Essentially, you can put this casserole dish in almost all elements and temperatures. The manufacturer includes a 2-year warranty on the glass casserole dish and lid.
The lid snaps securely onto the casserole dish and completely stays in place. It won't accidentally pop or slide off during transportation. It is completely secure and can be easily taken off of the casserole dish by pulling up one side of the lid to release it from the side of the dish.
Best Budget Casserole Dish
2. OXO Good Grips Casserole Dish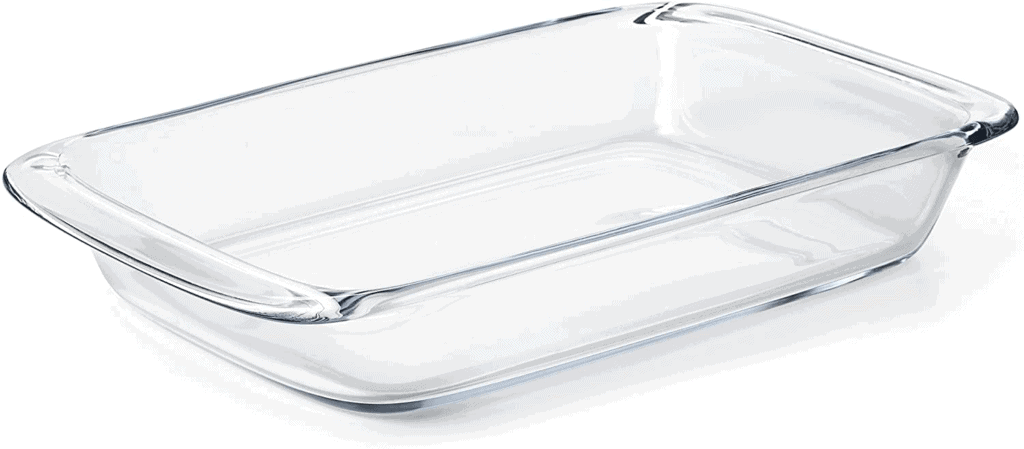 The OXO Good Grips 3-quart 9x13 baking dish is the best casserole dish for the money. OBO always makes quality kitchen products, and this casserole dish is no exception.
It is a deep, 3-quart glass casserole dish with overhanging handles that allow you to easily hold the casserole dish as you pull it in and out of the oven. It is oven-safe, freezer-safe, and microwave safe. And when you are finished using it, it is dishwasher safe, too.
The glass is clear and thick. It is not fragile and not easily prone to chipping or breaking. Suppose the casserole dish breaks while in use, OXO offers a full repair or replacement of the dish. The glass is borosilicate, which means it can go directly from the oven to the refrigerator without the glass dish breaking.
For around $15, it is a durable casserole dish that is hard to beat.
Best Premium Casserole Dish
3. Le Creuset Stoneware Heritage Casserole Dish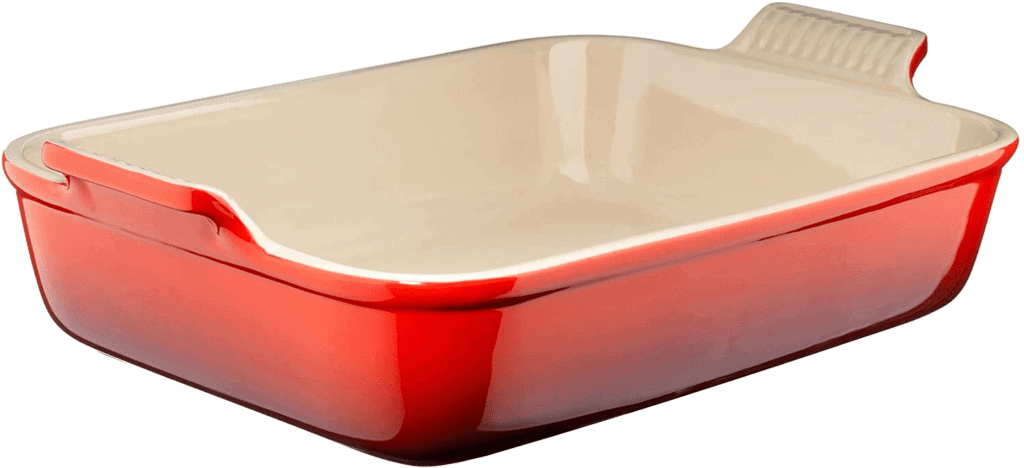 Le Creuset is a top-of-the-line manufacturer of premium cookware and kitchen products, which is what makes this deep 4-quart 9x12 casserole dish our pick for the best premium casserole dish.
It is made of high-fired stoneware and has a non-porous enamel finish. High-fired stoneware is a type of ceramic. This means it holds and emits heat evenly and for longer periods of time than glass, porcelain, or other materials. The non-porous enamel finish helps the stoneware from absorbing odors and tastes. It also helps protect the stoneware and keep it from chipping, scratching, or staining.
There are handles on each side of the casserole dish that are elevated and extend outward so you can easily carry and hold the casserole dish as needed.
The Le Creuset stoneware casserole dish can be placed in an oven up to 500 degrees, but what sets this casserole dish apart from the rest is that it can be placed on a grill if you need to smoke or grill a dish. Just make sure you don't place it over an open flame.
In addition to an oven and a grill, the Le Creuset casserole dish can be placed in a freezer, refrigerator, and microwave. When you are finished using it, place it in your dishwasher and wash it on a normal cycle with your other dishes.
4. Anchor Hocking Glass Casserole Dish

Another great casserole dish for the money is this 3-quart 9x11 glass casserole dish by Anchor Hocking. It is a couple of inches shorter than some of the other options, but it makes up for that in its depth. It holds 3 quarts instead of just two.
It is tempered glass, so it is durable to withstand both hot and cold conditions. It is oven-safe, freezer-safe, and microwave safe. It should only be placed into a preheated oven up to 425 degrees.
It can also be refrigerated and comes with a convenient teal TrueFit lid for easy and stylish storing. The lid seals snugly onto the casserole dish. The lid is top-rack dishwasher safe only and should never be placed into an oven.
5. Ceramic Casserole Dish with Lid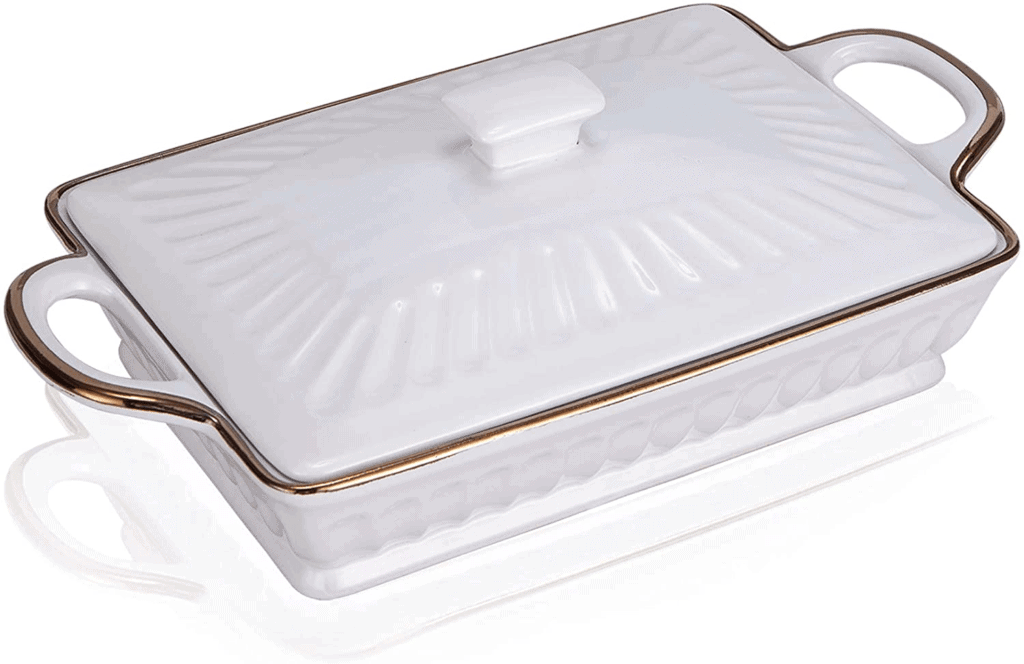 This ceramic casserole dish is elegant, durable, and large, perfect to use for your next casserole or baked pasta dish.
It measures 16 inches long and 9.25 inches wide, and it is 3 inches deep. It has a beautiful design with accents on the sides of the casserole dish, as well as the lid. It has beautiful handles that your fingers can wrap entirely around to hold the dish.
The casserole dish is safe up to 500 degrees. It can be microwaved, refrigerated, and washed in a dishwasher. Just don't use the casserole dish on direct fire or an induction cooker.
It is made of safe and hybrid ceramic with an eco-friendly enamel glaze. This keeps the ceramic from absorbing different flavors or odors. It also keeps the casserole dish from chipping, scratching, and flaking.
Some casserole dishes are good enough for the job, especially when you're not looking to dazzle any guests, but this casserole dish is different. It is the perfect casserole dish for those times you want to impress your guests. So if you know you have a dinner or event coming up that you will need to host, you won't go wrong with this casserole dish.
Because of the beautiful design and included lid, you can serve more than just a casserole inside of it. You can serve any dish, big or small, and present it beautifully with this casserole dish.
6. Cuisinart Cast Iron Casserole Dish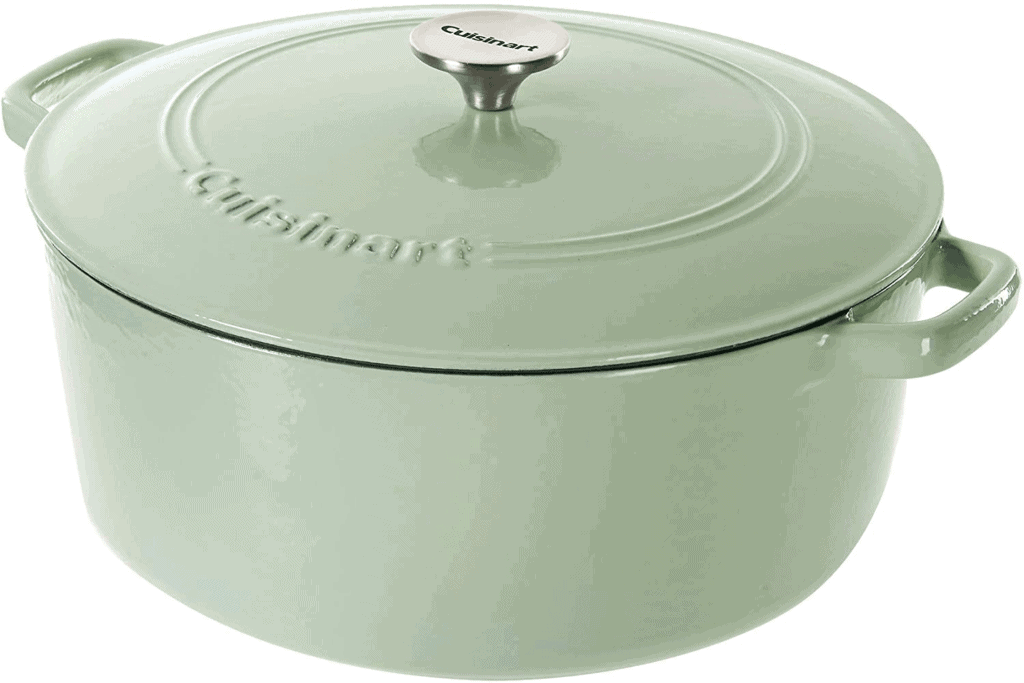 Cuisinart is another top-rated manufacturer of kitchen products, which is why we have included this large and durable 7-quart cast-iron casserole dish with a lid.
Cast-iron is extremely durable, distributes heat evenly, and holds heat in once it has become hot. Unlike cast-iron that needs to be seasoned after being used, this cast-iron has a porcelain enamel exterior and interior. This keeps odors and flavors from becoming absorbed into the cast-iron and seeping into the dishes that are cooked within it. It also protects the cast-iron from rusting, scratching, and chipping.
The porcelain enamel coating of the casserole dish and lid enables them both to be washed in a dishwasher. This makes cleanup quick and easy.
The casserole dish is also safe for all types of cooking surfaces, including induction, halogen, glass/ceramic, gas, and electric stovetops. It is safe for the oven and broiler, and the leftovers can be stored in the refrigerator afterward.
7. CorningWare French White Oval Casserole with Glass Lid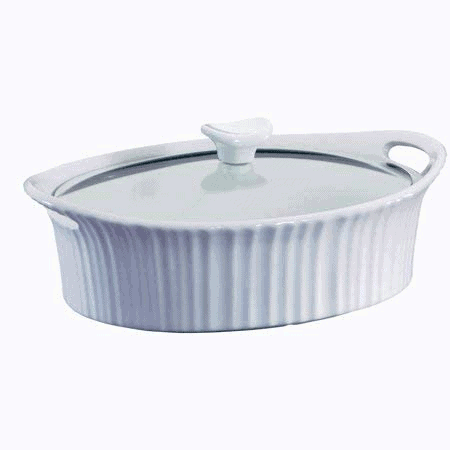 You can't make a list of the best casserole dishes without including an option from CorningWare, and we have chosen to add this choice for many reasons.
First, it is an ideal size that holds 2.5 quarts, making it not too big and not too small. It is the perfect size casserole dish for so many dishes.
Second, it comes with a glass lid that fits securely in place on the oval design of the dish. The lid has a ceramic knob on the top that you can easily grab to open and close the lid of the dish.
Finally, it has handles on each side of the casserole dish that each has an opening for you to easily wrap your hands around while you hold the casserole dish.
It is oven, refrigerator, and dishwasher-safe for easy storing and cleanup.
8. Sweejar Ceramic Casserole Set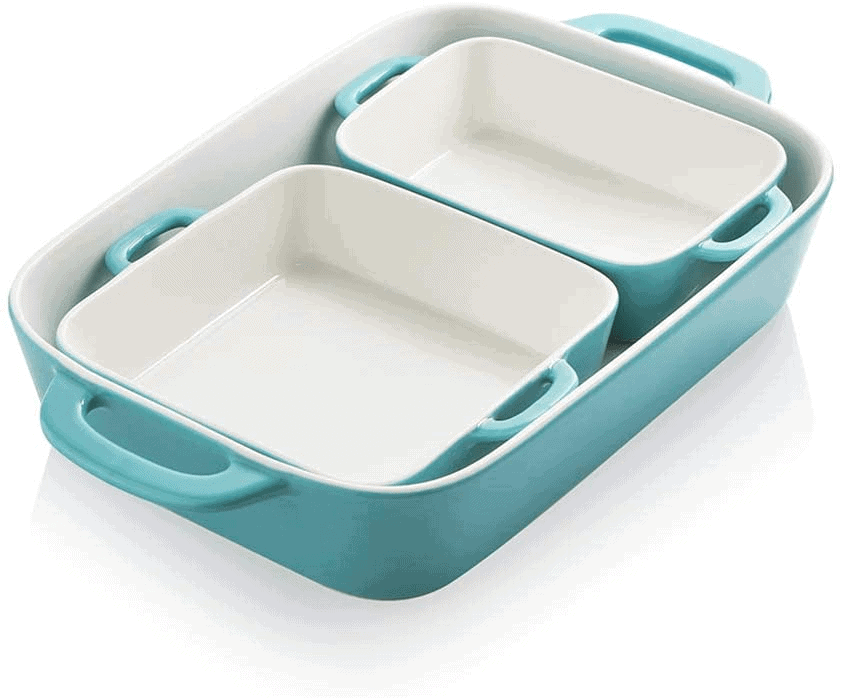 Why buy one casserole dish when you can buy three? Well, that's exactly what Sweejar had in mind when they created this 3-piece ceramic casserole set.
There are three total casserole dishes in this set. The smallest piece is 4.6" x 6.9". The mid-size piece is 6.9" x 6.9". The largest dish is 8.9" by 12.8". Each piece has hollow handles that allow you to easily hold and carry each piece of the casserole dish set. The casserole dishes' exterior has an enamel coating that is scratch-resistant and will also resist odors from being absorbed into the material of the dish.
Each piece of this casserole dish set is made of ceramic and can be placed into a preheated oven up to 500 degrees. It can also be stored in a refrigerator, reheated in a microwave, and washed in a dishwasher.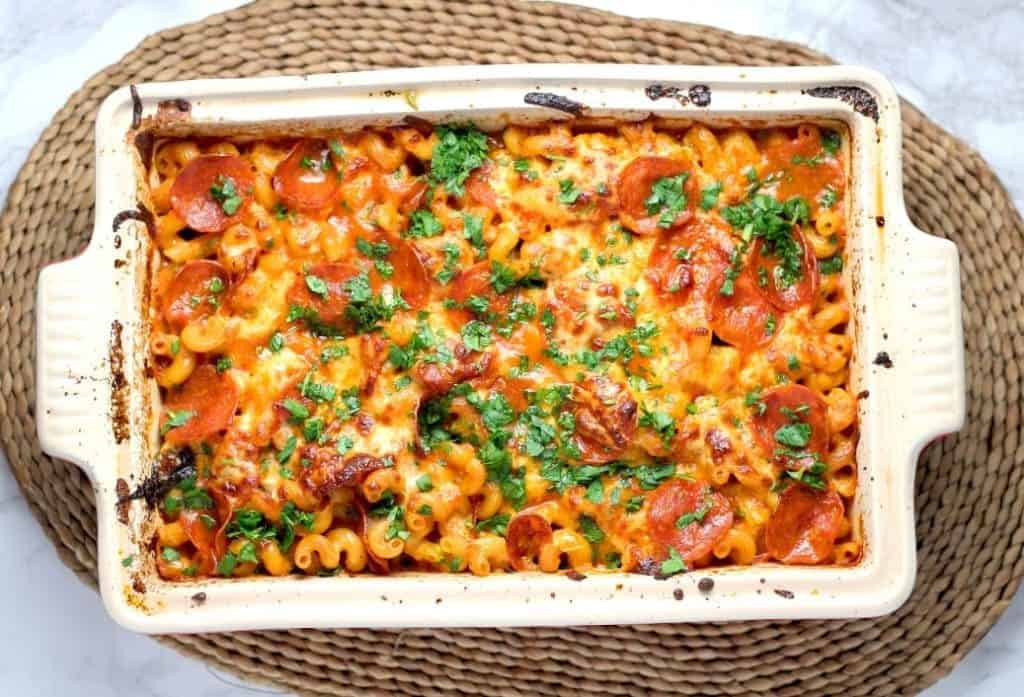 Why You Need a Casserole Dish
As we mentioned at the beginning of this article, you don't have to make a casserole to enjoy a casserole dish. They're simply called a casserole dish because they are often used to make casseroles, kind of like how a stockpot is often used to make stock. But that doesn't mean casserole dishes are only limited to making casseroles, and stock pots are only limited to making stock.
You can use a casserole dish for casseroles, desserts, baked pasta dishes, or to serve or store various foods, just to name a few.
Casserole dishes are the best kitchen products to have on hand when you need to bake a dish in the oven. Casserole dishes are always made from an oven-safe material, whether it's glass, ceramic, or stone. So just because you're not making a casserole doesn't mean you shouldn't use a casserole dish.
Casserole dishes can hold and distribute heat evenly. It doesn't matter if it's a cake, a cobbler, or a casserole. If it needs to be baked, it likely needs to be baked evenly, and a casserole dish is designed to do just that.
How to Choose the Best Casserole Dish
With so many options to choose from, how do you the best one? Well, you have to look at the many different features that the casserole dish can have. This includes the shape, size, material, and temperature limit of the casserole dish, as well as any accessories that may come with it.
Shape
Casserole dishes can be rectangular, square, oval, or round.
Rectangular casserole dishes are long and not very deep. This is great for when you need to make standard casseroles, cobblers, and lasagna.
Square casserole dishes typically have a little more depth to them. This allows you to make typically the same quantity that a rectangular casserole dish would hold but in a deeper and more condensed dish. This is great for side dishes or small entrees.
Oval casserole dishes are similar to rectangular casserole dishes. Baked pasta dishes, casseroles, and small meat entrees (hams, small chickens, or chicken quarters) are often baked in oval casserole dishes because of their size and depth.
Finally, round casserole dishes aren't very wide, but they are typically very deep. They make the ideal dish for making soup or side dishes that you could place into an oven to reheat or broil.
Material
The material of the casserole dish will be glass, ceramic, or cast-iron. Each type of material has advantages and disadvantages that you should consider before making your selection.
Glass
Glass is commonly found in many casserole dishes because it is effective, inexpensive, readily available. These are the clear advantages of glass casserole dishes. However, the disadvantage of glass can be its inability to cook evenly and hold heat longer. This means that part of your casserole or dish may be overcooked on one side and undercooked on another. While this is rare, this can happen with glass and is worth considering.
The flip side is that glass is extremely affordable and readily available. If you need a casserole dish when you're in a pinch, you won't go wrong with a glass option.
Ceramic
Porcelain and stoneware are the most common types of ceramic casserole dishes. Because ceramic is porous, there will typically be an enamel coating on the casserole dish's interior and/or exterior, and for a good reason.
The enamel coating seals the ceramic casserole dish's porous surface and keeps odors and unpleasant tastes from getting trapped inside the dish. The enamel coating also protects against scratches, chipping, and flaking.
Finally, the enamel coating is usually what makes the casserole dish dishwasher safe. Without the enamel coating, the ceramic casserole dish's porous surface can become damaged in the dishwasher and trap soap inside the dish, ultimately changing the flavor of the food that is made within it.
Ceramic casserole dishes are typically more expensive than glass, but they also hold and distribute heat evenly, making them a desirable material to choose.
Cast-Iron
A casserole dish may also be made of cast-iron, which is a great material for absorbing and distributing heat. A cast-iron casserole dish will likely have an enamel-protected coating like the ceramic casserole dishes. This serves the same purpose as ceramic casserole dishes as well; to protect against scratches, prevent odors and flavors from becoming trapped in the dish, and permitting the cast-iron casserole dish to be dishwasher safe.
Like ceramic, cast-iron casserole dishes can also be expensive. However, they distribute and hold heat more than the rest of the competition.
Temperature Limit
Ensure that you never place your casserole dish in an oven that exceeds the maximum temperature that it can withstand.
Some glass casserole dishes can only withstand oven temperatures up to 425 degrees, while cast-iron or ceramic casserole dishes may be able to withstand temperatures up to 500 degrees. Make sure that you know the maximum temperature that your casserole dish can withstand before placing it into an oven that is too hot.
Lids
Casserole dishes that come with lids are always recommended because it makes storing and transporting so much easier. When you have a casserole dish that comes with a lid, you never have to worry about finding aluminum foil or plastic cling wrap to cover your dishes. Lids are always a feature you should consider when choosing the best casserole dish.
Conclusion
As you've seen, having a casserole dish on hand at any time is always ideal (and for more reasons than just making a casserole). Let us know which casserole dish you chose and why. It just may help someone else who is looking for the best casserole dish.