When it comes to stress relief, any expert tea drinker knows that nothing soothes quite so well as a nice, warm cup of chamomile tea. This herbal tea has been loved by people as far back as the time of the Egyptians and Ancient Greeks and is commonly celebrated for its numerous health benefits and natural calming properties.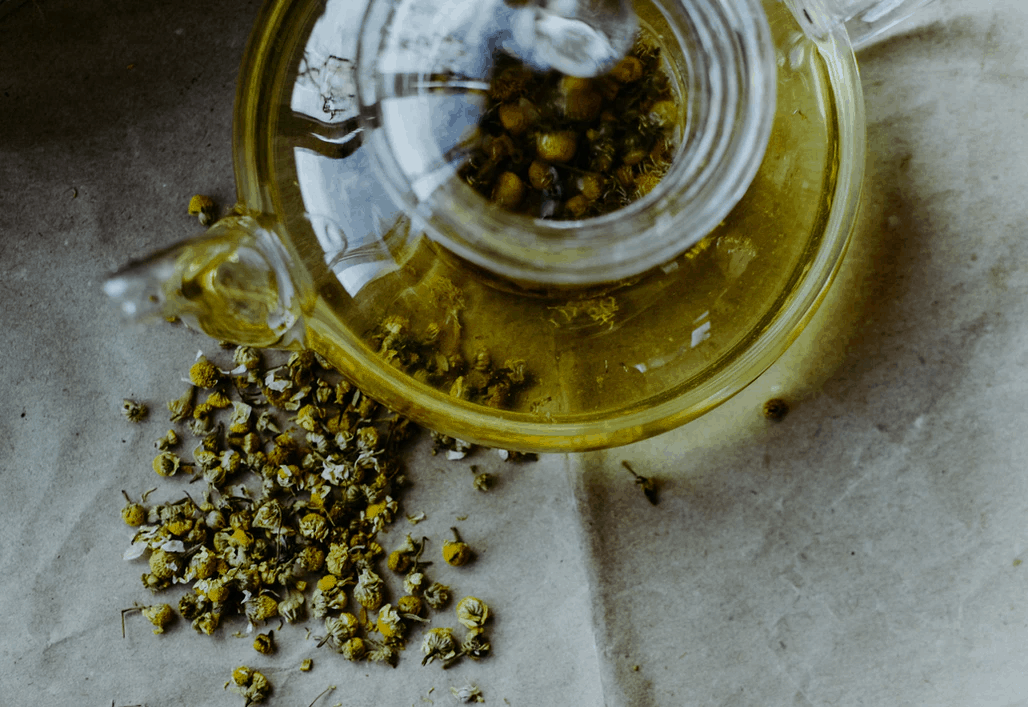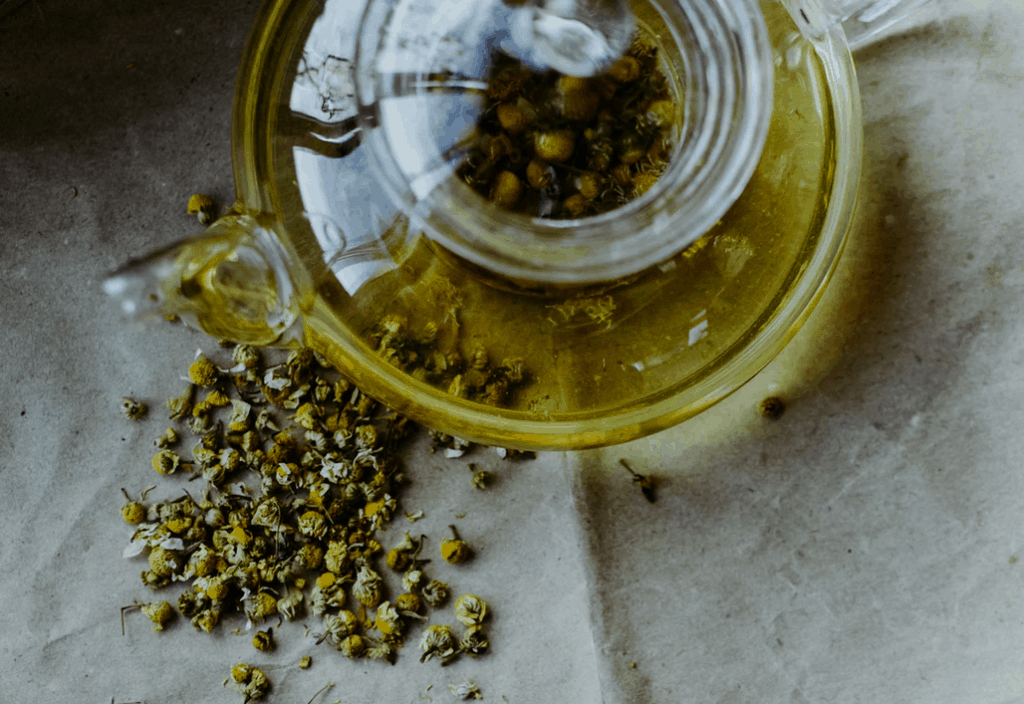 Chamomile is perfect if you're looking to enjoy a nice warm cup of tea before drifting off to sleep.
If you want to learn more about this delicious tea, you're in luck! Here we're going to deep-dive everything chamomile tea, unpacking its history, its benefits, and some of the best kinds of chamomile on the market today. Let's begin!
The Best Chamomile Tea
Now that you are a chamomile expert, it's time to shop! Below we outline some of the best chamomile tea products available on the market today.
1. Harney & Sons Fine Teas Egyptian Chamomile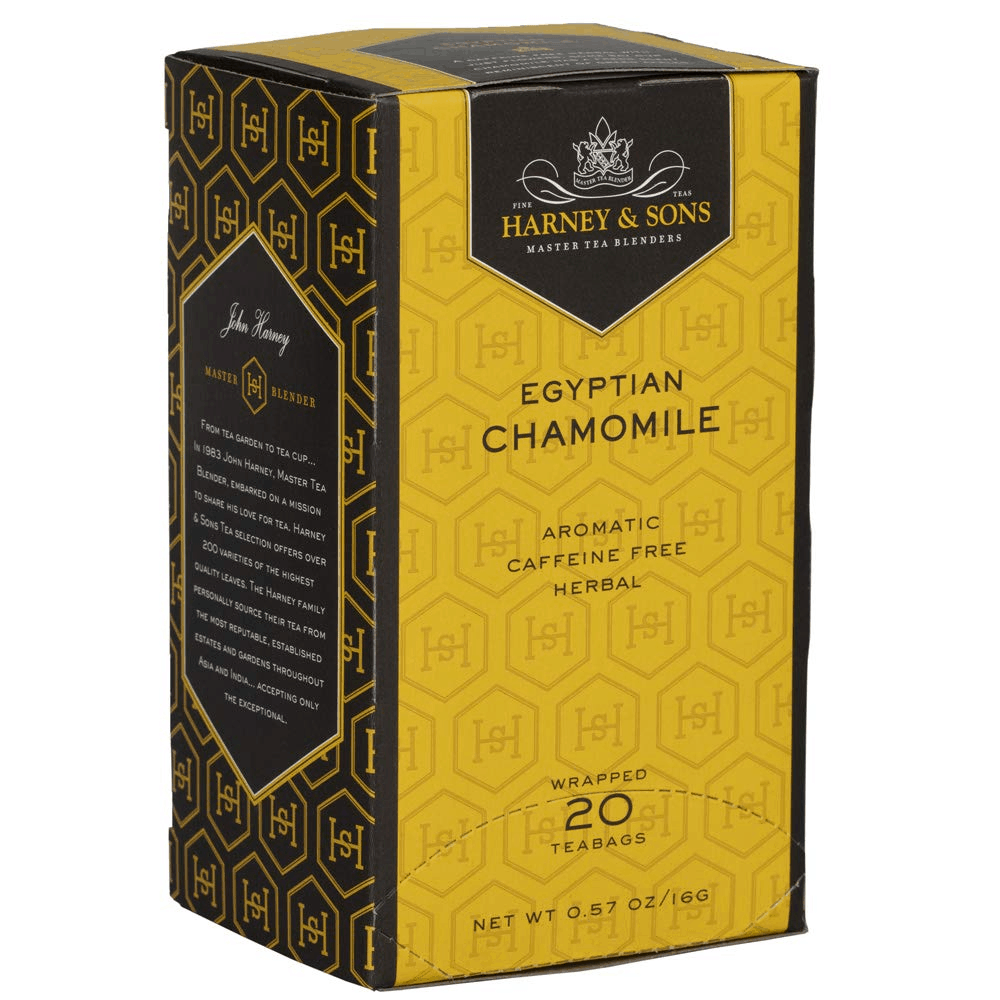 This chamomile tea from Harney & Sons is a beautifully grown Egyptian chamomile, featuring the hints of sweetness the Egyptian strains are known for. This convenient box comes with 20 tea bags of pure Egyptian chamomile. This tea is also certified Halal and Kosher.
It is described as being light-bodied and subtle, with a light floral smell and the notes of apple that chamomile is known for.
You can also feed good purchasing this tea- Harney & Sons is a member of 1% For The Planet, a group of dedicated businesses who are donating money from sales to go towards positive environmental change.
2. The Tao of Tea Chamomile Tea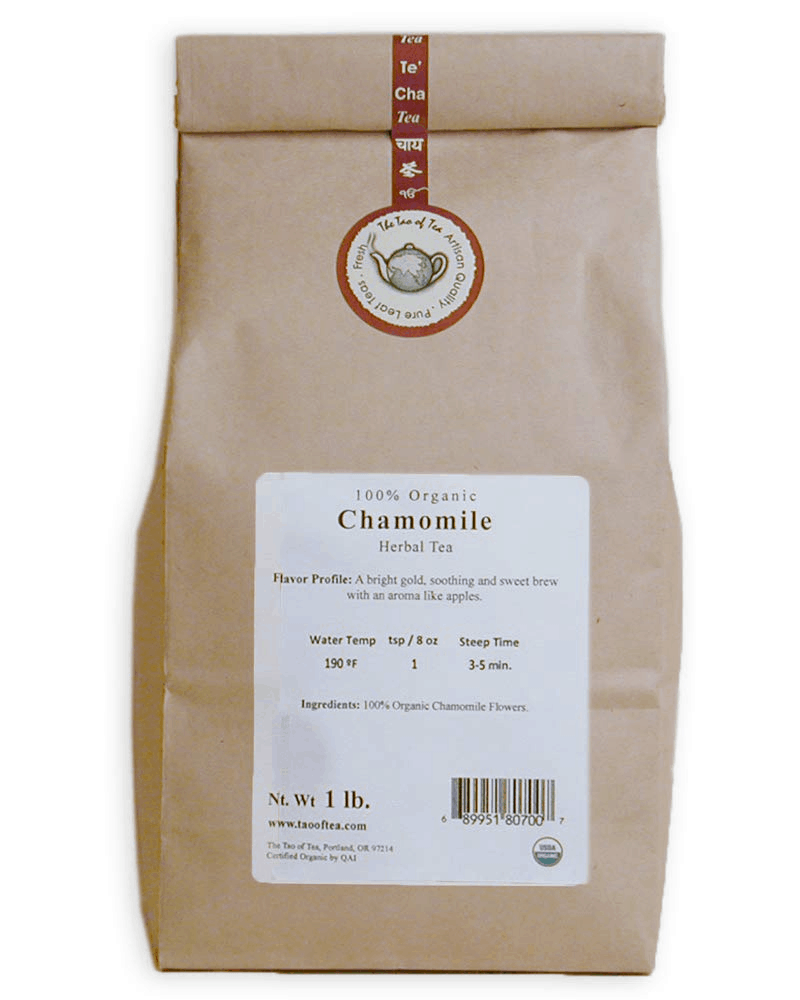 This one-pound bag from The Tao of Tea is perfect for anyone who wants to try some loose-leaf, organic chamomile tea. What you're getting here are 100% organic Chamomile flowers, ready for a brew.
This is another brand you can feel good buying. These teas are all certified fair trade organic, a point of pride for the company. Their chamomile tea also hails from Egypt, providing the sweet, bright flavor tea from that region is known for.
3. Traditional Medicinals Organic Chamomile Herbal Tea ($24.00)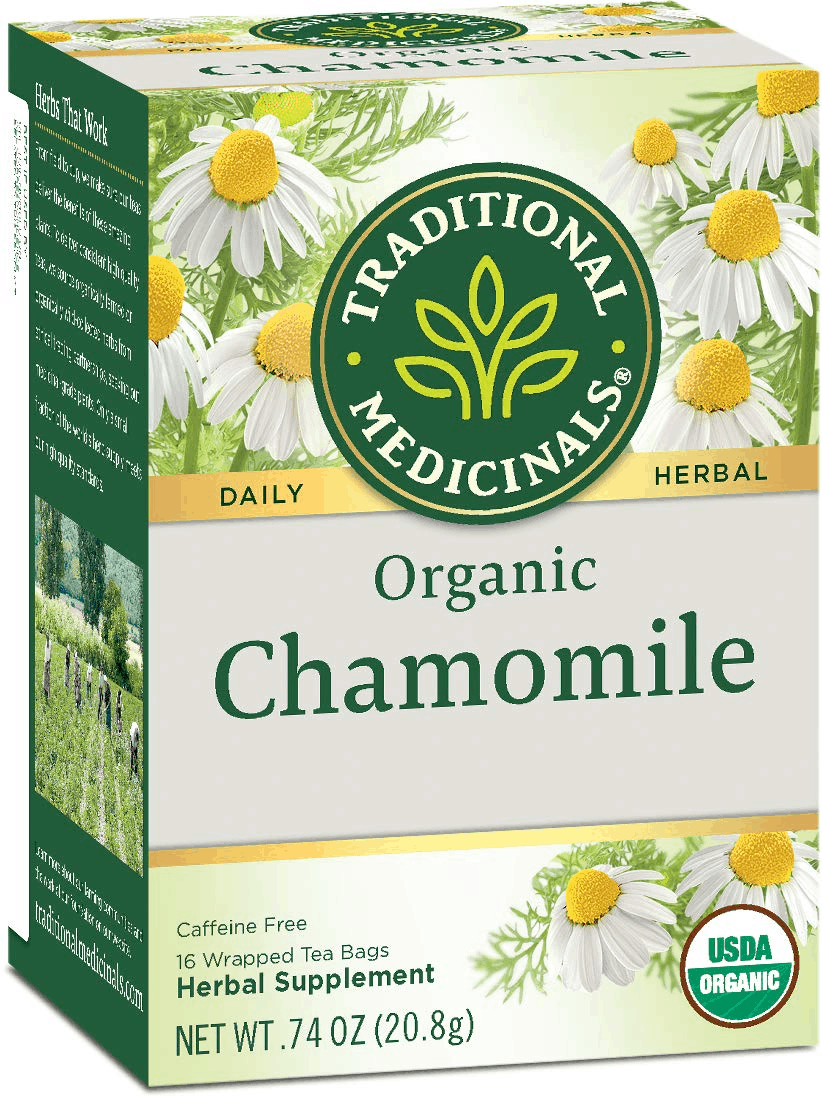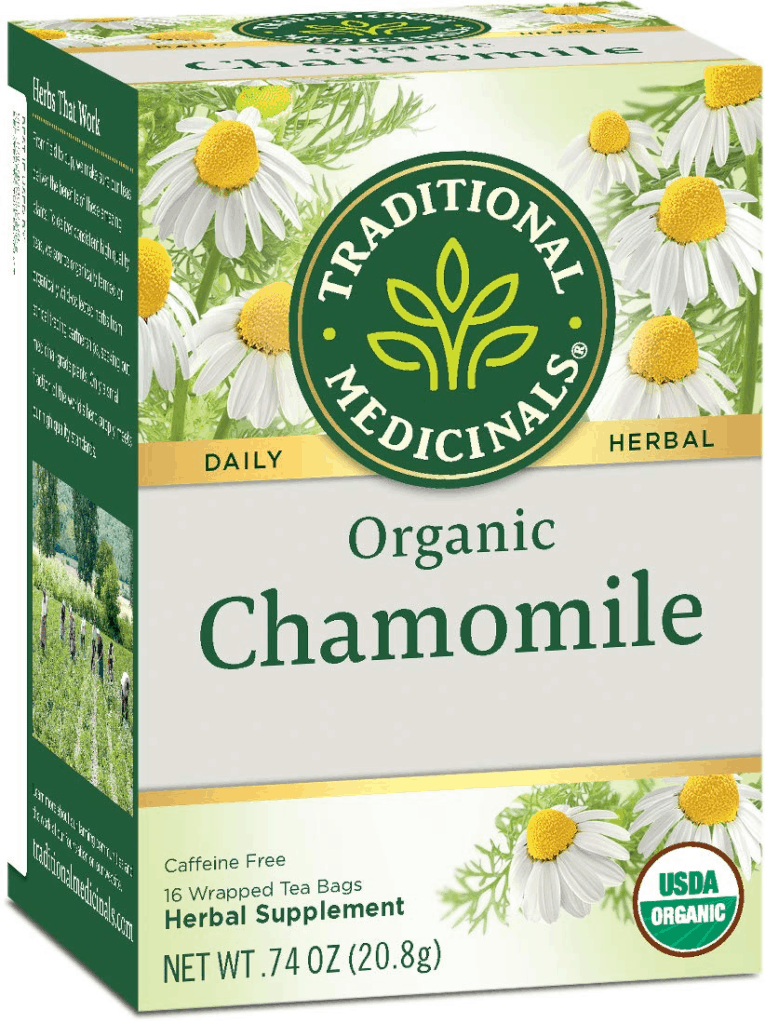 This chamomile tea from Traditional Medicinals is a certified organic, NON-GMO choice that you can trust. Their chamomile is sourced sustainably from Egypt, providing that high-quality, sweet taste chamomile fans are looking for. It's described as tasting fragrant and floral, with light hints of honey.
Traditional Medicinals is a Certified B company, meaning their company prioritizes sustainability and fair work. This is a tea brand you can feel good about buying from in that regard. This pack comes with six boxes containing 16 tea bags each.
4. The Republic of Tea Biodynamic Heirloom Chamomile Tea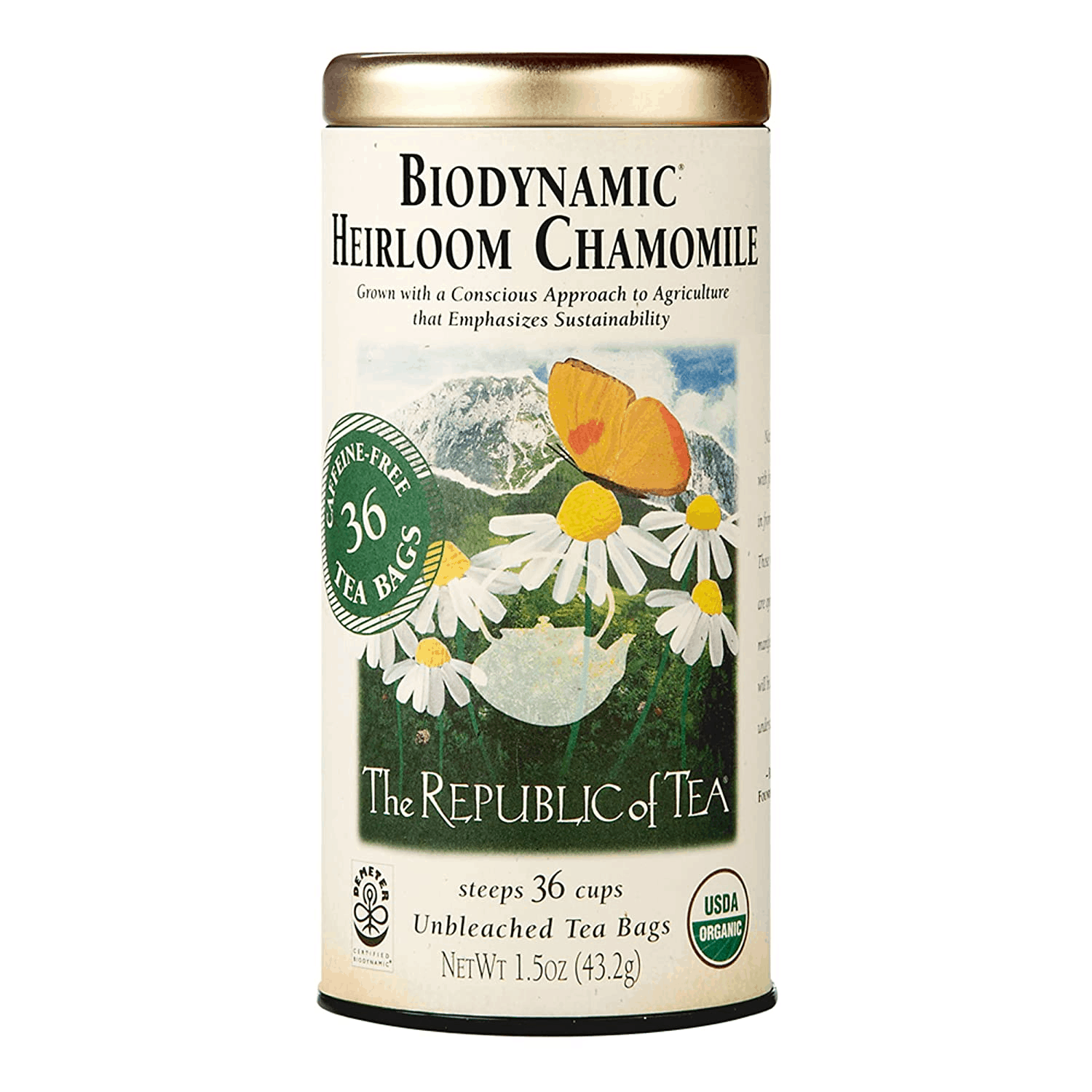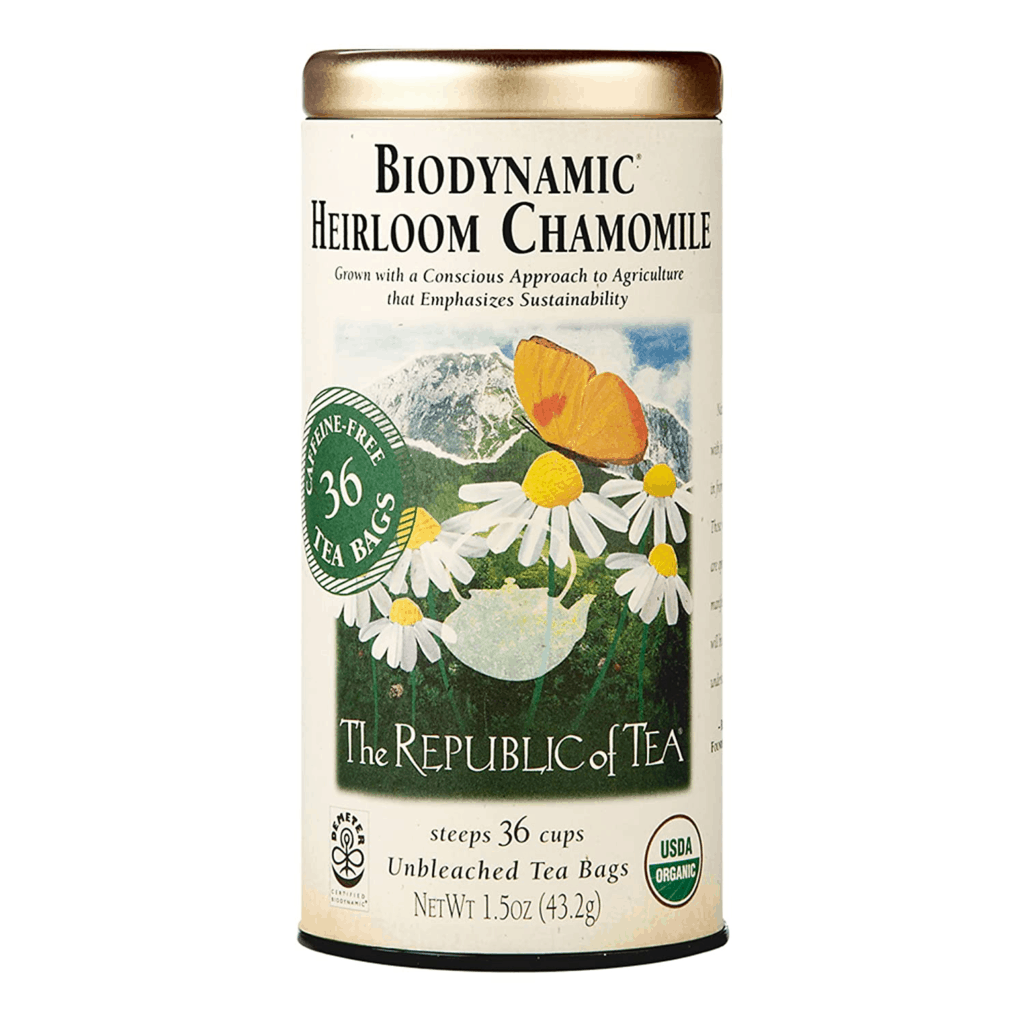 This chamomile tea from The Republic of Tea is certified organic as well as biodynamic. It's harvested on a biodynamic farm, which focuses on using ecological and holistic practices that aim to be a step-above common organic standards.
This chamomile is grown in a garden in the Italian Alps and dried using thermal energy to reduce the tea's environmental impact. This can comes with 36 tea bags, and the tea is biodynamic, organic, non-GMO, gluten-free, sugar-free, carb-free, and certified Kosher.
5. Celestial Seasonings Herbal Tea, Chamomile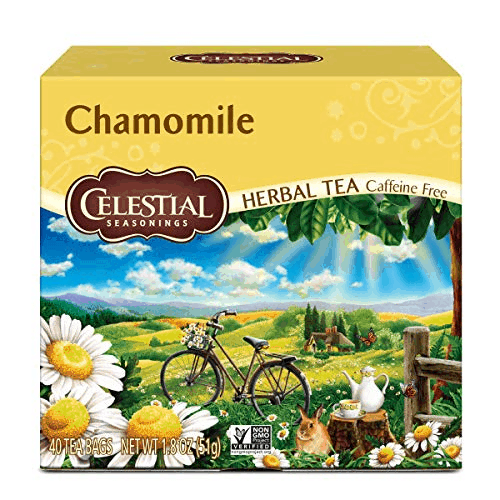 This bagged tea from Celestial Seasonings is a popular choice among tea lovers. This box comes with six 40 count boxes of Chamomile tea, making it the perfect choice for a business or busy household.
This team is caffeine, and gluten-free contains no artificial colors or preservatives and is certified GMO-free. Their tea bags are also specially designed, sustainable pillow tea bags with no strings or staples to prevent landfill waste.
6. Two Leaves and a Bud Organic Chamomile Tea


With this chamomile tea box from Two Leaves and a Bud, you'll get to enjoy some great, whole-leaf chamomile in special tea sachets, providing the best of both loose leaf and tea bag steeping. Plus, their tea packaging is specially designed to be eco-friendly, minimizing environmental impact.
Two Leaves and a Bud is a small tea company from Colorado, who prides itself on sourcing great tasting tea and providing a sustainable product. This tea is caffeine-free, certified Kosher, and certified USDA Organic. In this package, you'll have 100 individual tea bags to enjoy.
What Is Chamomile Tea?
Chamomile tea is a type of tea made of flowers and buds from the chamomile plant. This plant is native to parts of Europe and Western Asia, though today it is commonly grown in Northern Africa, and even parts of America, for commercial use.
Chamomile is an herb that belongs to the Asteraceae family, also known as the daisy family, which includes other popular herbal flowers, including echinacea, marigolds, and sunflowers.
Chamomile has been praised for centuries now and has been a popular fixture in early herbal medicine practices. It was often used by ancient societies to treat stomach issues, fevers, skin ailments and was even used in ancient Egyptian cosmetics.
Today, chamomile is still praised for helping many medical issues. However, it is probably best known for its anti-anxiety and calming properties. This tea is naturally gluten-free and caffeine-free, which is why it's such a popular bedtime tea.
What Does Chamomile Tea Taste Like?
The word chamomile comes from the Greek word meaning "earth apple" or "ground apple." This speaks to its tasting notes, which are often described as being similar to an apple. This tea is light and sweet, loved for its aromatic scent. It is a delicate, floral-herbal tea, often pale yellow in color.
Chamomile Tea Types
Egyptian
Egyptian chamomile tea is native to the Nile river valley and is often used in more popular, high-end chamomile teas. It's growing location helps this variation achieve a uniquely fuller flavor than more widely available versions of chamomile. Fans of this strain note its smooth drinking quality and its well-balanced flavor profile.
German
German chamomile tea is primarily characterized by its annual growing pattern, having to be replanted every year for harvest. This is the most common strain of chamomile you'd find in a store, widely grown and sold across the world. This tea is known for its sweetness and calming effects.
Roman
Roman chamomile is generally favored by those with a more sophisticated palette. This chamomile strain is much bolder and often more bitter than other kinds of chamomile available today. Though it still has some of the chamomile's infamous health benefits, it is noted that this version has less of a calming effect.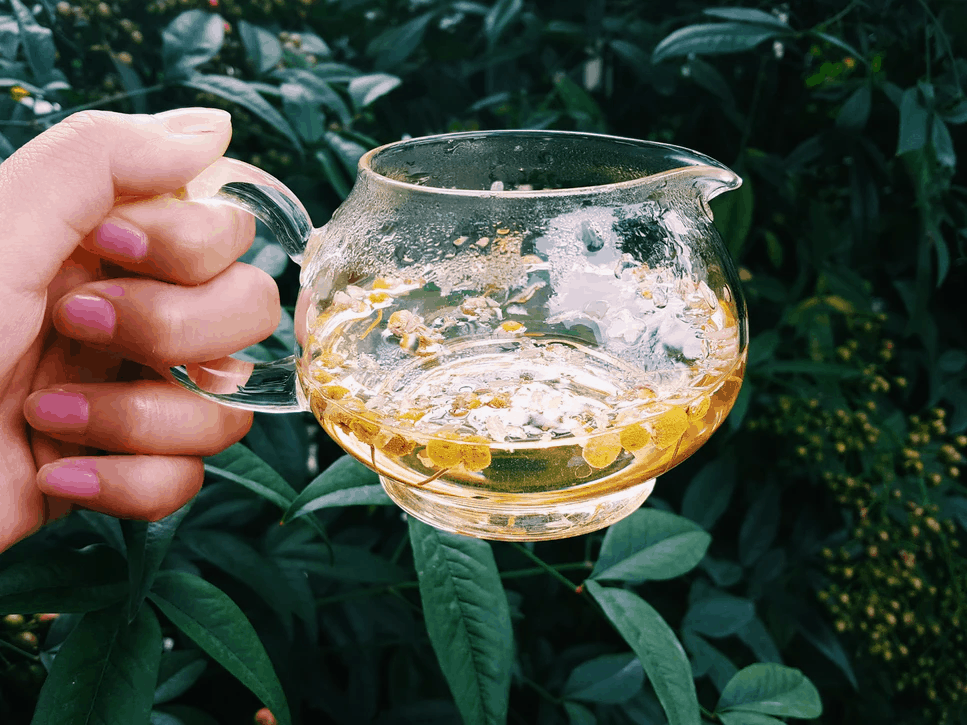 Chamomile Tea Benefits
As we've mentioned above, chamomile tea has many health benefits that make it a hit among its users today. Many tea lovers love to drink tea for their health benefits alone. Let's break down some of the greatest benefits this drink has to offer.
Naturally Calming
One antioxidant found in chamomile, known as apigenin, helps its drinkers find a natural sense of calm and thus better sleep. This is one of the primary benefits of chamomile and why it is such a popular bedtime choice. There is a ton of evidence out there that showcases this tea, or even chamomile's inclusion in different tea blends, can bring a naturally calming effect.
Chamomile has been used to treat insomnia and as a sleep-inducer for those who struggle with nighttime calm. With a glass of chamomile, apigenin naturally binds to GABA receptors in the brain, producing a relaxing, sedative effect.
Better Digestion
Ancient medicine often utilized chamomile to treat stomach and digestion issues, which still proves helpful today. Chamomile tea can be great for calming any bowl irradiation or an upset stomach, helping food move through you more easily. In fact, it's often a tea used to treat colic in children and has been known to prevent stomach ulcers.
This helpfulness is likely due to chamomiles' anti-inflammatory properties. If you have stomach issues, try drinking a glass of chamomile tea 30 minutes before eating to reap its positive effects.
Skin Health
Chamomile has also been used throughout history to treat skin conditions such as eczema and even rosacea. In ancient times, people would add chamomile flowers to baths or ointments to soothe itchy skin problems. Chamomile also has properties that can help to heal scars faster and is believed by some to reduce breakouts and wrinkles.
Drinking chamomile can help you ingest the antioxidants that work to help these issues. However, for optimal skin results, it's best to utilize chamomile soaps for baths or find chamomile-infused ointments for use on the skin.
Diabetes
There have been some studies out there that have showcased chamomile's effectiveness in lowering blood sugar levels in people with diabetes. While it is not recommended to use it as a substitute for prescribed medications, it can help maintain good sugar levels in conjunction with medication.
Heart Health
Chamomile has also been utilized in studies to look at its role in promoting good heart health. While many of these studies are in the early stages, there are some promising signs that chamomile tea can positively affect those looking to improve their heart health.
Chamomile has been noted to help reduce blood pressure and cholesterol, two key markers when it comes to heart disease risk. While this isn't a promise that it can prevent heart disease altogether, it is good to know that it doesn't hurt.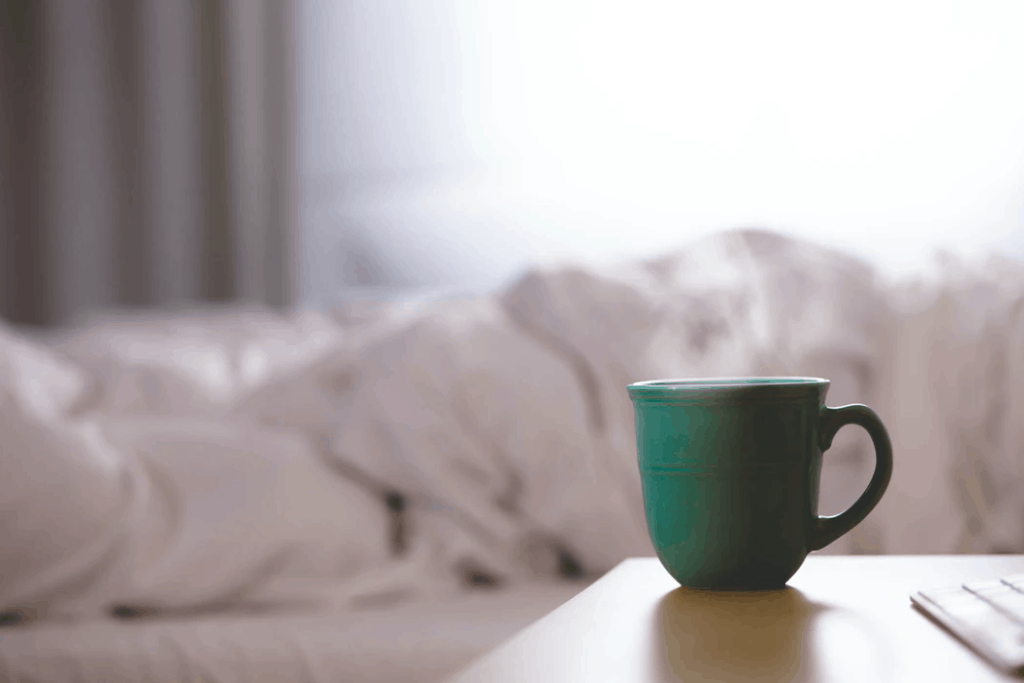 Chamomile Tea Bags vs Chamomile Flowers
A common debate among tea drinkers today is the difference between tea bags and loose leaf teas. How does this debate play out when looking at chamomile tea? Which format is better to consume?
When we talk about steeping chamomile flowers, we are referring to what is commonly known as "whole-leaf" tea. This tea is not placed in the neat little mesh bags you see with more common bagged teas. These often need to be infused into hot water with a loose-leaf tea infuser.
Bagged tea are teas that have been added to small tea bags. These can be easily placed into hot water or a teapot for steeping and then easily removed to drink. Tea bags prevent any of the loose bits of leaves or flowers from getting into your drink, making it a convenient, easy way to enjoy tea.
So, which is better? Loose-leaf or bagged tea? If you are a true tea lover, loose flowers are the right way to go for various reasons.
While there is nothing wrong with a teabag, a loose-leaf tea will allow you to get the most out of your tea. Tea bags often hold processed, crushed portions of the tea flower. These get steeped into the tea just fine, but you lose out on many great flavors.
In comparison, loose-leaf tea allowed for the hot water to fully infuse and expand the dried-up flowers, extracting a higher count of the oils, minerals, and vitamins, as well as the flavors and aromas, out of the tea.
These days, teabag companies have taken steps to up the quality of tea bags, with whole-leaf tea bags, new teabag shapes, and other adjustments to lead to a better-infused brew.
You can't beat the convenience of a teabag, and there's no shame in using them! However, if you want to get the most out of your tea and the best flavor profile possible, loose-leaf is highly recommended.