Nothing signals warm weather like grilling, and for many people, cooking outside with family and friends is a great way to celebrate the nice weather. Additionally, having the right grill with the best charcoal gives your food an amazing smoky flavor that everyone will love.
There are several types of grills that you can buy, but the two basic models are charcoal and gas grills. What type is better has been hotly debated by barbeque enthusiasts over several years, but if you believe that charcoal grills are better, having the best charcoal is necessary.
There are different types of charcoal, including flavored varieties, lumps, briquettes, and more. Which type of charcoal you end up choosing to use will depend on your personal preferences and grilling style.
To help you decide on the best charcoal for grilling, here's a list of the best charcoal found on the market today.
Fogo Super Premium Lump Charcoal (Best Overall)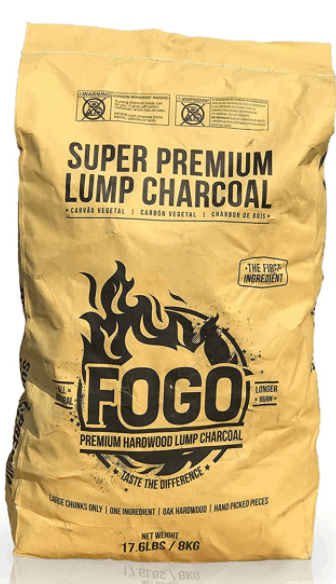 When you first open Fogo Super Premium Lump Charcoal, you'll find that there are only large chunks. Larger chunks of charcoal can be harder to light but will burn hotter and for a longer time.
But the larger chunks also increased the price of this charcoal; the Fogo is double the price per pound than Royal Oak charcoal.
On a big charcoal grill, having a high burning heat source means that you can roast marshmallows, use a Dutch oven, and boil water. While you might not bring your entire kitchen outdoors, having the versatility that this charcoal brings can be beneficial when you're camping.
Pros:
Versatile
Long Burn
Burns hot
Cons:
Double the price of Royal Oak charcoal
Royal Oak Hardwood Lump Charcoal (Best Premium)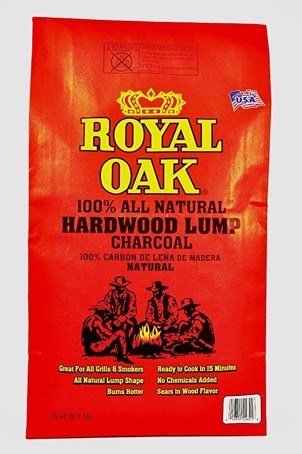 This is the best charcoal for the average griller. When you first open the bag of Royal Oak Hardwood Lump Charcoal, you'll find that there's an assortment of chunks inside.
These chunks are a good thing for those who casually grill because you want to have a mixture of easy-to-light pieces and pieces that will burn longer. With all of this being said, this charcoal creates a balance between being easy to light and long-burning in the kettle.
After you light this charcoal, you'll be greeted with a smoky, sweet scent. It's strong enough to be noticeable but subtle enough where it won't overwhelm what you're cooking.
You'll find that when you use this charcoal, your food will cook faster – in tests, it took only seven minutes after placing a burger on the grill until the center of the burger reached 130 degrees F.
Compared to other lump charcoal brands, Royal Oak burns an average amount of time. There's typically a small number of large chunks in the bag, so you might notice that the charcoal burns quickly.
This isn't a problem when you're cooking dinner for the family. However, if you decide to grill for more than a few hours, you would be better off going with different charcoal.
Another thing to note is that this charcoal is designed for smokers, so it leaves your food with a smoky, sweet flavor.
Pros:
Great assortment of charcoal piece sizes
Smoky and sweet-scented
Great for grilling food fast
Cons:
Can burn too quickly for some grillers
Kingsford Original Charcoal Briquettes (Best Budget)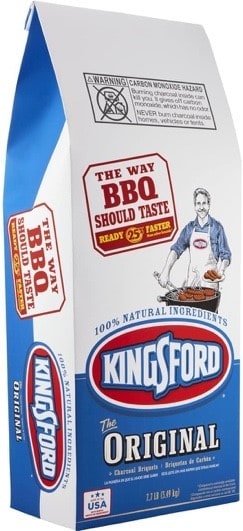 Kingsford is a company that has been in business for over 100 years, so you've probably heard of their charcoal. Over the past century, this company has had time to perfect their charcoal formula to create the best charcoal ever.
The briquettes are compact and small, and if you're bound to notice that Kingsford Original Charcoal Briquettes burn longer and hotter than other charcoals because they're made from denser materials. You'll also notice a campfire aroma coming from your grill when you use Kingsford charcoal.
It was found that to cook a quarter-pound beef patty in tests, the average cook time was nine minutes. This makes it one of the fastest cooking charcoals on this list, only second to Royal Oak Hardwood Lump Charcoal.
Another advantage of this charcoal is that it's in stock everywhere, and it's extremely affordable too. Kingsford is a brand that's known for having great quality control, so you'll always know that you're getting the best charcoal when you buy Kingsford Original Charcoal Briquettes.
Pros:
Available in every store
Has a classic campfire aroma
Burns hot and quickly cooks food
Cons:
The bag is relatively small for the price
Rockwood Lump Charcoal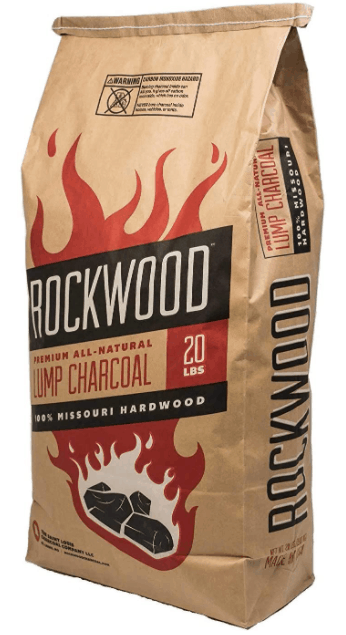 There's plenty to like about Rockwood Lump Charcoal. To begin with, it's made entirely from Missouri hickory, maple, and oak. All of the wood has been harvested with eco-friendliness in mind because it's taken from leftover timber.
Another great thing about this charcoal is that the charcoal chunks are uniformly hewed, and the plank-like shape of the charcoal lets you pack plenty of it into your grill's chimney.
However, this isn't the best charcoal for quick and easy lighting because it can take a few attempts to get it to light. The smoke coming from the Rockwood charcoal will remind you of a campfire with a tiny hint of sweetness.
Pros:
Campfire aroma with a hint of sweetness
Uniformly hewed charcoal chunks
Made of Missouri hickory, maple, and oak
Cons:
Difficult to light
Above average price point
Jealous Devil Hardwood Lump Charcoal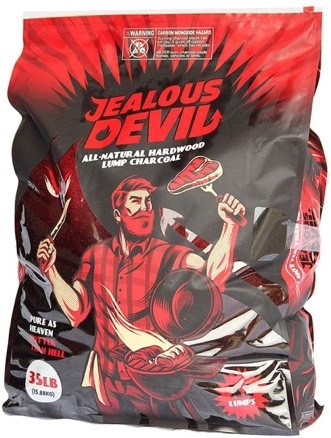 Jealous Devil is the best charcoal for convenience. It features a zip lock function, which allows you to have no-fuss access to the charcoal inside the bag.
When you first open the bag, you'll notice that the charcoal chunks are relatively uniform in size, with very few large chunks. You'll also notice that there's a lack of annoying chips and useless dust.
When you use the Jealous Devil charcoal, you'll also find that it burns hotter than most of the other charcoal brands on this list. You can easily get a medium-rare burger in about six minutes using this charcoal.
As you use Jealous Devil charcoal, you might notice a medicinal scent coming from the burning charcoal. This scent happens because the charcoal is made from Quebracho Blanco, a South American tree known for its hardness. The medicinal smell doesn't affect the taste of your food.
So, if you're looking for the best charcoal that will cook up a great meal quickly, you can't go wrong with Jealous Devil.
Pros:
Unique smelling
Made from Quebracho Blanco
Ziplock bag
Cons:
Coco-BBQ Coconut Charcoal Briquettes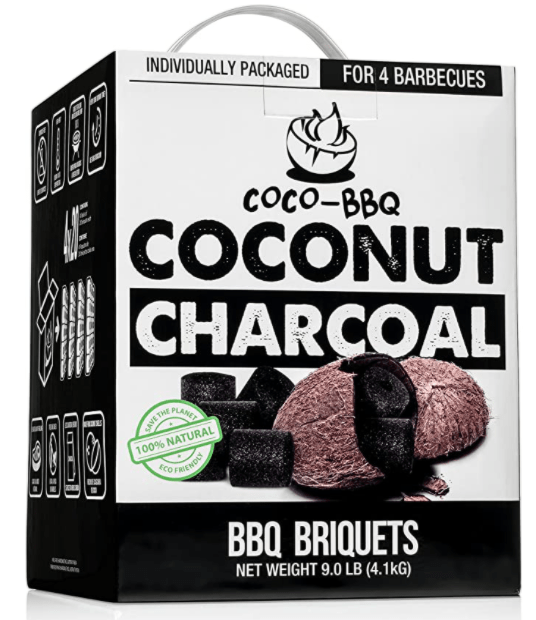 This is the strangest charcoal that you'll encounter because it's made from sustainably harvested coconut shells. But what really sets this charcoal apart is that it features a cylindrical shape.
This is the best charcoal for cooking for extended periods of time because it can cook food in less than ten minutes but stay lit for more than three hours.
The charcoal's longevity could be because this brand offers you large briquettes, weighing around 52 grams each – more than double what Kingsford briquettes weigh.
However, there are a couple of downsides to this charcoal brand: price and a strange scent. This charcoal is expensive when you compare it to the other brands on this list.
In fact, it's about six times the price of Kingsford charcoal. But if you want sustainable briquettes that don't require deforestation, you should go with this brand.
The other downside is that it produces a strange smell when you burn the charcoal. You would half expect this charcoal to smell like burnt coconuts, but instead, you're greeted with a scent similar to incense. While this smell isn't horrible, it can be off-putting to some users.
Pros:
Sustainably harvested coconut shells
Will burn for hours
Large briquettes
Cons:
Strange smell that's off-putting to some users
Expensive
What is Charcoal? And Why is it Popular?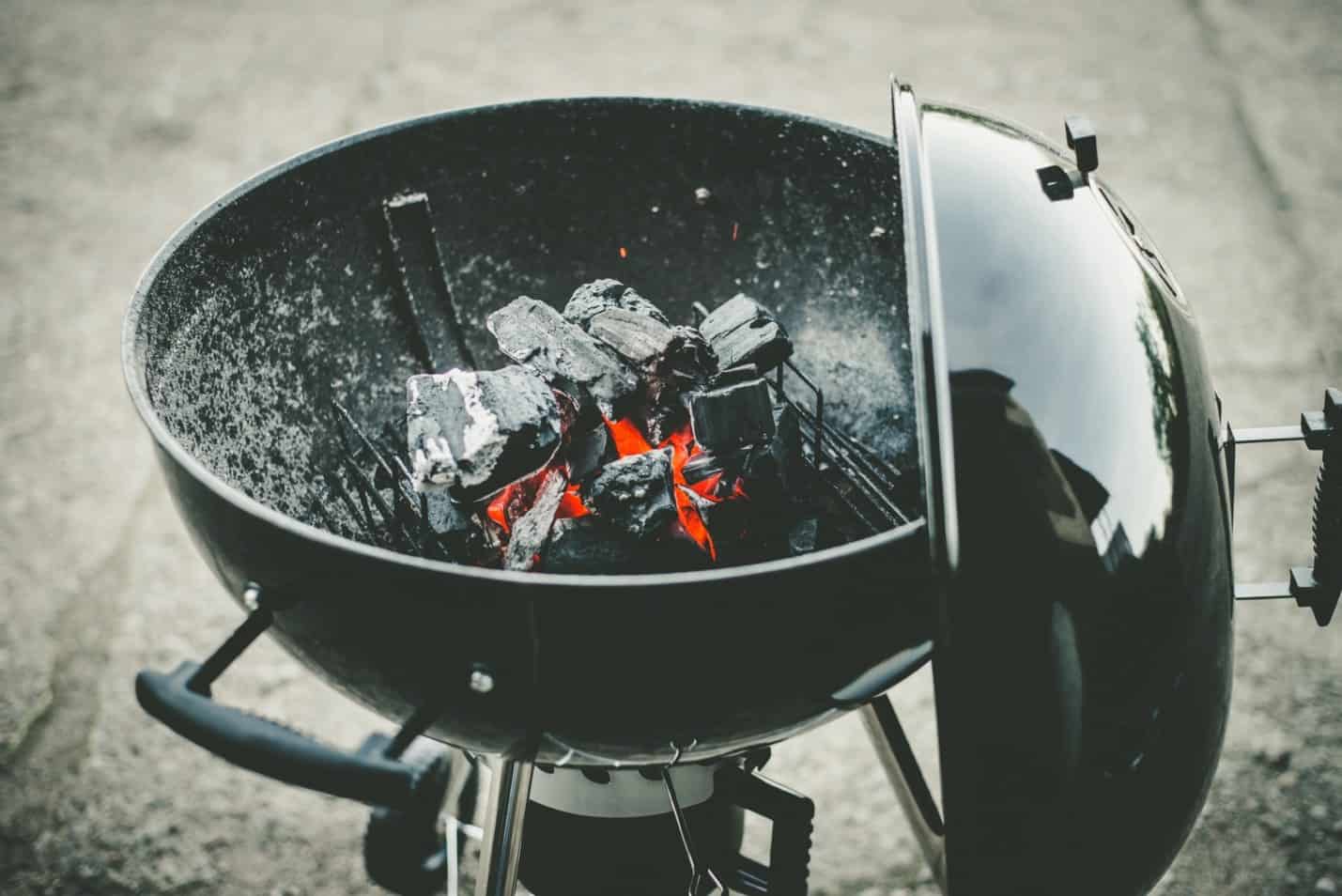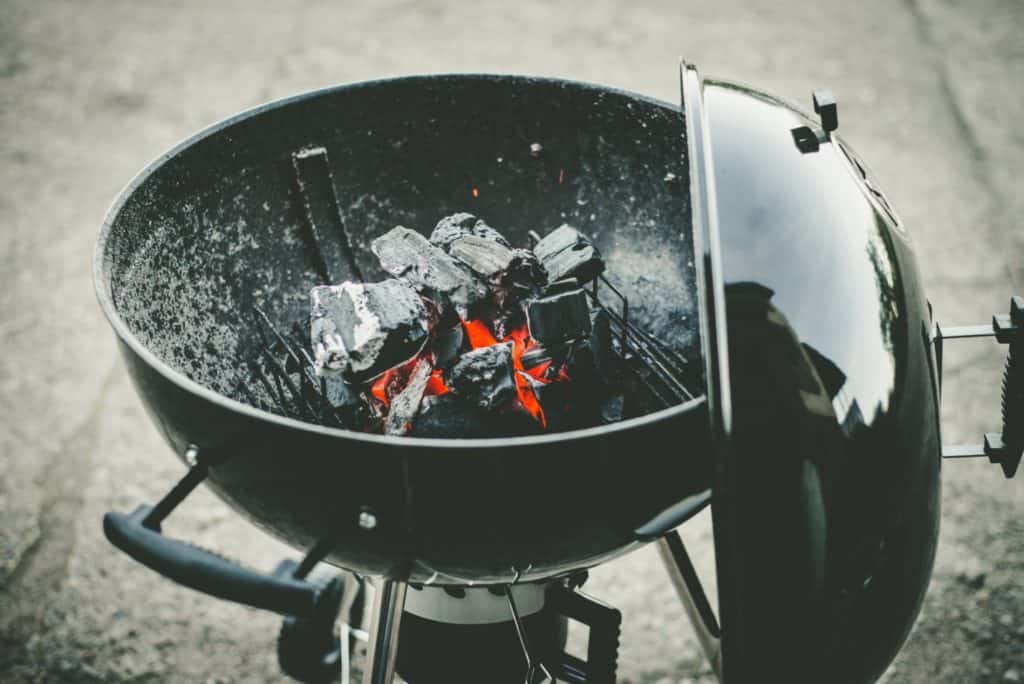 Charcoal is wood that has been heated in a low-oxygen content environment. This process cooks off excess sugars and water to make a product that's almost purely carbon.
People love cooking with charcoal because it burns much hotter and longer than regular wood.
Types of Charcoal and How It's Used
As we mentioned above, there are several different types of charcoal that you can purchase. Let's take a look at each type and talk about how it's best used.
Charcoal Briquettes
This is the charcoal that most Americans know and love. Briquettes are so popular because they're readily available, easy to use, and affordable. They're made from wood, but they contain "binding" ingredients such as sodium nitrate, starch, and sawdust, to make them burn better.
Briquettes are compressed into a uniform size and shape, so they produce a consistent burn and are great for cooking foods that require less cooking time, such as steak or fish.
Instant Charcoal Briquettes
Very few people advocate for this type of charcoal because they've been heavily soaked in lighter fluid. This does make them easier to light but can leave your food with an unpleasant chemical aftertaste.
Hardwood Lump Charcoal
This type of charcoal is made from chunks of real charred wood and contains none of the additives found in charcoal briquettes. Generally, lump charcoal costs about double the briquettes' price, but they're easier to light and burn cleaner, producing the lowest amount of ash and smoke.
An added bonus is that since lump charcoal is made from real wood, they can leave your food with a nice, smoky flavor. Additionally, lump charcoal burns much hotter than briquettes, which is great when you're a searing steak and other meat.
A downside is that the heat isn't as consistent as what you would get with charcoal briquettes, and it can take you some time to learn how to manage your fire with lump charcoal.
People love using lump charcoal for cooking their food for all of the reasons listed above and because it's all-natural charcoal.
Flavored Briquettes
Both lump and briquettes charcoal can come in flavored varieties. The most popular flavors are applewood, hickory, and mesquite. You'll find that most barbeque specialists recommend that if you want these flavors, that you should add flavored wood chips to your charcoal grill in addition to your non-flavored briquettes.
How Much Charcoal Do I Use?
The answer to this question lies in what you're thinking about cooking, how much you're cooking, and how hot the grill needs to be.
If your food requires high heat, you'll want to make sure that you have a full chimney. If you need lower heat, then there's no reason to fill your grills chimney all the way full and wait for the heat of those coals to cool down.
Below you'll find a guide that shows you the typical charcoal amount you should fill your grill's chimney with to achieve a certain temperature range.
High Heat (450 to 550 degrees F): 1 full chimney
Medium Heat (350 to 460 degrees F): ½ to ¾ full chimney
Low Heat (250 to 350 degrees F): ¼ full chimney
These guidelines are based on the capacity of a standard charcoal grill chimney. Also, keep in mind that the maximum temperature and the cook's length depend on how you spread out the coals.
If you spread the coals into a thin layer across a large area, the temperature will be lower, and the heat will disappear faster. However, if your charcoal layer is deeper and the coals are concentrated in one area, the temperature will be higher and stay hot for a longer time.
How Hot Are Coals?
The best and most accurate way to tell the temperature of your coals is with a thermometer. But if your charcoal grill doesn't have a thermometer built-in, you can use the hand test.
To perform the hand test, simply hold your palm about 6 inches away from the grill's grate. Leave your hand above the grate until you have to move it away. The time (in seconds) that you can hold your hand there will give you an indication of how hot the coals are.
Below is a guide that shows how long you should hold your hand above the coals before having to pull away and the heat level you can expect your coals to be.
High Heat: 2 to 4 seconds
Medium Heat: 5 to 6 seconds
Low Heat: 8 to 10 seconds
How to Arrange Charcoal for Cooking
How you arrange the charcoal in your grill depends on what you're cooking. Below you'll find a list of some of the most basic and advanced charcoal configurations based on the cooking style you need.
 Grilling with Direct Heat
When you cook using direct heat, the charcoals need to be spread out in a single layer on the cooking grate's bottom. This is a great way to use high heat cooking with thin slices of meat.
Unless you need the whole grill to cook, it's ideal if you leave a void zone.
Grilling with a Two-Zone Heating
This is the go-to configuration for most charcoal grillers and can be used for any food you want to cook. The charcoal is spread over half the grill, and you leave the other half empty.
This type of grilling gives you the advantages of direct heat grilling for searing and the flexibility to indirect heat for slow cooking and managing flare-ups. Two-zone heating is great for cooking seafood, boneless and bone-in chicken, chops, and steak.
Two-Zone Heating: Parallel Configuration
With this type of configuration, the charcoals are spread along both sides of the grill, leaving an empty space in the middle. This is the best configuration for smoking and cooking at low temperatures for turkeys, whole chickens, and large roasts.
Charcoal Snake
The unlit smoke wood and charcoals are arranged around the inside edge of your charcoal grill. A couple of lit charcoals are added to one end of the "snake," which slowly burns for several hours.
Smoking
Smoking is a slow and low cooking method that cooks meat over indirect heat at low temperatures for hours. Hardwood chips or chunks of wood are soaked in water and then added to give the smoke aroma and provide the meat with flavor.
If you decide that you want to smoke meat on your charcoal grill using the two-zone heating parallel configuration, then you might want to check out this article about the best meat to smoke on your grill.
How to Light Charcoal
Now that you know the different configurations you can use your charcoal in, let's talk about how to properly lit charcoals. If you don't know how to light the best charcoal you buy, it can waste time and money.
Method 1: Light the Coals Using a Chimney Starter
A chimney starter is a simple device that utilizes paper – commonly newspaper – to light the charcoals held inside the metal container. The coals sit above the flames so that the edges will light quickly and help ignite the other coals nearby.
Step 1: Fill the Chimney with Charcoal
Fill your charcoal grills chimney with the appropriate amount of charcoal for your cooking method. A standard charcoal grill chimney will hold around 100 briquettes, but you might not need that many.
Step 2: Add Newspaper and Light the Charcoal
Following the directions of your grills chimney, add a couple of sheets of newspaper and then light the paper in a few spots. As the paper burns in the chamber below, the flames will light to the charcoal edges above.
Look through the chimney's vents to see if the coals have caught fire and that the charcoal edges have turned gray. If the charcoals haven't started yet, burn another piece of paper.
If you're still struggling to light the charcoal, you can drizzle a little bit of cooking oil onto the newspaper, so it burns a little longer.
Step 3: Pour Out Charcoals When You See Flames
You should start to see the charcoals glowing through the grill vents after around ten minutes, and flames start flickering over the charcoal layer.
Pour out the charcoal from the chimney starter into a pile, and then wait until the charcoals are mostly gray and covered in ash. Then spread the charcoals out. This process should take about 15 minutes in total.
Method 2: Using Lighter Fluid
This is the tried-and-true method that works wonders on getting your charcoal started. Here are a few tips to help you figure out how to use lighter fluid safely:
Step 1: Arrange the Charcoal into A Mound
Pile the charcoal in your grill into a pyramid or mound. This increases the coal-to-coal contact and helps the fire spread easily.
Step 2: Add Lighter Fluid and Carefully Light
Carefully squirt a little bit of lighter fluid on the sides and top of the charcoal mound you just created. Make sure that you're following the directions on the lighter fluid bottle.
Then light the lighter fluid drenched charcoals immediately. Avoid squirting lighter fluid into the hot and flaming charcoals.
Step 3: Charcoals Are Ready When They're Gray
After the lighter fluid burns off, the edges of the charcoal will start to turn gray. As they continue to burn, the ash will spread to cover every single briquette.
Once they're mostly covered in gray ash, the charcoals are ready to be spread out and used. This entire process should take around 15 minutes.
Final Thoughts
The best charcoal for your charcoal grill can be a tough decision to make, especially when you don't know what to look for. Hopefully, this article has helped you realize what brands have the best charcoal for your grill and at the best prices for your needs.
Now that you know how to use charcoal, what configurations are best properly, and how to light the best charcoal, you're all set to use your charcoal grill. With this knowledge, you'll find that you're able to make the best-tasting food that you've ever cooked using a grill.