If you are using a knife to slice your cheese, please don't admit it to us. Let's just celebrate the fact that you are here now to learn about finding the best cheese slicer.
We get it. Why buy another tool to put in your kitchen when you have a knife that can do the job? Well, just because you have a tool that can do the job doesn't mean you have the tool that should do the job. It's kind of like buying a margarita machine when you already have a blender.
Some tools or appliances are better for the job than others, and the cheese slicer is one of them.
To know which the best cheese slicer is to choose, you have to familiarize yourself with some of the best options out there, as well as what to look for when making your decision. That's why we have listed the 8 best cheese slicers with a helpful buying guide that follows the list. This will help you find the best cheese slicer that you should add to your kitchen.
Best Overall Cheese Slicer
1. Bellemain Adjustable Cheese Slicer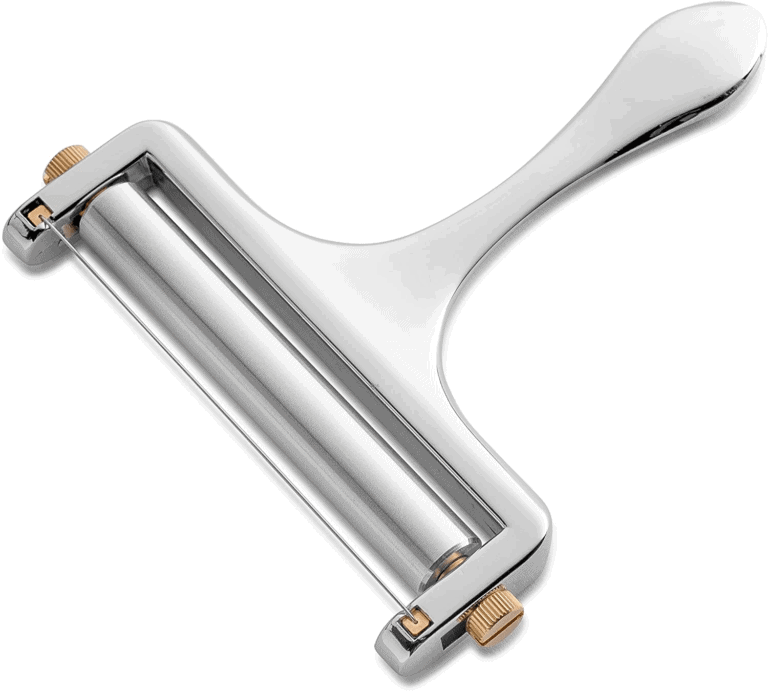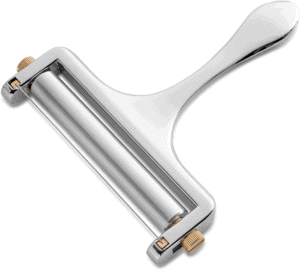 The Bellemain adjustable cheese slicer is our pick for best overall because it is affordable, durable, and versatile.
It's made of zinc and stainless steel. The body is zinc, while the adjustable wire is stainless steel. It is comfortable in the hand, and the wire can be adjusted to three different thicknesses for slicing cheese. The maximum thickness that this cheese slicer can cut is ¼" thick.
There is an additional wire included with the cheese slicer in case the stainless steel wire on the cheese slicer ever breaks. The best feature of stainless steel wire is that it never needs sharpening. It should never be dull and should never break, but in the event it does, an additional stainless steel wire is included for easy replacement.
The manufacturer has included a one-year warranty with a full replacement guarantee in case the cheese slicer breaks or malfunctions.
The cheese slicer should be washed by hand rather than in a dishwasher to prevent it from becoming damaged or deteriorating too quickly.
Best Budget Cheese Slicer
2. NorPro Stainless Steel Plane Cheese Slicer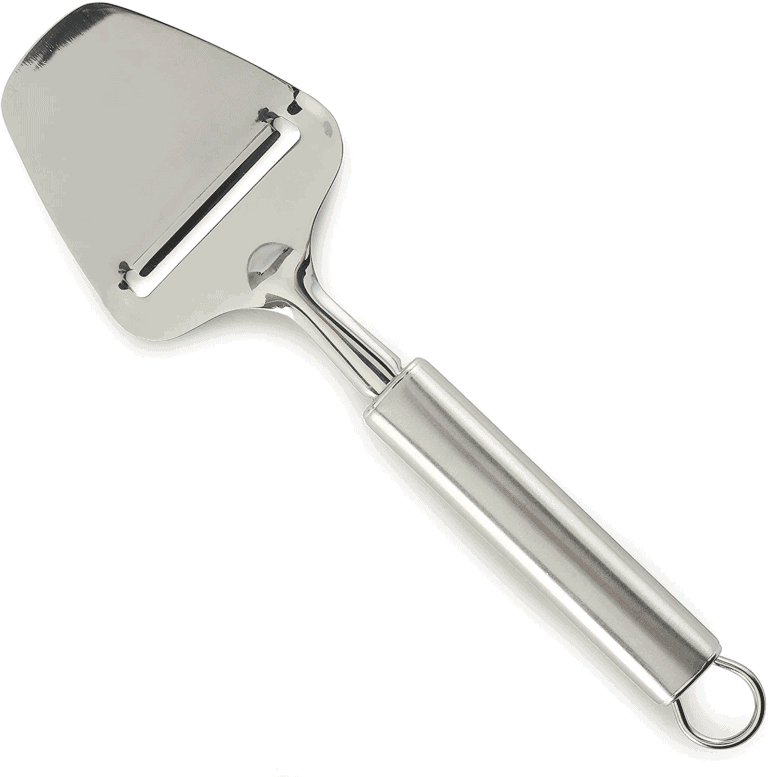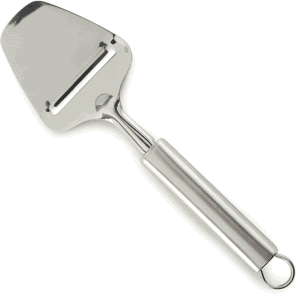 For less than $10, this stainless steel cheese slicer by Norpro is best for those on a budget.
It is a plane cheese slicer design, which means it will lay flat against the surface of the cheese and slice as you pull the slicer toward you while holding the handle. The stainless steel handle and slicer is strong and durable to cut through the densest cheese.
Hard cheese, like hard cheddar, can be too dense for this slicer to cut through. If the cheese is too hard, the cheese slicer's handle can break off from the slicer. That's why this cheese slicer is recommended for medium and medium-hard cheeses, rather than extra hard cheese.
The width of the blade is 2 inches, and it will slice thin 3mm-thick slices. If you need thicker slices of cheese, such as cheese for a charcuterie board, then this budget cheese slicer is not the one you should choose. This cheese slicer is ideal for thinner slices of cheese for toast, crackers, and sandwiches.
You can wash the cheese slicer by hand or in a dishwasher.
Best Premium Cheese Slicer
3. Westmark Germany Stainless Steel Cheese Slicer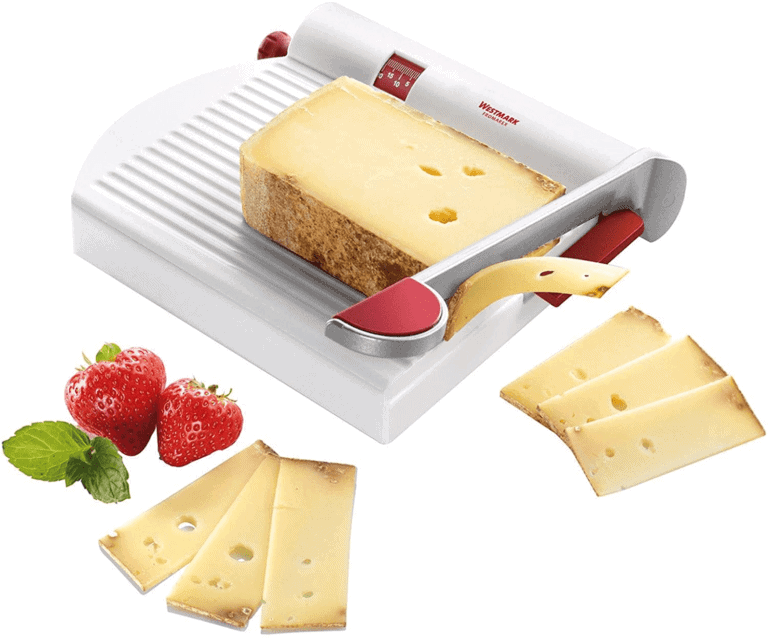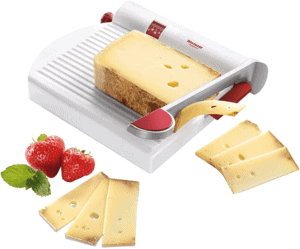 Our pick for the best premium cheese slicer is this guillotine from Westmark. It is our pick because of its ability to cut through hard cheese with ease. It has the same design that a paper cutter has. This allows you to cut through harder cheeses because of how much force you can put on the slicer's blade.
What's great about this cheese slicer is the adjustable thickness scale. You can slice cheese as small as less than 1mm to as large as 18mm, which is just short of ¾" thick.
To adjust the thickness scale, you will turn the dial on the scale to extend the red guard on the board's side. You will then place your cheese onto the board and push it until it touches the red guard. Then, you will push the handle of the blade down to make your slice through the cheese.
While the board is made of plastic, the blade is stainless steel. It is durable and strong to cut through the hardest of cheeses. And you don't have to use this cheese slicer for just cheese. You can cut vegetables, sausage, or meat with this premium cheese slicer.
The cheese slicer is not dishwasher safe, so you will need to make sure you wash it by hand with water and mild soap.
4. Barmix Stainless Steel Plane Cheese Slicer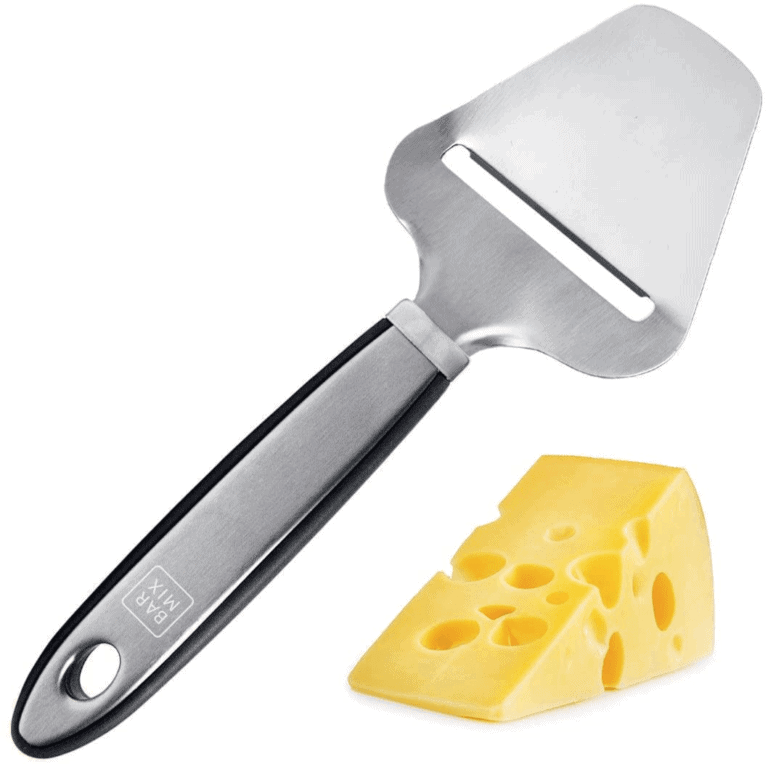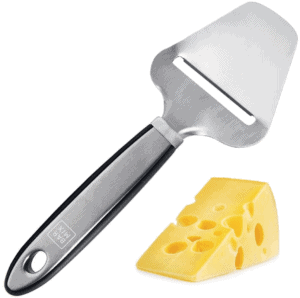 Another affordable cheese slicer on our list is this option by Barmix. It is a plane cheese slicer, which means it is placed flat against the cheese's surface and then pulled to make the slice. The width of the blade is fixed, so it makes the same size slices every time.
While you don't get control over the thickness of the slices, you will get a durable cheese slicer for less than $10. If making thin slices of cheese is what you need, then this plane cheese slicer is your best choice.
By applying pressure, you can sometimes create thicker slices of cheese, but we only recommend doing this on soft cheese that can withstand the pressure. Trying to do this with cheese that is too hard can break the cheese slicer, so we recommend slicing cheese with just enough pressure to make thin slices.
While it is stainless steel, we recommend washing it by hand and drying without immersing it in water for long periods of time, drying immediately when you are finished.
5. Fox Run Marble Cheese Slicer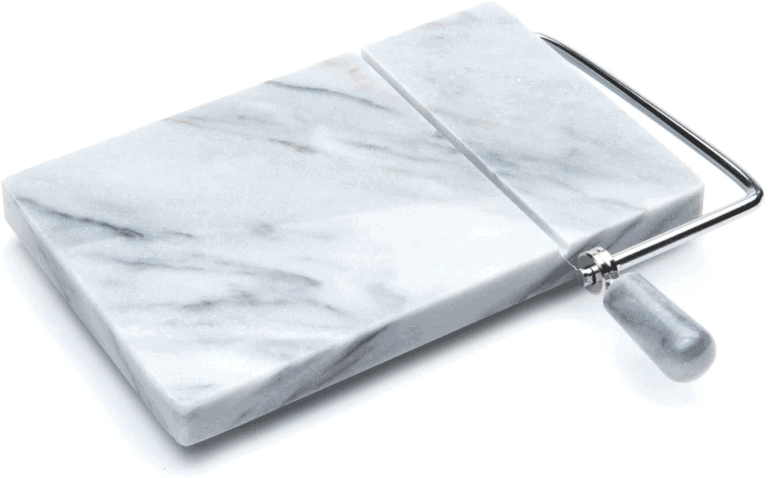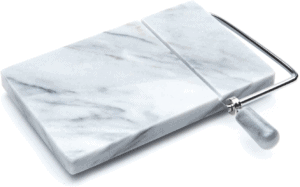 If you are looking for a cheese slicer with an elegant touch that you can also use as a serving tray for a charcuterie board, then Fox Run has got you covered with their marble cheese slicer.
It is made with 100% marble and comes with two replacement stainless steel wires if the original wire ever breaks or deteriorates.
What's great about this cheese slicer is that it doubles as a cutting board if you need to roll out the dough, chop vegetables, or cut fruit. You can also use this cheese slicer to cut more than just cheese, including meats and vegetables.
There are plastic legs on the bottom of the cheese slicer. This helps the cheese slicer stay in place on the counter as you make your cuts.
The cutting board size is 8" by 5", giving you a surface area large enough to place blocks of cheese to slice.
You will need to only wash the cheese slicer by hand and dry it quickly as immersing the cutting board in soapy water for long periods of time can change trap the flavor of the soap in the marble. This can cause the food that is placed on the surface to change.
6. Prodyne Beechwood Cheese Slicer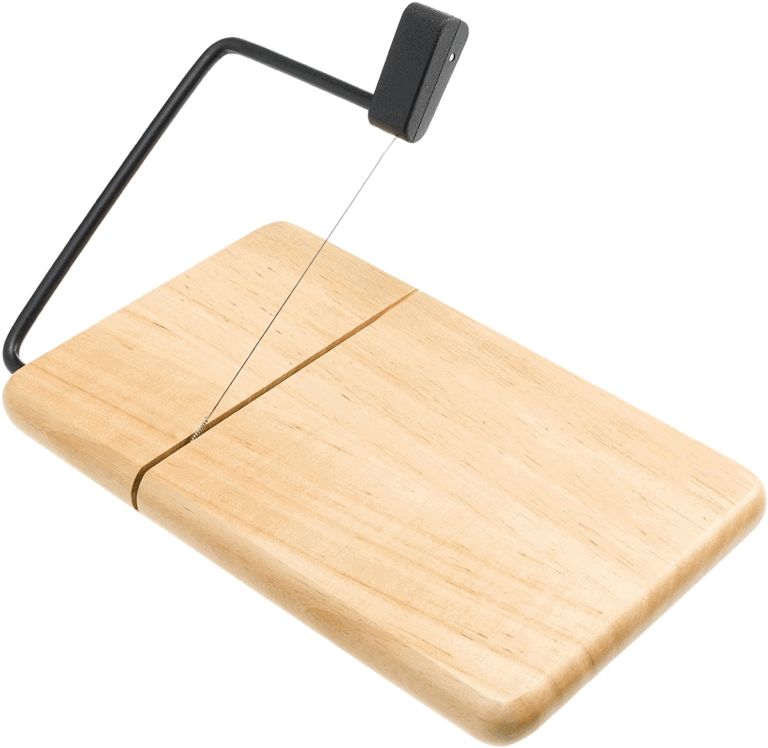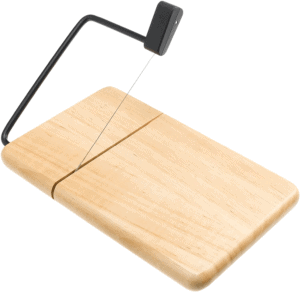 Another cutting board cheese slicer is this wooden model by Prodyne. It is similar to the marble model with a guillotine-style cutting wire. It has a wooden base with stainless steel wire that will cut through hard cheese.
You can choose between beechwood, bamboo, butcher's block, or wood with a metal center. All models have stainless steel cutting wire with an additional replacement wire included. There is also a lifetime warranty for the stainless steel wire if it breaks.
The bottom of the wooden cutting board has rubber feet that will keep the board from slipping while you make repetitive cuts.
You should only wash this cheese slicer by hand. It is not recommended for the dishwasher or to be submerged in water. It should be washed by hand, then quickly dried.
7. OXO Cheese Slicer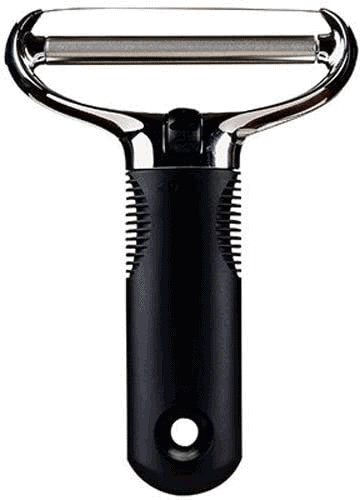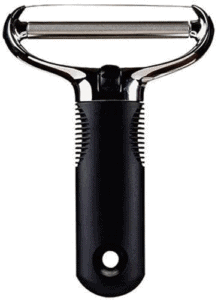 Another affordable, durable, and reliable cheese slicer is this handheld model by OXO.
OXO makes a large variety of quality kitchen products, and this cheese slicer is no exception.
The body of the cheese slicer is made of zinc while the head and wire of the slicer are made of stainless steel. An additional stainless steel wire is included with the cheese slicer to easily replace if the wire becomes damaged or ineffective.
One of this handheld cheese slicer's best features is the tension wheel that you can tighten when the wire becomes loose or stretched out. When slicing through dense cheese, it is no surprise that the stainless steel wire can stretch to the point of being ineffective. Instead of replacing the wire, you can tighten it with the tension wheel to get more life out of the wire.
Ultimately, you still may need to replace the wire if it has become stretched too thin, but this allows you to keep from prematurely replacing the wire, much like you would in similar models with no tension tightening wheel.
The tightening wheel can collect water if you place the cheese slicer in a dishwasher, so we recommend washing it by hand and trying not to submerge the cheese slicer in water while doing so. This will prevent the amount of water from entering the area of the tightening wheel and damaging it.
8. ABILITH 2-Piece Cheese Slicer Set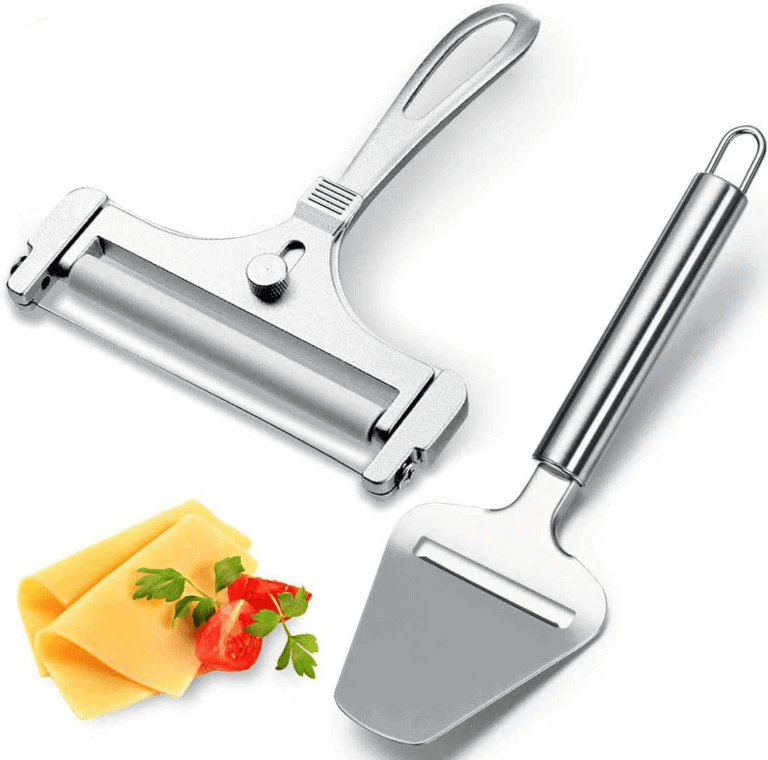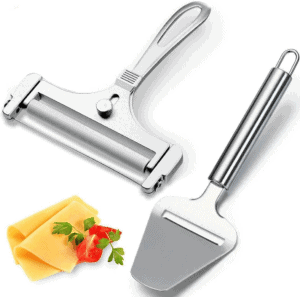 When you're unsure of what type of handheld cheese slicer you should choose, why not choose both of them?
This 2-piece set by ABILITH lets you do just that.
It comes with a wire cutter and a plane cutter. The wire cutter can slice through harder cheeses, while the plane cutter can slice through medium and soft cheeses. You essentially have a tool for every hardness of cheese.
The wire cheese slicer is adjustable, so you can cut thicker slices of cheese if you need to. They are both made of zinc and stainless steel. The manufacturer guarantees that both cheese slicers will not rust, so they are dishwasher safe. If you are unsure if you should wash it in the dishwasher, you can always hand wash it with a cloth, warm water, and liquid dishwashing soap.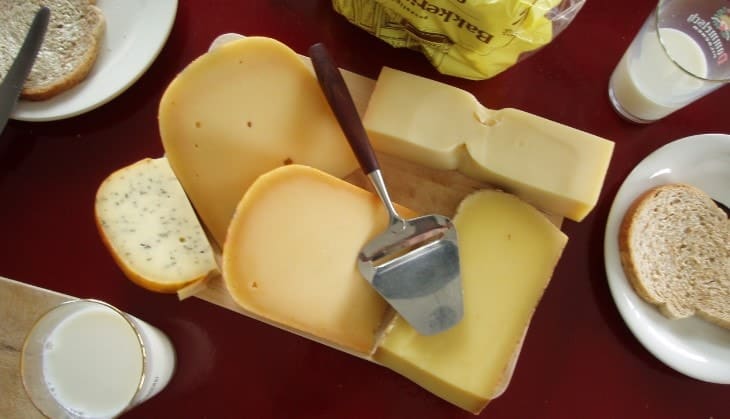 Why You Should Choose a Cheese Slicer
As we mentioned at the beginning of this article, the convenient tool for the job may not always be the right tool for the job. Just because you have a knife on hand that can cut through cheese doesn't mean it is what you should use.
Cheese Slicers Never Need Sharpening
This may be the biggest benefit of having a cheese slicer; the wire never needs sharpening the way that a knife blade requires.
Many cheese slicers come with additional replacement wires, or they may have a lifetime warranty on the wire if the wire breaks. This is another added benefit of choosing a cheese slicer over an ordinary kitchen knife.
Wire Makes Cleaner, Stronger Cuts
Pressing a sharp knife blade down onto a block of cheese might seem like it would be stronger than thinly-gauge stainless steel wire, but that's not always the case, especially if you are using a kitchen knife that is dull or serrated.
Stainless steel wire is sharp, strong, and forgiving. It doesn't press the block of cheese, which happens many times when using a knife. When hard cheese is cut with a knife, it can crumble from the pressure. Instead of making clean, smooth cuts, it crumbles instead. This is what makes wire so effective for cutting through hard and semi-hard cheese.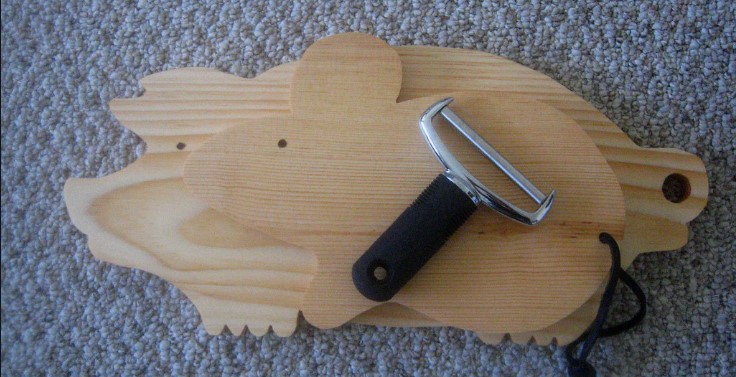 How to Choose the Best Cheese Slicer
Cheese slicers can be handheld or a guillotine-style slicer attached to a cutting board. The handheld cheese slicers can have a stainless steel wire or a curved blade on a plane, while the guillotine cheese slicers have a stainless steel wire or thin blade that will be pushed down to make slices to the cheese. There are advantages and disadvantages to both styles of cheese slicers, as well as other features and factors you should consider when making your decision.
Style
The first decision you need to make is what style of cheese slicer you will prefer. Cheese slicers will be wire slicers, plane slicers, or guillotine-style slicers. Wire slicers and plane slicers are handheld slicers, while guillotine-style slicers have a cutting board and pull-down wire or blade.
Wire Slicers
Wire slicers have a thin stainless steel wire that stretches tightly across the width of the head of the slicer. You will hold the block of cheese and glide the wire of the slicer across the cheese to create slices of cheese.
The advantage of wire slicers is that the wire is often adjustable. This gives you the ability to change the thickness of the slices, rather than being limited to just one set thickness. This also allows you to cut harder cheeses.
Plane Slicers
Plane slicers are spade-shaped slicers with a curved thin blade that will create slices of cheese as the slicer is pulled down the cheese's surface. The slicer's plane will be pressed flat against the surface of the cheese so that the blade can grab and slice the cheese as it is pulled.
The disadvantage of a plane slicer is the inability to adjust the thickness of the slices. Plane slicers have a fixed blade that will create the same thickness slice each time. You should also only use the plane slicer for medium to soft cheeses.
Guillotine-Style Slicers
A guillotine-style cheese slicer works by pushing down a wire or blade onto the cheese block to make the slices. These types of cheese slicers give you the most control and versatility of all the options. You can control the width of the slices, from paper-thin to nearly one-inch thick.
You would want to choose this style of cheese slicer when you need to cut thicker slices, or at least want to have the option to cut thicker slices.
Guillotine-style cheese slicers can be used for all hardnesses of cheeses. They can also serve dual purposes, as they can be used to cut meats, vegetables, and homemade soaps.
Replacement Wires or Manufacturer Warranties
When making a purchase, even an inexpensive one, you may want to consider what kind of replacement wires or manufacturer warranty comes with the cheese slicer. Knowing that the cheese slicer you use has replacement parts or a manufacturer warranty can help you rest assured knowing that you won't be stuck with a purchase that can only be used one time before being thrown in the garbage.
If you are choosing a wire cheese slicer, check to see if the manufacturer includes replacement wires. There should be at least one replacement wire included with the cheese slicer. Some manufacturers may include two; the more, the better. But you should try to find a wire cheese slicer that includes at least one replacement wire.
Manufacturer warranties are typically lifetime warranties on the wire or blade of the cheese slicer because the manufacturer knows that these rarely break. They may become worn over time and need tightening or replacing, but rarely will they break. And if they do, you have a manufacturer warranty to back up your purchase.
Cutting Board Material
If choosing a guillotine-style cheese slicer, it will have a cutting board attached, and this cutting board can be made of different materials.
As you've seen on our list, we have included a marble, wooden, and plastic cutting board; each having their own respective benefits. Whether the benefit is in appearance or effectiveness, you have your choice of what material you want the cutting board to be made of.
Caring For Your Cheese Slicer
Proper care and maintenance of your cheese slicer will ensure that it lasts you a lifetime. There are some do's and don't's that you will need to follow when caring for and cleaning your cheese slicer
Do:
Wash according to the manufacturer's recommendation. If it is not dishwasher safe, don't wash it in a dishwasher
Only use your cheese slicer on its recommended cheese hardness. If the cheese slicer you choose is not recommended for hard cheeses, you should not use it on hard cheeses as it will likely damage the cheese slicer
Keep it away from children by storing it in a safe and secure location
Don't:
Don't use it for purposes that are not recommended by the manufacturer
Don't allow children to have access to the cheese slicer. If your child will be using the cheese slicer, make sure you are there to watch over him or her
Don't rush. When you rush to make slices of cheese, you can damage the cheese slicer. You will also make slices that are not uniform in size. They will likely be uneven, and they may also be incomplete slices, which is the complete opposite result you are looking for when using a cheese slicer
Conclusion
A cheese slicer is used for making perfect and even slices of cheese each and every time. You can use a cheese slicer for many different reasons, including slicing cheese for sandwiches, toast, or crackers, but also for cutting thicker blocks of cheese for charcuterie boards.
Other applications when you could use a cheese slicer includes slicing meats, cutting vegetables, or even cutting homemade soap. The guillotine-style cheese slicer works best for cutting homemade soap because you can make wide, thick cuts that are the perfect size for soap bars.
The days of using a knife to slice cheese are over. Now that you know all about the cheese slicer, why you need one, and which cheese slicers are the best, you are ready to make your purchase. If you find yourself still overwhelmed with possibilities, take a break and come back to our buying guide to help you through the process.