Did you know that cocoa powder was known as "Food of the gods" during the Mayan civilizations?
Cocoa powder and other cacao-beans derivatives are some of the most loved foods in the world. They are believed to have numerous health and social benefits.
For instance, cocoa enhances cognitive and cardiovascular health, and people love hanging out over a cup of hot chocolate or chocolate pastries. Don't miss out on the benefits of this "food for gods."
In this article, we review some of the best cocoa powders on the market. We also offer you tips for choosing the right cocoa powder. This article clarifies the most common cocoa-related words such as cacao, cacao powder, Dutch-cocoa, brute cocoa, hot chocolate, hot cocoa, and drinking chocolate.
8 Best Cocoa Powders Reviews
Below is a review of our picks for the 8 best cocoa powders on Amazon.
1. Best Overall: HERSHEY'S SPECIAL DARK Baking Cocoa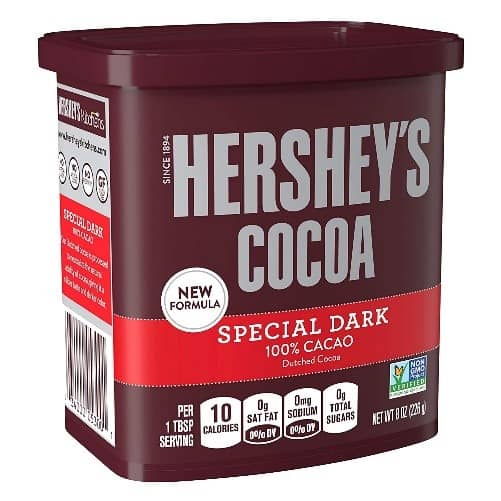 The Hershey's Dutch-cocoa is formulated as a sugar-free and fat-free powder specifically for baking. This dark cocoa is derived from cacao and has a rich chocolatey taste.
It is versatile and can be used on a wide range of recipes, including baking and beverages. It is ideal for vegans and people who are health conscious.
Pros
Made from 100% cacao
Can be used on a wide range of recipes
Has a rich chocolatey taste
Unsweetened, gluten-free, and sugar-free
Does not contain sodium
Cons
Reported cases of damaged packaging on delivery
Nutritional information
One tablespoon serving of this cocoa powder has 10 calories. It contains 3g carbohydrates, 10% DV iron, and 3% DV potassium.
2. Best Budget Choice: Barry Cocoa Powder

The Barry extra brute cocoa powder has a rich chocolate taste and flavor. It can be added to coffee, used to make hot cocoa, or for baking. It is soy-free, vegetarian, kosher, and non-GMO. Since it is brute, it has a high-fat content.
Pros
Has a great taste
100% cocoa
Dissolves well when making beverages
Can be used in a wide range of recipes
Cons
Nutritional information
100g of the Barry cocoa powder contains 384 calories. This serving contains 23g fat, 8.8g carbohydrates, and 18.9g protein.
3. Best Premium Choice: Divine Cocoa Powder

The Divine chocolate cocoa is made from hand-picked, slowly fermented, and alkali processed cocoa beans. It does not contain artificial flavors, colors, or preservatives. However, it contains allergens such as soy, wheat, and milk.
Pros
Fair-trade cocoa
Does not contain artificial colors, preservatives, and flavors
Suitable for baking and beverages
Has a chocolatey flavor and fine texture
Cons
Contains allergens (soy, gluten, and lactose)
A bit pricey
Nutritional information
A teaspoon serving has 20 calories and contains 1g fat, 1g carbohydrates, 2g fiber, protein 1g, and 8% DV of iron.
4. Navitas Organics Cacao powder

The Navita organics cacao powder is made from unroasted, cold-pressed organic cacao beans. It is more nutritious than regular cocoa, with a higher content of magnesium, iron, fiber, and flavanols. The 100% cacao powder can be used in a wide range of recipes, including smoothies, hot chocolate, brownies, and oatmeal, among others.
Pros
Higher nutrient content that regular cocoa
Has a rich chocolate taste
Can be used on a wide range of recipes
USDA organic certified
Non-GMO, kosher, vegan, and gluten-free
Cons
Has a burnt woodsy odor
Packaging has a warning for harmful chemical contained in the product
Nutritional information
A 15g serving has 60 calories. It contains 1.5g fat, 8g carbohydrates, 5g dietary fiber, and 4g protein. It is rich in calcium, iron, magnesium, potassium, and flavanols.
5. Rodelle Gourmet Baking Cocoa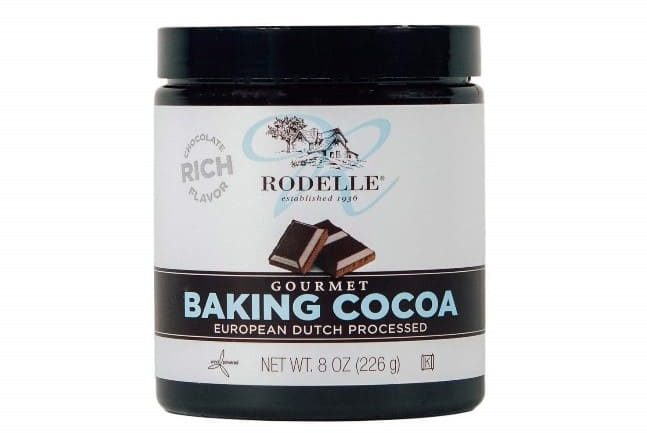 This is a Dutch-processed baking cocoa power. It is dark with a rich chocolate flavor. It can be used to make smoothies, cocoa beverages, and brownies, among other recipes. It is non-GMO and gluten-free.
Pros
Specialty baking cocoa powder
Can be used on a wide range of recipes
Made from 100% cacao
Non-GMO and gluten free
Has a rich chocolate taste
Cons
Non-organic
Clumps up when used in beverages
Nutritional information
Each 6g serving has 20 calories. It contains 1g fat, 3g carbohydrates, 1g protein, and 15% iron.
6. Ghirardelli Unsweetened Dutch Process Cocoa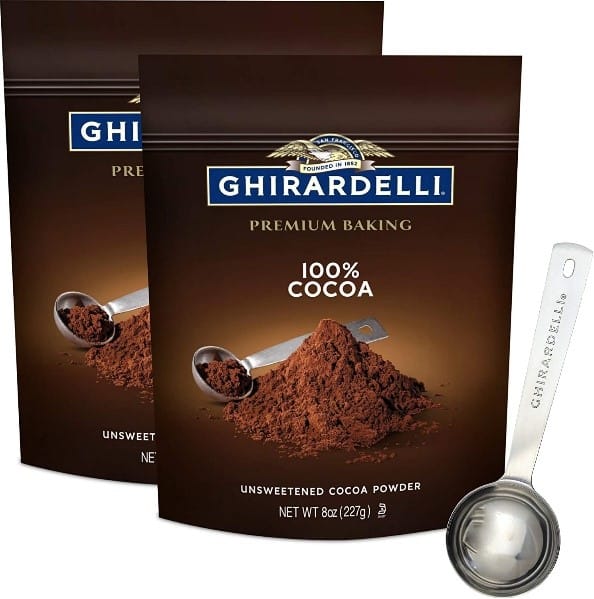 The Ghirardelli unsweetened natural cocoa powder is packaged in a resealable bag for easy scooping, measuring, and storage. It can be used in molten chocolate cakes and brownies among other recipes. It has an intense cocoa taste.
Pros
Unsweetened natural cocoa
Can be used for baking and other recipes
Has a rich-cocoa taste
Comes with a scooping spoon
Cons
Nutritional information
A tablespoon serving has 15 calories. It contains 1g fat, 3g of carbohydrates, 2g dietary fiber, 1g protein, and 4%DV iron.
7. Valrhona Pure Cocoa Powder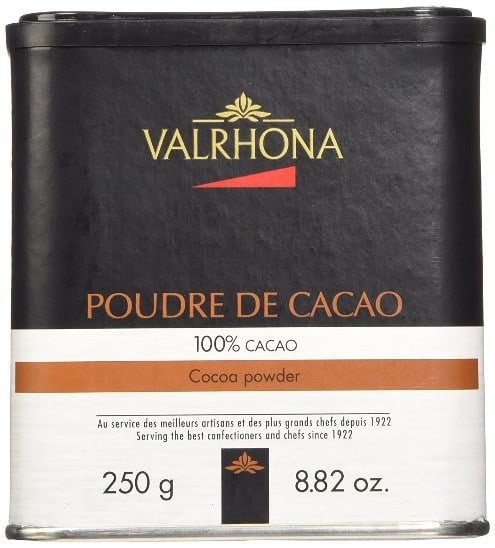 This is a 100% Dutch-processed cocoa powder with a rich taste and fine texture. It is sugar-free. It can be used for making mousse, hot chocolate, truffles, and gourmet recipes, among others.
Pros
Tastes great
Has a rich red-brown cocoa color
Can be used on a wide range of recipes
Has a high iron content
Cons
There are some counterfeit Valrhona products in the market
Nutritional Information
A 40g serving has 180 calories. It contains 9g fat, 16g carbohydrates, 11g dietary fiber, 9g potassium, 6%DV calcium, and 150%DV iron.
8. Chatfield's Unsweetened Cocoa Powder

Chatfield's cocoa powder is natural and unsweetened. It can be used in beverages or baking recipes. It has a rich brown color and an intense chocolate flavor. It is low-fat and rich in iron.
Pros
Rich in iron
Sugar-free and low-fat
Vegan and gluten-free
Has a great taste
Cons
There are reported cases of damaged packaging at delivery
Nutritional Information
A 6g serving has 25 calories. It contains 0.5g fat, 3g carbohydrates, 2g fiber, 2g protein, and 20% DV iron.
Cocoa Powder Buying Guide and FAQ
Below is information to help you choose the right cocoa powder and answers to the most common cocoa-related FAQS.
Things to Consider When Buying Cocoa
When determining which cocoa powder to buy, consider the following:
Whether or not you are health conscious. If you are keen about your calories, sugar, and fat intake, go for unsweetened natural cocoa powders. Otherwise, Dutch cocoa and sweetened natural cocoa will do. Also, some cocoa powders are dairy-free, soy-free, and non-GMO.
Preferred taste. Unsweetened natural cocoa has a bitter, acid taste, while Dutch-cocoa is mild with a chocolatey flavor.
Purpose. Some baking and beverage recipes require natural unsweetened cocoa, while others are particular about Dutch-processed cocoa.
Budget. There is a wide range of cocoa powders on the market at different price ranges. Determine your budget and find one that suits your taste and composition preference, intend purpose, and budget.
Cacao vs Cocoa Powder
Both cacao and cocoa are derived from the cacao beans that have been stripped of cocoa butter. Their main difference is in the method of processing, nutritional value, color and taste.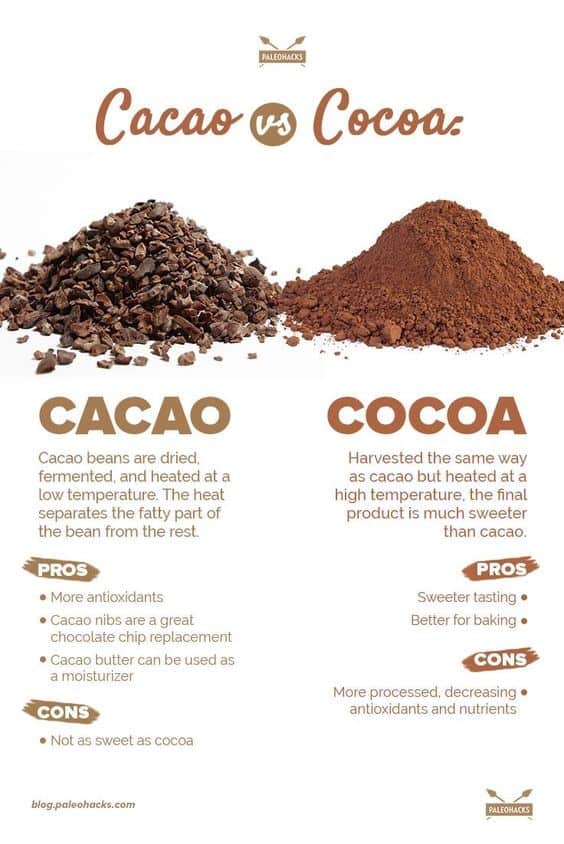 Cacao is purer and more nutritious than cocoa. Cacao is made from roasted cacao beans, usually with no additives added. It has a bitter taste and a lighter color. On the other hand, cocoa is made from fermented then roasted cacao beans processed at extremely high temperatures. In most cases, sugar and milk powder are added to the cocoa powder to make it less bitter and for a darker color.
Difference Between Natural and Dutch-Processed Cocoa
Natural cocoa is the regular cocoa powder that is derived from fermented, then roasted beans that are processed at high temperatures. Dutch-processed cocoa is made in a similar process as the natural cocoa, but its cacao beans are treated with an alkalizing agent.
Due to the difference in processing, natural cocoa has a higher acid level, a lighter color, a bitter taste, and a sharper chocolate taste. Whereas, Dutch-processed cocoa has a neutral PH, a darker color, a mild taste, and paradoxically, a richer chocolate flavor.
Hot Cocoa, Hot Chocolate, and Drinking Chocolate
The terms hot chocolate, hot cocoa, and drinking chocolate are often used interchangeably. However, while they are all beverages derived from cacao beans, they have slight differences.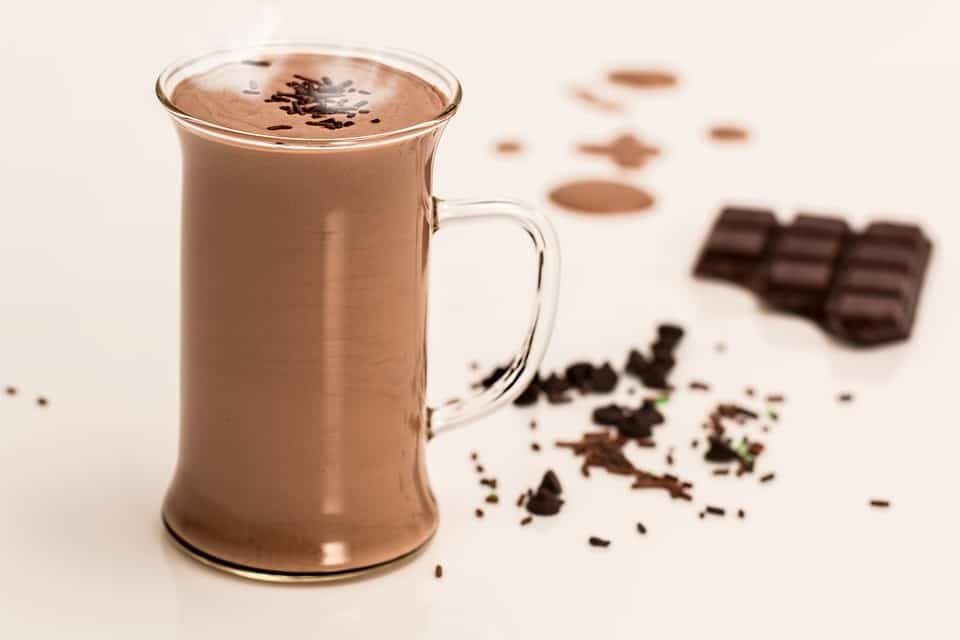 Drinking chocolate is also referred to as hot chocolate. It is derived from full-fat chocolate. This means that you are drinking chocolate powder and solids made from cacao beans that have not been stripped of cocoa butter. Usually, drinking chocolate is made from pure chocolate liquor or solids mixed with hot milk or water.
On the other hand, hot cocoa is made by mixing cocoa powder with hot water or milk and sugar. Some manufacturers incorporate milk powder and sugar in the cocoa powder so that it is ready to drink. You may add more sugar and milk to the beverage to suit your taste preference.
Storing Cocoa Powder
The best way to store your cocoa powder is in an airtight container in your pantry at room temperature. Do not freeze or refrigerate cocoa powder as it will make it humid, which could lead to mold manifestation. Properly-stored cocoa powder can last up to 3 years.
Health Benefits of Cocoa
Cocoa is rich in minerals and flavonoids such as iron, selenium, zinc, and magnesium. As such, coca offers numerous health benefits, including:
Improves cognitive health, memory, and attention
The minerals boost the immune system
Cocoa has cancer-fighting properties
Magnesium promotes optimal functioning of muscles and nerves. It also reduces the risk of neurological disorders
Zinc promotes wound healing
Flavonoids lower the risk of heart diseases
Cocoa is rich in theobromine, which has anti-inflammatory effects
Cocoa is low in sugar and fats; therefore, it is suitable for weight loss
How Many Types of Cocoa Powders Are There?
There are three main types of cocoa powders: brute, Dutch-processed, and natural cocoa. Both brute and Dutch cocoa powders are alkalized. They are made from high-fat cacao beans (22-14% fat content).
However, brute cocoa has a richer chocolate flavor and is dark-brown (almost black in color), while Dutch cocoa has a milder chocolatey taste and is a lighter brown. Natural cocoa is not alkalized, and it has a bitter taste. It has a lower fat content (10-12%) and a light brown color.
Conclusion
When choosing a cocoa powder, determine the main purpose you need it for, your preferred taste, and whether you are keen on healthier options.
Cocoa and cacao powders offer numerous benefits including cancer-fighting properties. So, go ahead and have some whether as a hot chocolate, hot cocoa, or in baked treats.
Our pick for the best cocoa powder is the Hershey's Special Dark Baking Cocoa. While it is a specialty baking cocoa, it can also be used in a wide range of beverage recipes. Besides, it is a healthy cocoa powder option as it is sugar-free and fat-free.
Cocoa Powder FAQs
Which is better, cocoa or cacao?
It depends on what you are looking for. With that said, cacao is purer and more nutritious. Cacao is richer in nutrients, fiber, and flavonoids. On the other hand, cocoa has a lower nutritional content, and some cocoa powders contain added sugar and milk powder.
Is unsweetened cocoa powder healthy?
In comparison to sweetened cocoa, unsweetened cocoa is healthier. It does not contain sugar therefore has lower calories.