Most people rely on coffee for that daily energy boost. It is like the driving force that lets you function and remain productive throughout the day.
If you're the type of person who loves a cool and refreshing caffeine drink, we recommend you to try cold brew, if you haven't already. This smooth and mild drink comes with low acidity and minimal bitterness. Moreover, if you want to enjoy the coffee bean's subtle flavors, cold brewing is your go-to option.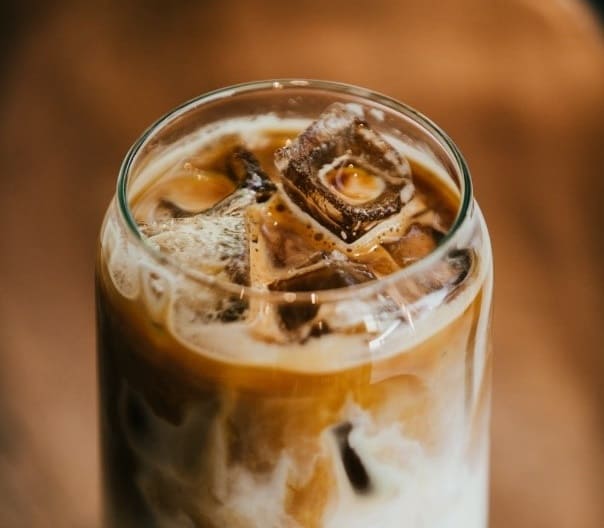 So, which beans make the best coffee for a tasty cold brew? Whether you're searching for the best organic beans, whole bean coffee, or even a special flavored coffee for cold brew, we have you covered.
Our Top Picks of the Best Coffee Beans for Cold Brew
1. Bizzy Organic Cold Brew Coffee – Best Overall Coffee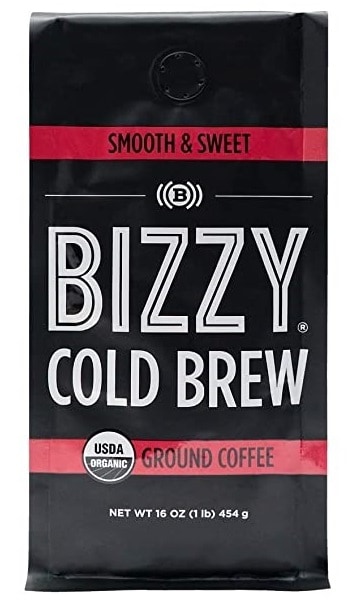 Bizzy is one of the more renowned names when it comes to cold brew. They offer ready-to-drink cold brew, cold brew concentrate, and organic cold brew coffee beans. This cold brew coffee comes in three flavors –
Light and Bright
Smooth and Sweet
Dark and Bold
It's best to go with the Smooth and Sweet for cold brewing at home as it is the perfect pre-ground mixture of light, medium, and dark roasted coffee beans. If you want a much richer coffee flavor, go with the Dark and Bold variety.
The coarse setting of the Smooth and Sweet flavor profile is perfect for cold brewing.
The Bizzy coffee beans come with a sweet caramel flavor and are naturally less acidic. This results in minimum bitterness and maximum coffee flavor.
Drink it black or add your favorite creamer for the perfect homemade cold brew drink.
Pros:
Blend of 100% Arabica beans that are USDA certified
Natural low acidity
Smooth tasting
Ethically sourced
Organic
Cons:
Available as pre-ground coffee only
2. Stone Street Coffee Cold Brew – Best Premium Choice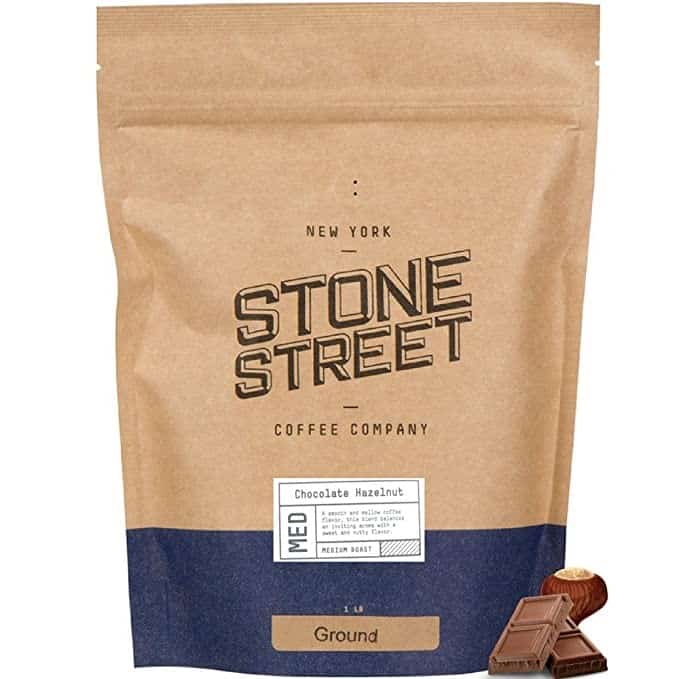 Want to enjoy a refreshing cold brew at home? Try Stone Street cold brew coffee beans. Many coffee fans have already tagged it as the best cold brew coffee brand they have discovered.
What we love about these beans is that you can enjoy the delicious chocolatey essence in your coffee. Made up of 100% high-quality Colombian Supremo beans, you can expect a rich, bold flavor out from your Stone Street cold brew.
These beans are naturally low in acidity, making them a perfect choice for people who have a sensitive stomach. Above all, the bold flavor with the chocolatey essence is definitely going to be the leading choice of all the cold brew brands.
Pros:
Smooth and bold flavor
Available as whole beans as well as ground coffee
Cons:
More expensive than other brands
3. Café Du Monde Coffee Chicory – Best Budget Choice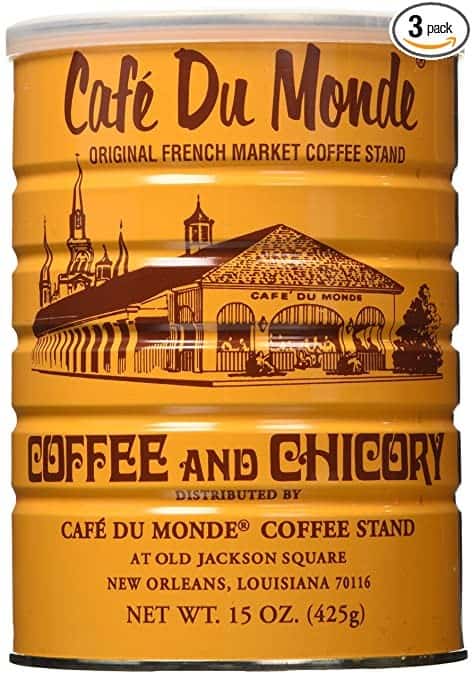 Do you like chicory taste? This brand's cold brew coffee may be the one for you.
You can expect an exclusive chicory flavor from the Café Du Monde beans. The Chicory root is first cooked, ground, and then added to the coffee grounds to avail that exotic flavor with a bit of kick. It reduces the overall bitter taste of dark roasted coffee beans.
These beans work best for both – hot and cold brews. You may even consider adding milk or cream to your coffee as it complements well.
However, if you're more of a strong coffee person, it won't be on your picklist as the beans have less caffeine due to dilution with chicory.
Pros:
Readily available
Inexpensive
Smooth and less bitter
Works for hot and cold brew
Unique chicory flavor
Cons:
Absence of whole bean option
Less caffeine
4. Lifeboost Organic Light Roast Beans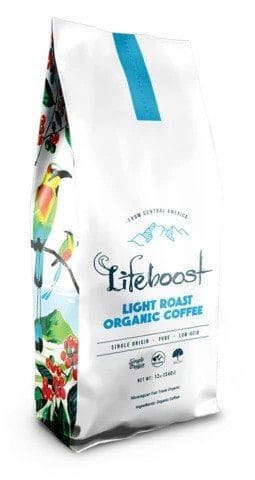 The Lifeboost Coffee Company has introduced a healthier coffee bean option called light-roast Nicaraguan single-origin bean. It's a healthy, ethically produced, and even environmentally-friendly coffee option. Above all, it makes a superb cold brew.
Generally, light roast coffees are highly acidic. But cold brewing for more than 16 hours will reduce the acidity and leave you with a smooth and flavorful cold brew.
Consider exploring this brand if you're looking for a healthy cold brew, has low acidity and provides a Central-American cold brew taste and experience.
Pros:
Beans are spring water washed and sun-dried
Handpicked
Pesticide and mycotoxin free
100% Arabica single-origin bean
Exotic flavors when cold brewed
Cons:
Limited availability
Unappealing packaging
5. Volcanica Cold Brew Whole Bean Coffee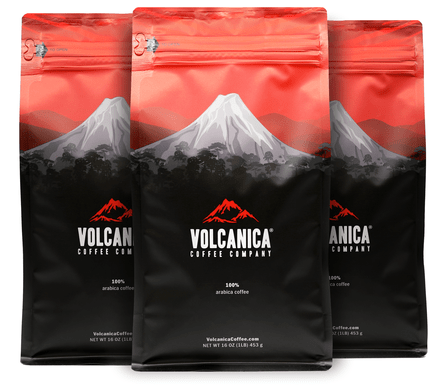 The Volcanica Coffee Company is known for making premium quality coffee blends. Talking about its cold brew, it is a bold dark Sumatra coffee that is high in flavor and low in acidity.
It is one of the great choices to consider for brewing cold coffee. Made with 100% Arabica beans, this cold brew provides a rich flavor with a smooth chocolate finish.
Pros:
Premium roaster
A consistent quality of coffee
Low acidity
Cons:
More expensive than other brands
6. Bones Coffee Company Flavored Coffee for Cold Brew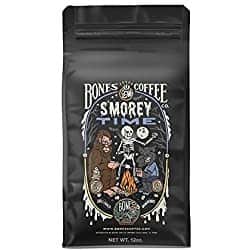 Bones Coffee Company has gained a lot of recognition when it comes to providing a range of flavors like cookies and cream, vanilla caramel, and chocolatey toasted marshmallow S'mores flavor.
Made from 100% Arabica coffee beans from Brazil, they are medium roasted in small batches to ensure maximum freshness. They come naturally with low acidity, and you have the option to choose from whole coffee beans and pre-ground coffee.
Another aspect of this coffee brand to consider is that their coffee is vegan and keto-friendly. The bold-flavored coffee beans are also dairy-free with no added sugar.
Overall, if you wish to explore new and exciting flavors in your cold brew, this is a good pick.
Pros:
Variety of flavors to choose from
Keto and vegan friendly
Low acidity
Cons:
Flavors may be overwhelming for conventional coffee lovers
7. Death Wish Organic Coffee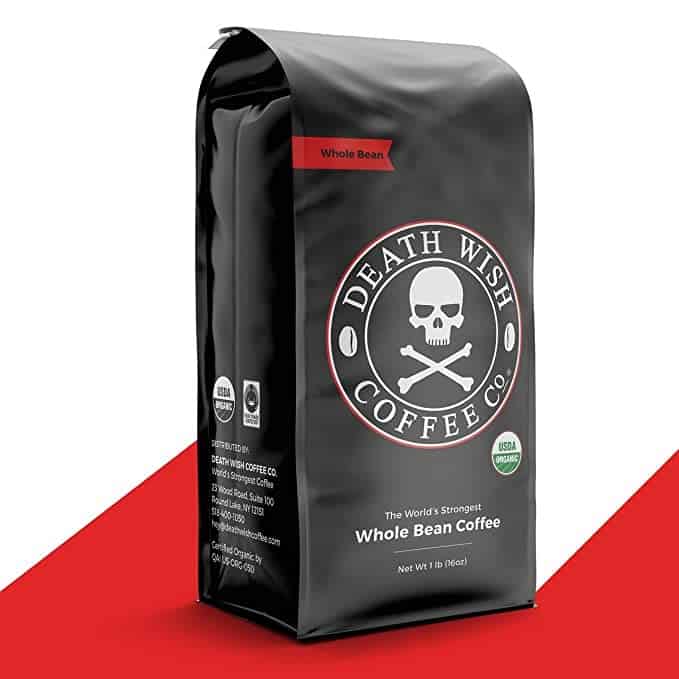 Are you on the hunt for a caffeine-rich cold brew coffee? If yes, you've found it - Death Wish coffee. It provides 54.2mg of caffeine per fluid ounce, so it's wise that you limit its consumption to one cup a day to maintain your caffeine intake levels. Death Wish Coffee Cold Brew has 300mg of caffeine in 8 ounces.
These coffee beans are USDA certified, kosher as well as organic. You may consider adding milk or drink it black – the choice is yours.
Pros:
Smooth coffee
Great aroma
Great caffeine boost
Resealable bag to keep the coffee fresh
Cons:
8. Cold Brew Lab Ground Organic Coffee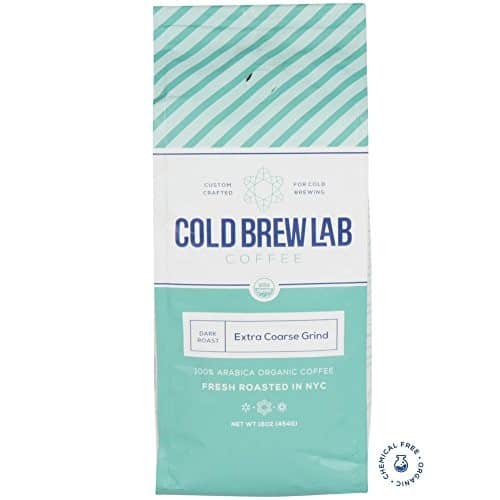 If you're looking for one of the best pre-ground coffees for cold brewing, go with this brand. These coarse ground 100% organic Arabica beans are sourced from Colombia. You can expect a smooth, full-bodied flavor from these beans.
This organic coffee is the perfect blend of medium and dark roast coffee beans, both USDA certified and pesticide-free. It's available as pre-ground coffee as well as whole beans, so you can choose accordingly.
Pros:
Organic Arabica beans at a good price
Smooth blend roasted
Cons:
Pre-ground coffee may not have the flavor of whole beans
Choose one amongst the above-mentioned top picks for a cold brew, and you won't be disappointed with your choice. But how do you decide which beans make the best cold brew? For this, let's begin with the differences between a cold brew and iced coffee.
What Is Cold Brew?
You don't need heat to make a cold brew. Instead, you need to soak the ground coffee beans in cold filtered water. Doing so will extract their flavor. This is the main difference between a cold brew and iced coffee as the latter is made from regular brewed coffee, which is then cooled and later poured over ice cubes.
Does the Temperature Affect the Taste of the Coffee?
Yes, temperature affects the taste of your coffee. Cold coffee is extracted between 35 to 70 degrees F, whereas hot coffee is extracted somewhere between 195 to 205 degrees F. The cold brew gets its unique characteristics and strong and undiluted flavor due to the absence of heat.
At the same time, it also means that you'll need twice the quantity of grounds and some additional hours of brewing compared to hot methods.
Another difference is cold brew is generally low in acid and light on the stomach. This is because many of the acids responsible for light and floral notes are only extracted when the beans are exposed to higher temperatures.
What Gives Cold Brew its Distinctive Flavor?
As already mentioned, cold brew coffee gets its distinctive flavor and unique characteristics because of the absence of heat. The flavors here are muted, which makes the cold brew coffee a light drink as a whole.
There is a higher ratio of coffee to water with cold brew coffee, almost two and a half times more, which means it is also stronger than a more conventional coffee drink with the normal water to coffee ratio.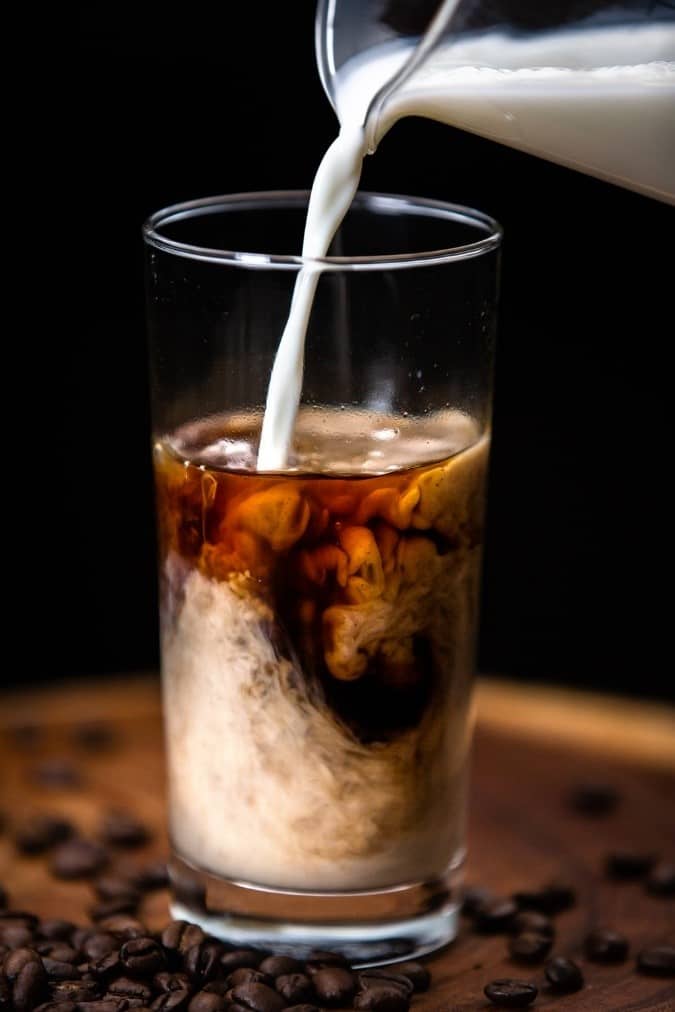 How Does the Brewing Method Influence Flavor?
The type of coffee bean you choose for your cold brew will be affected by the brewing method you're going to use.
You can apply two methods here:
The Immersion Method
The immersion method involves filtering the ground beans after steeping them in cold water for around 24 hours. This is the easiest and most budget-friendly way of cold brewing because you can typically find all the ingredients you need right in your home.
A few things you will need to cold brew some coffee include a coffee filter, cold brew coffee beans, water, and a jar. So, it's best to go with this method, especially if you're a novice.
The Slow Drip Method
As the name suggests, the slow drip method involves dripping the iced water slowly onto the ground beans while collecting the resulting brew in a flask.
It requires you to invest in some specialized equipment. It will also prove to be much more time-consuming compared to the immersion method. Brewing a cup of cold brew using the slow drip method can take up to five hours.
Immersion Vs. Slow Drip – Which Is Best?
Considering the flavor, you can expect a full-bodied concentrated brew from the immersion method, whereas the slow drip method will give you a more diluted medium-bodied coffee. Either way, each method works and can provide a host of benefits to your nutrition.
Blends or Single Origin Coffee – What Should I Choose?
Go with the single-origin bean coffee if you're not used to cold brewing. This coffee type has a clearer flavor profile compared to blends, which means you'll enjoy each flavor whole-heartedly.
Single-origin coffees are a bit on the expensive side. However, if you wish to enjoy a significantly better brew, investing a bit more won't disappoint.
On the other hand, if you already know and love a blend, give it a shot. In the end, all that matters is your choice and preference. What kind of coffee do you prefer?
Does the Grind Matter?
The answer is – yes, it does!
Whether you go with pre-ground beans or prefer to buy whole beans and then grind them yourself, you need to know that the grind does matter.
The finely ground beans can lead to over-extraction, which, in turn, creates a bitter taste. That's why it's best to coarse grind your beans for cold brewing.
Should I Use Pre-Ground Coffee for Cold Brew?
This is one of the most commonly asked questions for cold brew coffee. However, the answer is – it isn't necessary to use pre-ground coffee. You can use any coffee of your choice. It can be any regular ground coffee or any special cold brew coffee – it is totally up to you.
Certainly, the taste and overall cold brew results will vary depending on the type and grind of the coffee you use, but this should not limit you from using the coffee you love.
In case you are choosing pre-ground coffee for cold brew, make sure you:
Avoid selecting coffee that is an espresso blend or has extra-finely ground beans
Choose a coarse grind option when selecting your pre-ground coffee for cold brew
It is going to be trial and error with your coffee grounds when identifying the correct ratios and timing
Check the dates to ensure that the coffee bean you're purchasing is fresh. Go through all the freshness indicators while checking the roast date to achieve the best results.
Should You Add Cream/Milk to Your Cold Brew?
Mostly, coffee lovers believe that you don't need milk or cream for cold brew coffee as it has a naturally creamy texture.
It's best to try your cold brew first to figure out your preference. You may consider adding a little dairy in your coffee if you need it. For this, go with a 3:1 ratio – 3 parts cold brew and one part milk. Everything depends on your taste. You may adjust the ratio if need be.
Conclusion + Our Top Pick
Exploring these refreshing cold brew options can be fun if you learn how to make them properly. Avoid medicinal or citrus blends if you are using a light roast. If you don't wish for your brew to be sweet with cocoa flavors, soak dark roasts only for a short time.
Chill your drink with frozen cold brew coffee or whiskey stones rather than using ice cubes. Taking these things into consideration will help you make the perfect cold brew.
For a novice, our top pick from the above list is Stone Street Coffee Cold Brew. However, if you're looking for a caffeine overdose, go with Death Wish Organic Coffee.
You may choose Bizzy Organic to explore more subtle flavors in your cold brew. Last, but not least, if you're in search of a cold brew coffee that can give you a flavor kick, Café Du Monde should be your choice.
In short, individual choice and preference will play a major role in deciding your type of coffee brew. Regardless of what you choose, remember, the best cold brew coffee is the one you think is best for you.
What is your take on it? Which beans for cold brew will you recommend to our cold brew lovers? We'd love to know your thoughts.
On the other hand, if you don't wish to spend so much time making your cold brew, how about buying an instant coffee? Don't forget to take a look at our top picks and buying guide for some of the best instant coffee.