Before automatic drip coffee makers and espresso machines came onto the scene, there was the coffee percolator. The percolator has been overshadowed by these new appliances, but that doesn't mean the percolator has become obsolete.
In fact, it's just the opposite.
As technology has evolved, it has improved the percolator. What used to be a stovetop coffee maker can now be electric, making an entire pot of coffee in a matter of minutes without the fear of the coffee boiling over. Coffee percolators are similar to teapots or tea kettles because of how the water in the pot will be heated to brew the coffee and then poured from a spout using virtually the same design as a teapot or tea kettle.
But we're not here to talk about teapots. We're here to shed light on the benefits of the coffee percolator, as well as to provide you a list of the best coffee percolators to help you make your decision.
Best Overall Coffee Percolator
1. Farberware 12-Cup Stovetop Percolator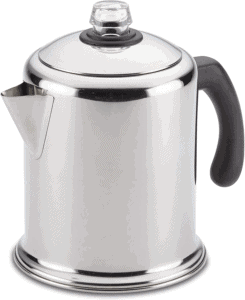 The best overall coffee percolator is this traditional stovetop percolator by Farberware.
It is a stovetop percolator, so it has a stainless steel base and body with a glass-knob lid and a hard plastic handle that won't get hot. There is an aluminum coffee basket built into the percolator that is designed with a permanent filter basket to hold the coffee grounds. While the basket has a filter built into it, we recommend adding a paper filter to the basket to ensure that coffee grounds stay out of your coffee.
The percolator pot can make 12 cups of coffee, so you don't have to worry about sacrificing quantity when choosing a coffee percolator over an automatic drip coffee maker.
You can either dish wash the percolator or wash it by hand. It can be completely submerged in water without worrying about rust or corrosion building up on the percolator.
Best Premium Coffee Percolator
2. Debut Espresso and Coffee Percolator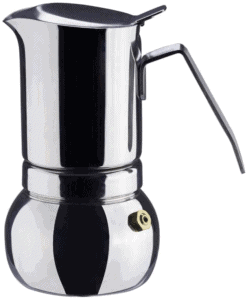 Don't worry, espresso lovers, we've got you covered. You can make coffee or espresso in this percolator by Debut.
It is a stovetop percolator that holds 6 cups, so it has a smaller capacity than some other coffee percolators available today. It is made of stainless steel and has a safety valve on the side to release pressure if it builds up while heating or percolating.
The percolator's handle is also made of stainless steel, but the design of the handle keeps it cool while the percolator stays hot.
Inside the percolator is a coffee funnel to add your ground coffee beans. The beans can be ground between fine and medium for coffee, but for espresso, you will need to grind the coffee beans to an extra-fine grind or powder.
Fill the pot of the percolator with water and place overheat. Wait around 3 to 5 minutes, and your coffee will be ready.
To clean the percolator, we recommend that you wash it by hand to not damage the percolator or cause it to rust.
Best Budget Coffee Percolator
3. Primula Aluminum 9-Cup Stovetop Percolator
This coffee percolator by the Primula Store is the best coffee percolator for those on a budget. It's less than $20, holds 9 cups, and is made of durable aluminum. It has an aluminum coffee basket with a built-in filter. Just fill the bottom of the percolator with water, the coffee basket with coffee grounds, and place onto a stovetop. After a few minutes, the water will begin to boil, and coffee will start to percolate.
The handle of the percolator is hard plastic, so it doesn't get hot while the percolator is on the stove. The lid also has a glass knob that will stay cool while the percolator heats.
Because the percolator and all of the components are made of aluminum, you should wash all the pieces by hand using water and lemon juice.
4. Cuisinart 12-Cup Stainless Steel Electric Coffee Percolator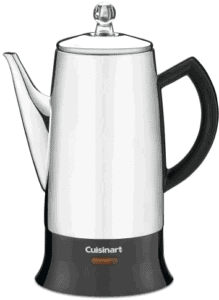 The first electric coffee percolator on our list is this 12-cup model by Cuisinart.
An electric coffee percolator is heated by plugging in the percolator to an outlet. This causes electricity to heat the heating element located at the base of the percolator. Unlike a stovetop percolator that you need to monitor or manually time to make sure the coffee has percolated long enough, this electric percolator has a light on the base that will go off when the coffee has finished percolating. This is an easy way to know when the coffee is done and ready to drink.
The coffee basket, as well as the pot of the percolator, is stainless steel. One of the best features of the coffee basket is the fill lines that show you where to fill the basket with coffee according to the number of cups you want to make. This ensures you will use the exact amount of coffee every time, whether you are making 4 cups or 12 cups.
The handle of the percolator is made of hard plastic that will stay cool while the percolator pot gets hot. This keeps you safe while pouring hot coffee and doesn't require a potholder to pick up the percolator.
We recommend washing the percolator by hand after each use to preserve the percolator's quality and lifespan.
5. Coletti Bozeman Coffee Percolator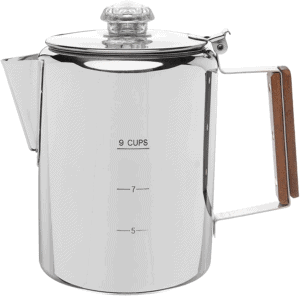 The Coletti Bozeman coffee percolator is not only great for home use, but it's also our best pick for coffee percolators while you are camping.
First, it's made of 18/8 stainless steel, which means it is 18% chromium and 8% nickel. The chromium in stainless steel is what makes it rust, corrosion, and scratch-resistant. This makes it dishwasher safe for easy cleaning.
The lid of the percolator is hinged rather than removable. This especially makes it easy and effective when camping, as you don't have to worry about losing the lid or having it become broken. The handle is heat-resistant rosewood that not only gives it a great design, but it's also safe in keeping your hand free from burns.
The outside of the percolator has fill-line indicators to show you how much water to add for the amount of coffee you're making. The fill-line indicators are at 5 cups, 7 cups, and 9 cups, but of course, you can split those in the middle and make 4 cups, 6 cups, or 8 cups.
There is a 20-pack of coffee filters included with the coffee percolator. This prevents you from making an additional purchase for coffee filters (at least for the first 20 pots).
6. Moss & Stone Electric Copper Coffee Percolator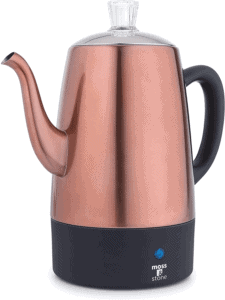 This electric percolator by Moss & Stone can make as little as 2 cups and as many as 10 cups. This makes it perfect for a single serving or to serve a crowd.
The outside of the percolator pot is copper, and the inside is stainless steel. The coffee basket is also stainless steel, while the lid is made of glass. It has an elongated pour spout on one side with a plastic handle on the other.
It is simple to use. Fill the pot with water and the coffee basket with coffee according to the amount of coffee you wish to make. It takes about 6 or 7 minutes for your coffee to be ready once you press start.
The coffee percolator is not dishwasher safe, so you will have to wash it by hand using warm water and mild dishwashing soap. It is also recommended to run a mixture of water and vinegar through a brewing cycle to descale and clean off any coffee buildup in the mechanism of the percolator.
7. Hamilton Beach 45-Cup Coffee Percolator and Dispenser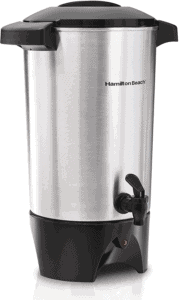 We wanted to include a large capacity coffee percolator on our list for those times when you need to make a large amount of coffee for an office or a large gathering, and that's exactly what this 45-cup coffee percolator and dispenser does.
Although it is listed as a 45-cup percolator, this doesn't mean you have to make the maximum allotted 45 cups. You can make as little as 15 cups. The amount of cups you can make with the easy dispenser spout makes it perfect for social gatherings or offices.
There is a coffee brew basket that you will fill with the appropriate amount of coffee for the amount of coffee you want to make. Inside the walls of the coffee urn are marked indicators showing you how much water you need to add. Each line is in increments of 6 cups.
The lid of the coffee percolator dispenser locks into place for added safety. There are also plastic handles on both sides of the urn for easy handling and placement.
The lid and coffee brew basket of the coffee percolator are dishwasher safe. You should still hand wash the coffee urn itself to prevent corrosion and rust from developing if the urn becomes too saturated in water.
8. Stansport Stainless Steel 9-Cup Coffee Percolator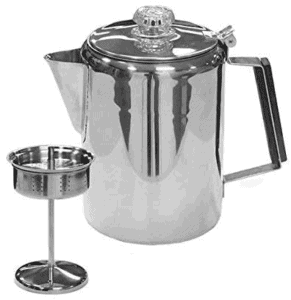 The last coffee percolator on our list is this option by Stansport. It is a basic stovetop coffee percolator that is affordable, durable, and reliable.
All three pieces of this coffee percolator are stainless steel. The percolator pot holds nine total cups and has a hinged lid for easy and safe sealing. The handle is heat-insulated to keep it cool as the percolator heats.
The coffee basket is stainless steel and features a built-in filter system, but we recommend adding a paper filter to the basket to ensure that no grounds inadvertently end up in your coffee.
All three pieces of the coffee percolator can be washed in a dishwasher for easy and quick cleaning. Just try to run a descaling brew cycle in the percolator using water and vinegar every few weeks. This will remove any coffee buildup that has accumulated in the mechanism. If you notice your coffee percolator has lost its flavor, you probably need to descale it by running a brew cycle of water and vinegar through the percolator.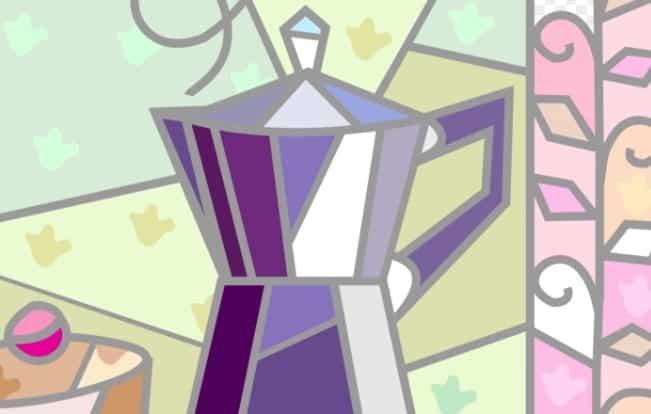 Why You Should Choose a Coffee Percolator
With so many options today, choosing a coffee percolator to make your coffee might seem like a primitive choice. We're here to debunk that myth and explain why you should choose a coffee percolator and what to look for when purchasing the best one.
Rich Coffee Every Time
The secret isn't in the bean. It's in how hot the water gets when it brews the coffee. The coffee percolator is one of the hottest types of coffee makers, creating its robust and full flavor.
Automated drip coffee makers often don't get hot enough to create the rich flavor that coffee deserves. This is what makes a coffee percolator so desirable and favored by many. The water gets hotter than most other types of coffee makers to create a full flavor every time.
Temperature Control and Brew Time
When you use a stovetop percolator, the temperature and brew time is completely in your control. Electric percolators will not give you as much control over the temperature and brew time, but you will be able to control the heat and percolation time when using a stovetop percolator.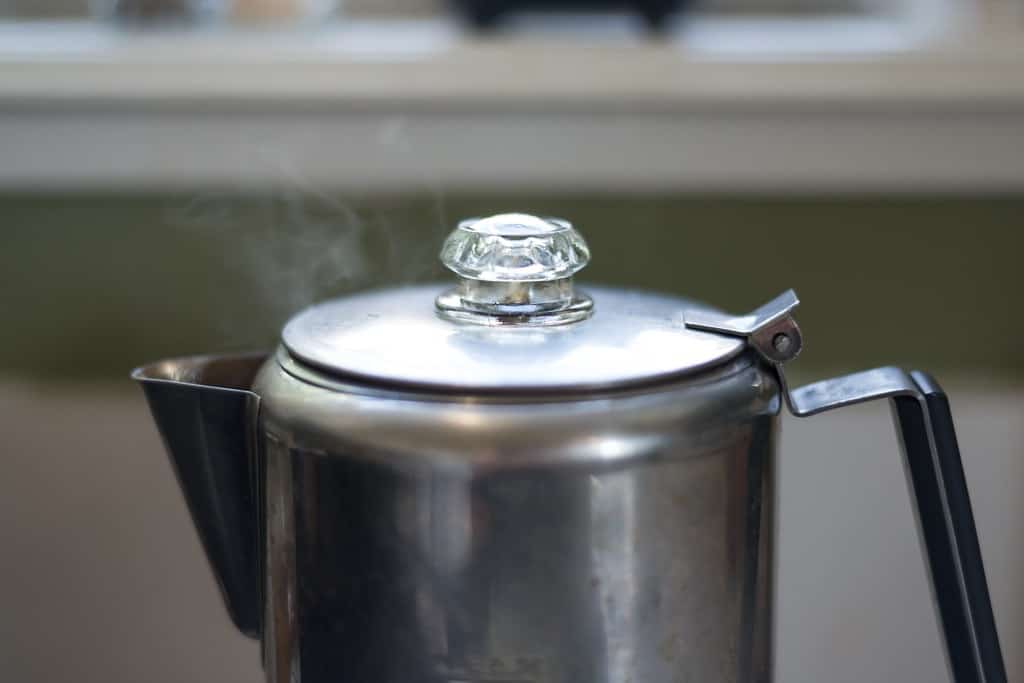 How to Choose a Coffee Percolator
Stovetop or electric? Small or large? Aluminum or stainless steel? Affordable or pricey?
The choices are endless when it comes to choosing the best coffee percolator, so we'll help you narrow do your choices so you can find the best coffee percolator for you.
Stovetop Percolators
This is how the percolator was first made before electric percolators came on the scene.
Stovetop percolators use the heat from an electric or gas stove or an open flame to heat the water in the percolator's pot to a boiling point. This is what will brew the coffee, giving it a full and rich flavor.
Stovetop percolators are recommended to those who want to have complete control over the temperature and brew time of the coffee. You can regulate the heat that is being used to heat the percolator, increasing it or decreasing it as you need to create a pot of coffee with the exact richness you choose.
Another reason you would want to choose a stovetop percolator is that it can be used while camping or during a power outage. All you need is an open flame to heat the water, and you will have a fully brewed pot of coffee in minutes.
Even if a percolator isn't your first choice for coffee makers, we recommend having one on hand for those times you may be camping or if the power goes out because there's nothing worse than having a power outage and being unable to make a pot of coffee to survive.
Electric Percolators
Electric percolators are extremely convenient. The concept is the same: fill the pot with water, fill the coffee basket with ground coffee, and start the heat. The water will begin to heat and then brew the coffee by percolating. There is no babysitting, no monitoring, and no fear of bitter coffee by double-brewing. Electric percolators would be best for those who prefer a coffee with less rich flavor or those who want to brew a quick and thoughtless pot of coffee.
Material
Percolators are often made of stainless steel, but the cheaper versions may be made of aluminum.
Stainless steel percolators are not only durable, but they are often dishwasher safe. This may sway your decision if you prefer easy cleanup. Even if you choose a stainless steel percolator, make sure the manufacturer indicates that it is dishwasher safe. There may be materials used to assemble the percolator that aren't dishwasher safe, making the percolator pot or components unsafe for the dishwasher.
Aluminum percolators are affordable and durable, but should only be washed by hand using warm water and mild detergent or lemon juice.
If you want a dishwasher safe and durable percolator, you should consider a stainless steel option. Otherwise, if washing by hand is no concern, then you can save a little money and buy an affordable aluminum percolator.
Size
You should also consider how much coffee you will be making in your percolator.
Will you be making a pot to serve you and one other person, or will you need to serve a large number of people for a buffet, party, or office breakroom?
If it's just you and one other person in your home who will be enjoying a pot of coffee, you will best to choose a stovetop percolator with a smaller capacity (8 cups or less).
If you will be serving a large number of people for guests at a gather or office staff at your place of employment, then you will need to choose an electric percolator with a large capacity of at least 10 cups or more.
Price
Don't just choose the cheapest percolator you find, but don't choose the most expensive model, thinking it is the best.
As you've seen, we have many percolators on our list that are both affordable and top-rated quality. Many of these percolators are around $35 but can be more or less expensive depending on the percolator's material, size, and design.
To put it simply, if you find a cheap percolator but it's a stovetop model, and you know you will be better equipped with an electric model, then you shouldn't buy it just because it's cheap.
Find a model with all of the features you require and spend a little extra money if it requires it. Otherwise, you may eventually have to spend money buying the more expensive model because you opted for the cheaper model and realized it was not the best coffee percolator for you.
The Bottom Line
The coffee percolator is far from obsolete. What used to be a stovetop-only coffee maker has now become electric, thanks to modern technology, but you still have the option to choose a stovetop version if you prefer.
There are many benefits to both the stovetop and electric percolators, so it's up to you to decide what features you prefer and if you are best using a stovetop percolator or a convenient electric percolator.
Coffee percolators are affordable and easy to use, especially on an open fire. We recommend having a coffee percolator on hand at any time for those times you may go camping or find yourself without electricity to make your normal pot of coffee.