It doesn't matter if you prefer your cook iced or hot; having the best coffee thermos will keep your coffee at the perfect temperature for several hours. The century-old vacuum technology used in coffee thermoses was originally invented to keep rocket fuel (aka liquid nitrogen) cold.
Today, you can find coffee thermoses in the cupholders, bags, and hands of everyone from commuters to campers. The vast majority of coffee thermoses are affordable, so when it comes to choosing the best coffee thermos for you, it comes down to personal preferences.
Do you want a leakproof thermos that you can keep in your bag? What about a trigger-action lid to sip on while driving? Below you'll find a list of the nine best coffee thermoses.
Best Overall – Thermos Vacuum Insulated Compact Beverage Bottle

The best coffee thermos overall combines affordability, reliability, convenience, and versatility into one great product. This is the perfect coffee thermos to use for gifts or simply for yourself; this classic coffee thermos gets the job done while looking great at the same time.
This thermos might not have the catchiest name, but it's the best coffee thermos on the market. It's made from stainless steel and can keep your coffee hot for 12 hours and cold for 24 hours. It has a convenient twist-and-pour top and is compact and lightweight. You can purchase this coffee thermos in 16-, 25-, 32- or 48-ounces.
Pros:
Keeps coffee warm or cold for a long time
It's safe to throw into a bag
Durable
Cons:
Won't keep coffee hot as long as they advertise
Best Premium – Thermos Stainless King 68-ounce Vacuum Insulated Beverage Bottle

Having a large coffee thermos is the best way to bring a lot of coffee with you each morning. This will help you save some money, but it also means that you can customize your brew since you're bringing it from home. Additionally, with this large thermos, you'll be able to bring coffee to share with coworkers or friends.
This is the best coffee thermos for the workplace, hunting, hiking, and camping because of the large size. It's a hugely popular and large thermos that will keep 8.5 cups of coffee warm for 24 hours.
It also features a twist pour spout on the top of the thermos and has a cap that can double as a coffee mug. The sweat- and spill-proof design of this thermos is made from stainless steel and is perfect for throwing into a bag and going on about your day. This Thermos brand coffee thermos comes in blue, black, and stainless steel.
Pros:
Large enough to hold a whole pot of coffee
Keeps your coffee hot all-day
The lid can be a coffee mug
You can easily throw this thermos into your bag and go about your day
Cons:
It's heavy when it's full of coffee
Can be hard to open cap
Can be hard to clean
Best Budget – Contigo Autoseal West Loop Travel Mug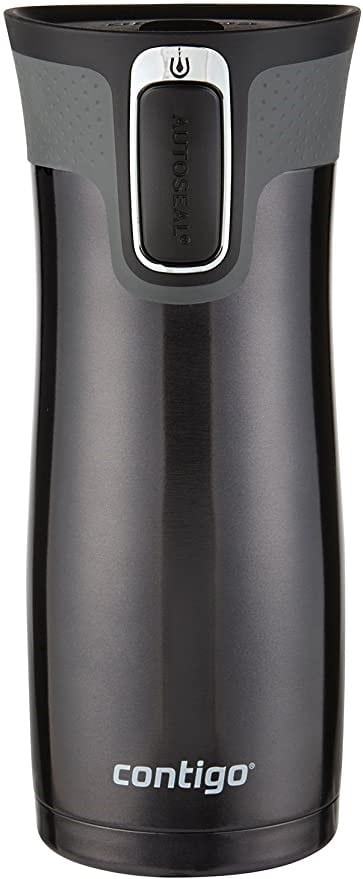 The best coffee thermos is also the most budget-friendly. The Contigo travel mug comes in a variety of colors and in either 16- or 20-ounce size. It's very inexpensive and will keep your hot coffee warm for five hours and iced coffee cold for up to 12 hours. It's very easy to use, features a button-release top, and is spill-proof, making it a trustworthy and convenient travel mug.
Pros:
Keeps your coffee hot and cold for a long time
Budget-friendly
Spill-proof top
Cons:
Avoid washing the painted coffee thermos in the dishwasher because the paint will chip off
Stanley Classic Vacuum Bottle

This is another reliable and hugely popular coffee thermos. It features a recognizable design and is incredibly simple to use, keeping coffee hot for 15 hours and iced up to 60 hours. It comes in blue or green and several different sizes. This is the best coffee thermos for everyday use and boasts a lifetime warranty.
Pros:
Perfect size for those who don't drink much coffee
Keeps your coffee warm or iced
Great for daily use
Great for throwing into a bag
Cons:
Pour spout can be a bit slow at first
AVITO Stainless Steel Coffee Mug Set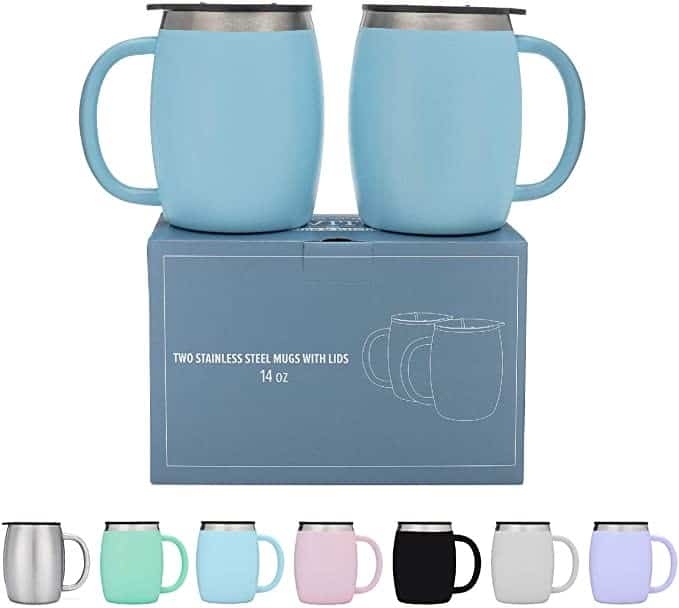 If you don't like the design of travel coffee thermoses, but you want to keep your coffee hot, you might want to give these a shot. This is a two-piece set of brushed steel thermoses shaped like regular coffee mugs with sleek handles. They provide an optional lid for each mug that will keep your coffee warm longer.
With these coffee thermoses, you can keep your coffee hot without burning your hand. These two-walled stainless-steel insulated mugs will also keep your cold coffee cold too. It's extremely durable for those who work in hectic workplaces where mugs can get broken. Each mug holds 14 ounces.
Pros:
Beautiful design
Small enough for those who don't drink much coffee
Keeps your drink warm enough for a reasonable time frame
Cons:
The lid can be hard to clean
Hydro Flask Travel Coffee Flask with Flex Sip Lid

Many thermoses on the market claim to be the best coffee thermos to keep your coffee hot with their metallic, traditional design. But if you're looking for something that's a bit more fun, try the Hydro Flask Travel Coffee Flask. It has all the benefits of a traditional coffee thermos, without looking like a conventional coffee thermos.
You can buy this coffee flask in various colors, and the sleek matte-colored steel, cylindrical design, and minimalist cap give the Hydro Flask one of the coolest looks in the coffee thermos market. It can keep your coffee hot for six hours and iced water cold for 24.
Pros:
Spill-proof
Cool design
Lots of colors to choose from
No silicone ring inside the lid
Keeps your coffee hot for the specified amount of time
Cons:
Contigo Snapseal Byron Stainless Steel Travel Mug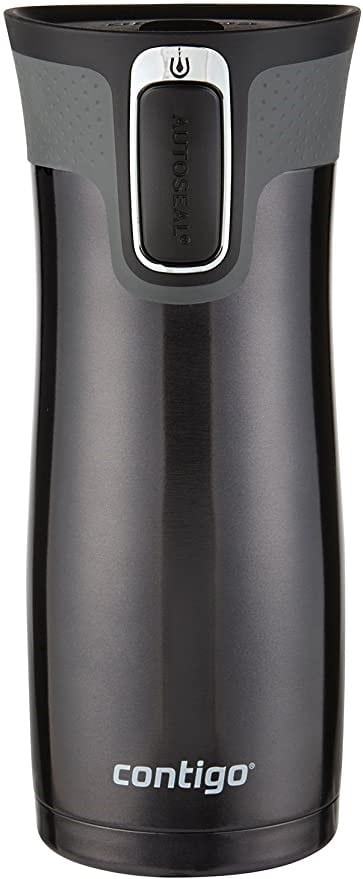 If you're the type of person to sip your coffee on your morning ride, walk, or drive, you'll want to try this coffee thermos because it's the best coffee thermos for commuters.
This thermos can hold 20 ounces of coffee that will stay hot for seven hours and cold for 18 hours. The SnapSeal lid prevents any spills, which is perfect for a crowded bus or throwing your thermos into a bag. It comes in a variety of colors and features a comfortable rubber sleeve. It's also dishwasher safe.
Pros:
Dishwasher safe
Keeps your drinks cold and hot for a long time
Great for commutes into work
Cons:
Rubber seal can fall off the thermos
Thermos Stainless King Travel Tumbler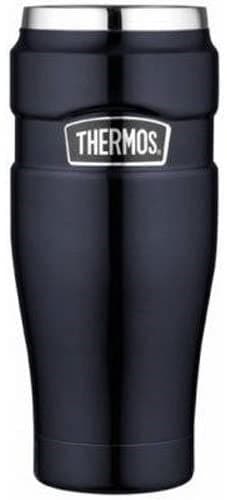 This is a wide-mouthed, insulated coffee thermos that can fit into any cup holder. It's available with or without a handle and comes in a variety of colors. If you're a tea drinker, then you'll love that this thermos has a tea bag hook.
The lid prevents spills and is easy to use. The exterior and interior steel keeps your drinks from sweating and keeps hot drinks hot for seven hours and cold for 18 hours. This is the best coffee thermos for commuters and can hold 16 ounces of coffee.
Pros:
LLeakproofonce the lid is closed
Keeps your drink hot for hours
Perfect for on-the-go drinking
Cons:
The colored metal flakes off easily
What is a Coffee Thermos?
A coffee thermos is a double-walled bottle that typically has the air between the two walls sucked out during the bottle's creation, making a vacuum. They're designed to keep your coffee hot by minimizing heat loss. This is where the vacuum comes in handy.
The vacuum prevents heat loss through convection (through the air). The tight stopper keeps air from leaving or entering the thermos, which keeps the warmth in and the cold out. Additionally, the reflective lining prevents heat loss through radiation by reflecting the heat back into the coffee.
All of this means that you can enjoy a hot cup of coffee even after letting it sit for a few hours. How long your thermos will stay hot will depend on a few other factors, including the insulation that's used inside the thermos. We will talk about these things later in this article.
Why You Should Get the Best Coffee Thermos
The best coffee thermos can provide you with an easier start to your day because you only need to make your coffee in a rush and then take it with you on the go.
No longer will you have to burn your mouth on an extremely hot cup of coffee, or worse, pour it down the sink because you didn't have the time to enjoy it.
Regardless of features, the best coffee thermos is one that works the best with your coffee-drinking habits.
You'll find that a poorly constructed coffee thermos will struggle to keep your coffee warm or spill it all over the place. There are some places that you can take your coffee thermos, for example, work and school.
The features you want to look for will depend on where and how you will use the thermos. There are many coffee thermoses on the market claiming to be the best coffee thermos, so it can be hard to pick the one that will work best for your coffee drinking needs.
How to Choose a Coffee Thermos
The first thing you need to do is ask yourself what kind of coffee thermos are the most appropriate for your daily use. Below you'll find some things to consider when looking into buying the best coffee thermos for you.
Size Matters
Are you going to be using the coffee thermos by yourself, or are you going to be sharing it with somebody else? How much coffee do you consume and brew daily?
If you want to find a shareable coffee thermos, or you can drink a full pot of coffee by yourself throughout the day, you're going to want to go with a thermos that has a large capacity. These types of thermoses are going to be heavier and take up a bit more space in your bag, but you'll know for sure that you have enough coffee to get you through the day.
If you want to keep things light and straightforward, you should go for a smaller option. If you're on the move constantly, you're going to want to go with a coffee thermos that can fit into your cup holders.
Insulation
The insulation in a coffee thermos will determine how long it will keep your coffee hot or cold. The effectiveness of the insulation is determined by how well the thermos is constructed. The best coffee thermos is made with double-walled stainless steel and is vacuum insulated.
Cheap coffee thermoses are made from plastic or tin materials, which can't compete in the insulation department. While having a cheap thermos can be okay for commuting or short-term usage, they're going to struggle to keep temperatures hot or cold for more than a few hours.
The insulation of a coffee thermos is what really sets apart the cheap ones from the best coffee thermos on the market. You want to keep your drink hot, so you're going to have to spend a little more money to get the best insulation.
Thermos Type
It's very important that you pick a thermos that's designed for coffee and not food. You can tell the difference between these thermoses by reading the label – it should state whether it's designed to be used for food or liquids.
If the label doesn't state whether it's for food or liquid, then you should look at the size of the coffee thermos's neck. Thermoses that are designed for food have wider necks than those that are designed for coffee.
Material Composition
Most of the best thermoses on the market have either a stainless-steel inner flask or glass. Both types are great for storing coffee. Avoid going with a thermos with a plastic insert that has been painted with reflective coating because these aren't only poorly suited for holding hot liquids but can degrade over time.
Other Features and Design
While insulation and size are the most important things to consider when purchasing the best coffee thermos, there are other features that you should look out for.
How the coffee thermos is designed can affect the ease of use. Remember that everyone will be different in what design and features they want, so think about the features that you would appreciate the most and go from there.
Here are a few things to think about:
Does it have a strap or handle?
How fast can I clean the inside of the thermos?
Does it come with a serving cup?
Is the cap or lid easy to remove and put back on?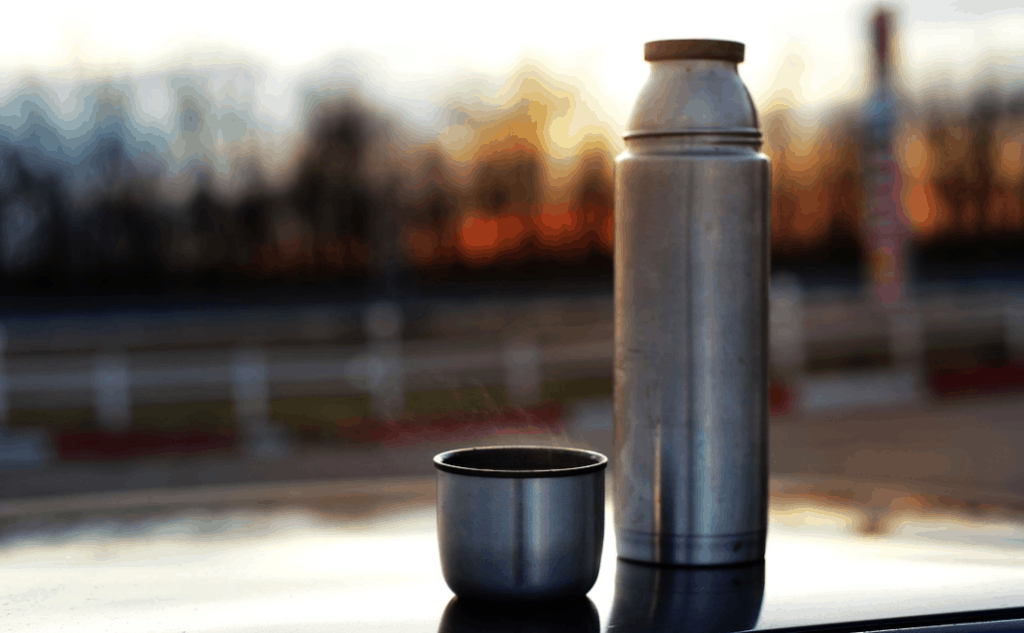 Preparing the Best Coffee Thermos
Once you've found the best coffee thermos for you, it's time to figure out ways to help your thermos keep heat in. This can easily be done by what is called "charging" the thermos.
Charing the thermos means that you load it up with heat before you add your coffee. This is done by adding boiling water and holding the water in the thermos for around 10 minutes. Once that time is up, the coffee can then be added to the thermos and will stay hot for hours.
Wait to Fill Your Thermos
The best way to keep your thermos hot is to wait to fill it for as long as possible – up until you need to leave. Ideally, you'll want to have the coffee finish brewing right before you need to leave the house so you can pour the freshly brewed, hot coffee into your thermos and go. This ensures that the coffee doesn't have to stay fresh and warm longer than necessary.
Brew Better Coffee
Now that you've learned some tips to help keep your coffee warmer for longer, it's time to talk about the freshness of your coffee. After all, it won't matter how hot the coffee is if it has a bad taste. Cheap coffee doesn't hold up and a quality cup of brewed coffee – yes, this means going with the more expensive coffee beans or grounds.
So, how do you make coffee that will hold up all day? The first thing you're going to need is fresh, high-quality coffee beans (or grounds). Once you have your coffee, store them in an airtight container, away from sunlight, until you're ready to use them.
If you want to get the best coffee, you should use coffee beans and grind them up right before making your coffee. To do this, you should invest in a quality burr grinder, either a manual or electric model, and grind your beans immediately before brewing. Not an hour before or a day before, right before you make your coffee.
Because you're using high-quality coffee beans and a quality grinder to grind the beans, then it's probably a great idea to ensure that you're using the best water possible. This means making your coffee with water that's been run through a carbon filter or spring water. Avoid making your coffee with softened or tap water because those can lead to terrible tasting coffee.
Also, make sure that the coffee filter you're using is a high-quality one. Cheap filters are bleached with bleaches or dioxides that give them that characteristic white color. Instead, opt for high-quality filters.
The next thing you want to do is make sure that you brew your coffee using enough coffee grounds. Don't skimp out on the coffee grounds. Otherwise, you'll end up with weak coffee, and that kind of coffee doesn't hold up well.
Another thing to consider is the water temperature. Suppose you're using a high-quality coffee machine. In that case, you don't need to worry about water temperature because the coffee machine will make sure that the water is within the correct temperature range.
However, if you're heating your own water, make sure that it's around 200 degrees F. This is because if the water is colder than 200 degrees F, then your coffee will be flavorless and weak. If the water is much hotter than 200 degrees F, your coffee will be bitter and sour.
Finally, you must keep all of your coffee making equipment clean. This means that you need to ensure that your coffee thermos, coffee maker, and coffee bean grinder are clean. If you fail to keep everything clean, you're going to end up with bad tasting coffee.
Final Thoughts
Now that you know about the best coffee thermos on the market and how to properly brew and prepare your coffee thermos, you can have the best cup of coffee ever. Not only will your coffee taste better, but it'll also be hotter throughout the day.
No longer will you have to worry about if your coffee is cold before you take a sip from your thermos because the chances are it'll be hot. This will make your day a lot better because you'll know that whenever you need a caffeine boost, your hot coffee will be waiting for you.
Make sure that when you're buying the best coffee thermos for your needs, you're thinking through the design, the insulation, size, and other features that are important to you. The last thing you want is to purchase a coffee thermos and have it not work for you.
Remember, there is no right or wrong answer for picking out the best coffee thermos. It all depends on your personal preferences and what you need. Hopefully, this article has inspired you to purchase the best coffee thermos and enjoy hot coffee throughout your day.
Once you find the perfect coffee thermos, it is time to check out our review of the best coffee percolator, so you can always have fresh coffee made right at home.