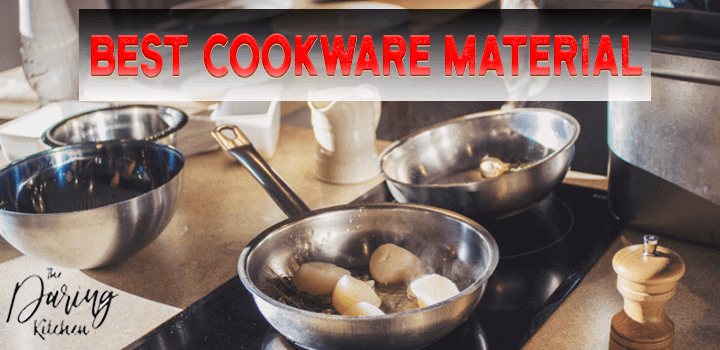 Eye-catching stylish cookware is difficult to resist, right? It's wise not to fall for the style or think that the more expensive those pans and pots are the better. One of the most important features to look for is the material from which your future cookware is made.
Why is that? Because the material determines how quickly and evenly your food cooks, how healthy it stays, or how durable the product is, just to name a few. It is also relevant to the cooking method or type of food you are using.
For example, stainless steel is probably not your first choice when making an omelet, and non-stick is not a good option when preparing liquid foods such as soups or sauces.
To find the best cookware material, consider some important factors as well as the pros and cons of each cooking material. Need some help with that? Let's jump right in.
Stainless Steel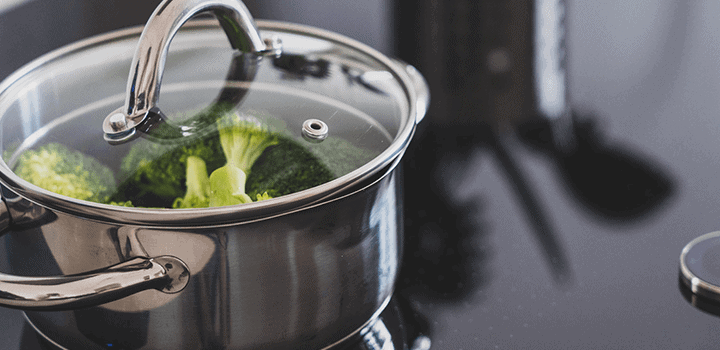 If you are looking for a versatile material that can cook all types of food and proudly handle almost any cooking task it's assigned with, think stainless steel. I like to call it the 'calm force' of my kitchen as it simply does the job confidently and effectively–no whining involved. Let's get to know it a little bit better.
Pros:
Tough & Durable - Handle it as you like and it won't feel a thing since it's almost indestructible. No need to worry about denting, chipping, or scratching and it's also rust-resistant. Good quality stainless steel pans and pots - the ones with a multi-ply construction- can last a lifetime.
Puts Up With High Heats – Unlike other materials such as Teflon which easily gets damaged by high heats, stainless steel withstands high temperatures perfectly. It is suitable for any kitchen appliance from gas stoves to electric ones and even the oven (as long as the handle is also stainless steel).
Doesn't react with foods – This material is non-reactive unlike others (see pure copper or aluminum) that react with acidic foods such as tomato sauces or lemon recipes. Thus, the pan doesn't transfer any weird taste to your food, making it also a healthier option in terms of harmful chemicals not leaching into your food.
Shiny Attractive Appearance – Its mirror-like finish looks classy and fits every decoration from traditional to modern or urban country.
Easy Maintenance – It doesn't need seasoning to prevent rust and is dishwasher safe and easy to clean. The only time you may need to give a little more attention is when it gets badly scorched or when its finish becomes dull and you need to bring the shine back.
Cons:
It's not non-stick – Cooking delicate foods is surely a challenge especially for not experienced cooks. Unless you are using enough cooking oil and the proper temperature, there are 3 foods you may not want to cook in a stainless steel pan: omelets, fish, and tofu.
Poor Heat Conductor Unless It's Bonded – Stainless steel is not a good heat conductor and that's why quality stainless steel cookware comes bonded with an aluminum or copper core (multi-clad or ply cookware) for faster heat distribution and even cooking.
Discoloration – Sometimes, it becomes difficult to clean it due to staining or discoloration. That's where you need a good cleaning guide to treat the blemishes.
Non-Stick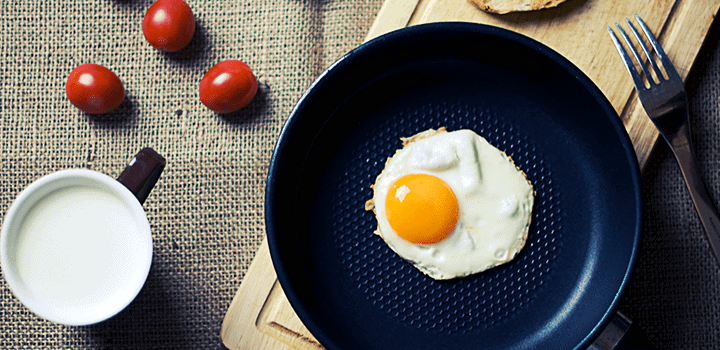 The joy of the home chef, nonstick offers convenience and ease of use. It's also great for beginners and people who like cooking with little to no oil. Generally, it comes with its limitations but who can imagine a kitchen without one or two nonstick pans within reach?
Pros:
Great For Sticky Foods– Non-stick cookware cooks and effortlessly releases foods that are prone to sticking to pans such as fried eggs, pancakes, crepes, hash browns, and more. As such, it's considered to be a savior when cooking tricky foods.
Cleaning Is A Breeze – Due to the smooth coating, cleaning is super easy. Most of the time, a simple wipe will be enough. Dishwashing can damage the coating and therefore it's not recommended.
Cooks With Less Fat– Since food doesn't stick, you can use little to no oil or butter in the pan. This is an attractive option for people who want to lose weight or reduce their fat intake due to health concerns.
Low Price – Most nonstick utensils are inexpensive but better quality products often cost more. Another quality indicator is the weight. Normally, the heavier, the better!
Use On Any Cooktop – Most of them can be used on all cooktops. For use on induction range cookers, make sure that there is an 'Induction Compatible' label or do a test by checking if a magnet sticks to the bottom of your pan.
Cons:
Not Good For High Heats – Research has shown that overheating a nonstick Teflon surface leads to decomposing and emitting toxic fumes that can be harmful to humans and birds. Avoid cooking at high temperature and keep your kitchen properly ventilated.
Not Long-Lasting – Many of these products wear down very fast depending on the overall quality and they are not safe to use anymore. To increase their lifespan, do not use metal utensils or harsh cleaners and get rid of old or scratched pans. Also, when not in use, store them safely to prevent scratches.
Not Dishwasher Safe – Generally, cleaning in the dishwasher should be avoided but check your manual for specific guidelines.
Not Good At Browning Meat – Broiling or searing cuts of meat or other types of food is not what these pans are designed for as they can't withstand high heats.
Cast Iron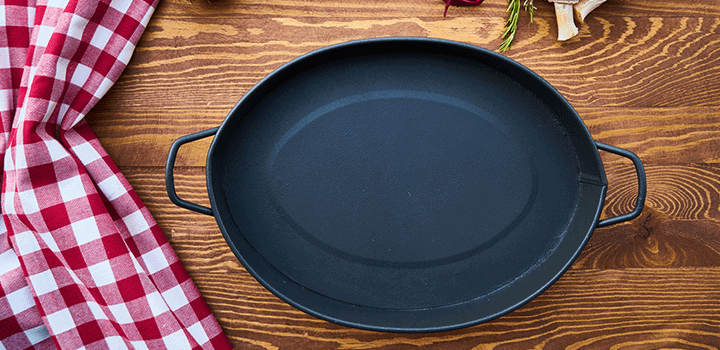 Best for heat retention, cast iron is versatile and durable enough to be handed down to the next generation like a veteran who doesn't lose the knack for fighting battles. It's also gifted with non-stick properties.
Pros:
Great Heat Retention - This is the best material for retaining heat. Once it gets hot, it stays hot for long, which makes it perfect for searing meat, deep-frying, or slow cooking stew. It also works well as a serving utensil, it will keep your food warm throughout the whole meal.
Versatile - It withstands oven temperatures (make sure the handle is oven safe) and can be used anywhere from electric cooktops to induction or gas stovetops. One of our favorite uses is over the campfire!
Naturally Non-Stick - Well-seasoned cast iron cookware develops natural non-stick properties, and unlike Teflon, you don't have to worry about toxic materials coming into contact with your food.
Durable - If properly cared for and maintained, it will last a lifetime, making for a great investment.
Cons:
Slow Heat-Up – It doesn't heat up quickly and, generally, it doesn't react fast to heat changes, so it's not the best material for heat control and precise cooking.
Reactive To Certain foods – Acidic foods like wine, citrus juices, or tomatoes can react with this material and give a metallic flavor to your food.
Needs Maintenance – To reinforce and maintain its natural non-stick coating, cast iron should be seasoned every once in a while depending on the use. It also needs special cleaning, otherwise, the seasoning will be stripped away. And don't even think about putting it in the dishwasher. To prevent rust, always remember to dry it thoroughly and store in a dry place.
Very heavy - Incredibly heavy, cast iron frying pans can be difficult to lift or wash especially for people with a weak grip.
Enameled Cast Iron
Great for searing, stewing, braising, and roasting, enamel cast iron cookware does everything that uncoated cast iron can do but with an extra burst of color and beauty. It's also easier to clean and maintain.
Pros:
Excellent Heat Retention – Although enamel does not heat fast, once it gets hot, it stays hot. Also, the heat distribution is even, which makes it a good material for frying and slow cooking.
Doesn't React With Food – The enamel coating prevents iron from leaking into the food when it comes into contact with acidic food ingredients. Thus, your food does not get a metallic flavor.
Easy To Maintain – No seasoning or special cleaning care is required here. A simple wash with some soap and water is more than enough and since it's not seasoned, strong aromas don't stay in the coating, unlike regular cast iron. It's also dishwasher-safe.
Long-Lasting–With proper care, it will last a lifetime.
Non-Corrosive – Enamel utensils don't rust.
Available In Many Colors – This is an attractive piece of cookware to showcase in your kitchen and a great gift for a friend who's a cooking enthusiast.
Cons:
Enamel Can Chip – Mishandling it can lead to chipping. It can also crack if dropped or heated while it's empty. Avoid using metal utensils. If the interior is a lighter color, it can also discolor over time.
Heavy – Due to the heavyweight, it's not easy to handle or wash.
Expensive – This is a high-priced item but can be worth the investment since its long-lasting.
More Sticky Than Regular Cast Iron – It doesn't have the same non-stick properties that seasoned cast iron has.
Copper
As the best heat conductor of all other materials, copper heats up and cools down quickly providing maximum temperature control for precise cooking. That's why it is often found in the kitchens of top chefs and culinary experts.
Pros:
Best Heat Conduction – This is the most responsive material. It quickly responds to the changes of temperature and the heat distributes evenly throughout the surface. This makes it perfect for different cooking jobs such as searing, frying, sautéing, or simmering sauces. For durability, look for heavy-gauge copper cookware (thickness of 1/16 to ⅛ inches).
Reduced Cooking Time – The uniform heat and optimum heat conductivity reduce cooking time, but this also depends on the heat source.
Decorative Piece – Whether it's the glowing finish or the vintage look it gains after some uses, copper reflects warmth and beauty to your space.
Cons:
Reactive Metal – It reacts with certain foods. That's why most copper pans and pots today are lined with stainless steel or tin.
Special Maintenance Needed – Copper cookware needs careful handling to ensure it will last for many years. You can't throw it in the dishwasher. Hand washing is recommended. To prevent it from getting tarnished or corroded, you need to dry it thoroughly after washing. To preserve its shine, regular polishing is required.
Not Induction Compatible – Copper is not a magnetic material so it is not suitable for use on induction cooktops.
High Price Tag – Genuine copper pans and pots are pricey but maintain their value so they can be worth the investment.
Carbon-Steel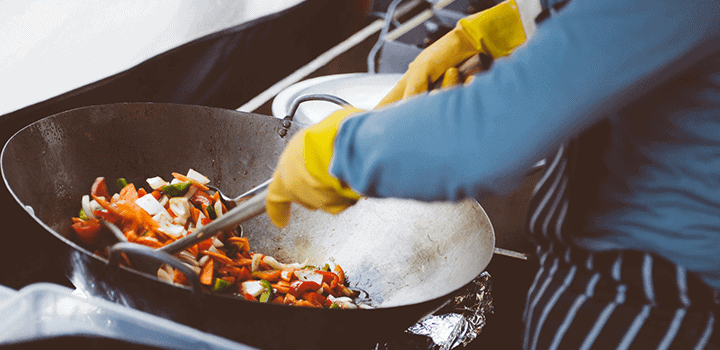 Carbon steel cookware is more likely to be found in a chef's kitchen than a home kitchen. Why? Because it handles high heat perfectly, it's non-stick, durable, and affordable. But wait, aren't these qualities good for home use as well?
Pros:
Very durable – Made of 99% iron material and 1% carbon, carbon steel pans have a very tough surface that makes them long-lasting.
Withstands High Heats - Take the durability factor and combine it with the fact that this material achieves and maintains very high heats, and you have one of the reasons why it is loved by professional cooks. It also heats fast and evenly and keeps food warm.
Super Versatile – This multipurpose wizard can do anything from stovetop cooking, braising and browning steaks to stir-frying, oven broiling and baking. Did you hear that? It's also oven safe.
Non-Stick – Carbon steel needs to be seasoned to become non-stick but unlike cast iron, it doesn´t need multiple treatments. Seasoning also serves as anti-rust protection.
Relatively Lightweight – This makes it easy to carry, maneuver, and clean.
Cons:
Not Dishwasher Safe – Since you can't wash it in the machine, you can only wipe it clean with paper towel or hand wash it. Use a soft brush and water. If you need to use soap, choose one with mild ingredients.
Can Discolor – Reacting with certain foods can lead to discoloration but keep in mind that the more seasoned your pan is, the better it can deal with those acidic ingredients.
Aluminum
Aluminum is inexpensive, lightweight, and excellent at conducting heat, which makes it a very popular material of cookware. When you're looking for good quality aluminum pans and pots, certain terms such as 'anodized' or 'hard-anodized aluminum' keep popping up, right? Need to clear up a few things? Keep rolling down the page.
Pros:
Great At Conducting Heat – In terms of thermal conductivity, aluminum comes second in the list after Copper - can't say I'm not impressed.
Strong & Durable - Because aluminum itself is a soft material, there are certain ways to make it stronger and more durable such as anodization and cladding. More on this, soon.
Quite affordable – As it's the third element that is abundantly available in nature, it is generally inexpensive and cheaper than its stainless steel or cast iron counterparts.
Lightweight – No one has ever complained about owning a heavy aluminum pan, believe me. Being easy to manage and clean makes it a good choice for your everyday cooking.
Some Pieces Are Non-Stick – Some aluminum pieces of cookware come with non-stick coating which may be Ceramic or Teflon based. For better quality and durability at an additional cost, choose a non-stick product that is also hard anodized instead of going for the plain aluminum material.
Cons:
Reactive If It's Not Anodized Or Cladded– Aluminum pans can easily stain because they are reactive with acidic foods. You may also notice a change in the flavor of your food. To address this problem, the best items undergo anodization or they are cladded with stainless steel. When we say Anodization, we mean an electrochemical process that makes the metal harder and resistant to abrasion and corrosion.
Not Compatible With Induction Ranges – As aluminum is not a magnetic material, it cannot be used on induction unless it's cladded with another material that is induction friendly.
Not All Items Are Dishwasher Safe – While some can be washed in the machine, others cannot. For safe care, read the specific requirements for each product.
what to Consider When Buying Cookware
Choose the right pans and pots for your cooktop
For a glass top stove, you need a material that is flat and won't damage the smooth surface. Stainless steel is a good candidate for this purpose. If you have a gas stove, technically any cookware can work but certain materials may perform better. These include stainless steel with copper or aluminum layers, carbon-steel pans, or copper cookware cladded with stainless steel.
When it comes to induction ranges, check whether your existing pans have magnetic properties and if not, look for induction compatible models.
Match the cookware material with the cooking technique
Toperformdifferent cooking methods, some features are more important than others. For example, certain foods require heat retention over longer periods while others need pans that heat up very fast. Acidic foods need to be cooked in non-reactive cookware and delicate foods are easier to cook on non-stick surfaces.
Check construction details
For functionality and ease of use, construction features matter. For example, you will want to know the length and the material of the handle. What about the sides and the rim? Choosing the right one makes things easier when simmering and pouring liquids or tossing ingredients.
Look for healthy materials
Whether you need to cook with less oil or want to avoid using potentially toxic cookware materials, there are plenty of healthy options out there.
Think of the cost
It's easy to get carried away by the shiny finish of copper or bright attractive color of enamel cast iron, but have you seen the price yet? Still, a high cost may not feel intimidating if you view quality cookware as a long term investment.
Take inventory of what you have
See what you already have in your kitchen. If you only need to replace a couple of old or scratched pans, why then go for the full set?
Consider the available storing space
Space is valuable, no doubt, and you need to have enough of that to host your new purchase.
Finally, Is there Such A Thing As The Best Cookware Material?
Depending on different factors, some cookware materials are better than others, and to determine what suits you best, you need to consider these factors.