What do you remember the most about your childhood? Wait, let's set the parameters: think of those fun days that you would go to the fair, a carnival, or maybe even a baseball game with your family or friends. What immediately comes to mind?
If you were like many kids, you probably have memories of hotdogs and bottomless soda cup...and cotton candy! It's during these occasions that you would have pretty much all the cotton candy you wanted.
That sweet taste never really leaves you, even as an adult. You probably get the urge to have a cone full of cotton candy from time to time. Thankfully, you don't have to run around looking for a fair, nor do you have to feel a bit out of place eating that sugar-filled goodness in public.
With a cotton candy machine at home, you can have all the candy you want. Heck, you can be the best dad or mom ever and have one of these machines at home for birthday parties and kid's sleepovers.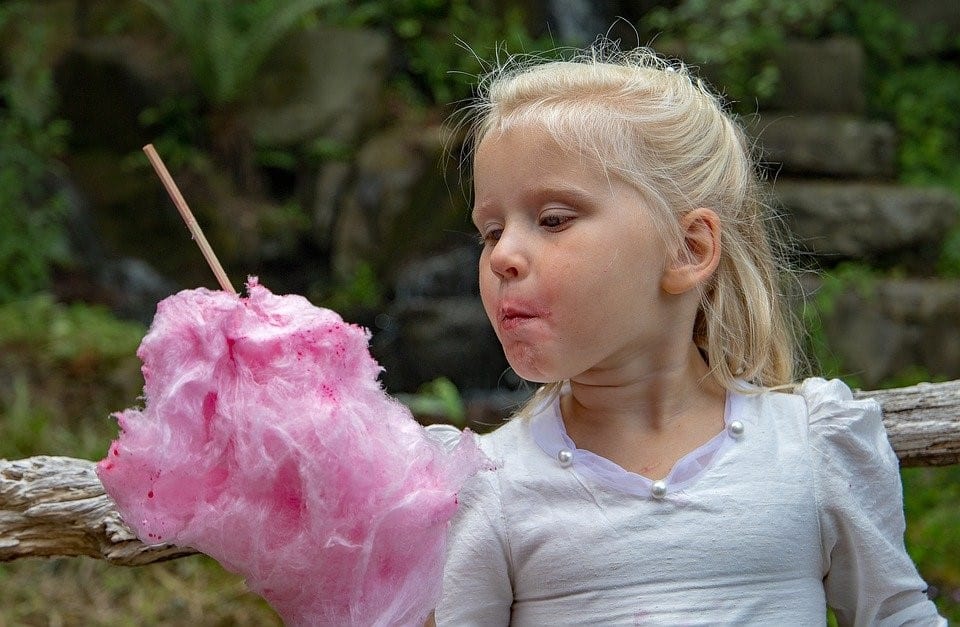 One of the best things about all this is that many of these machines are tabletop appliances that are compact enough to fit right into your kitchen without taking up too much space.
Others come with a cart you can use to wheel around and make it look just like the stands that got you so excited at the fairs in your younger days.
You are probably thinking about getting one of these cotton candy machines for yourself right this minute. The choices are plentiful, and you can even find one that is within your current budget range. Let's take a quick look at some of the best and most affordable cotton candy machines to buy.
The Best Cotton Candy Machine for Your Home
It's logical to assume that this really isn't your area of expertise, and as such, you wouldn't know every single thing you need to know about picking the best cotton candy machine for your home. That's perfectly fine because we've done the leg work for you.
Our recommendations and buying guide gives you plenty of tips and information to help you make the right choice for your home and your specific cotton candy needs.
1. Best Overall - Nostalgia Hard & Sugar-Free Candy Cotton Machine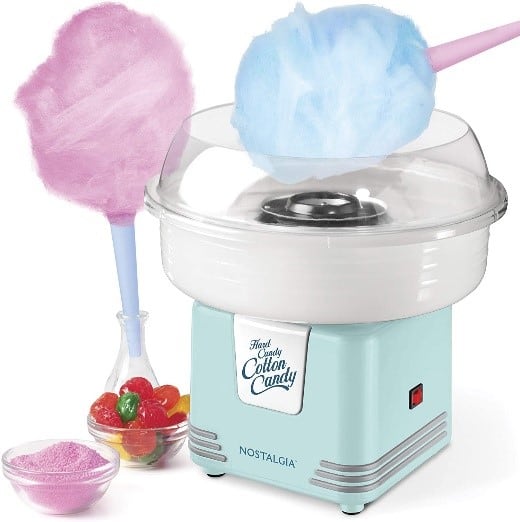 This Nostalgia Hard & Sugar-Free Candy Cotton Machine has a retro design that will take you back to those wonderful days as a child at the county fair.
Apart from looking the part, it's simple enough to operate, making it perfectly ideal for your kitchen. All you have to do is warm it up, add a bit of your flossing sugar, and wait for your delicious cotton candy to be ready in just a few minutes.
This unit has a unique extractor head, which allows you to make use of your favorite hard candy or traditional flossing sugar to make the cotton candy.
It also comes with a clear rim guard that is protective of the entire process and allows you to watch as your delicious cotton candy is made. It comes with two reusable cones and is extremely easy to use.
Pros:
Affordable
Easy to use
Easy to clean
Has a clear rim guard?
Retro design
You can use either hard candy or traditional flossing candy
Cons:
Doesn't have a wheeled stand
2. Best VIVO - VIVO Blue Electric Commercial Cotton Candy Machine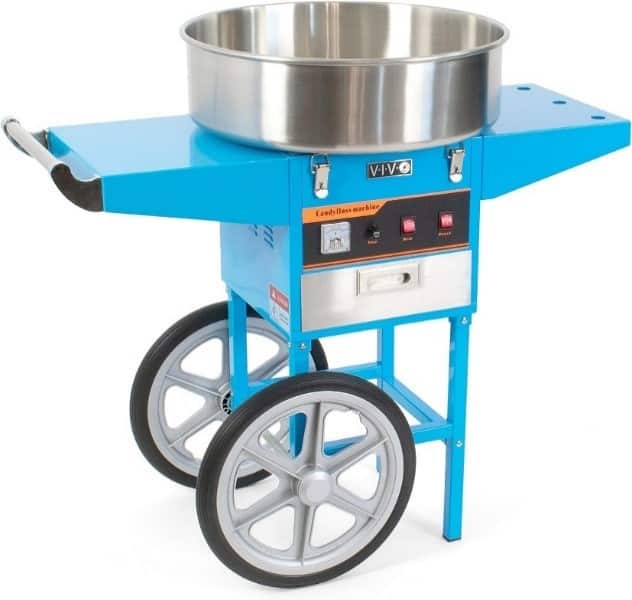 Technically speaking, the VIVO Blue Electric Commercial Cotton Candy Machine is a bit much for just a small kitchen. However, if you are the kind of household that hosts a lot and love holding birthday parties, slumber parties, and all kinds of kid's oriented events at your home, maybe having a commercial grade cotton candy machine at home wouldn't be such a bad idea.
The thing about this cotton candy machine is that it's an absolute workhorse. It can transform sugar or hard candy into deliciously wooly cotton candy in just one minute.
You get up to 3 servings within that minute of work. It comes with a large Stainless Steel Bowl (20"), a sugar scoop, and even a cash drawer. The unit is very easy to clean; all you have to do is disassemble it (a simple enough process).
Pros:
Commercial grade unit
Makes up to 3 servings per minute
Easy to clean
Backed by a 1-year Manufacturer Warranty
Cons:
3. Best with Stand - ANCROWN Cotton Candy Machine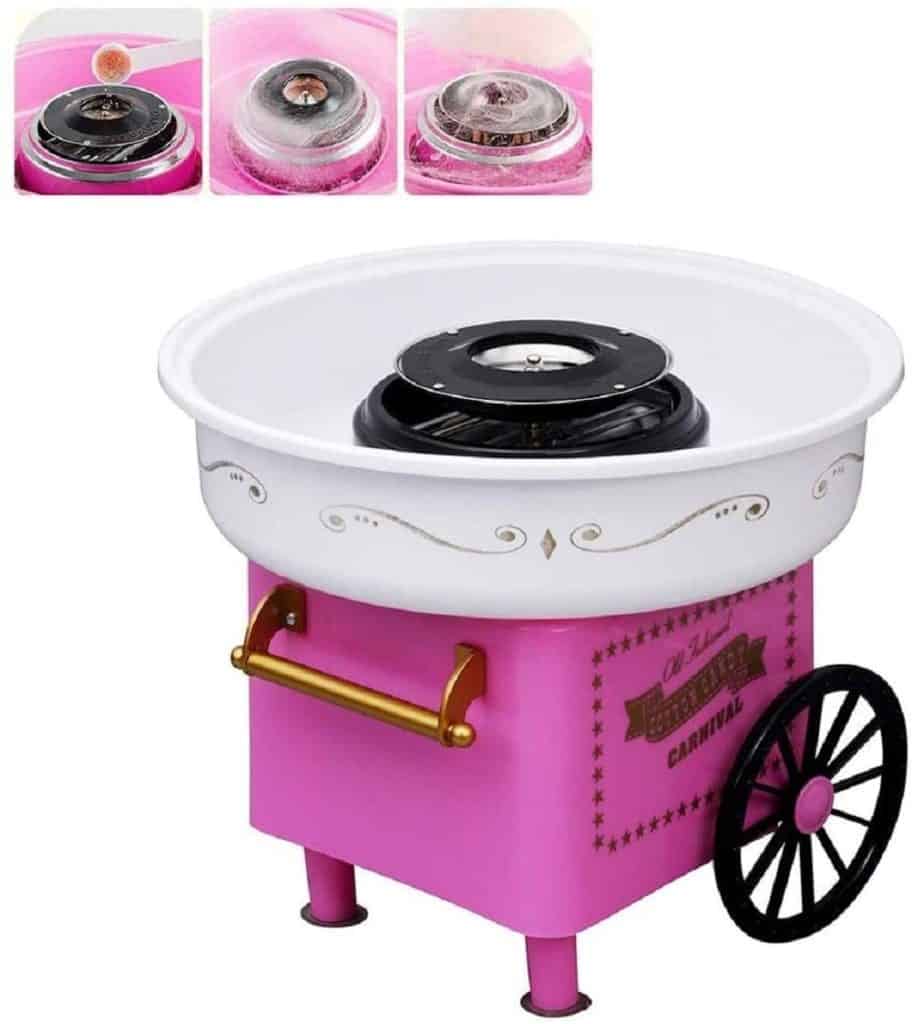 If you are in the market for a home cotton candy machine that is not only small and compact but also efficient, you might want to give this ANCROWN Cotton Candy Machine a try. The machine has extremely high efficiency, which guarantees low power consumption and a delicious cotton candy serving in just under two minutes.
One thing that you will notice about many cotton candy machines is that they tend to stick quite a bit. It comes with the territory of dealing with sugary treats.
However, this cotton candy maker features a high-quality Teflon coated surface with makes it non-stick. That alone should be a positive addition to its reputation as it makes it very easy to clean.
Additionally, the machine is very easy to use and can make for the perfect gift if you have a child obsessed with cotton candy.
Pros:
Non-stick Teflon coated surface
Easy to use
Low working noise
Highly efficient
Cons:
One serving every two minutes isn't as fast as these machines can get
4. Best Dishwasher Safe Option - BELLA Red and White Cotton Candy Maker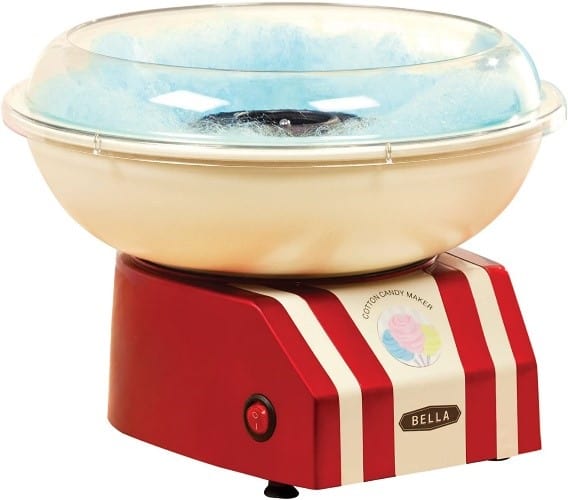 So far, we have looked at cotton candy machines that are easy to clean and use. We haven't yet seen one that is dishwasher safe. This BELLA Red and White Cotton Candy Maker is one of those rare cotton candy machines that come with a dishwasher safe bowl. That makes it extremely ideal for families that have an active cotton candy eating lifestyle.
Not only is it dishwasher safe, but it's also very easy to clean because you can put the entire machine into your dishwasher. The rest of the components come apart rather easily to allow you to get all the dirt out with every cleaning session.
Designed with a compact design, this cotton candy machine won't take up much space in your home. It also has a retro mix of red and white stripes that make it look like it comes from a 90s era cinema giving you those wonderful childhood vibes.
The machine itself has only one button making it foolproof to operate. The only issue you might have with it is that it needs a bit of time to warm up before it can get going, but once it's warm enough, it works efficiently to give you delicious helpings of cotton candy within minutes.
Pros:
Easy to use
Has only one operating button
Has a retro look
Compact design
Cons:
Takes about 10 minutes to warm up before use
5. Best Commercial Option - Olde Midway Commercial Quality Cotton Candy Machine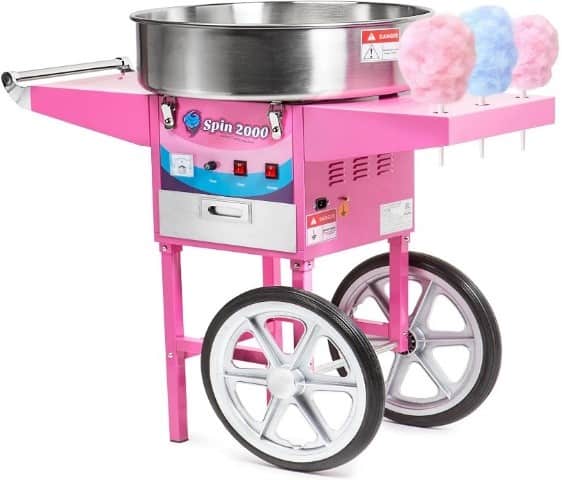 While commercial-grade cotton candy machines might be a bit much for most families, they do have one advantage that most other machines do - they are fast.
This Olde Midway Commercial Quality Cotton Candy Machine will warm up and be ready to go within 2 to 4 minutes of turning it on. Once it gets going, it's very easy to use. All you have to do is pour in your cotton candy mixture and start twirling.
It comes with a large stainless tell kettle, a belt-driven high-performance motor, and a 950-watt heating element. Apart from getting ready to go fast, it also works quite efficiently - you will get a cotton candy cone every 30 seconds. It has a front panel where you can find the heat controller, power switch, and voltmeter.
Pros:
Comes with wheels and a stand
Efficient
Works fast
Cons
6. Best Countertop Option - Chef Buddy Cotton Candy Machine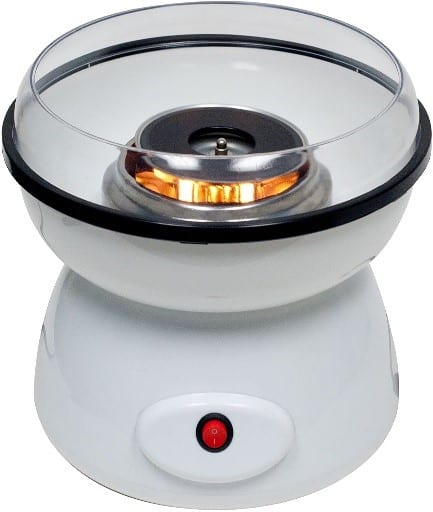 This Chef Buddy Cotton Candy Machine is for people who have small kitchens and would like a cotton candy machine small enough to fit on their countertop without interfering with all other appliances.
Apart from being compact, this cotton candy machine is quite efficient and fast. It heats up in less than 5 minutes and can churn out cotton candy cones right after that process is complete. It's simple to use, easy to clean, and good fun for the whole family.
Pros:
Compact design
Easy to clean
Efficient
Affordable
Cons:
Doesn't produce a lot of cotton candy in one go
7. Best Vintage Design - Nostalgia Vintage Hard Free Countertop Cotton Candy Maker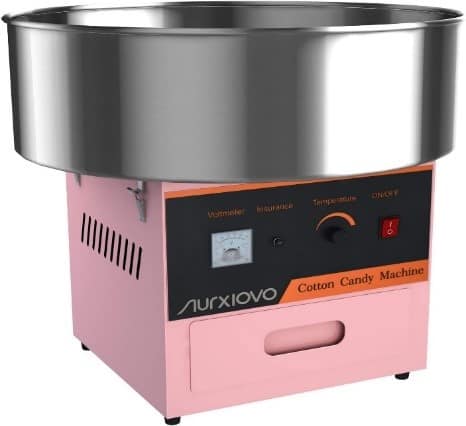 Nostalgia candy cotton machines are some of the best in the industry. Not only are these machines efficient, but they are also easy to use and rather affordable.
This Nostalgia Vintage Hard Free Countertop Cotton Candy Maker is an absolute gem for people who long for the good old days. It has a vintage design that will remind you of ancient county fairs when you were growing up. However, it's not just all about the looks.
This is an extremely efficient machine with a unique extractor head, which allows you to use either hard candies or flossing sugar to make cotton candy. It's simple enough to use with a quick warm-up process.
The entire cotton candy-making procedure shouldn't take you more than a few minutes when using this machine, and thanks to its clear rim guard, you get to watch as your cotton candy is made.
What sets it apart from most cotton candy machines is that it comes with wheels and suction cup feet that give the unit incredible stability.
Pros:
Vintage design
Easy to use
Suction cup feet for extra stability
Easy to clean
Cons:
It can be a little messy to use
8. Best Efficient Option - Nurxiovo 21 Inch Cotton Candy Machine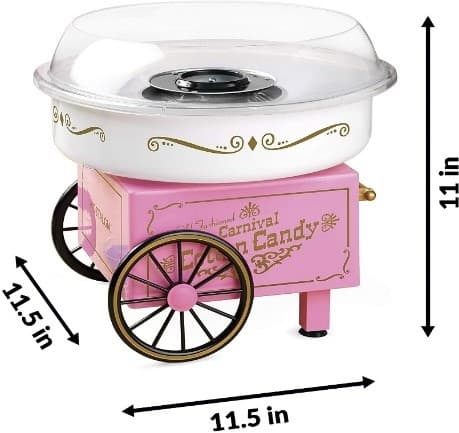 When it comes to cotton candy machine efficiency, you need to choose one rated as a commercial machine and can produce at least 2-3 cotton candy servings every minute.
That is exactly what this Nurxiovo 21 Inch Cotton Candy Machine. Designed with efficiency in mind, this machine rotates at 3000 r/m and can produce up to 3 servings per minute.
It's extremely easy to use and warms up in less than 5 minutes. Once it's warmed up, all you have to do is pour in your cotton candy mixture and watch the machine work it's magic.
It features a unique design that incorporates locking clips that help hold down the bowl while the machine is working. This minimizes the vibrations and makes this machine less messy as well as rather quiet when in use.
Pros:
Easy to use
Highly efficient
Has locking clips that hold down the bowl
Less messy and quiet to use
Cons:
Cotton Machine Buying Guide
Do You Need to Use a Cotton Machine?
For some, buying a cotton candy machine might seem like a waste or just unnecessary to have around the home. However, if you have young children, a cotton machine can be great for entertaining, hobbies around the house, or organizing birthday parties! It can also be a great option to have a school bake sale for your kids - you can teach them the ins and outs of making money and running a small cotton candy stand! You don't need a cotton candy machine to make home-made cotton candy, however it does make it much easier and definitely offers a fun experience for you and your children.
Important Factors to Consider When Choosing a Cotton Candy Machine?
As you can see, there are many different types of cotton candy machines in the market. There are some popular brands as well as some obscure ones. However, just because you haven't heard of a specific brand before shouldn't be grounds for its immediate dismissal.
You could very well stumble onto something wonderful. That being said, here are some of the most important factors to consider when trying to find the best cotton candy machine for you and the family:
Purpose
What do you intend to use the machine for? Is it just something you want in your small kitchen for you and the family, or are you going to be using it to throw big birthday parties? If you want something for busy occasions, then you might want to go for the commercial-grade option mentioned above; otherwise, buying something small that doesn't produce as much cotton candy at one go will do just fine.
Efficiency
How patient are you? Every cotton candy machine needs to be warmed up fast before use. Some machines take less than 4 minutes while others take up to 10 minutes. It all comes down to how patient you are.
Type of Machine
Do you want something with wheels and stands, or would you like a countertop machine? Depending on what your reason is for buying a machine and where you'll be using it, you may need a different machine. If you're looking for a cotton candy machine for your business, then you'll want a more durable option that contains a stronger engine, can fit larger amounts of ingredients, and is faster. Commercial cotton candy machines are much more efficient for this.
However, if you're just looking for a novelty machine that you can use at home to make small batches of cotton candy for you and the family, then a home cotton candy machine will do just fine! Any of the products we recommended in this guide would serve well for home and personal use.
Sugars
Cotton candy is simply sugar that has been melted and turned at a rather high speed. Many machines can use different types of sugars, from floss to hard candy. Choosing a machine that lets you use both options gives you a bit more leeway as far as your choices are concerned. If you're concerned about health, then you may also want to consider a sugar-free cotton candy machine - these are newer models that have only recently come to the market, but can be a great option for sugar-free candy.
Care and Maintenance
Cotton candy machines are definitely a fun product to have around the kitchen, however, like any cookware, it's very important to keep it clean and maintained so it lasts you a long time. You should always clean your machine after each use, especially if you plan to store it away. Most people will only use their machines every so often and store it away after each use. A simple wipe down using a clean cloth and hot water should be enough to keep it clean - make sure any spots that have sugar stuck on them are cleaned thoroughly.
How Does a Cotton Candy Machine Work?
Using cotton candy machines can be rather straightforward, depending on the machine you buy. Some have a control panel where you get to see a host of features such as a voltmeter and heat controller, while others have only one button that you use to operate the machine.
Before you even start operating it, however, you need to ensure that it's properly assembled and that you have all the necessary components. You can do this by simply reading the user's manual that comes with your purchase.
Once that is done, here are the necessary steps that walk you through how a cotton candy machine works:
Start the machine
Let it warm up for a few minutes. For the most part, this won't take more than 5 minutes, although machines take up to 100 minutes. Be sure to read the user's manual to know how long the cotton candy machine you have needs to warm up.
At this point, you will see a spinning unit. That is the bowl in which your cotton candy will be used. Use a spoon to pour your chosen cotton candy mixture into that unit.
Take your cone and spin it around the bowl. Give it time for the cotton candy mesh to form on it before shaping it in a desirable manner.
Once you are done creating all the cotton candy you want for the day, use some water to clean the spinning unit while the machine's engine is still running.
Remember to clean the entire unit as often as advised on the user's manual. Be sure to follow the instructions exactly; not all cotton candy machines have dishwasher ready units.
Here is a quick video showing how to use a cotton candy machine as well as what kind of treats you can put in one:
Having the best cotton candy machine at home is one of the few guilty pleasures that you can enjoy with the whole family. Now you have a list of excellent options for you to buy. All you have to do is choose the design that appeals to you.