Countertop microwaves have become popular once again because of how the oven range has transformed. Back in the late 90s and early 2000s, it was almost standard for a microwave to be mounted at the hood of the stovetop range, essentially eradicating the demand for countertop microwaves.
However, today's oven ranges have transformed into a stylish focal point of the kitchen with many different hood designs that take the place of where the microwave would otherwise be mounted. This had led to countertop microwaves coming back into high demand.
So how do you know you're buying the best countertop microwave? Well, that's our job. By taking a look at these top 7 countertop microwaves and reading out extensive buying guide, you will rest assured knowing you are choosing the best countertop microwave for your kitchen.
Best Overall Countertop Microwave
1. Farberware 1.1 Cubic Foot Stainless Steel Countertop Microwave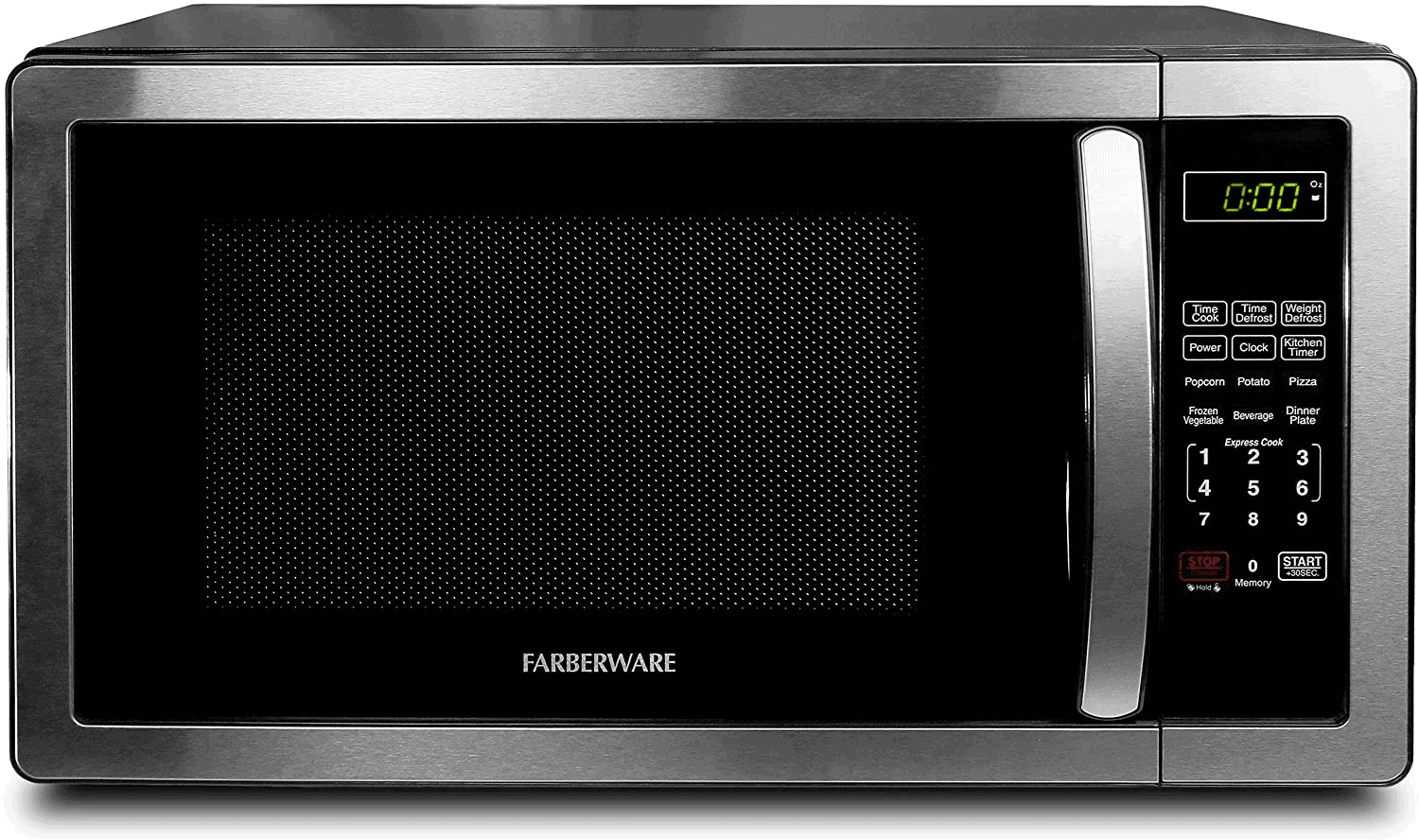 The best overall countertop microwave is this 1.1 cubic foot stainless steel microwave by Farberware.
Keypad numbers 1 through 6 are for express cooking, which allows you to quickly heat leftovers or a frozen meal with one touch of a button. Six cooking programs will adjust the microwave setting to the optimal heat according to what you are cooking. These include a popcorn, potato, pizza, frozen vegetable, beverage, and dinner plate button.
If you don't want to choose one of these quick-setting buttons when heating your dish, you can manually enter the cooking time into the microwave keypad to time cook the dish. If you need to quickly add an additional 30 seconds to the cooking time, just press the +30 seconds button and 30 seconds will be added to the cooking time.
Another feature of this countertop microwave that makes it our overall best choice is the child safety lock. The child safety lock will keep children from turning the microwave on, potentially preventing a dangerous accident from occurring.
The countertop microwave has a stainless steel body with a black interface and accents to give it a sleek and stylish look that will go with all of your other stainless steel or black appliances. There are green LED lights that will show the time when the clock is set, as well as the remaining cooking time when the microwave is in use.
It has a heavy-duty handle on the front of the door that you will pull to open the door of the microwave with an interior light that will come on automatically when the door is opened. The glass turntable inside the microwave is 12.5 inches in diameter and removable, so you can wash it as needed and dishwasher safe.
Best Budget Countertop Microwave
2. Black + Decker 0.9 Cubic Foot Stainless Steel Countertop Microwave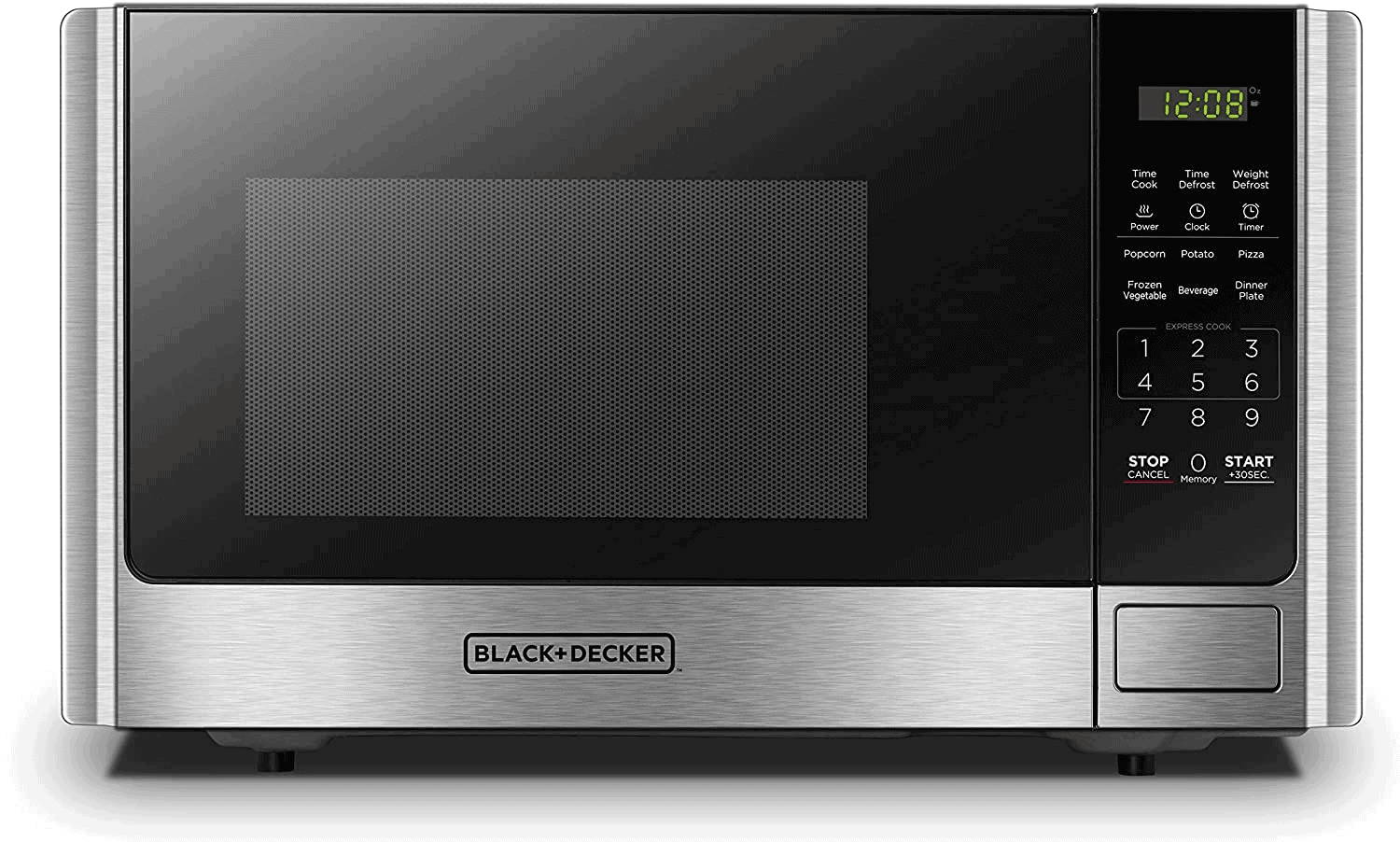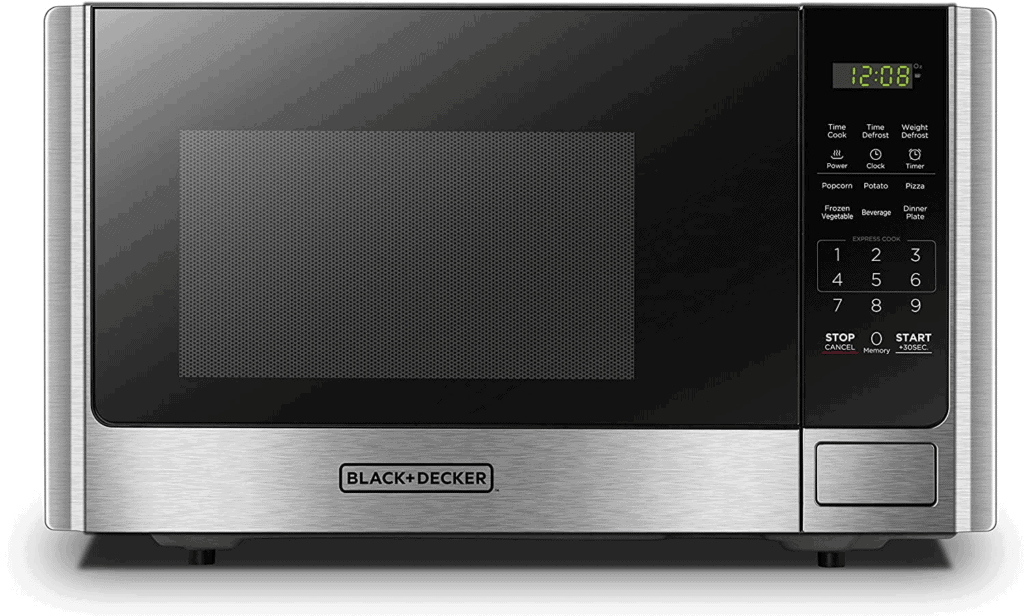 This countertop microwave by Black + Decker has many similar features to the Farberware option that we have chosen as the best overall countertop microwave. There are just a few differences that make it the best budget countertop microwave instead of the best overall.
First, it is slightly smaller than the Farberware option. It is only 0.9 cubic feet, which reduces the size of the glass turntable inside down to 10.6 inches. It also doesn't have a handle on the door of the microwave. Instead, there's a push-button that you will push to open the door.
The similarities of the microwave lie in the buttons and display of the countertop microwave. There are six different express cook times you can choose for easy one-button cooking. These are the buttons on the keypad from 1 to 6, giving you the option to quickly choose a cooking time between 1 and 6 minutes.
The six cooking programs are also the same as the Farberware option. You can choose popcorn, potato, pizza, frozen vegetable, beverage, or dinner plate. This will adjust the temperature setting of the microwave so that the food or drink you are heating is optimally heated using the right time and temperature.
The microwave includes a child safety lock, LED clock and cooking time display, interior light, and removable turntable for easy cleaning.
Best Premium Countertop Microwave
3. Cuisinart CMW-110 Stainless Steel Countertop Microwave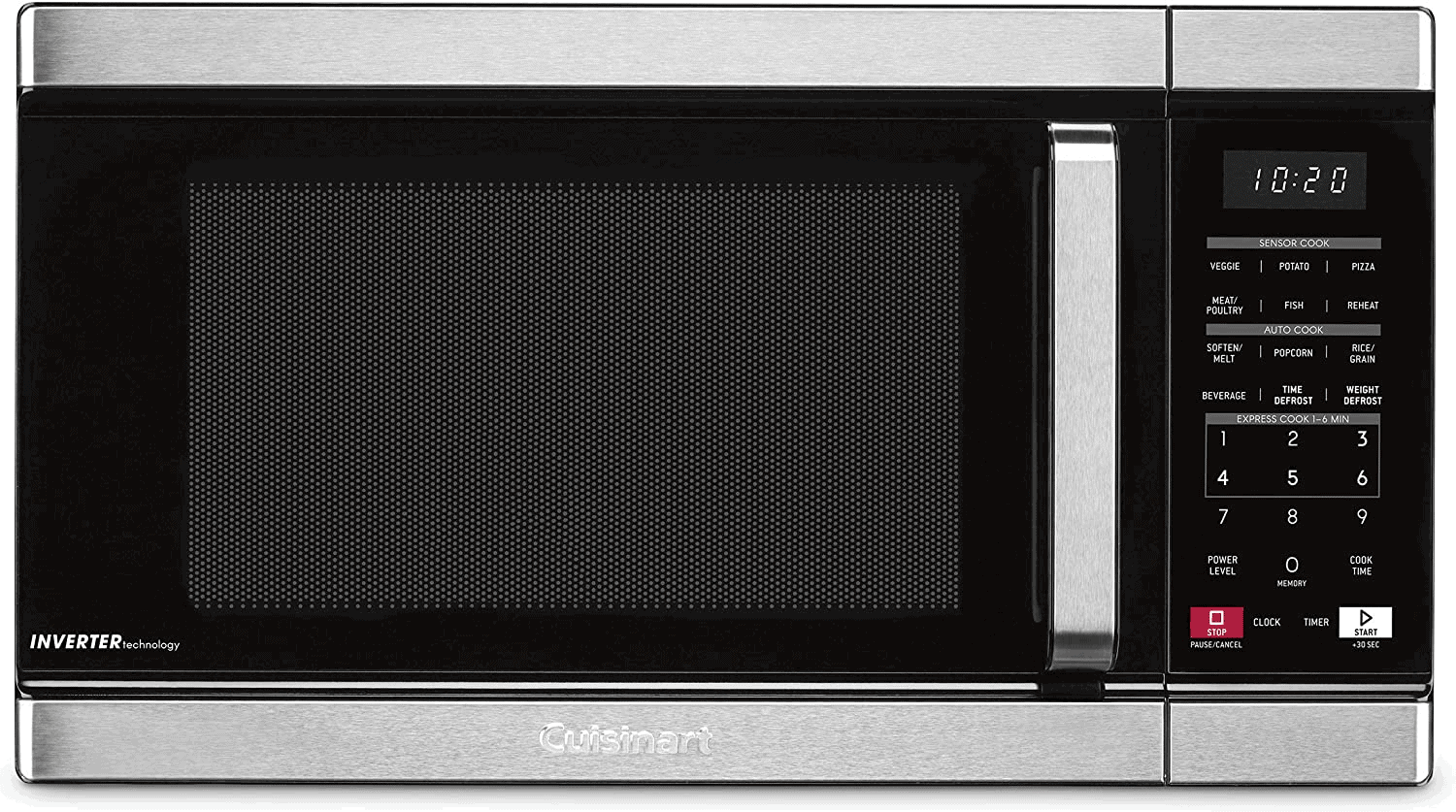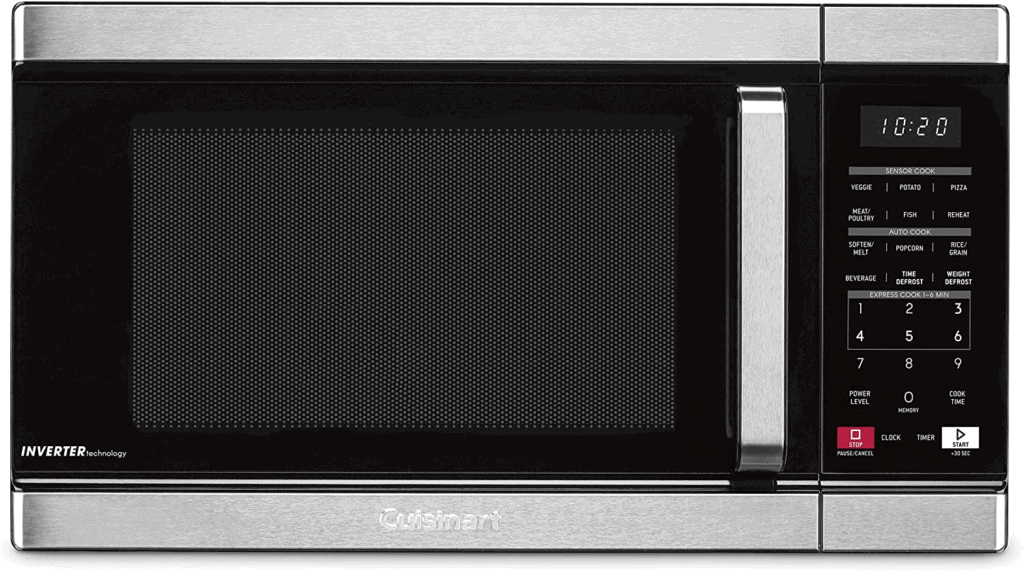 The Cuisinart CMW-110 is our choice for the best premium countertop microwave because of its features, size, and design.
It has many different cooking features and settings you can choose from when heating, essentially any type of food or beverage. These settings are classified as sensor cooking, auto cooking, and express cooking.
Sensor cooking will automatically adjust the time and temperature for the food you are heating. That way, you don't have to try to guess the best time and temperature to use; it does the hard work for you. These options include veggie, potato, pizza, meat/poultry, fish, and reheat.
The auto cook option includes six different quick-push buttons that you can select for various food and beverages. These six quick-push buttons include soften/melt, popcorn, rice/grain, beverage, time defrost, and weight defrost.
Below that is the numeric keypad for you to manually set the cooking time of what you are heating. The first six numbers are the express cook options that will select your cooking time according to the number you push.
For example, if you need to quickly heat a dish for 4 minutes, just press the number 4 on the keypad, and it will immediately begin cooking for 4 minutes. This is especially easy when you know there is a set time limit that you need to cook a dish.
There are also 11 different cooking power levels you can use, from 0 to 100%. This makes it easy to cook or heat delicate food that may only need a small amount of heat to cook the food optimally.
The microwave also has inverter technology that cooks the food quicker, more quietly, and with less energy consumption. The glass turntable is 12 inches in diameter, removable, and dishwasher safe.
4. Samsung 1.1 Cubic Foot Countertop Microwave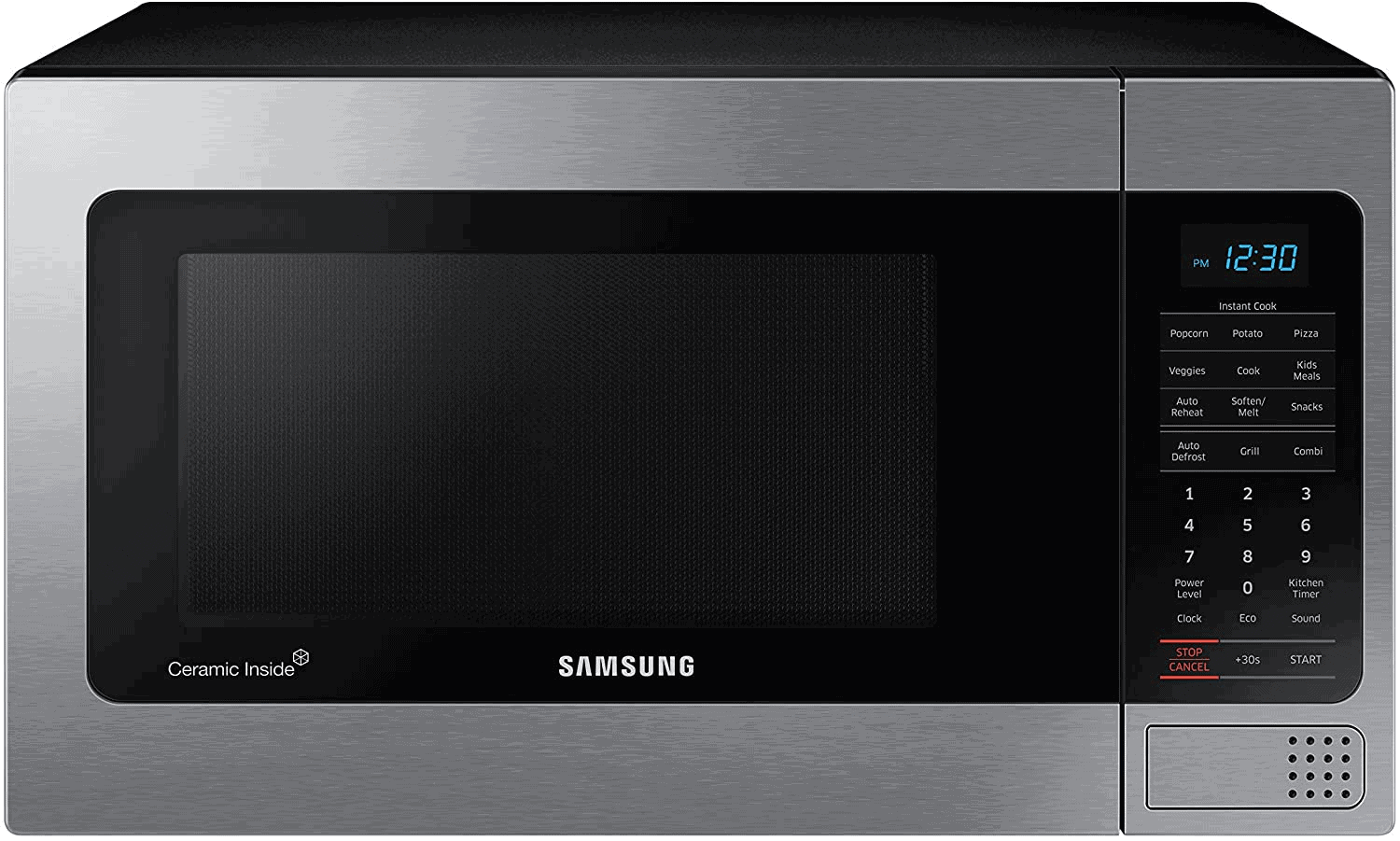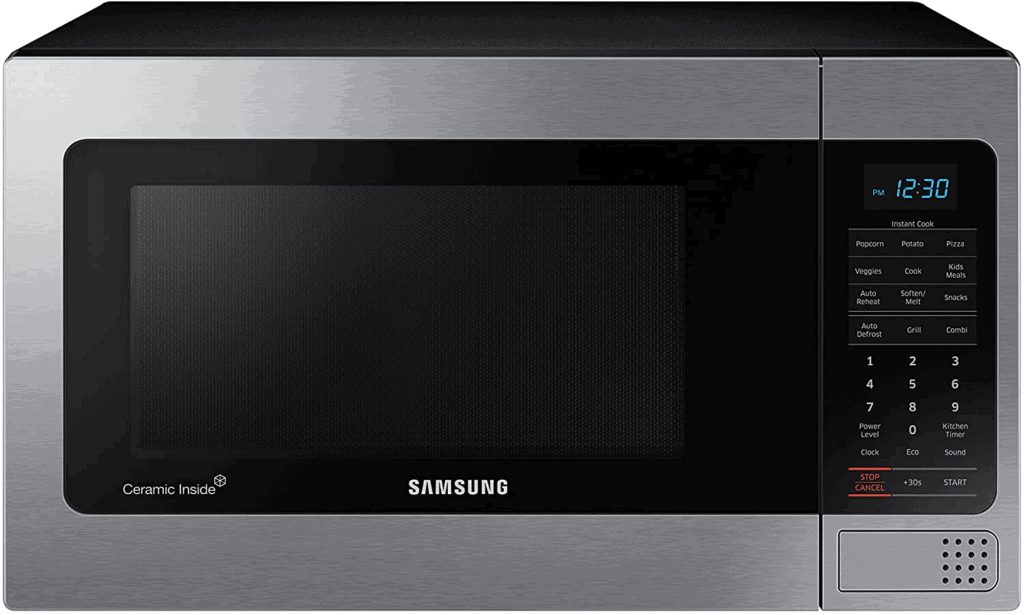 Another great counter microwave option on our list is this model by Samsung.
It has nine different instant cook options that allow you to cook a variety of foods with the touch of a button. These options include popcorn, potato, pizza, veggies, cook, kids meals, auto reheat, soften/melt, and snacks.
The microwave has a higher wattage than many other options. It can reach 1600 watts at its maximum cooking level. Because of this, it is not as energy efficient as the Cuisinart model above.
Another great feature of this microwave is the grilling option. It includes a grilling element with a ceramic plate. This is what sets the microwave apart from the rest. Many foods need a crispy finish when they cook, and microwaves often can't create this alone. That's why the grilling element and ceramic plate is a desirable feature for the microwave to have. It can cook bacon and other foods and give them a crispy finish.
There is a push-button at the bottom of the microwave that will open the door and automatically turn on the interior light. Inside the microwave is made of ceramic enamel that is scratch-resistant and easy to clean. The turntable inside the microwave is 12.5 inches in diameter and can be removed to either wash by hand or place in a dishwasher.
5. GE 0.9 Cubic Foot Stainless Steel Countertop Microwave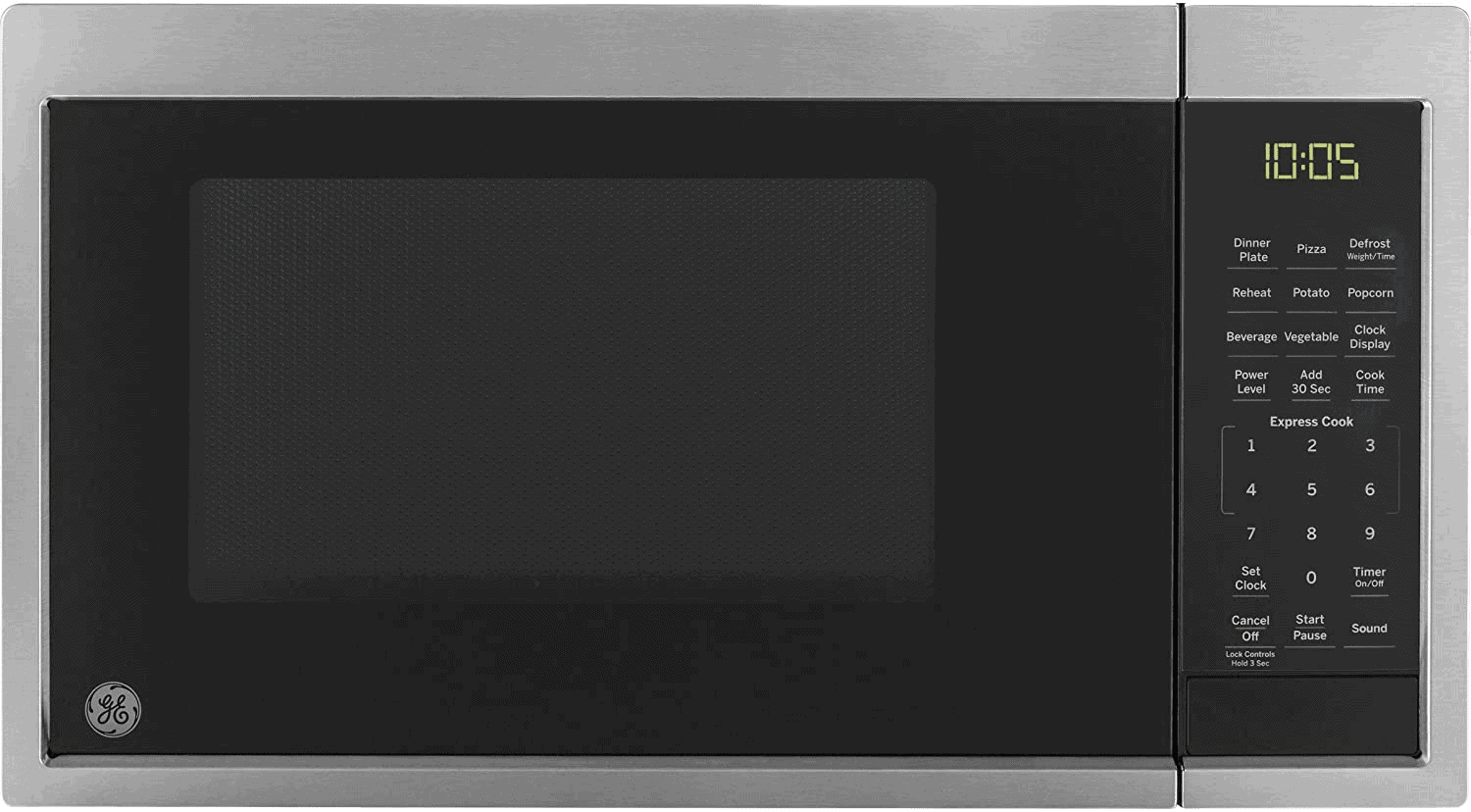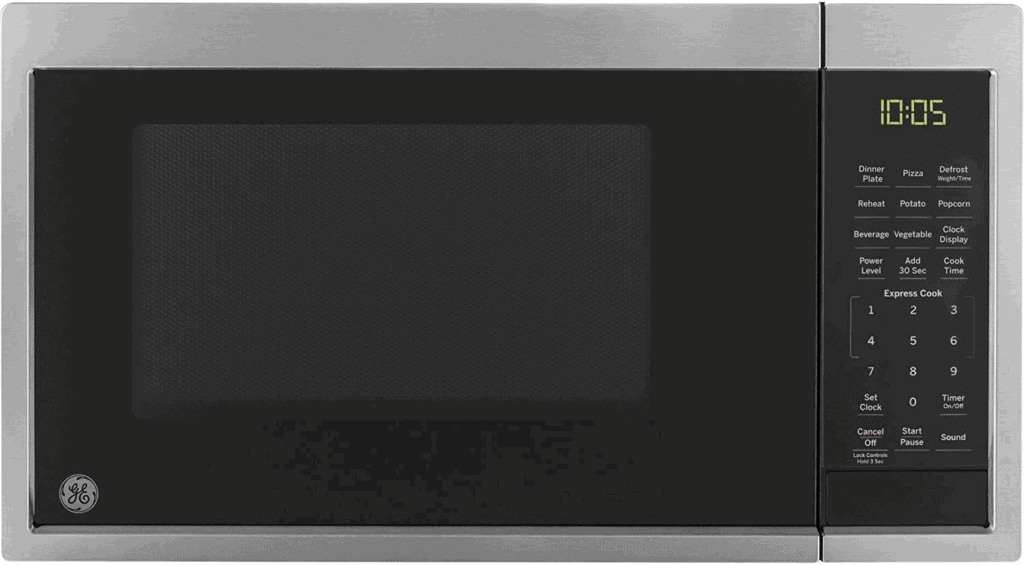 This next countertop microwave on our list by GE Products is an affordable, functional, and compact option. It has a maximum wattage of 900 watts with a variety of settings you can choose when heating food and beverages. You can choose dinner plate, pizza, defrost (weight/time), reheat, potato, popcorn, beverage, or vegetable.
There are six different express cook options you can choose on the numerical keypad from numbers 1 to 6. This allows you to quickly choose any cook time between 1 and 6 minutes by pressing one of these buttons.
If you need to add another 30 seconds to your cooking time, just press the "Add 30 Sec" button. You can also choose your own cooking time and temperature by manually typing in the cooking time on the numeric keypad.
This countertop microwave also has a child safety locking system that will lock the buttons on the front and prevent them from being pushed.
To open the microwave, you will push the large push-button at the bottom of the display. The microwave door will open, and the interior light will automatically turn on. When you are ready to use the microwave, close the microwave, and begin your cooking process. The turntable on the inside will rotate, and it can also be removed for easy cleanup. You can wash the turntable by hand or in a dishwasher.
6. Commercial Chef Countertop Microwave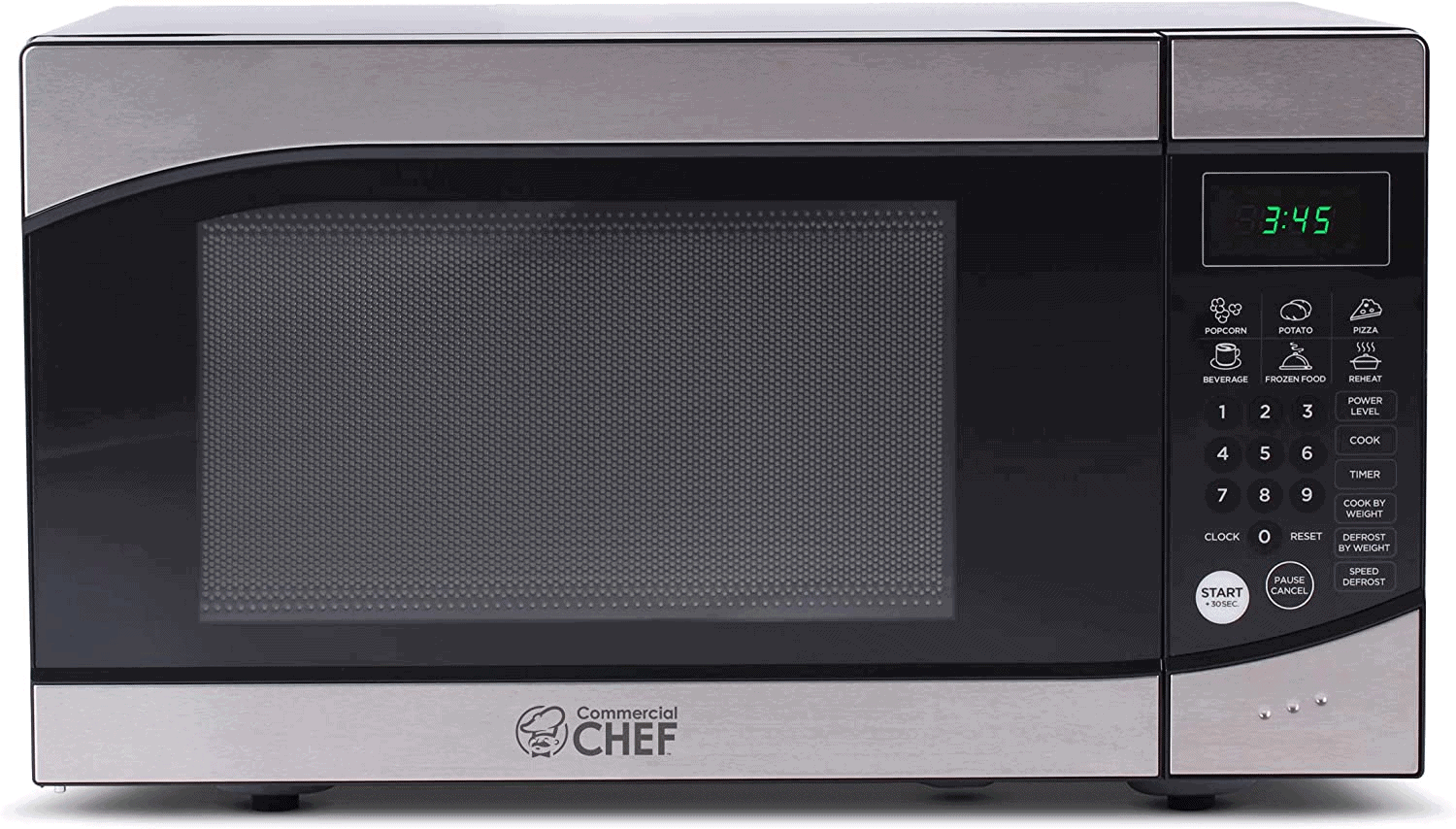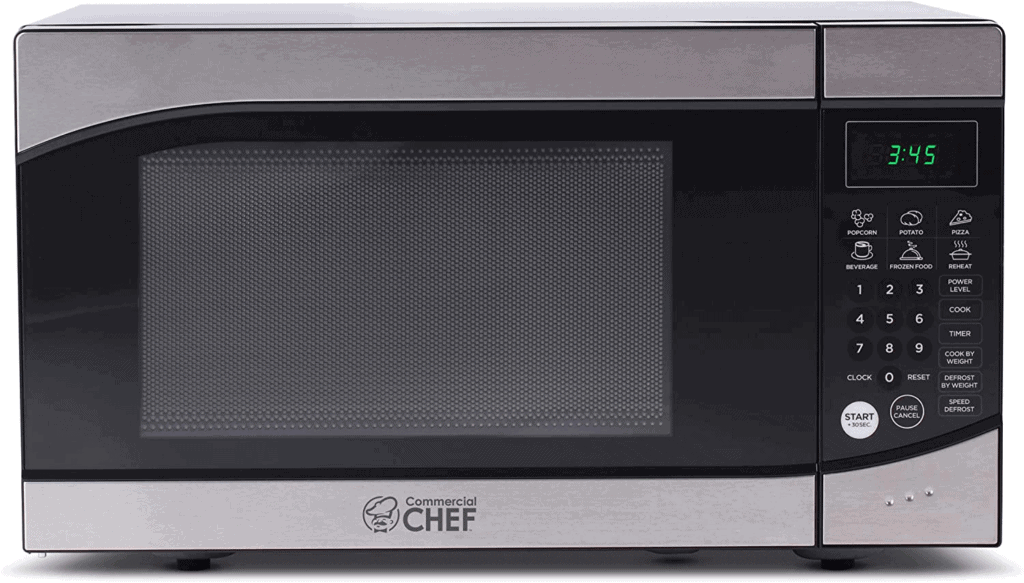 This stylish and functional countertop microwave is made by Commercial Chef and is one of our favorites on our list.
It is 0.9 cubic feet, which is ideal for small kitchens or if you want to take up less space on a countertop. It has six different one-touch quick cook buttons you can use when you need to cook popcorn, potatoes, pizza, beverages, frozen foods, or reheating foods.
You can choose the power level you need for the food you are heating; all the way up to 900 watts. You can also choose to manually enter the food's cooking time if you don't want to choose one of the preset quick-cook buttons.
The turntable inside the microwave is removable and dishwasher safe for easy cleanup. There is also a child safety lock that you can enable to keep the keypad from being pushed and, ultimately, the microwave from turning on.
Finally, the last feature may be our favorite: the sleek and stylish design of the microwave. It has a crisp LED display with stainless steel and black accents. The button to open the microwave door is also stainless steel and has a stylish design, rather than just a rectangular block design.
We love this countertop microwave because it is stylish, affordable, and compact.
7. Walsh 0.9 Cubic Food Countertop Microwave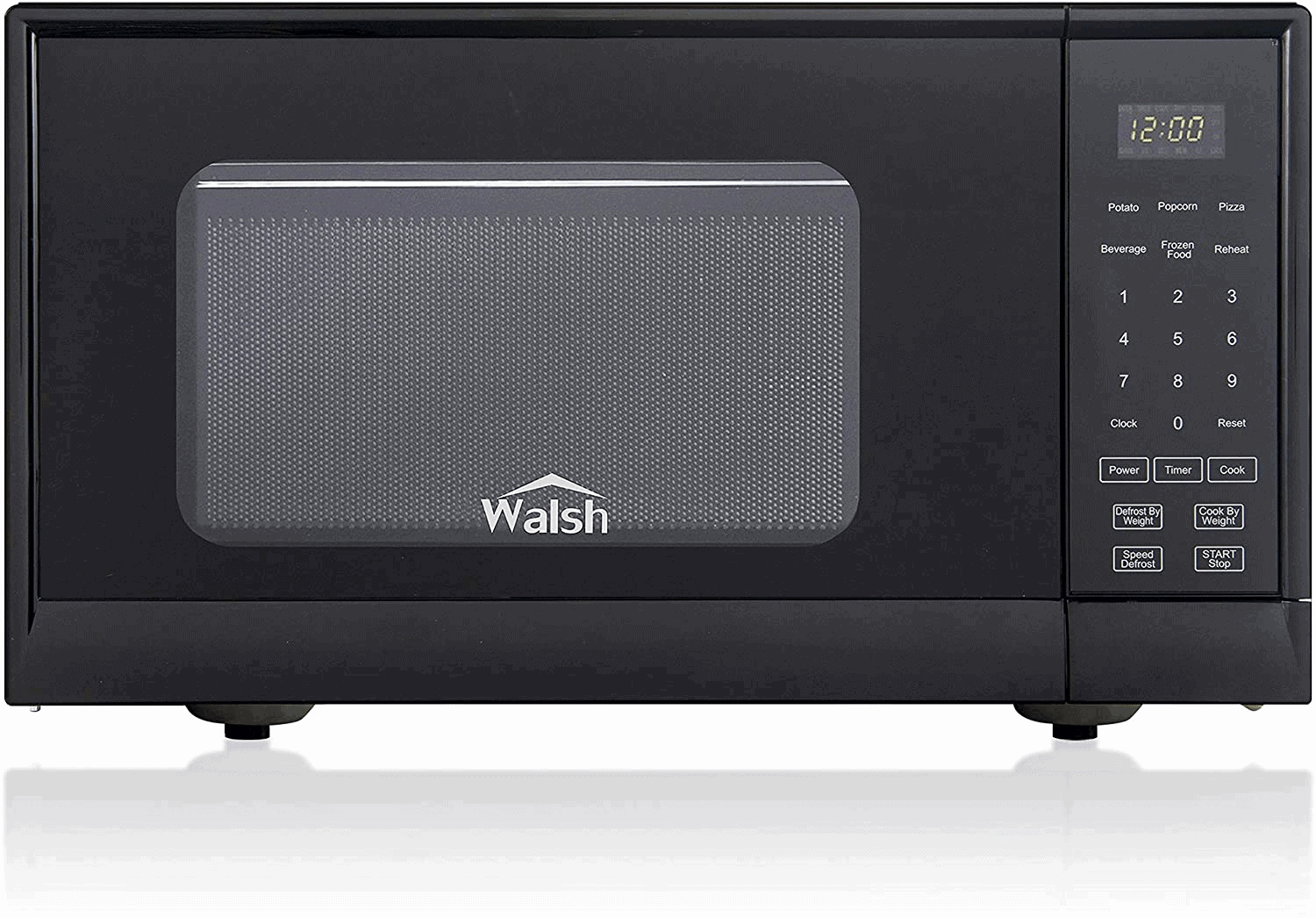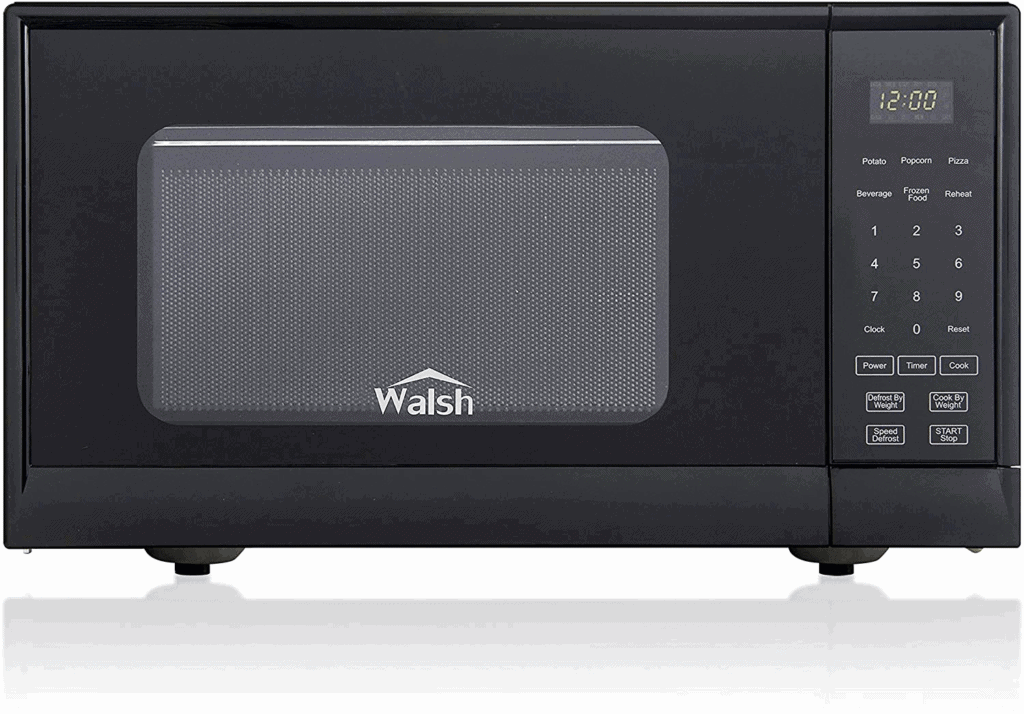 The last countertop microwave on our list of best countertop microwaves is this extremely affordable, simple, and compact model by Walsh.
The front of the microwave has easy-to-use buttons for both quick-push cooking and manual cook time cooking. This means you can push one button to cook or heat your dish, and it will automatically set the cook time and temperature. Otherwise, you can use the numeric keypad to manually key in the cooking time for what you are cooking or heating.
The six quick-push buttons allow you to choose between cooking or heating popcorn, potatoes, pizza, beverages, frozen food, or reheating cold food.
Like the other options, there is a child safety feature that will lock the buttons on the front of the microwave that will keep the microwave heating.
To open the microwave, you will push the button at the bottom of the front of the microwave. It will open the door of the microwave and automatically turn on the interior light of the microwave. There is a glass turntable inside the microwave that can be removed and placed in the dishwasher when it needs to be cleaned.
Best Countertop Microwave Buying Guide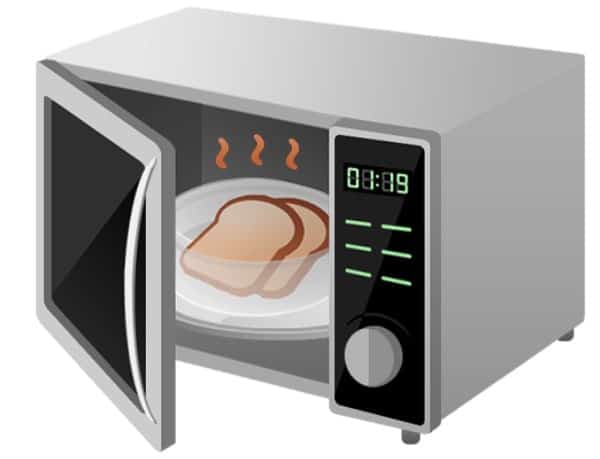 Buying a countertop microwave shouldn't be a difficult process, but when you have so many options to choose from, it can get overwhelming.
If you are weighing a few of these countertop microwaves that we have included on our list but are unsure of how to make the final decision, we'll help you out.
Take a look at this buying guide that we have organized to help you make your decision.
Size
You will need to consider your kitchen and countertop spacing when making your decision. If you have a small kitchen or a small amount of counter space, you will need to choose a smaller countertop microwave.
We recommend a countertop microwave that is 0.9 cubic feet. This will give you ample size on the inside of the microwave without having the microwave take up an excessive amount of space on the outside.
Just make sure that a 0.9 cubic foot microwave doesn't have a larger exterior than necessary, as this will likely take up too much space on your countertop without adding any internal space inside.
If you have a large kitchen with adequate counter space, you can choose a larger countertop microwave; at least 1.5 cubic feet or larger.
Finish/Color
You will likely want to choose a countertop microwave that matches the remainder of your kitchen appliances. So, if your kitchen appliances are white, you should choose a white microwave.
However, if you plan on upgrading your white appliances to stainless steel in the future, then you should go ahead and choose a stainless steel countertop microwave so that you don't have to replace the microwave prematurely simply because it doesn't match the remainder of your appliances.
Settings/Features
If convenience is important to you, you should find a countertop microwave with many one-push buttons for quick and easy cooking. This keeps you from having to manually type in the cooking time on the keypad to start the cooking time. Instead, you will just press the button that correlates to the food you are cooking, and you're done. This takes the time, energy, and thought out of using the microwave.
Energy Use
As technology has advanced, the amount of energy that microwaves use has decreased, but not all models of microwaves use energy-saving technology. Some cheaper models will cut corners on energy-saving technology, which is typically what makes them so affordable.
At the same time, some of the pricier options use the least amount of energy, which can be both quiet and cost-saving.
This is why you need to consider if energy use is important to you. A microwave with energy-saving technology may be pricier, but it will also save more money in the long run and will likely be a quieter option.
Heating Ability
Countertop microwaves will typically have a wattage limit between 600 and 1600 watts, depending on their size and mechanical components. Microwaves with a smaller wattage will heat food successfully, but it may not be evenly. Microwaves with a wattage of 1000 or more will have a stronger heating power and a more even result.
Accessories
Some microwaves may come with accessories that you can use in the microwave to optimize the food you are cooking or heating. In one of the options above, a ceramic plate and grilling element is included with the microwave to ensure that you can make crispy bacon or perfect toast directly in the microwave.
Door
Will the door open by a handle or a push button? This may not seem like an important feature, but it's one worth considering.
Both methods of opening the door have advantages. A durable handle on the door looks stylish, and you never have to worry about the push-button malfunctioning to open the door. At the same time, the convenience of pushing a button and opening the door can be extremely helpful when both hands are full, and you don't have a way of pulling the handle to open the door.
Turntable On/Off
The turntable in a microwave is the round piece that will rotate when the microwave is heating. Some microwaves have the option to turn the turntable off and keep it from rotating. This may be a helpful feature to have if you will be heating a wide dish or tray that will likely hit the sides inside the microwave.
The turntable should also be removable so that you can easily wash it. Many foods can spill over or splash while they are heated, causing the turntable to get dirty. Removing the turntable and placing it into a dishwasher is the best way to ensure it gets as clean as possible.
Child Safety Lock
While you may not consider a microwave as needing a child safety lock, it can be a lifesaving feature when you least expect it. Children may not realize that an item they are placing into the microwave can spark or cause a fire. This can quickly cause a dangerous and disastrous situation. Having a microwave with a child safety lock and prevent a potentially deadly situation from occurring.
Sound Control
Some microwaves allow you to turn all of the sounds off of the microwave, including the beep when a button is pressed and the alert when the cooking time has completed. This is often a desirable feature for those who share a space with others and don't want to disturb them. This is also a desirable feature for parents who may need to sneak a snack at night without waking their baby or curious toddler.
Warranty
The last feature you should consider is if the microwave will come with a manufacturer's warranty. This can help you rest assured that you won't be wasting your money on a purchase that can break prematurely.
Conclusion
Having a microwave in your kitchen, dormitory, or apartment is always a good thing. Not only can you reheat leftover food, but you can cook a variety of frozen foods, melt ingredients for various recipes, and heat water or milk for hot beverages.
All of these are possible with a countertop microwave oven, and the best microwave you choose doesn't have to break the bank. Just make sure that it has the features you need, and you will have a countertop microwave that you can use for years to come.