Dark coffee is bold. It has a rich taste, flavor, and aroma. A cup of perfectly brewed dark roast coffee is a great way to give yourself an energy boost at any time of the day. There are different roast levels and flavors to suit your preference. Below is a review and buying guide for the best dark roast coffee.
Below is a review of our pick for the 8 best dark roast coffees.
1. Death Wish Coffee World's Strongest Coffee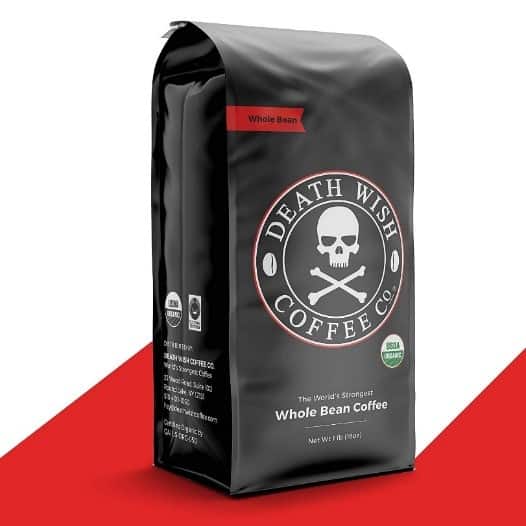 Bean Type: Blend of Arabica and Robusta
Origin: India and Peru
Flavor: Cherry and chocolate flavor
Roast Type: Dark
The Death Wish World's Strongest Dark roast coffee is bold, with an intense taste designed to invigorate the coffee experience. It has a smooth and subtle cherry-chocolatey flavor for a non-bitter taste. It is made from organic, Fair-trade certified beans roasted in batches to ensure high-quality roast. The manufacturer offers a no-questions-asked refund policy.
Pros
Contains high levels of caffeine
Chocolate and cherry flavor
Fairtrade and USDA organic certified beans
Return allowed
Cons
A strong dark roast coffee taste that may not be likable by everyone.
2. Peet's Coffee Major Dickason's Blend

Bean Type: Arabica
Origin: Different parts of the world
Flavor: None
Roast Type: Dark Roast
The Peets Dark Roast Coffee offers a rich, complex, and full-bodied taste. Mr. Peet formulated this particular product line in consultation with his customer Major Dickason's. The coffee beans are sourced from the world's premier coffee-growing region and are then sorted and hand-roasted in small batches.
Pros
Hand-roasted in small quantities
Rich, full-bodied taste
Kosher-diet appropriate
Cons
3. Lavazza Super Crema Whole Bean Coffee Blend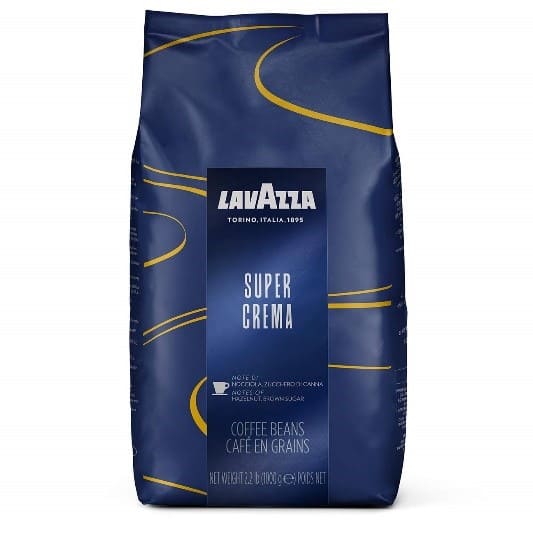 Bean Type: 60% Arabica, 40% Robusta
Origin: Italy
Flavor: Hazelnuts and brown sugar
Roast Type: Medium Espresso Roast
The Lavazza Super Crema medium roast coffee is processed in Italy from a blend of Arabica and Robusta Italian coffee beans. It is specially designed for use in making espresso coffee on an espresso machine. The hazelnut and coffee flavors provide a soft texture and well-balanced fruity taste.
Pros
Sweet aroma and taste
Made from high-quality Italian coffee
Perfect for making the traditional espresso coffee
Cons
Previous buyers reported encountering some rocks among the coffee beans.
4. Kicking Horse Coffee

Bean Type: Arabica
Origin: Indonesia, Central, and South America
Flavor: Hazelnuts, cacao nibs, dark chocolate, nutmeg, and brown sugar
Roast Type: Dark Roast
The Kicking Horse Coffee is a dark roast coffee processed in Canada. It has a velvety and earthy taste for a spirited coffee experience. The beans are organic and shade-grown in Indonesia, central and South America. The roasted coffee beans can be processed in various ways, including French drip, pour-over, drip machine, and cold brew.
Pros
Certified organic and fair-trade beans
Kosher
Flavored
Rich velvety and earthy taste
Cons
Some customers received stale beans
5. Koffee Kult Dark Roast Coffee Beans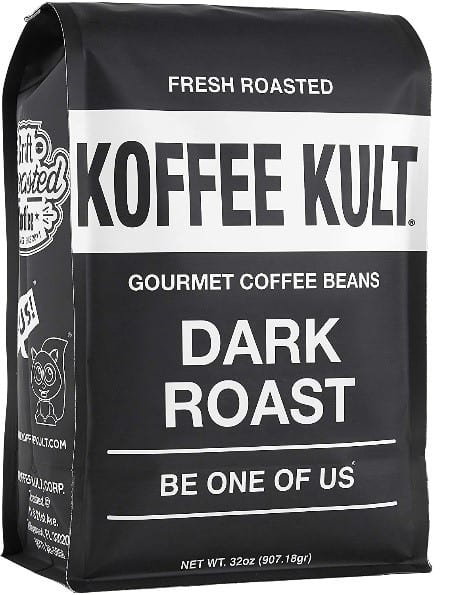 CHECK LATEST PRICE
Bean Type: Arabica
Origin: Columbia, Guatemala, Brazil, and Sumatra
Flavor: Cinnamon and cocoa
Roast Type: Dark Roast
Koffee Kult Dark Roast Coffee Beans offers a smooth, clean yet bold, full-bodied taste. The manufacturer states that customer orders are delivered within hours of roasting the coffee to ensure that you get only the freshest coffee.
The organic coffee beans used to make this dark roast coffee are sourced from Columbia, Guatemala, and Sumatra. The coffee beans are hand-roasted at the Koffe Kult family-owned coffee roaster company located in Hollywood, Florida.
Pros
Organic and fair trade certified
Smooth yet heavy body taste
Flavored
Makes great espresso coffee
Cons
Packaging does not indicate the roasting date
6. Kona Coffee Dark Roast

Bean Type: Arabica
Origin: Hawaii
Flavor: Roasted hazelnuts, dark chocolate, honey, and cedar
Roast Type: Dark Roast
Kona Coffee dark roast coffee is made from coffee beans grown in the Kona coffee farm in Hawaii. It is a lighter roast with a lower caffeine content. As such, it is ideal for consuming even in the evening or after dinner.
Pros
Organically grown in Kona coffee farms
Lower caffeine content
Flavored
Cons
Does not have an outstanding dark roast coffee taste and flavor
7. Starbucks Espresso Dark Roast

Bean Type: Arabica
Origin: Not indicated
Flavor: Caramel and molasses
Roast Type: Dark Roast
The Starbucks Espresso Dark Roast coffee beans is one of the best-selling dark roast coffees on Amazon. It has an intense yet sweet caramel flavor that blends well with milk to bring out the signature taste of Starbucks coffee.
Pros
Great taste and aroma
Affordable
Has the signature Starbucks coffee taste
Cons
Some customers received burned beans
8. Amazon Fresh Dark Roast Whole Coffee Bean

Bean Type: Arabica
Origin: Central and South America
Flavor: Caramel and molasses
Roast Type: Dark Roast
The AmazonFresh Dark Roast Coffee Beans offer a rich, full-bodied, and complex flavor. This is an Amazon product that is expertly roasted in small batches in the U.S. It can be brewed by various methods, including steeping, pour-over method, auto-drip, and espresso machine. Amazon offers a satisfaction guarantee on this product whereby you can return for a refund if you aren't satisfied for any reason.
Pros
Affordable
flavored
Has a satisfaction guarantee
Cons
Some people complained that the coffee beans they received were not fresh
Not strong
Buying Guide for Dark Roast Coffee Beans
This section offers you fundamental information about dark roast coffee to help you make the correct buying decision. It discusses aspects such as the different types of roast coffee, types of coffee beans, factors to consider when choosing dark roast coffee beans, and answers to some common dark roast coffee FAQs.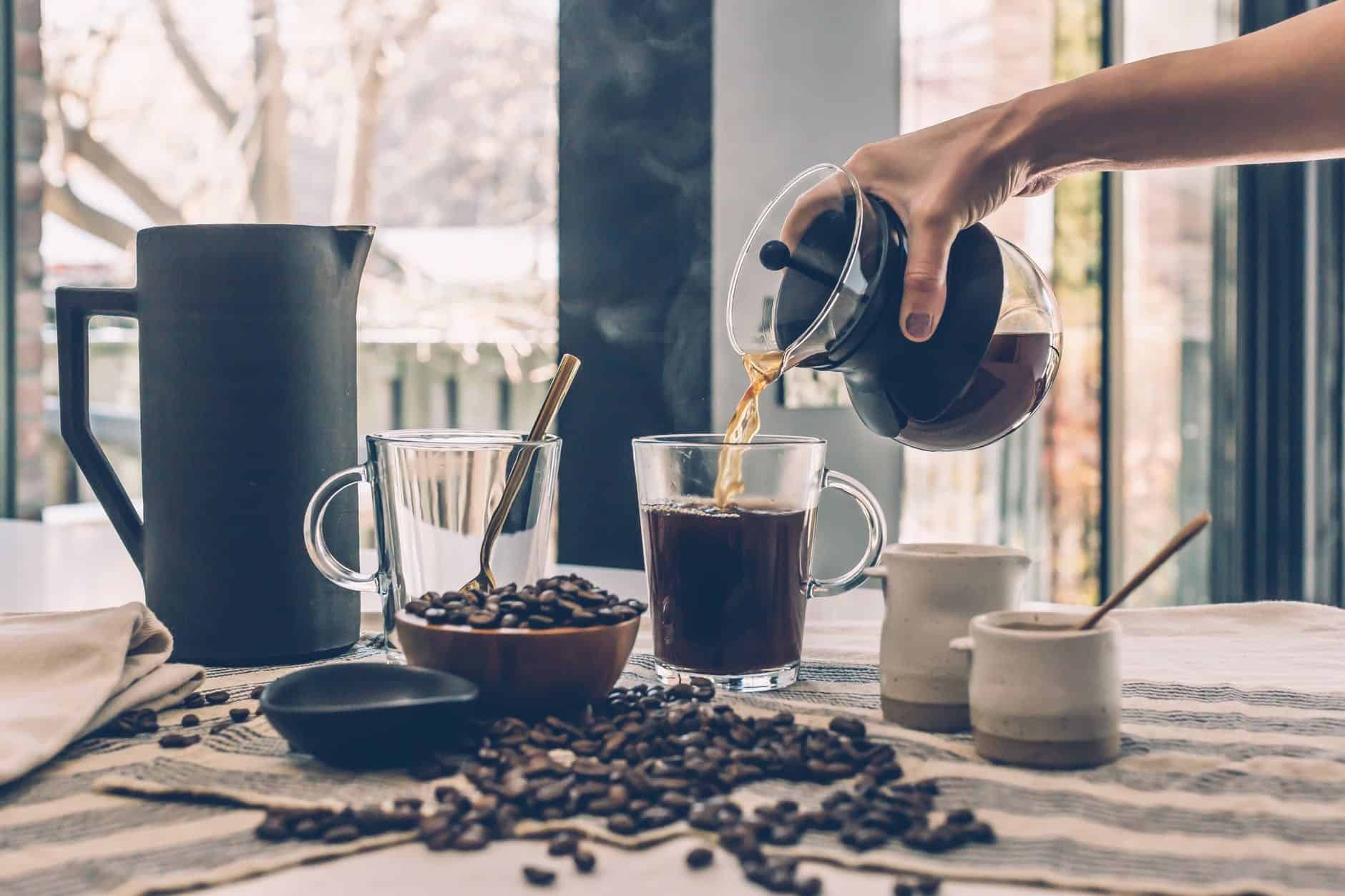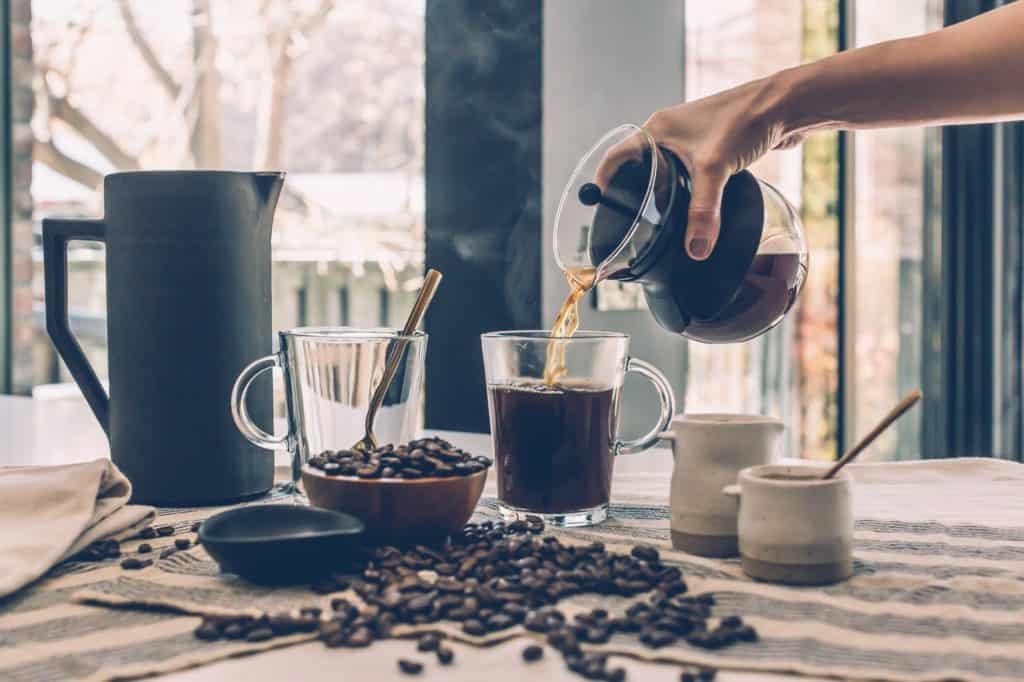 How to Choose the Best Dark Roast Coffee Beans
Below are some factors to consider when choosing the best dark roast coffee beans:
Preferred Flavor, Taste, and Aroma
Darker roast coffee beans produce coffee that has a more earthy and bitter taste than lighter roasts. Dark roast coffee derived from Arabica coffee produces dark roast coffee with a floral aroma, while Robusta coffee beans have a woodsy aroma.
Credibility of the Manufacturer
Go for coffee beans that are produced by a credible manufacturer. Check online reviews and ratings to ascertain the manufacturer's reputation.
Roast Date
You want to go for freshly roasted coffee. It has a richer flavor and has been on the shelves for a shorter time.
Consider If You Prefer Flavored Dark Roast Coffee Beans
Some commonly available dark roast coffee flavors on the market include spices, chocolate, caramel, toasted nuts, spicy, and fruity.
The Different Types of Roast Coffee
There are three main types of dark coffee roast: dark roast, medium-dark, and light-dark roast. To make any type of dark roast coffee, the coffee beans are exposed to heat until they reach an internal temperature of 4650F.
At this temperature, the oil begins to move towards the coffee bean's outer layer, giving it a darker color and flavor. The higher the internal heat of the bean, the darker the roast.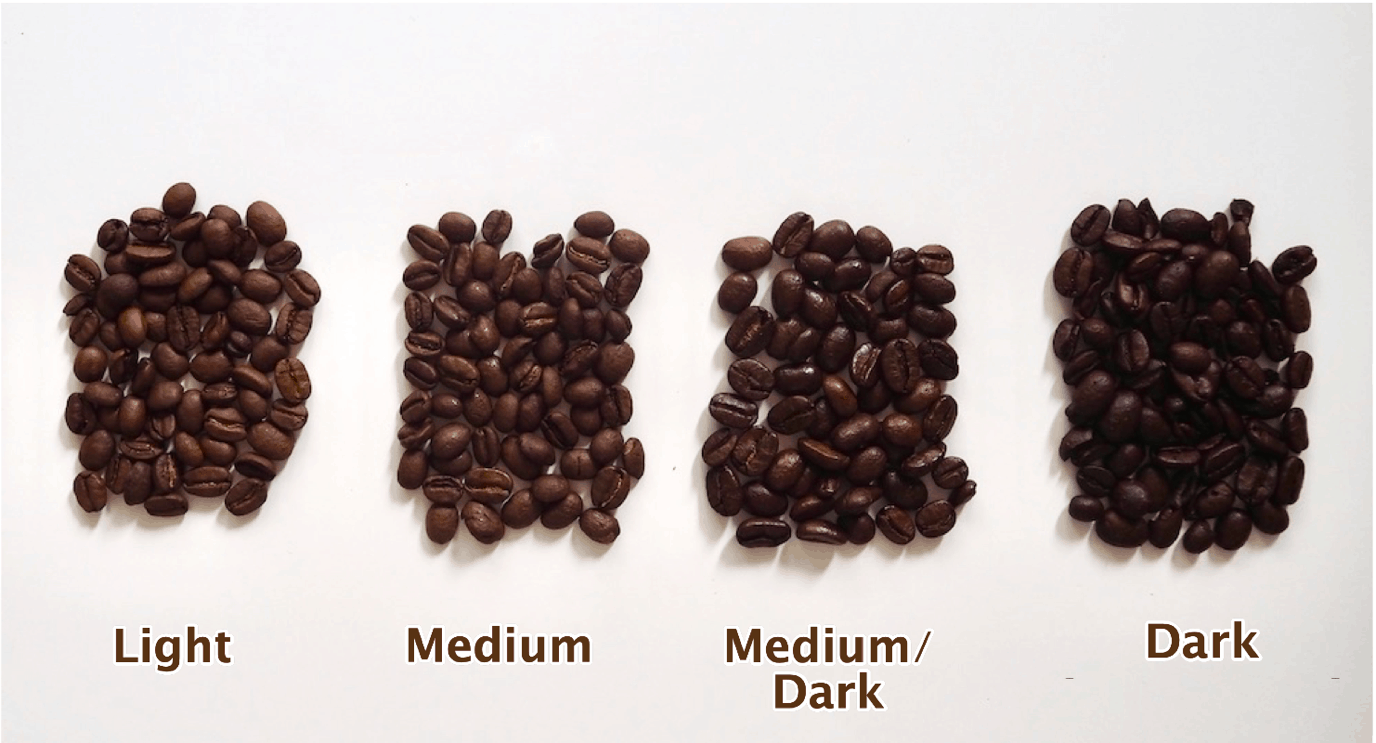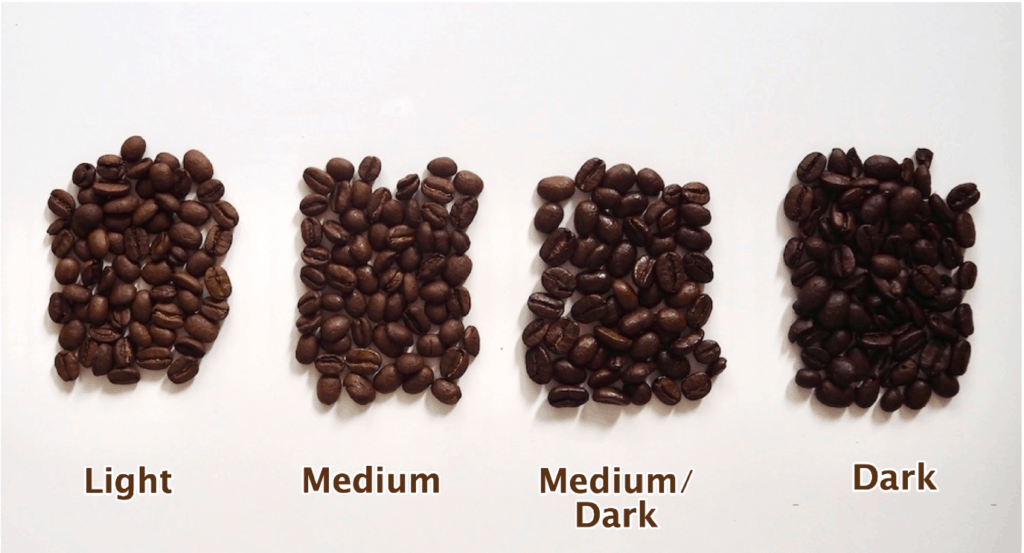 Light dark roast is often referred to as Italian roast. It is achieved at the initial stages of roasting the process by roasting the beans at a slightly higher temperature than 465F. Light roast coffee beans have a dry, light brown look and acidic taste. Although this coffee has a milder taste than the medium-dark and dark roast coffee types, its flavor is still aromatic and deep.
Medium-dark roast is also known as an espresso roast for slightly darker than the Italian roast and French toast for slightly darker than espresso toast. The medium-dark roast coffee types have a heavy taste with a richer toasted flavor.
The beans have a medium-brown color and a balanced taste. They are also lighter in weight than the light-dark roast beans as they lose about 13% of their water content during the roasting process.
While the espresso roast coffee beans have a somewhat sweet taste, the French toast beans tend to have a bitter-sweet after taste. Espresso toast is used for coffee varieties such as Breakfast, City, and American, while French toast is used for Full City coffee varieties.
The darkest roast is referred to as a Spanish toast. Dark roast coffee beans are easy to identify even from a distance as they are black and have a shiny and oily look. They have a deep, bitter taste, but they are not acidic. They are used for coffee varieties such as continental, European, Vietnamese, and New Orleans.
Types of Coffee Beans Used to Make Dark Roast Coffee
There are two main types of coffee used commercially across the globe: Arabica and Robusta. Manufacturers use either of the two or a blend of both in making dark roast coffee.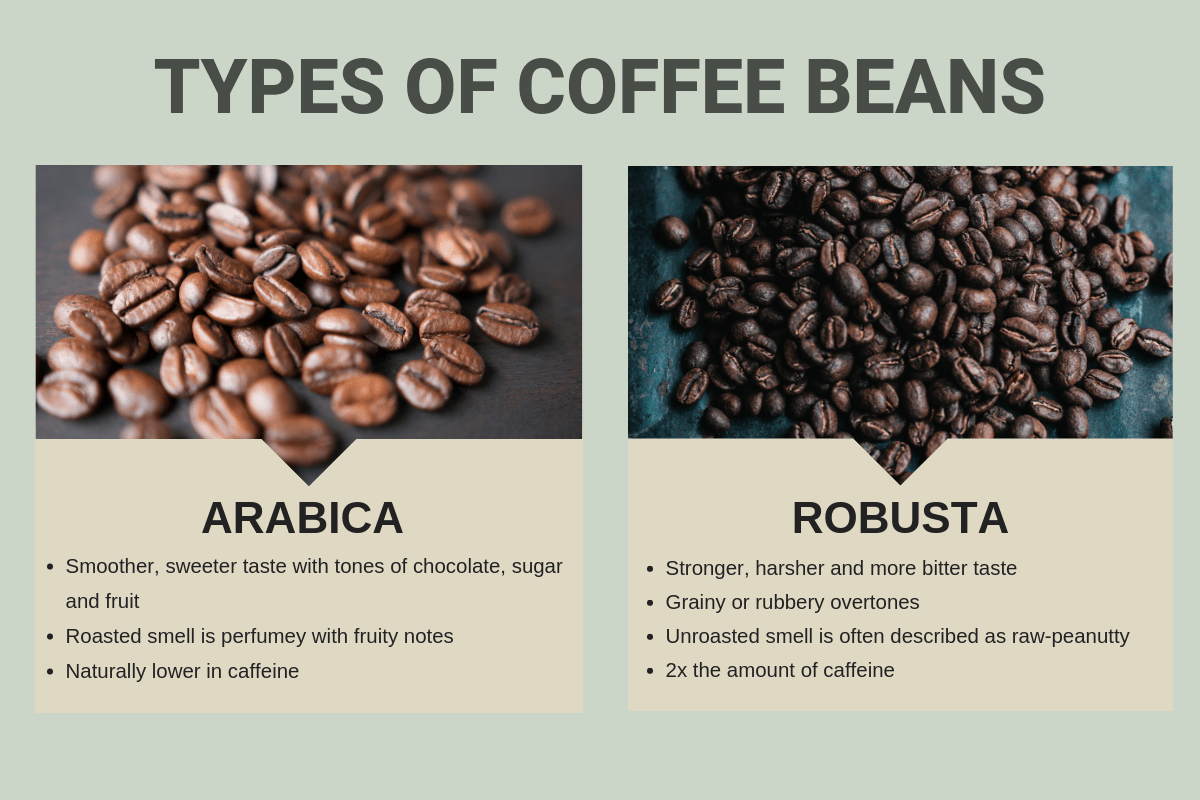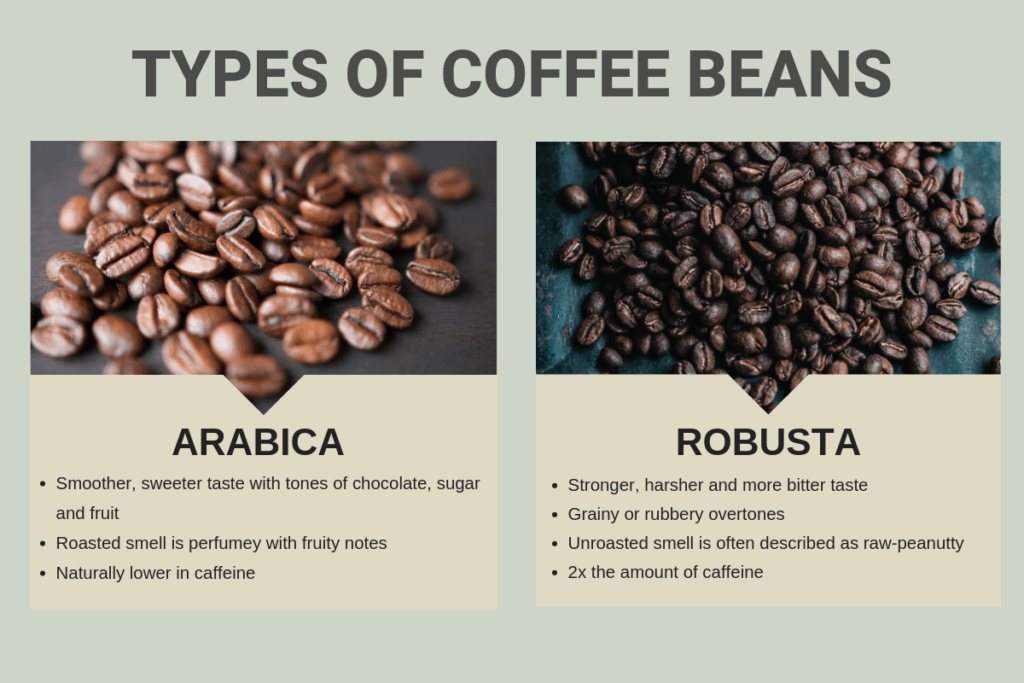 Generally, Arabica coffee is perceived to be of higher quality. However, Robusta is equally good. Arabica beans produce dark roast coffee with a lighter and rather acidic taste with a fruity and floral aroma. On the other hand, Robusta produces dark roast coffee that is dark with a deep woodsy and bitter, earthy flavor. Arabica coffee is the most commonly used for making dark roast coffee as it constitutes 70% of all the coffee produced in the world.
The Verdict
The main ingredient for the perfect, full-bodied, rich taste cup of coffee is quality dark roast coffee beans. Our pick for the best dark coffee is the Death Wish Coffee. It is organic, kosher, and Fairtrade certified.
The chocolate and cherry dark roast coffee beans offer a bold and intense coffee experience that is neither bitter nor acidic. The most important consideration when buying dark roast coffee beans is determining your preferred roast level and ascertaining that the product you choose has a good reputation.
Dark Roast Coffee FAQ
What does dark roast coffee taste like?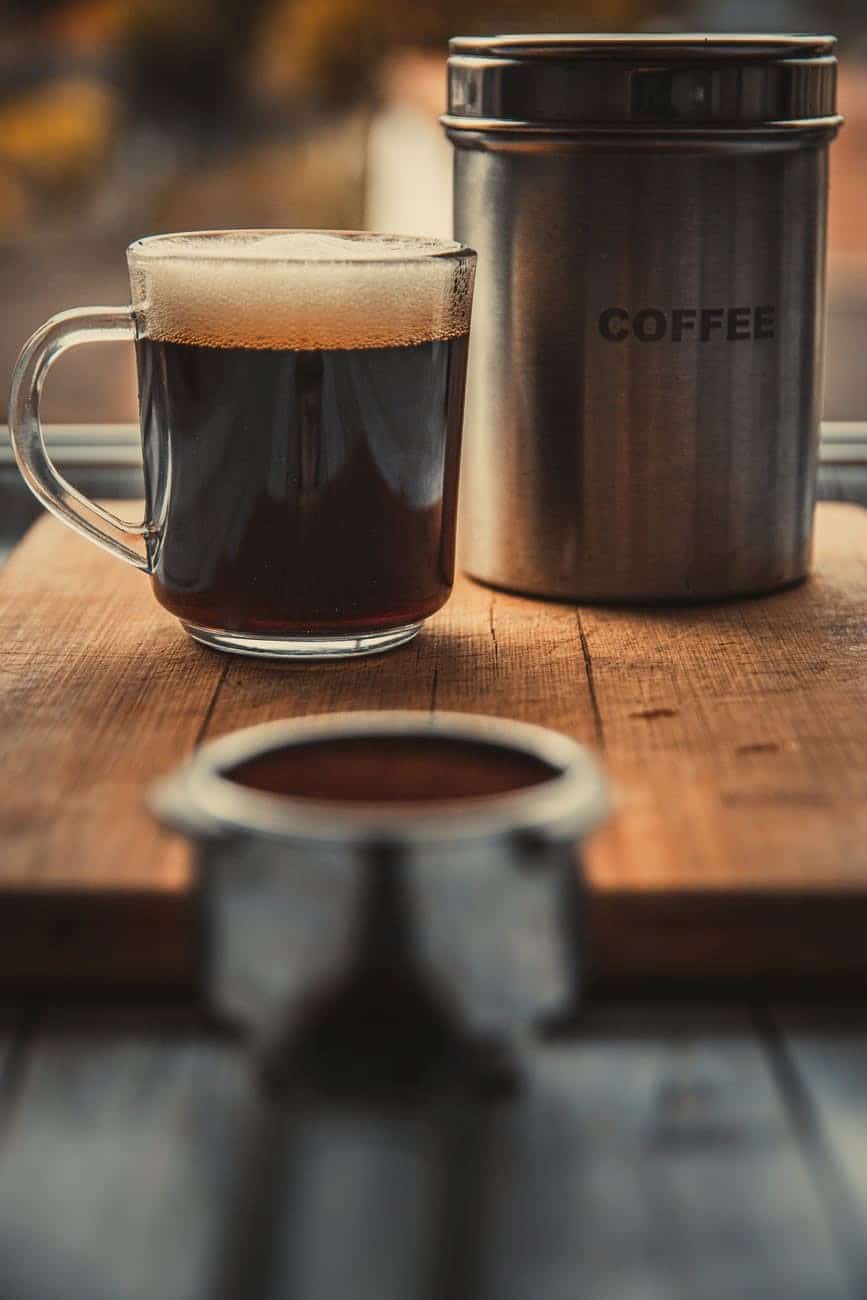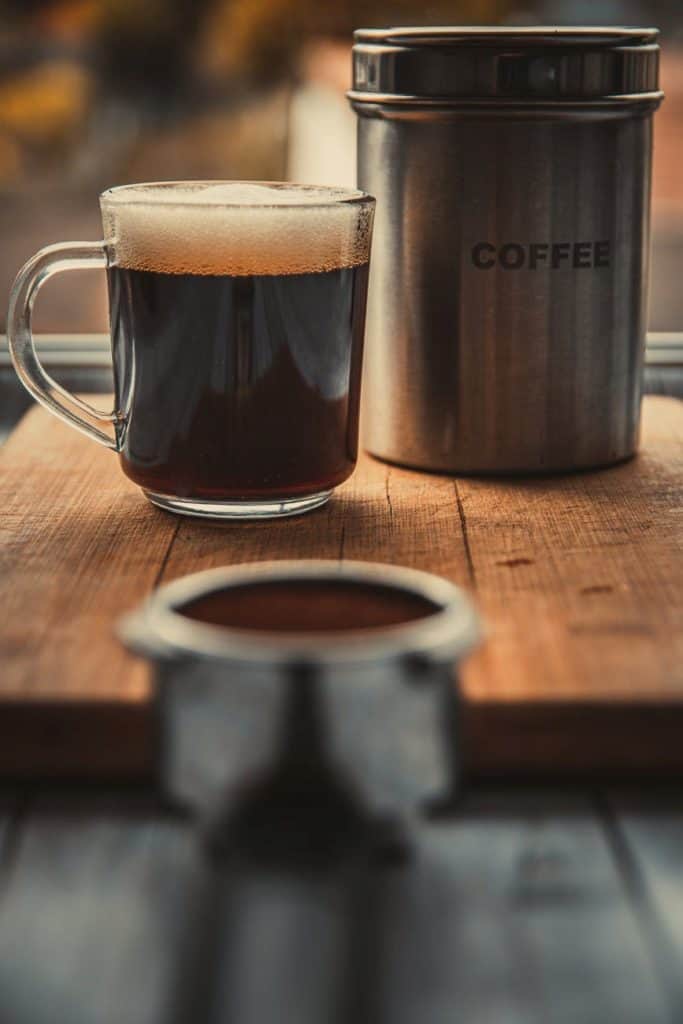 The taste of dark roast coffee varies depending on the level of roasting and whether or not it is flavored. The darker roasts have a more earthy, bitter taste, while lighter roasts have a light, acidic taste. Flavored dark roast coffee has a mild taste of the flavoring component.
Is dark roast coffee stronger than a light roast?
Dark roast coffee does not necessarily have a higher caffeine content. In fact, light roast coffee has a slightly higher caffeine content than the darker roast since the light roast beans are denser. To increase the caffeine content, use more scoops of coffee when brewing.
What's the difference between light and dark roast coffee?
The main difference between light and dark roast coffee is in the roasting temperature and time of the coffee beans. Dark roast coffee beans are roasted at a higher temperature and longer than light roast coffee. As a result, dark roast coffee is black while the lighter roasts are brown.
How to brew dark roast coffee properly to avoid a bitter taste
One of the top complaints in regard to dark roast coffee is a burnt, bitter taste. The best way to avoid the bitter taste is by properly brewing your dark roast coffee.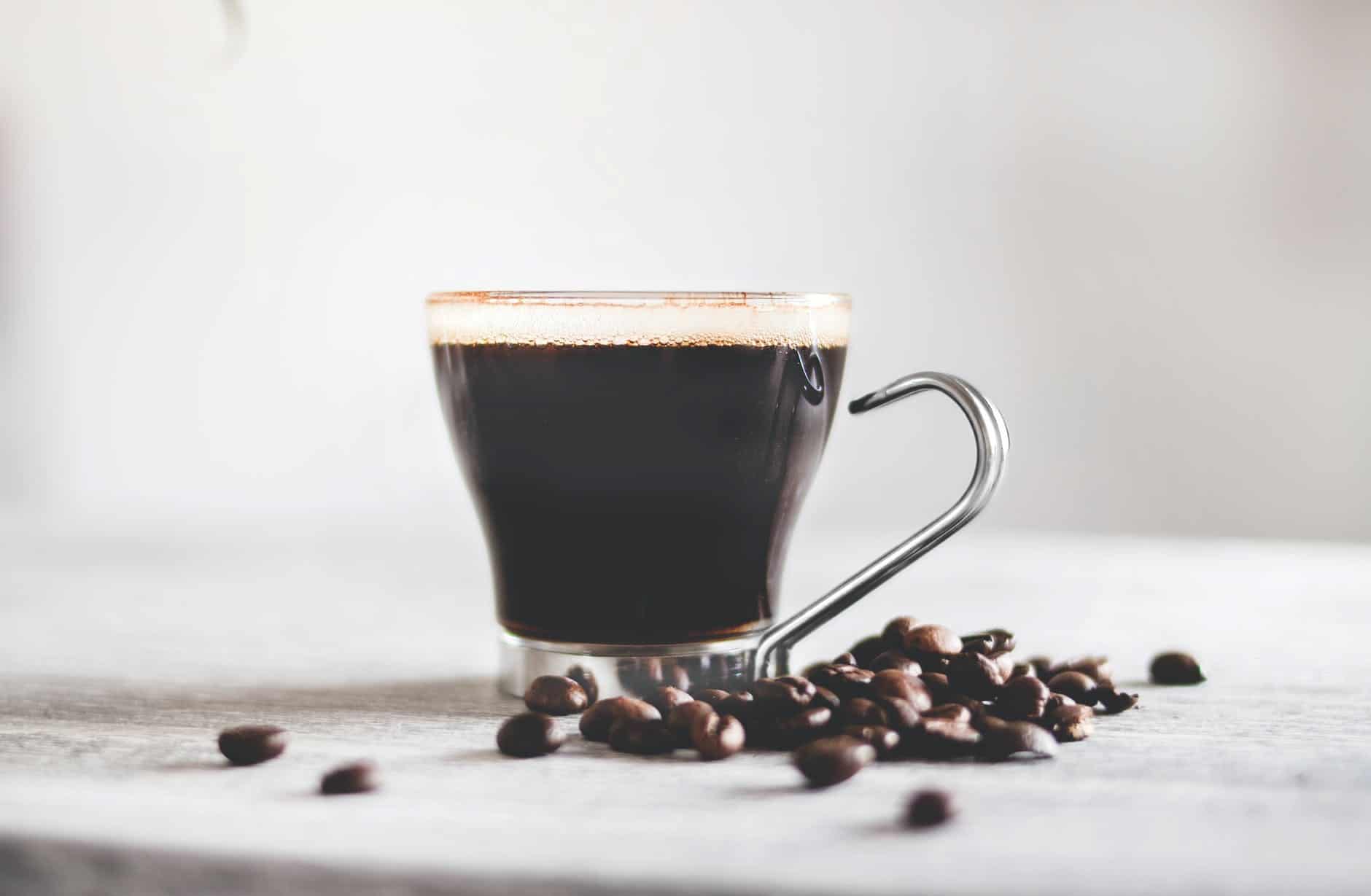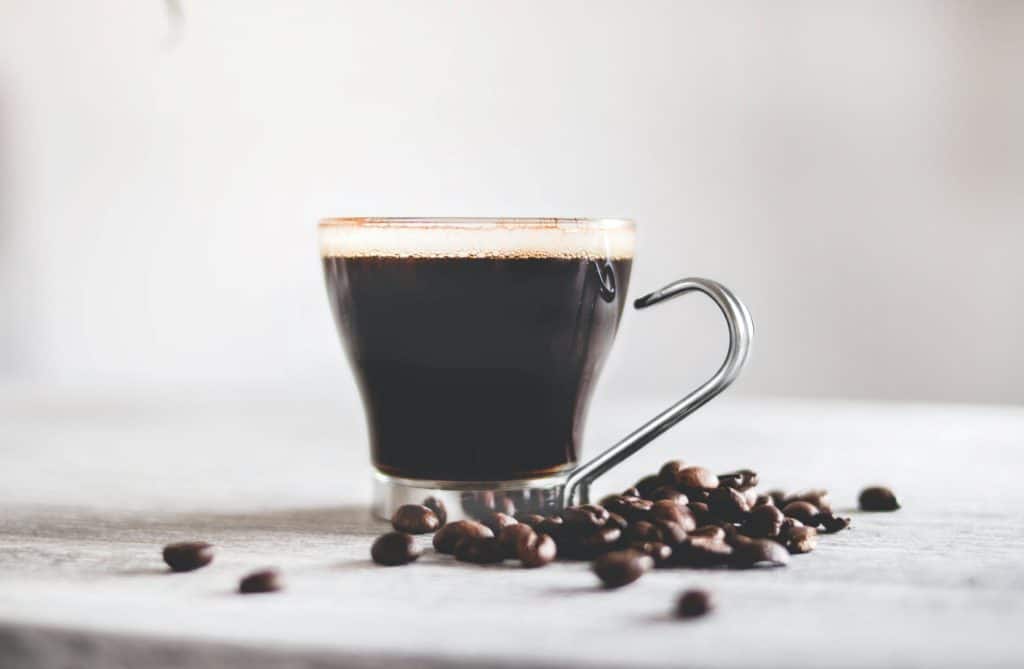 This can be achieved by using water that is just about to boil (1950F-2050F) to avoid scalding the coffee beans. Also, avoid over extracting or under extracting the coffee beans. Over extracted coffee has outstandingly bitter, while under-extracted coffee has a sour taste.
To avoid either of the scenarios, use the correct grinding setting (grind coarse), appropriately weigh your coffee to water ratio, and brew the coffee to the recommended amount of time. Alternatively, opt for light roast coffee that a milder taste.
Does the origin of the coffee bean matter?
Coffee beans' origin matter less as long as the coffee beans are processed and brewed properly. There are some slight differences in the coffee flavor, depending on the region where the beans are grown.
For instance, Central and South American coffee beans exhibit a chocolate-like sweetness, while Brazilian coffee has a heavier, nutty taste. Colombian coffee has a mellow taste, while Indonesia and India's coffee beans have an almost savory taste.
Is dark roast coffee healthier?
Dark roast coffee is rich in a wide range of nutrients, minerals, and antioxidants such as glutathione, Vitamin E, riboflavin, pantothenic acid, Vitamin B5 that promote brain health, liver health, lower risk of cancer, and overall wellbeing.
However, some studies published in the Journal of Medicinal Food indicate that darker roast coffee has a lower content of nutrients, minerals, and antioxidants than the lighter roasts.
The nutrient levels are compromised by the high roasting temperatures for longer periods when processing darker roast coffee beans. With that said, dark roast coffee still has a significant level of nutrients and antioxidants to promote good health.
How should you store dark roast coffee beans?
Dark roast coffee beans are best stored in an air-tight, opaque container at room temperature. The use of transparent coffee cans or bags to store dark roast coffee is not recommended as they allow light in which might compromise the quality of the roast beans. Do not refrigerate or freeze dark roast coffee beans.
What is a dark roast coffee blend?
Dark roast coffee labeled as a "blend" could mean that the coffee beans used to make it are either a mix of Arabica and Robusta coffee or sourced from different regions. "Single-origin" roasted coffee beans are sourced from a specific region.