If a good boiled egg added to salads, toast, sandwiches, wraps, and other foods tickles your fancy, then you understand the value of an egg slicer. Granted, you can whip out a knife and slice your eggs. However, an egg slicer makes it impressively effortless.
These tools come in handy for more than slicing eggs. They are designed to make slicing a boatload of vegetables and fruits a walk in the park. Constructed with versatility in mind, you'll quickly realize how useful an egg slicer is in the kitchen.
Nonetheless, with the wealth of options that have littered the market, choosing the best egg slicer can be an uphill battle. To the unfamiliar eye, they all look the same. Therefore, we've narrowed it down to the 7 best options that will give you value for your money and a few buying factors to consider. Read on!
1. Westmark Multipurpose Wire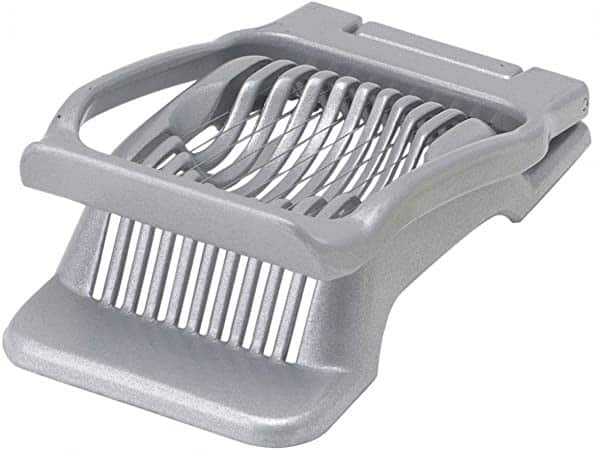 Constructed in Germany from heavy-duty stainless steel coupled with top of the range cast aluminum for its handle and base, it's no surprise that this egg slicer is among the best in the world. Furthermore, the Westmark Multipurpose Wire is rated as one of the top kitchenware brands in today's market.
Ready and easy to use, this kitchen tool not only slices your eggs in a jiffy but can also handle other food items such as kiwis, mushrooms, strawberries, and everything in between. With an ergonomic handle, this egg slicer is comfortable and fast to use.
It's also dishwasher-friendly, making the cleanup process after every use a walk in the park. The Westmark Multipurpose Wire is backed by a 5-year warranty and money-back guarantee because the manufacturer has unwavering confidence in their products.
Pros
Constructed from top-notch materials
Designed for versatile use
Manufactured in Germany
Dishwasher-safe
Easy to use and clean
Cons
Wires may snap after a while. If so, take advantage of the warranty.
At times, the hinge doesn't align well
2. OXO Good Grips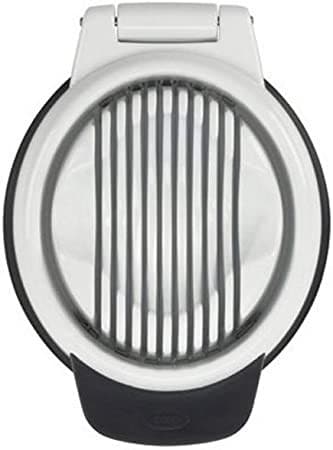 As you know, OXO is a kitchenware brand that delivers affordability without compromising on quality. Therefore, the Good Grips egg slicer is no exception. Living up to the brand's standards, this tool is designed to easily slice eggs and other foods. Moreover, you can slice in different directions.
The slicer moves with ease, giving you slices in an instant. Good Grips has handles and is a breeze to maneuver, ushering in better efficiency. It's easy to close and open, which avoids leaving a mess behind the wires, making the cleanup process easier.
With the grooved holding area, you have free rein to easily slice food over a dish or bowl, depending on your preference. The slices are 5mm thick. OXO Good Grips has a non-slip base for enhanced comfort and stability and is dishwasher-safe provided that you use the top rack.
Pros 
Provides flexibility to slice in various directions
Simple and comfortable to use
Budget-friendly
Non-slip base for better comfort and stability
Designed for slicing eggs and other soft foods
Cons
Using a dishwasher weakens the wires in the long run
Breaks easily if mishandled
3. BIBURY Heavy-Duty Egg Slicer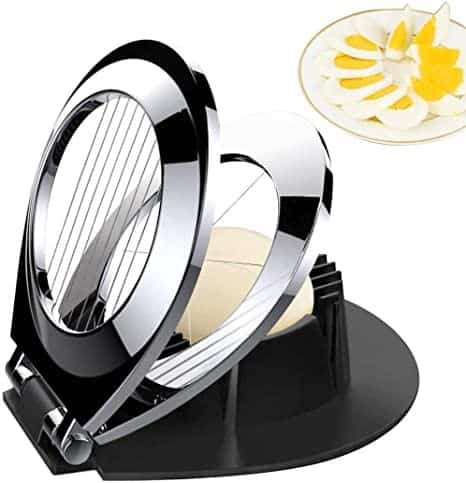 This eye-catching BIBURY egg slicer features three cutting faces and two slicing disks in a beautiful and unique chrome-plated design. As a result, you're assured of picture-perfect wedges, oval, and round slices.
Constructed from sturdy chrome-plated zinc, this egg separator has cutting wires made of durable stainless steel. Designed with versatility in mind, this tool is ideal for creating egg-based appetizers and chef's salads.
Not only is the BIBURY Egg Slicer dishwasher-friendly for easy and fast cleanup, but it's also compact, measuring 5¼ by 3¾ by 1¾ inches. It occupies minimal space in your kitchen can be easily transported from one place to another when the need arises.
Pros
Backed by a 1-year warranty
Fast and easy cleanup
Compact and lightweight
Aesthetically pleasing and durable chrome-plated zinc design
Slices in different shapes
Cons
Only ideal for slicing soft foods
Bits of food can get stuck under the rings
4. FAVIA Multipurpose Slicer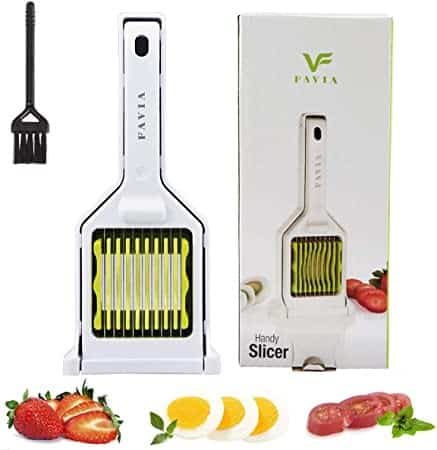 Uniquely-designed and a highly-rated option with prominent characteristics that set it apart from the park, the FAVIA Multipurpose Egg Slicer is a must-have. For starters, the long handle allows you to easily slice food over a dish or bowl of your preference.
Secondly, it has a convenient egg-shaped groove found in other slicers and is operated by a hand switch that unlocks and locks the tool.
Thirdly, for enhanced durability and efficiency, the blades are sawtooth instead of mesh and constructed from heavy-duty stainless steel. In turn, this diminishes the chances of your blades snapping.
Lastly, when it comes to versatility, you have free rein to slice other foods such as strawberries, tomatoes, cucumbers, and mushrooms. It's more than just an egg slicer.
Pros 
Long-lasting stainless steel saw tooth blades
Easy to control and use
Dishwasher-friendly materials
Can slice various foods
Long handle for better convenience
Cons
Cleaning the serrated blades in the slicer can be an uphill task
Properly aligning the slicer can be a challenge
5. Mevis Line Egg Slicer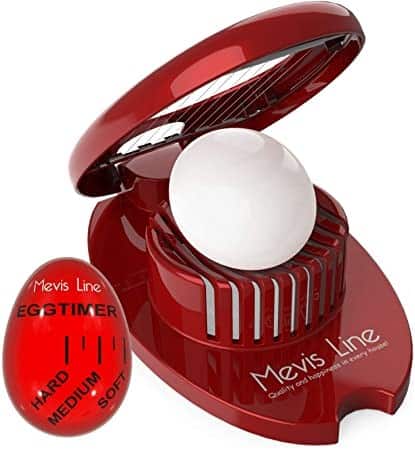 If your goal is to effortlessly create breakfast that closely mimics Five Star room service, then the Mevis Line Egg Slicer is right up your alley. Whether you enjoy eggs, want to set a great example for your kids, or eat healthier, it was made with you in mind.
Take the trouble out of slicing boiled eggs by slicing easier and faster for sandwiches and salads. With this tool, you can perfectly slice eggs in any way with one easy push. When you need to dice, you can vertically rotate the sliced eggs and cut them further. The Mevis Slicer does more than slice eggs. You can use it to cut mushrooms and other soft vegetables.
Pros 
Multiple slicing options
Slices neatly
User-friendly
Affordable
Eye-catching design
Cons
Wires bend easily and become loose over time
6. Clever Boy Kitchen Splitter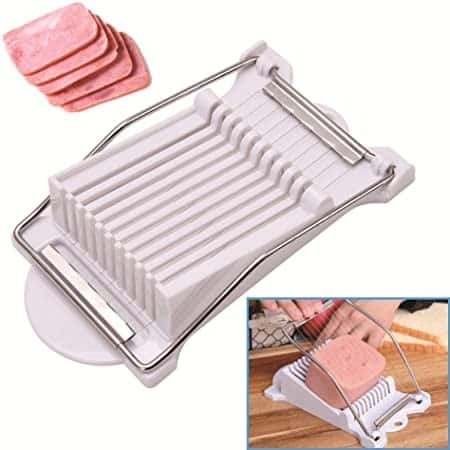 Are you on the quest for a traditional-style slicer that has the uncanny ability to handle more than mere eggs? Then the Clever Boy Kitchen Splitter wraps up your search. Its endless capabilities set it apart from the pack. In addition to eggs, it can slice canned meat, lunch meat, and everything in between.
Larger than most egg slicers, it comes as no surprise that this handy tool is designed to simultaneously handle many items. It can cut up to 11 slices at a go. The Clever Boy Kitchen Splitter is durable and sturdy without compromising on safety. You can cut heated foods as the materials can hold up to 230 °F.
Multifunctional in every sense of the word, this tool can also slice vegetables and fruits alike and is built with anti-slip capabilities, allowing you to slice smoothly and quickly. Cleaning this bad boy is a breeze with only soap and water required. Although it's marked as dishwasher-friendly, it may not be able to withstand the extreme heat of the dishwasher, so tread carefully.
Pros
Easy cleanup with gentle soap and water
Anti-slip board for enhanced comfort and stability
Built from durable and sturdy materials
Easy to use with plenty of room
Cons
Using a dishwasher may quickly wear out the slicer
Thicker slices as the wires are 9mm apart
7. Nobran 3-in-1 Multifunctional Egg Slicer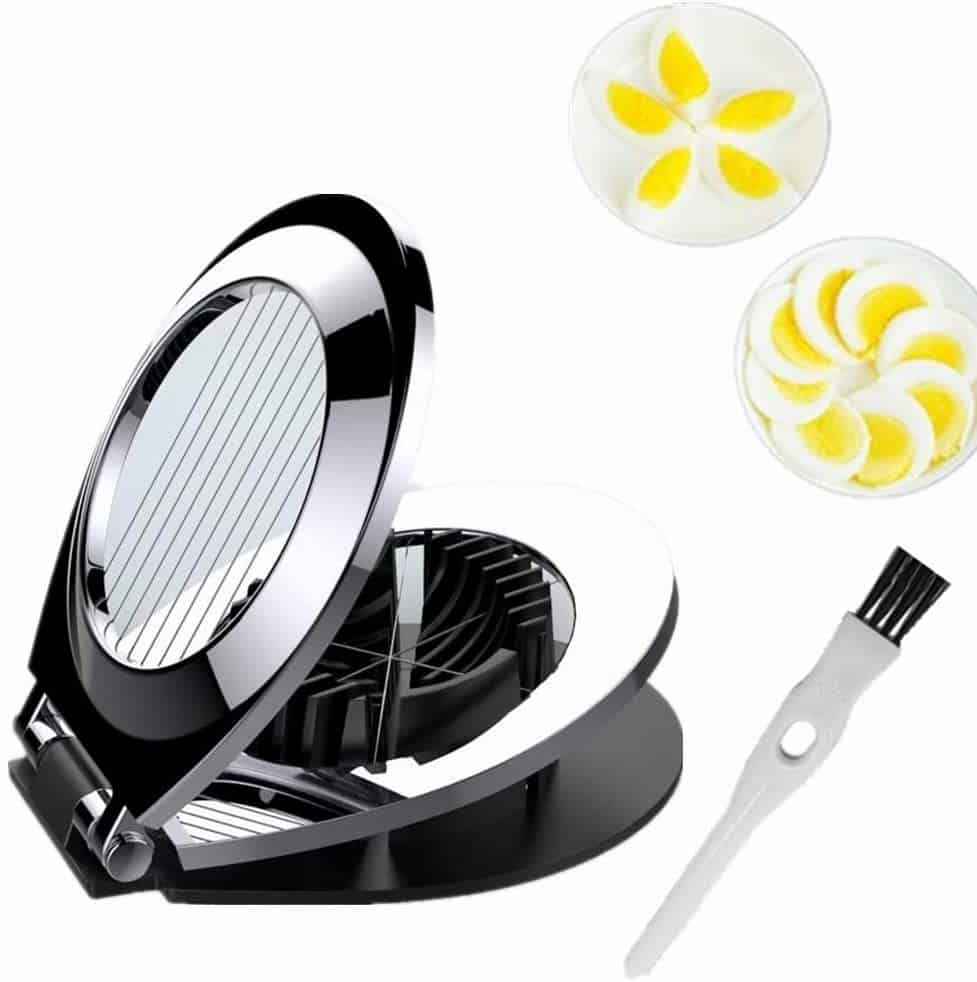 If you're searching for premium quality, then your search ends here with the Nobran 3-in-1 Multifunctional Egg Slicer. It's made of durable and sturdy Zinc Alloy, sharp wires constructed from 3104-grade stainless steel, and food-grade ABS plastic ideal for a hard-boiled egg. Furthermore, it is corrosion or rust-resistant, making it dishwasher-friendly and safe to use.
With an eye-catching stainless steel sturdy design, this multipurpose kitchen tool can dice horizontally or vertically for a hard-boiled egg, meeting your needs. Given that it is dishwasher-safe, cleaning the Nobran 3-in-1 Multifunctional Egg Slicer is a breeze. However, if you prefer manual but easy cleaning, you'll be pleased to discover that the slicer comes with a cleaning brush.
The Nobran 3-in-1 Multifunctional Egg Slicer comes with a 90-day money-back guarantee. Therefore, you can rest easy knowing that you can return it and get a full refund if you find it defective within three months from the date of purchase.
Pros
Constructed with heavy-duty materials
90-day money-back guarantee
Comes with a cleaning brush
Multipurpose kitchen tool
Cleanup is a breeze
Cons
The wires at the top don't align with those at the base
Buying Guide: How to Choose the Best Egg Slicer
Purpose
Granted, eggs might be your main reason to buy an egg slicer. However, it stands to reason that you may choose to take advantage of its other capabilities. While some egg slicers can handle cheese, vegetables, fruits, and meat, it's common for others to slice avocado, strawberries, kiwi, and mushrooms. Then, you have the sturdier tools that can effortlessly cut meats, carrots, and cucumbers.
When choosing the best egg slicer, pay attention to the strengths and possibilities to ensure you end up with a tool whose versatility will meet your needs.
Types of Slices
While some egg slices cut certain measurements in one direction, others grant you free rein of slicing horizontally or vertically. Then, some slicers offer more versatility, allowing you to dice your food, cut wedges or halves, and both directions (vertically and horizontally).
However, this doesn't imply you should get one of these because it's available. Instead, think about the various functions you may encounter to determine the slicer you prefer to have on hand.
Materials
The thing to be most mindful about is whether or not an egg slicer will fall apart. The last thing you need is your wire slicing straps snapping after a few uses. Therefore, the quality of the wires is essential. Here's where the type of materials used and their durability comes into play.
It's a no-brainer that metal products are more long-lasting than plastic. However, plastic shouldn't be ruled out because metal is harder and heavier to use when slicing repeatedly or different foods.
The best egg slicer is made of stainless steel. It slices reliably, and your food will not gunk up and stick to the slicer, making the cleanup more difficult.
Non-Slip Foot
An egg slicer requires you to apply force on it with ease, but as you do so, there's a high likelihood of it slipping away, falling, and breaking. Here's where a non-slip foot comes into play. Remember, not all egg slicers have this feature. Therefore, it's essential to check the specs before buying.
Egg Slicer Cleaning and Caring Instructions
It's important to clean your slicer after every use as it can usher in problems such as food poisoning and bad odor. Cleaning an egg slicer is a straightforward process that entails following the steps below.
Use a dishwasher if your slicer is dishwasher-safe
If you don't have a dishwasher or prefer to wash by hand, pour some warm water on the egg slicer and use a brush to gently scrub the sides and slicing wires to get rid of food deposits
Rinse the tool with water and dry it with a cloth to eliminate the moisture
Tips When Using the Best Egg Slicer
Ensure you remove the skin. Without removing the skin, the slicer won't cut it down, creating a mess.
Make sure you hard boil the egg. Slicers don't properly cut down soft eggs. Instead, the egg will stick to the slicer, making a mess.
After washing it, allow the slicer to dry properly before putting it back in the cabinet to avoid the likelihood of it rusting.
The Bottom Line
Egg slicers are handy tools for more than slicing eggs. They are constructed with versatility in mind, so you can cut various fruits, vegetables, and more. Therefore, those who don't eat eggs will also find these kitchen tools useful.
The best options, such as the ones we've discussed, are constructed from top-grade materials and are quick and easy to clean, so order yours today!