Having the best electric knife comes in handy when you have a large household. Also, if you enjoy cooking various meals that require you to cut food frequently, you need a good electric knife. When you have the right information to guide you, you can buy an electric knife that will serve you for a pretty long time.
To provide you with a comprehensive review, we considered several factors you should note when looking for the best electric knife. Some of these factors include safety features, versatility, low vibration, noise, durability, ergonomic design, and cordless electric knife or electric knife with cord.
Given these factors, we have created detailed buyers guide on different electric knives you should choose from. Also, we've analyzed various features of each electric knife available.
Here's our review of the best electric knives we've chosen.
Best Electric Knife Reviews
1. Proctor Silex Easy Slice Electric Knife

The Proctor Silex electric knife is one of the most versatile and rugged electric knives available. It's perfect for cutting your frozen meat, ham, roast, and turkey. It also cuts through lighter foods like bread, fruits. Even more, you can use it to craft your DIY foam or pumpkin projects.
Proctor Silex electric knife comes with a 60" long cord, which does not restrict you while cutting your meals. If you cut a large amount of food frequently, then you should consider getting this electric knife. The presence of reciprocating stainless steel blades makes it cut through hard food with precision and little effort.
It has a simple operations system. You can slide the on/off switch to power it on and release it to turn it off. Handling the Proctor Silex electric knife is simple because of its contoured design, allowing for a firm grip.
What We Like
It has easy to use control buttons.
It comes with stainless steel blades with serrated blades to cut equal slices of foods in minutes.
It has a storage case where you can keep the blades and handle away from dirt and moisture.
The extra-long electric cord allows you to move around and cut a large portion of foods quickly.
What We Don't Like
It's quite big, making it a bit difficult to handle if you've got small hands.
Due to the switch/ release button system, cutting a large portion of hard foods might be difficult. But with continuous usage, you can become acquainted with it.
2. Hamilton Beach Electric Knife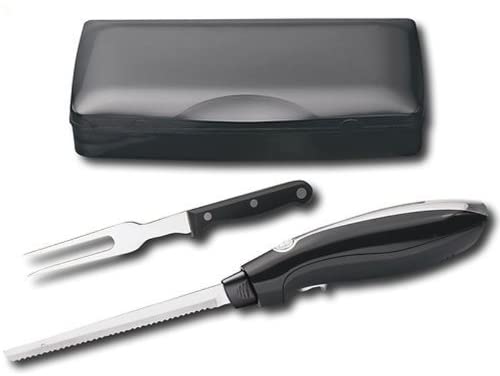 The Hamilton Beach Electric Knife is finely built to serve you in your kitchen and dining table. The knife finds application in everyday use or special occasions like Thanksgiving. Its stainless steel blades are strong and sharp enough to cut through any meal you're cooking.
It's one of the top-rated electric knives you can buy because it is ergonomically designed to give you a firm grip of the handle while cutting. Plus, it has a total weight of 1.98 pounds, making it light and easy to use. Its oscillating twin blade and high power voltage simplify cutting of your meals perfectly.
Hamilton Beach electric knife is strong enough to handle some of your DIY projects like cutting foam, cutting the pumpkin, etc.
What We Like
It comes with a carving fork, which helps you hold your food steady when cutting.
It has a durable storage case that helps you keep your knife away neatly after use.
After use, you can wash the blades in your dishwasher.
What We Don't Like
The Hamilton Beach Electric knife has an oversized handle, making it hard to hold significantly when cutting a large amount of food. So, if you've got small hands, take caution as it slips easily too.
Operating the knife's sliding on/off switch is quite tricky.
3. Nutrichef PKELKN16 Portable Electrical Food Cutter Knife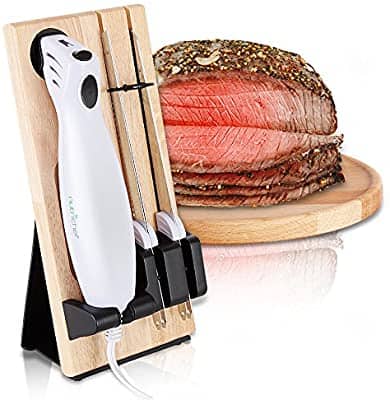 The NutriChef PKELKN16 electric knife is another brand you should consider having in your kitchen. It comes with two types of stainless steel blades – a bread blade and a carving blade. You can use the bread blade to cut light foods like cake, meatloaf, fruits, and vegetables, while the carving blade helps you cut and carve your ham, turkey, and roast.
It has a wooden storage tray, which makes it easy to use and clean.
With a net weight of 1.45 pounds, you can steadily hold the knife's handle while cutting your food. Its power output capacity of 100 Watt makes it easier to cut through both hard and soft foods.
What We Like
Its storage tray keeps both the handle and the blades safe.
Users enjoy an 18-month warranty.
With the click of a button, you can easily detach the blade from the handle to clean it after use.
Also, it's dishwasher safe.
What We Don't Like
When compared to other electric knives brands, the NutriChef PKELKN16 is a bit noisy.
It comes with a plastic handle that can easily crack if not properly used.
Also, the handle is quite heavy and difficult to use.
4. Cuisinart Electric Knife

The Cuisinart CEK-30 electric knife is, without a doubt, an ideal kitchen tool you should consider buying to make cutting and cooking your food easier and faster. It is powered by a 130 Watts motor, which makes cutting through your food a breeze. Its stainless steel blades are serrated for the superior cutting experience.
It is ergonomically designed to give you a firm grasp on the handle while cutting both large and small portions of food. You can easily control the knife with a simple one-touch on/off operation.
What We Like
Users enjoy an 18-month warranty.
It's dishwasher safe.
It's 5–foot electric cord does not restrict you when cutting and carving your food.
What We Don't Like
The electric handle is heavy, making it hard to operate while cutting large foods like frozen chicken.
Controlling the on/off button is a bit tricky because of its design.
The case is fragile.
5. VonShef Electric Knife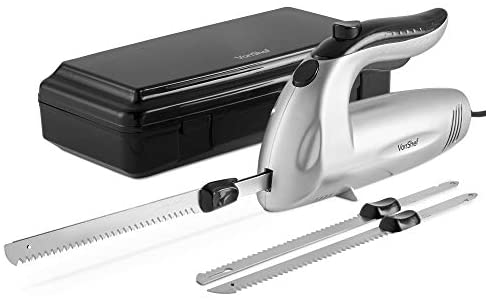 Without an iota of doubt, the VonShef Electric Knife is one of the top-rated electric knives available in the market. Weighing as little as 2.4lb, it is light and easy to use. It has a motor power of 150 Watts, which makes it easy to cut through your food. Whether it is your Thanksgiving turkey, frozen chicken, or bread, you will find this knife pretty helpful.
VonShef Electric Knife is ideal for all households, even if you're just starting your family or you have a large family. You can use it even while you're eating because it's engineered to produce low noise and vibration when you're using it.
Additionally, the electric knife has safety buttons that prevent your knife from coming on when you're not using it.
What We Like
It is dishwasher safe but still requires you to handle the blades when you're done using it.
With a click of the eject button on its body, you can easily detach the blades to clean them after use.
VonShef Electric Knife comes with two stainless steel blades. The heavier blade is designed to cut hard food like frozen chicken, turkey, while the lighter one cuts fruits, vegetables, and baked food easily.
Why We Don't Like It
The electric knife storage case is fragile.
The electric cord is short, making it hard to move around while you're using it to cut your food.
6. Rapala Heavy-Duty Electric Fillet Knife

In addition to using the Rapala Heavy-Duty electric fillet knife in your kitchen, you can take it along when you go fishing. It comes in handy to cut through your fish. It is powered by a 110V motor engine, making it twice as fast and three times more potent than the average electric fillet knives.
With the click on the eject button, you can easily detach the blade from the handle, and its dishwasher safe.
Why We Like It
Its 8-foot electric cord gives you plenty of reach to work around your kitchen.
Comfortable and relaxed grip while cutting your food or fish.
It produces low vibration and low noise due to its custom advanced air flow body design.
Why We Don't Like It
It doesn't have a storage case.
It comes with one blade only.
7. Cuisinart Cordless Electric Knife

The Cuisinart cordless electric knife, just like the Cuisinart electric knife with cord, is a must-have kitchen tool that eases the cutting of food as well as the filleting of fish. It has a rugged motor engine which is powered by two 7.8- voltage Lithium batteries. After a full charge of the batteries, you can use it for up to 20 minutes non-stop.
It has two stainless steel blades –the serrated blade perfectly crafted to cut meat, bread, ham, turkey, and the straight-edge designed for vegetables, fruits, filleting fishing, and cutting a cake.
Why We Like It
It has a storage case where you can keep the handle and blades when not in use.
Impressive safety features
You can wash both blades in the dishwasher.
Why We Don't Like It
Inserting the blade could be a bit difficult—exercise caution when using the knife.
The spring loader that controls the blades while in use is fragile and breaks easily.
Cleaning the Cuisinart cordless electric knife calls for caution.
Why You Should Buy an Electric Knife
Here are some reasons why an electric knife will be a fantastic addition to your kitchen:
Some food items might prove difficult to cut with the manual knives. With the electric knives, on the other hand, you can easily cut through your meals irrespective of how hard it is. This is because electricity powers the electric knife. This runs the motor devices that put extra pressure on the blade.
When cutting your meals with a manual knife, there is a big probability that you will not get an even cut. But with the electric knives, you can cut your food with equal consistency.
Cutting your food with an electric knife is faster and more comfortable compared to a manual knife. You can quickly cut and carve your turkey with an electric knife for less than half the time you would dedicate using a manual knife.
Buyers' Guide for Electric Knife
Now that we have considered the top electric knives available, we need to explore some buying guides.
Even though there are many electric knives brands, only a few of them can sufficiently meet your needs. And as such, you need to consider some factors that help you choose the best electric knife fit for you.
Essential Factors You Should Consider When Buying an Electric Knife
Here are some of the factors to help you make an informed decision on buying a new electric knife:
Durability
A perfect electric knife should be able to serve for at least one year of frequent usage. The durability of the electric knife you buy is important, especially if the price is a bit high. Ensure you check past customers' feedback about how long they've used the brand you want to buy.
Ergonomic Design
The ability to hold onto the handle of your electric knife while in use is another essential factor you should consider. Having an adequately contoured electric knife gives you a firm grasp and control irrespective of what you're cutting.
Cordless Electric Knife or Electric Knife with Cord
If you frequently cut a large amount of food, then your electric knife's length should matter. When you buy an electric knife with a cord, ensure you check for the size because while using the knife, you'll need to move around to cut your food without difficulties.
On the flip side, you can choose to buy a cordless electric knife. This gives you the freedom to move around unrestricted while cutting your meals either in your kitchen or while you're eating.
Safety Features
Like all the electronic products you buy, you should consider the electric knife's safety features you want to buy. Safety features like anti trigger buttons are pretty essential.
Versatility
The primary purpose of buying an electric knife is to easily cut through your foods and other items you need at home. Any electric knife brand you decide to choose should be strong enough to cut both hard and soft foods.
Low Vibration and Noise
Another factor to consider while making a purchasing decision is the level of noise and vibration the electric knife produces. If you use the knife while dining, you should buy a product that makes low noise and vibration while using it.

Frequently Asked Questions for Electric Knife
How safe is it to clean the electric knife blades?
After using your electric knife, you can wash it either by hand or by using a dishwasher. Either way, you should be careful in handling the blades.
Do the blades have different sizes?
Yes, the blades come in different sizes and shapes. Depending on the brand of electric knife you buy, you can have as much as two separate stainless steel blades– a light blade and a heavy blade. The lighter blades are made to cut simple foods like bread, fruits, and vegetables. But to cut hard food items like frozen meat, turkey, or roast, you'll need a pretty massive blade.
Can I use it for other items or my projects?
Yes, you can use the electric knife to cut or carve your project works. When you need a sharp household item to cut foam or pumpkin, an electric knife comes in handy for your artworks.
How do I store the blades and handle them after use?
Some electric knife brands come with a storage case or storage tray. The storage case helps you keep the knife away after use, and it prevents exposure to moisture too. You should check if the brand you want to buy has a storage case.
Does the electric knife have a warranty?
Before you decide on the brand of an electric knife to buy, ensure you check if that brand's producer has a warranty policy. Since electric knives are like other electronic products you buy, companies should have warranty and replacement policies for their customers.
Are the electric knife parts replaceable?
Before choosing the best electric knife that meets your needs, endeavor to check if the parts are readily available if the need for replacement arises. Being able to replace body parts of the electric knife will save you extra bucks instead of buying a new one.
Conclusion
From the several factors we've considered, there's no doubt that you'd make an informed decision on the best electric knife to buy. As a rule of thumb, ensure you review recent feedback from customers of the electric knife brand you want to buy. It can point you towards a high-quality product with little or no issue.