In terms of quick dinner solutions, ordering from your local Chinese restaurant is without a doubt, one of the quickest. That combination of convenience and deliciousness of your favorite takeout food is tough to beat, but we're setting out to give it a shot, seeking some frozen egg roll options that can be considered worthy rivals!
Having a stash of egg rolls in your freezer means you have them at the ready anytime you need a crowd pleasing array of appetizers, a quick meal, or even a snack. Not only do they offer the convenience of hot and ready food without picking up the phone, but they also tend to be more economical as opposed to ordering from a restaurant.
Stick around as we taste our way through as many frozen egg roll varieties as we could find in an effort to give you the gift of knowledge, cluing you in to a few of the best frozen egg rolls out there. Who needs fortune cookies when you have us to guide you? Read on!
What is a Frozen Egg Roll?
Egg rolls are a staple item of Chinese-American food, consisting of various filling ingredients that are all wrapped up in a wheat flour and egg (hence the name!) based wrapper. The fillings often include chicken, pork, or seafood items such as shrimp plus the addition of fresh vegetable ingredients like cabbage, carrots, and green onion.
This filling mixture is seasoned and sometimes mixed with a binding agent such as potato starch, and pre-cooked (especially in cases where meat is involved) before being sealed in that pliable wheat wrapper. Once wrapped, the egg rolls are fried, resulting in their characteristic bubbly exterior and super crispy texture. From here the egg rolls are frozen, packaged, and delivered to a supermarket freezer section!
In addition to the flavor profiles mentioned above, many brands also offer some non-traditional egg roll varieties such as buffalo chicken, Philly cheesesteak, Southwestern-style, and even dessert filled egg rolls!
Types of Frozen Egg Rolls We Tested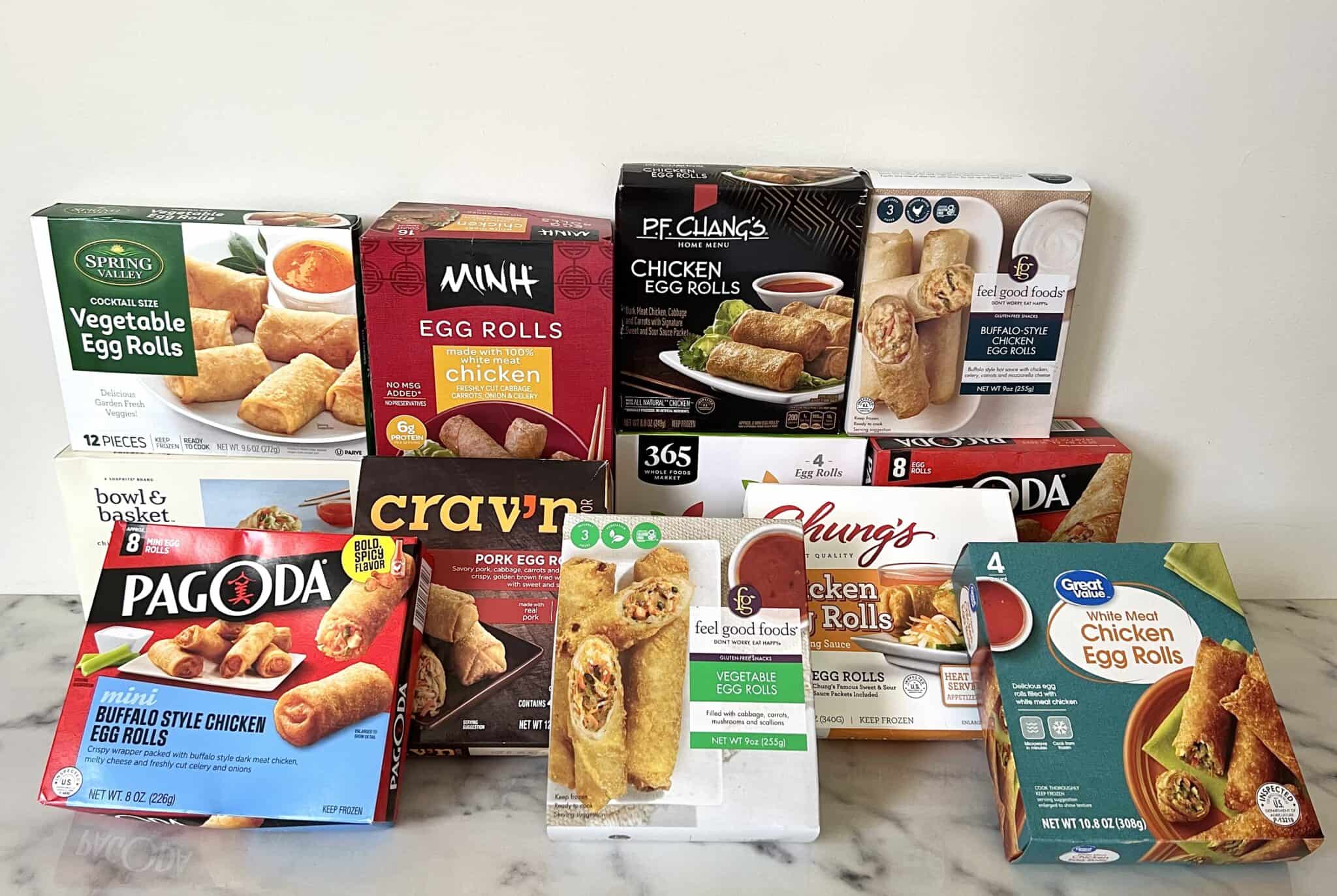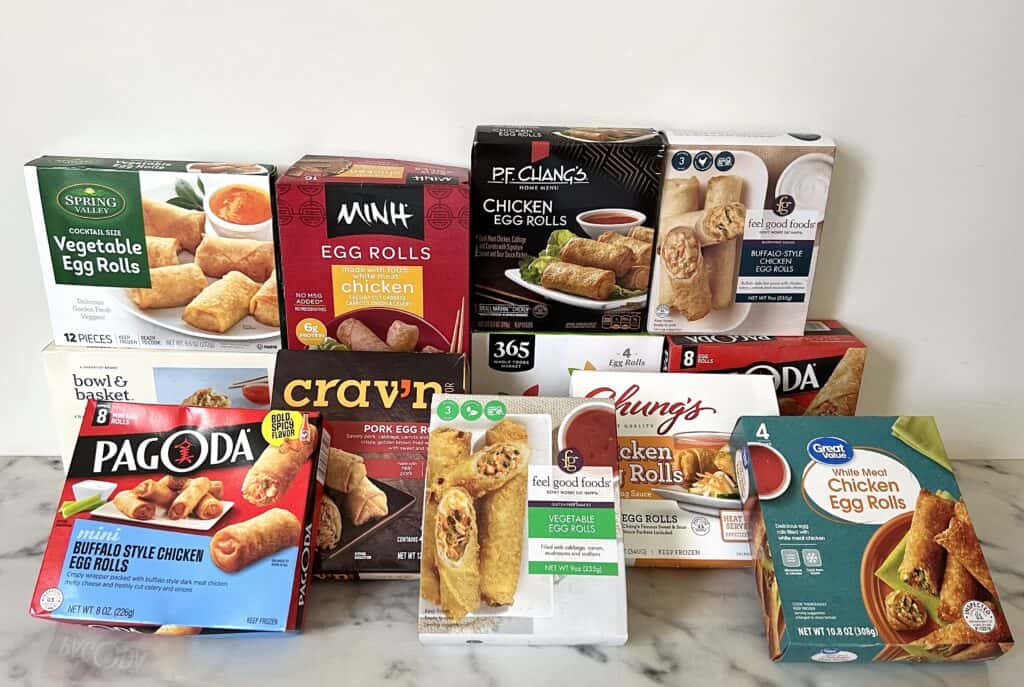 For our task at hand, we were able to get our hands on the following 12 different brands and varieties of frozen egg rolls:
365 Whole Foods Market Vegetable Egg Rolls
Bowl & Basket Chicken & Vegetable Egg Rolls
Chung's Gourmet Quality Chicken Egg Rolls with Dipping Sauce
Crav'n Flavor Pork Egg Rolls
Feel Good Foods Gluten Free Snacks Buffalo-Style Chicken Egg Rolls
Feel Good Foods Gluten Free Snacks Vegetable Egg Rolls
Great Value White Meat Chicken Egg Rolls
P.F. Chang's Home Menu Chicken Egg Rolls
Minh Chicken Egg Rolls
Pagoda Mini Buffalo Style Chicken Egg Rolls
Pagoda Pork Egg Rolls
Spring Valley Cocktail Size Vegetable Egg Rolls
How We Tasted and Reviewed These Products
We cooked each variety of frozen egg roll according to its included instructions for conventional oven cooking, so as to ensure comparable results across the board. (For more details on cooking frozen egg rolls, look towards the end of the article!)
As we evaluated our best frozen egg rolls to see where they fit into the categories of Best Frozen Chicken Egg Rolls, Best Frozen Pork Egg Rolls, Best Frozen Vegetable Egg Rolls, and Best Frozen Mini Egg Rolls, we paid close attention to the following criteria:
Taste & Texture: the flavor of each egg roll as well as the texture of both wrapper and filling.
Appearance: how well the egg rolls held together during cooking (nobody likes a crumbly egg roll!) and how appetizingly golden-brown each variety got.
Nutrition Content: calorie content, macronutrient profile (including protein!), sodium content, and any additional vitamins/minerals.
Unique Characteristics: any special factors of each frozen egg roll variety such as distinct flavors.
Value: price per egg roll is too subjective since we experienced a range of sizes, so we standardized things with a price per ounce measure.
Production & Availability: the location of manufacture for each product as well as how readily available it is to most shoppers in most regions.
Packaging: such as how well protected the egg rolls are, how convenient the product portioning is, and any other helpful information that is included on or in the packages.
An important note: we did not include any frozen spring roll varieties in our evaluations. Though these similar looking rolls are typically alongside one another in the freezer section of most grocery stores, there are some important distinctions between egg rolls and spring rolls, leading them to be left out of this particular test group.
Best Frozen Chicken Egg Rolls:
Minh Chicken Egg Rolls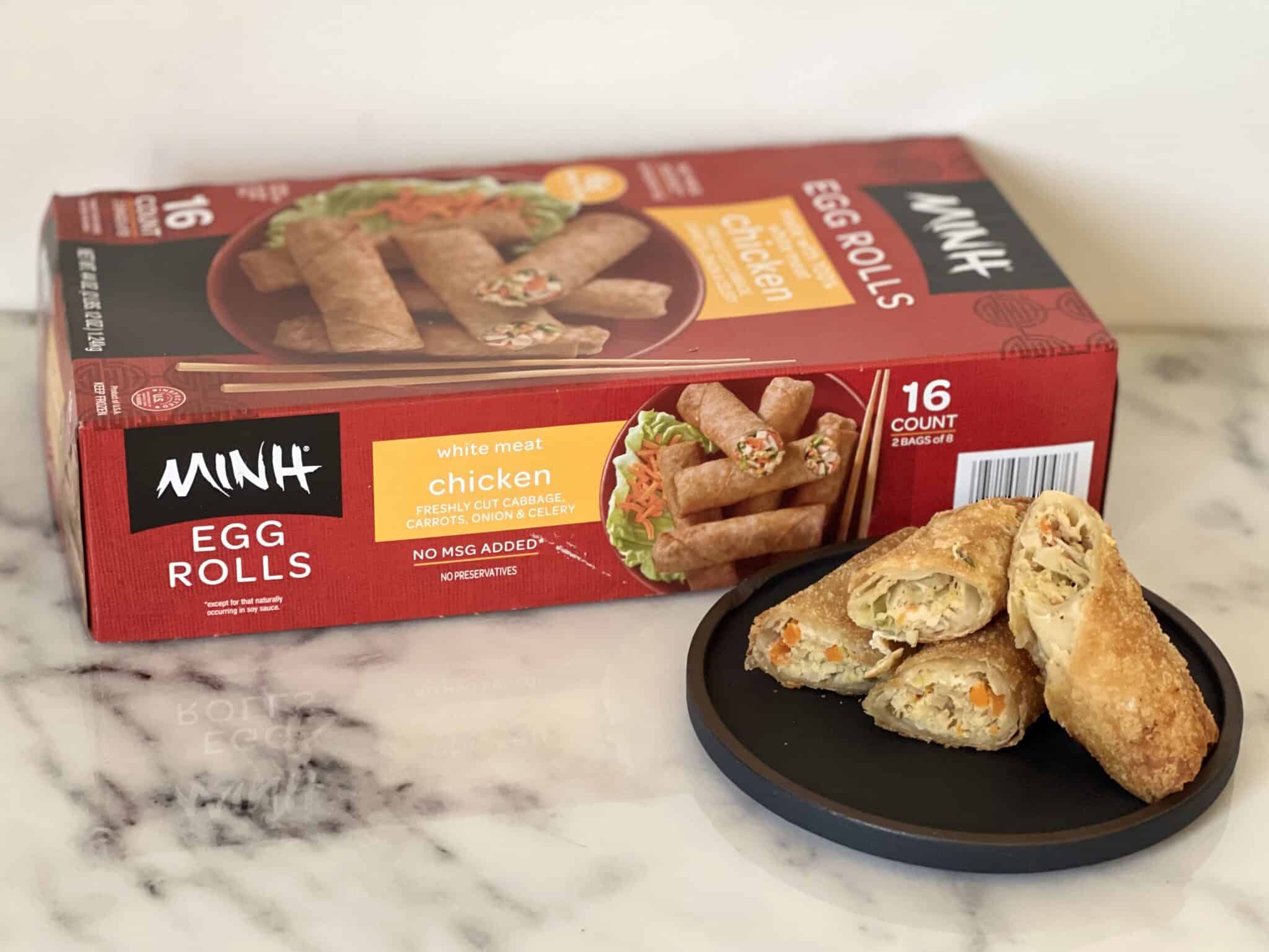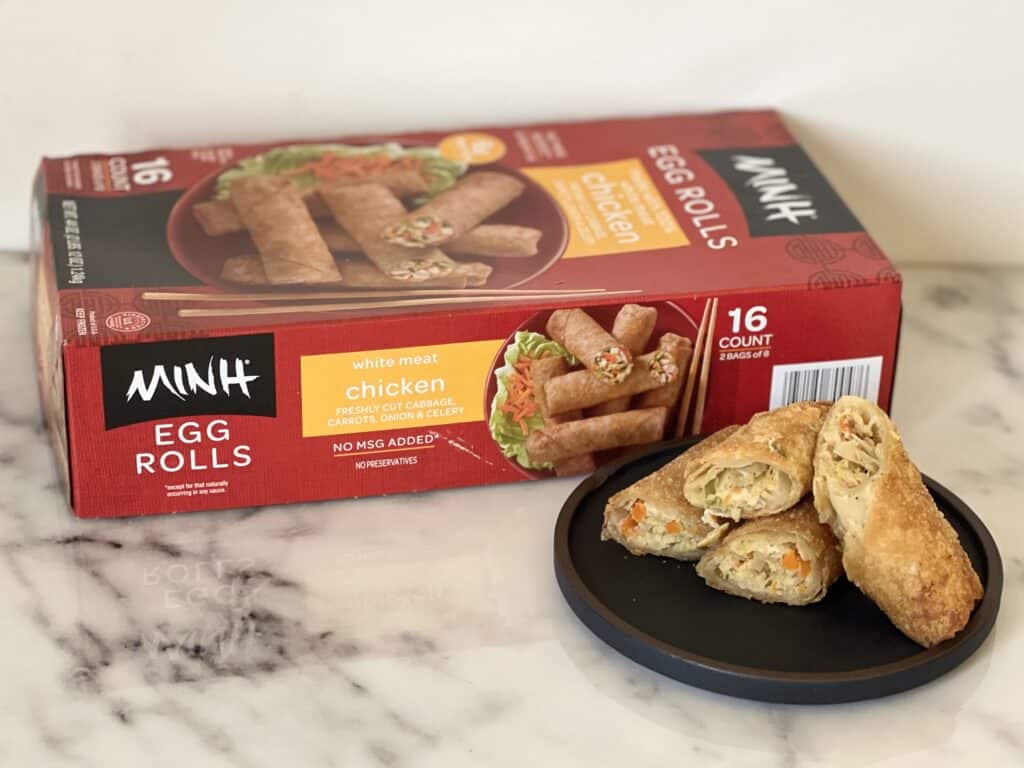 Out of all of the frozen egg roll varieties as flavors we came across, chicken was clearly the most popular and plentiful option! Frozen chicken egg rolls were available in both regular and mini size, light and dark meat, with and without sauce. Seeing as this egg roll variety was one of the top picks, we set out to nail down the best of the best in this protein category first.
About Minh Chicken Egg Rolls
As per the packaging of these egg rolls, the history behind Minh Egg Rolls started over 40 years ago with traditional recipes in a small family kitchen. Their chicken egg rolls are made with 100% white meat chicken, crunchy carrots, and freshly chopped cabbage as well as plenty of onion and celery for added flavor. They also churn out a few other egg roll varieties--including Minh Pork Egg Rolls, which we were sadly unable to get our hands on!
Truth be told, the traditional roots come right through in the flavor or these egg rolls. They emitted a wonderful aroma as soon as we opened their packaging, which led us to immediately develop high expectations for these humble rolls--expectations which they did not fail to meet! In the taste department, these egg rolls scored about as close to restaurant quality as possible, with a satisfying chicken flavor punctuated by lightly vegetal tastes and a wonderfully crispy texture.
Though this is a rather large box of egg rolls (more on that in a moment!), we love that inside the box you find 2 separate plastic wrapped bunches of 8 rolls, so you can easily use one package while the other stays shielded from freezer burn. We're also glad to report that these egg rolls are MSG-free (except for the bit that naturally occurs in soy sauce, a flavoring ingredient within the rolls) and contain no preservatives! They offer 6 grams of protein per 1-roll serving and hit our wallets as the most affordable of all the egg roll varieties we evaluated--just $.26 per ounce!
This cost-effectiveness came at a price, however. As mentioned above, these egg rolls are in a big package. That may have been an understatement as this is actually one giant box of 16 full-size egg rolls. Even with a bit of research, we were unable to find these egg rolls in a smaller portion size, so picking up a box of these is likely only practical if you are feeding a large crowd or have freezer space aplenty.
Part of the reason this packaging is so large is because it is a product sold by wholesale clubs (we got ours at BJ's but it appears to be available at Costco, Sam's Club, and restaurant supply stores as well), meaning you'll need a membership plan to get your hands on this one.
Pros:
Great taste! A satisfying chicken flavor complemented by plenty of fresh vegetables, nice wrapper to filling ratio, and crispy exterior!
Packaged in 2 separate bags of 8 rolls for easier long term storage.
No added MSG or preservatives.
Provides 6 grams of protein per egg roll!
Most affordable out of all egg rolls we tried--just $.26 per ounce.
Cons:
Only available in bulk packaging, therefore not ideal for folks with limited freezer space.
Is a wholesale club specific product, requiring you to have a membership in order to purchase a box of these egg rolls.
Best Frozen Pork Egg Rolls:
Pagoda Pork Egg Rolls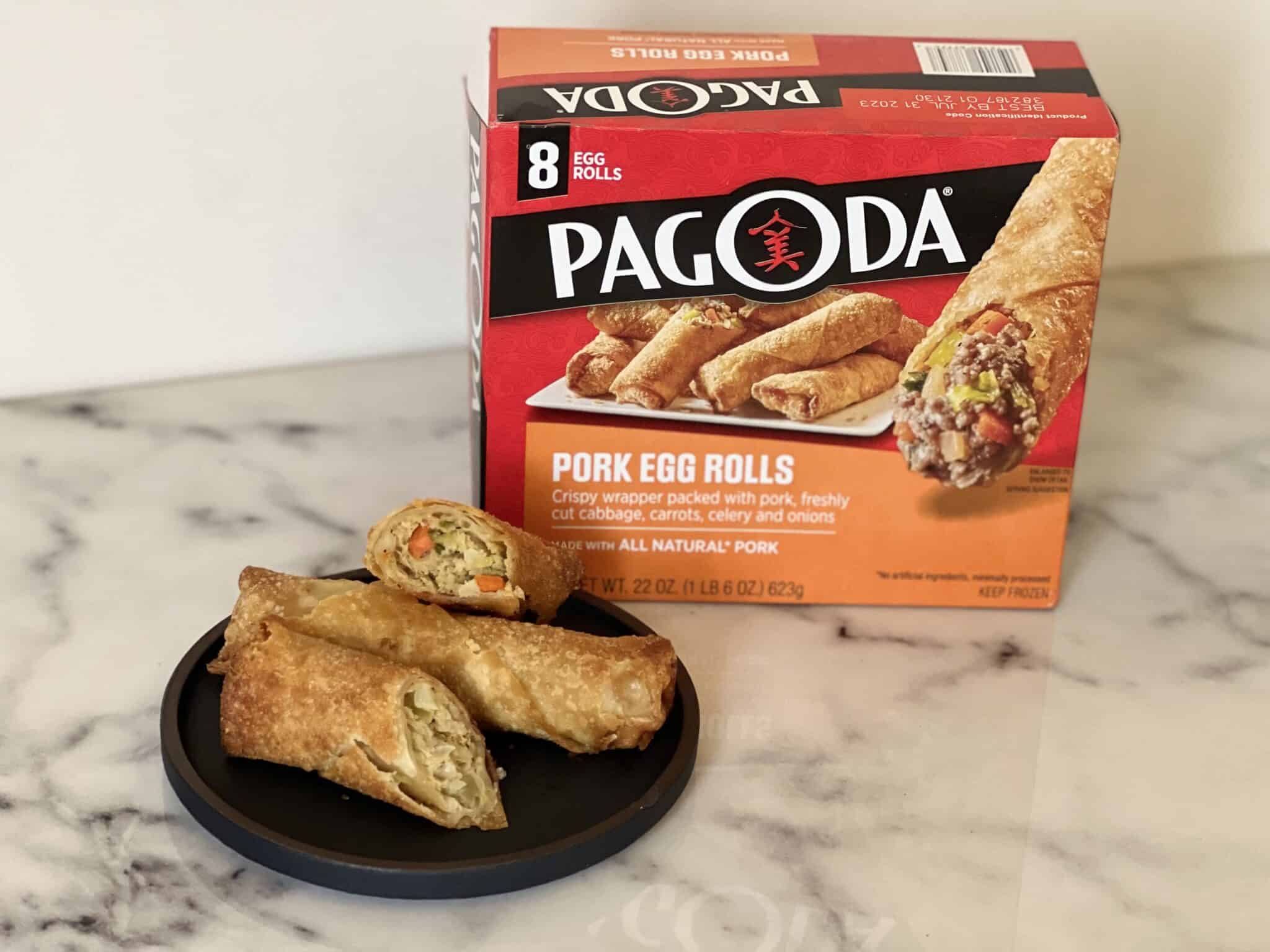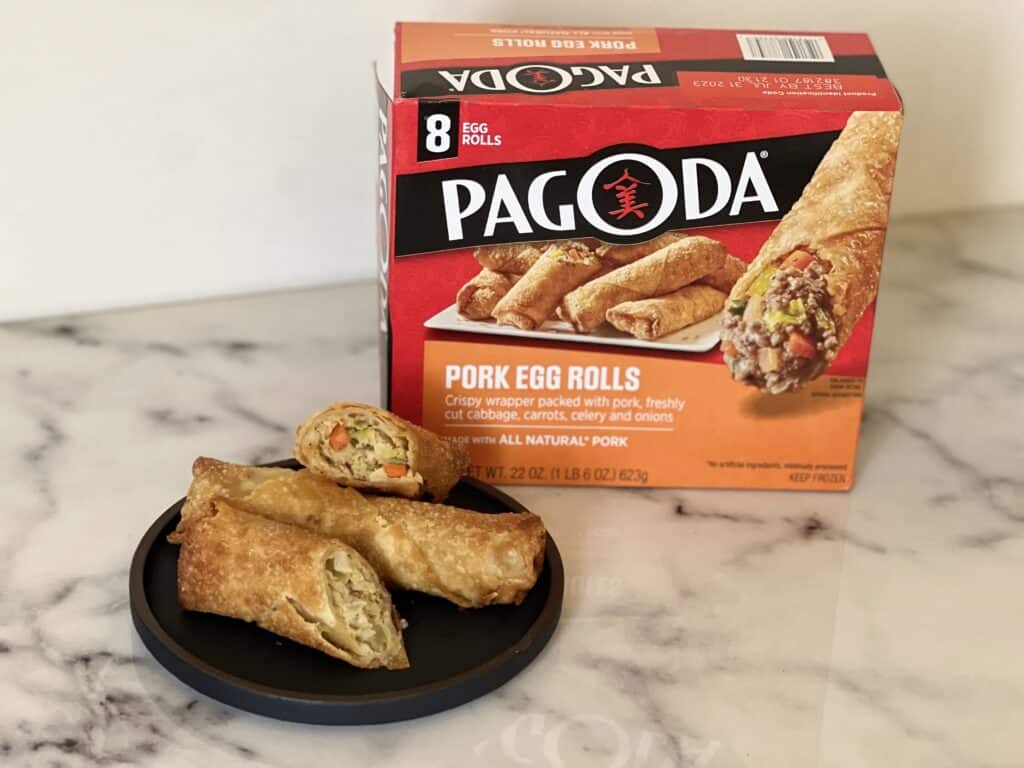 Not a fan of poultry or simply in the mood for something a bit more satisfying? Enter the long touted "other white meat": pork! While shopping for our frozen egg rolls the number of pork options paled in comparison to chicken or vegetable versions. Nevertheless, we were able to score a few, one of which surely stood out in a number of different ways.
About Pagoda Pork Egg Rolls
When a company produces as many Asian-inspired foods as Pagoda does--we're talking egg rolls, wontons, crab rangoon, and potstickers!--you can expect that they know what they're doing. Their products are marketed as snack foods, but we found their pork egg rolls to be satisfying enough to serve as a meal, especially when accompanied by a side of fried rice or perhaps a cup of egg drop soup!
No matter how you opt to enjoy Pagoda Pork Egg Rolls, there's no debating the fact that they are super flavorful, with a much more pleasant pork flavor than the others we tasted, which tended to be a little gamier than we liked. These egg rolls are nicely shaped and develop a nice crunchy coating as they roast in the oven.
Once cut, you can see large and discernible chunks of carrots, celery, and other veggies that provide a fresh compliment to the hearty minced pork within. They are available in a nicely-sized package which contains 8 full size egg rolls, each of which delivers 6% your recommended daily intake of iron and 4% your recommended daily intake of potassium!
As you might expect from a product that is loaded with pork, these egg rolls were at the bottom of the charts nutritionally speaking. While they did provide some important vitamin and mineral content as mentioned above, (three cheers for iron!) they scored unfortunately poorly in terms of fat and calorie content.
Each roll packs nearly 200 calories, and 3 grams of saturated fats, the highest (on both counts) out of all the frozen egg rolls we evaluated. Also, these Pagoda Pork Egg Rolls are not sealed quite as well as some other varieties, and we found that they did crack and leak a bit during cooking instead of maintaining their initially promising structure.
Pros:
Super flavorful, succulent, tender pork flavor with plenty of complimentary vegetables and seasonings.
From the package, the egg rolls are well-shaped and intact as opposed to broken and crumbly as some others were.
Package contains 8 full-size egg rolls, just the right number if you ask us!
Each serving delivers a decent dose of iron and potassium.
Cons:
Did not score well in the calorie and saturated fat department--containing the highest levels of each.
These egg rolls have a tendency to crack and leak during cooking. Extra mess means extra cleanup!
Best Frozen Vegetable Egg Rolls:
Feel Good Foods Gluten Free Snacks Vegetable Egg Rolls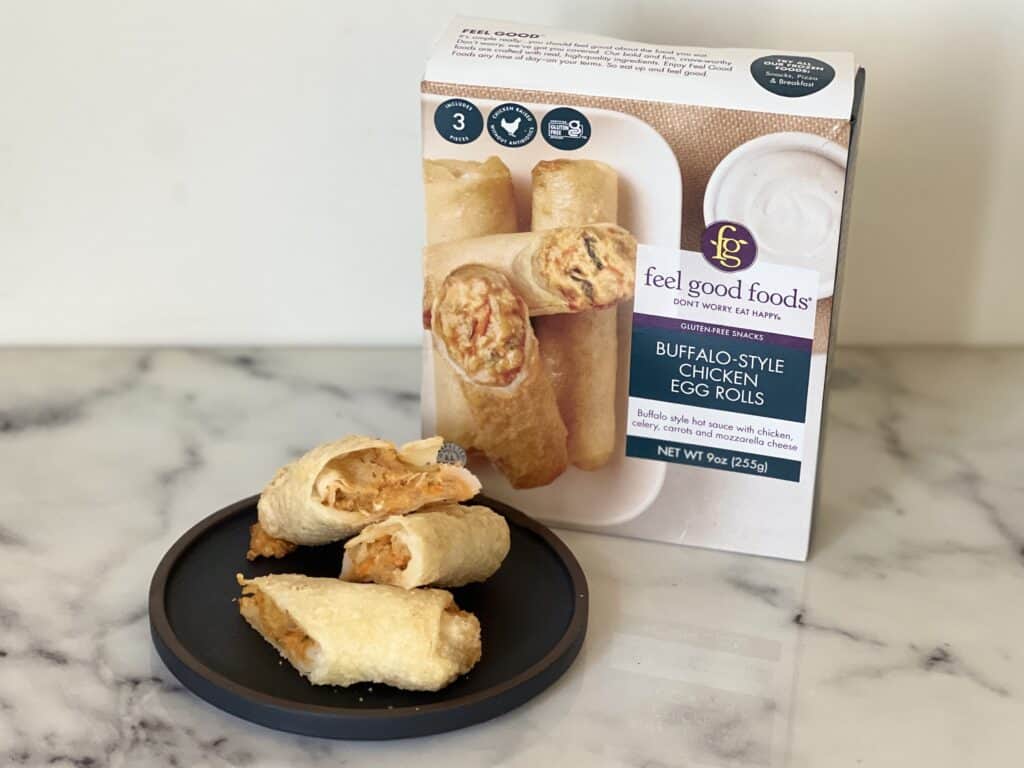 No meat? No problem! There are plenty of satisfying egg roll options out there that are free from meat or poultry products. Please note that none of the egg rolls we tested are fully vegan as they all contain egg ingredients (and sometimes milk!). However, if you're looking for vegetarian egg rolls, this category is for you!
About Feel Good Foods Gluten Free Snacks Vegetable Egg Rolls
From a company that is dedicated to providing delicious gluten free snack foods and meal options comes our winner for the best frozen veggie egg rolls of the bunch! These Feel Good Foods egg rolls are packed with tons of vegetable flavors--combining cabbage, onion, carrots, scallions, mushrooms, and "vermicelli noodles" made from mung beans, with the irresistible flavors of ginger and sesame oil tossed into the mix. Everything is held together by a tasty rice flour wrap!
Aside from being fully loaded with fresh vegetables, these egg rolls stand out for the fact that it's almost hard to believe they are certified gluten free! The rice flour wrapper is super tasty and achieves an excellent bubbly, crunchy texture as it bakes--an amazing feat for a gluten free egg roll if you ask us.
These are also the largest egg rolls we found, and although there are only 3 per box, each one is so hearty, we're not mad about the limited number in each package. Also, we love that these egg rolls are neatly packaged in a plastic tray before being sealed in cellophane and boxed. As a result of this careful packaging, the shape and integrity of the egg rolls are well preserved--no broken bits here! These gluten free vegetable egg rolls also feature the lowest calorie content of all we tested, coming in at just 100 calories per 1-egg roll serving.
Unfortunately, this low calorie content comes with a high price tag. These Feel Good Foods Gluten Free Snacks Vegetable Egg Rolls were by far the most expensive we found, costing us $1.13 per ounce. Just as a reminder, the Minh Chicken Egg Rolls were only $.26 per ounce! Also we noticed that these egg rolls did not get as uniformly golden-brown as the others, staying quite pale in most areas and only developing a bit of color where each was in contact with the baking sheet.
Pros:
Filled with a huge variety of vegetables and seasonings, simply put, they taste great!
Certified gluten-free.
Wrapped in a rice-flour shell which bakes up bubbly and crispy.
Packed in a plastic tray which really helps to protect them during transit, keeping each egg roll nice and intact.
Lowest calorie content of all the egg roll brands and varieties with just 100 calories per roll!
Cons:
These were the most expensive frozen egg rolls, with a price tag of $1.13 per ounce.
Did not achieve a uniform golden-brown crust during baking, rather they stayed rather un-appetizingly pale.
Best Frozen Mini Egg Rolls:
P.F. Chang's Home Menu Chicken Egg Rolls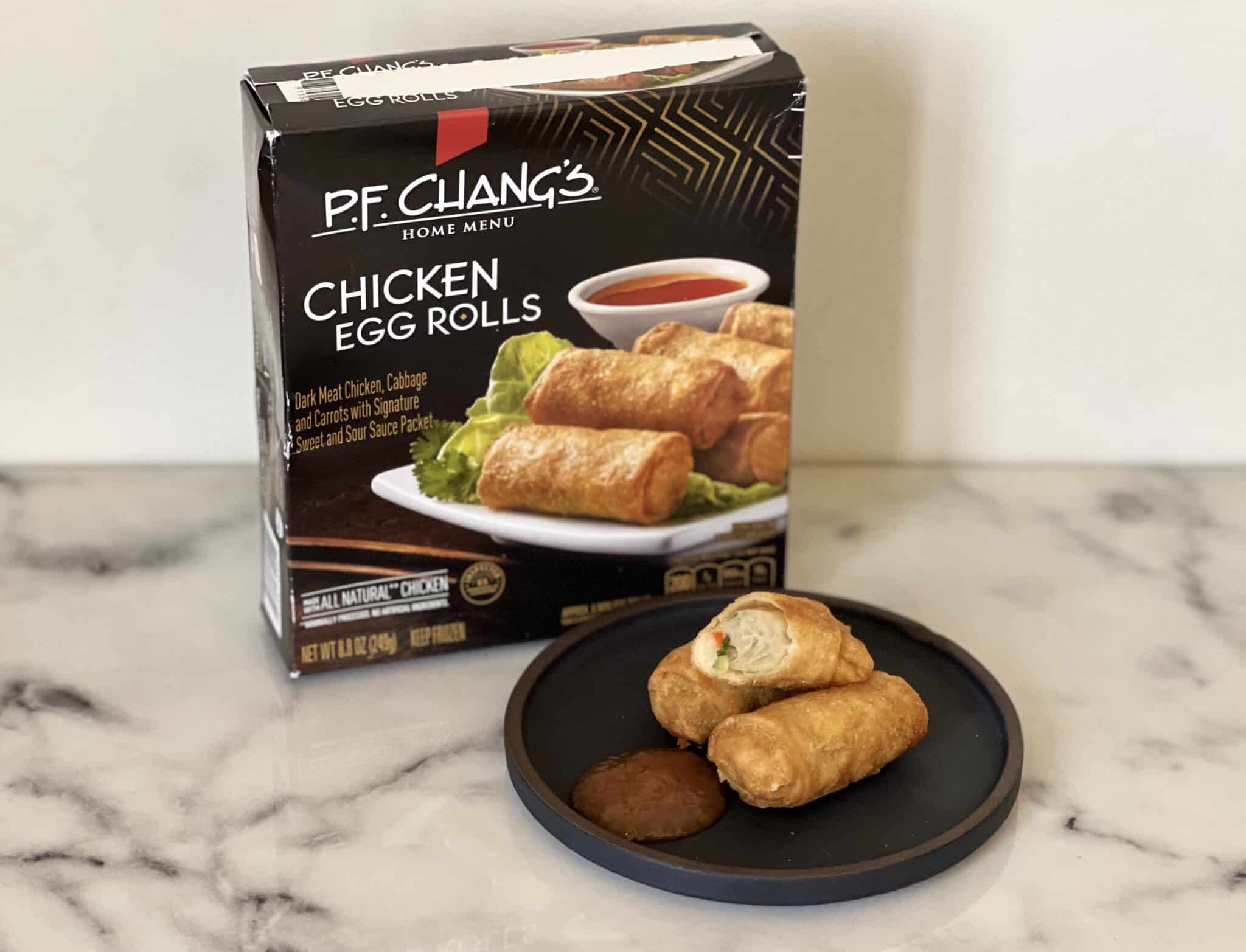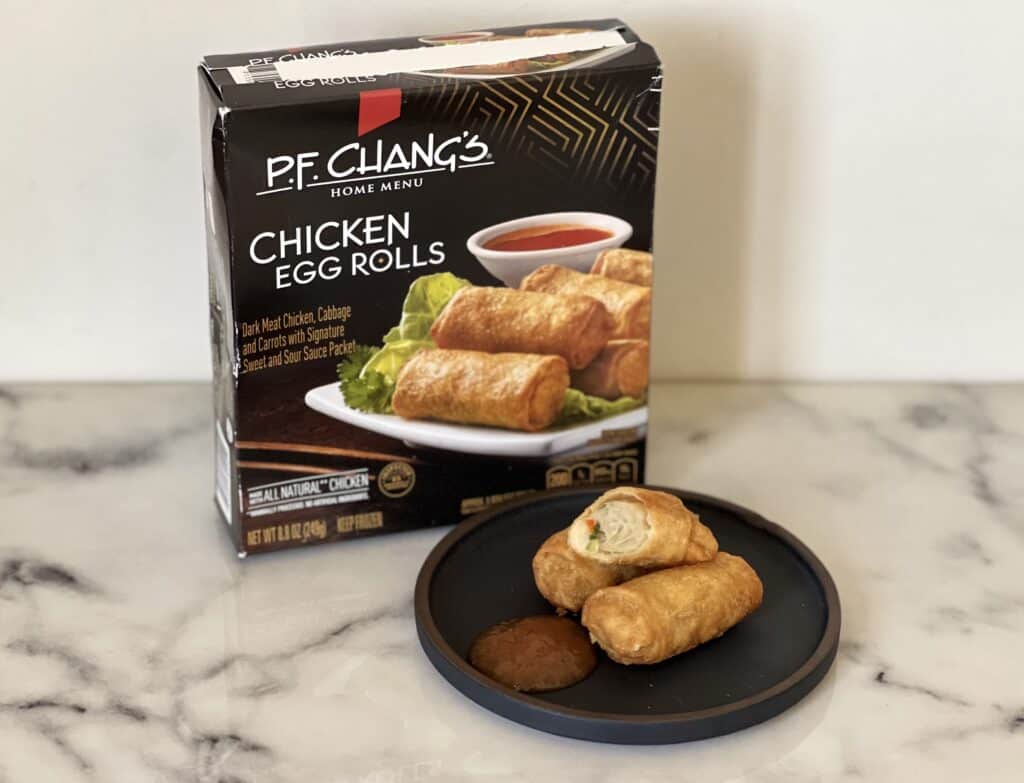 When shopping for egg rolls, or any frozen appetizer style foods for that matter, you'll notice an abundance of options in mini form. These pint-sized bites have all the flavor of full size egg rolls but offer several benefits, from making them easier for snacking and sharing to reducing the cooking time!
About P.F. Chang's Home Menu Chicken Egg Rolls
You may already be familiar with the P.F. Chang's name as that of the super popular chain of American-Chinese restaurants which popped up all over the nation in the mid 1990's. After great success in the restaurant and takeout sector, the company decided to begin offering grocery item versions of some of their top menu items and the P.F. Chang's Home Menu line of products was introduced!
Their mini Chicken Egg Rolls are made with all natural dark meat chicken, meaning they are plenty flavorful, moist, and juicy. Their small size makes them perfect for entertaining, taking to events, or for anytime you need a quick snack food. It also means that they are ready in a snap, going from frozen to hot & crispy in just 15 minutes, as opposed to their larger counterparts, some of which needed a full half-hour!
While we found that not too many frozen egg rolls varieties come with dipping sauce (major bummer!), the folks at P.F Chang's clearly know what the people want. Included in this package is a big packet of sweet and sour sauce which can be heated up by way of a brief dunk in a bowl of warm water. We love that these egg rolls are free from artificial colors, flavors, and preservatives but still carry a big ol' protein boost, providing 7 full grams per serving! And if you need more nutritional or background info on these egg rolls, a convenient scannable QR code is on the back of the box which will link you to a page with everything you need to know.
Our main complaint about P.F. Chang's Home Menu Chicken Egg Rolls is that they struck us as just a bit bland when compared to most of the other egg rolls we tasted. Their overall chicken flavor is satisfying, but we wish there were more complimentary seasonings at the forefront. Thank your lucky stars for that included dipping sauce, we say!
Also, these mini egg rolls contain the highest sodium content of all, packing a punch of 980 milligrams of the stuff per each serving of 4 little rolls! That's almost half of your recommended daily intake. Also, the egg rolls themselves were not the only mini aspect here, as the package itself is actually quite small as well. Our box had only 8 egg rolls in it, about 2 servings worth, which isn't going to go very far if you ask us.
Pros:
Extra moist and juicy filling thanks to the all-natural dark meat chicken.
Mini egg rolls are convenient for entertaining and cook up super quickly, ready in 15 minutes or less!
Comes with included sweet and sour dipping sauce.
No artificial colors, flavors, or preservatives.
Provides 7 grams of protein per 4 mini egg roll serving!
Scannable QR code on the box takes you to a page with nutritional and other info.
Cons:
Flavor is a bit plain, really could have used some stronger seasonings in the mixture.
Super high sodium content, clocking in at 980 milligrams per serving.
The overall package is small, containing only 8 mini egg rolls--only enough for 2 people!
Frozen Egg Roll FAQs
How Do You Cook Frozen Egg Rolls?
As mentioned above, we cooked all of our frozen egg roll brands and varieties in the oven, but many frozen egg roll packages offered instructions for air fryer, deep fryer, and/or pan frying cooking methods as well! Microwave cooking instructions were offered on some packages too, but generally, this method is not recommended as the egg rolls will not take on a desired crispy-crunchy texture this way.
Do You Thaw Frozen Egg Rolls Before Cooking?
Nope! Frozen egg rolls are designed to be cooked straight from their frozen state. On top of that, defrosting your frozen egg rolls could actually be a food safety hazard, so go ahead and leave your egg rolls in the freezer until you are ready to cook them.
What Dipping Sauces Go With Frozen Egg Rolls?
Egg rolls take well to a number of different dipping sauces, meaning you've got a ton of options! Of the frozen egg roll brands we tested, just a few included packets of dipping sauce, typically some version of sweet and sour sauce or duck sauce.
If your package of frozen egg rolls doesn't come with sauce (or you prefer something else!), give one of these a try:
Soy sauce is always a tasty choice, especially if jazzing up a flavor profile is in order.
Sweet chili sauce, or spicy chili sauce if you dare!
Sesame oil, thinned with a bit of soy sauce, as the flavor of sesame oil on its own is quite heavy.
Aioli or flavored mayonnaise: though similar, these two are not quite the same! Nevertheless, either would make for a tasty egg roll dipping sauce. Opt for something like Kewpie mayo or any type of spicy aioli.
Hot mustard: if you know Chinese hot mustard, then you know.
Peanut sauce might be a bit strong for subtle flavored frozen veggie egg rolls, but is an especially tasty compliment to chicken egg rolls.
Final Thoughts on the Best Frozen Egg Rolls
We hope that this deep dive into the best frozen egg roll varieties has helped to inform you of your options and weigh any factors of each. While any of the above frozen egg rolls would make for a perfect snack or side dish, your choice will depend on your particular tastes and priorities.
Whether you prefer to focus on foods that are nutritionally sound or you are simply looking for the tastiest frozen egg rolls that money can buy, use our guide to help steer you in the right direction. Don't forget the dipping sauce!