The tools you have in the kitchen can make all the difference when it comes to preparing meals at home. So, you want to make sure to have only the best. For this reason, we have compiled a list showing you the best frying pan for the money. Among these choices, you should be able to make a more informed decision to find what works best for your home and budget.
Best Ceramic Frying Pan
Many people nowadays choose ceramic frying pans. This is because of its ability to be non-reactive when cooking. Moreover, ceramic cookware including frying pans are very easy to clean because they are nonstick. Additionally, many of them are also dishwasher safe. 
On the other hand, ceramic frying pans are not as durable as other frying pans made from different materials (though some pans from well-known brands do last.) Once the ceramic coating falls off, food starts to stick to the pan. Nonetheless, ceramic is still a good choice for the best frying pan.
1. MichelAngelo 10" Ceramic Interior Pan
This pan from MichelAngelo has not one but three layers of ceramic to achieve nonstick professional frying. Moreover, this brand is a durable choice if you want your ceramic frying pan to last. This frying pan is further infused with diamonds! Yes, you read it right! It has a diamond-infused coating, which makes it 10x longer-lasting, 4x faster, and 2x nonstick results compared to other non-diamond ceramic-coated pans.
Moreover, this 10" frying pan is easy to clean, and you can be guaranteed that it won't rust no matter how long you use it. It is also dishwasher safe and safe on all types of ovens and stoves. It will make a magnificent addition to your galley.
Pros:
Diamond-infused coating

Comes with glass lid

Stainless steel handle

Dishwasher and oven safe

Heats quickly and evenly
Cons:
Handle may get hot

May not be good with low heat cooking
2. Tramontina 11" Gourmet Ceramica Deluxe Pan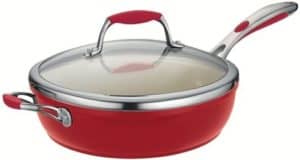 Sometimes the frying you do at home requires a deeper pan, and this deep skillet can help you with that. Tramontina's 11" deep skillet features cadmium and lead-free ceramic interior and a nonstick red ceramic exterior. It also has an ergonomic handle to ensure that you won't burn yourself when handling it. Furthermore, it comes with a shatter-resistant glass lid and is also a dishwasher and oven-safe frying pan.
Pros:
Heavy-gauge aluminum construction

Eco-friendly

Easy to clean

Shatter-resistant glass lid

Ergonomic handle

Nonstick ceramic interior and exterior

Compatible for all stove types

Dishwasher and oven safe

Lifetime warranty
Cons:
Expensive

Not for scouring pad cleaning
3. TeChef 12" CeraTerra Ceramic Nonstick Frying Pan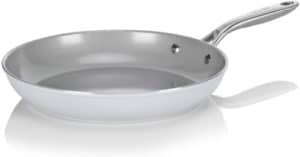 TeChef is an affordable pick for a budget-friendly ceramic nonstick frying pan. It is made from gauge aluminum, so you can be assured of its durability. Moreover, it is also free from harmful chemicals such as cadmium and lead. It does not contain PFOA or PTFE. Its stainless steel handle is double-riveted, ensuring that it'll stay attached and cool while cooking. It can also withstand dishwashers and ovens up to 450 F temperature.
Pros:
Ceramic nonstick coating

Durable and strong

Dishwasher and oven safe

Stainless steel handles

Induction-capable

Free from harmful chemicals
Cons:
Nonstick ability eventually wears off
Best Stainless Steel Frying Pan
When we hear about stainless steel, one thing comes to mind, and that is durability. People who are using stainless steel frying pans are after its durable construction that can last the test of time. These frying pans are also quick to absorb heat and distribute the heat evenly. Therefore, you can be sure that you are cooking all parts of the food consistently. 
However, you need to ensure that you purchase a product that is made from a high-grade stainless steel. Many frying pans on the market are created with low-grade steel, which makes the food stick to the pan and are very hard to clean. Some stainless steel cookware also has traces of nickel and aren't suitable for people with a nickel allergy.
1. Farberware 8.25" and 10" Classic Stainless Steel Frying Pan Set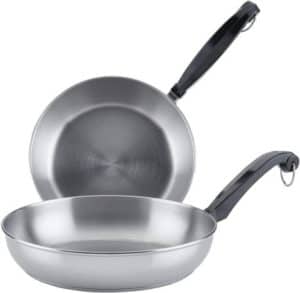 Purchasing a frying pan can be tricky if you aren't sure what size to get. With this frying pan set, however, you do not need to worry since you get two sizes in one purchase! Faberware's stainless steel frying pan set comes in two sizes: 8.25" and 10". Both pans have thick aluminum cores with stainless steel to ensure quick and even heating. The handles also have a different style than normal frying pans giving you a confident grip. They are also dishwasher and oven safe. However, this frying pan set can only withstand up to 350 F when placed in an oven.
Pros:
Comes in 2 sizes

Classic design

Stainless steel with aluminum core

Dishwasher and oven safe

Lifetime warranty
Cons:
Only good for up to 350 F temperature

Does not come with lids
2. Cuisinart 12" Chef's Classic Skillet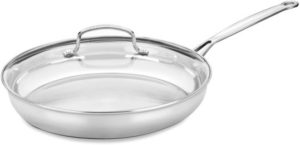 This induction-ready skillet is one of the best frying pans ever! It has a mirror finish, which gives it a classic and traditional appearance. With the presence of aluminum on its base, the heat will spread evenly and quickly while heating and cooking, further eliminating hot spots in the pan. While it is made from stainless steel, you can be assured that this frying pan will not affect your food whatsoever, nor will it alter the color or taste of whatever you are cooking. In addition, it also has a flavor lock lid as well as drip-free pouring ability.
Pros:
Induction-ready

Aluminum base

Made from stainless steel

No hot spots

With measurement markings

Drip-free pouring ability

Flavor lock lid

Dishwasher safe

Lifetime warranty
Cons:
Not good for oven

The lid has a tendency to break or explode
3. Anolon 12" Nouvelle Stainless Steel Frying Pan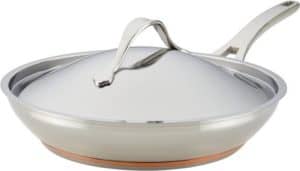 If you need a high-performance frying pan made from stainless steel, then Anolon is the answer. While some pans are laced with only aluminum, this one is crafted with copper in-between aluminum and stainless steel to promote heat control and more efficient cooking performance. The handle of this frying pan is also dual-riveted, which means it is strong and durable. 
Furthermore, it comes with a snugly-fitted lid to lock in the heat and flavor of what you are cooking. This frying pan from Anolon is also capable of withstanding oven heat up to 500 F. It is also safe to say that it can withstand dishwasher heat and is safe to clean this way.
Pros:
Induction base with copper

Non-reactive stainless steel

Dishwasher safe

Oven safe up to 500 F

Lifetime warranty

Five-layer metal base
Cons:
Expensive

Food may stick when cooking
The Best Enamel Coated Frying Pan
Enamel is one of the most ideal choices when it comes to the best frying pan because it is durable, lightweight, and comes in various colors. Furthermore, it conducts heat fast and is naturally nonstick. 
You can use enamel-coated frying pans with little to no oil, and you don't have to worry about how difficult it'll be to clean afterward. Enamel frying pans are also safe to use in the oven, and quite sanitary because bacteria do not breed on the surface. 
On the downside, however, a good-quality enamel frying pan can be expensive. Once the enamel coating chips off, the metal base can begin to rust. Foods can burn easily too, but they cool off easily once removed from the cooking source.
1. Cuisinart 10" Chef's Classic Enameled Cast Iron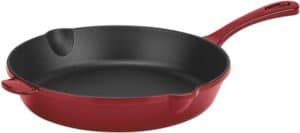 Cuisinart's classic enameled cast iron has a porcelain enameled interior that is great for cooking while retaining the food's natural flavors. Since it is coated with enamel, you do not have to worry about the pan affecting the taste nor the smell of the food. Moreover, this frying pan has wide cast iron handles that are comfortable and secure to the grip. Since it is made with cast-iron, you are guaranteed with better heat retention as well as equal heat distribution throughout. This is also dishwasher safe and very easy to clean.
Pros:
Porcelain enamel interior and exterior

Does not affect natural taste and odors of food

Broiler and oven safe

Dishwasher safe

Available in colors blue and red
Cons:
2. Anolon 10" Vesta Enamel Cast Iron Skillet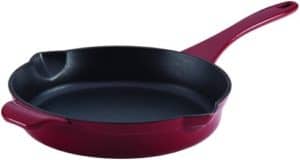 The enamel interior of this 10" skillet is stain-resistant and has a black matte finish. Since it refuses to give in to stains, it is easy to clean and will always look good as new. One of the traits we like about this frying pan is its porcelain enamel exterior, which, along with its classy look, also provides an amazing cooking experience. 
The handle is made from stainless steel and gives you a strong and comfortable grip to ensure you won't spill anything while cooking. Furthermore, it is induction compatible and can stand a temperature of 500 F when used in the oven. It is also broiler safe. You can fry as well as broil with this remarkable frying pan.
Pros:
Superior heat absorption

Stain-resistant

Black matte enamel interior

Porcelain enamel exterior

Induction compatible

Broiler safe

Oven safe up to 500 F

Lifetime warranty
Cons:
Expensive

Not dishwasher safe
3. Le Creuset 11 3/4" Enameled Cast Signature Iron Handle Skillet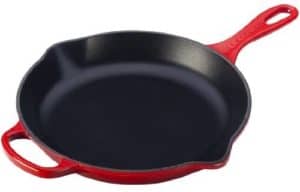 Le Creuset is one of the more high-end and luxury brands for cookware. The expensive price comes with durability and functionality that are exceptional compared to more affordable brands. If you have the money in your budget, consider splurging on this high-quality frying pan. While most pans require oil and butter when frying, this one requires very minimal oil. That being said, you are saying no to cholesterol and is also improving your health when making food using this pan.
The black enamel interior of this Le Creuset frying pan does not require additional seasoning when cooking as opposed to other cast iron cookware. The improved enamel interior from Le Creuset's cookware produces steady and even heat. Moreover, it is resistant to wear and tear, dulling, and staining.
Pros:
Comfortable handle

Black enamel interior for durable and amazing cooking

Superior heat retention and even distribution

Superior exterior enamel resists chipping and cracking

Safe for all cooktops

Oven safe up to 500 F

Safe for dishwasher clean-up

Safe even with metal utensils use

Lightweight enameled cast iron
Cons:
The Best Cast Iron Frying Pan
There is a lingering beauty with cast iron frying pans. While some people prefer not to have anything to do with cast iron, we still want to include some of them on our best frying pan list. Why? Simply because there are cooking styles that only cast iron frying pans can do. 
Cast iron also gets better and better as it ages. So, the longer you use it, the better it becomes. As long as you maintain it well, a cast iron frying pan can last a lifetime. The downside that we don't like, however, is how heavy it is. For people who want a pan-on-the-go, this may not be your thing. Maintenance of cast iron cookware can be tiring since you need to season it occasionally. Cleaning requires a special technique to prevent rust and damage too.
1. Victoria 10" Cast Iron Skillet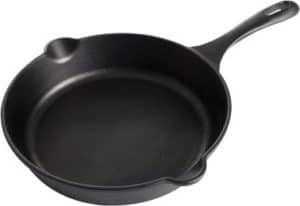 Victoria offers this 10" cast iron skillet (but it is also available in various sizes ranging from 6.5" to 12"). While some cast iron affects the taste of your cooking, this one does too in a healthy way. It is coated with 100% non-GMO flaxseed oil that is natural and quite healthy. This natural, easy-release seasoning is claimed to get even better with time. 
You can expect better quality food the more you cook using this best frying pan! Aside from the flaxseed oil coating, you can also expect traces of iron to be released naturally when cooking. And iron is a great addition to your health.
When it comes to functionality, this cast iron skillet is also more versatile than you can ever imagine. It is not only good for frying but is also perfect for baking and grilling too! You can use this frying pan on induction stoves, ceramic stovetops, broilers, and ovens. You can also use this on a grill or campfires as well!
Pros:
Multi-use and very versatile

Keeps food hot for 15 minutes and longer

Better grip

Made from high-quality commercial iron casting

Seasoned coating with 100% non-GMO flaxseed oil

Lifetime warranty
Cons:
Iron may affect food taste

The Interior bottom may not be smooth

Very heavy to use
The Best Carbon Steel Frying Pan
Carbon steel is lighter than cast iron, so it is easy for you to move around and handle when cooking. It provides almost the same benefits as cast iron since they have almost the same chemical composition. However, carbon steel cannot retain heat as much as cast iron does. Hot spots may be present when cooking with carbon steel cookware, too, so you may have to anticipate uneven cooking.
1. Mauviel M'Steel 11" Carbon Non-stick Frying Pan
Extra thick black carbon steel makes up this carbon nonstick frying pan. This is the best frying pan for searing because of its exceptional heat conduction. Due to its commercial-grade strength and durability, this frying pan can stand against high temperatures. You can also use this on all cooking surfaces and even in the oven. It works great on halogen stovetops. So, if you have that kind of stovetop, then this frying pan is the best for you.
Pros:
High performance

Durable

Develops natural nonstick ability over time

Perfect for all stove tops

Oven safe
Cons:
Expensive

Needs to be seasoned prior to first use

Will darken over time
2. Lodge 15" Carbon Steel Skillet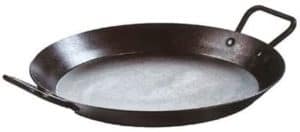 Lodge has the best frying pan for browning and searing large amounts of food with its 15" carbon steel skillet. It features a flat surface for better and more stable cooking. It also has 12 gauge carbon steel, which is ideal for quick heating and retaining that heat evenly. This pan is already pre-seasoned with oil and is ready for immediate use. In addition, this skillet has easy care instructions and dries off immediately.
You can use this skillet on gas, electric, and induction stovetops. You can also use this for outdoor camping, grilling, and open fires. With such versatility, this is surely a must-have addition to your cookware collection.
Pros:
Seasoned carbon steel skillet

Great for high heat cooking

Perfect for browning and searing

Seasoned with soybean oil

Ideal for large group cooking

Can be used on different stove tops
Cons:
Not to be used with soap and other harsh detergents

Heavy
The Best Frying Pan Under $15
A tight budget doesn't mean you can't have a good frying pan. As a matter of fact, you do not need to spend more than $15 to get the best frying pan. While some may not offer the highest quality as the expensive ones do, these under $15 best frying pans are still up to par with our standards.
1. Carote 8" Non-stick Frying Pan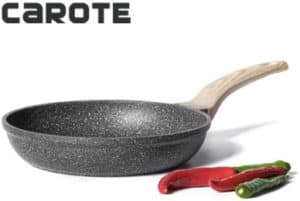 Carote sells eco-friendly frying pans of various sizes from 8" to 12". Particularly, this 8" frying pan is one of the best frying pans because of how affordable and great it is to use. It is made with granite coating and is PFOA free. Moreover, it is easy to clean and has a nonstick interior made from cast aluminum.
It also has a Bakelite handle that is designed to look like natural wood. This pan has that classic and elegant vibe that will surely add sophistication to your galley. Moreover, it is made to suit all types of stoves as well as ovens for up to 350 F. Lastly, this frying pan is scratch and abrasion resistant to ensure it'll last a long time.
Pros:
Nonstick interior

5 layers technology which includes granite and ceramic coatings

Handle stays cool

Induction stove compatible

Easy to clean

Affordable

Non-toxic
Cons:
Limited 12-month warranty
2. Ayesha Curry 10" Home Collection Nonstick Frying Pan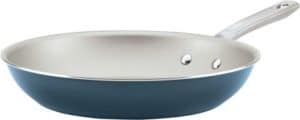 The nonstick frying pan from Ayesha Curry's Home Collection comes in four colors. You can choose from brown sugar, sienna red, twilight teal, and basil green. With different colors to choose from, you can pick the perfect fit for your kitchen's theme and color. Moreover, this does not only boast of perfect style but functionality as well.
This frying pan is made from durable aluminum that provides fast and even heating. It also has an enamel porcelain interior and PFOA-free nonstick interior. Furthermore, it has a double-riveted handle and is safe for oven use up to 500 F.
Pros:
Easy cleaning

Stylish and sleek design

Nonstick interior

Sturdy handles

500 F oven safe

PFOA-free
Cons:
Not suitable for induction stove

Frying pan is thin
3. Utopia Kitchen 11" Non-stick Frying Pan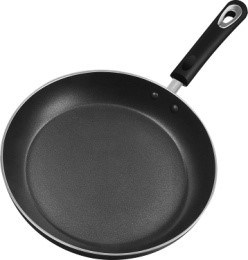 Safe cooking is a must whenever or wherever you are. That's the main goal of Utopia's Kitchen nonstick frying pan. With its steady Bakelite handle that is strongly attached to the pan, there is no way for it to be loose and in danger of spilling things over. It has an induction-safe bottom, which works well with all types of stoves. Moreover, this frying pan is free from harmful chemicals like cadmium, lead, and PFOA. You can be assured that you are staying healthy while eating good food.
The top-rated aluminum alloy assures top-grade efficiency that is on par with professional cooking. The heat-resistant exterior of the pan is also a great addition on top of the 2-layers of nonstick coating inside.
Pros:
Wobble-free handle

Induction bottom

Great for all stoves

Multi-layered nonstick pan

Dishwasher safe
Cons:
Not for oven use

Manual cleaning process may be tiresome
The best frying pan allows you to cook and serve great food to your family and friends. You should know what you need and find the perfect pan that works best for you. Choosing the right frying pan made from materials that are suitable for your cooking style will provide you with a more convenient cooking experience.