Gluten-free bread implied unappealing desk sandwiches that crumbled all over your keyboard. But, since a gluten-free diet has been embraced over the few years, a barrage of bakeries has devised innovative ways to produce cross-contamination and wheat-free bread that your taste buds will love from the onset.
Therefore, it comes as no surprise then that today's gluten-free alternatives give gluten-rich foods a run for their money regarding texture and flavor. And thank the heavens for that because let's face it.
Consuming quinoa and rice gets old real quick. So, whether you have celiac diseases, gluten intolerance, or simply looking to adopt a healthier lifestyle, these nutritionist-approved gluten-free bread brands will satisfy your sandwich cravings with each hearty bite.
1. B-Free Brown Seeded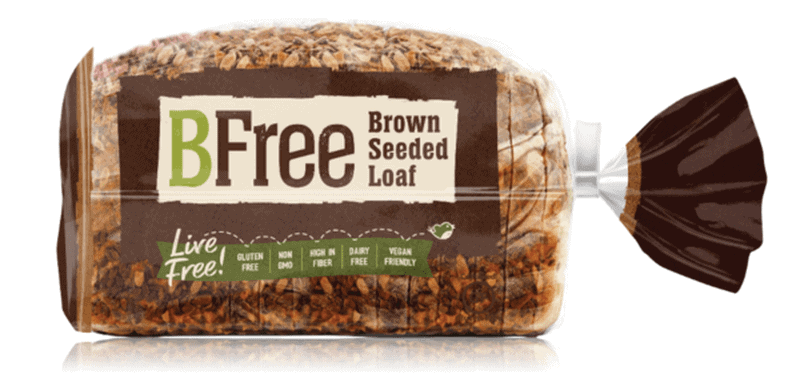 As nut-free, dairy-free, soy-free, and egg-free, the B-Free Brown Seeded gluten-free bread derives its satisfying crunch and texture from golden linseeds and sunflower seeds. Furthermore, what makes it stand out from the rest is that you get an impressive 4 grams of protein coupled with 6 grams of fiber with every slice you consume.
For longevity, freeze the B-Free Brown Seeded loaf to -18 degrees Celsius or 0 degrees Fahrenheit. Upon defrosting it, consume the bread within eight days or by the stated date on the packaging. And store it away from direct sunlight in a cool, dry place. We recommend resealing the bread after use or storing it in an airtight light container for freshness.
2. Best Overall: Three Bakers 5 Seed and Whole Grain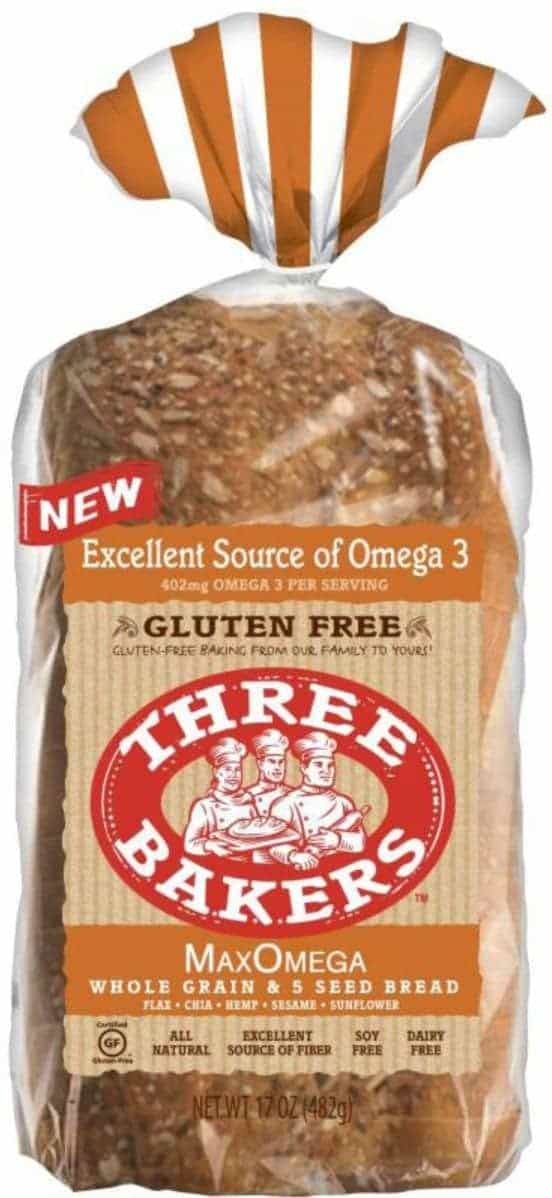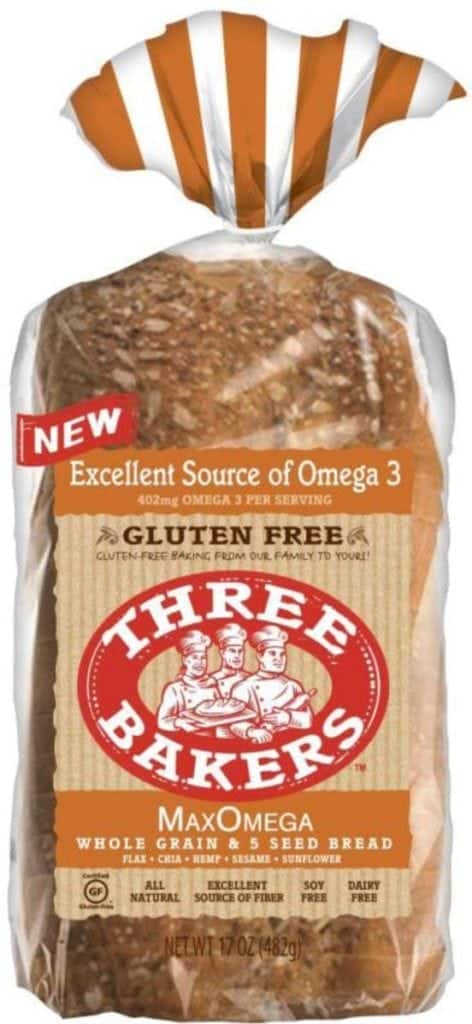 Are you on the quest for a product that's rich in fiber? Then you'll be pleased with the Three Bakers 5 Seed, and Whole Grain gluten-free bread wraps up your search. As a certified soy-free, dairy-free, whole grain, all-natural product, the bread gives you value for your money. Furthermore, it's a great source of Omega-3 courtesy of the five seeds it contains (Chia, Sunflower, Hulled Hemp, Flax, and Sesame).
As you know, Omega-3 is vital in optimal heart and brain function. The large slices of this loaf are ideal for whipping up a hearty sandwich that'll fill you up. No need to toast to savor each bite.
3. Schar: Deli-Style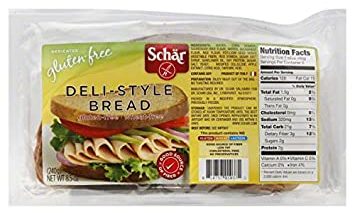 With impressively large sourdough slices, excellent texture, and a hearty taste, the Schar: Deli Style gluten-free bread is a healthy and flavorful treat. Therefore, it comes as no surprise then that it's rated as one of the top products in the game. Each fiber slice contains crunchy seeds ranging from sunflower and flax to chia.
It lacks lactose and wheat. Nonetheless, keep in mind that the Schar: Deli-Style has soy. Therefore, if you're sensitive to it, you may want to consider other options.
4. Best Budget: Schar Artisan Baker Multigrain Bread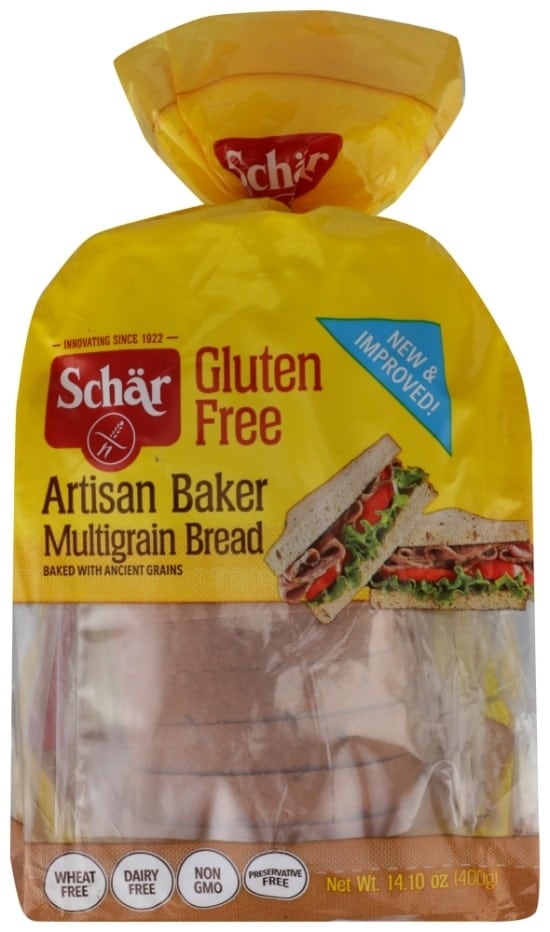 Check Latest Price
Give your sandwiches a kick with the Schar Artisan Baker Multigrain Bread. It's one of the best gluten-free products when it comes to texture and taste. Along with being non-GMO, gluten-free, and preservative-free, you'll be pleased to learn that this hearty pick is also lactose-free. For longevity, store the unopened product at room temperature until the given expiry date.
Once the Schar Artisan Baker Multigrain Bread is opened, refrigerate it in an airtight container or bag, after which it should be consumed within 3 to 4 days. Remember, packing it in an inner bag seals in retains its goodness and freshness.
5. Bob's Red Mill Gluten-Free Bread Mix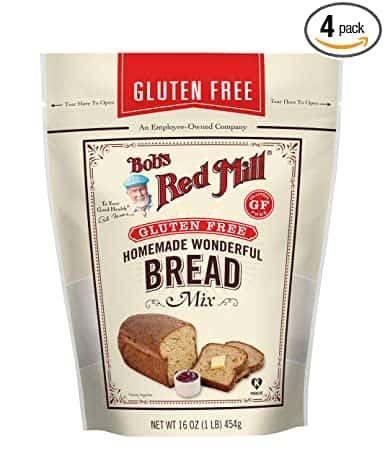 Are you looking to step up your baking skills by a few notches with the best gluten-free bread machine? Then the Bob's Red Mill Gluten-Free Bread Mix was produced with you in mind. As a simple-to-mix for flavorful gluten-free loaves, the bread is perfect for breadcrumbs, burger buns, sandwiches, croutons, rolls, and toast. All it demands from your kitchen is eggs, oil or butter, milk, and cider vinegar.
Moreover, one bag makes about a 1.5-pound loaf, making it perfect for a household of 3 to 6 people. Along with being gluten-free, Bob's Red Mill Bread Mix is dairy-free, which makes it an ideal option for those that are lactose intolerant.
While the lack of preservatives in this bread mix boosts its nutritional value, it makes it more susceptible to go bad quicker. Therefore, we recommend freezing additional slices.
6. Canyon Bakehouse Heritage Style Honey Gluten-Free White Bread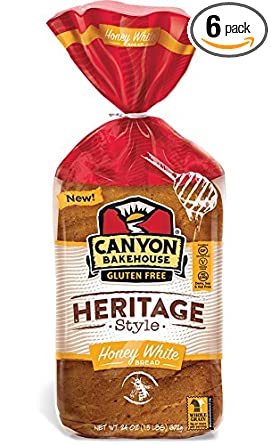 It's no secret that Canyon Bakehouse is a renowned brand with a stellar reputation for baking a vast assortment of gluten-free goodies. They range from burger buns, bagels, sandwich bread, and hotdog buns to English muffins, all of which consistently receive positive reviews and ratings for texture and flavor.
Rooted in the tradition of artisan-made, family-style loaves, this product honors the Canyon Bakehouse standard for whole grain, clean, and non-GMO ingredients. And, it has a new and bigger intake on what embracing a gluten-free diet entails.
7. Outer Aisle Gourmet Cauliflower Thins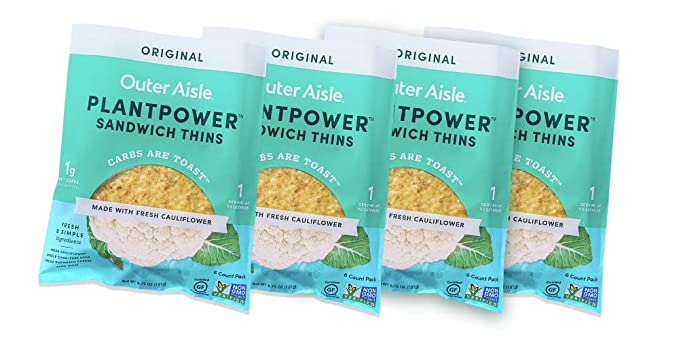 As a nutritious, versatile, and delicious bread alternative, you can say hello to the power of cauliflower. Each pack of the Outer Aisle Gourmet Cauliflower gluten-free bread comes with six pieces. You can take your pick from three delightful flavors: Jalapeno, Original, and Italian.
Along with being gluten-free, the sandwich thins are naturally low on carbohydrates and made with the absence of artificial ingredients, nuts, flour, and soy. Each thin is stuffed with a full vegetable serving. The bread is made from 4 ingredients ranging from 63% fresh cauliflower, pure nutritional yeast, and whole cage-free eggs to parmesan cheese to keep it simple.
If you're on the quest for a low-calorie option to bread, then the Outer Aisle Gourmet Cauliflower Thins is your best bet. They contain only 50 calories. Each piece contains 4 grams of protein and 1g Net carbohydrates.
Wear your creativity hat and use this product as a revolutionary bread-like option to make all your favorite foods such as pizza, burgers, lasagna, quiche, sandwiches, and tacos. The Outer Aisle Gourmet Cauliflower Thins retains its freshness and goodness for up to 45 days in the refrigerator and 12 months in the freezer.
8. Best Premium: Udi's Millet-Chia Gluten-Free Bread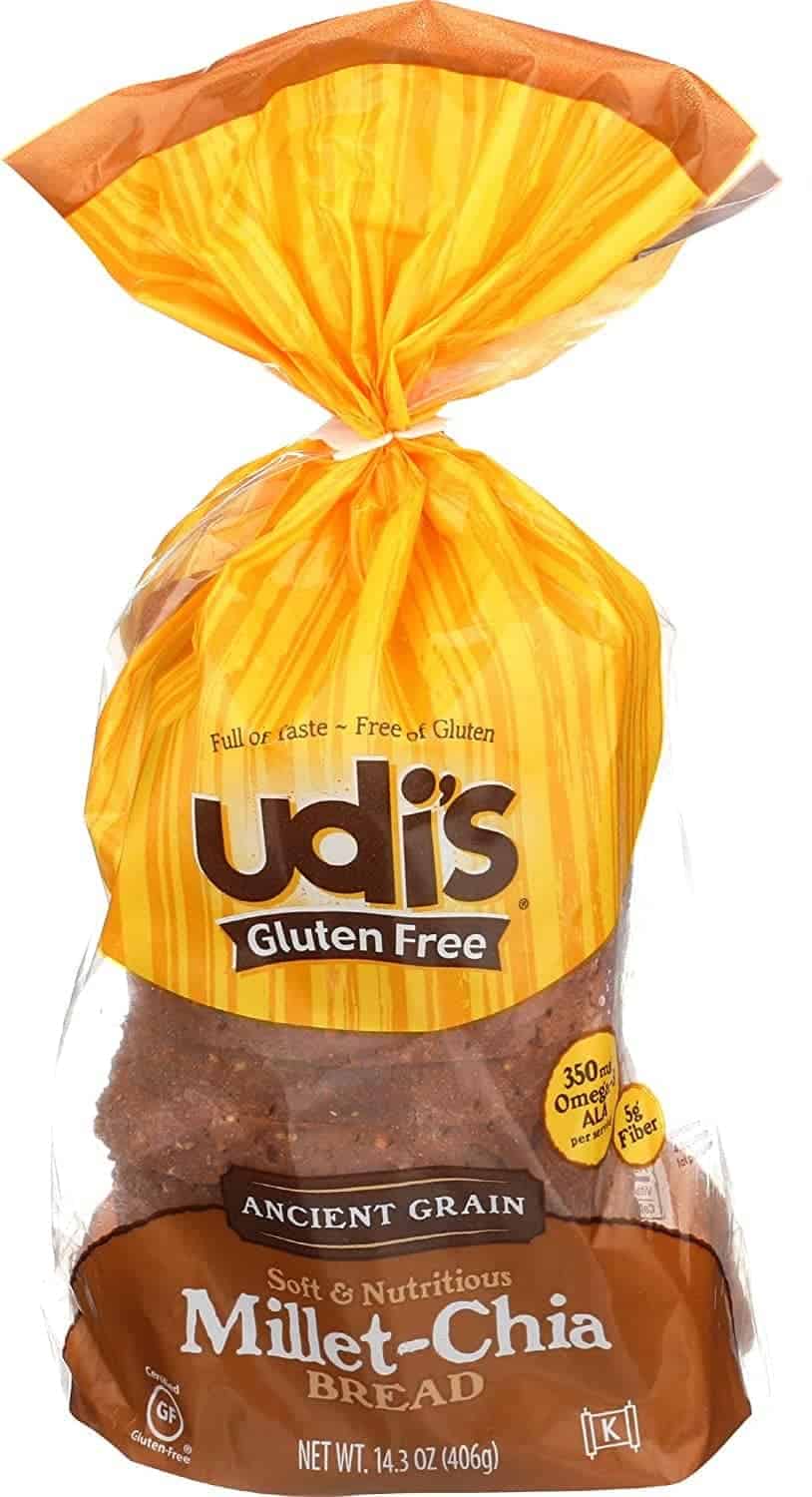 If you're looking for the best gluten-free bread that's rich in fiber, then Udi's Millet-Chia is your Holy Grail. Therefore, it comes as no surprise that it's the go-to option for those with celiac disease. Each serving contains 150 calories, 300 mg sodium, 4.5 g fat, 2 g sugar, 6 g protein, no saturated fat, 5 g fiber, and 24 g of carbohydrates. For longevity, we recommend stashing the Udi's Millet-Chia Gluten-Free Bread in the freezer to retain its freshness and grabbing a slice as you please.
9. Julian Bakery Keto Thin Gluten-Free Bread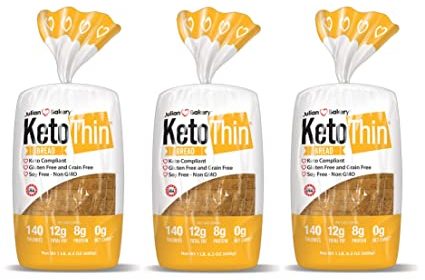 As the perfect loaf for any savory meal, this bread is flavorful and impressively nutritious. The Keto Thin Bread boasts 8 grams of protein, 1 gram of fiber, no sugar, and 12 grams of healthy fat, with a hint of vanilla and pound cake texture.
While $40 for a pack of 3 loaves is on the pricier end of the spectrum, it only takes a couple of slices to keep you full for an extended period. It lasts up to 7 days in the fridge and 18 months in the freezer.
10. Ener-G Foods Brown Rice Loaf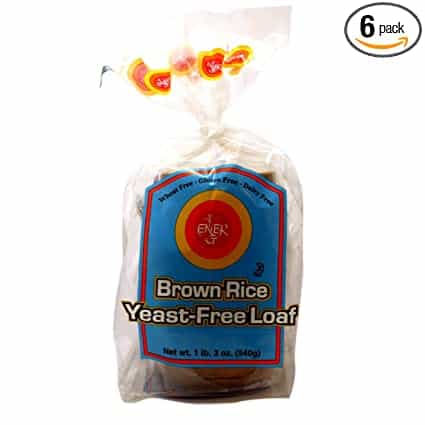 Best toasted and topped with a bit of coconut oil or butter for enhanced flavor, the Ener-G Foods Brown Rice Loaf is the perfect blend of white rice and brown rice flour. Thus, it's the ideal product for anyone on a yeast-free and gluten-free diet. Perfect for whipping up your favorite sandwiches, the Ener-G Foods Brown Rice Loaf lacks eggs, dairy, cholesterol, saturated fat and is Kosher-certified.
Buying Guide: How to Choose the Best Gluten Free Bread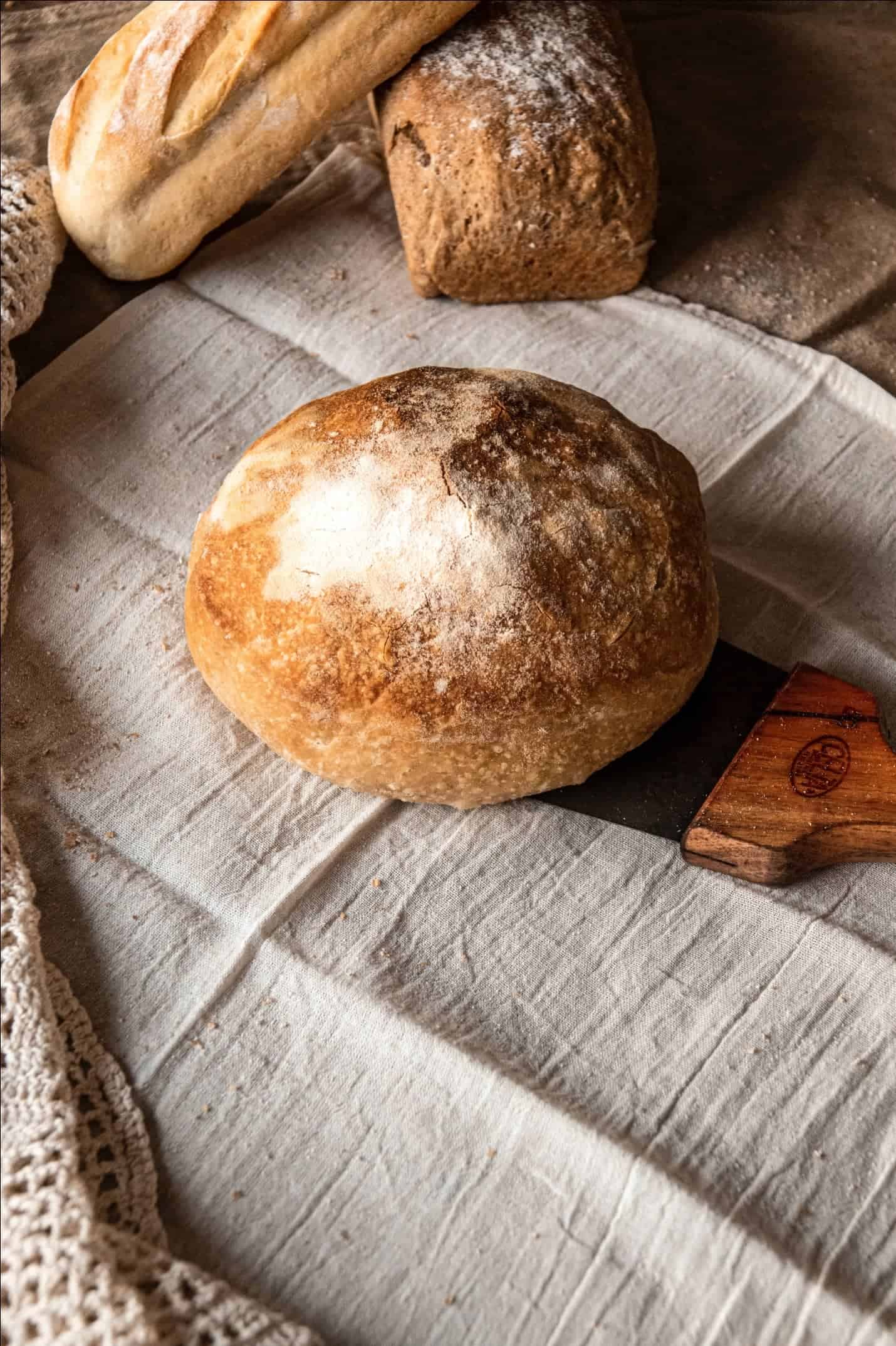 With the boatload of options that have littered the market, below are some key factors to consider that will help you narrow down your search and find the best gluten-free bread for you that you can pair with a cup of the best instant coffee for a hearty breakfast or any savory meal.
1. Nutrition
The list of ingredients in the gluten-free bread they decide to purchase is important for those that are lactose intolerant or have celiac disease. Along with the natural ingredients, the best nutrition in gluten-free bread is found in sprouted grain bread.
During the sprouted grain process, the grains' nutrients are released and availed in the bread, then absorbed by the body in a jiffy. These nutrients deliver excellent benefits such as boosting the body's vitamin Band C levels, essential amino acids, antioxidants, and providing you with complete protein.
Other nutritional benefits range from calcium, phosphorus, fiber (from the sprouted Chia bread), iron (from the sprouted Quinoa bread), potassium, manganese, Phytonutrients, and copper from the sprouted miller bread, to magnesium. Sprouted grain bread has superior nutritional benefits compared to other gluten-free bread.
2. Ingredients
Before buying the first loaf of gluten-free bread, you come across, check out the ingredients. Keep your eyes peeled for artificial ingredients such as preservatives and additives, GMOs, refined sugars, and more.
For those who strictly follow a vegan diet, many gluten-free bread products that have littered the market are not even factored in as they contain animal products such as eggs and dairy. So, you should gravitate more towards gluten-free bread that contains pure ingredients without artificial substances. And, for vegans, the bread should lack animal products.
3. Type of flour
Gluten-free bread stems from a broad range of flour options to wheat. Different loaves of bread use a combination of various types of flour, as discussed below.
Almond
It's not only rich in flavor but also delivers a nutty profile to baked goods. Almond flour is rich in minerals and vitamin E. Nonetheless, gluten-free bread made from this type of flour can be high in calories and fat. Therefore, it may not be the ideal option for anyone on a Weight Watchers diet.
Millet
It stems from millet seeds and provides a slightly nutty taste coupled with a soft texture. With a relative amount of fiber, millet flour is packed with calcium, vitamin B6, folic acid, iron, niacin, and protein.
Sorghum
As an ancient grain, sorghum flour has a mild flavor with a hint of sweetness. As a result of its dense nature, it's paired with other gluten-free flours. Sorghum flour is packed with more antioxidants than blueberries. Moreover, it's rich in iron, fiber, and protein.
Brown Rice
It's used in gluten-free bread and other foods and is unarguably a healthier option to the refined white rice flour. Along with a high protein, fiber, and iron level, brown rice flour is also rich in B vitamins. Furthermore, it's been proven to significantly lower blood sugar levels and curb heart disease.
Quinoa
It stems from quinoa seeds and is a 'super-food' that's rich in protein. Quinoa flour contains a boatload of nutrients, ranging from potassium, vitamin E, amino acids, and phosphorus to vitamin B. Quinoa flour produces crumble-resistant and fluffy bread.
Oat
Made from gluten-free and ground oats, this type of flour produces chewy and moist bread with a flavor hint. Oat flour is rich in beta-glucan fiber that has been proven to get rid of bad cholesterol, reduce blood sugar levels and insulin.
Corn
It's made from yellow or white corn and offers two types of gluten-free flour. Corn flour has the essential antioxidants required to boost eye health and is rich in vitamin B6, magnesium, manganese, and fiber.
Cassava
Made by the drying the grating of cassava roots, this type of flour has a striking similarity to wheat flour, out of the vast assortment of gluten-free flour types. Moreover, cassava flour has a neutral flavor and is a breeze for the body to digest and absorb.
Arrowroot
Regarded as more of a starch than flour, arrowroot flour is usually blended with tapioca, almond, and coconut flour. If you prefer gluten-free bread with a crunchy, crisp texture, then a brand with arrowroot flour as one of the ingredients is your best bet.
Amaranth
If an earthy and nutty flavor tickles your fancy, then gluten-free bread with amaranth flour as the listed ingredients is an ideal option for you. Considered as more of a pseudo-cereal than a grain, amaranth flour usually takes on the flavor of other ingredients.
Buckwheat
It's derived from a pseudo-cereal. If you prefer a rich, earthy flavor, and don't mind a tad bit of crumbliness, then gluten-free bread baked with buckwheat flour is right up your alley.
Others
Less common but essential types of gluten-free flour are tapioca, chickpea, nuts, and lentil. As with other gluten-free products, ensure you check the label of the bread for allergen concerns and gluten-free certification.
4. Allergen-Free
As is the case with a boatload of other health-conscious products, a vast assortment of the best gluten-free bread brands is free of common allergens such as soy and nuts. So, ensure you check the package for risks associated with cross-contamination, for instance, if the bread was produced in a facility that also processes wheat, dairy, soy, or nuts.
5. Flavor
The best gluten-free bread has a unique, all-natural taste that varies, depending on the type of flour used in the baking process. Some brands also feature different flavors such as honey wheat, sourdough, or cinnamon raisin that are typically associated with conventional bread.
6. Soaked
Before the gluten-free bread is baked, consider whether the manufacturer soaks and possibly ferments the ingredients. Soaked ingredients infuse the bread with a bit of bite that's strikingly similar to the tangy and mouth-watering flavor found in sourdough bread. Furthermore, they increase the body's ability to digest and absorb the ingredients' key nutrients by breaking down the phytates that layer all whole grains.
7. Seeded
The best gluten-free bread is infused with healthy extras such as nuts or seeds ranging from sesame, almonds, flaxseeds, and sunflower to chia. These add a great dose of protein and fats to keep you fuller for an extended period. These extras also enhance the absorption of fat-soluble minerals and vitamins from vegetables and fruits consumed in the same meal.
8. Less Is Better
It's a no-brainer that gluten-free bread falls in the category of processed foods, and there's no way around that. But you can opt for bread that has been made using a handful of ingredients. The shorter the list, the better! The digestion and absorption process will go much smoother, as opposed to when your body doesn't have a whole list of ingredients to break down that your grandparents could only encounter in a science lab.
9. Avoid Bean Flour
Gluten-free bread made from any type of bean flour usually has an overpowering flavor and unappealing aftertaste. If you don't mind strong flavors, then go for it. Otherwise, you may want to opt for milder alternatives.
10. Check for Gluten-Free Gum or Psyllium Husk
The gum or Psyllium husk acts as a substitute for gluten-free bread and other foods. It properly blends other ingredients, producing bread with a similar texture to that of wheat-based bread. If you're on the quest for quality, keep your eyes peeled for products with guar gum, Xanthan gum, or unflavored gelatin.
11. Check for Products with Starches
If you gravitate towards gluten-free bread that's gritty and dense, check for products with arrowroot powder, potato starch, tapioca starch, and cornstarch. They have the uncanny ability to combat the grittiness of some other types of gluten-free flour used in the bread.
Closing Remarks
Gluten-free bread brands have come a long way. Taking the time and patience to check out the labeling and trying out different options will help you find the perfect fit for you.
Furthermore, don't be afraid to shell out extra bucks or buy small quantities at a go. Remember, your health and overall wellbeing is a worthwhile investment. So, order the best gluten free bread today, and your body will thank you!