Whether it's charcoal or gas, big or small, purchasing a shiny new grill can be a huge investment. That's why many grill owners are on the lookout for ways to keep their grill protected.
A grill cover is a standard way to protect your new grill from the elements outdoors that can cause some extensive damage if left unchecked.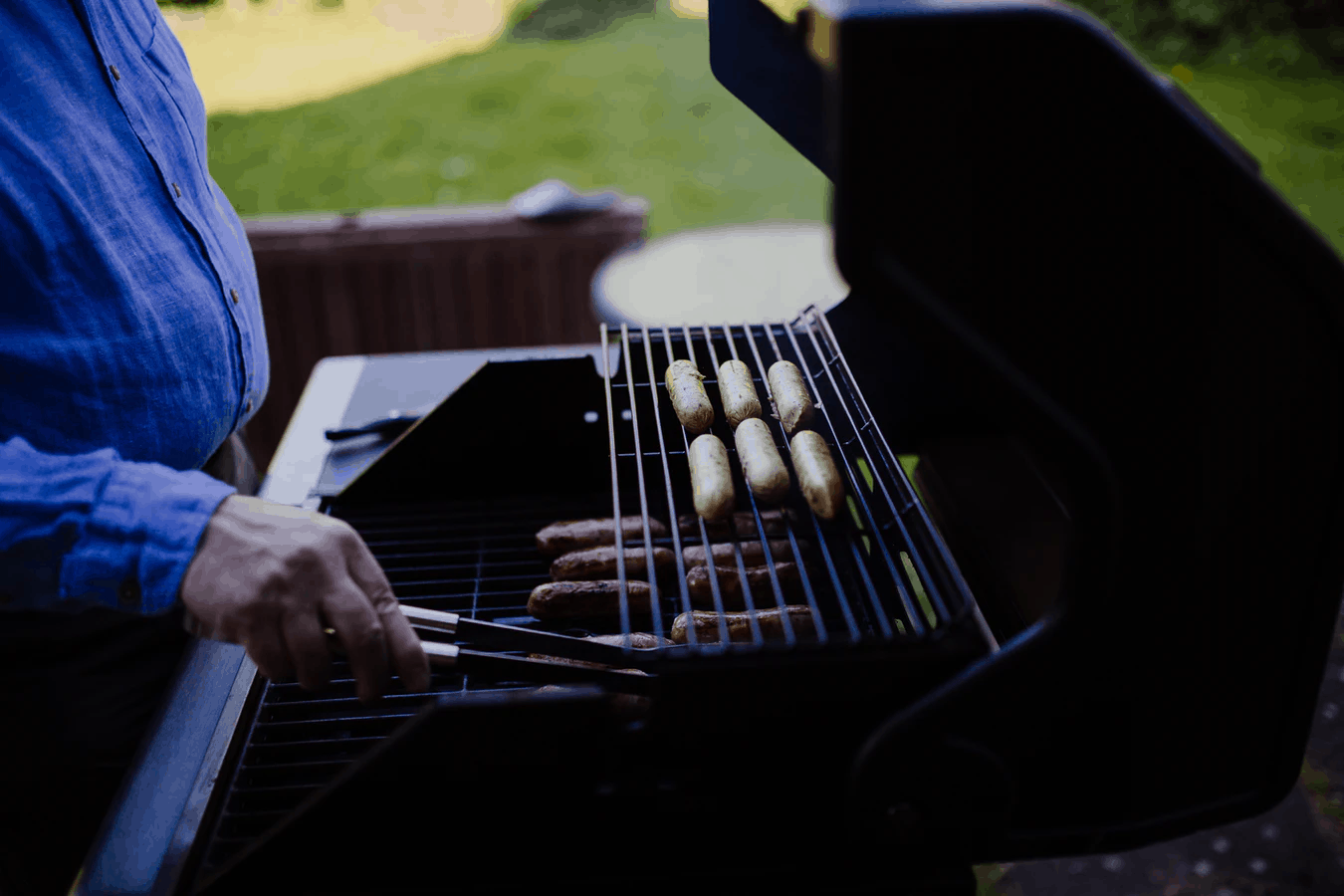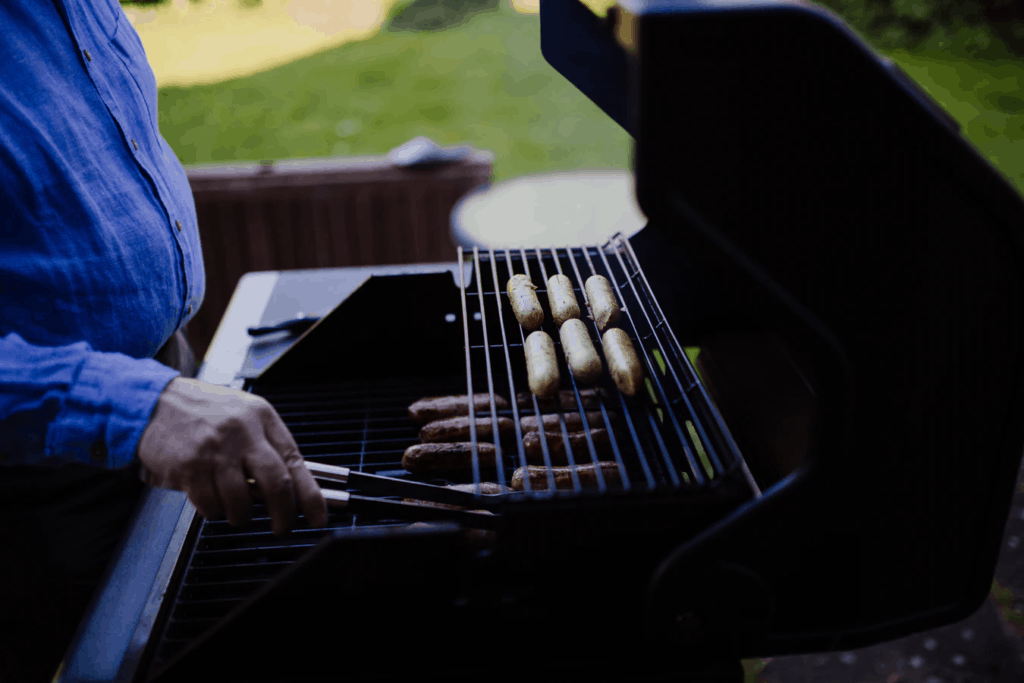 With a wide variety of different grill covers on the market, purchasing a grill cover can be overwhelming. Here, we break down everything you'll need to know to make an informed purchase.
Plus, we'll share some of our top picks available today, guaranteed to extend the lifetime of your barbeque to help you achieve some solid years of good cooking.
Our Top Picks
Now that we know more about what to look out for before buying, let's dive into our top picks for the best grill covers out there today!
1. Classic Accessories Veranda Water-Resistant BBQ Grill Cover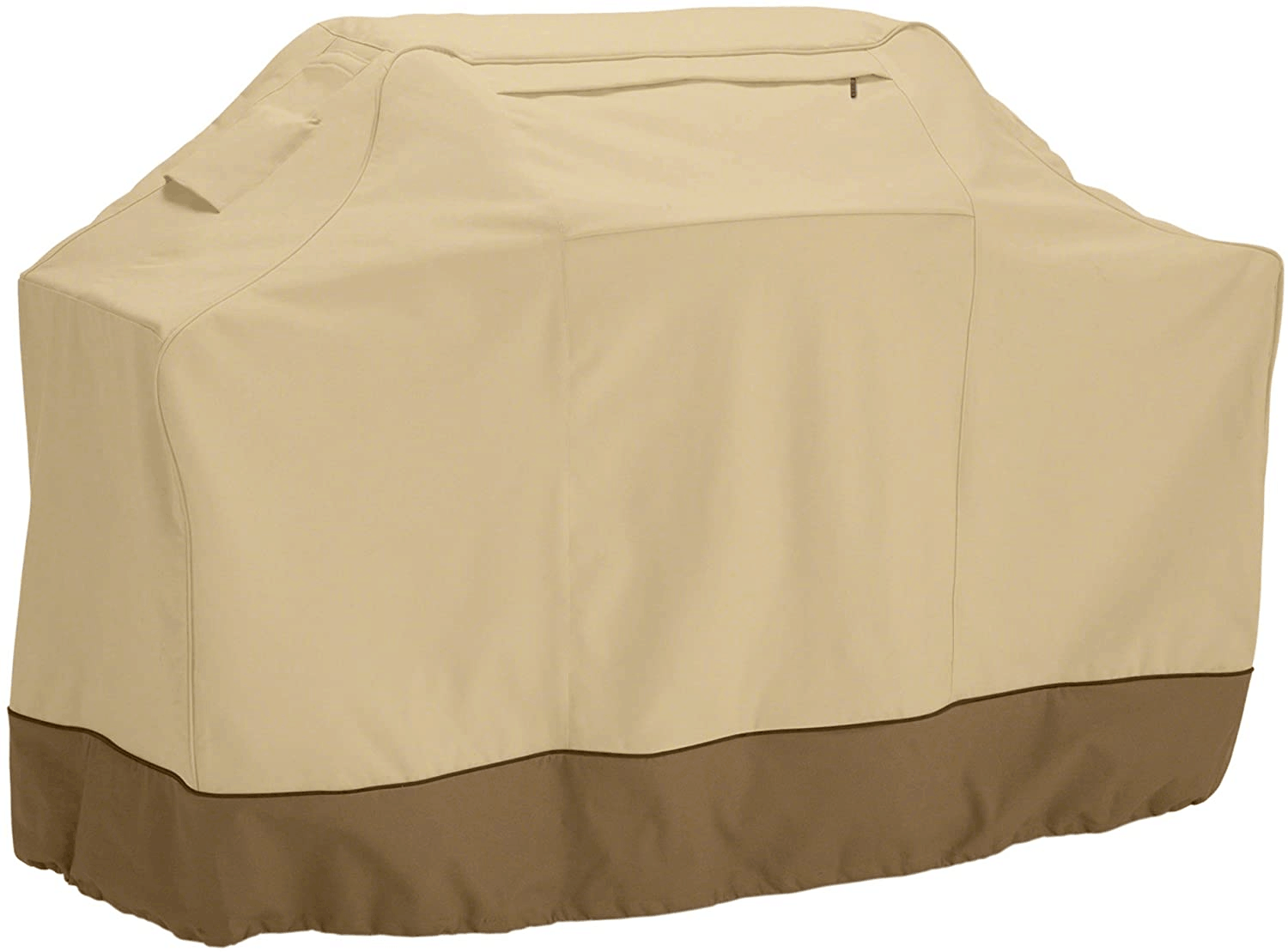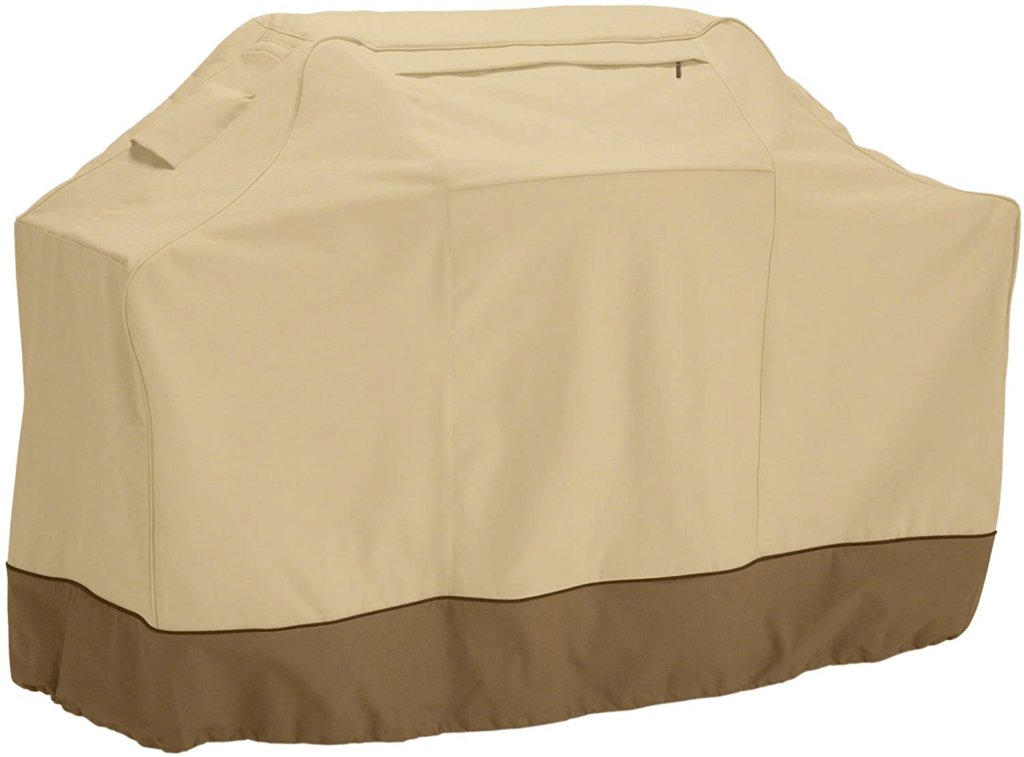 This grill cover from Classic Accessories can be a solid investment for your grill set up. This grill cover comes in a wide range of sizes, making it a suitable choice for a variety of different grill owners. If you have a Weber, you're in luck, as this cover was made with various Weber models in mind.
This cover comes with a three-year warranty, snaps to secure it to your grill, air vents to reduce condensation, and padded handles for easy removal. It is also made of high-quality, water-resistant polyester fabric.
2. Grillman Premium BBQ Grill Cover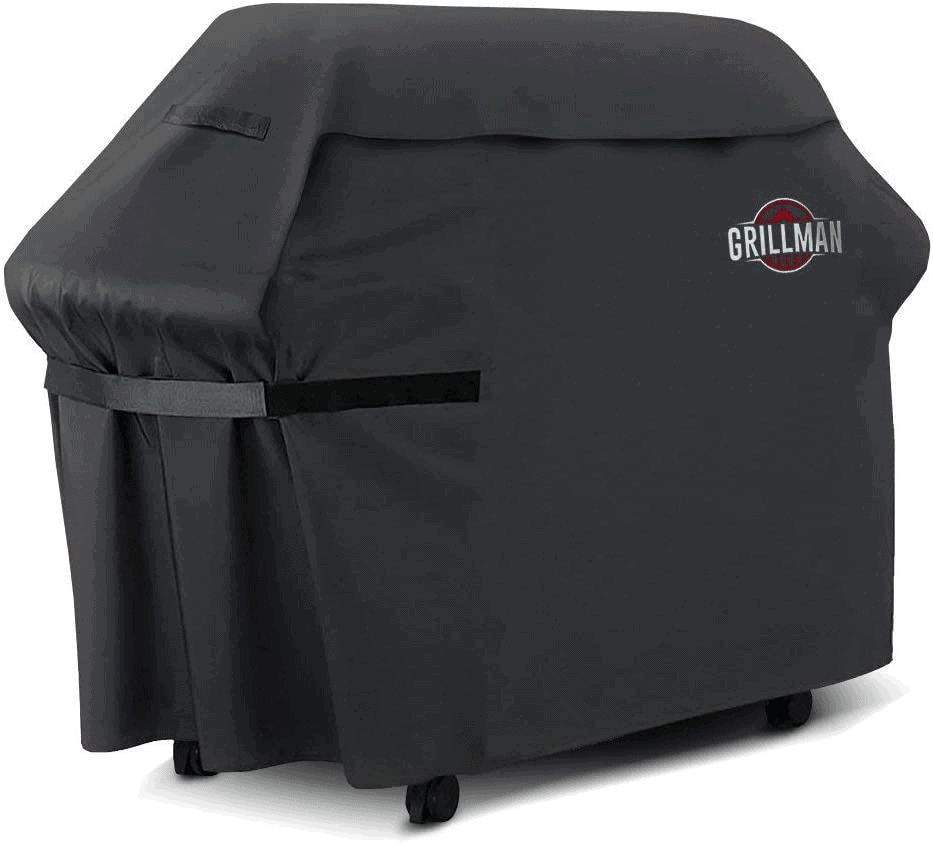 If you're in the market for extreme durability, this grill cover could be the one for you. This grill cover is made of heavy-duty PVC-lined oxford material and is waterproof, UV-resistant, and tear-resistant. If your grill needs to battle the elements year-round, this cover should get the job done.
The Grillman Premium BBQ Grill Cover is made to fit popular grill brands, including Weber, Char-Broil, and Brinkman, making it an easy purchase for most consumers.
It is designed with a secure fit in mind, with hooks that help lock it down and stay wind resistant. This grill also comes with a lifetime warranty, which gives it an even higher value and can offer you some peace of mind.
3. iCover Grill Cover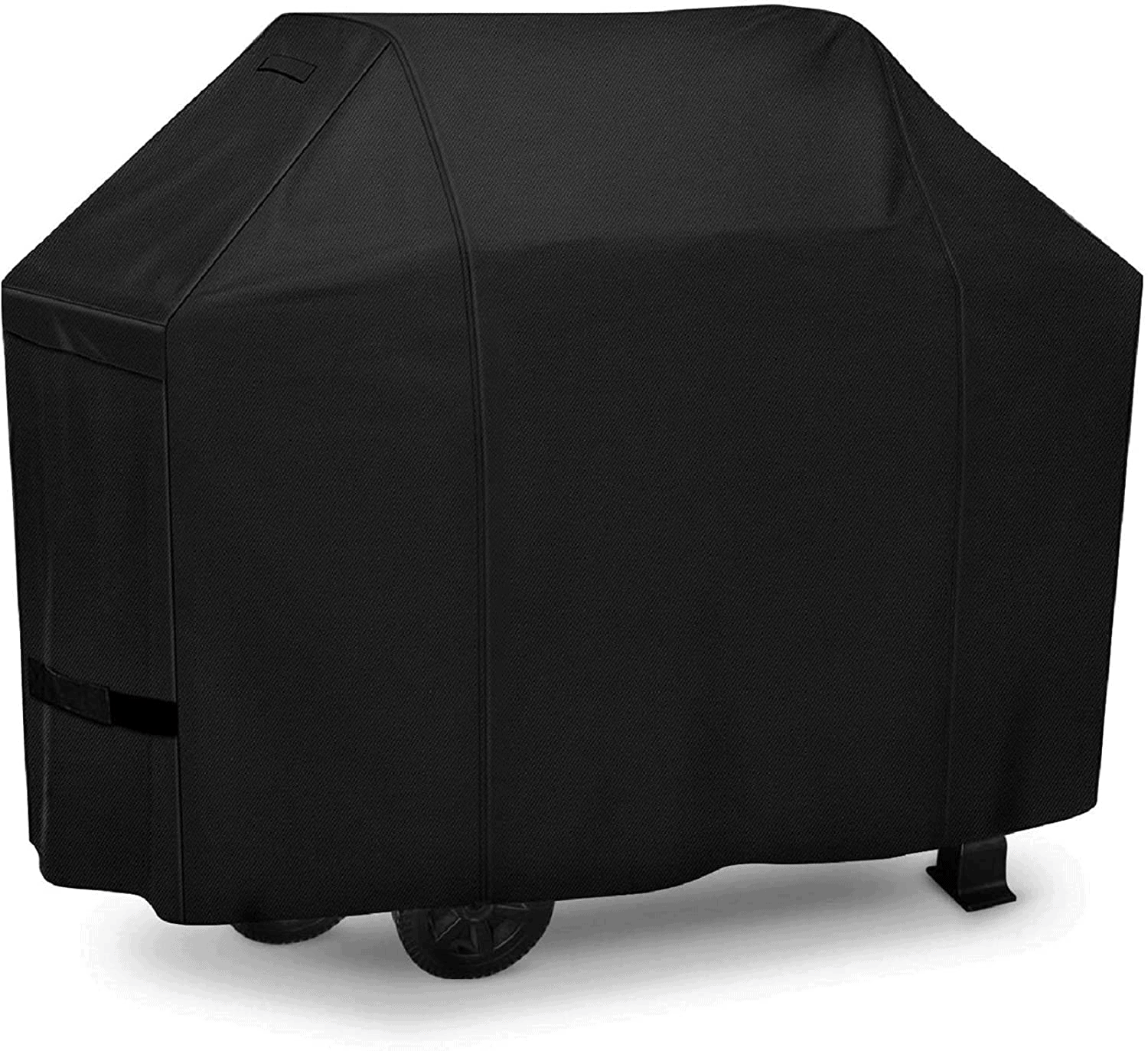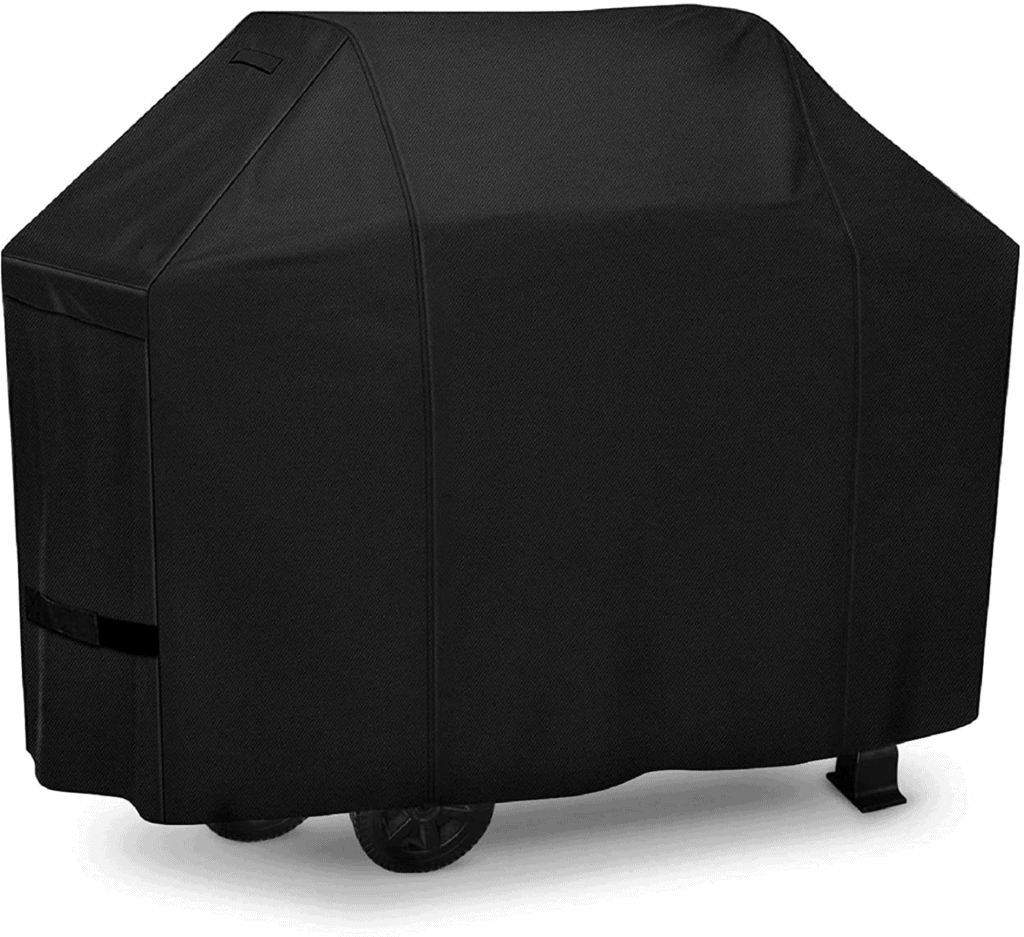 This cover from iCover has some great features for a great price point. Here you'll find a grill cover made from an oxford polyester canvas fabric that is UV resistant, water-resistant, and heavy-duty enough to withstand most rips and tears. It's the perfect grill cover to protect your girl in all kinds of weather conditions.
This grill cover also features some concealed mesh air vents for great air circulation without the risk of water coming through. It also has handles and adjustable straps that make removing the cover simple and securing it against wind easy. You'll also get a 12-month warranty and 60-day money-back guarantee after the purchase.
4. VicTsing Grill Cover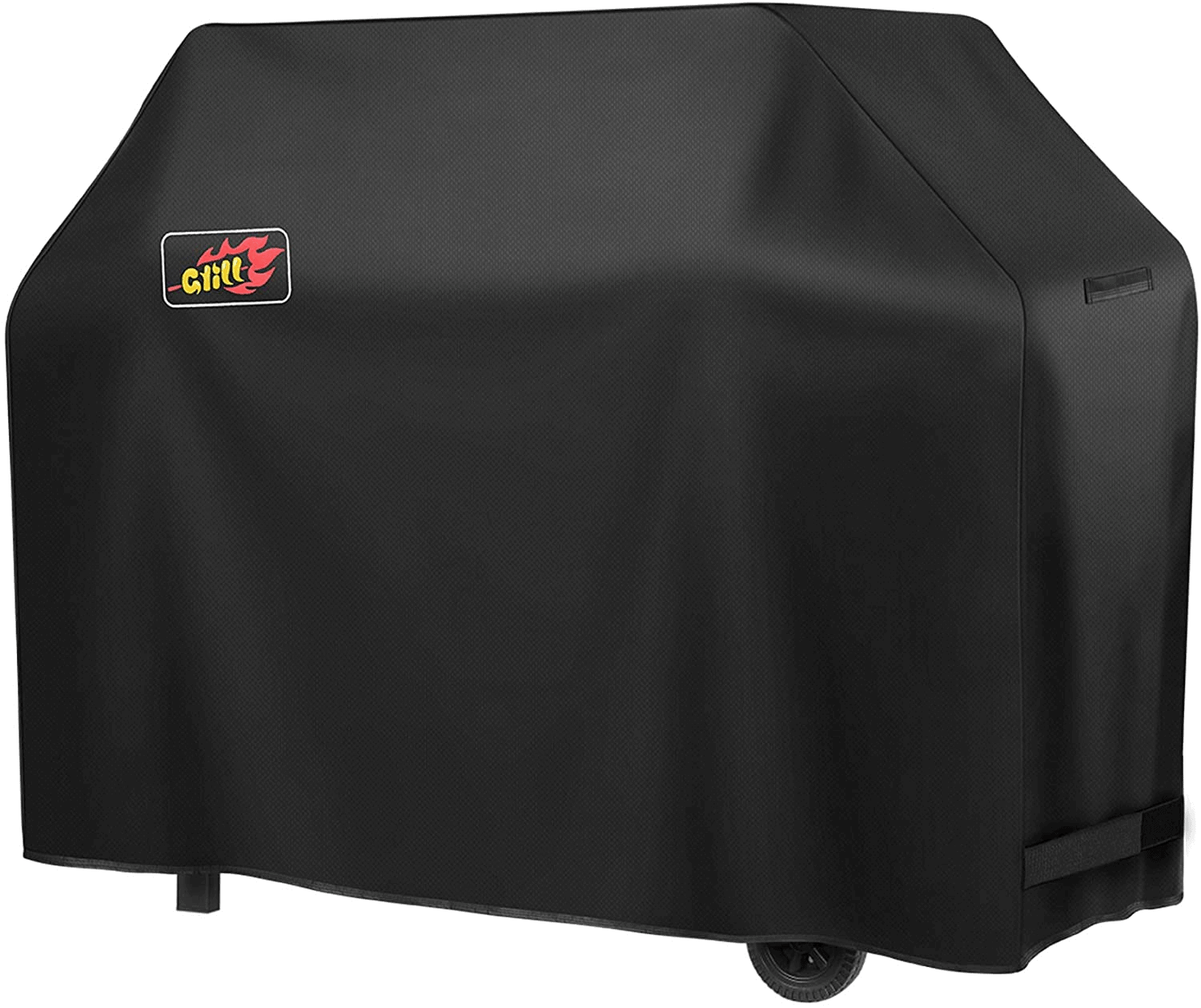 This grill cover from VicTsing is another solid grill cover choice. This cover is designed to be compatible with most 58" grills on the market today, with grills from brands including Weber, Char-Broil, Kenmore, Brinkman, Nexgrill, and Jenn Air in mind.
This cover is tear-resistant, waterproof, sun-proof, and made with fade-resistant fabric to keep it good looking for a lifetime.
It also features fasteners to strap it down in windy conditions, handles to make taking it on and off easier, and a convenient storage bag that can double as a holder for your grill kit.
5. Char-Broil 3-4 Burner Grill Cover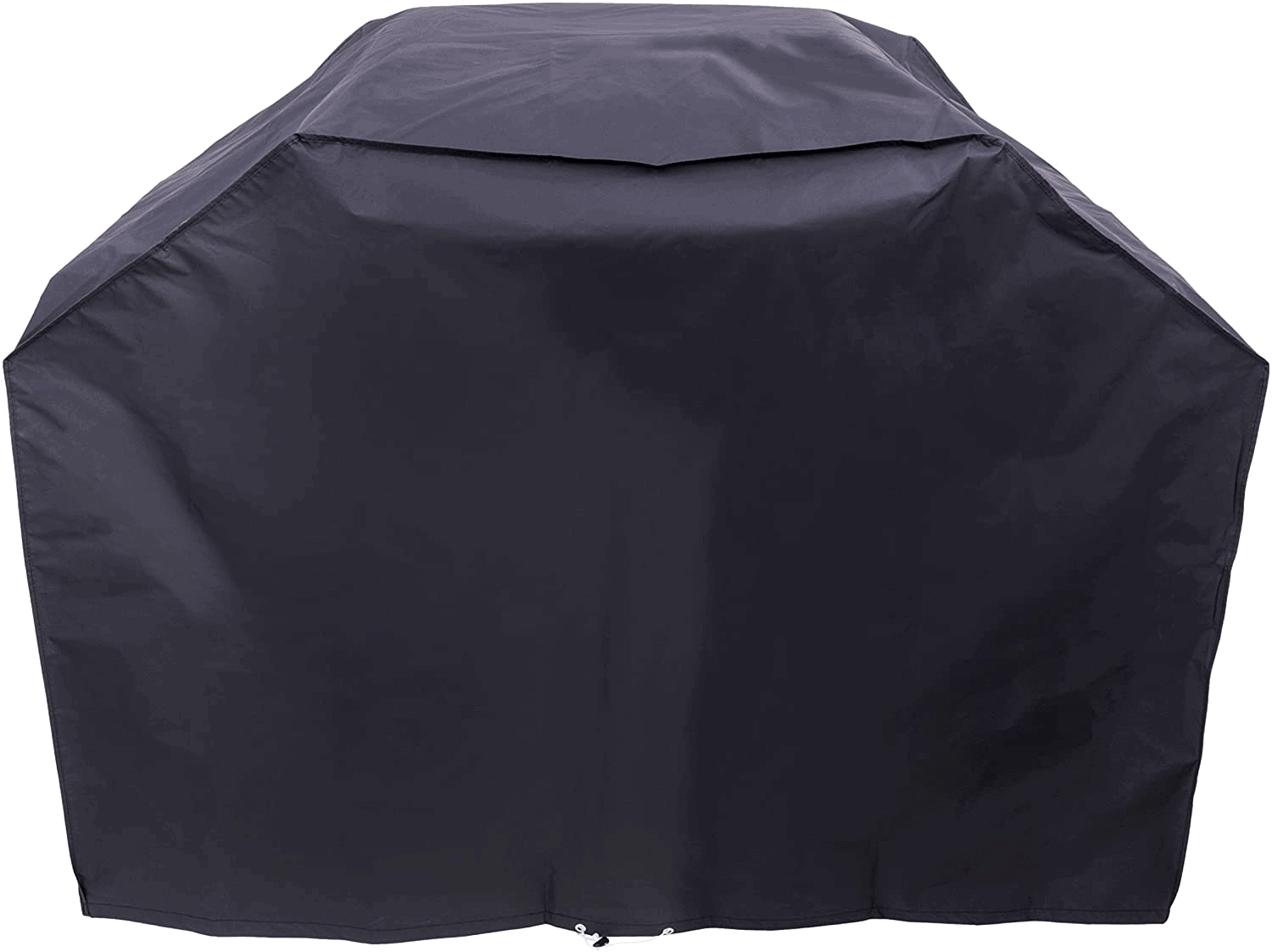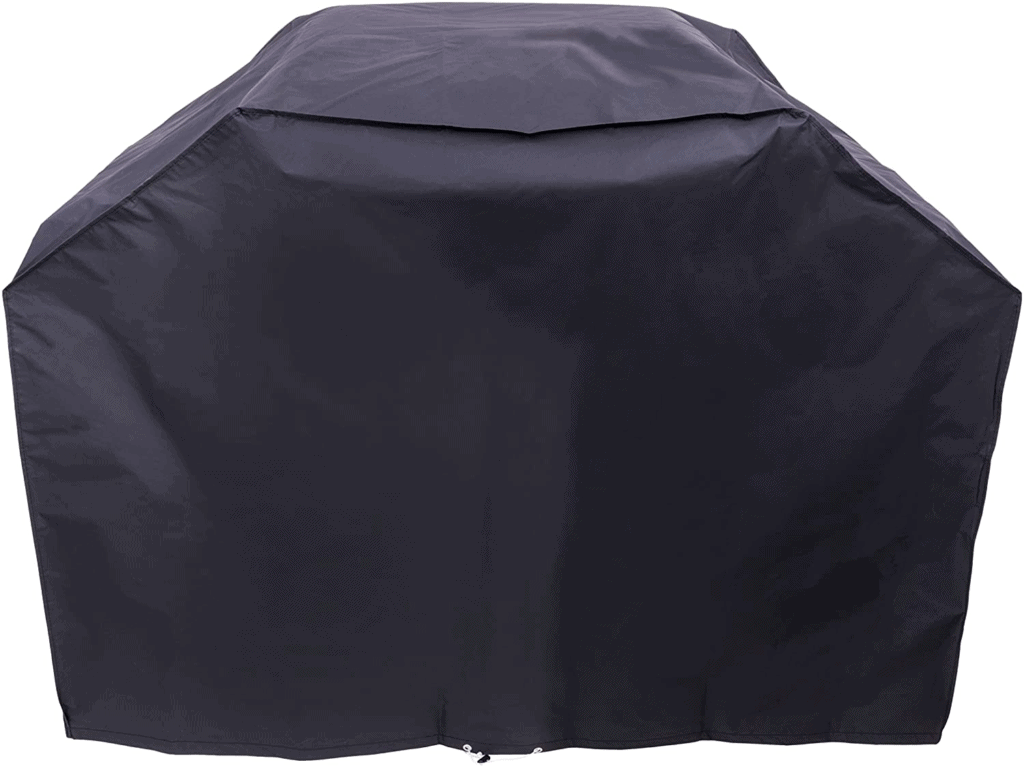 This grill cover from Char-Broil was designed with 3-4 burner girls in mind. If you own a large grill, this is a great choice to consider purchasing. This grill cover will fit large charcoal grills and smokers up to 62 inches wide.
This cover is made of heavy-duty polyester fabric that is UV protected and fade-resistant. It also has drawstrings for an adjustable fit and specially sealed-seams that keep it water-resistant.
6. Tvird BBQ Grill Cover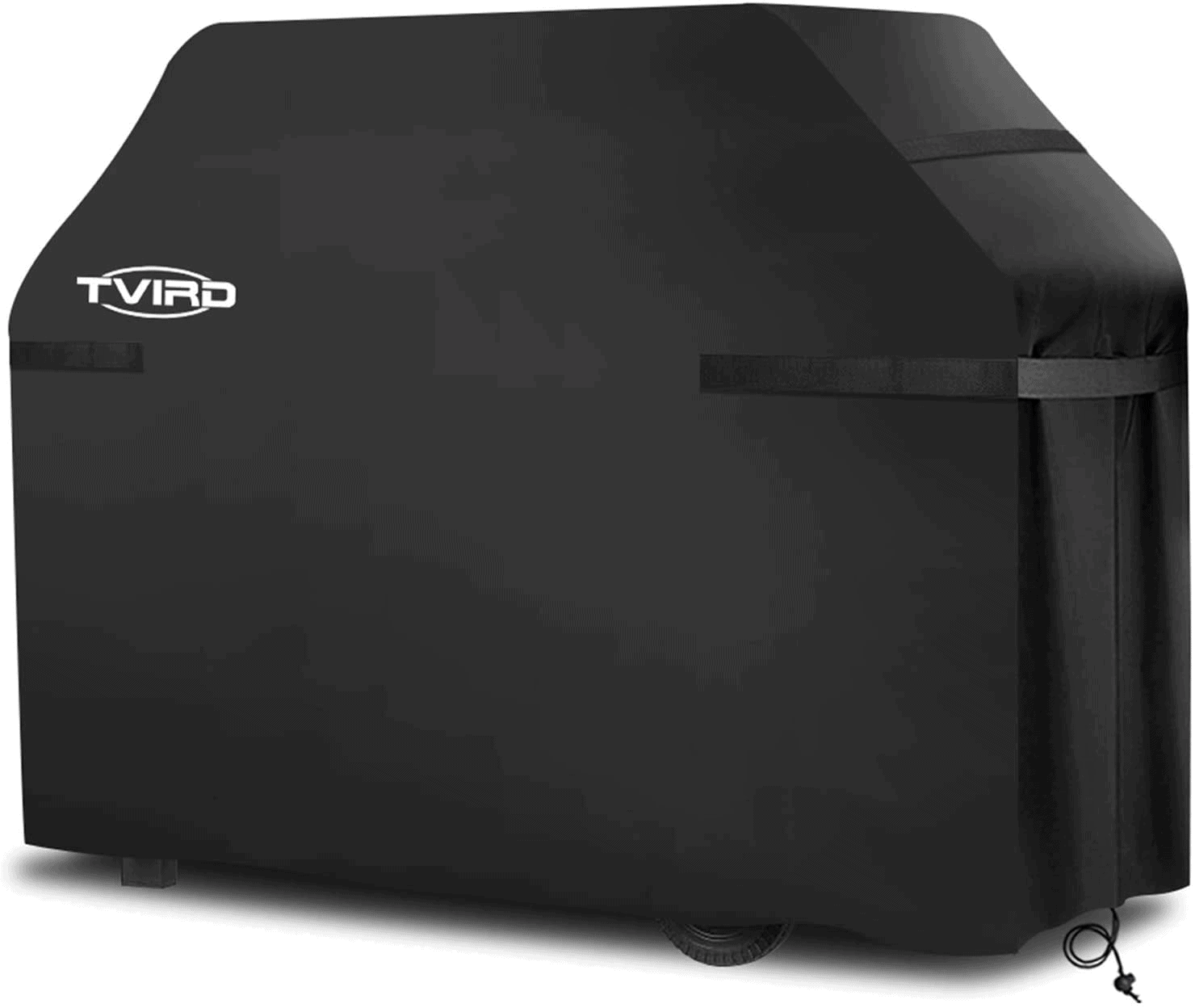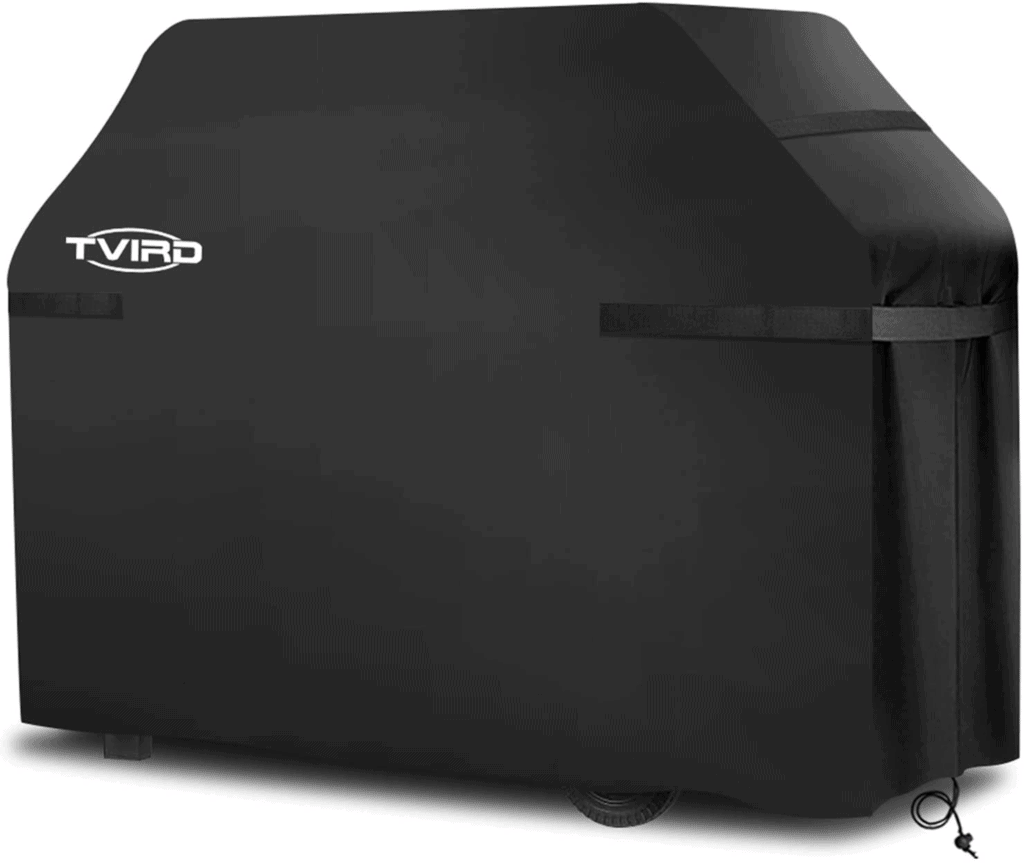 If you live in a climate that experiences winter, this might be the cover for you! This cover from Tvird is designed to withstand the elements.
It's made of a high-density nylon oxford fabric designed to protect your grill from sun, wind, rain, snow, and anything else the weather may decide to throw your way.
This fabric is waterproof, UV-resistant has secure snaps and ties to secure it against the wind. It also has a convenient handle that makes it easy to carry or hang while cleaning. It also comes with a storage bag that makes it easy to carry and store around.
This cover comes in 30-inch and 58-inch sizes and was designed to fit the standard sizes of popular brands, including Weber, Holland, and Jenn Air.
7. Weber Spirit II 300 Series Grill Cover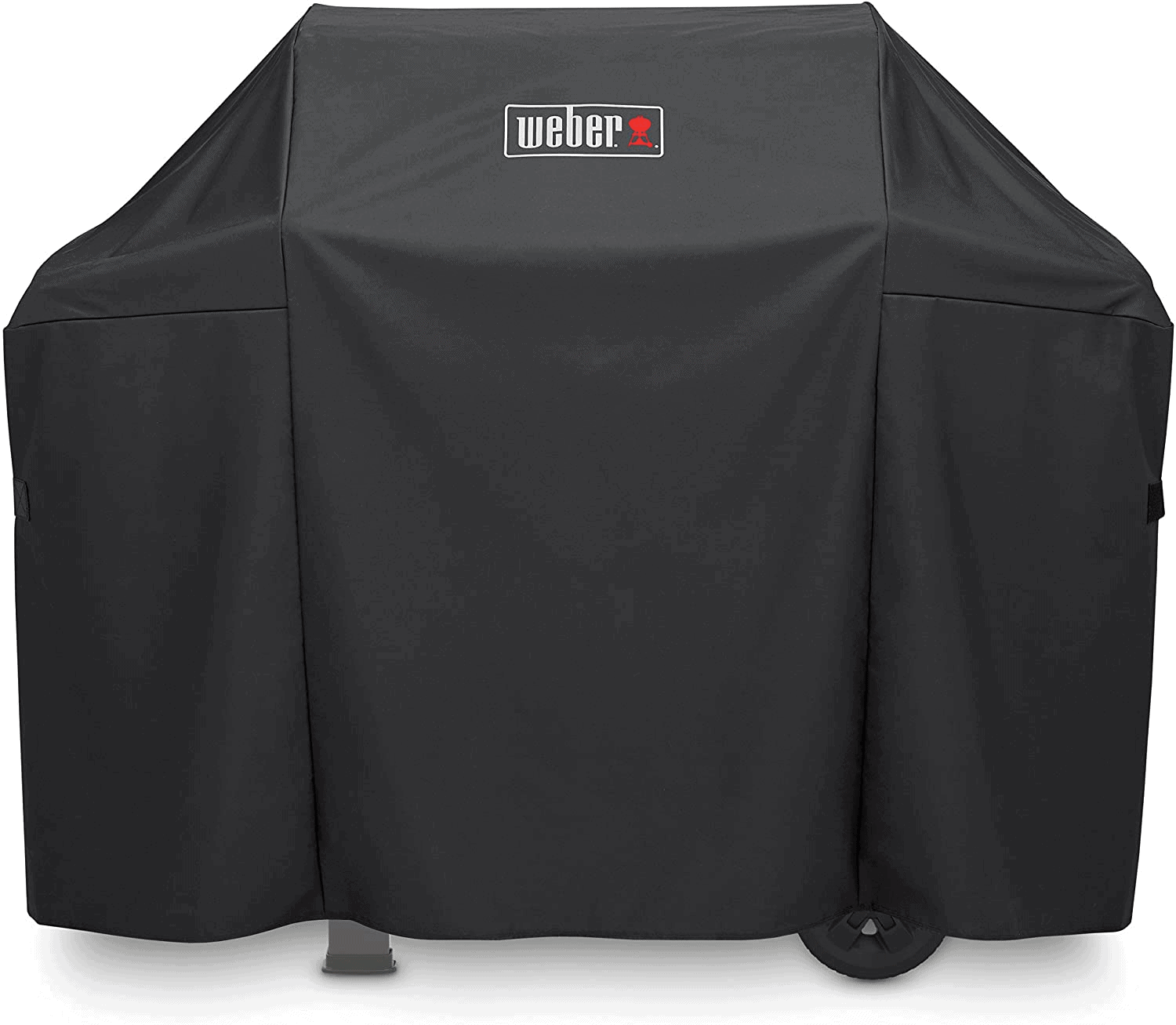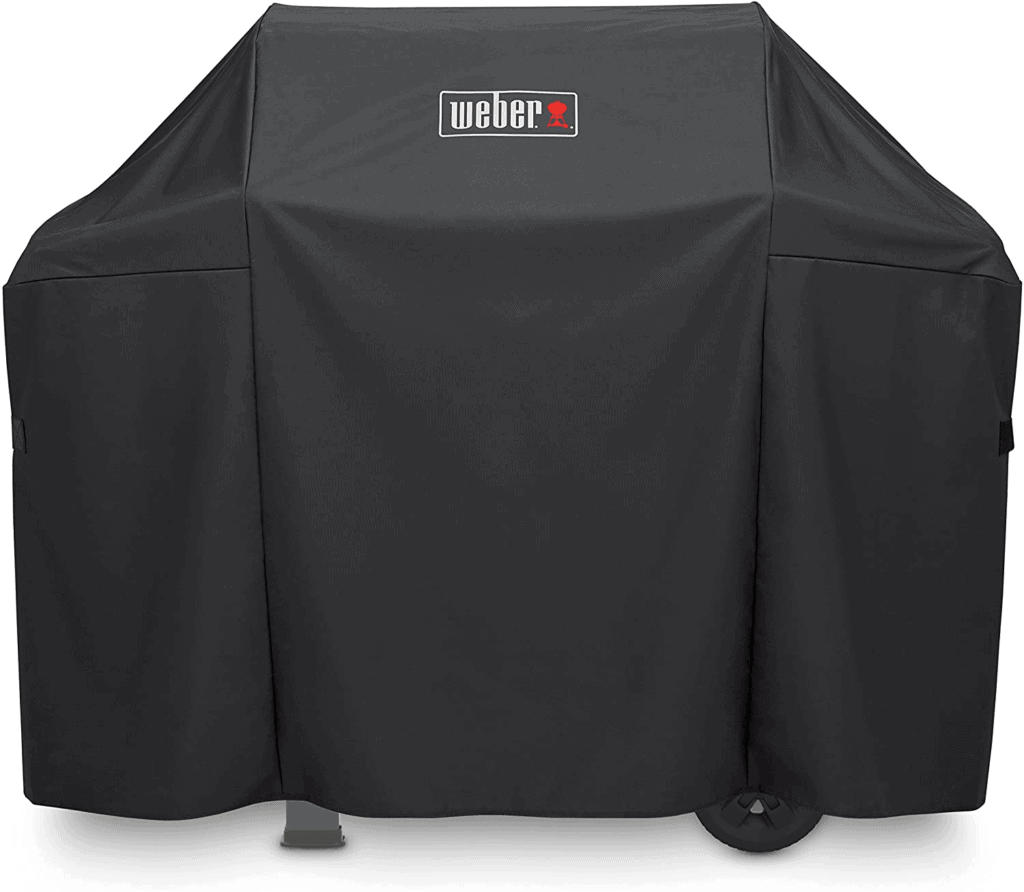 If you have a Weber grill, you can't go wrong by investing in a Weber grill cover for your barbeque protection needs. This cover from Weber is designed to fit their Spirit 300 series grills.
Weber is one of the biggest names in the grill industry, known for its high-quality grilling products. Their grill covers, like this one here, are no exception.
This cover is made from a UV-resistant fabric that will resist fading. It is also water-resistant and has fastening straps to protect your grill against the wind.
Best of all, this cover comes with a 3-year warranty and a lifetime of customer support. Any Weber grill owner can ensure they get a guaranteed fit and a high-quality product with the purchase of this cover.
8. Bull Outdoor Grill Cover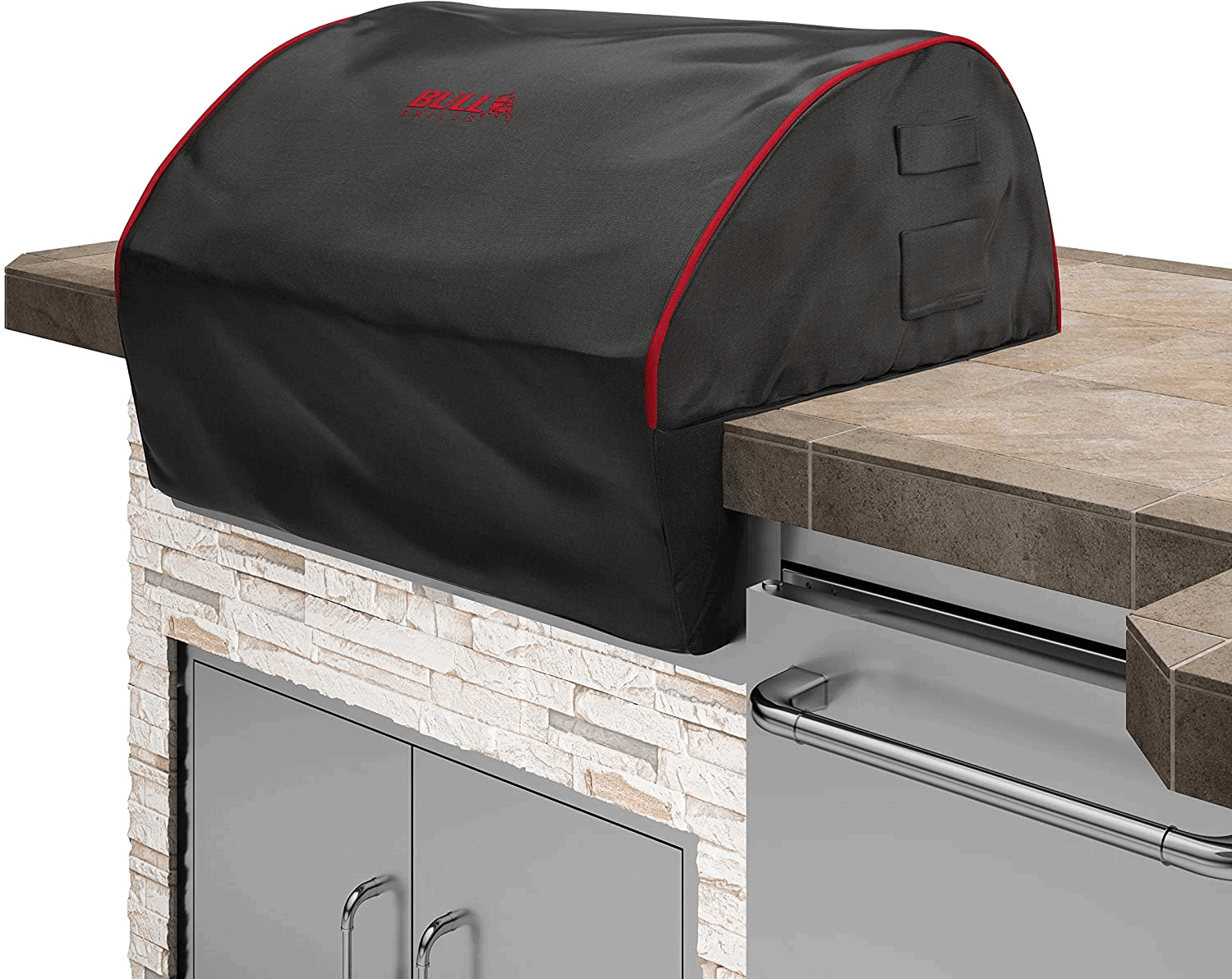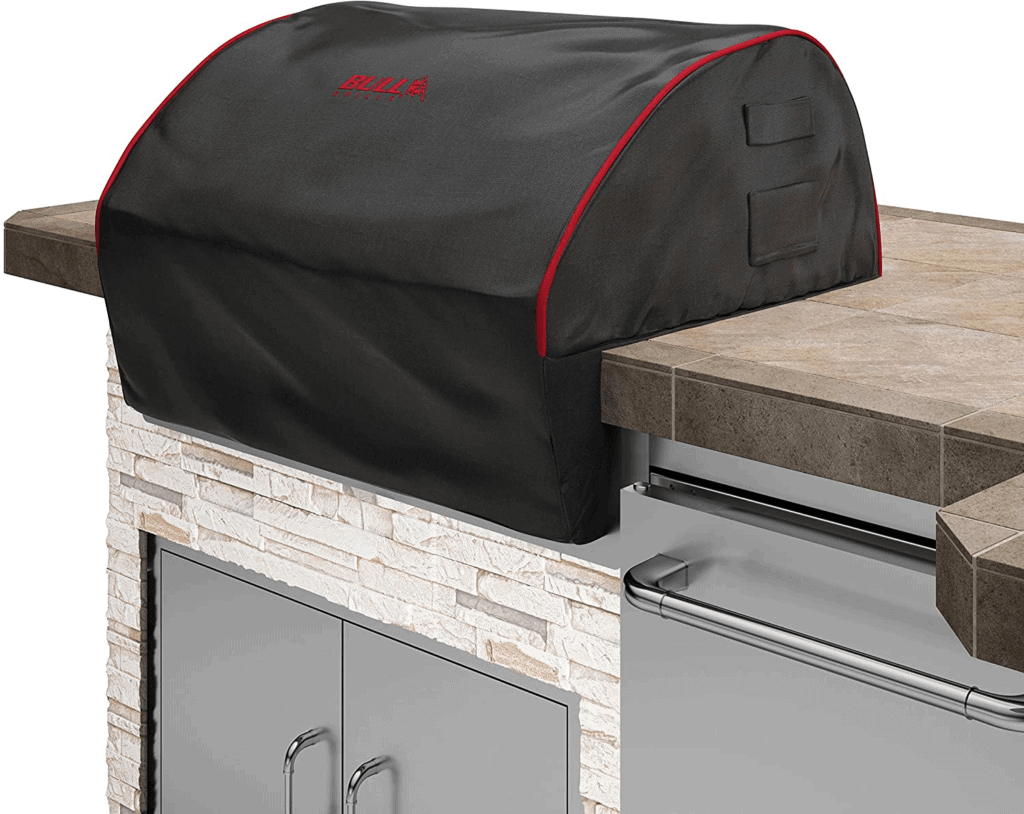 Not everybody owns a full-sized, freestanding grill. If you're a grill owner who owns an installed grill head, there are still covers out there that you can utilize to protect your barbeque.
Bull Outdoor's grill cover is designed to cover a grill head alone, with an elastic strap that ensures a tight fit against the elements. This grill cover is made of a high-quality vinyl/polyester blend to protect your grill from rain and sun, extending its lifetime.
What To Look for When Buying a Grill Cover
There are a few critical pieces of information you should keep in mind before making a grill cover purchase. Below we outline some of the most important aspects that will help you make a purchase that meets your needs.
Size
The size of your grill cover is one of the most important features you should keep in mind. A grill cover will be of no use to you if it doesn't fit!
You'll want to make sure your grill cover can completely cover your grill while providing some room for ventilation. With a little ventilation room, you can avoid issues with condensation forming under the cover, and thus, prevent rust from forming.
To determine the size of your grill, measure its height from the ground to the top of the lid, and the width from side to side handles included.
With more popular brands, you may find grill covers made for your specific model or third-party grill covers that have been made with those popular brands in mind.
Material
The material your grill cover is made of is of equal importance. You'll want your material to be durable to the elements it's meant to be protecting your grill from. These needs can vary depending on the climate you live in, but you'll want something tough and weather resistant in general.
A too thick material may be bulky, hard to manage, and difficult to store as you repeatedly take it on and off. However, something too thin or lightweight may not provide adequate protection and will need to be replaced more frequently as it is exposed to the elements.
In general, most grill covers are made of solid materials like polyester, canvas, or vinyl. Vinyl can be great as it is waterproof, but thin vinyl is more susceptible to damage and cracking. Polyester is a more popular material due to its durability, but it isn't waterproof if untreated.
Canvas is also a good choice, more commonly used for high-end covers as it is waterproof, extremely durable, and can withstand the elements easily.
Extra Features
As we touched on briefly when discussing material choices, you should see if your grill cover includes any extra features that will offer ease of use and adequate protection.
For example, some grill cover materials can offer extra protections, including waterproof capabilities, UV protection, and is thick enough to withstand tearing and/or puncture damage.
Some features can make your cover user-friendly, including ventilation features, pockets for tool storage, handles for easy removal, or fastenings to secure your cover once on.
Warranty
A warranty can be a welcome addition for any grill cover owner. As a grill cover is meant to protect your grill from the elements, it's expected that they will experience some wear and tear over time.
A high-quality grill cover can last you for years and, more often than not, comes with warranties to ensure they last a lifetime. If your grill cover does not come with a warranty, there's a good chance that it was not built to last. While grill covers with warranties can be more expensive, their longer lifetimes of use means it can be worth the investment.
Grill Cover FAQ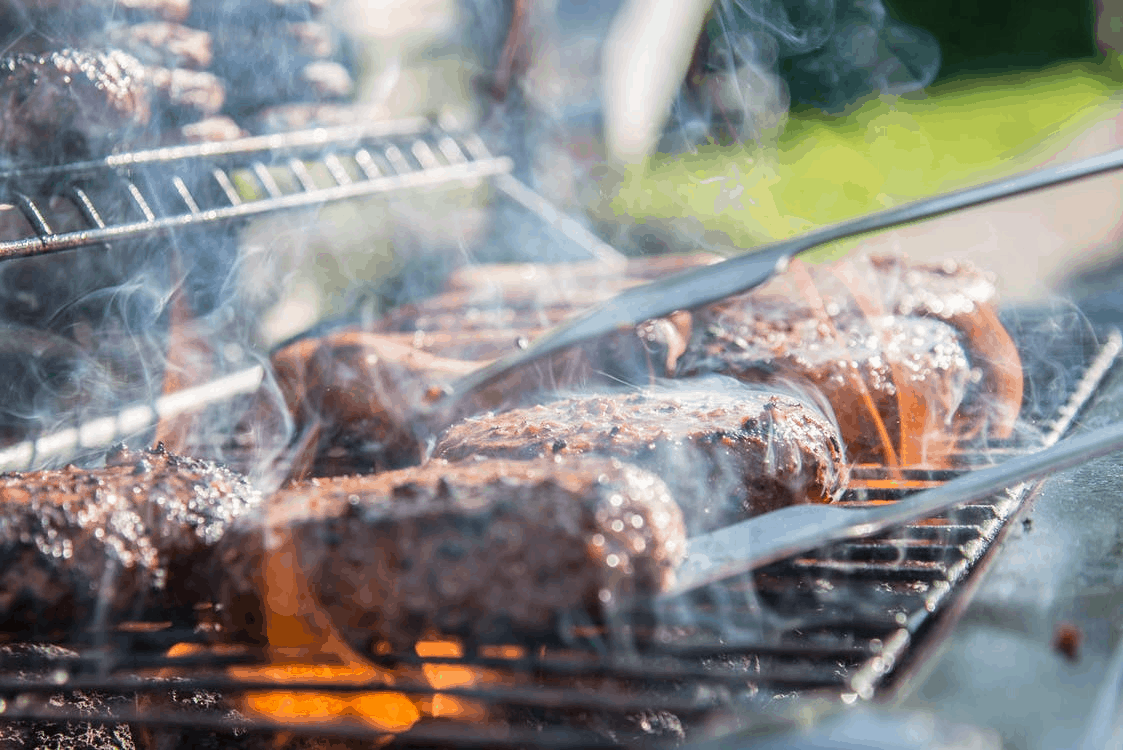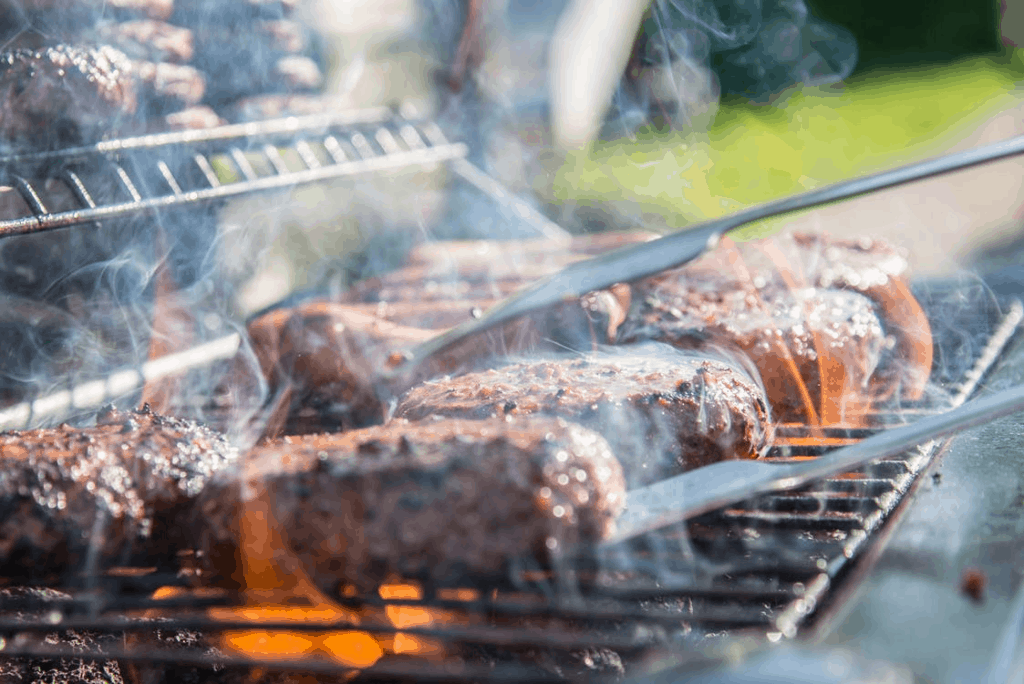 Do you need a grill cover?
While no rule states all grill owners must use a grill cover, it's still recommended if you want your grill to have the longest life possible. If you are keeping your grill exposed to the elements outside, as most users do, weather can cause some costly mistakes.
Mechanical issues, rusting, and damages to your grill's appearance are some of the many damages unpredictable weather can cause. With a grill cover, you'll be able to avoid potential damages and thus avoid the potential cost of replacing a damaged grill in the future.
What conditions will your grill cover have to cope with?
Depending on where you live, there may be many elements that your grill cover will have to contest with.
Typically when you think of a grill cover, you think of protecting your grill from the rain. However, there are other elements to keep in mind!
Grill covers can be great at preventing water damage related issues that are common when you leave your grill outside in the rain. They're also great for protecting your grill from the sun, which can cause your grill to fade and damage with UV exposure.
Grill covers are also great for preventing dust and debris from getting in and around your grill, which can lead to fires unknowingly starting. They also prevent intrusions from nature.
It isn't uncommon for small animals and birds to take shelter in and around grills or look for some tasty leftovers. A grill cover can prevent them from getting inside and causing unforeseen damage.
How do you keep a grill cover on?
Learning to secure your grill cover is an important step. Nobody wants to watch their grill cover blow away in the wind! Most grill covers available on the market today come with tie-downs or fasteners that can help to secure your cover to the grill to avoid this issue. However, there are some approaches you can take yourself if these features are missing from your cover.
A common tool used to secure grill covers can be the use of bungee cords. The first step is to put your grill cover on. Then, find one long or multiple short cords, and wrap them around the middle of your grill, securing them together. Once secure, your grill cover should be good to go!
You can also use clamps to hold your cover on your grill or use weights to weigh the cover down. These approaches are especially common for those utilizing DIY grill covers that don't come with the fastener featured on in-store products.
How do you clean a grill cover?
Your grill cover may be designed to protect your grill, but there are still steps you can take to protect your cover itself. It's important to do some grill cover maintenance from time to time to keep it pristine.
Every few months, you should clean your grill cover with some soap and water to remove dirt and grease build-up. Remember to let your cover fully dry before reusing to prevent moisture from getting to your grill.
It's important to take steps to keep all the parts of your grill clean. (The same can be said for parts including your grates).
Can I use a tarp as a grill cover?
A tarp can be a great option if you're looking to cover your grill on a budget. It's important to note that there are some drawbacks to using a tarp. Tarps will not be as tear-resistant as some higher quality grill cover fabrics and are more prone to damage. They also don't offer the ventilation or the easy fastening a well-designed grill cover has.
However, if they're your only option, they are better than leaving your grill uncovered! Be sure to secure it with some of the steps we mentioned above, so it does not blow away in adverse weather conditions.
Do grill covers trap moisture?
If secured improperly or in super wet conditions, a grill cover can trap moisture. This can be extremely damaging to your grill, contributing to the rusting that most grill owners are desperate to avoid.
This is why it's important to look for grill covers that boast proper ventilation. A grill cover skirt should always be lifted an inch or two off the ground, so air can flow more easily.
It is also worthwhile to look for grill covers with air vents that allow more air to escape. However, be sure these air vents still have some form of coverage- the vents are useless if they still allow water inside.