In this article, we're examining one of the most delicious drinks on the market – hot chocolate! Perfect for a winter day, an après ski, or just a dessert. We'll be checking out our favorite brands of hot chocolate, and also giving you a mini buyer's guide to answer any questions you may have about this decadent drink.
Without further ado, let's get to our top brands of hot chocolate. We've tried to include ample variety in this list, so that there's something for everyone!
1. Land O' Lakes Variety Pack (BEST OVERALL)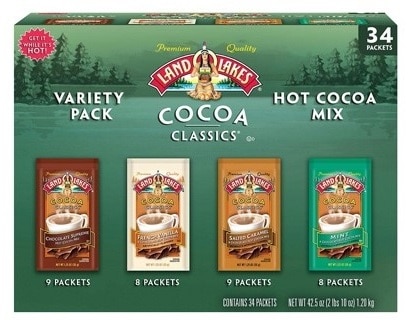 Our favorite hot chocolate is the Land O' Lakes variety pack! We're of the belief that hot chocolate doesn't need to be extra premium to be delicious. Land O' Lakes is a classic brand, that has extremely tasty hot chocolate for a very fair price (34 packets in this package).
We especially like that this package contains 4 flavors – double chocolate, salted caramel, French vanilla, and mint. They all taste great, and we enjoy adding some variety to our hot chocolate experience.
Land O' Lakes might not be the fanciest brand, but we don't think that's the most important part of a good hot chocolate blend. The focus here has always been on providing a delicious, rich, and creamy blend, and that's exactly what you get. You can't go wrong with the classics!
Pros
Classic hot chocolate blend.
Great value (34 packets/box).
Nice mix of flavors.
Extra sweet and creamy.
Cons
Different flavors may not be for everyone.
2. Ghirardelli Ground Hot Chocolate 3 lb.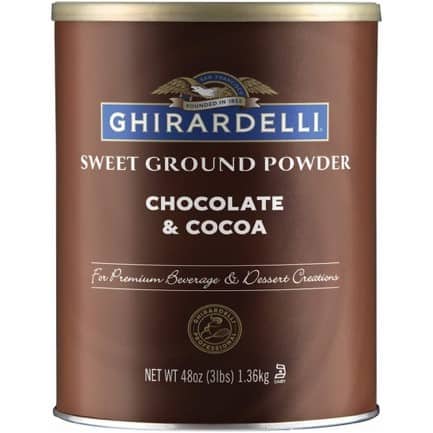 Here's a 3 lb. bag of some of the most delicious hot chocolate mix around. You probably know Ghirardelli from their premium baking and cooking ingredients, and they've taken their expertise and applied it to this mix.
This hot chocolate mix is made with real chocolate, and 100% all-natural ingredients. It's definitely a premium blend of ingredients, and it has the taste to match. The real chocolate comes through in the extra creamy texture. It's not quite as sweet as the other options on our list, but certainly still sweet enough.
Overall, a premium product from a premium brand. A bit on the expensive side, but we think it's worth it.
Pros
100% all-natural ingredients and made with real chocolate.
Rich, creamy, deep flavors.
Multi-purpose, can be used as a baking ingredient as well.
Cons
On the expensive side for a ground powder.
3. Swiss Miss Marshmallow Hot Chocolate Mix  (BEST BUDGET)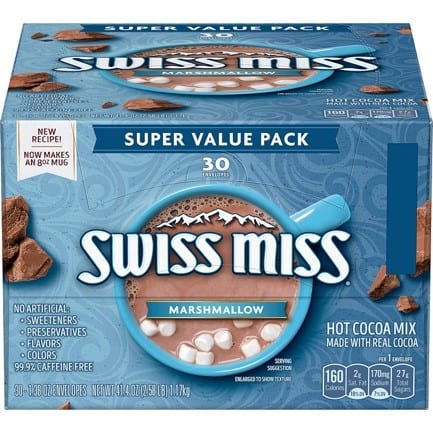 Next up we have Swiss Miss, another classic hot chocolate brand. We picked this as our best budget pick because the value speaks for itself – 30 packets for that low, low price.
As far as taste, it's the classic taste that you'd expect from a traditional brand. Sweet, chocolatey, rich, and made with real milk. You've probably had Swiss Miss before, so you might already know what to expect.
This one even has real marshmallows in each packet!
Pros
Very high value choice.
Real marshmallows in each packet.
Sweet, simple mix.
Made with real non-fat milk.
Cons
Not made with 100% natural ingredients.
4. Ghirardelli Double Chocolate (BEST PREMIUM)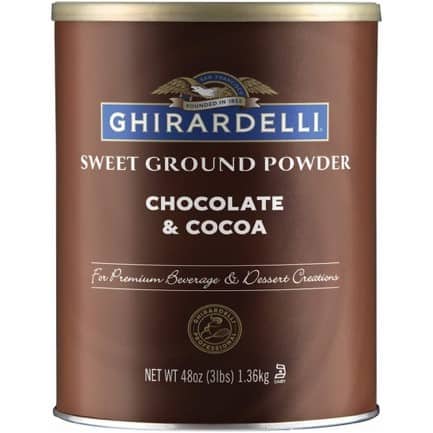 For our top premium pick, we present the Ghirardelli Double Chocolate blend. It was an easy choice, because few hot chocolate blends rival Ghirardelli in terms of quality ingredients. The blend is made from deep-roasted cocoa beans and hand-selected ingredients.
The ingredients list is simple – cocoa, sugar, unsweetened chocolate, and real vanilla.
Most importantly, this blend tastes excellent. The "double chocolate" blend is noticeably richer and has a deeper flavor profile than the classic Ghirardelli blend we showed above. Chocolate lovers will definitely prefer this one, but you can't go wrong with either one.
It's a premium choice, and it has the price tag to match, but we think it's well worth it.
Pros
All-natural ingredients.
Just 4 basic ingredients.
Extremely rich, deep chocolate flavor.
Can also be used for baking!
Cons
Premium price tag.
We wish the bag were a bit bigger (AKA more servings).
5. Swiss Miss White Chocolate Blend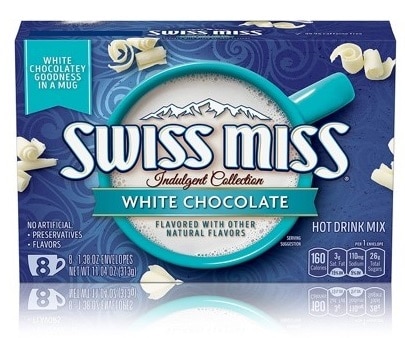 Here's an option for the white chocolate lovers out there. Swiss Miss white chocolate is a popular variant of the classic hot chocolate blend.
Flavor-wise, people tend to love or hate white chocolate, so it will be definitely depend on your personal preferences. But it tastes just as you'd expect a white hot chocolate to taste. It's sweet, creamy, and noticeably "lighter" in its flavor profiles than classic hot chocolate.
Try dunking some cookies in it for the ultimate dessert.
Pros
Sweet, creamy, and light.
Swiss Miss is a classic hot chocolate brand.
9% caffeine free – great for kids.
Cons
White chocolate is a "love it or hate it" flavor.
We wish there were more servings/package (only 8).
6. Godiva Dark Chocolate Hot Cocoa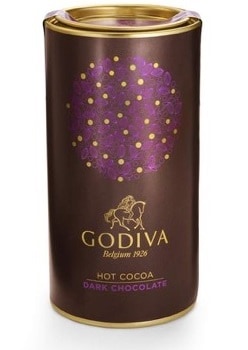 This product was definitely in contention for our best premium pick. It's another high-quality, premium hot chocolate blend. After all, it's Godiva, one of the most respected chocolates in the world.
We particularly like this dark chocolate blend. It's made with carefully selected cocoa beans, and ground into a dark chocolate powder. The result is an extra creamy, velvety-smooth blend that's just as notable for its texture as its taste. As you'd expect, it's quite a bit less sweet than milk chocolate blends, but has the signature depth of flavor that is found in world-class dark chocolate.
If you prefer your chocolate beverages to be more subtle, then we think this one is for you. It's definitely a premium product though, so don't expect it to be cheap!
Pros
From Godiva, one of the most famous chocolates in the world.
Hand-selected beans highlight the ingredients list.
Dark chocolate blend for those who prefer their hot chocolate less sweet.
Very attractive packaging.
Cons
Premium price tag.
Only 10 servings/package.
7. Hot Cocoa Protein Powder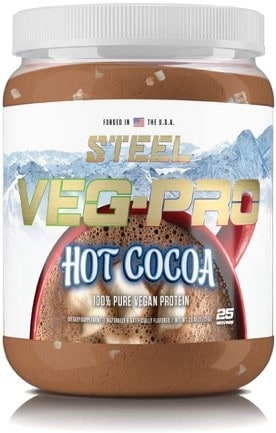 How about a more unique take on hot chocolate? Here's some hot cocoa flavored vegan protein powder!
If you're looking to combine the benefits of protein powder with the delicious taste of hot chocolate, than this highly specific product offering might be for you.
It's actually quite an efficient protein powder, packing in 20g per serving, and it's 100% vegan. It's made with primarily brown rice protein and pea protein.
Taste-wise, don't expect it to be as sweet as a traditional hot cocoa, but it's pretty sweet as far as protein powders go. So while it might not be a substitute for hot cocoa, it's a good way to get the best of both worlds.
We know this isn't a "traditional" option, but we sometimes like to end our lists with something fun!
Pros
Very efficient protein source.
Tastes like hot cocoa!
100% vegan.
Well-priced for protein powder.
Cons
Won't be a good substitute if you're looking for the real thing.
A bit sweet for protein powder.
8. Starbucks Hot Cocoa K-Cups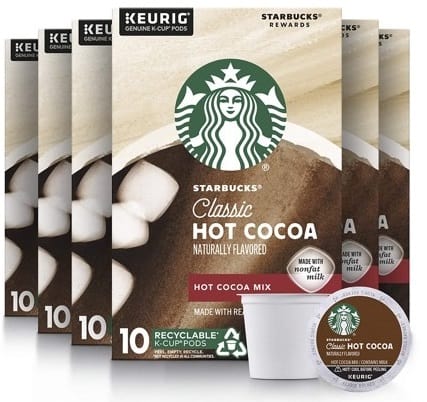 Let's move on to an option that puts an extra emphasis on convenience. These Starbucks K-Cups can be placed right in your Keurig machine for a steamy cup of hot chocolate in seconds.
If you've ever had a hot chocolate at Starbucks, then you'll know what to expect here. This is their classic rich & creamy hot chocolate. We think it's very delicious. It's definitely on the sweet side, even as far as hot chocolate is concerned.
Another bonus is that it's made with non-fat milk.
Pros
Classic Starbucks hot chocolate.
Rich, creamy, and extra sweet flavor.
Made to exacting quality standards.
Made with non-fat milk.
Convenient K-Cups for fast preparation.
Cons
Quite expensive.
K-Cups aren't great for environment (although these ones are recyclable if you drain the grounds).
Buying Guide
Now that we've examined our favorite products on the market, let's dive a bit deeper into this tasty beverage category. In this section, we're going to answer some of the most commonly asked questions about hot chocolate, so that you can make the best choice for you.
Things to Consider Before Buying a Hot Chocolate Mix
As you can see, there are many choices when it comes to hot chocolate mix. You might even find yourself a little overwhelmed. Consider the following factors to make the decision a bit easier.
Quality Ingredients: First up, we have ingredients. The most important ingredient is the chocolate! Some premium brands pride themselves on using real chocolate, 100% natural ingredients, and even advertise how they source the cocoa beans. This might be worth paying attention to, as it often influences the depth and complexity of the flavor, but also might make a big impact on the price!
Flavor: This might be the only thing you really care about! Pay careful attention to the ingredients we mentioned above, as they influence the flavor quite heavily. Also pay attention to the sugar content, as you might want more or less depending on your preferences. Some brands even have different "flavors" of hot chocolate altogether – such as white chocolate, dark chocolate, caramel, mint, and more!
How to Make the Drink: Also pay attention to the packaging, which will influence how you make the drink. A bucket of mix tends to be the cheapest option, but you need to measure the ingredients yourself. Some people prefer the convenience of individual packets, or even K-Cups. We've included all options in our buyer's guide above.
Nutritional Factors: Although hot chocolate isn't necessarily known for its health benefits, there are a few potential benefits which can be derived from pure cocoa powder. Of course, you probably aren't going to turn to hot chocolate as the most efficient way to get these benefits. However, if you're looking for a slightly healthier mix, try to pick a brand that has a lower calories/serving.
Hot Chocolate vs Hot Cocoa
Next up, we'll answer a question that is asked all so often in the world of hot chocolate – what's the difference between hot chocolate and hot cocoa?
Some have suggested that hot chocolate and hot cocoa differ in their ingredients. Hot cocoa is generally cocoa powder, sugar, and milk, while hot chocolate is made with melted chocolate instead.
That being said, sometimes a term is defined by its usage. Simply put, these terms are used interchangeably. So while some may tell you there's a difference, 99% of the time people use the term to refer to the same thing. Any mix on our list could comfortably be called hot cocoa or hot chocolate.
Conclusion & Our Top Pick
Thanks so much for reading our guide to this delicious drink! As you can see, there are so many delicious varieties available. We picked the classic Land O' Lakes as our top overall choice, but you really can't go wrong with any option on our list!
FAQ
What is the best sugar free hot chocolate mix?
There are lots of good choices, but we like this one from Swiss Miss.
What snacks go well with hot chocolate?
Just about any desserts go well with hot chocolate! We prefer something you can dip, like cookies, brownies, or wafers.
Is hot chocolate good with milk?
Definitely! Some prefer to put their hot chocolate grounds in milk instead of using water. Even try it with some milk froth on top.
Is hot chocolate mix good in coffee?
Absolutely! Some prefer to opt for a splash of hot chocolate in their coffee instead of the traditional spoonful of sugar.