Indoor grilling allows you much of the same versatility of a traditional propane or charcoal outdoor grill with far less frustration or effort. While grilling outside can be a lot of fun, it's not always possible to light up the grill on a weeknight and that's when a great indoor electric grill can be really handy.
Thanks to advances in heating elements, power supplies, and high-density grilling surfaces, electric grills today can get hotter and stay that way, producing incredible grilled foods like steaks, burgers, or veggies.
When buying an electric grill it's important to consider a few things before making a decision. Make sure to keep some of these factors in mind when deciding on your purchase to help avoid buyers remorse!
Size:
Most electric grills are meant to be countertop appliances but there are a few that are much larger and can handle almost the same amount of food like a traditional outdoor grill. There are electric grills of all shapes and sizes so make sure to pay attention to dimensions and think about how larger of a grill you really need.
Removable grill plates:
Almost all the models I've experience come with 1 or 2 removable grill plates. Some come with a griddle side as well that allows the plates to be reversible. Whether you're just looking for a straightforward grill or looking for a grill with reversible griddle plates, waffle options, and even stone cooking surfaces, there is definitely an option for you.
Smokeless:
While most electric grills don't produce a lot of smoke, if you're worried about setting off a smoke alarm, there are smokeless grills that help clear away cooking smoke and odor. If a little cooking smoke isn't an issue for you then there is no need to worry, but if you want a grill that will help manage the cooking fumes then you'll want to look for models labeled "Smokeless".
Best Indoor Grills.
Below is a list of some of the best indoor electric grills available. Whether you're looking for a larger option to recreate the experience of grilling outdoors or a simple countertop appliance that will produce incredible steaks or burgers time after time, there is an option here for you!
Best Overall: Hamilton Beach Electric Indoor Searing Grill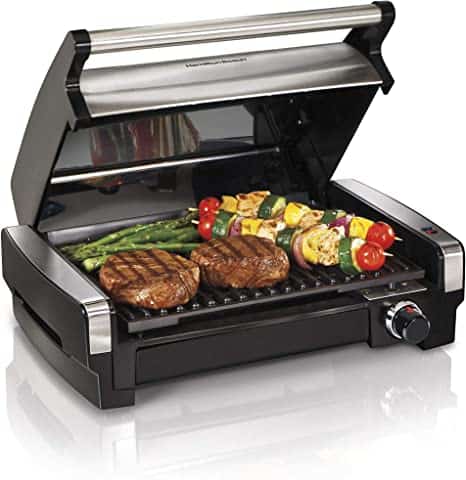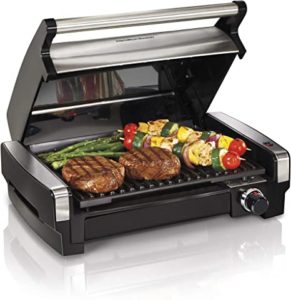 Hamilton Beach has been manufacturing quality kitchen equipment since 1910 so they definitely know what they are doing. The Hamilton Beach Electric Indoor Searing Grill is a great example of the high quality and innovation that Hamilton Beach continues to bring to the kitchen appliance market.
With 117 inches of cooking space, the Hamilton Beach 25361 Indoor Grill is an awesome addition to your kitchen arsenal. If you are looking for one of the best all-around indoor grills available then look no further than the Hamilton Beach Electric Indoor Searing Grill.
Pros:
dishwasher safe
transparent lid
affordable
large drip tray
Cons:
smaller size
poor insulation
Size:
With a 117-inch grill surface, the Hamilton Beach 25361 can handle up to 6 servings at once. While I don't recommend filling the grill surface as it will tax the heating element, it's nice to be able to cook up to 6 burgers or 4 steaks at a time without issue.
Performance:
The Hamilton Beach 23561 Indoor Grill is an awesome little indoor grill that can keep you in burgers and steaks all year long regardless of weather or location. This indoor grill can truly handle a ton with adjustable temperature control that allows you to sear items at 450°f or turn it down to grill low and slow.
Combined with a super-easy cleanup thanks to the dishwasher-safe construction and a grilling window that allows you to monitor food as it cooks, this grill makes it simple to create amazing grilled food in the comfort of your kitchen.
Cleanup:
Thanks to the nonstick grill plates and dishwasher-friendly design, cleaning up after grilling on the Hamilton Beach 23561 is a snap. Allow the grill to cool before removing the grill plates, the removable drip tray, and the lid. Then give the parts a pre-rinse in your sink before loading them into the dishwasher.
After a single cycle in your dishwasher, they should be completely clean. Make sure to let them dry fully before storage to prevent rust or corrosion over time.
Verdict:
While this grill isn't everything I would want in my perfect electric indoor grill, it does check almost every box. It's small, and portable, it can fit up to 6 servings and it's incredibly easy to clean.
Despite its lower than ideal max temperature, it does an incredible job producing grilled foods from steaks to burgers, chicken, fish, or veggies. Thanks to the transparent grill window I'm able to monitor my food as it cooks without opening the lid, keeping the grilling chamber as hot as possible.
If you're looking for a great electric grill that can keep you in burgers and steaks year-round without breaking the bank then the Hamilton Beach Searing Grill should be high on your list of possibilities.
Best Multipurpose: Ninja FG551 Foodi Smart XL 6-in-1 Indoor Grill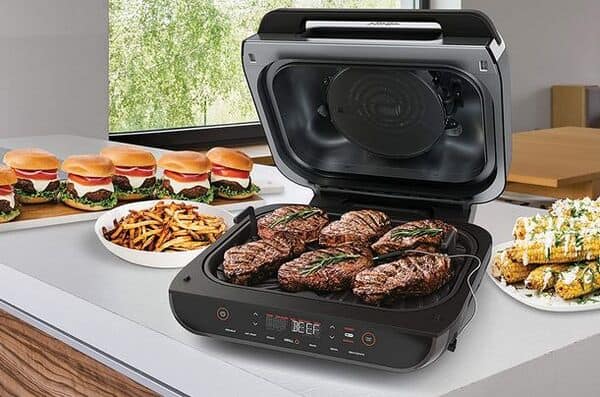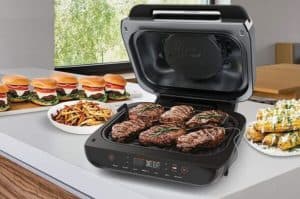 While Ninja began as a Blender company, they have since expanded to encompass a wide range of kitchen appliances and tools. Ninja has created some wonderful kitchen gadgets from great air fryers to electric pressure cookers, and even electric grills.
In the Ninja Foodi FG551 Smart XL, Ninja has combined a few of their most popular appliances into one, to create a pretty amazing multipurpose kitchen tool.
With a large capacity, internal cooking probe, and multiple functions like air frying or broiling in addition to the awesome electric grill, the Ninja Foodi FG551 is a great addition to your home kitchen.
Pros:
multiple functions including, grill, oven, and airy fryer
internal temperature probe for perfect cooking
Cons:
Size:
The Ninja Foodi FG551 is a relatively large appliance and this is largely due to its multi-function design. With dimensions of 15.75 x 16.54 x 11.1 inches, this appliance is the size of a larger toaster oven, and while it can sit on your countertop it would take up a lot of space if this was a permanent location.
While you can feasibly store this under your counter in a cabinet or even a large drawer it might be a tight fit.
Performance:
The Ninja Foodi FG551 is great for a number of different tasks. From grilling great steaks, burgers, or veggies like portabella mushrooms, to air frying french fries and onion rings, or roasting a whole chicken, this appliance can really do it all.
The grill surface on the Ninja Food Electric Indoor Grill is large and can fit up to 6 steaks at one time. Thanks to the multi-directional heat from the top-mounted air fryer heating element, you can grill items without the need to flip them, which for things like burgers can be really convenient, especially when melting cheese or heating toppings.
The Grill surface heats to 500°f and with high-density grill plates, it's easy to get a great sear, and an awesome crust on all your grilled foods. The ability to quickly switch between cookign modes is a super powerful feature that can help you handle larger items like roasts or whole cuts of meat, things that most electric indoor grills don't excel at cooking.
In addition to a well-designed electric indoor grill function, the Ninja Foodi FG551 can also operate as a high-powered air fryer oven that can roast, bake, or broil foods with ease. While it's not the most feasible way to cook, you can absolutely prepare steaks or burgers and then load fries into the air fryer after you've finished cooking your proteins.
Cleanup:
Thanks to easily removable grill plates and attachments it's relatively simple to clean the Ninja Food FG551 after you've finished using it. First, you need to wait until the grill has cooled fully. This takes a little longer than you might think thanks to the high-density grill plate that holds heat long after you've finished cooking.
Once the grill is cool simply remove the grill plate and submerge it in warm soapy water to soak. While all the attachments are removable the lid is not due to the power supply that runs through the hinge to power the top-mounted air fryer heating element and fan.
To clean the lid, make sure to wipe it down after each use, this ensures that grease and cooking sediment doesn't build up on the inside of the lid which can become a fire hazard over time.
Once the grill plate has soaked thoroughly, simply scrub it with a non-abrasive sponge or brush to remove all the char and grease before rinsing it in warm water and allowing it to air dry.
Verdict:
The Ninja Foodi FG551 is a great electric grill and if you're looking for a kitchen appliance that can handle a ton of different foods or recipes, then this is definitely the best electric grill for your needs.
While it's more expensive than many electric grills available, the addition of an air fryer option and other functions like roasting, broiling, or an internal temperature probe, make it worth the investment.
Best Raclette Grill: GIVENEU Raclette Table Grill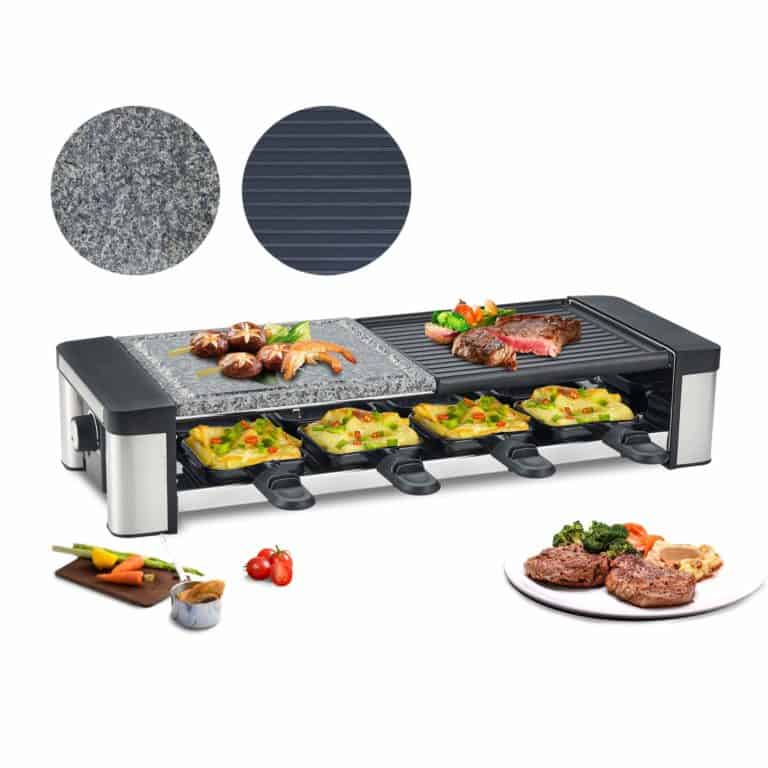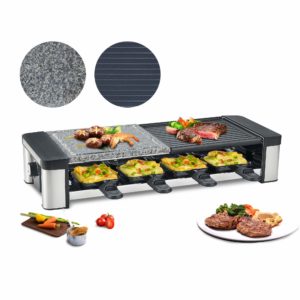 It seems like over the past few years, cheese melting videos have taken over our social media feeds, especially if you've told the algorithms that you enjoy food-based content, to begin with.
In addition to being a great indoor electric grill, the GIVENEU Raclette Table Grill can prepare incredible broiled cheeses, or other slow-roasted dishes with its set of Raclette pans and elevated grill table.
With two separate grilling plates, a nonstick metal grill/griddle, and a stone grill plate, you can slow roast, sear, or grill meats, seafood, or veggies to perfection while side dishes broil away right below the cookign surface.
Pros:
two cooking surfaces
broiler function
8 individual raclette pans
Cons:
cleanup difficult due to the total amount of parts/pieces
Performance:
I liken using this raclette table grill to a fondue experience. It's meant to be used as a party experience by multiple people, creating delicious food combinations and enjoying each other's company.
While I'm not going to say you can't enjoy a raclette experience by yourself, it's just a great way to share food with friends and enjoy one of a kind cooking experience.
To use the GIVENEU Raclette grill you'll need to plug it in and preheat the grill while you gather up the accessories. Once the grill has preheated you can begin laying meats, seafood, or veggies right on top of the grill surfaces.
The stone surface takes longer to sear items and in my opinion works better as a warming surface, or a finishing surface than for actual searing. I prefer to use well seasoned and marinated meats on the raclette grill, but lean, lightly seasoned meats, fish, or veggies work well too.
To use the raclette pans simply fill them with veggies, cheese, or other ingredients and place them under the broiler, to heat while your proteins grill.
I like to use cooked slices of meats of veggies to build the base to my raclette dishes, but you can use whatever you like. There are tons of raclette recipes available. and experimenting with different combinations with your guests can be a great way to enjoy a dinner party!
Cleanup:
Compared to other indoor grills on this list, the GIVENEU is a bit of a pain to clean. With multiple pieces, grill plates, and accessories, there is a lot to get dirty when using the GIVENEU Raclette grill.
To clean it's best to submerge everything in warm soapy water and then scrub them with non-abrasive brushes or sponges. Once clean, air dries them before returning the pieces to the grill assembly and storing.
Because most of the pieces to this grill are non-stick it's always best to wash them by hand, but most parts are considered dishwasher safe which can be convenient.
Verdict:
Raclette grills are a great and inexpensive way to create a one-of-a-kind dining experience in the comfort of your own home. The GIVENEU Raclette Table Grill is a wonderful addition to any kitchen and while it definitely produces awesome raclette dishes, it is first and foremost a great electric grill.
With two grilling surfaces, a reversible grill plate with a griddle side, and a stone grill plate that
Best Smokeless Electric Grill: PowerXL Smokeless Grill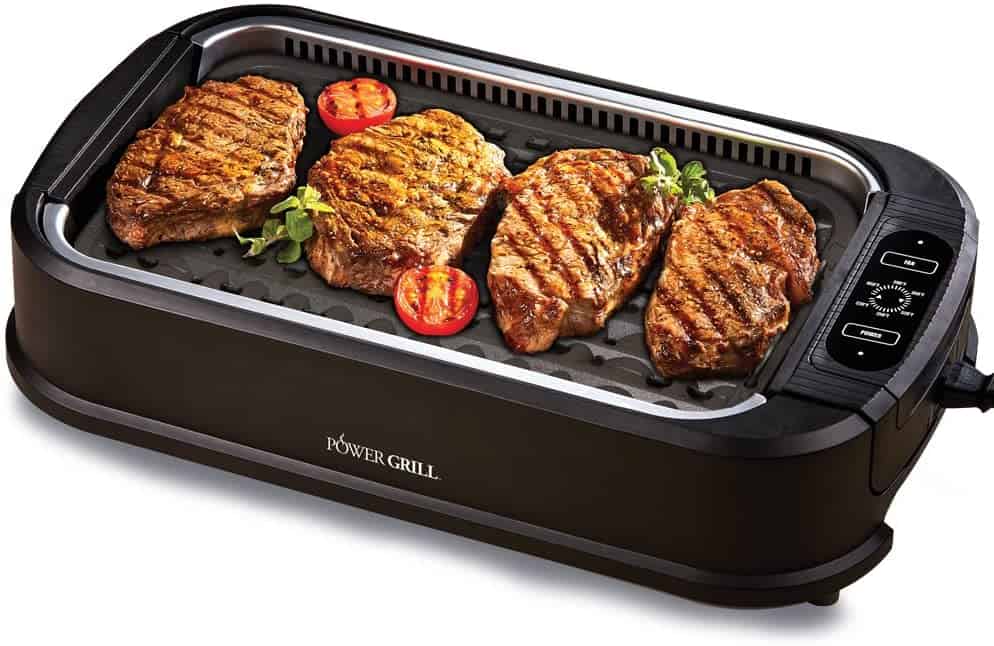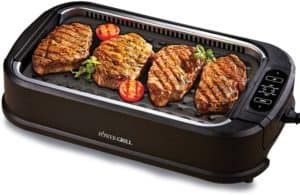 While electric indoor grills don't produce a ton of smoke, they aren't exactly smoke or odor-free. With the PowerXL Smokeless Indoor Grill, the folks at Power XL have worked to create a grill that filters smoke and cooking odors as you grill.
Smokeless grills use a fan/filter system to help remove smoke/cooking odors before they have a chance to drift up into the environment, helping keep your home free of smoke and grease. Much like the filter system above your stove, the Power XL can help move smoke and cooking odors away from the machine as it cooks.
This has the added benefit of helping keep your fire alarm from beeping. I've definitely set off my smoke detector when using other electric grills and a smokeless grill can really help avoid this issue.
With a large open grilling surface, a tempered glass dome lid, interchangeable grill plates, and an easy to clean, dishwasher-safe drip tray, the PowerXL Smokeless Indoor Electric Grill makes it easy to enjoy grilled foods from the comfort of your kitchen counter.
Pros:
interchangeable grill plates with griddle function
smoke capture fan
comes in multiple colors
dishwasher safe
Cons:
smoke capture fan can cool the cooking surface
Performance:
Cooking on the PowerXL Smokeless Indoor Grill is a breeze. It heats up quickly and in under 10 minutes you are ready to grill steaks, burgers, chicken skewers, or fish.
Thanks to the non-stick coating you don't really need to oil the surface, but it's always a good idea to do so just to help with food release when you are ready to flip your ingredients.
Once the grill is properly preheated you can load your steaks or burgers directly onto the large grill plate. Make sure to avoid overloading the grill plate as this can reduce cooking temperatures at the surface of the grill.
To use the smoke capture fan, simply press the fan button on the touch panel control system near the temperature control. Once the fan is running you can place the lid over the grill to help maintain a hot oven chamber and speed up the cooking process.
Thanks to the "mesh" grill plate design, the holes spaced evenly across the surface helps drain the grease and promote a more consistent sear. By keeping the grease and fat away from the meat as it sears you achieve a crispier outer layer and gorgeous grill marks, both hallmarks of great grilled foods.
Thanks to the interchangeable griddle plate you can easily prepare all of your favorite griddle foods and recipes. Whether you're cooking brunch for a crowd, having your own hibachi night, or preparing a delicious cheesesteak, having a griddle around can really come in handy. Thanks to the PowerXL's two cooking surfaces you can really do it all.
Cleanup:
Cleanup for the PowerXL Smokeless Grill is fairly easy and straightforward. Before attempting to clean it's important to let the grill cool to avoid any accidents.
Once cool pull out the removable grilling plates and removable drip tray, both of which are dishwasher safe. You can either wash them by hand or just give them a quick rinse before loading them into the dishwasher.
The tempered glass lid is dishwasher safe as well so that can go right into your dishwasher if there is room, or you can simply wash it by hand if not.
Once the parts are clean let them air dry fully before returning them to the Power XL for storage.
Verdict:
If you are in the market for an electric indoor grill that can handle a lot of food while also working to keep your kitchen smoke and odor-free then the Power XL Electric Indoor Smokeless Grill is a great option to consider. With a reasonable price tag and a ton of features as well as two cooking surfaces, this grill will produce incredible grilled food right on our countertop.
Best Panini Grill: Cuisinart 5-in-1 Griddler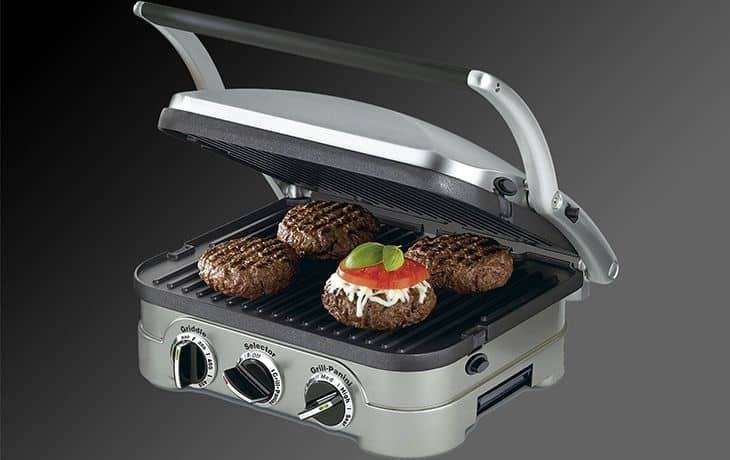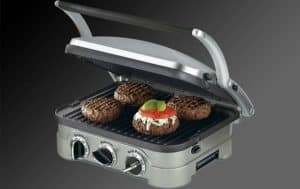 Having a panini grill around is one of the easiest ways to create consistently delicious and insanely crispy sandwiches. But, thanks to advances in heating elements and appliance design, today they can do so much more than just make an awesome grilled cheese.
While I might not always want to sear a steak on a panini grill, it can be a great way to grill up chicken breast or burgers quickly and efficiently. Thanks to the two-directional heating elements you can cook proteins thoroughly in less time while creating perfect grill marks and an awesome grilled flavor.
The Cuisinart 5-in-1 Griddler Electric Panini Grill is a great example of an awesome indoor grill that can create a ton of different meals or recipes while also maintaining a very reasonable price point.
Pros:
hinged lid and dual heating elements cook food quickly.
5 different modes allow you to cook everything from chicken or burgers to paninis, waffles, and pancakes.
inexpensive.
Cons:
smaller capacity
not ideal for certain foods like steaks or grilled vegetables
Performance:
Using the Cuisinart 5-in-1 griddle is a snap. Simply plug the appliance in, make sure you have the correct grill plates attached, and preheat the grill.
If you are making paninis then you'll want to keep the grill in contact grill mode. In this setting, you used the hinged lid to apply heat and pressure to both sides of the grilling item. This can be awesome for creating everything from perfect sandwiches to grilled chicken breast or burgers.
Thanks to the slanted cooking surface the grease and fat drains away from the grilling food to help ensure a crispy surface and great grilled flavors.
Thanks to the hinged lid, you can change the contact grill into a full grill with the press of a button. In full grill mode, the grill lies all the way open and doubles the cooking surface of the grill. This can be great for preparing traditionally grilled foods like steaks, fish, or veggies that don't benefit from the contact grill setting and the weight of the lid.
While the full grill setting on this machine is nice, the heating element sometimes struggles to handle the larger surface area effectively. Cooking perfect steaks or larger items can be a struggle, but it is definitely possible to grill delicious steaks or veggies on the Cuisinart
Cleanup:
With removable grill plates, cleaning the Cuisinart Griddler is super easy. Simply allow the grill to cool before removing the grill plates from the top and bottom of the grill.
Submerge the grill plates in warm soapy water before removing the grease and sediment with a non-abrasive brush or scrubber. Once clean, rinse the grill plates with warm water and allow them to dry fully before re-inserting them into the grill.
Make sure to wipe the outside of the machine with a damp cloth after every use to keep the stainless steel finish bright and shiny with no grease spots or blemishes.
Verdict:
If you want to add a new panini grill to your home kitchen, but also want one that can handle contact grilling and work as a full grill then the Cuisinart 5-in-1 Griddler is a great indoor grill option for you.
With a sleek stainless steel finish, quick heat-up time, adjustable heat, and time controls the Cuisinart 5-in-1 Griddler makes paninis, burgers, steaks, and grilled veggies a cinch.
Best Stovetop Option: Lodge Cast Iron 10.5-Inch Square Grill Pan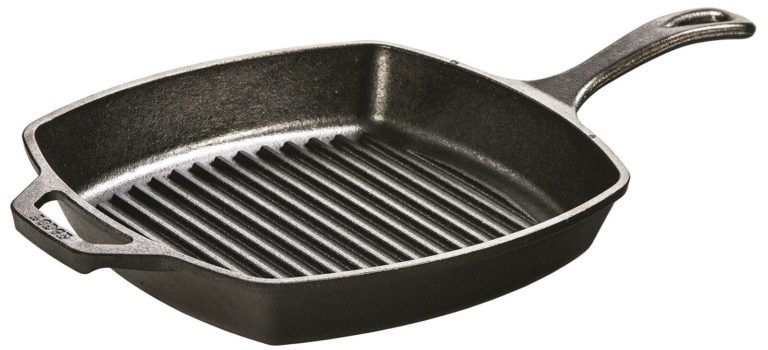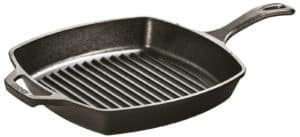 While almost all the grills on this list are self-contained, countertop appliances, there is something to be said for a simple stovetop grill pan. They are easy to use, you don't need any extra equipment or have to plug it in, and cast iron grill pans produce great grilled flavor, right on your stovetop.
My personal favorite is the Lodge 10.5 inch Cast Iron Grill Pan. It's big, heavy, and can handle up to 4-5 steaks without issue. Thanks to the cast-iron construction this pan gets hot and stays hot. You can easily grill veggies, steaks, chicken, fish, or seafood without issue, and when you're all done it stores easily in your pan drawer or cabinet.
Pros:
easy to store
no extra equipment or plugs needed
Cons:
cast iron pans can be difficult to clean and care for
Performance:
To use the Lodge 10.5" Cast Iron Grill Pan simply place it on your stovetop and set your burner to medium heat. If you are lucky enough to have a gas stove you can keep the heat range a little lower to preheat your pan as the flame is constant, in electric stoves the heating is intermittent so medium/high will work better.
By keeping the temperature on the more moderate side you can preheat the pan slowly and achieve the perfect grilling temperature. Once the pan is preheated I like to brush it with oil and then place my steaks or burgers onto the grill.
At this point, you can turn up the heat a little and allow the grill to sear your products completely. If you notice grease or fat starting to build up you can pick up the pan and carefully drain it from the corner, but with nice deep grill grooves, this isn't usually an issue.
Thanks to the silicone handle that comes with the grill you can pick the grill up comfortably despite the hot cast-iron and using this grill pan is an absolute pleasure.
Cleanup:
Cleaning this cast iron grill pan can be a little more frustrating than the rest of the grills on this list, and that is primarily because it's made from high-quality cast iron.
To clean this grill properly follow these steps and you should have zero problems keeping your Lodge Cast Iron Grill Pan fresh and clean for the long term:
Allow the pan to cool.
Scrape away any grease or sediment left in the pan.
Using a scouring pad or scrub brush, scrub the pan with warm water and soap.
Rinse the pan clean with warm running water and then dry it completely!
Make sure to remove all the water present because cast iron will rust if left wet.
To re-season, the pan, wipe it inside and out with a paper towel and some canola oil. Make sure to remove all excess canola oil and just leave a very thin coating.
Preheat your oven to 450°F and place the oiled pan inside.
Allow the oven to stay at 450°F for 5 minutes before turning it off and allowing the pan to cool inside.
Once cool the grill pan should be reseasoned and ready to go. You don't need to reseason the Lodge Grill Pan every time but it's good to do it once every 3-4 uses.
Verdict:
If you want an indoor grill option and don't love the idea of buying a new countertop appliance then the Lodge 10.5" Cast Iron Grill Pan is a great choice for you.
With great heat retention, a larger surface area, and ease of use/storage that's hard to beat, the Lodge 10.5" Cast Iron Grill Pan is the perfect addition to your kitchen arsenal.
While cast iron may be difficult to care for, the quality of construction and longevity of cast iron cookware makes this pan a great choice for any cook who either knows how to use cast iron pans or wants to learn!
Best Indoor/Outdoor Option: George Foreman Indoor/Outdoor Electric Grill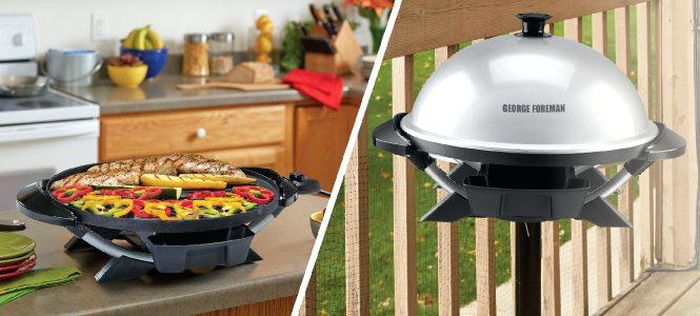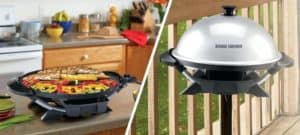 George Foreman has been selling indoor electric grills for over 20 years now. Most of us can remember growing up seeing the George Foreman Grill commercials on Saturday afternoon tv, and I vividly recall making grilled cheese "paninis" on my family's Foreman grill throughout my youth.
Outside of the hinged lid, panini press style electric grill offerings, George Foreman also offers a stand-up, indoor/outdoor electric grill that is pretty incredible.
Of all the electric grills on this list, the Foreman GGR50B is the closest to the experience of a traditional gas or charcoal grill. With a large surface area and an attachable stand that keeps the grill at table height, using this grill is the most like using a traditional outdoor grill.
Pros:
Large Cooking Area
High-temperature grill surface
Domed cooking lid
Indoor/Outdoor Capabilities
Cons:
Large size
Uses more electricity
Size:
The George Foreman GGR50B is a really large grill. With grill surface dimensions of 10.8" x 18.5" the George Foreman GGR50B is almost as large as many medium-sized kettle grill options, and the beauty of this model is it can be used inside or out!
The GGR50B can be used with the detachable stand or without depending on your needs so the height can vary. Without the stand attached the grill can sit comfortably on your countertop and is about the size of a large air fryer or bread maker.
With the stand attached the George Foreman GGR50B sits at just over 20 inches high, or about two and a half feet. While this is slightly shorter than most outdoor grills, it's not a hindrance and though you might bend over a bit to use it, it's nice to be able to keep this off of the counter as it is pretty large.
Performance:
Overall the Foreman Indoor/Outdoor Electric Grill is a high-powered electric grill with a relatively huge cooking area. This grill can handle up to 5 steaks, 12+ burgers, or enough veggies to feed 4-5 people. The larger capacity compared to some indoor electric grills is a real plus.
Most electric grills are suitable for smaller meals, and if you overload them their performance suffers as the heating element struggles to handle the larger amount of food. The George Foreman GGR50B has a large enough cooking surface that it can comfortably handle cooking for a family of four without a noticeable change in the performance of the grill overall.
Grilling steaks or burgers on the Foreman GGR50B is a snap, thanks to the thick cast metal grill grate. While it does take a little longer to heat up than some electric grills, once it's hot you can really get a nice sear on whatever you happen to be grilling.
Thanks to the slanted cooking surface, grease drains away from the grill towards the drip pan which allows the cooking surface to stay nice and hot achieving a really nice crust. While the electric grill can never replace some of the benefits of a traditional flame broiler, the Foreman GGR50B does a really good job despite its limitations. It also makes it possible to grill in places where a traditional gas or charcoal grill might be off-limits.
One area most indoor electric grills struggle with is grilling vegetables. Without the high heat and direct open flames of charcoal/gas grilled veggies sometimes struggle to achieve a good sear. With the Forman GGR50B, this isn't an issue. Because of the large surface area, thick cast grill plates, and strong heating elements, you can grill almost any vegetable with great results.
Clean-Up:
To clean the George Foreman Indoor/Outdoor Electric Grill you need to allow it to cool fully and unplug the heating element from the side of the grill. Then carefully remove the grill plate and soak it in warm, soapy water for 20-30 minutes
You should also remove the drip tray and clean it, as well as rinse the lid with warm soapy water before wiping it clean.
Once the grill plate has soaked you can scrub it with a non-abrasive sponge/brush until it is free of grease or debris. Rinse it with warm fresh water and allow it to air dry before returning it to the grill assembly for storage.
Storage:
Even without the stand attached the George Foreman Indoor/Outdoor electric grill is a formidable appliance. At about the size of a large toaster oven, the GGR50B takes up quite a bit of space. If you have large cabinets or a plethora of space, you can feasibly fit this under a counter.
If space is at a premium in your home you may need to think about storing this indoor grill in a closet or another larger storage space.
Verdict:
If you're looking for an electric grill you can use on your kitchen countertop or out on your deck while producing awesome grilled foods for your entire family then the George Forman Indoor/Outdoor GGR50B is definitely a great option. As long as you have room to store it, this grill will keep your family enjoying delicious grilled foods year-round.
Final Thoughts on Indoor Grills:
Indoor grills can be a great all-purpose kitchen appliance to have around, especially if the weather isn't great for grilling, or you live in an area where an outdoor grill might not be appropriate.
Indoor electric grills are a great way to cook grilled foods in the comfort of your own home. Thanks to the wide range of sizes and designs, there is definitely a great indoor grill option perfect for you. Just remember to clean your grill regularly and allow it time to heat up properly before grilling for the best results!