Gas and electric cooking are old news! Induction cooking is trending, and for a good reason. More people are switching out their old ranges for different brands of induction ranges. Here's the thing, though. With virtually hundreds of induction ranges on the market, it definitely isn't easy to choose the best type that checks the most important boxes for you.
Why the difficulty? Apparently, not all that glitters is gold. Besides, even among the high-quality models, it might be overwhelming to make up your mind about which ones are ideal for your purpose. If you are in this seeming tight spot – not knowing which induction range to choose – this article will help you out of the dilemma.
You will get to discover the best induction range for different categories, and hopefully, you'll be able to choose one out of our top picks. But this article doesn't just stop at showing you the models that we consider the best; you will also learn useful tips for choosing high-quality induction ranges.
And just in case you are planning on making the switch from gas, electric, or other types of cookers to an induction range, but you're still on the fence about these kitchen appliances, we'll cover why induction cooking options are preferable and how they work at the end of this article.
So, if you are ready, let's get this underway.
The Best Induction Range – Our Top 5 Picks
1. GE Profile PHS930SLSS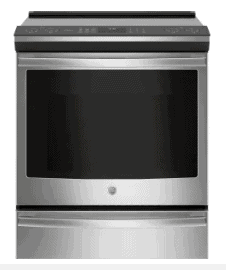 This is perhaps the best induction range when it comes to reliability. This should be your pick if you want an induction range that is likely to meet your specific needs, as it is designed to fulfill the different requirements of most users. Whether you are remodeling your kitchen and need to replace your existing freestanding range, or you want to install a new one, the GE Profile will work just fine.
Although it is a slide-in range, its sides are well finished. Therefore, exposing it doesn't mar your kitchen décor, making it a great option for replacing freestanding models, or it can act as a freestanding range.
A lot of slide-in induction ranges have overhanging lips around their edges. But this slide-in GE Profile is unique because it doesn't come with those obstructing lips. The advantage of this is that the model can be installed near a wall on both sides.
This induction range offers a decent number of burners or cooking zones. It has five burners – one serves as a warming area, and four others for cooking. The cooktop offers versatility in the sense that you can bridge two cooking zones if you need to use larger cookware such as a griddle.
As with any well-built range, the GE Profile induction range also features an oven for very precise cooking. The convection helps to distribute heat evenly and efficiently inside the oven. You will find the three racks in the oven quite spacious and convenient. And for added handiness, a storage drawer located at the bottom is also included.
2. Samsung NE58K9560WS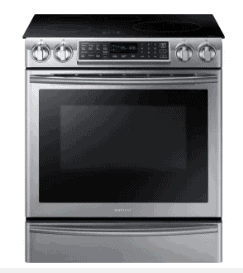 Looking for something stylish for the contemporary kitchen? Perhaps you will find what you're looking for in this NE58K9560WS from Samsung. This slide-in induction range is as modern as they come. You can connect and monitor the oven and cooktop with your Smartphone or other devices via the Wi-Fi connectivity. You can even adjust temperature settings, start preheating, set a timer, and turn the unit on or off with the Wi-Fi. In a nutshell, if this model should be on your radar if you are interested in smart induction ranges.
The model features a sleek design with four glass knobs for adjusting the heat level. It also has a control panel that is quite easy to use. Here's one other unique thing about the Samsung NE58K9560WS. It offers visual cues that help you know which burner or cooking zone is on and working. The unique virtual flame gives the illusion of a brilliant blue flame that resembles the flames of a gas burner. The virtual flames appear at the bottom of your cookware, even though they are not actual flames.
The oven has a capacity of 5.8 cubic feet. Instead of the usual one fan, the oven has two fans that maximize uniform heat distribution. The three racks inside the oven give you the flexibility to bake or cook different dishes conveniently all at once.
It also offers some specialized cooking options, including slow cooking, proofing, and dehydrate. These are great for churning out different mouth-watering dishes, regardless of your cooking skills. And when you are done cooking, you can place your food inside the warming drawer to keep it freshly cooked until they are due for serving.
You don't have to remodel your kitchen for this contemporary induction range to fit in. It is built to blend seamlessly into most modern kitchens.
3. Miele HR16223i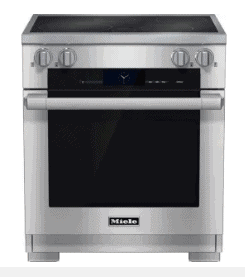 From Miele, the famous German domestic appliance manufacturer, comes the HR16222i model that is arguably the best induction range money can buy! Of course, it is not surprising that Miele has one of the best models ever, considering that the company is not new to quality home and kitchen appliances. Whether you want a timeless or modern-looking appliance, you can be sure that Miele will not disappoint. This model has a sleek appearance, making it suitable for the contemporary kitchen.
But the Miele HR16223i is not just about appearance. You can expect to get premium features and high-quality performance from this model. There are four cooking zones on the cooktop that can be used with cookware of varying sizes. This is a departure from most induction ranges that may not work if you place small pans or pots on large cooking zones.
With this model from Miele, you can use any size cookware on any size cooking zone. All you need to remember is to fit the pan or pot in the boundaries of the element. The burners' boost feature enables them to pull power from other zones and quickly reach high temperatures.
Here's one other thing about the Miele HR16223i induction range. It is not your regular range – this is a professional-grade induction range that demands higher electrical requirements. Therefore, you will need a dedicated electrical circuit of at least 50-amp for this model.
This model is built to be highly durable, just like other Miele appliances. You can rest assured that the glass cooking surface won't crack easily even when hit with heavy materials. But beyond the cooktop, this model has an impressive oven performance with dual convection.
With over a hundred pre-programmed recipes, you don't have to split hairs about exact temperature settings. Simply select the type of food you want to cook from the touch screen display, provide other information such as portion size, and your food is as good as cooked.
As you might have guessed, this induction range doesn't come cheap. You will have to spend top dollars to be a proud owner of this model. While it can be quite pricey, it is worth the investment.
4. Frigidaire FFIF3054TS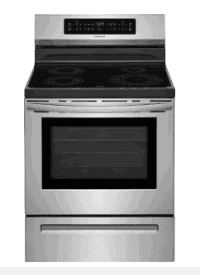 Induction ranges are usually one of the most expensive appliances in any kitchen. So, it is normal to expect prices in a few thousand dollars. Generally, you should be wary of models with a cheap price tag because they don't offer much more often than not. But what if you can get a good-quality induction range with all the important features at an affordable price?
That is where the Frigidaire FFIF3054TS comes into play. It is difficult to find a model that checks all the industry's standard at the price of this model. Thankfully, you are reading this review, so you can purchase this model if you are looking to save a few hundred dollars or if you have a tight budget. The Frigidaire FFIF3054TS is the best induction range when it comes to affordability – there's simply no argument about that.
Frigidaire is no stranger when it comes to building quality kitchen appliances, which explains why it can design this model to be affordable without sacrificing vital features. This model is built with precise heat settings that deliver even temperature distribution regardless of what you are cooking.
Of course, you won't have all the bells and whistles that come with other expensive models, but even with its basic set of features, you can expect to get superb performance, particularly with temperature settings.
This induction range has an oven with a capacity of 5.3 cubic feet. This gives you sufficient room to cook many large casserole dishes. Cleaning up is not a problem with the FFIF3054TS model. Simply select the 20-minute self-clean mode, and voila, the unit takes care of itself.
The control panel is user-friendly, making it easy to select options. If you do not have enough space for storing your induction-compatible cookware, you'll be pleased with the storage drawer under this unit.
The FFIF3054TS model is available in black stainless steel as well as regular stainless steel. These designs are considered universal, which means they can fit into different kitchen styles.
5. Cafe CHS950P2MS1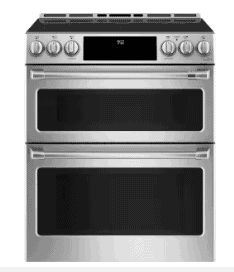 If guided cooking is your concern, the Cafe is the best induction range that fits that bill. Packed with lots of chef-inspired features, cooking with this range is not only a lot of fun but much easier. First, this model comes with two ovens instead of just one. That means you have the flexibility of cooking more than one meal using the ovens at the same time. But let's not get carried away by multiple ovens; let's focus more on the features that make the Cafe CHS950P2MS1stand out from the crowd.
The induction range is built with a Hestan Cue technology. Just in case you are unfamiliar with the Hesan Cue technology, it is a group of smart cookware with built-in heat sensing technology. You can set and maintain an exact temperature level for these types of cookware when connected to the Cafe CHS950P2MS1. In other words, you get a precise temperature setting for more efficient cooking.
And talking about connecting to smart pans, pots, or any cookware, this range offers Wi-Fi connectivity that gives users access to hundreds of recipes from top chefs. And the best part? You get to watch these recipes as videos instead of written instructions.
You can also connect your smart device to the Cafe induction range or, better still, use your voice with the Wi-Fi Connect technology. In a nutshell, only a few models can match the technology that comes with this induction range.
When it comes to basic operations, you can expect to find all the essential features, too. Instead of electronic controls, this model is designed with control knobs that allow for spontaneous changes in its temperature settings. The overall style and handles give it a feel of a heavy-duty unit.
Why Induction Cooking?
If you haven't yet made up your mind about induction cooking, consider the following amazing benefits of installing and using an induction range.
Induction cooktops heat up much faster than other types of cooktops. They can deliver up to 90% electromagnetic energy to the cookware – a percentage far greater than gas and electric stoves.
They provide an instantaneous reaction to cookware with a lot more precise temperature control, as well as a wider range of temperatures. This means, when you adjust the temperature, the changes take effect immediately instead of gradually, as is obtainable in a ceramic element.
Although it can heat up exceedingly faster than other cooktops, an induction stove's surface stays cool to the touch during cooking. This removes the fear of getting burned as you prepare your favorite dishes.
Your food is cooked very quickly using the heat of your pot or pan instead of heat from the stove. This is due to the magnetism that exists between the cooking appliance and your cookware. There is no worry about radiant energy getting into your food with induction cooking.
Most induction ranges come with an automatic off switch that "knows" when the cooking surface is empty. These cooktops are designed to conserve energy. If you leave them on without a pot, pan, or something on the cooking surface, the auto-switch will detect the absence of cookware and turn itself off.
Spills on an induction cooktop don't get baked onto it because the surface doesn't get hot. This makes cleaning the surface a lot easier compared to other types of stoves.
How Do Induction Ranges Work?
Induction ranges have similar looks with smooth-top electric burners, but they don't work in the same way. Instead of burners under the cooking surface, induction cooktops are designed to use electromagnetic energy for cooking. The energy field is produced around the glass surface without actually heating the cooker.
An induction cooktop heats the cookware directly instead of indirectly, as it is applicable in other types of cooktops. In other words, the cookware acts as the heating element. Directly heating your pots and pans eliminates the risk of radiant energy getting into your food from heating elements as is obtainable in indirect heating options, such as electric and gas cooktops. This makes for more efficient cooking, as induction cooktops can heat up incredibly faster than other options.
Keep in mind that not all types of pots and pans are suitable for induction cooktops. You need to have cookware with magnetic bottoms for induction ranges. You will likely need an electrician to install a range in your kitchen unless you are qualified to install a unit yourself.
What to Look for When Buying the Best Induction Range
First off, you need to ensure that you purchase an induction range designed specifically for home use. With that out of the way, here are some other smart considerations when buying the best induction range that can suit your modern kitchen.
Design
There are two major designs when it comes to induction ranges, namely, edgeless and framed designs. Both are great options and whichever you choose is a matter of personal preference. Units with edgeless designs are easier to clean. However, they can easily get damaged if a heavy object hits the edge. On the flip side, framed models are great at containing spills, but are equally prone to collecting grime and dirt in the frame crevices.
Cooktop Zones
Consider choosing an induction cooktop with multiple-size defined cooking zones, including small, flexi, and extra-large zones. These offer guidance for a variety of suitable cookware for each cooking zone.
Timer Settings
Any model good enough to be dubbed the "best induction range" should feature a timer setting – this is basic! With a timer, you can set how long you want to boil or cook, and the unit shuts down automatically at the expiration of the time.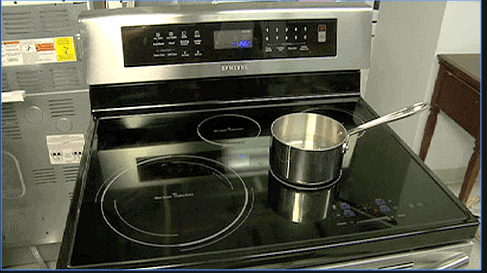 Features
Induction ranges come with a wide range of features. Keep an eye out for some of these features when choosing a model.
Auto Switch-Off
Most models come with this important feature. It automatically turns off the cooktop when there is no cookware present to prevent overheating.
Auto Heat-Up
The auto heat-up is a useful feature if you want to have the option of quickly bringing what you are cooking to a boil before letting it simmer. It lets the cooking zone heat up to a higher setting, and then returns to a preset heat setting after a specific time.
Safety Sensor
Sometimes, you may forget an empty pan or pot on the cooktop, which can damage the cookware. Many induction hobs come with safety sensors that monitor the temperature of the cookware's bottom. If the pot or pan on the cooking zone is empty, the unit will automatically adjust the power output to prevent damages to the cookware and cooktop.
Booster
Like the auto-heat-up feature, the booster allows the cooking zone to heat up very quickly before reducing the temperature to a pre-selected lower setting.
Child Lock
The child lock feature is particularly useful if you have kids at home. There is a minimal danger with induction cooktops than radiant or gas cooktops, but it is still crucial to choose a model with this feature for extra safety if you have younger children.
Although not required, the feature can also come in handy during cleaning. All operations underway during cooking will continue when this feature is activated. However, only the power button will be usable. All other settings and functions will remain locked.
Overflow Control
The best induction range should come with a feature that prevents overflowing of food or liquid spills onto the controls. With this feature, the unit will shut down when there is a spill. In some models, it will make a beeping sound to alert you before shutting down. Simply clean off the spill and resume cooking again if this happens.
Pause Button
The pause button works like the child lock feature. It is used to temporarily lock heat settings to prevent accidentally pressing any button when you wipe down the controls.
Safety Cut-Out
The safety cut-out will automatically switch off the unit if the temperature of the cooking zone is not altered for an extended period. For example, induction ranges with very high heat settings will automatically go off if left on without temperature changes for up to one and a half hours.
On lower heat settings, it can take up to ten hours or thereabout to go off. Consider opting for induction ranges with longer safety cut-out periods if you prefer continuous cooking.
Keep Warm Feature
If you like to serve your food freshly cooked, even though it was cooked several hours earlier, consider choosing a model with the keep warm feature. Some models use the residual heat for this purpose, while others use a simmer setting to keep food warm.
Wok Feature
If you do a lot of Chinese or wok cooking, buying a model with the wok feature might be a bonus. However, keep in mind that induction ranges with a dedicated wok cooking area can be very expensive. Consider choosing these types only if you plan on using the wok area very frequently.
Frequently Asked Question
Q. Are induction ranges safe?
A. Yes, they are safe. There are one of the safest kitchen appliances, and definitely the safest cooktops available. You are not likely to get burnt or hurt from the cooktop because it doesn't get hot in the first place. All the heat created is transferred to the cookware, which removes the risk of getting hurt by the range itself.
Q. Do induction range cause cancer?
A. Induction ranges do not pose any health risks. Of course, they emit radio frequency signals, but these are very low signals that quickly diminish just a few inches to about a foot of the cooktop. There is really nothing to worry about.
Q. Can I use stainless steel with induction cooktops?
A. Stainless steel cookware is suitable for induction cooktops. However, keep in mind that not every pan or pot labeled "stainless steel" actually has what it takes to work on an induction stovetop. You can perform a simple test on all your cookware to know which ones are compatible with an induction cooktop. Simply place a magnet at the bottom of the cooking utensil. If the magnet sticks, the cookware is compatible with an induction burner cooktop.
Q. Why does my induction cooktop make noises?
A. Different sounds and buzzing noises can occur during a normal cooking operation, and that is okay. Whistling, chirping, and silent humming are some of the common sounds that can emanate from the hub, especially when it is set to high temperatures. These can come from electrical switches and built-in cooling fans.
However, other sounds can occur due to the exposure of cookware to the stove's magnetic field. You can minimize this by using the correct quality of cookware.
Q. Is there a possibility of a fire outbreak from an induction range?
A. No. Induction cooktops can't cause a fire. Unattended oils can catch fire, but the elements themselves cannot cause a fire because they do not heat up. Induction cooktops are designed to turn off themselves when pots and pans are empty.
Q. Can I use cast iron cookware with induction cooktops?
A. Yes. Cast iron works on induction cooktops. However, care must be taken not to scratch the cooking surface. You might want to opt for enameled cast iron, as this option is excellent for induction cooktops, but that depends on your cooking needs.
Q. Can aluminum pans work with an induction cooktop?
A. No. Any cookware with a bottom made from aluminum, copper, and glass cannot be used on an induction cooktop or range. There are not compatible.
Conclusion
Induction ranges have several benefits over other types of cooktops. Investing in one of these hubs is a considerable upgrade to your kitchen. Hopefully, this article has helped you to find a model that works for you. Equipped with what to look for in the best induction range, you can confidently select a model from the ones listed.