Who doesn't enjoy starting their day with a freshly aromatic and steaming cup of coffee that most people refer to as their daily Joe? It's no secret that you probably fancy yourself as a bit of a home barista and may have perfected your ideal brew.
As a coffee aficionado, you may gravitate more towards the French press or have a fancy single-serve coffee maker. Or, perhaps you prefer keeping it nice and simple with the good old instant coffee that requires nothing more than hot water or milk followed by one stir.
Do you find this controversial and tantamount to heresy no less? If the answer is yes, then it's evident that you haven't been sampling the best of the flurry of solidly reliable instant coffee brands that made their way onto the shelves.
With the perfect blend of coffee, just like fine wine, you can take your pick between strong or subtle bouquets of aromas and flavors. Furthermore, the best instant coffee is good enough to tempt even the most self-proclaimed and discriminating coffee snobs.
In this rocket-fueled buyer's guide and review, we'll explore 14 of the best options that will give you value for your money. After all, life is too short to settle for an average cup of Joe. Read on!
1. The Daily Joe Coffee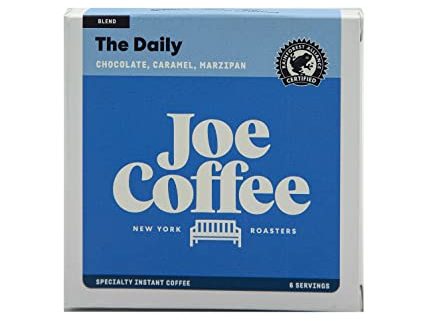 As you know, coffee has a bitter taste that a multitude of people loves about it. If you fall into this category, then the Daily Joe Coffee is right up your alley. It has that bitter edge that you seek in your daily brew with a sweet, alluring chocolate-pecan aroma and citrusy and slightly nutty flavor. Moreover, this blend pairs well with dairy add-ins for those who enjoy their morning coffee cup with a splash of cream.
Pros
Rich, deep tasting caramel and chocolate notes
Pairs well with dairy
Perfect for travelers and those on the move
Citrus and slightly nutty flavor
Cons
More acidic
Overly bitter
2. 100% Columbian: Steeped Single-Serve Coffee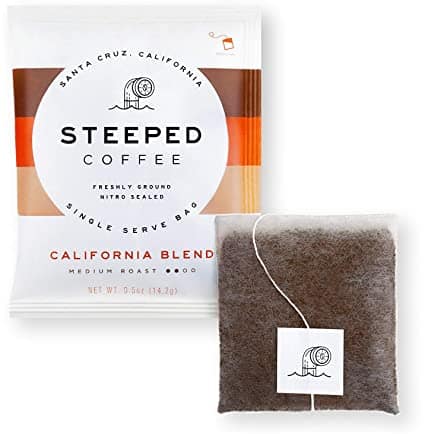 Upon opening a pack of this instant coffee, you may think you've torn into a pack of Earl Grey. The Steeped Single-Serve Coffee comes in tea-like bags that steep in hot water like tea. With a citrusy and slightly nutty flavor, you'll fall in love with the California Blend medium roast right off the bat. You can select the Eventide Decaf alternative that boasts low acidity with a hint of molasses if you want to go easy on the caffeine.
Pros
100% Columbia gourmet coffee
No additional plastic packaging
Ultrasonic sealed
Barista approved
Cons
Not as strong as other brands
3. Best Overall: Quality Instant Waka Coffee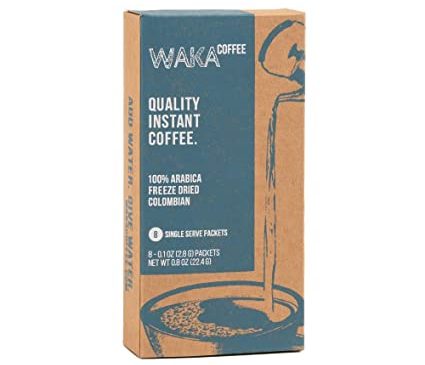 It has a mild, earthy, and dark chocolate flavor, the Quality Instant Waka Coffee. Thus, it's the perfect option for anyone who likes the kick of a full-flavored dark roast but dislikes the sourness and ashy taste of the low-grade dark roasts. Packaged in an airtight sealed pouch that's not only recyclable but also light and portable, the Quality Instant Waka Coffee is 100% Arabica, produced in Columbia. While it dissolves in hot water in the blink of an eye, it also works in cold water, making it perfect for an iced coffee.
Pros
No additives
Freeze-dried to preserve the original aroma and flavor
Made from 100% Arabica beans
Well-balanced with citrus notes
Cons
4. Best Decaf: Maxwell House International French Vanilla Café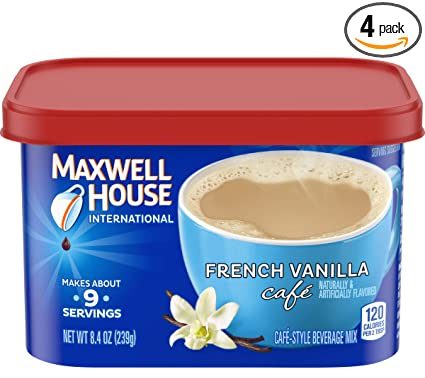 With up to 17 servings, you can reseal each canister of the Maxwell House International French Vanilla Café instant coffee. As a powdered beverage, you can take your pick from different flavors other than the decaf French Vanilla. One sip, and you're in love! What gives this instant coffee its unique taste is the foamy, creamy layer that forms at the top of your cup, creating the illusion of a latte.
Pros
Serves creamy and delicious cups
Comes in different flavors
Addictive and distinct taste
Convenient storage
Cons
Significantly smaller canister compared to its rivals
5. Best Budget: Nescafe Clasico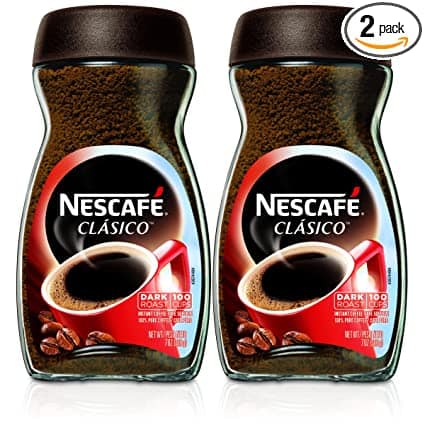 As a dark roast coffee, the Nescafe Clasico provides a bold and rich flavor in every cup. Upon adding a teaspoon to your cup of hot water and stirring for a couple of seconds, the strong aroma is enough to wake you up and put you in a good mood. For an optimum outcome, ensure you add just the right amount of water. You may have to go through a bit of trial and error until it feels right to your taste buds. Insufficient water will usher in a burnt taste, whereas excess water ruins the flavor altogether.
Pros
Each jar produces up to 100 cups
Inexpensive
Dark roast
Convenient to use
Strong flavor
Long shelf life
Makes excellent iced coffee
Cons
Comes in a glass jar that's travel restrictive
Acidic
6. Douwe Egberts Pure Gold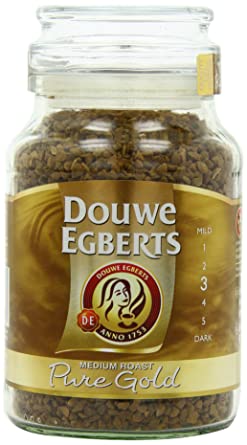 If you're not a fan of dark and strong coffee and gravitate more towards the milder options, then the Douwe Egberts Pure Gold instant coffee was made with you in mind. While the flavor is mild and smooth, it has just the right amount of caffeine to jolt anyone awake.
Granted, the added flavors don't make this coffee the healthiest option; they certainly give it its wonderful taste. The Douwe Egberts Pure Gold instant coffee also has an addictive crema and aroma that will get you hooked from the onset.
Made from the perfect blend of the finest beans, this product has been medium roasted to produce a well-balanced flavor.
Pros
Suitable for drinking any time of the day
Beautiful packaging
Medium roast
Mild and smooth flavor
Cons
7. Folgers Classic Roast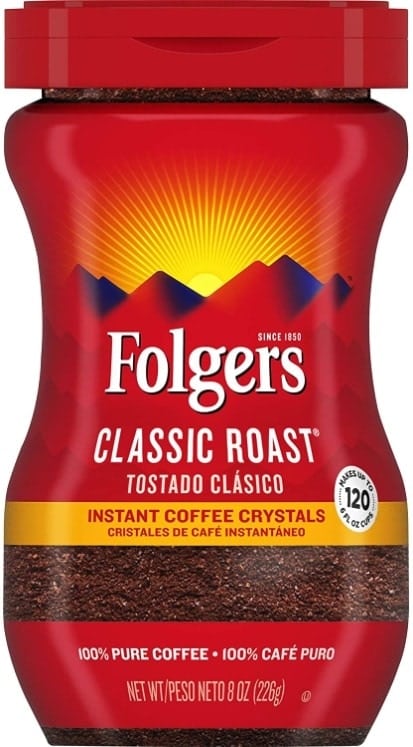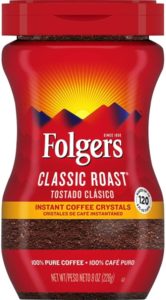 As a medium roast, the Folgers Classic Roast instant coffee crystals are produced from mountain-grown beans that give it a pure, rich taste and alluring aroma. With bitterness that only coffee lovers would appreciate, this product tastes better than expected. It works with lukewarm water, an added advantage when you don't have access to hot water.
Pros
Pure, rich taste
Wonderful aroma
Soluble in lukewarm water
Cons
8. Best Premium: Starbucks VIA Decaf Italian Roast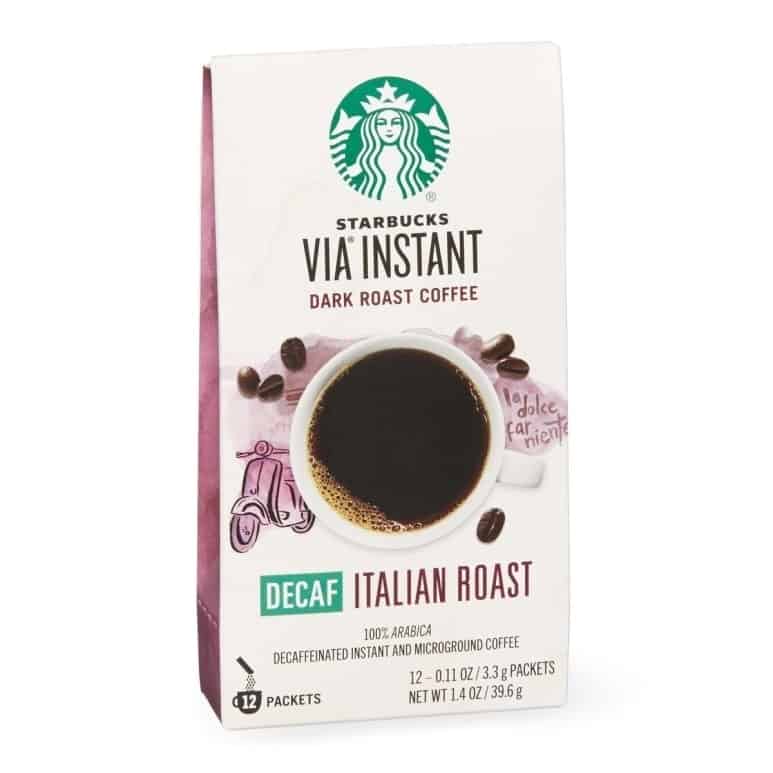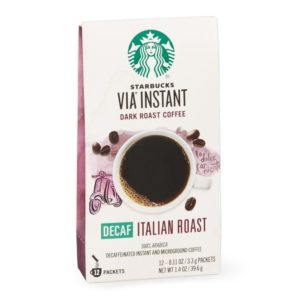 Simply put a packet of the Starbucks VIA Decaf Italian Roast in a cup, add hot water, and let it sit for 10 minutes, stir, and you're ready to enjoy a cup of goodness every morning. As a naturally decaffeinated product, the coffee is roasty and sweet with the bold, pure taste of 100% Arabica. The Starbucks VIA Decaf Italian Roast comes in convenient packaging that allows you to carry it on the go and preserves its freshness while prolonging its shelf life.
Pros
Consistent and bold flavor
Convenient packaging for travel
Small quantity
Sweet and roasty
100% Arabica
Cons
9. Jacobs Kronung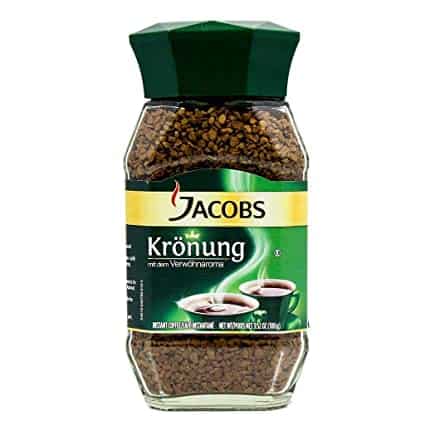 Are you on the quest for the best instant coffee that will wake you up in a heartbeat and give you the much-needed caffeine kick to start your day? Then Jacobs Kronung is your Holy Grail. It is freeze-dried coffee that tastes as rich and flavorful as the freshly-brewed counterpart. With a fresh and powerful taste in an instant blend, the first sip will get you hooked.
Pros
100% ground coffee
Powerful and fresh taste
Beautiful packaging
Cons
10. Four Sigmatic Mushroom Coffee Mix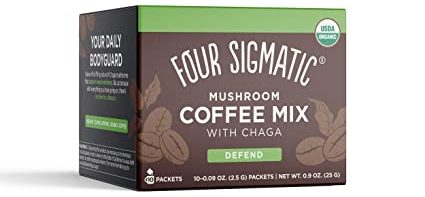 Don't let the name fool you because the Four Sigmatic Mushroom Coffee Mix has a rich coffee flavor. If you find the bitter taste in other coffee brands off-putting, you'll be pleased to learn that the addition of mushrooms smoothen the strong flavor and completely get rid of the bitter taste.
If you're health-conscious, the Four Sigmatic Mushroom Coffee Mix is a great fit for you as it's vegan with no bugs, insects, or animals used to produce it. Instead, liquid mycelium with no grains is extracted and blended with ground coffee at a ratio that guarantees the perfect combination of taste and aroma.
Pros
Rich in antioxidants that have numerous health benefits
Ideal for all diets
Dissolves in a heartbeat
Delicious, smooth taste
Cons
Not as powerful as other products
Buyer's Guide: How to Choose the Best Instant Coffee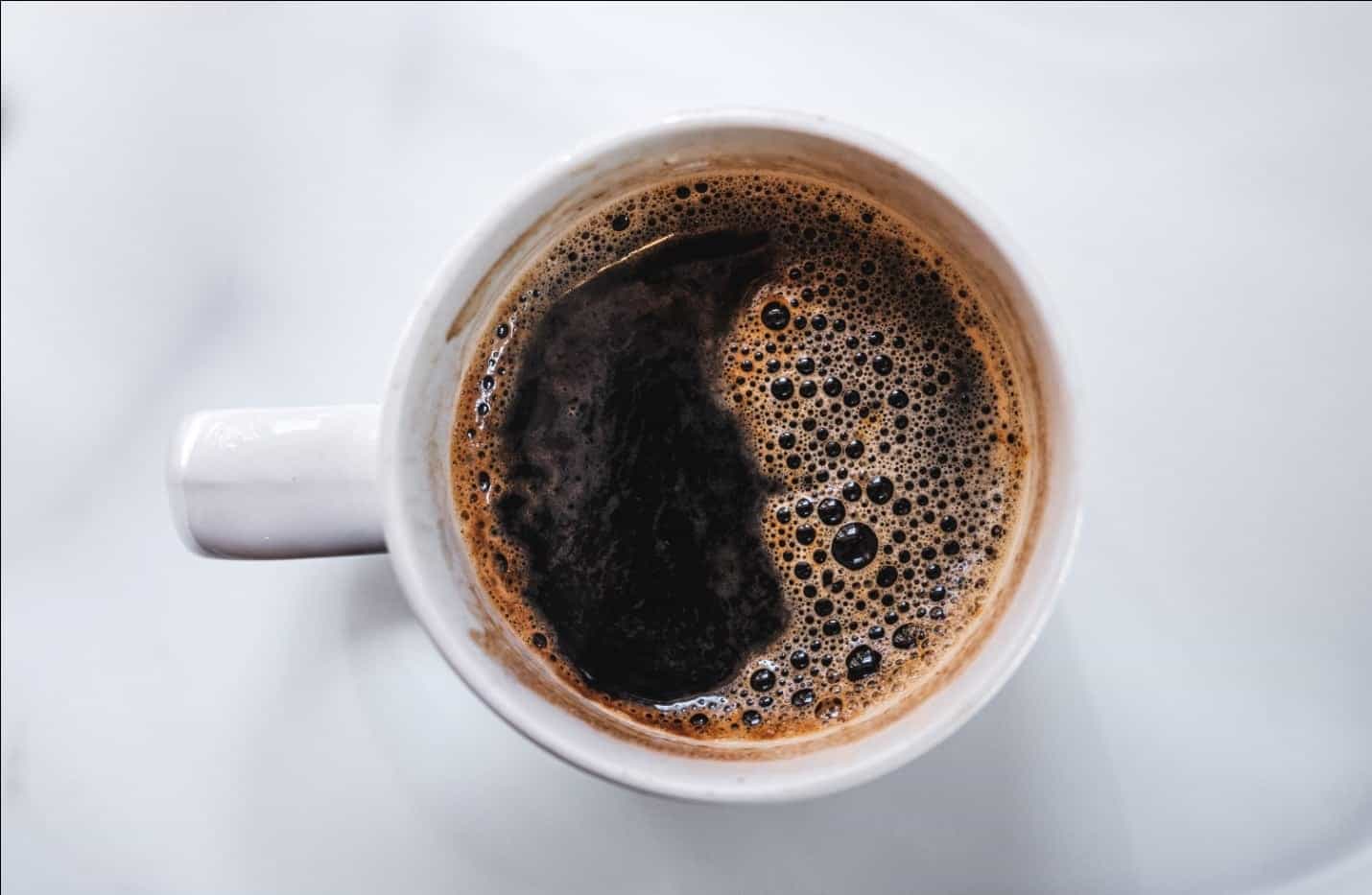 It's no secret that instant coffee is soaring in popularity just as much as its freshly-brewed counterpart. While some brands offer a quality that's strikingly similar to what you'd expect in a cup straight from your favorite coffeehouse, others are far from it. So, to make the right choice, consider the following buying factors.
1. Type of Roast
While different grains can be acquired and roasted via the same universal method, the taste will vary. After all, you don't get the same taste by frying foods via different methods. Therefore, there are various degrees of roasting coffee that produce different outcomes, as discussed below.
Light Roast
With a hint of sourness, this type of coffee roast pairs well with milk. Producing light brown beans, this roasting technology grants you free rein to delight in the delicate aroma and multifaceted taste. Light roast instant coffee is perfect for soft raw materials. Lightly roasted beans include Scandinavian, Urban, New England, and American.
Medium Roast
It's not only the conventional type of roasting but also the most popular. Medium roast instant coffee is a dark grain with a relatively oily surface. And a sour and sweet aroma and taste make this roast stand out. The taste is also more saturated compared to the light roast counterpart. Some examples of medium roast coffee range from classic roast and Viennese to full city roast. Keep in mind that this type of beverage is the go-to for appliances such as the best single-serve coffee maker.
Dark Roast
As strongly roasted instant coffee, it has dark brown grains with slight traces of oiliness. Compared to the previous versions, dark roast coffee has a milder sour taste. It has a more saturated flavor and brighter appearance as a result of the active release of essential oils. Characterized by dark brown beans and low oiliness, brewed coffee turns significantly dark. An example of dark roast coffee is French.
Highest Roast
For most European coffee styles, the highest level of roasting is suitable. The grains have a deep brown color that's confusable with black. And, they are oily with a bitter and 'singed' taste. Highest Roast coffee is most popular in its pure or raw form and blends well with cream. Examples of Highest Roast instant coffee is French, Italian, and Spanish roast.
2. Decaf vs. Non-Decaf
Just as the name suggests, decaf is a decaffeinated coffee that has taken on the additional process of getting rid of caffeine. But none of the modern technology that's used today delivers 100% decaffeinated coffee.
If you want to preserve the rich taste of coffee, then non-decaf instant coffee is your best bet. The lowest caffeine concentration is typically 0.1%, which is the standard in most European countries. Non-decaf instant coffee is a better option for those on a diet or cannot drink regular coffee for health reasons.
3. Caffeine Levels
Ensure you check the caffeine level before you buy instant coffee, more so if you're pregnant or if your little ones would consume what you purchase. The levels are shown in grams per serving. Therefore, it's more ideal for lowering the intake if the given coffee has more than 60 grams per serving or avoid it altogether.
4. Flavors and Additives
Instant coffee brands usually contain additives that facilitate the quick-brewing process. Some products also have a flavorful layer of crema that stems from the perfect blend of flavors and additives. You may have developed dislikes and likes towards specific flavors. Therefore, ensure you check them pre-purchase.
Packaging
Think about the reason for purchasing instant coffee. If it's for travel, for instance, then consider brands that have individual sachets. On the other hand, if it's for daily use in the comfort of your home, then a product that's packaged in a canister or fancy jar is a better option.
Cost
It's a no-brainer that instant coffee becomes pricey with daily consumption. So, keep your eyes peeled for the cost per serving and choose your preferred brand. And remember, most brands provide irresistible discounts on bulk purchases.
Acidity
While it's a normal characteristic of the taste of coffee, like as with everything else in life, too much of it isn't good. Acidity is impacted by the processing method, level of roasting, and the coffee plantation's height above sea level.
The best instant coffee has low acidity. Therefore, before hastily buying the first product that captures your attention, conduct your due diligence, checking what previous users say about the acidity.
5. Type of Bean
Your delightful cup of instant coffee most likely stems from one of the two types of coffee beans (Robusta or Arabica). Robusta is more commonly used as instant coffee or as a blend of the two. When it comes to quality, Arabica is the go-to option.
Nonetheless, personal preference is the ultimate dictator of the type you'll opt for. Robusta coffee is predominantly grown in Asia. Moreover, as a hardier coffee bean, it has a distinct bitter taste.
Arabica is grown globally and has a more layered and slightly sweeter taste, making it the popular gourmet option.
FAQ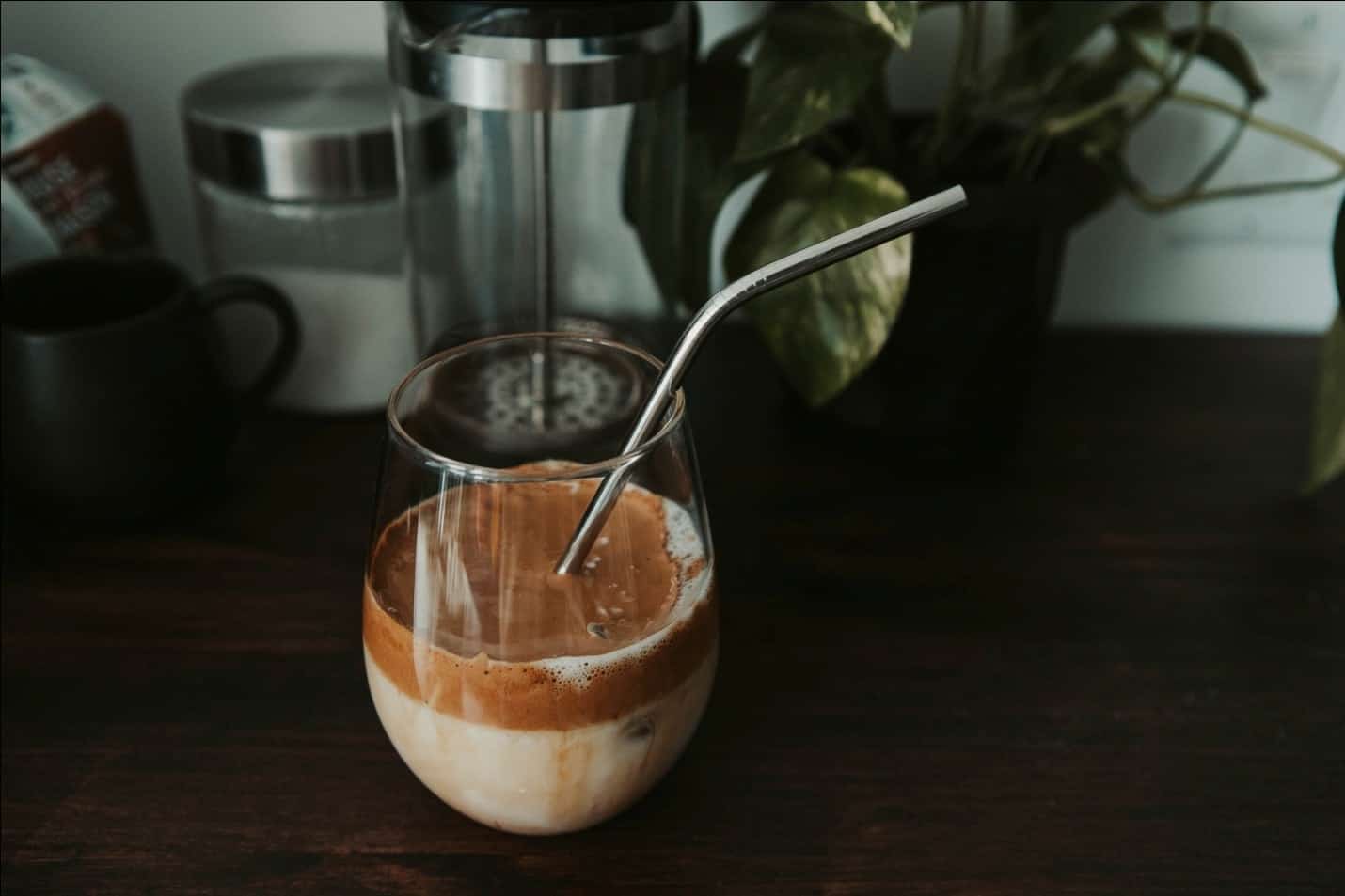 Here's a breakdown of the answers to some of the most commonly asked questions.
1. What is instant coffee?
Also known as soluble coffee, it's produced from roasted and ground coffee beans. The beans undergo a further process whereby they are extracted with hot water to recover the full aroma and flavor.
In that regard, it's not dissimilar to the use of a percolator at home but on a commercial scale. With that being said, the remaining coffee is then uniquely dried and packaged into a sachet, glass jar, or tin, ready for domestic use.
2. How is instant coffee made?
In one of the two techniques discussed below, the coffee extract undergoes an additional drying process to produce the soluble, granular texture called instant coffee.
Spray-Drying: It entails spraying the coffee extract directly with a stream of hot air in a cylindrical tower that stands tall. The droplets then turn into a fine and dry powder as they fall. At times, the powder undergoes texturization to produce the familiar granular consistency that's quickly soluble in hot water. Spray-drying maintains the aroma and flavor of the coffee. Thus, it's the go-to technique for manufacturers.
Freeze-Drying: Just as the name indicates, the coffee extract is frozen at a temperature of -40 degrees Celsius. The frozen extract is then sliced into granules, then dried and vacuumed. The low temperature and milder drying conditions preserve the coffee's rich aroma and flavor compared to the spray-drying technique.
3. How can you better the taste of instant coffee?
Start by putting a teaspoon of the coffee in a mug. Then, add a tablespoon of cold water and stir to form a paste. Pour over the freshly boiled water until the paste has completely dissolved. Doing so significantly boosts the coffee's flavor and aroma, delivering an overall better coffee cup. You can savor the taste as intended by Mother Nature or add sugar and milk to suit your preferences.
4. Can you make instant coffee iced?
Yes! The process is straightforward. To brew iced coffee with any of the products we've mentioned, simply dissolve the granules with warm water. You have free rein to add more hot water if the granules haven't entirely dissolved or want to extract additional flavor. The next step is to add cold water and sweeteners, then serve over ice, and you're good to go. It's the perfect beverage to keep you refreshed when the sweltering summers roll around.
5. How does instant coffee differ from the regular counterpart?
The production method, aroma, caffeine content, taste, and nutrition content differentiate the two. Compared to the ground counterpart, the main perks of instant coffee is that longer shelf life and faster preparation. Moreover, instant coffee usually has less caffeine compared to regular brew.
Granted, this may be a relief for some people, more so, those that are sensitive to caffeine. But, to others, it's a bummer. The potential downfall of the best instant coffee is the presence of Acrylamide. The regular brew has half the quantity of Acrylamide as its pre-brewed counterpart.
Nonetheless, the good news is, this chemical is only toxic at high levels. And, the quantity found in instant coffee is harmless, even with moderate daily consumption.
6. Is excessive caffeine dangerous?
Granted, caffeine has an array of positive health benefits. They range from improved physical and mental performance, enhancing concentration, pepping up your energy, and increasing metabolism.
It's for this reason that a multitude of people starts their day with a cup of coffee and rely on it as a pick-me-up in the afternoon. But, as with anything else in life, excessive consumption can usher in a boatload of problems.
In this case, more than 400mg a day can lead to adverse side effects such as heart palpitations, migraines, increased blood pressure, insomnia, anxiety, diarrhea, nausea, vomiting, fatigue, burnout, and digestive issues. Therefore, not more than 2 cups of coffee a day is the recommended quantity.
7. What is the most ideal time to make coffee?
Along with the quantity, when you consume coffee is equally as important, more so, where insomnia comes into play. There's a direct correlation between low quality sleep and caffeine. Coffee induces insomnia because it's a stimulant.
Therefore, it's advisable to refrain from drinking coffee at least 6 to 8 hours before bedtime. So, limit your last caffeine intake to mid-afternoon, around 4 pm.
Instant Coffee Pointers
Below are a few tips to keep in mind when it comes to instant coffee.
Dissolve the powder in cold water, then add hot water
Let your taste buds guide you on the quantity. You don't need to follow the given instructions on the proportions
Infuse your coffee with more flavors by adding a bit of cinnamon, cocoa powder, or vanilla to your cup
Substitute water with hot milk
Use a blender to grind your coffee with a spoon of oil or butter for a burst of flavor. Don't cringe without having tasted it
You can use instant coffee as one of your baking ingredients when using the best gluten-free bread machine. It's a secret ingredient of a multitude of bakers
Closing Remarks
The best instant coffee is surprisingly flavorful, quick-brewing, making it ideal for the morning rush, and easily customizable. Armed with this information, why not take a journey to the dark side, try out one of our featured brands?