Japanese knives are popular worldwide for being nothing but the best. Their beautiful and detailed design, their lightweight and ultra-thin construction, and ultra-sharp blades are just some of the reasons why professional chefs and home cooks alike love to have them in their kitchen arsenal.
If you're the type of person who likes to try your hand at different cuisines in the kitchen, you must have considered getting one of the best Japanese knives at least once in your lifetime. If that 'once in your lifetime' is now, we have some great news for you.
We understand that finding a Japanese knife from the market can be intimidating as there are so many brands and varieties available. But, to make it easy for you, we have listed down some options that you can start cooking with.
So, if you require the best Japanese knife to slice your meat, vegetables, or fish, this list of amazing Japanese cutleries is sure to fit the bill.
7 Best Japanese Knives Review
1. Shun Cutlery Premier 7-inch Santoku Knife – Best Overall

When you choose this knife, you will have two blade options in terms of size – 5.5" and 7". Choose the one you think you will be most comfortable with. Additionally, you can also opt for a knife that comes with a sharpener or one that can be custom engraved.
The blade comprises 34-layer VG-Max steel, which assures its durability. However, to make it last longer, it is always recommended to use softwood cutting boards. Another interesting feature of this knife is the PakkaWood handle that is walnut-colored.
So, apart from its functionality, it even bags a good place in terms of aesthetics. Last, it is light in weight, meaning less fatigue while you're working with it.
Pros:
Sharp blade
High-quality construction
Aesthetically pleasing
Relatively light in weight
Two size options available
Cons:
Using a knife on glass or granite chopping boards can damage them
You may need the sharpening steel to keep the knife working properly
2. Miyabi Birchwood SG2 Chef's Knife – Best Premium Choice

Although it is on the more expensive side, this premium knife comes with a lot of value. First, it comes in three sizes – 6", 8" and 9", so you have plenty of options to choose from. This Gyuto type knife is ideal for cutting meat as it has a very sharp tip.
Another fascinating feature is the handle that is made of Karelian birch. Not only this, but even the blade has a beautiful finish. Moreover, it is made from only high-quality materials, including SG2 micro-carbide powder steel.
It's the perfect choice if you are not concerned about its weight. Yes, it weighs almost twice as much as a Santoku knife.
Pros:
High-quality and durable steel knife
Ideal for cutting meat
Attractive handle with a beautiful blade finish
Three size options to choose from
Cons:
Quite expensive
Needs regular maintenance
3. Kyocera Advanced Ceramic Revolution Series Utility Knife – Best Budget Choice

Need a knife for home cooking? Go with the Kyocera Advanced Ceramic Revolution Series Utility Knife. The blade length is 4.5,", which is sufficient for your normal home culinary needs.
Ceramic blades are not known for their durability, but if you carefully follow the manufacturer's instructions, like not using them on frozen or hard foods, you're sure to increase their shelf life. An attractive feature of this knife is the price. It is inexpensive and perfect for home use.
Pros:
Dishwasher safe
Inexpensive
Available in different colors
Cons:
Blades are brittle
Not ideal for commercial use
4. Zelite Infinity Alpha-Royal Series Santoku Knife 7 Inch – Best for Beginners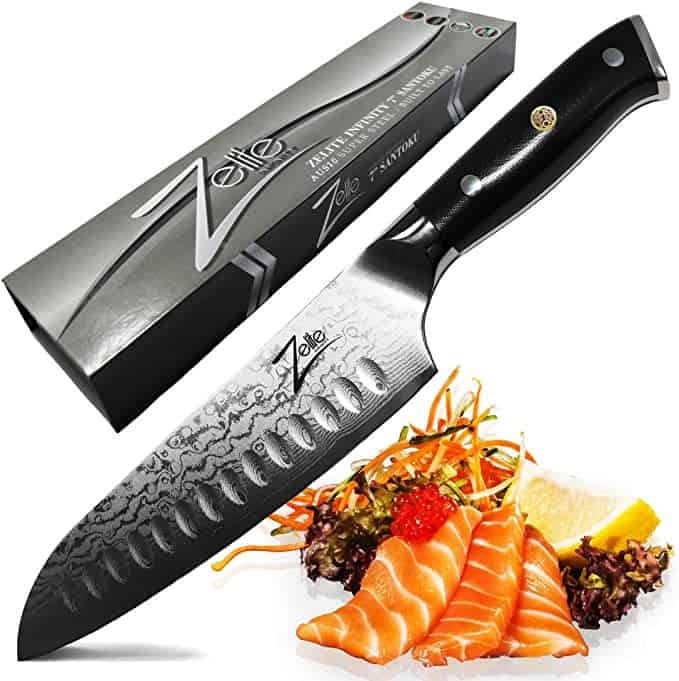 Santoku knives are more special than standard chef's knives for a reason. This Santoku knife has a gently curved blade with a unique tip, Granton edge, and Damascus pattern.
Made from imported Japanese steel, the blade gets its pattern from the 67 layers of metal. The handle is triple-riveted and has a shape that makes it easy to hold, regardless of how much chopping and cutting work you do.
In short, this knife lives up to its description of being a general-purpose blade as it can conveniently cut veggies for salads, herbs, tomatoes, greens, and even nuts.
Pros:
Attractive 67-layer blade
Great performance on routine kitchen applications
Gift-worthy packaging
Cons:
It may seem to be heavy for some cooks
Unlike conventional Santoku knives, the Zelite Infinity knife has a curved blade
5. Yoshihiro VG-10 16 Layer Hammered Damascus Stainless Steel Nakiri Vegetable Knife – Best for Vegetables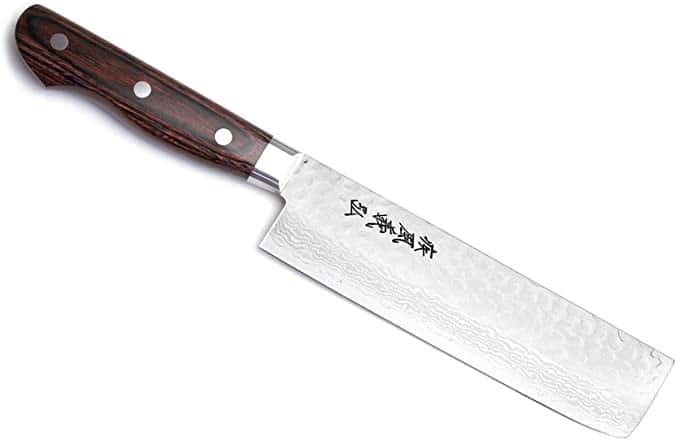 This knife may not be that popular among chefs, but it is known as the Nakiri knife and is used for cutting vegetables in Japan. It is made of 16 layers of steel, and the hammered surface over the core metal makes it look stunning and helps prevent the foods from sticking to the blade.
Another great feature is its flat cutting edge. Due to this design, the entire blade makes contact with the surface. This, in turn, makes it easier to cut the vegetables more uniformly.
Although it's handmade in Japan, the handle is made from beautiful mahogany and has a western-like design. Make sure to hand wash it and dry it completely after use, especially if you have used it for acidic ingredients.
Overall, it is a good, sharp, comfortable, and balanced knife to have in your kitchen.
Pros:
Razor-sharp blade
Real Damascus steel
Flat cutting-edge blade
Beautifully made
Comfortable handle
Cons:
Does not come with a blade cover
6. Yoshihiro 240mm Inox Sujihiki Japanese Chef Knife – Best Stain-Resistant Knife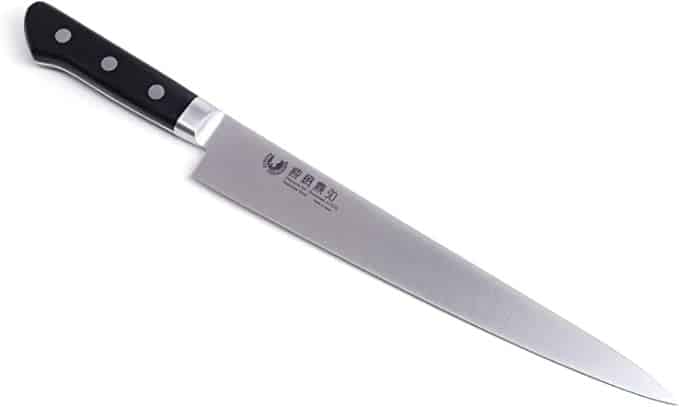 If you're comfortable working with its long blade, i.e., 9.5" and 10.5", there is no reason why you shouldn't consider getting this knife. The blade is made of reliable steel components, which make it highly durable.
The handle is made of PakkaWood and features a minimalist design. Its design makes this Japanese knife look more aesthetically pleasing. It is also stain-resistant.
Pros:
Stain-resistant
Sleek design
Long blades
Durable
Cons:
No option of small blades
Need to sharpen the blades often if used continuously for commercial application
7. Enso Large Chef's Knife – Best Large Japanese Knife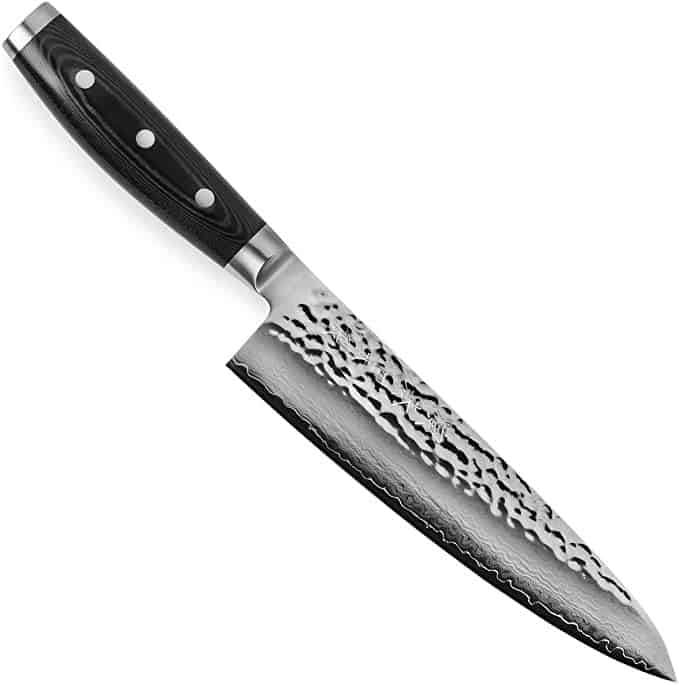 If you prefer longer knives in the kitchen, this is the best option. There are only two sizes available – an 8-inch blade and a 10-inch blade. The blade is very sharp and ideal for cutting all types of meats.
The Enso Large Chef's Knife is made of 37-layers VG10 hammered Damascus stainless steel and comes with a triple rivet black micarta handle that provides a more stable grip.
On the Rockwell hardness meter, it rates a solid 61. Isn't that great? But wait. The features don't end here. If you're still looking for more reasons to get this knife, know that it comes with a lifetime warranty.
Pros:
The hammered finish makes it aesthetically appealing
Relatively durable and hard as it has a Rockwell hardness of 61
Sharp long blade
Comes with a lifetime warranty
Cons:
Some users do not like the hammered finish
Now let's consider some factors to consider when finding the best Japanese knives for our kitchen.
Why Buy a Japanese Knife?
There are many convincing reasons to buy a Japanese knife. Some of them include:
Japanese knives Are the Sharpest
The blades are made of hard steel, so they do not require frequent sharpening. Besides being sharp, they also keep their edge for quite a long time, allowing you to use your knife longer.
They Are Thin and Lightweight
Heavy knives make cutting harder. Choose a Japanese knife, and you won't face this problem. It allows you to enjoy cooking without losing all your energy while cutting your vegetables or meat with a heavier knife. The blades are also thinner, enabling you to make your cuts with very little effort.
They Are Made from the Best-Quality Steel
Handmade knives made of steel are the best ones to have, and Japanese knives fulfill this requirement. These knives are made from different steel types, including carbon steel, high carbon steel, stainless steel, and Damascus steel.
They Have an Unparalleled Hardness
You can check the hardness level of each knife's steel material through the Rockwell hardness scale. Japanese knives are anywhere between 61 to 67 HRC, allowing for long-lasting sharpness and legendary edge retention.
They Are Made to Serve a Specific Purpose
Japanese knives are typically built to serve a specific purpose. For instance, the Nakiri knife is meant for cutting vegetables. Sujihiki or Yanagiba knives are best for slicing. The Deba knife is for fish bones, while the Honesuki knife is great for boning.
They Are Aesthetically Pleasing
Whether it's the blade edge, the handle, the steel representation, or the box, Japanese knives are stunning and can add to your kitchen aesthetic.
What Should You Consider While Buying a Japanese Knife?
It is essential to identify which type of knife will serve your needs best.
Hardness
If you compare Japanese knives with western knives, one common difference that you will come across is high-quality steel and high carbon content.
The harder the steel, the easier it is to sharpen the knife to a more acute angle. This, in turn, makes slicing more effective. The hard steel has the potential to hold a shaped edge longer. So, you won't require sharpening it frequently.
You can measure the hardness by following the industry-standard measurement – the Rockwell Scale. A higher number means the steel is hard and of high-quality. As said earlier, the Japanese blades rarely measure less than 60 HRC, which depicts its hardness.
Types of steel
Metals measuring higher on the Rockwell scale certainly have their advantages, but at the same time, you may experience some downsides as well.
For example, extreme hard metal is often connected with brittleness. This means the edges of some Japanese blades can chip or break if used against tougher materials like gourds or bones.
White Steel: It is known for its sharpening skills and has the highest level of purity.
Blue Steel: Blue steel has similar levels of carbon to white steel. Additionally, it has elements like molybdenum and tungsten known for their durability and better edge retention.
Powdered Steel: This steel has a rich chemical composition, including vanadium, molybdenum, and chromium. You can expect a hard cutting edge, rust resistance, and a more superior performance compared to knives made of powdered steel.
If you're looking for an entry-level Japanese knife, you'll probably end up getting the stainless-steel material. The stainless-steel knives are durable and will not rust easily.
Stainless Steel vs. Carbon Steel
Japanese knives use high-performance steel alloys to prevent brittleness. Some of the more common additions to these high-quality steel alloys include:
Molybdenum (Mo) – Its hardening properties add toughness while increasing the knife's overall hardness and strength. It also enhances machinability as well as corrosion resistance.
Vanadium (Va) – It not only helps in increasing strength but also in improving wear resistance. Additionally, its presence makes sharpening easier.
Tungsten (W) – It improves the hardening properties while adding strength and toughness.
Copper (Cu) – It increases corrosion resistance. It is also used in composite blades as a brazing agent.
Chromium (Cr) – It is one of the prime additions made to stainless steel to improve the knife's stain resistance properties.
If you're planning to get stainless steel Japanese knives, go with the ones that have names like VG-Max, VG-10, inox, SG2, and molybdenum. All these represent a stainless steel variety and have proven to be quite durable.
If your primary concern is sharpness, go with the knives constructed conventionally using purer forms of carbon steel.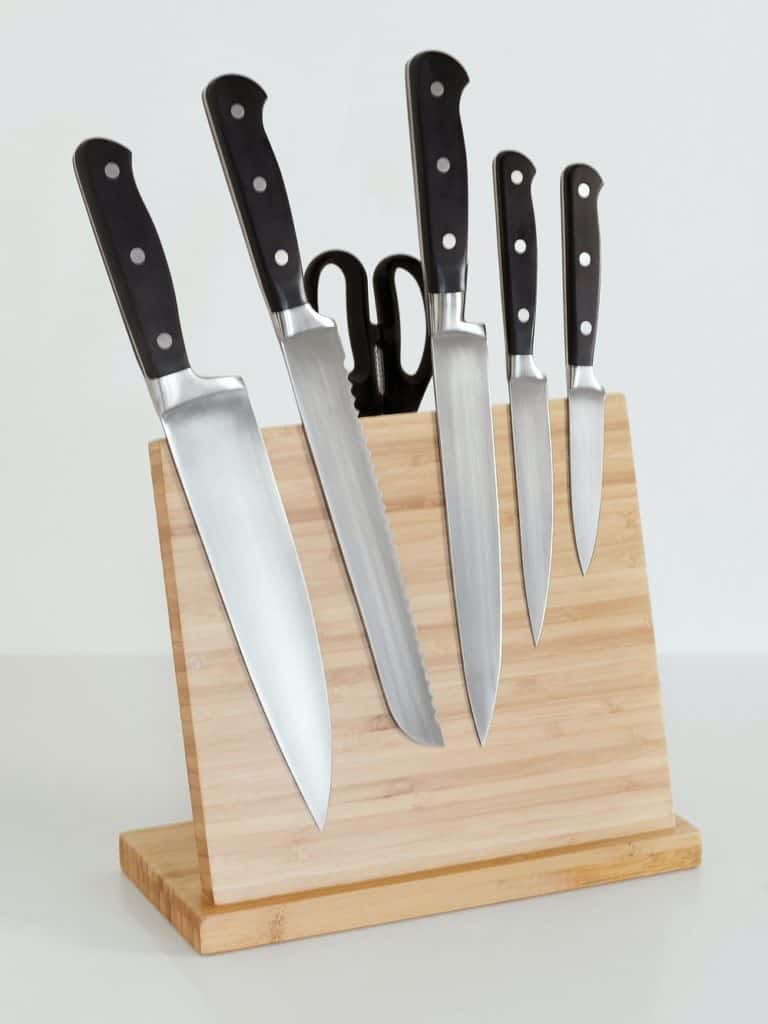 Blade Construction and Finishes
Eastern knives generally follow the same forging methods as their western counterparts. This includes hot forging, stock removal techniques, and stamping. Manufacturers use the methods that help them create composite, clad, or laminated blades.
Cladding
Conventional Japanese knives are generally made of high-carbon steel. It is later covered with other layers of one or more steel types. The exterior layers of clad blades are ductile enough to protect the inner core. Cladding this way provides a sharper edge.
Laminated
Laminating is the process of covering the hard carbon steel with two layers of stainless steel. Later, they are forged together under high heat and extreme pressure. The laminate of the stainless-steel exterior is extremely hard, just like cladding. Additionally, it helps in reducing maintenance as it adds the properties of being stain resistant.
Composites
Composite blades use the brazing technique to join two different steel alloys. Involving four steps, brazing is a process that permanently bonds the steel with a brazing agent like copper and a carbide like tungsten. This, in turn, allows the manufacturer to use high-carbon steel for the core to achieve superb cutting-edge.
Design
Japanese knives are not only popular for their functionality but also their aesthetics. Using different methods, including graffiti-etching, hand-hammering, flowing grain, or creating a wave-like pattern, these common kitchen tools turn into some appealing art.
Damascus
Have you seen the beautiful wavy patterns in some Japanese knives? These knives are crafted with none other than Damascus steel, which uses at least two different high carbon steels. These steels are later forged and shaped together to avail beautiful wavy or water-like patterns.
Kurouchi
Kurouchi is a type of finish that gives the knife great character. It is a residue that is left over from the forge. It is also known as a blacksmith finish. Using this finish eliminates the final polishing step, which ultimately brings down the production costs.
Hammered
Go with the hammered finish knife if you want to have a lovely and more handcrafted look for a knife blade. Apart from being aesthetically appealing, this hammered finish also has a functional purpose. It creates a little air, which enables a swift release from food on the blade.
Handle Shapes
There are two types of handles shapes: Yo and Wa. Wa handles have an old, traditional type of design. They are made from Japanese magnolia – a low maintenance wood that doesn't get slippery when wet.
On the other hand, Yo handles are similar to western handles regarding their characteristics and shape. They feature a full tang, with the handle connected with stainless steel rivets.
Sharpening
The sharpening routine for these knives are different from western knives, as the Japanese knives use hardened steel. You need to be careful while sharpening and ensure that the knife blade is not chipped.
Check out this video on how to sharpen a knife with a Water Stone for some helpful tips and tricks.
Conclusion + Our Top Pick
Choosing the right Japanese knife will make your cooking fun and help you make a better chef. Considering the above factors while selecting a Japanese knife can be a great help. If you're a novice, it is advisable to start with an all-around knife, like Santoku.