If you are an avid coffee drinker like millions of other Americans looking for something that will take your experience to the next level and get you hooked, Kona coffee is the way to go.
It is the world's most delicious coffee with a rich flavor, mouth-watering aroma, smooth and fruity taste. It's also the most expensive but worth every penny.
But the online streets are full of scammers taking advantage of unknowing customers. Most of the coffee labeled Kona has a significantly lower percentage of pure Kona coffee. The rest is low-quality coffee, cheaper coffee.
That's why we have compiled this list of the best (and genuine) Kona coffee you should try out. But, be warned. You may find it hard to take other coffees once you've tasted the best Kona coffee.
Best Kona Coffee
Here are some of the best Kona coffee options there are in the market today:
1.Top Pick - 100% Kona Coffee Espresso Roast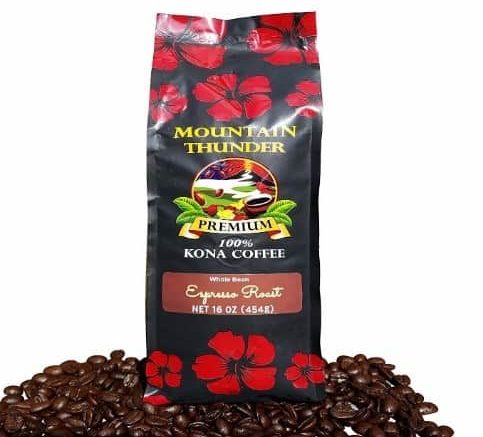 100% Kona Coffee Espresso Roast are natural, hand-picked whole beans grown in the Kona Coffee Belt by Hawaii Roasters. They are sun-dried and medium roasted at the farm. The beans are roasted in batches to ensure optimum flavor. You don't have to worry about freshness as they are well packaged to retain freshness.
This medium roast is also known as 'Full city roast' and produces a delicate-flavored and mild drink. Kona coffee has low acidity and delivers a smooth and light brew.
Pros:
Available as whole beans, ground, and K-cup
Smooth and light
Cons
No international shipping
2. Best French Roast - Lion Coffee 100% Kona Whole Bean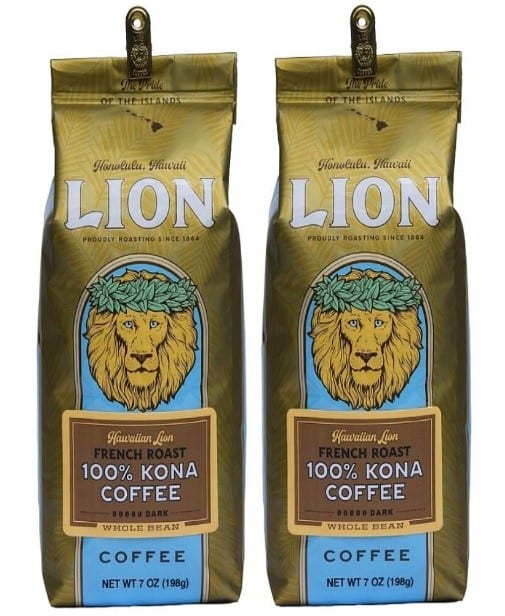 The Lion Coffee,100% Pure Kona coffee, is expertly roasted to give you a smooth brew. The beans are from premium quality Arabica beans hand-picked, roasted, and packed under strict quality measures. The coffee beans are French roast and make a strong and rich brew full of smoky flavors.
The Lion Coffee company has been roasting 100% genuine Kona coffee since 1969. Every bag is packed with flavor and freshness. However, the bags come in only one size and only ships to the US.
Pros:
Delightful flavors
Comes in a pack of 1, 2, or 4 7-ounce bags
Cons:
Available in the US only
Comes in one size
3. Best Full City Roast - Greenwell Farms - 100% Kona Coffee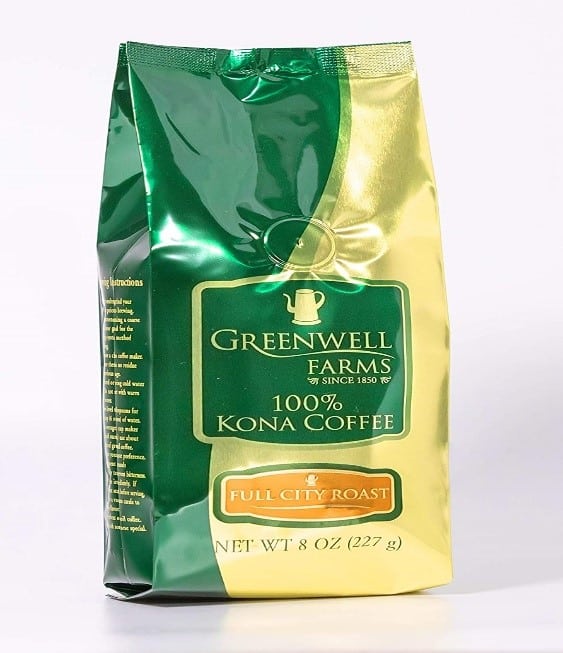 Greenwell Farms 100% Kona Coffee is grown, harvested, and roasted in the Greenwell Farms located in the heart of Kona. The Farms have been around for around 200 years. The coffee has notes of roasted nuts, fruit, caramel, all balanced perfectly. It has a silky body, an inviting aroma, and is naturally sweet.
The extra fancy Kona has hints of caramel and chocolate and leaves you with an aftertaste of citrus.
Pros:
Extra fancy grade
Nutty with notes of caramel and fruit
Silky body
Cons:
Available in an 8-ounce bag only
4. Best Medium Roast - Farm-fresh: 100% Kona Coffee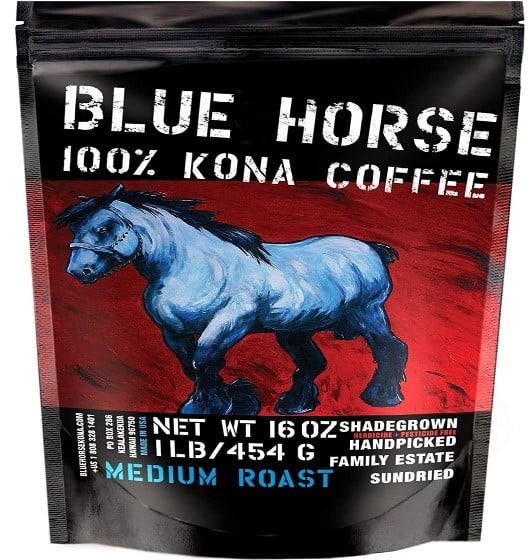 Blue Horse Kona Coffee is grown in a single coffee estate and not a product of different farms. It is shade-grown, which adds to its overall sweet taste and less acidity. The coffee is hand-picked, sun-dried, inspected, certified by the government, and pesticides and herbicide-free.
Roasting is done on the farm in small batches, then packaged in zip lock bags and shipped to you. You only get freshly-roasted 100% pure Kona. As for the taste, it has a chocolate flavor, caramel finish and leaves a nutty aftertaste. The Blue Horse medium roast corner is a bit expensive but worth the money.
Pros:
Pesticide and herbicide free
Hand-picked and sun-dried
Great for espresso drinks or drip coffee
Ziploc bag packaging to retain freshness
Cons:
Pricey
Requires a quality grinder for optimum flavor
5. Best Peaberry - Hualalai Estate PEABERRY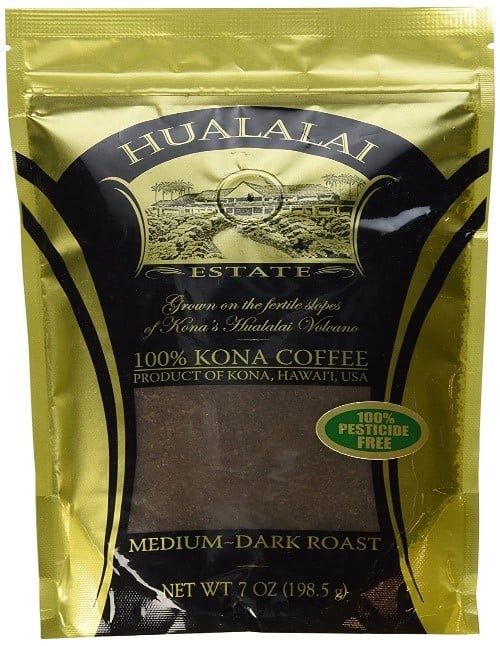 It is common for peaberry coffees to have pronounced acidity. But the Hualalai Estate Peaberry 100% Kona coffee has slight spiciness, which defines it from other brands. Grown in Kona by the Hualalai estate, it has a smooth, silky finish with notes of cocoa chocolate, ripe lemon, and a hint of cedar.
It is a half-caffeinated, medium roast, ground premium Kona coffee ideal for brewing an afternoon coffee drink.
Pros:
Minimal acidity
Smooth, spicy taste
Cons:
Less caffeinated
No international shipping
Like any coffee, the flavor profile of Kona coffee is affected by the freshness, where it grows, the roasting process, and the type of bean. However, Kona is still regarded as a high-quality specialty coffee due to its rich flavors and aromas.
As a beginner, you can experiment with several brands before you settle on what pleases you most. Just be sure to avoid being scammed and buying low-quality Kona.
No matter the brand you choose, Kona coffee makes a special brew. The climatic conditions of where it's grown plus the workers' and producers' commitment makes it an excellent drink for coffee lovers.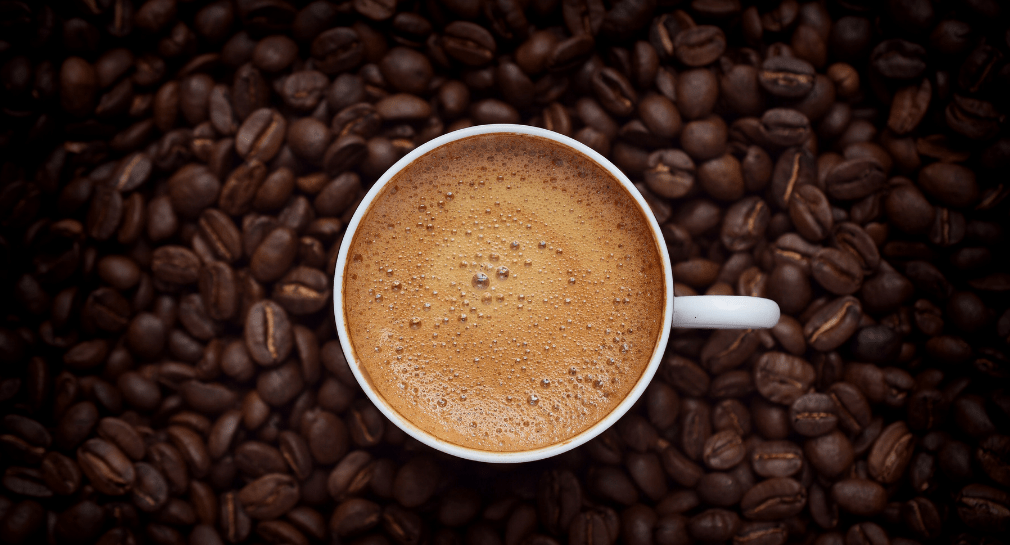 What Is Kona Coffee?
You're probably wondering what Kona coffee is and what all this fuss is about. Kona coffee is a specialty coffee grown in Mauna Loa and Hualalai region on the Big Island in Hawaii. The areas are located in the Northern and Southern region of the Kona districts and are slopes of two volcanoes.
The volcanic soils are rich in minerals and porous fertile. The area also has a high altitude, which influences the taste of the coffee. Additionally, the climatic conditions like lots of regular rain, lots of sunshine, mild nights, and little wind contribute to the superior quality of Kona coffee.
However, it's important to note that not all coffees grown in Hawaii are Kona; only coffee that's grown in the Kona region, also referred to as the Kona Coffee Belt. Also, harvesting and processing play a significant role in its quality.
How to Avoid Kona Scams
Kona coffee has gained popularity over the years. With the high price of this superior quality coffee, opportunists want to make money by selling false Kona products.
And surprisingly, there are more scam products than genuine ones. Kona coffee is grown in a single region in the whole world. Demand is thus higher than supply. Here's how to avoid getting scammed:
Make Sure the Kona Beans Are from Kona
Kona beans are Kona because they originate from Kona. Anything else is a hoax. Ensure the beans you purchase are from Kona. There are other beans from other parts of Hawaii, but they are not Kona. Some marketers use "Hawaiian Coffee" when packaging or advertising. This is misleading advertising as not every Hawaiian coffee is first class.
Avoid Kona Blends
Some companies produce a blend of Kona with other coffees, which is called the Kona blend. Pure Kona is limited and quite expensive. The blend makes it cheaper but also not pure Kona. So, unless you want inferior beans, avoid Kona blends.
Check the Grade
Coffee grades vary from the highest quality to the lowest—the Hawaiian Department of Agriculture tests and grades coffee into eight different grades. The beans are also classified as either Type I or Type II depending on how many beans are in the cherry.
In Type I, the cherry has two beans, while in Type II, the cherry has only one bean. Only around 5% of the Kona beans are Type II, also known as "peaberries." Peaberries are the crème de la crème when it comes to coffee beans.
The eight grades of Kona coffee are:
Kona Extra Fancy (highest quality)
Kona Fancy
Kona No.1
Kona Select
Kona Prime
Kona No. 3
Kona Natural Prime
Kona Mixed Natural Prime (lowest quality)
Grading depends on qualities like size, moisture content, weight, defects, etc. "Kona Extra Fancy" is the most luxurious and highest quality. They are the largest beans with no defects and superior flavor.
How Does Kona Taste?
Genuine Kona coffee has a unique flavor. It's a mixture of different flavors and characteristics, which makes it stand out among other types.
However, the way it was grown, the roasting process, and brewing also affect the taste. But if done right, expect taste hints of milk chocolate, brown sugar, honey, sweetly fruity, and nutty with hints of caramel, citrus, or butter.
Additionally, Kona coffee is naturally low in acidity. It won't upset your stomach and is smooth on your palate. You'll most likely love the aftertaste of nuts or citrus. The brew has a unique taste not because of the aroma, flavor, or the aftertaste. Instead, the combination of all three brings out the best cup of coffee. It's easy to get hooked.
It also has unique physical effects, different from regular coffee. While others cause jitters, a mug of Kona coffee will leave you feeling rejuvenated and calm at the same time. One sentence to describe Kona coffee? It's a sweet, complex, full-bodied, aromatic cup of coffee.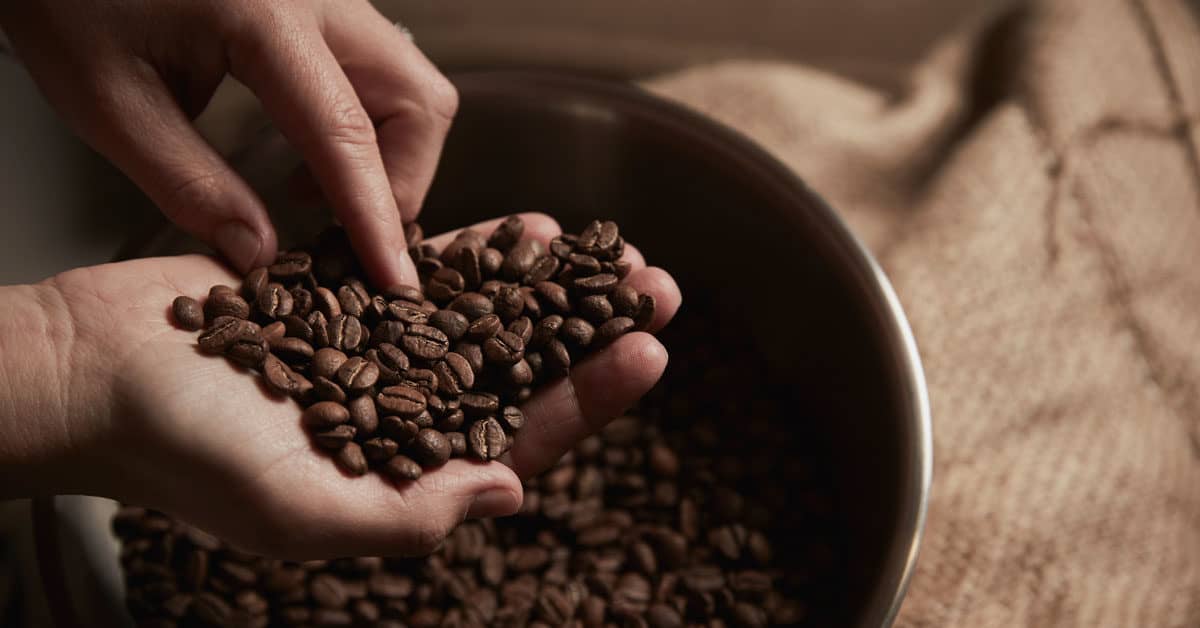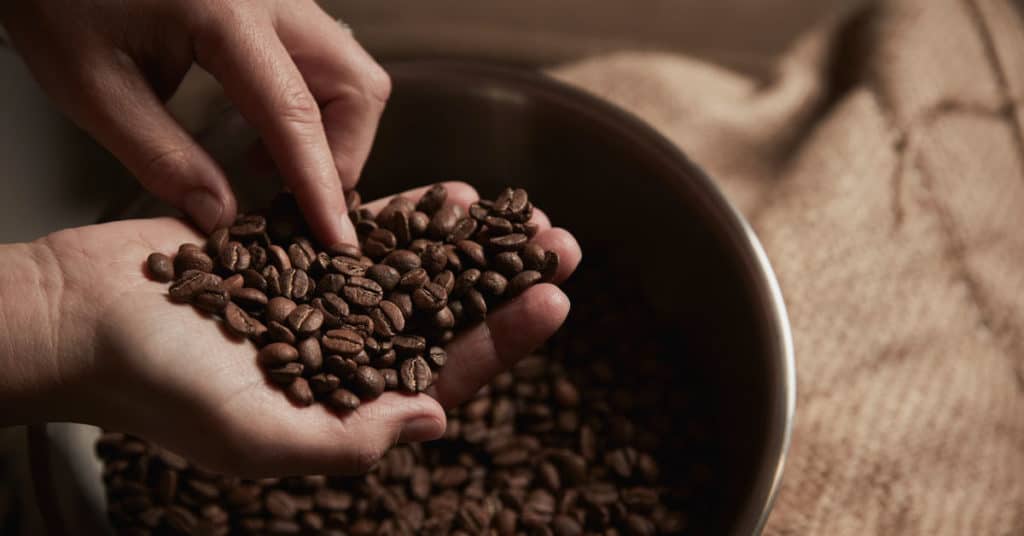 Kona Coffee FAQs
Why is Kona Coffee Expensive?
Kona coffee is expensive because it's available in limited supply. It's only grown in the Kona region in Hawaii.
Additionally, it is hand-picked, and in the spirit of fair trade, the laborers are paid fair wages, which results in high labor costs. Added to production costs, roasting costs, marketing, etc., the overall cost is high but with ethical consumption.
Is Kona Arabica?
Kona coffee is Arabica. Arabica does well in high altitude areas. There are different species of Arabica, with Kona being among the highest quality.
What is Kona Blend?
It is a mixture of Kona coffee with other coffee types whose quality is lower than that of Kona. Producers make blends because pure Kona is expensive. Blends are cheaper.
According to the Hawaii Grown Coffee Law (HRS 486-120.6), Kona blends should contain a minimum of 10% pure Kona. However, some unscrupulous producers label blends as Kona blend, but it does not contain the minimum 10% Kona required by law.
What is Peaberry Coffee?
Peaberry coffee is coffee with one bean in the cherry. Usually, coffee cherries have two beans. One bean means more flavor, higher bean density, and a large and rounder bean.
Peaberry beans also roast differently because of the round shape, and the concentrated flavors make them rich and flavorful. Only 5% of coffee beans are peaberry and are usually roasted separately.
Also Read: BEST COFFEE THERMOS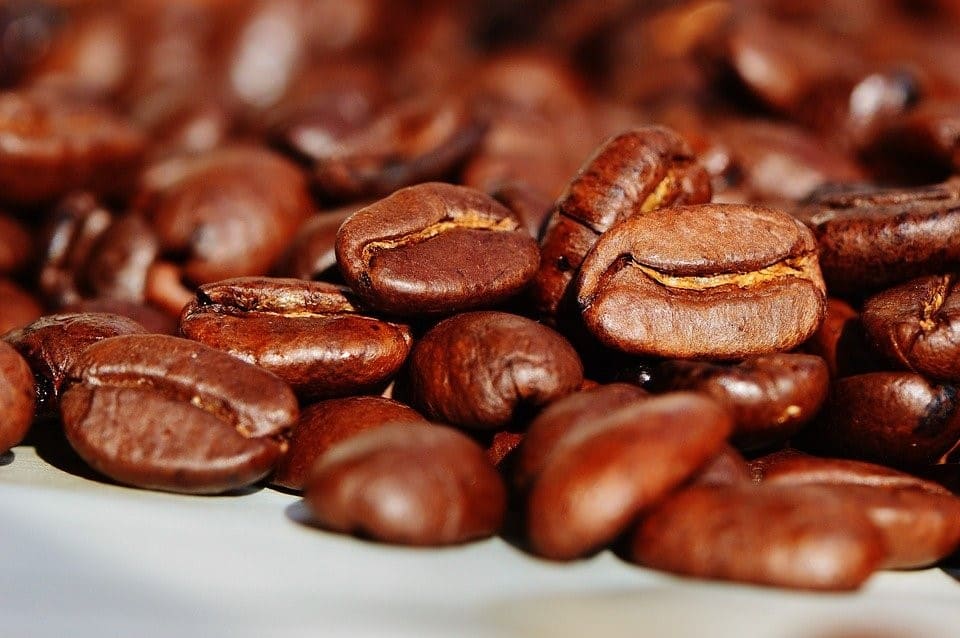 Kona is a specialty coffee. It is unique from standard coffee because of perfect growing conditions, volcanic soils rich in minerals, and the unique and careful way they are processed, from planting all the to packaging.