Welcome to the sweetest product review yet: maple syrup! As you're about to find out, the utility of this naturally delicious treat goes far beyond a simple pancake topping.
Whether you seek the perfect drizzle to pour over your breakfast, are looking for a new flavor profile to incorporate into your cooking, or you need that perfect bottle to give as a gift, we've got you covered with all of the best maple syrup options.
We've tasted and compared a dozen of the top maple brands and varieties in an effort to come away with the best maple syrup in each of several different categories. Let's dive in!
What is Maple Syrup?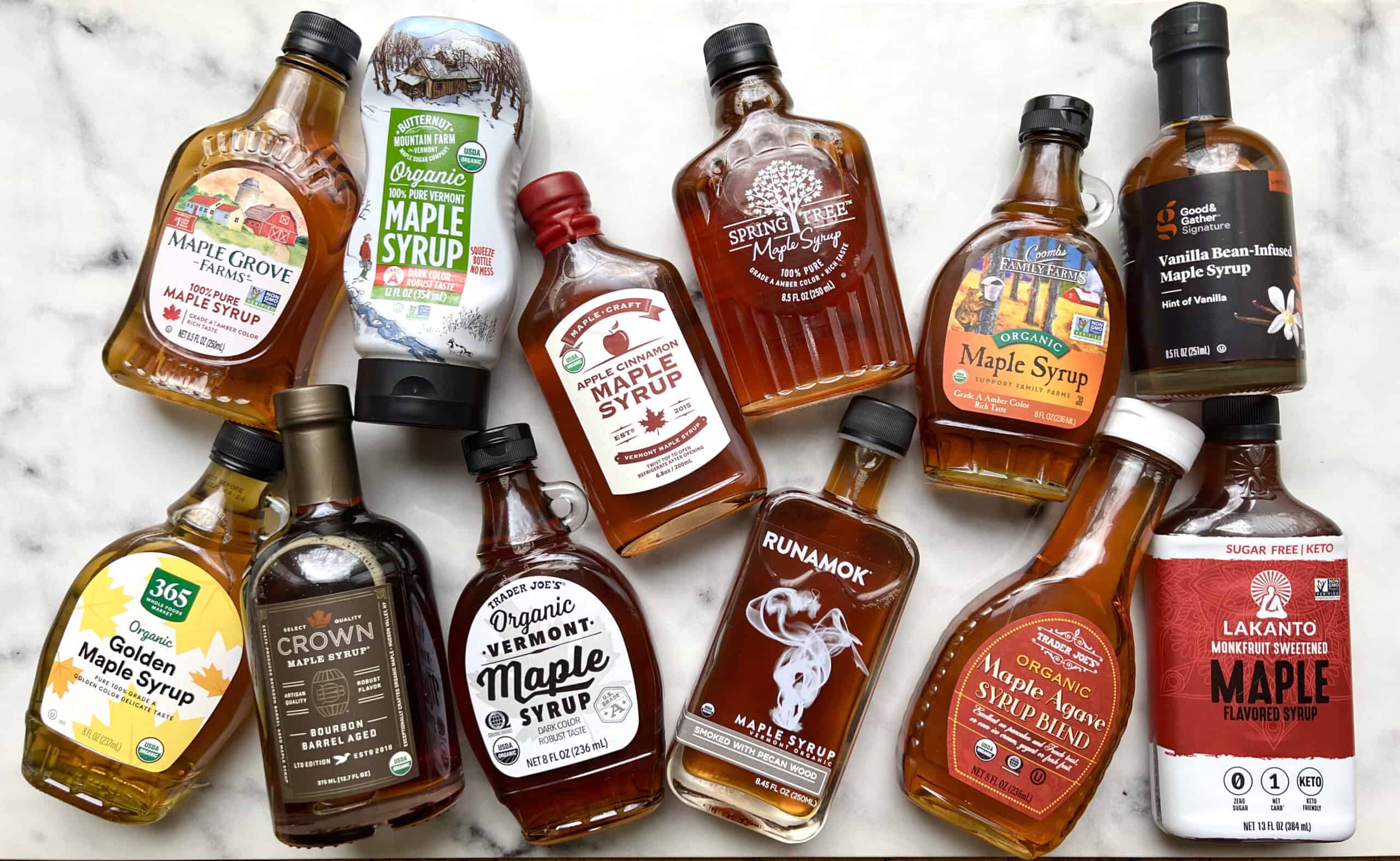 Like honey, maple syrup is a completely natural--and very flavorful--liquid sweetener. However, instead of being produced by busy beehives, maple syrup is made from the sap of sugar maple trees. Once collected, the sap is boiled down, thereby reducing the water content and producing a thick and rich syrup.
You may be surprised to learn that maple sap is not the only tree sap that is used to make syrup! Birch trees, beech trees, and walnut trees yield delicious syrup as well, though aficionados can attest, there is only one top spot and it belongs to the sugar maple.
Types of Maple Syrup
There are many different flavors and varieties of syrup including light maple, dark maple, flavored versions, blended syrups, and even aged syrups.
One important distinction to note is that the purpose of this taste test and review was to focus on real maple syrups only, with a couple of exceptions for blends and keto-friendly options.
We opted not to include those types of products known as "pancake syrups", which may bear a maple flavor, but are not the same as these pure maple syrup that has been boiled down from tree sap. More on the differences between these two later in the article!
Ranking the Best Maple Syrups
The Test Subjects
Our shopping and scouring yielded a dozen unique varieties of this sweet stuff, listed below:
365 Whole Foods Market Golden Maple Syrup
Butternut Mountain Farm 100% Pure Organic Maple Syrup
Coombs Family Farms Organic Maple Syrup
Crown Maple Bourbon Barrel Aged Maple Syrup
Good & Gather Vanilla Bean Infused Maple Syrup
Lakanto Monkfruit Sweetened Maple Syrup
Maple Grove Farms 100% Pure Maple Syrup
Maple-Craft Apple Cinnamon Vermont Maple Syrup
Runamok Maple Syrup Smoked With Pecan Wood
Spring Tree Maple Syrup
Trader Joe's Organic Maple Agave Syrup Blend
Trader Joe's Organic Vermont Maple Syrup
The Methodology
Our maple flavored mission? To name the winner in each of these 8 maple syrup categories:
Best Light Maple Syrup
Best Dark Maple Syrup
Best Premium Maple Syrup
Best Flavored Maple Syrup
Best Low Sugar Maple Syrup
Best Budget Maple Syrup
Best Specialty Maple Syrup
Best Maple Syrup For Baking
The Taste Test
Our taste test phase consisted of sampling each of our maple syrup contenders on its own in order to track more nuanced flavor notes and standalone textures. We also experimented with drizzling them over common food pairings such as plain yogurt and frozen waffles to see how well each syrup would play in these types of common pairings.
The Criteria
After its taste test and any pertinent research, each maple syrup was scored according to 5 different key criteria and from these grades, we calculated an overall average for each as well.
Taste & Texture: considering the strength of the all-important maple flavor as well as overall sweetness, as well as consistency in regards to pourability and mouthfeel.
Nutrition Content: comparing sugar and calorie contents, micronutrient profiles, and general ingredient quality.
Unique Characteristics: such as special flavors and processing methods, or any other standout factors of production.
Value: price per ounce.
Production & Packaging: the origin point of each syrup, its region of availability, and any packaging factors such as design appeal or convenient features.
Best Light Maple Syrup:
365 Whole Foods Market Golden Maple Syrup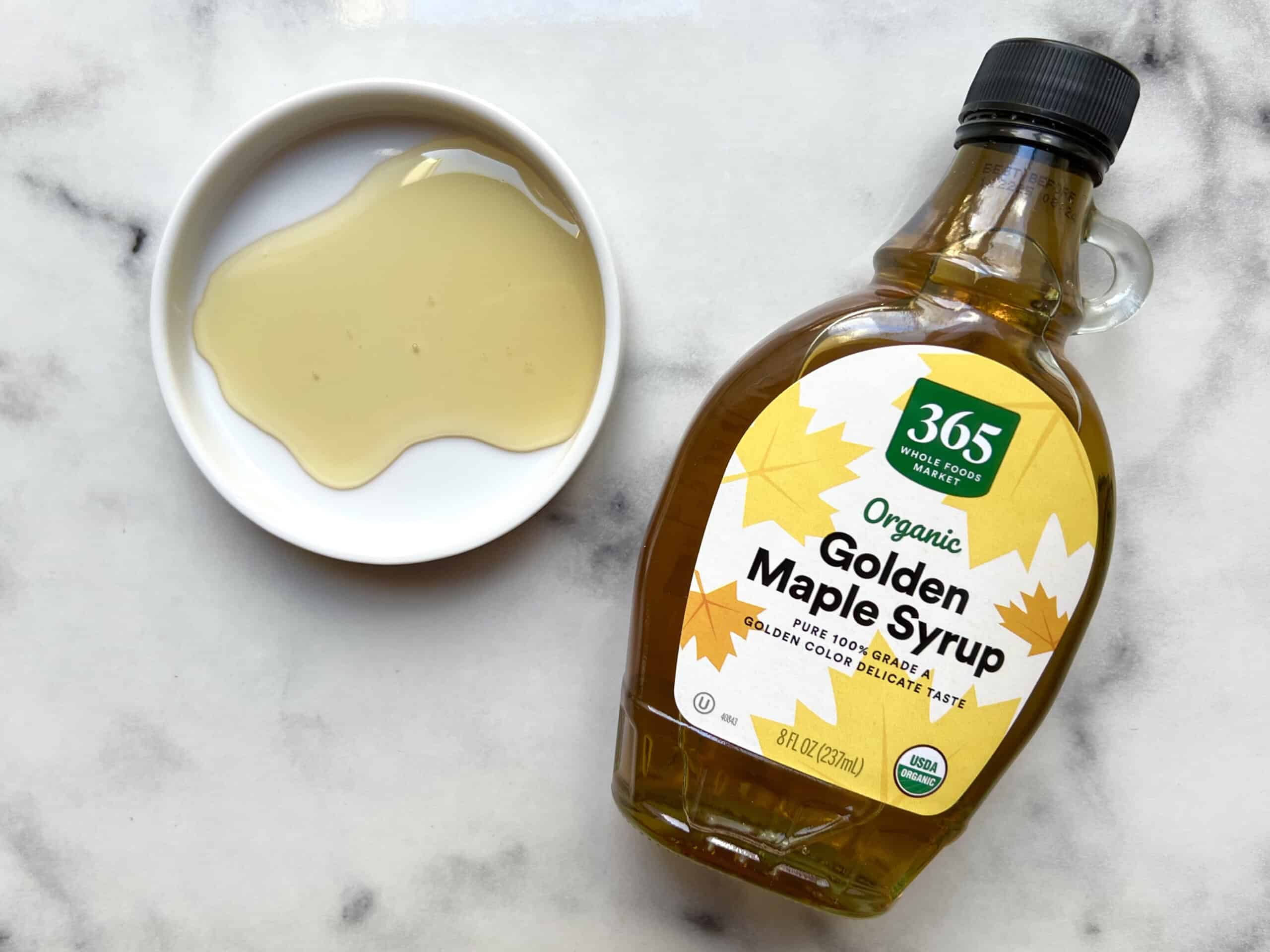 Size: 8 oz bottle
Origin: USA and Canada
Here is how 365 Whole Foods Market Golden Maple Syrup scored in each of our criteria categories:
Taste & Texture: 4.5 / 5.0
Nutrition Content: 4.0 / 5.0
Unique Characteristics: 4.4 / 5.0
Value: 4.7 / 5.0
Production & Packaging: 4.4 / 5.0
Overall Score: 4.4 / 5.0
As mentioned above, maple syrup comes in a range of hues from lightly golden to richly dark. We'll cover more on the differences between them towards the end of our article. For now, just know that each and every shade of syrup is delicious unto itself including this, the lightest of light maple syrups we encountered: Golden Maple Syrup from Whole Foods' in-house store brand.
The pale gold color is great for sweetening softly colored baked goods where a dark syrup would have a marring effect on the final color of the dish. In accordance with the lighter color of this syrup, you can bet that it boasts a lighter flavor as well!
While not as "maple-y" as its more robustly hued counterparts, we think this golden syrup is the perfect option for when you want a hint of floral sweetness without all of that heavy flavor or texture.
It's important to note that the lightness of color and flavor of this maple syrup also come through in terms of consistency as well, and the syrup is definitely on the runny side as opposed to more typical maple syrup which is thick and viscous.
This maple syrup is USDA certified organic by Quality Assurance International--an independent organic certification agency--as well as is completely free from GMO ingredients. We love the cute, super traditional style bottle this syrup is packaged in, complete with a tiny round handle and all! Such touches can really make a big winter breakfast spread feel extra cozy if you ask us.
Pros:
Pale coloring is perfect for lightweight recipes like delicate cakes and baked goods.
Subdued taste is good for applications where you don't want intense flavor.
USDA organic.
Non-GMO verified.
Bottled in a cute, iconic maple-syrup-shaped glass bottle!
Cons:
Syrup is quite thin in texture as compared to typical maple syrup.
Best Dark Maple Syrup:
Butternut Mountain Farm 100% Pure Organic Maple Syrup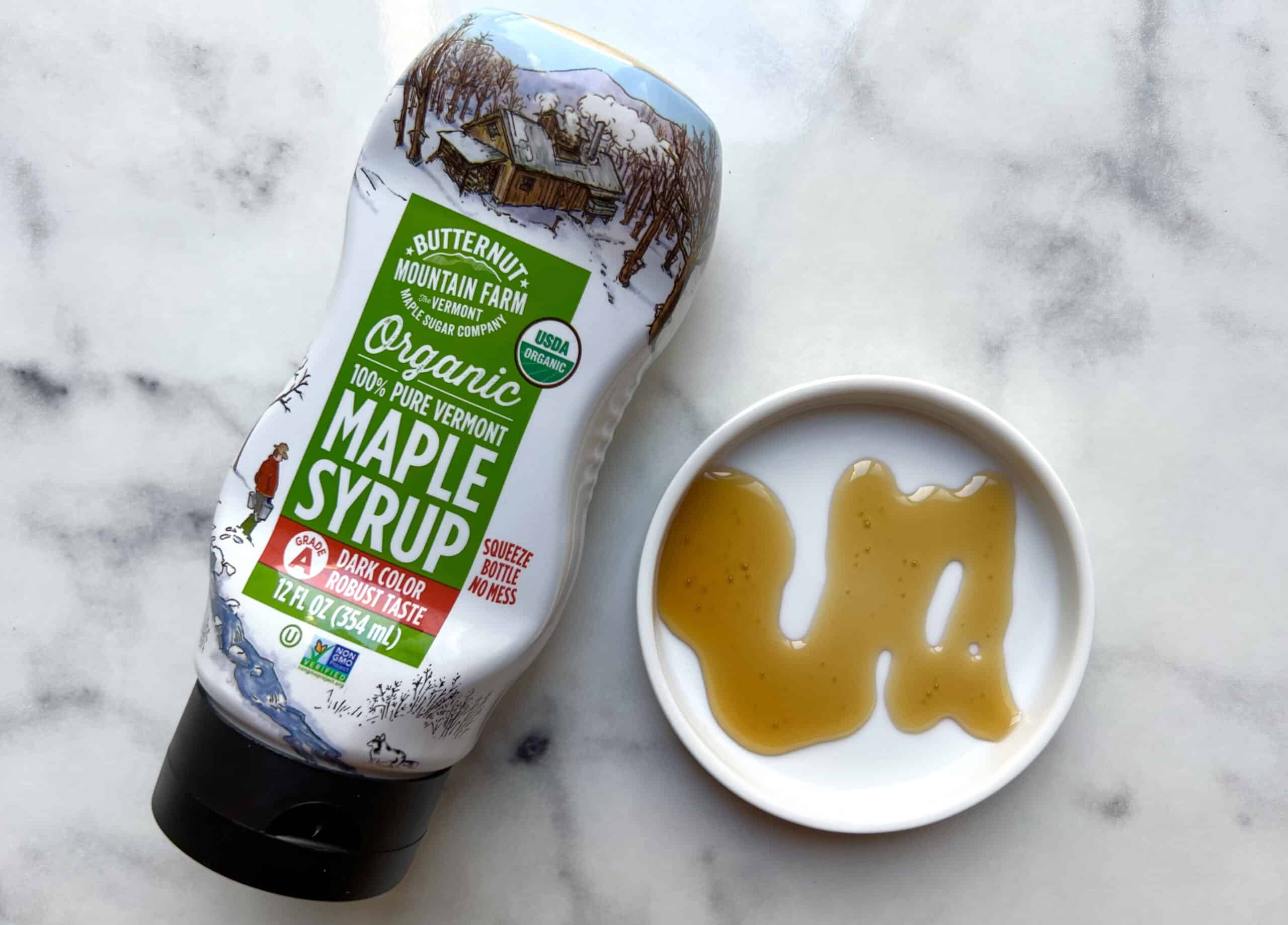 Size: 12 oz bottle
Origin: Vermont
Here is how Butternut Mountain Farm 100% Pure Organic Maple Syrup scored in each of our criteria categories:
Taste & Texture: 5.0 / 5.0
Nutrition Content: 4.5 / 5.0
Unique Characteristics: 4.7 / 5.0
Value: 4.8 / 5.0
Production & Packaging: 4.8 / 5.0
Overall Score: 4.8 / 5.0
If "light" maple isn't your thing and you've come here for the real shebang, we hear you! If robust maple taste is what you're looking for, this option from Butternut Mountain Farm is hands down our favorite.
It bears a rich color and equally impressive flavor which is decidedly maple-tastic, complete with sweet floral notes, an earthy minerality, and an almost savory finish. Our panel of tasters deemed this one at the top in terms of flavor--and that's saying a lot since we cover some amazing tasting syrups later in the review (hint hint: bourbon and vanilla coming up)!
As opposed to the traditional glass bottle, the folks at Butternut Mountain Farm opted to pack their syrup in a BPA-free plastic bottle for easier dispensing. No pouring needed, simply squeeze the ergonomically shaped bottle and the perfect stream of syrup will be drizzled over your pancakes, waffles, or yogurt. The back of the bottle also shares a few ideas for cooking with your syrup, as well as fun maple facts.
For all the things we love about this syrup and its packaging, one major thing we don't love is that you can't see through the bottle! The opaque label is wrapped completely around the bottle and since the different shading of maple syrup is so important, it's always nice to be able to see what color of syrup you're in for when you're shopping.
Pros:
Has a wonderfully complex and strong maple flavor.
Nice rich coloring and robust texture.
Packed in a BPA-free plastic bottle.
Flip top has a mess-free squeeze dispenser for easy drizzling!
Label has extra info like recipe ideas and enlightening maple facts.
Cons:
The label is completely opaque, preventing you from actually seeing the color and thickness of the product before you buy it.
Best Premium Maple Syrup:
Crown Maple Bourbon Barrel Aged Maple Syrup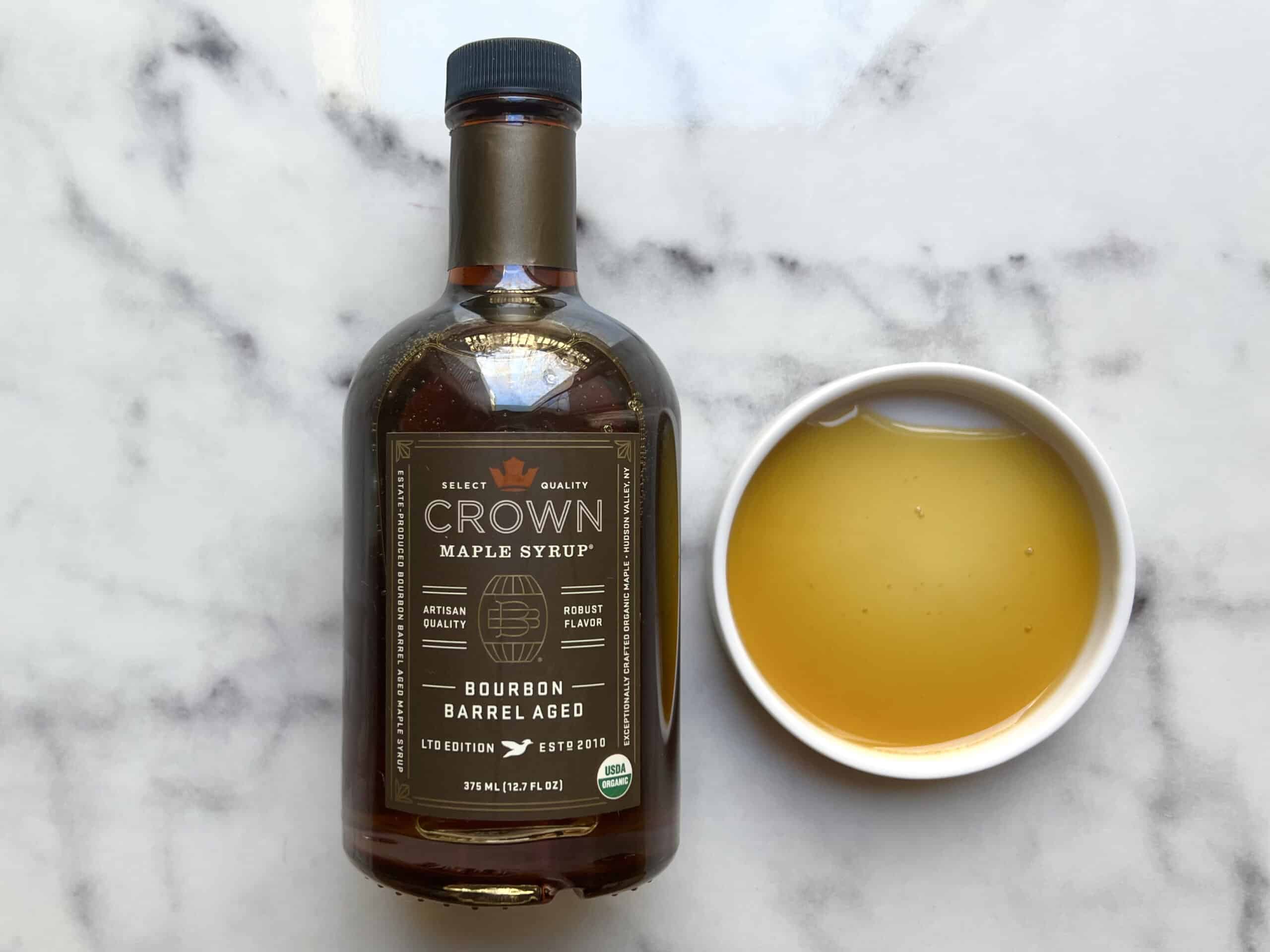 Size: 12.7 oz bottle
Origin: New York
Here is how Crown Maple Bourbon Barrel Aged Maple Syrup scored in each of our criteria categories:
Taste & Texture: 5.0 / 5.0
Nutrition Content: 4.4 / 5.0
Unique Characteristics: 5.0 / 5.0
Value: 4.2 / 5.0
Production & Packaging: 5.0 / 5.0
Overall Score: 4.7 / 5.0
Remember that maple syrup made with bourbon we mentioned earlier? The time has come! Crown Maple offers a line of amazing sounding maple syrups and we were happy to get our hands on a bottle of their Bourbon Barrel Aged variety.
This syrup is, in a word, decadent. From the well-designed packaging and modern logo-work to the dark, rich, syrup itself--everything about it just feels premier. Out of all the syrups we tested, this one by far had the thickest texture, further adding to its luxuriousness. The flavor of the maple itself is not at all drowned out by the bourbon as one might worry, rather it is thoroughly complemented by it.
It doesn't taste alcohol-y by any means, but the aroma and warmth of the bourbon flavor surely hit you at the finish, once the sweetly botanic taste of the maple starts to melt away. The bottle offers several ideas for cooking with this syrup, from sweetening your beverages to glazing savory dishes like proteins and veggies. If you ask us, this bourbon aged syrup is just the right festive touch for topping a stack of Vegan Gingerbread Pancakes!
You can bet that along with a premium designation comes a premium price tag of course. This 12.7-ounce bottle ran us almost $20! The good news is that with such a strongly flavored syrup a little goes a long way, but still, we agree that it's quite a bit of cash to shell out for a treat.
The bottle is also sure to make mention of the fact that the syrup may contain trace amounts of alcohol, due to being stored in and aged in the bourbon barrels of course. Therefore this syrup would not be suitable for maple lovers who can't or prefer not to have any alcohol in their diets.
Pros:
Packaging and presentation feels very high end.
Aged in real bourbon barrels.
Syrup has an amazingly thick texture.
Excellent maple flavor is complemented by a hint of earthy, complex bourbon.
Label offers ideas for recipes, beverages, and tips for cooking with this special syrup.
Cons:
Very expensive, costing over $1.50 per ounce.
May contain traces of alcohol, therefore not suitable for some consumers.
Best Flavored Maple Syrup:
Maple-Craft Apple Cinnamon Vermont Maple Syrup
Size: 6.8 oz
Origin: Vermont
Here is how Maple-Craft Apple Cinnamon Vermont Maple Syrup scored in each of our criteria categories:
Taste & Texture: 4.7 / 5.0
Nutrition Content: 4.8 / 5.0
Unique Characteristics: 4.8 / 5.0
Value: 4.5 / 5.0
Production & Packaging: 4.7 / 5.0
Overall Score: 4.7 / 5.0
This apple cinnamon flavored maple syrup from Maple Craft was a gem among flavored syrup options. It brings the classic taste of maple syrup together with the warmth of cinnamon and just a hint of sweet apple.
In addition to being great as a special pancake or waffle topper, this syrup also shines as a sweetener in baked goods as well as would make an excellent addition to your favorite autumnally inspired cocktail or mocktail. This syrup is USDA certified organic by Baystate Organic Certifiers and is actually slightly lower in calories than all of the other maple varieties we tested, coming in at just 50 calories per tablespoon.
While maple syrup across the board is not exactly a product nutrient dense, we found that this syrup has at least a bit to offer in that department, providing 4% DV of zinc and 50% (yes, half!) your DV of manganese.
We had one major gripe with the packaging of this maple syrup. Though the slim flask-shaped bottle with ornate wax seal is beautiful, we found the wax was extremely prone to crumbling. Every time we went to pour the syrup we always seemed to end up with bits of wax falling into the syrup! Our tip for you: clean as much of the wax off the bottle as you can before you get your drizzle on.
Also, our tasting panel agreed that though the cinnamon flavor was special and objectively tasty, it also easily overpowered the maple as well as the apple components. You may want to use this syrup sparingly at first until you get used to how strong the flavor is. That said, if you swoon for the flavor of cinnamon candies or cinnamon liqueur, go for gold here!
Pros:
Delicious combination of maple, apple, and cinnamon.
Great for use on its own, in baking recipes, or as an ingredient in special beverages.
Certified USDA organic.
Just 50 calories per tablespoon--lower than other maple syrups we tested.
Is mineral rich, providing half your DV of manganese and a bit of zinc.
Cons:
Wax from the sealed cap crumbles easily and falls into the syrup during use.
Cinnamon flavor is quite strong, and could read as overpowering to some.
Best Low Sugar Maple Syrup:
Lakanto Monkfruit Sweetened Maple Syrup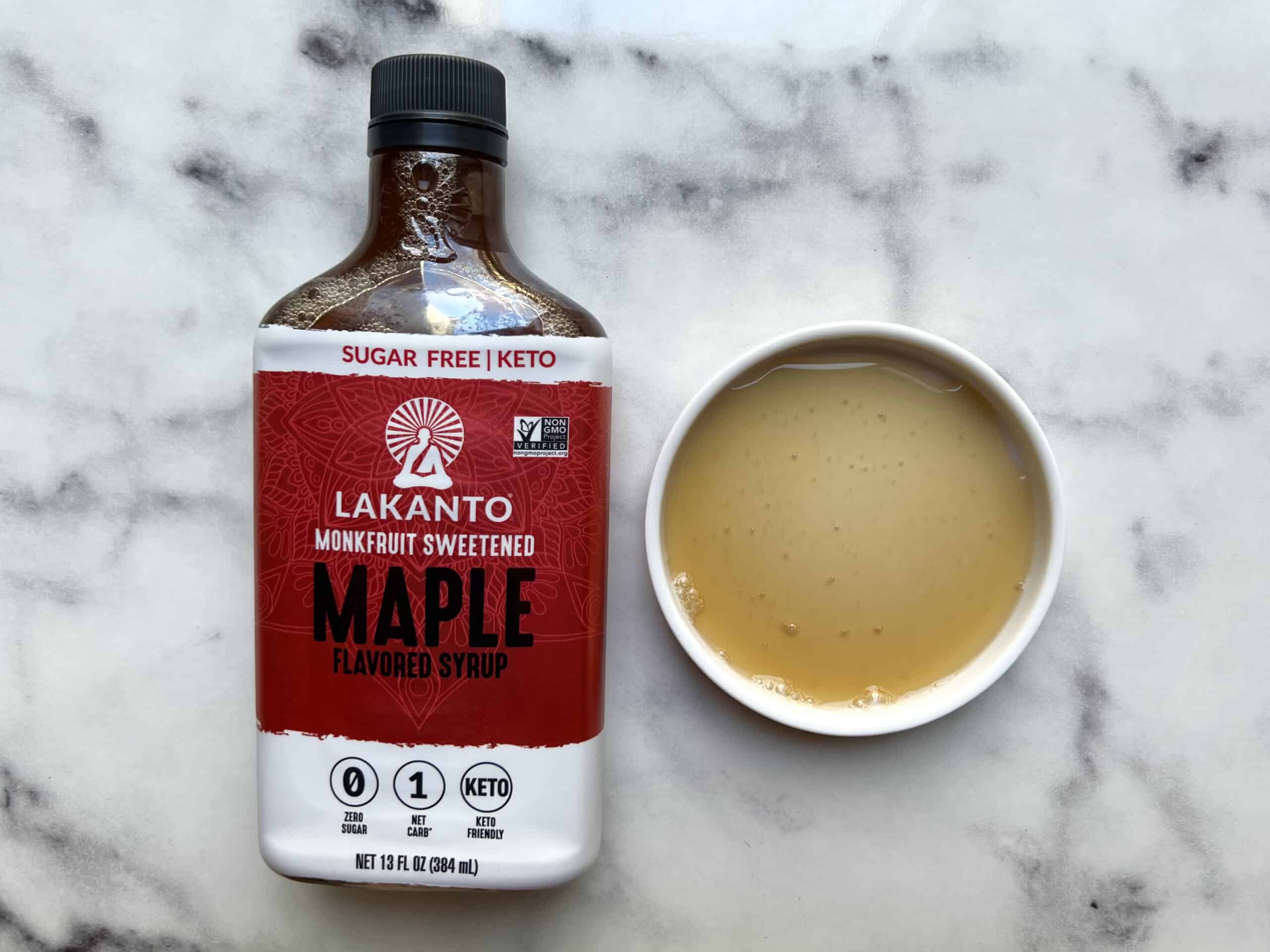 Size: 13 oz bottle
Here is how Lakanto Monkfruit Sweetened Maple Syrup scored in each of our criteria categories:
Taste & Texture: 4.1 / 5.0
Nutrition Content: 4.8 / 5.0
Unique Characteristics: 4.6 / 5.0
Value: 4.8 / 5.0
Production & Packaging: 4.2 / 5.0
Overall Score: 4.5 / 5.0
Though real maple syrup is a natural sweetener, at the end of the day, it's still loaded with sugars and therefore isn't always suitable for every person's eating plan. Thankfully, for maple lovers who are watching their sugar intake, we found this Monkfruit Sweetened Maple Syrup from Lakanto!
This syrup is not 100% maple, rather it is a base of monk fruit and erythritol combined with other ingredients like fruit juice, thickeners, and of course: plenty of maple flavor extract. This product contains 0 grams of sugar per serving as well as is the lowest calorie maple--in this case, maple-flavored--syrup option we tested, with just 10 calories per 2-tablespoon serving.
Since there is only 1 gram of net carbs per serving, this means this syrup is keto friendly as well as is suitable for folks with metabolic conditions.
Though this syrup is low in sugar, it actually tastes extra sweet due to the added sweeteners, so you may want to use less of it than you'd initially think. Those alternative sweeteners also give it a bit of a metallic aftertaste, which none of our tasting panel was particularly fond of.
We also really didn't love the consistency of this syrup. It is really, really runny in texture almost like a simple syrup you'd used to sweeten your iced coffee as opposed to thick and rich like maple syrup should be.
Pros:
Sweetened by monk fruit and erythritol.
0 grams sugar per serving.
Lowest in calories, just 5 per tablespoon.
1 gram net carb per serving.
Keto-friendly & diabetic friendly.
Cons:
Flavor is almost overly sweet due to the alternative sweeteners--use sparingly at first.
Alternative sweetener ingredients give this syrup a metallic aftertaste.
Syrup is very watery and thin.
Best Budget Maple Syrup:
Trader Joe's Organic Maple Agave Syrup Blend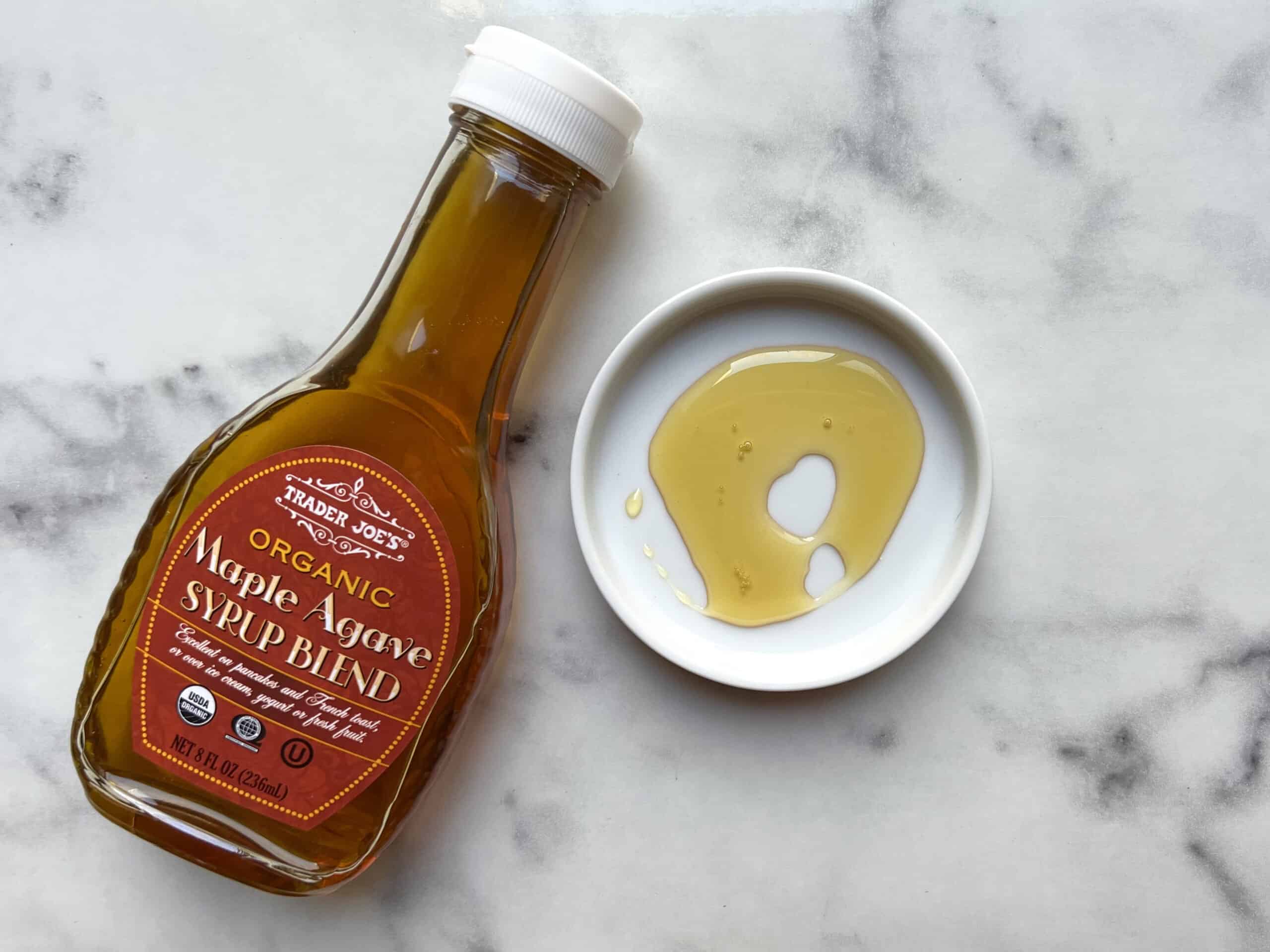 Size: 8 oz bottle
Origin: Canada
Here is how Trader Joe's Organic Maple Agave Syrup Blend scored in each of our criteria categories:
Taste & Texture: 4.7 / 5.0
Nutrition Content: 3.9 / 5.0
Unique Characteristics: 4.5 / 5.0
Value: 5.0 / 5.0
Production & Packaging: 4.4 / 5.0
Overall Score: 4.5 / 5.0
If there's one thing that we learned from all of our maple syrup collecting and taste testing, it is that this precious elixir is expensive. With an average cost of just over $1.00 per ounce (which is about 1 serving) the expense here can really add up quickly. We love that the folks at Trader Joe's came up with a brilliant way to get your maple fix in a more affordable way: cut it with another delicious natural sweetener!
They've done just that in their Organic Maple Agave Syrup Blend, producing a harmonious blend of two tasty syrups that have a wonderfully light texture and one distinct taste. The result is a supremely affordable syrup, costing just $0.44 per ounce, which is less than half that of your average pure maple syrup.
We also think this maple-agave blend is a great pick for anyone who isn't a fan of heavy maple taste, as the well balanced flavor makes it a great all-natural alternative to maple-flavored pancake syrup. This syrup is certified organic by QAI and features a supremely simple ingredients list.
Speaking of the ingredients list, we were a little put off to see that the first ingredient on this Trader Joe's Maple Syrup Blend is organic cane sugar?! Both agave nectar and real maple syrup are plenty sweet, so we're a bit confused as to why this product needed a third type of sweetener in it. It shouldn't come as too much of a surprise then, that this maple syrup option also contains the highest sugar content with a whopping 27 grams which is over half your % DV.
Pros:
Lovely balance of pure maple syrup and real agave nectar result in a tasty flavored syrup.
Light texture and taste is good for cases where 100% pure maple syrup is too strong.
Blended nature of this syrup makes it super affordable.
Certified organic by QAI.
Simple ingredients: just 3 whole food items.
Cons:
Contains cane sugar on top of both maple and agave nectar.
Has the highest sugar content, with 27 grams per serving.
Best Specialty Maple Syrup:
Runamok Maple Syrup Smoked With Pecan Wood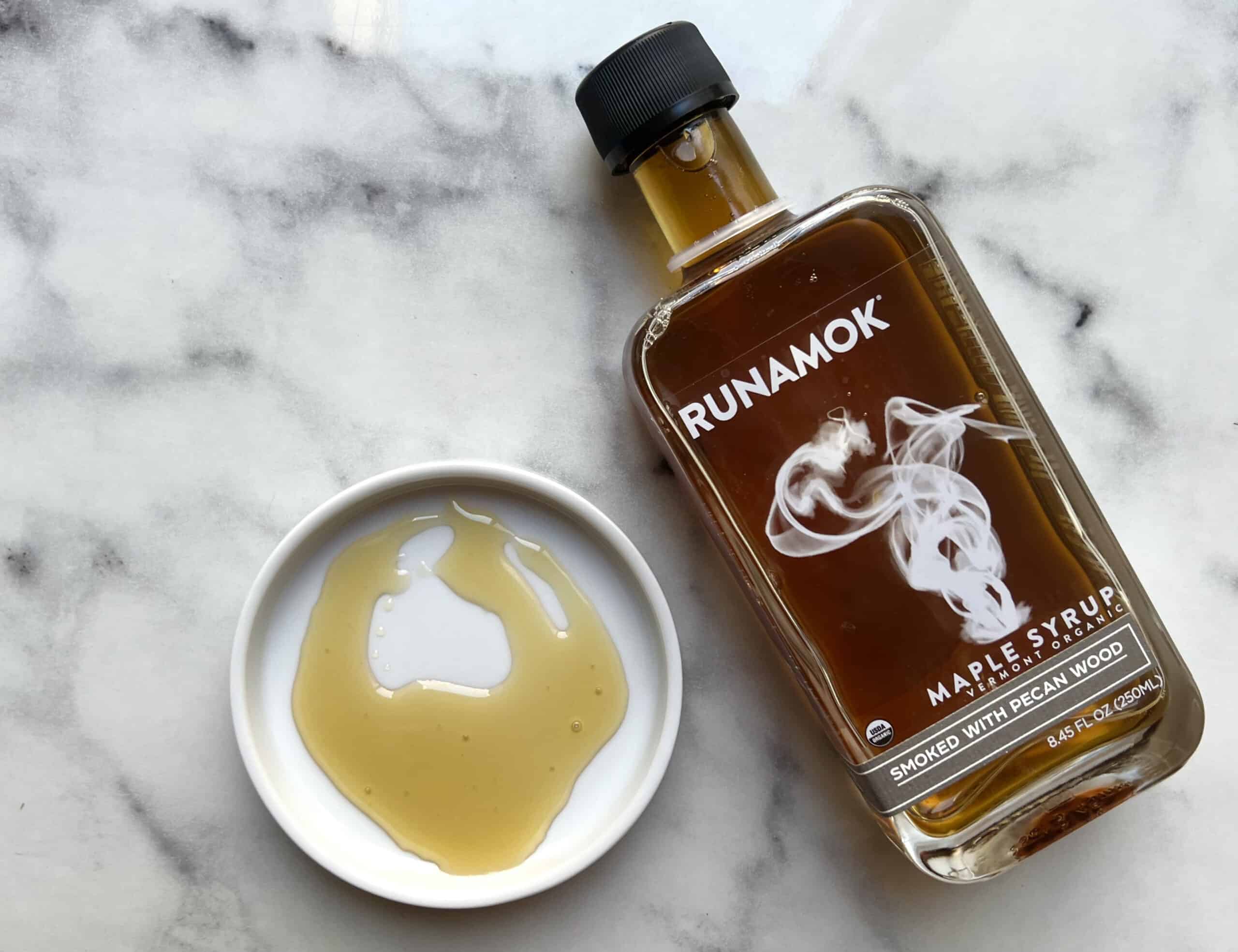 Size: 8.45 oz bottle
Origin: Vermont
Here is how Runamok Maple Syrup Smoked With Pecan Wood scored in each of our criteria categories:
Taste & Texture: 4.2 / 5.0
Nutrition Content: 4.5 / 5.0
Unique Characteristics: 5.0 / 5.0
Value: 3.8 / 5.0
Production & Packaging: 5.0 / 5.0
Overall Score: 4.5 / 5.0
And the award for the maple syrup with the most unique flavor goes to: Runamok! This Vermont-based maple syrup company actually makes products in a range of fun flavors from ginger root or jasmine tea infused to this Maple Syrup Smoked With Pecan Wood. The flavor is this one is undeniably rich, with a heavily smoked aroma and flavor that would do especially well on savory dishes.
First things first, our evaluation panel agreed that these syrups come in the coolest bottles ever. Each square-edged, heftily-weighted glass bottle has its own unique illustration. In accordance with the smoked nature of our selection, the image here is an ethereal wisp of smoke, hinting at the flavor-filled experience yet to come.
Not only is this syrup certified organic by Vermont Organic Farmers association, but it is also deemed "Bird Friendly Maple" by the National Audubon Society. This means that Runamok takes special care to ensure their sugar maple forests remain suitable habitat for native bird species and that sap harvesting operations do not inhibit these birds' way of life.
The downside? The smokiness of this maple syrup is strong. A drizzle of this would likely ruin a breakfast waffle for most folks, as this is not the intended use for this product. Rather, it is ideally used as a marinade, glaze, or for making cocktails like a smoky old fashioned. We love the ingenuity, but have to admit, it makes the utility of this product as a maple syrup somewhat limited.
It is also insanely expensive, costing us over $20.00 for the 8.5-oz bottle, which works out to about $2.50 per ounce! And, this product is not readily available in all grocery stores so you may have to turn to online specialty shops to get your hands on a bottle from this brand.
Pros:
Syrup is smoked with pecan wood.
Has a rich and very unique flavor profile.
Bottles are very well designed with an eye-catching shape and special details.
Certified organic by the Vermont Farmers Association.
Is designated as Bird Friendly by the National Audubon Society.
Cons:
Smoked flavor is uber-intense and not good for use as a traditional maple syrup.
The most expensive syrup we tested, costing $2.50 per ounce.
Not widely available and usually needs to be ordered online.
Best Maple Syrup for Baking:
Good & Gather Signature Vanilla Bean Infused Maple Syrup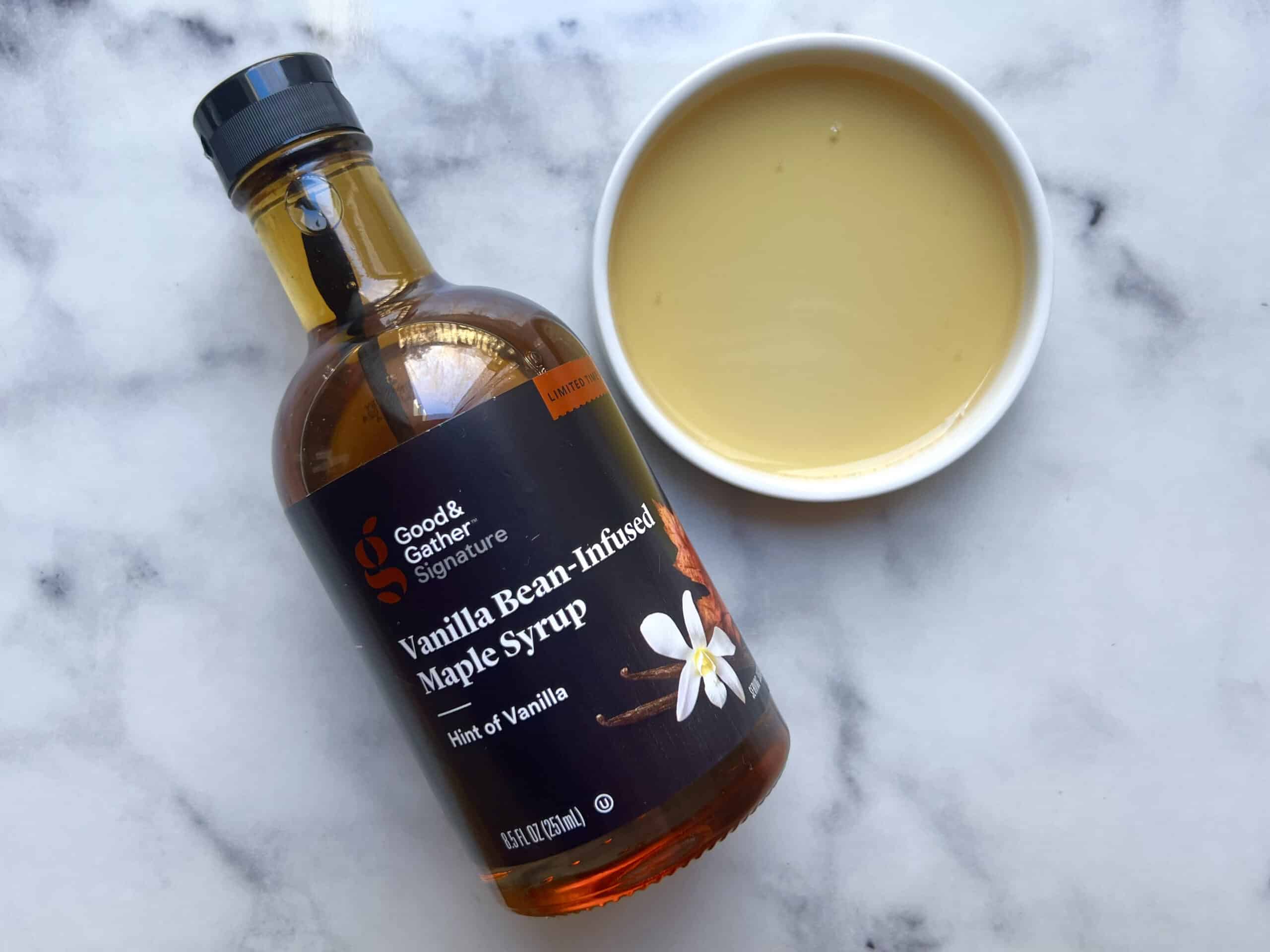 Size: 8.5 oz bottle
Here is how Good & Gather Signature Vanilla Bean Infused Maple Syrup scored in each of our criteria categories:
Taste & Texture: 4.9 / 5.0
Nutrition Content: 4.4 / 5.0
Unique Characteristics: 4.9 / 5.0
Value: 4.5 / 5.0
Production & Packaging: 5.0 / 5.0
Overall Score: 4.8 / 5.0
What a fancy-looking product from good ol' Target, wow! We were stoked to find this product lined up next to the more generic syrup offerings in our local store and knew we had to give it a try.
While it wasn't our favorite maple flavored maple syrup, we absolutely loved it for many reasons. First and foremost, the nicely presented bottle with sleek black label, metallic printing, and a whole vanilla bean tucked inside make this one feel extremely special. If you don't care to buy a bottle for yourself, this one would make an excellent gift!
We think this syrup will shine in baking recipes for the fact that it brings a load of complex flavor notes when incorporated into a recipe. Not only will it deliver plenty of sweetness, but also a hint of maple aroma and not to mention that vanilla.
We recommend trying this one in cakes, muffins, cookies, puddings, or any other tasty treat like out Healthy Pumpkin Whoopie Pies! And, allow us to offer you this pro tip: once you're done with the syrup–don't toss out that vanilla bean! Slice it into large pieces and add them to your sugar bowl to make a delicately perfumed vanilla sugar.
Like most Target brand products, their Good & Gather Signature Vanilla Bean Infused Maple Syrup comes with a 100% satisfaction or your money back guarantee but our money is on the fact that you won't be needing it.
Now let's talk flavor. This vanilla infused syrup is quite vanilla-y in a way that actually overpowers the maple a bit. Therefore we don't recommend this one if you're looking for classic maple with which to douse your pancakes, as it hits more like vanilla flavored coffee syrup as opposed to pure maple. Different, but equally tasty!
Pros:
Beautifully presented bottle is very appealing
Each bottle of syrup contains a whole vanilla bean which can be reused after you finish your syrup!
Vanilla is a perfect complement to maple, intensifying the floral notes.
Complex flavor profile is perfect for baking goods and sweet treats.
Comes with 100% money back guarantee.
Cons:
Vanilla aroma and taste is very strong, taking away from any maple presence.
Ideas for Using Real Maple Syrup
The most common application for maple syrup is also one of the best: breakfast! Drizzle maple syrup over French toast or waffles, or break out your pancake griddle for a homemade short stack!
Use maple syrup as a replacement for other sweeteners in recipes where brown sugar, table sugar, or honey are called for.
Maple syrup can be used to make delicious breakfast sides as well, try glazing store bought bacon with maple syrup before roasting, or try our Carrot Bacon Recipe for a vegan alternative.
Fold richly flavored maple syrup into room temperature butter, then use your maple butter to top anything from baked sweet potatoes or warm croissants to this Peanut Butter Banana Oatmeal.
Skip the sugar and try sweetening your tea or favorite cocktail with a spoonful of aromatic maple syrup.
Best Maple Syrup FAQs
How is Maple Syrup Made?
Maple syrup all starts with collecting the sap from sugar maple trees, an arduous process that is limited to the northern regions of North America during mid-late winter.
These days the collection process is expedited thanks to a series of vacuum powered lines which draw all of the sap into a central "sugar house", where the sap is combined, boiled, and bottled. Special care must be taken to ensure that the boil does not go too long, as the ratio of sugar to water content in the final product is an extremely precise measure.
Does Maple Syrup Need to Be Refrigerated?
Most maple syrup is heat sealed, rendering it shelf stable at room temperature. However, once you crack the seal and expose the syrup to air, it should be stored in the refrigerator thereafter, as real maple syrup is prone to developing mold at the surface.
How Can You Tell if Maple Syrup is Pure?
The best way to determine the realness of your syrup is to flip it over and check out the ingredients label!
Pure maple syrup should only have one ingredient: maple syrup. If, on the rare occasion, there is another ingredient or two, it would only be a small quantity of something like a flavoring, juice, or other addition.
The way to differentiate pancake syrup, on the other hand, is that the main ingredient will be high fructose corn syrup or another processed sugar syrup, which then has maple flavoring--not real maple syrup--added to it.
Is Lighter or Darker Maple Syrup Better?
When it comes to syrup color, there is absolutely no right or wrong way to go! Sap that is harvested earlier in the maple sugar season produces syrup that is lighter in color, while that which is harvested later results in darker syrup.
Lighter syrup is more mild in taste as well, while dark maple syrup is robust, heavy, and at times quite strong. For these reasons, lighter syrups may be best for sweetened beverages and lighter baked goods while the heavier stuff is great for flavoring rich pastries or savory dishes. It's all a matter of personal taste though!
Which Maple Syrup is Better Grade A or B?
There is actually no such thing as "Grade B Maple Syrup" anymore, as it has been a point of confusion for maple syrup shoppers for many years.
Prior to the change, Grade A would refer to light and amber hued syrup, while Grade B referred to dark and robust maple syrup. As mentioned above, neither is better or worse than the other, therefore the A and B grades were a bit of a misnomer, leading folks to believe that Grade B was somehow subpar. These days, all maple syrup is considered to be Grade A, and may or may not feature such designation on its label.
Is Maple Syrup Good for You?
Despite being a natural product, it's no secret that maple syrup is loaded with sugar. In fact, maple syrup is actually 60% sucrose--essentially pure sugar.
However it is believed that maple syrup is a better option as opposed to choices like refined table sugar or corn syrup for the fact that it is naturally rich in free-radical fighting antioxidants as well as provides some inherent vitamin and mineral content.
Why is Real Maple Syrup So Expensive?
It takes an outrageous amount of maple sap, as well as plenty of time and labor on the part of the sugarmakers to yield a relatively small amount of syrup, making maple syrup an extremely costly food to produce. The ratio is actually 40 gallons of sap to every 1 gallon of syrup--wild!
Tasting and Reviewing the Best Maple Syrup Brands: The Bottom Line.
Whether you're looking for a regular syrup to serve over top of your Sunday morning pancakes or you need the perfect maple elixir to complete recipes like our Vegan Pumpkin Cheesecake or Vegan Chocolate Chip Cookie Dough, there are plenty of excellent maple syrups to choose from!
For basic maple needs we recommend Whole Foods' Golden Maple Syrup or if you prefer robust flavor, reach for Butternut Mountain Farm's version. If you're in the mood for something special, try one of the aged, infused, or flavored syrups we've featured! No matter which maple syrup you choose we hope you find all of the sweetness you seek.