In your rush to get dinner on the table, are you skipping one of the most important parts of cooking meat?
Meat is a dinnertime staple for millions of people around the world. Whether you prefer to fill your plate with beef, lamb, pork, chicken, or venison, one thing is for sure - without the right tools, you aren't going to be able to cook your meat effectively.
A meat's tenderness is often associated with its quality, but often, the taste of a cut has more to do with how the meat was prepared. Tenderizing meat is important if you want to create the most mouthwatering steak or chicken cutlets.
To do this, you are going to need to invest in one of the best meat tenderizers. Only then will you be able to dramatically improve the quality of your cooking. 
Best Meat Tenderizers for a Restaurant Quality Cut
1.
TenderPro Meat Tenderizer Tool

If you're looking for the best meat tenderizer, you've come to the right place. It has tender right in the name, after all!
This tool is one of the best - and easiest to use - regardless of your level of expertise. It's equipped with high-quality needle blades that are made out of stainless steel it can reduce your cooking time by up to 40% and also makes it easier for all the flavors to permeate deep into your cut of meat.
With an ergonomic handle, this meat tenderizer is comfortable to use. You'll be able to enjoy precise tenderizing across the grain, as it has a narrow focal point. 
It's also easy to clean. Although it's not listed as being dishwasher safe, you can easily put it in the sink with some warm, soapy water and give it a quick wash.
What We Liked:
Ergonomic design

Has high-quality stainless steel needle blades

Improves the ability of your meat to absorb marinades
What We Didn't Like: 
2.
KLEMOO Meat Tenderizer Tool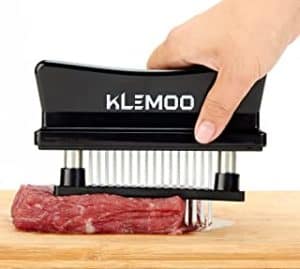 The name might be funny to say, but the reality is that the Klemoo Meat Tenderizer Tool is one of the best meat tenderizers you are going to find.
Equipped with stainless steel blades that are razor sharp and ready to go, this meat tenderizer is dishwasher-safe and backed by a generous one-year warranty from the manufacturer. 
Ti can be used on all kinds of meat, from beef to fish and even tougher cuts, like pork chops. When you use it, you'll create small heat channels inside your meat and you'll break down the various connective tissues to prevent your meat from becoming too tough or chewy. 
With just five minutes of work, you'll create the perfect palette for your dish of choice, whether it's lamb or fish. You can improve your cooking efficiency by up to 40%, reducing the amount of time you need to run your grill or oven. 
Easy to control and use, this meat tenderizer has an ergonomic design and a non-slip handle. You won't have to explain that much energy to tenderize your meat - just press down and the super sharp blades will do the rest. 
It comes with its own plastic cover to protect the blades and help keep them clean after washing, too.
What We Liked:
Brings out all the best flavors in your meat

Dishwasher-safe

Ergonomic design is comfortable to use 
What We Didn't Like: 
Can be hard to use on thicker cuts of meat
3.
XSpecial Meat Tenderizer Tool 48-Blades Stainless Steel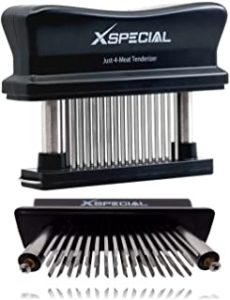 Two-inch deep cuts. 48 stainless steel blades. Simultaneous cutting action. What's not to love?

This meat tenderizer from XSpecial is obviously one of the best, offering precise, practically surgical cuts that will tenderize your meat in moments. 
The blades are professional quality, resisting rust discoloration, breaking, bending, and dulling. The handle, too, is incredibly durable, made out of professional ABS plastic. It's perfect for use on all kinds of fish and meat, helping you reduce your cooking time and making your meat more delicious with its deep lacerations. 
This meat tenderizer is easy to use - a light push is all you need to instantly tenderize your meat. When dinner's done, it won't take you long to clean up, either. You can take apart the machine by hand and pop it in the dishwasher. That's all you need to do!

Styled with shades of both black and white, depending on the style of your kitchen, this meat tenderizer is attractive and guaranteed to fit just about any set-up. 
What We Liked:
Ergonomic design makes it comfortable to use

Has multiple blades for efficient operation

Dishwasher-safe and easy to take apart for cleaning
What We Didn't Like: 
Retractable blades can sometimes get stuck in the meat while you are working
4.
KITCHEN BOSS Meat Tenderizer Mallet Hammer Tool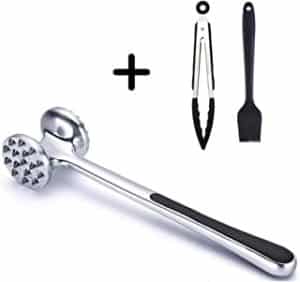 Another high-quality meat tenderizer to consider is this option by Kitchen Boss. 
Made out of heavy-duty stainless steel, it can be used on steaks, chicken, and other tough meats. You'll get a bonus food mallet hammer along with a free silicone brush and set of food tongs. All of your kitchen needs in one convenient package!
It has a solid grip that makes it easy to use, regardless of whether you are left- or right-handed. It's dishwasher safe, making it easy to clean, too. As a side note, all of the other "bonus" items included with this purchase can be cleaned in the dishwasher, too.
Each order is backed by a manufacturer's guarantee. You don't have to worry about anything going wrong with your purchase. This meat tenderizer has stylish black grips and can be used to smash other kinds of food, too, like potatoes and vegetables that you need to put in a soup or stew. It's versatile and functional in all regards!
What We Liked:
Versatile and easy to use meat tenderizer

Dishwasher safe

Comes with all kinds of bonus itesm
What We Didn't Like: 
Some force is required to use this meat tenderizer
5.
Flytt Meat Tenderizer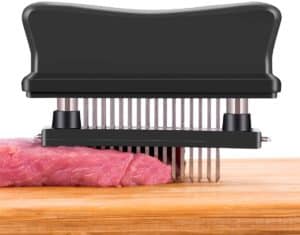 The Flytt Meat Tenderizer is made out of durable, high-quality materials. Equipped with a non-slip plastic ABS handle, this meat tenderizer has 48 separate stainless steel blades. 
One of the biggest deterrents for many people, when buying a meat tenderizer, so that the blades can be tough to clean. Either you have to compromise and not get the blades super clean, or you risk cutting yourself while dismantling your meat tenderizer for more effective cleaning.
This meat tenderizer eliminates those concerns. It has a base that can be removed so you can easily clean the blades by using a brush or by putting the tenderizer in the dishwasher.
Sold in the color black, this meat tenderizer weighs less than 11 ounces and stands at only 4.3 inches tall. You can stash it in a drawer and just pull it out whenever you need to use it. 
When you're ready to tenderize your meat, all you have to do is press it on top of the meat you want to soften. The super sharp blades will cut inside the meat, creating holes up to an inch deep. These will produce heat channels that will make it easier for your marinade to be absorbed into the meat after you put it into the refrigerator. 
You'll also enjoy a dramatic reduction of cooking time. 
Finally, this meat tenderizer has one other feature worth mentioning - its helpful safety feature. When you use this meat tenderizer, you'll quickly discover that the blades only deploy if they are pressed directly down on the meat. They'll withdraw once force is not being applied, so you don't have to worry about cutting yourself. 
What We Liked:
Comes with a safety storage cap and several other helpful safety features

Lightweight and easy to store

Dishwasher safe 
What We Didn't Like: 
Blades are prone to breakage if not handled correctly 
6.
Weston Manual Heavy Duty Meat Cuber Tenderizer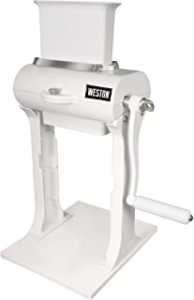 Weston is a company that offers a wide variety of heavy-duty kitchen appliances, and this rugged meat tenderizer is no exception. It is designed with a sturdy aluminum build and has 31 separate stainless steel blades. It also has a set of stainless steel tongs to help you make quick work of tough cuts of meat. 
With a food safe coating, this meat tenderizer can be used even in commercial settings. However, it's also a great gift for the hunter and carnivore in your life! It has a durable all-metal design with steel combs that prevent jams and damages. It can also be used as a meat grinder.
Tenderize several pounds of meat in a matter of minutes by turning the efficient crank handle. It has a compact design and despite being manual, will dramatically reduce the amount of time and effort you need to expend in the kitchen. It can easily be broken down for quick storage and will help you make the most of your marinades for a better-tasting dinner.
What We Liked:
Has a food-safe coating

Compact, easy-to-store design

Dishwasher safe 
What We Didn't Like: 
Has to be totally taken apart for cleaning
7.
Chef-Master Meat Tenderizer Tool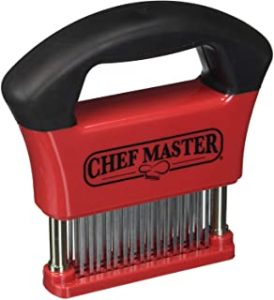 The Chef-Master Meat Tenderizer is another excellent pick for your money. Not only will you enjoy fast, easy tenderizing, but you won't have any trouble keeping this meat tenderizer clean, either. It's equipped with 48 stainless steel blades that can be washed in the dishwasher and work in harmony to create a juicy, flavorful cut of meat.
Available only in one color - red - this meat tenderizer weighs just 1.25 lbs and is lightweight and compact enough to be stored in a drawer. All of the materials used in its construction pass the ETL standard - and it's important to note that this meat tenderizer also has been given one of the highest designations, the ETL Sanitation Mark. 
Professionally designed and professionally guaranteed, this product is made out of safe plastic materials. No assembly is required and it will do a phenomenal job on any kind of meat. 
What We Liked:
No disassembly or assembly are required

Dishwasher-safe product

Lightweight and compact for easy storage
What We Didn't Like: 
Not rated as being the most durable meat tenderizer 
8. 
Jaccard 200348 48-Blade Meat Tenderizer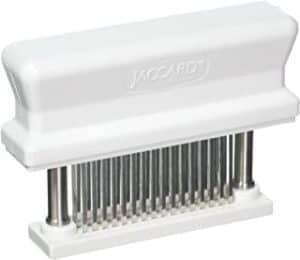 Jaccard offers one of the most helpful tools you'll find when it comes to tenderizing meat in your own kitchen. With 48 total knife blades, this meat tenderizer will make quick work of even the toughest connective tissues. As you work, the tiny knives will penetrate the meat through their connective tissues and create tiny heat channels inside.
These channels will help your meat to become tender as well as to be cooked faster than normal. Your cooking time can be reduced by up to 40%, even when using a device like an electric skillet! This saves you time, stress, and even money  - you won't have to run your stove for quite as long.
This meat tenderizer by Jaccard is perfect for meats that you plan to marinate. When you tenderize your cuts and then allow them to soak in marinades, you'll find that they absorb the juices much more effectively for long lasting flavor. 
It is a handheld device that can be stored easily in a kitchen cupboard. Made out of ABS plastic, this white meat tenderizer is also super easy to take apart and clean. It's lightweight at less than a pound and stands only 4.3 inches tall.
What We Liked:
Reduces cooking time to save you stress and energy

Lightweight and compact

48 individual knives are perfect for tenderizing dense cuts of meat
What We Didn't Like: 
Food can sometimes get stuck in the nooks and crannies of this tenderizer
Buying Guide: How to Find the Right Meat Tenderizer For Your Needs
Practicality and Versatility 
Consider how practical your meat tenderizer is, especially in comparison to the price you are paying. Don't overpay and instead make sure that the meat tenderizer you select will meet a variety of roles. Most of today's meat tenderizers can not only be used to improve the quality of your meat, but can perform a myriad of other roles, too. 
Blades
When you purchase a needle-style meat tenderizer, you'll find that there are blades attached. These blades are responsible for all the tenderization action. Usually, a meat tenderizer comes with about 48 blades, which is ideal for treating large batches of meat all at once. You'll want to consider the number of blades your meat tenderizer has along with how deep they cut. 
Also consider what the blades are made out of. Usually, stainless steel is best, as it resists rust and lasts longer than most other kinds of materials. 
Design
When we talk about the design of your meat tenderizer, we aren't simply referring to how "pretty" it looks in your kitchen - although if that's a feature that matters to you, by all means, prioritize this when you head out to shop!
What we're really talking about here is how easy your meat tenderizer is to use. Most meat tenderizer hammers are pretty easy to use, but it's important that you choose one with a non-slip handle. You'll also want one with an anti-adhesive surface that prevents your meat from sticking to the blades. 
This can not only slow you down, but it can make your meat tenderizer cumbersome to use, too. Most importantly, look for a meat tenderizer that requires you to exert minimal pressure and is also relatively easy to handle. 
Maintenance
How easy will your meat tenderizer be to clean and maintain? The most common source of foodborne illnesses is meat - so it's important that you select a meat tenderizer that is easy to sterilize and care for. You're going to want to pick one that can be deep-cleaned easily and without a lot of hassle.
Some meat tenderizers can only be washed by hand, while others are listed as dishwasher-safe. Either can work well, but make sure you're up to the cleaning tasks that either kind of meat tenderizer requires.
Safety
Check the safety rating for your meat tenderizer of choice. Some are equipped with super razor-sharp blades, which can cut you or potentially injure you as you're trying to get dinner on the table. This is an especially important feature to examine if you are going to be cooking with small children (who tend to have curious hands!) around. 
Do You Really Need a Meat Tenderizer? 
A meat tenderizer is a vital tool that has a place in any cook's kitchen. When you invest in one of these handy gadgets, you'll save both time and money while creating a delicious, high-quality meal. 
The least tender cuts of meat at the butcher shops tend to cost the least. Therefore, you can save a substantial amount of money by buying the cheaper cuts - and then pounding them at home with your meat tenderizer. You'll likely find that these cuts, once tenderized properly, taste just as good (if not better) than the pricier cuts. 
Whatever kind of meat you choose to prepare, using the best meat tenderizer will dramatically improve the quality of your cooking. If you're ready to enjoy meat that has the perfect taste and texture, it's time to invest in a new meat tenderizer to help take your cooking to the next level.