Using the best meat thermometer when your charcoal grilling or roasting is a great way to ensure that the food you make is delicious with little effort.
The best meat thermometer will allow you to easily and quickly monitor the internal temperature of the food you're preparing so you can avoid overcooking or undercooking food.
Chefs utilize meat thermometers all the time because they provide consistent results. When you follow the USDA's food safety guidelines, it can help keep you from undercooking food, leading to illness.
Below you'll find a list of the best meat thermometers.
What Kind of Meat Thermometer is the Best?
When you go shopping for the best meat thermometer, you'll find three main types that you need to consider: dial, digital instant-read, and thermocouples. The main difference between these three types of meat thermometers is how fast they will read temperature and how accurate they are.
Before going shopping, here's what you should know about the different types of meat thermometers:
Dial Thermometers are inserted into the meat about 2 to 2.5 inches. They're harder to read than instant-read thermometers and can take about two minutes before giving you the temperature, but they can be left in the meat while it's cooking. This type of thermometer is affordable and works best when you have large cuts of meat (i.e., Thanksgiving turkey).
Digital Instant Read Thermometers are inserted about ½ an inch into the meat. Though not as quick as thermocouple thermometers, they have somewhat quick read times and are reasonably priced. However, you cannot leave them in the meat while cooking.
Thermocouples are inserted into the meat about ¼ of an inch. It has a very thin tip that can easily pierce through thin or thick pieces of meat. They also provide you with the fastest read time of all the meat thermometer types. The downfall? They can be very pricey, and you can't leave them in your meat while cooking.
Best Overall – Deluxe Preset Oven Cooking Thermometer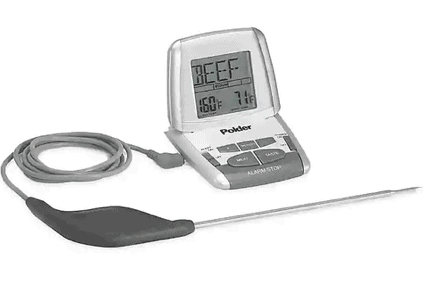 The best meat thermometer overall is the Deluxe Preset Oven Cooking Thermometer. It has a ton of bells and whistles that are all super useful. You can choose the meat you're cooking, and how done you want it to be, and then let the meat thermometer do the rest for you.
This thermometer will beep when your meat has reached its desired temperature, and once again after you've let it sit for about three minutes, as recommended by the USDA. It will also inform you if you've overcooked your meat by 10 degrees or more.
What's great about this meat thermometer is that it has a large grip on the probe and a super-sharp, thin tip. It also has a 40-inch cord, which is long enough to set the thermometer on the counter while the probe is in the oven. Another great thing about this meat thermometer is that the display folds up for a more effortless reading and more accessible storage.
Pros:
40-inch cord
You can choose the meat you're cooking, and how done you want it to be
Display folds up
Cons:
Only has pre-set temperatures, so you can't set the temperature to what you want it to be
Best Premium – Thermapen MK4 Thermocouple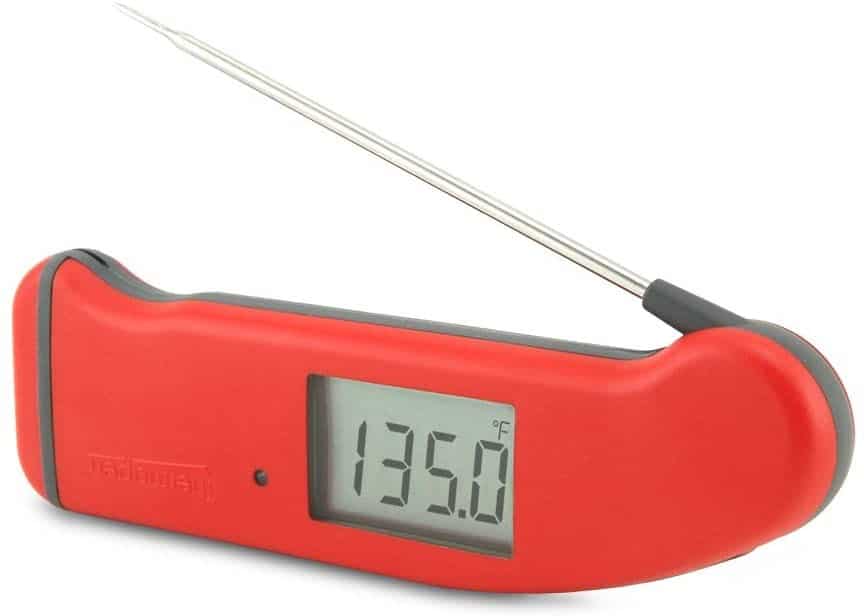 This is the best meat thermometer if you want something in the premium category. It folds up for quick and easy storage and will turn on when you unfold the thermometer. The thin probe will easily piece through the toughest of meats and will provide you with an instant, accurate reading.
The screen is easy to read and provides temperatures to the tenth degree. Simply fold the thermometer back up to save the battery. Don't fret if you forget to fold it up; it will go into sleep mode after a few minutes.
Pros:
Easy to use
Very accurate
Gives readings very quickly
Cons:
Best Budget – Chef's Precision Analog Leave-In Meat Thermometer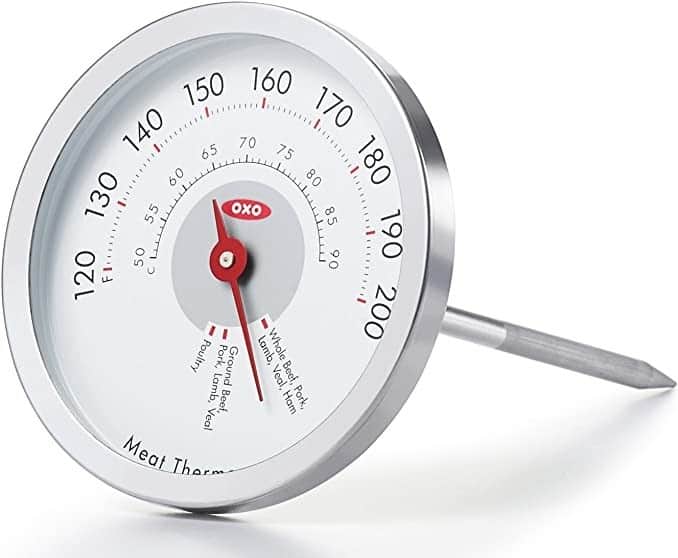 This is the best meat thermometer if you're on a budget. It features a large 3-inch dial, making it, so you don't have to squint to see the reading. It's easy to hold and comes with a cover that goes over the probe to protect the tip and your fingers.
The face design shows USDA recommended temperatures for several types of meat, so the arrow lines up with the type of meat and the temperature at the same time. The probe has a shaded area to show you how far you need to insert the thermometer into your meat.
Pros:
Affordable
Shows USDA recommended meat temperatures
The shaded area shows you how far to stick the probe into the meat
Cons:
Char-Broil Instant Read Digital Thermometer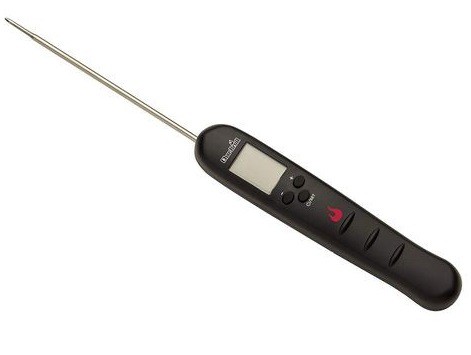 This is a compact digital instant-read thermometer that gives you accurate readings in as little as ten seconds. It also has a few tricks up its sleeve, like its seven selectable meat types, doneness levels, an auto-off feature, and it can speak seven languages. It also has an alarm to let you know when your meat is done cooking.
Pros:
Quickly gives you an accurate reading
Foldable design for easy storage
Easily pierces meat
Cons:
TP03 Digital Instant Read Meat Thermometer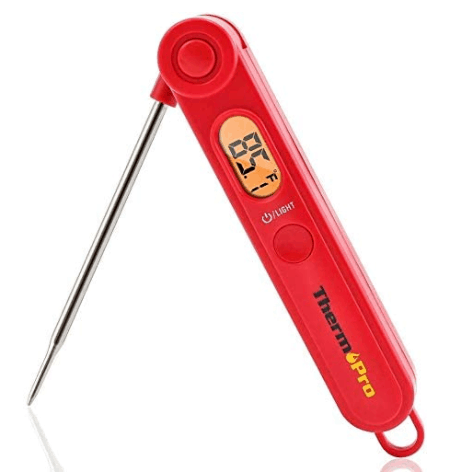 This is a budget-friendly meat thermometer that is a favorite among reviewers. It features a 3.9-inch probe that rotates 180 degrees, making it safe and easy to use in the oven or on the grill. It also features a backlit LCD screen that will clearly display the temperature readings.
Pros:
Fast temperature readings
Accurate readings
Affordable
Cons:
Can be about 10 degrees off
Safe-Serve Instant Read Kitchen Thermometer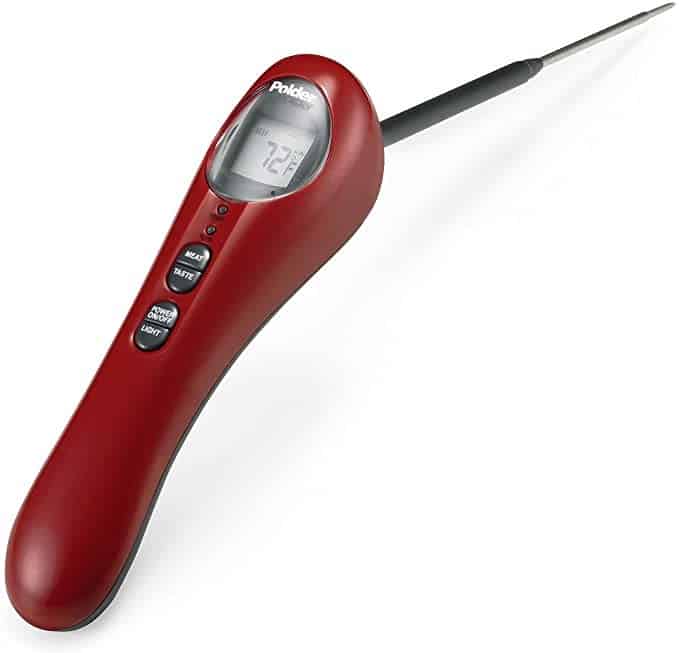 The long probe on this meat thermometer makes it easier to get a safe temperature reading on your meat while it's still cooking in the oven.
This thermometer lets you easily program types of meat and their doneness level recommendations. You'll find that the display is backlit, which makes it easier to read.
Additionally, the handle is exceptionally comfortable to hold, and it is easy to move around the meat without letting you get too close to the heat source.
This probe will fold down for compact storage and comes with a probe cover that shows a list of a bunch of USDA's recommended temperatures.
Pros:
Quick temperature readings
The probe is thin and sharp
Extra-long probe
Cons:
Made of flimsy plastic
Buttons can be awkward to push
Bluetooth Wireless Remote Meat Thermometer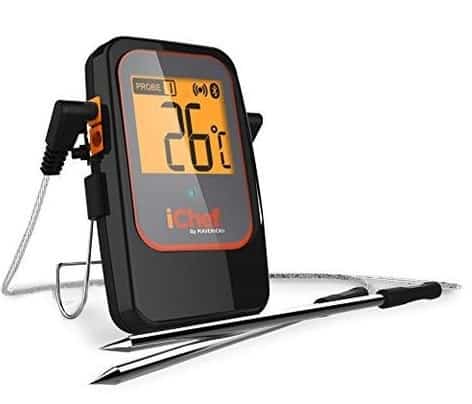 Imagine a beautiful day, you have a cold drink in one hand, and steaks cooking on the grill with the grill cover closed, and you're up to 300 feet away, not sweating over the grill.
You can have this with this meat thermometer because this in-oven thermometer can be paired with an app, making it, so you don't have to babysit your meat.
This best meat thermometer will let you know when your barbeque temperature falls below range, so you won't have to worry about flare-ups scorching your food. It comes with two probes and can track up to four probes.
Pros:
You can track the temperature of your meat using your phone
Simple to use
In-oven thermometer
Cons:
You can't go very far without the app disconnecting
Chef's Precision Digital Leave-In Thermometer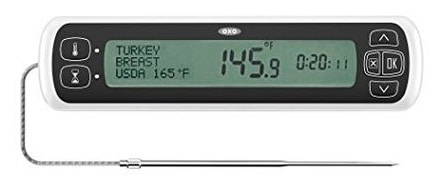 Most meat thermometers aren't safe to leave in your meat when it's cooking in the oven. However, this digital thermometer has a probe with an extremely long cord so it can stay in the meat during the cooking process.
It features a secure and safe storage space for the probe inside the housing and has enough space to wrap the cord around the thermometer once you're done with it.
The large screen is easy to read, and you can program your desired doneness temperature. It also features a timer, which makes watching your cooking meat easier.
Pros:
Affordable
The cord is extremely long
You can leave it in the meat while cooking in the oven
Cons:
DT 450X Digital Pocket Thermometer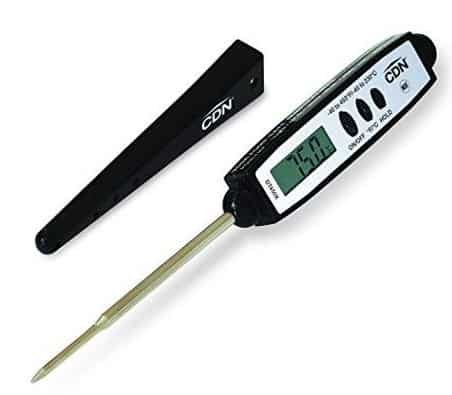 This is the best meat thermometer if you need something small and quick. It's very responsive and will display the temperature of your meat in easy to read clear numbers. It is also quick to turn on, so you aren't waiting around to use it.
The tip is very sharp and can pierce meat very easily. It has a comfortable grip and a balanced, slim design that can easily be stored in an apron pocket. Additionally, it has a built-in clip, so it won't slip out of your pocket when you are on the move.
Pros:
Quality build
Quick response time
Portable
Cons:
Why Should You Use a Meat Thermometer?
Using the best meat thermometer when cooking is the only way to know for sure that your food is fully cooked and ready to eat. While you might have a good eye for knowing when a steak is cooked right or have a gut feeling when a chicken is fully roasted, a meat thermometer is the only way to know for sure.
A meat thermometer can also help you figure out if your meal has been overcooked. When the meat has been cooked to the right temperature, it's tender and juicy; if you leave it on the grill or in the oven for too long, it can lack flavor and dry out.
No two meat cuts are the same and using the cooking time to figure out when a meal is done is a flawed method. Some pieces might be perfectly cooked, while others could be burnt or undercooked. Simply put, having the best meat thermometer is the only thing that will make your cooking experience stress free.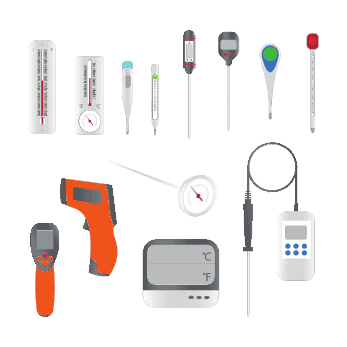 Different Types of Meat Thermometers
Similar to other kitchen devices, there are several types of meat thermometers to choose from. The different thermometers – such as digital or analog- and those with a short probe or a longer one – are suited for different purposes.
To help you figure out which is the best meat thermometer for you, you must understand each type's pros and cons.
Analog Meat Thermometers
Way before the digital age, analog meat thermometers – which you have to read yourself – reigned supreme. Many professional chefs and cooks who were trained using analog meat thermometers still prefer to use them today.
They're typically used for large cuts of meat, such as a Thanksgiving turkey, because of their long probes and the fact that they can be left in the meat while in the oven. Although, you do have to double-check that the meat thermometer is oven safe.
Pros:
They're classic. Analog meat thermometers use an old-fashioned mechanical mechanism instead of an electronic one.
Set it and forget it. With analog meat thermometers, you can usually stick it into the meat at the beginning of the cooking session and leave it for the cook's duration. This lets you carefully monitor the temperature changes.
They don't have many features, so they're less expensive than the fancier digital models.
Doesn't require batteries. Unlike digital thermometers, analog meat thermometers don't require batteries to work. Instead, they have to be calibrated before you use them – every time that you use them.
Cons:
It can be hard to read. They don't have large displays that tell you the temperature with just the touch of a button or a quick glance. Instead, you have to read them, which can be hard to do manually. This is especially true if you have to open a dark, hot oven and get close to your hot meal.
They take a long time to read. These thermometers usually take a longer time to read when compared to digital thermometers.
Calibration is necessary. These meat thermometers can become uncalibrated very easily, which can be a bit annoyance. It's not difficult to calibrate an analog meat thermometer, so it's accurate. All you need to do is use the ice water technique and adjust the thermometer to 32 degrees F.
Digital Meat Thermometers
Digital meat thermometers don't have to be calibrated like analog thermometers and can be easily and instantly read. Most of these thermometers have some useful features, such as a backlit screen for better visibility and pre-set timers based on the type of meat you're cooking.
Pros:
Easy to read. Analog thermometers can be hard to read, especially when you're cooking, but digital thermometers tend to have larger displays and better visibility. They're often faster at reading the temperature of your food too.
Bells and whistles. Most of these thermometers have fancy features that can make your cooking session easier.
They tend to be smaller than analog meat thermometers, which can make them easier to use.
Cons:
You can't leave them in the oven. You can typically leave an analog meat thermometer in your food when it's inside the oven. However, digital meat thermometers that aren't labeled "oven-safe" cannot be used during the cooking process and need to be inserted and removed after you've gotten the temperature reading.
Easily malfunction. They can malfunction very easily. When a digital meat thermometer malfunctions, it can be more inaccurate than an analog meat thermometer.
Require batteries. Digital meat thermometers can only work using batteries, which eventually stop working.
It can be expensive. You can get a good analog meat thermometer for only a few dollars, but digital meat thermometers can cost more than analog thermometers. Some can even cost more than $100.
Short Probe vs. Long Probe
The best meat thermometer with a long probe can have a probe that's up to five inches long. This makes them ideal for when you're cooking large pieces of meat, such as a brisket or turkey.
Long meat thermometers can work for thin cuts of meat, such as chicken breast, but can be unwieldy to manage and could be less accurate since the probe needs to go into the meat, no matter its thickness.
Best Way to Use a Meat Thermometer
When you're cooking meat, you must measure the meat's temperature as you get closer to the end of the cooking process, whether the meat is in the oven, grill, stovetop, or smoker.
Try to avoid testing too many times during the cooking process because creating too many holes in the meat can let out the meat juices that make the meat tender and moist.
When using a digital thermometer, you'll want to insert the probe tip about an inch into the thickest part of the meat (or sideways for burgers and thinner chicken breasts) to get the most accurate temperature reading.
The temperature you see on the thermometer should drop as you get closer to the meat's middle. If it begins to rise again, then you've gone too far into the meat.
Check near the end of the cooking process to see if your meat is getting to the right temperature and be careful not to release too much heat from the grill or oven to try to keep the cooking environment as consistent as possible.
Keep in mind that the oven temperature is more like a thermostat than a thermometer, with temperatures ranging from the bottom to the top of the oven, as well as temperature fluctuations during the cooking.
Using a Meat Thermometer: Tips
Below you'll find some tips to help you make the most delicious meat possible.
Remove the meat a couple of degrees shy of the recommended temperature to prevent overcooking. This is because the meat will continue to cook even after it's been removed from heat.
Don't cut into the meat immediately, or you'll have dry meat. The best thing to do after you're done cooking your meat is to tent it with foil. This will keep the food warm and allow air circulation, so the juices of the meat can be reabsorbed.
When cooking poultry breasts, pork, and beef, insert your thermometer into the thickest part of the meat, for example, the thigh of a chicken, without touching the bone.
When cooking ribs, insert the thermometer into the center portion of the rack, staying away from the gristle and bone because they can affect your temperature reading.
What to Search for in the Best Meat Thermometer
For an instant-read meat thermometer, you want to search for one that's sensitive enough to provide you with an accurate reading in a few seconds. The faster the temperature reading time, the less time you need to have the oven or grill open.
Another option is the digital meat thermometer, which works wirelessly by keeping the meat probes throughout the cooking process and monitoring the thermometer reader outside the grill or oven.
Ask yourself how you'll be using the meat thermometer: are you going to be regularly using it on the grill or in the oven? An oven-safe meat thermometer with a wireless remote is perfect for keeping roasts cooking and temperature consistent inside the oven. Having a fast temperature reading thermometer for the grill is great because it prevents you from losing heat.
Also, think about the types of meat you'll be working with the most often, or if you need the best meat thermometer for a special occasion. A long probe is useful for a large cut of meat or high heat situations where you want to avoid getting too close to the heating element.
USDA Recommended Safe Meat Temperatures
Lamb, veal, pork, and beef: 145 degrees F
Ground meat: 160 degrees F
Fully cooked ham: Reheat to 140 degrees F
Uncooked ham: 165 degrees F
Poultry: 165 degrees F
Shellfish and fish: 145 degrees F
Best Meat Thermometer FAQs
Q: What's a meat thermometer?
A: A meat thermometer is a device used to measure the internal temperature of meat and work for other types of drinks and food. They range from basic models, which are just a metallic meat thermometer probe with a display that's either digital or analog that will measure the temperature of your food and nothing else, to more comprehensive models that have a variety of additional features and settings.
They're generally associated with measuring the temperature of hot food so you can make sure that it's done.
Q: Why should I invest in the best meat thermometer?
A: Why wouldn't you want the best meat thermometer? There are a couple of reasons that you would want to invest in the best meat thermometer.
Health
No one likes getting sick and having a meat thermometer will tell you if your food is undercooked, which will end the tyranny of rubbery food full of microorganisms that can get you sick. By having an accurate reading of your food's temperature, you'll no longer have to go to a meal, wondering if the food is cooked or not.
Better Food
Food that you cook using a meat thermometer will also be the best food you have. You'll no longer overcook your food, nor will you lose the precious juices that keep your meat moist and delicious.
If you prefer having delicious food and not having food poisoning, you should purchase the best meat thermometer.
Q: Can I leave the meat thermometer inside the meat while it's cooking?
A: Yes, and no. It depends on what you're cooking and whether you have an oven-safe meat thermometer or not. When frying steaks and chicken breasts, a meat thermometer can get in the way of the cooking and could also scratch up your pan if you're not careful.
It's highly suggested that you don't leave a meat thermometer inside the meat while it's cooking, and instead periodically checking on it – but not too often that the oven goes cold and the meat is full of holes.
Final Thoughts
Having the best meat thermometer is a lifesaver. No longer will you worry about having overcooked or undercooked food. Instead, you'll always know when your food is ready to eat. Simply put, having a meat thermometer takes the guesswork out of cooking.
There are several types of meat thermometers out on the market today, making it hard to know which ones are the best and which you should avoid.
Hopefully, this article has shown you what the best meat thermometer looks like and what you should look for when searching for your meat thermometer.
Remember that there is a difference between analog and digital meat thermometers. One is harder to read but can typically be left inside the meat when it's cooking, while the other one is easier to read and has more features but can't be left in the meat when cooking.
Now that you know what to look for, how to use and care for the best meat thermometer, it's time for you to go hunting for the best meat thermometer for your cooking needs.