With the increasing popularity of BBQ and smokers, cheap meat cuts have risen in price, but you can still find several delicious and affordable options on the market today – if you have an idea of what you're searching for.
The best meat to smoke is the less coveted, fatty, cheap meat cuts. This type of meat is typically easy to find and offers amazing alternatives for the more expensive cuts without missing out on flavor.
Let's take a look at some of the best meat to smoke.
Beef Brisket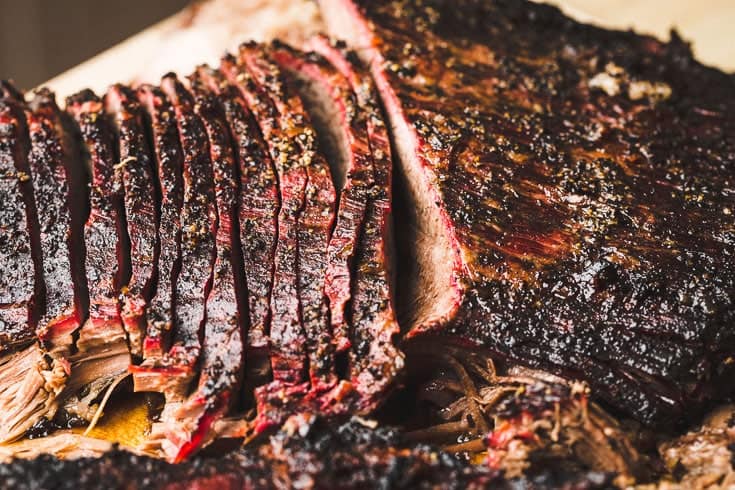 Brisket is a cut of beef that comes from the lower chest of the animal. It's a large cut of meat that needs to be slow-cooked, making it the best meat to smoke.
Unlike other beef cuts, brisket keeps its shape when it's cooked and can be easily sliced with a butcher knife – making it a great choice for serving hefty slabs of brisket at dinner or thin slices for sandwiches.
While it's one of the best meats to smoke, it can be hard for beginners to get it right the first few times they smoke it.
Pork Butt
The best meat to smoke is pork butt because it's filled with flavor. It comes from the upper shoulder of a pig, which is an area that's filled with hard-working muscles and tight connective tissue.
It's perfect for smoking because the dense tissues will slowly break down over the long cooking time, which leaves you with melt-in-the-mouth, tender meat. Keep in mind that pork butt will generally take about 1.5 hours per pound to smoke.
Pork Shoulder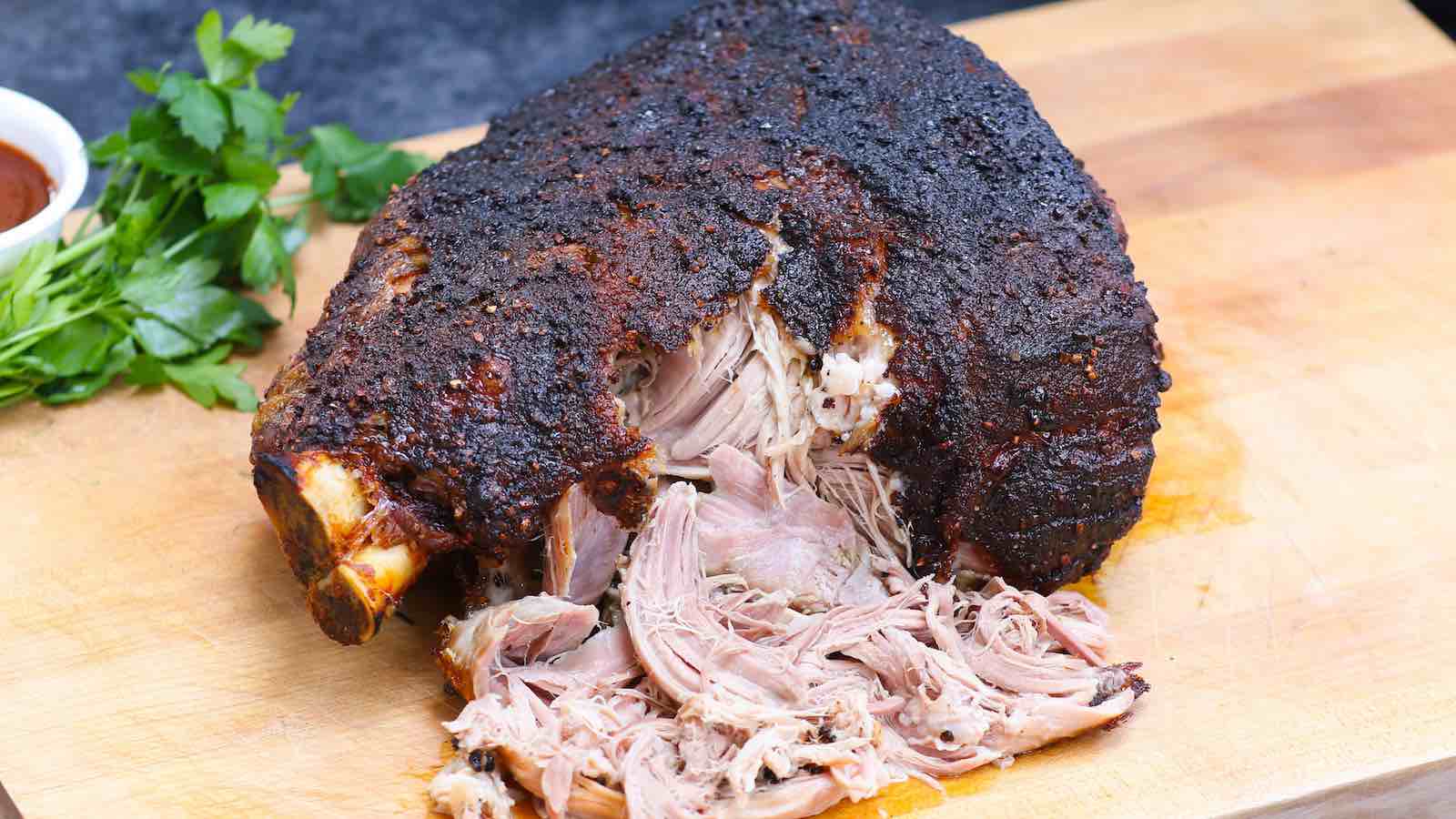 This meat comes from the lower shoulder area of a pig, right below the area that we call pork butt. Pork shoulder is typically smaller than the pork butt, so you'll have to reduce your smoking time.
It has the same connective tissue and muscle as the pork butt, so it's the best meat to smoke and makes amazing pulled pork.
Baby Back Ribs
This meat comes from the section near the pig's backbone and is one of the most popular cuts of rib. They're meatier and smaller than spare ribs but are just as good when smoked.
Bear in mind that they are leaner, so they will cook faster. So, if you're using baby back ribs instead of spare ribs in a recipe, you'll have to reduce the cooking time and keep a closer eye on them to prevent them from becoming chewy and tough.
Spare Ribs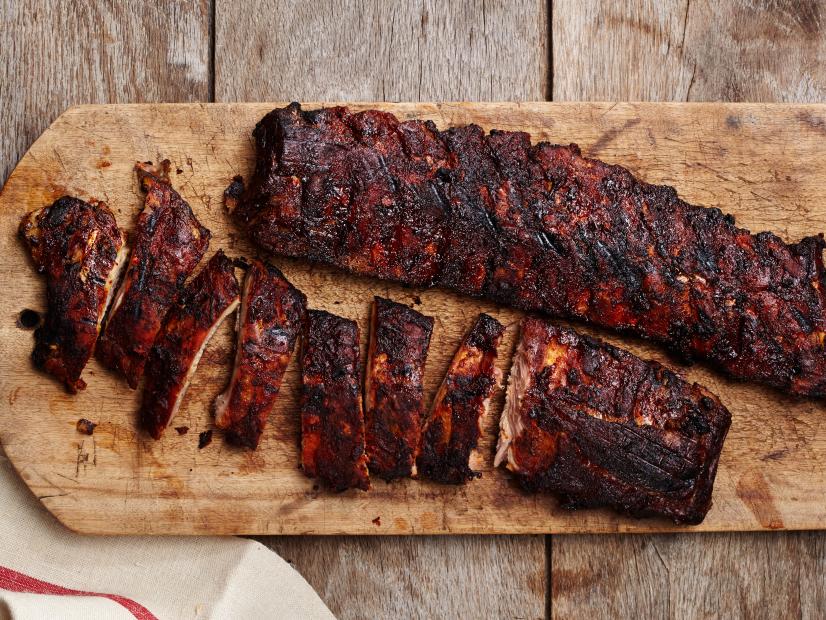 These come from near the pig's belly. The main difference between baby back ribs and spare ribs is that spare ribs are more flavorsome and larger, but they're not as meaty as baby back ribs.
If you go for a whole slab of spare ribs, you'll get a ton of cartilage, which makes them the best meat to smoke. You can choose to trim them up to remove the cartilage and make them into St Louis style ribs, making them easier to handle if you're a smoking beginner.
Beef Ribs
Beef ribs are also known as "brisket on a stick." They're harder to find than the rest of the best meat to smoke on this list but are worth a special visit to your local butcher to find them. When getting them, it's best to get the large ribs from the lower end – either plate or chuck ribs with about an inch or two of meat on them.
These require a slow, long smoke, so they can take anywhere between five to six hours to achieve the extra tender, melt-in-your-mouth meat.
Lamb Shoulder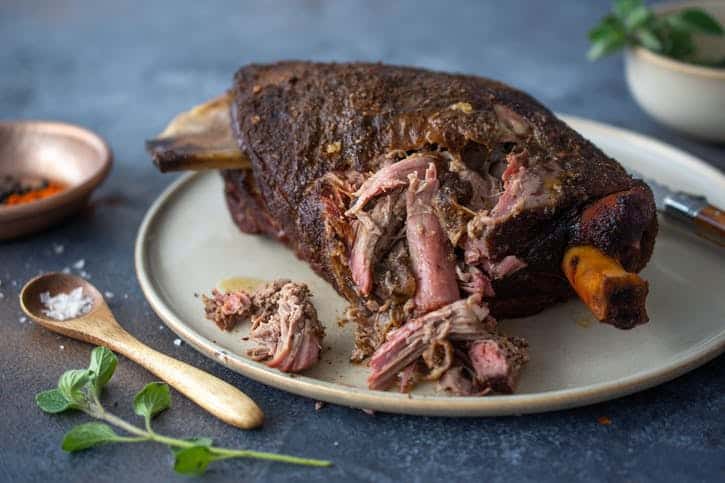 Pork and beef might be the best meat to smoke, but lamb is another great choice. The rich taste of lamb is easily complemented by the smoky overtones of smoking, which leaves you with a delicious taste that you won't get anywhere else.
Because lamb shoulder comes from hard-working muscles, it's dense and full of connective tissues, much like pork butt or chuck roast. This makes lamb shoulder the best meat to smoke slowly.
Lamb Leg
Another great cut of lamb that is great for smoking is lamb leg.
They're generally available in two different cuts, a fattier, upper sirloin end and a narrower shank end. The fatty choice is preferred for smoking because the fat will slowly melt away as the meat smokes. You can expect a smoking time of three to four hours for a lamb leg.
Spatchcock Whole Turkey
Turkey is another one of the best meats to smoke. This is because it's lean meat that, when flattened (spatchcocked), it's the best meat to smoke.
Spatchcocking a turkey allows you to cook it faster while there's also a great absorption of that smoky flavor that comes from smoking.
Spatchcocked Chicken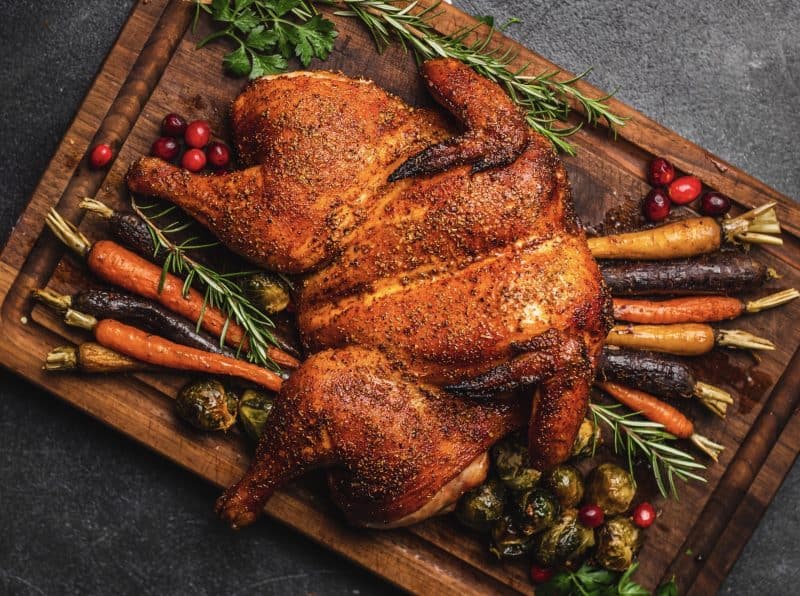 Just like a spatchcocked turkey, a spatchcocked chicken provides you with great results when you smoke it. A word of advice is to ignore any suggestions that you should smoke a chicken at lower temperatures because this leads to rubbery skin.
Cooking a chicken at any temperature over 300 degrees F will work just fine. The hotter the temperature along with the spatchcock cooking method results in a shorter cook time (1-1.5 hours), so this is the best meat to smoke if you're a beginner.
Beef Cheek
Beef cheek comes from the cheek muscles of a cow. These muscles do a lot of work during their lifetime because cows are grazing animals. This means that beef cheek is a tough, cheap cut that's ideal for slow cooking.
When smoked, this meat turns into lean meat that's tender and great for pulled beef tacos. If you haven't already tried beef cheek, give it a try. Keep in mind that it'll take around five hours to smoke this meat.
Chuck Roast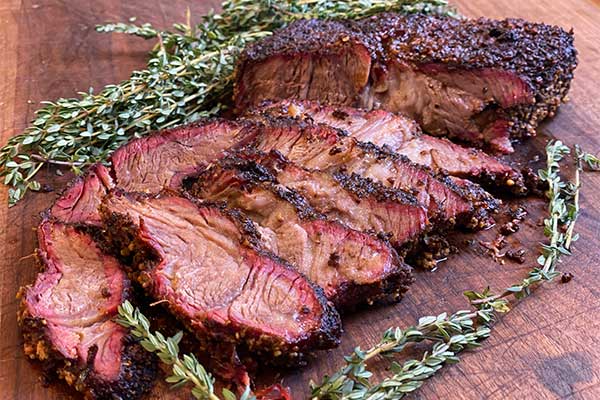 This is a cut of meat that comes from the shoulder area of a cow. It has lots of flavor, but it can be very tough since it's a heavily used muscle. But that's what makes this the best meat to smoke.
This low and slow cooking method will gently break down the connective tissues found in chuck roast and transforming this cheap, chewy cut of meat into tenderized perfection. Allow for up to six hours of smoking time.
Chicken Breast
Chicken breast can easily dry out when you're cooking it, but with a little care, you can successfully smoke them. If you get the smoking right, the extra smoky flavor is worth the extra time and effort.
You should incorporate a brining method to help keep the chicken breast tender and moist. You can also add dome smoked chicken rub to add extra flavor – just remember to keep a close eye on the temperature throughout the whole smoking process.
Chicken Thigh
More flavorsome and fattier than the breast meat, chicken thighs are overlooked when it comes time to smoke. However, they offer a delicious taste when smoked properly – so, the next time that you decide to smoke, try smoking a few chicken thighs.
It's highly recommended that you smoke chicken thighs with the skin on to retain extra moisture.
Turkey Breast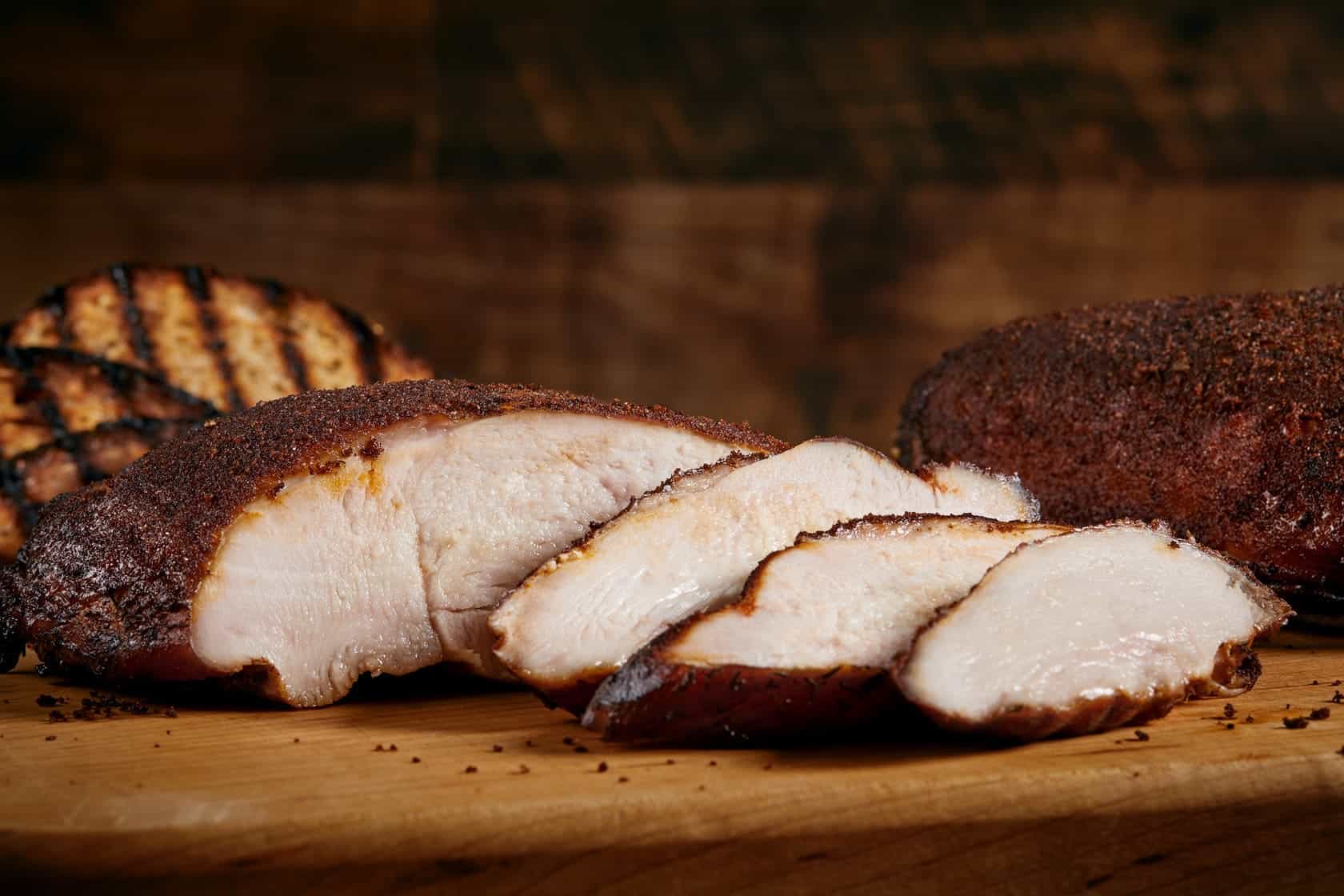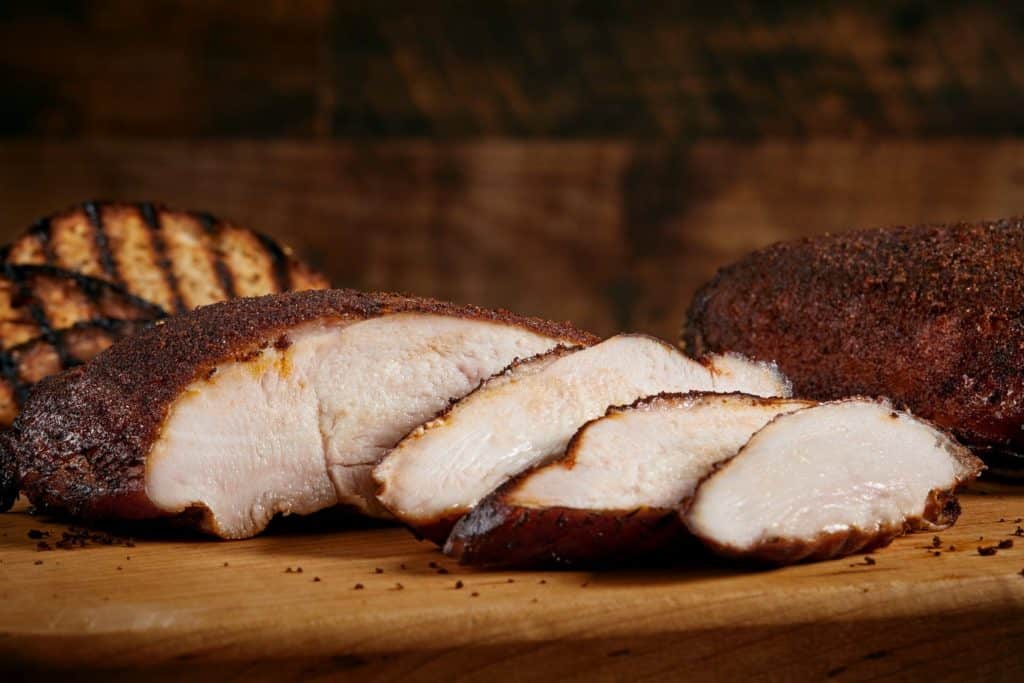 This meat is delicious when it's properly smoked; smoking is the best way to turn this otherwise bland meat into a delicious meal.
Turkey breast is known to dry out when cooking, so it's a good idea to use an injection or flavored brine method before you smoke it. Doing this ensures that the meat stays moist for tender and soft results that are flavorful.
Turkey breast takes around four hours to smoke.
Prime Rib
Prime rib comes from the forequarter of the animal and is a more expensive cut of meat. It includes meat from the sixth to the twelfth ribs, so the loin and chuck area.
It's typically roasted and pan-seared, but if you want to add a little extra flavor to it, you can smoke it. Smoking prime rib ensures that you get a tenderly delicious piece of meat in about six hours.
Sausage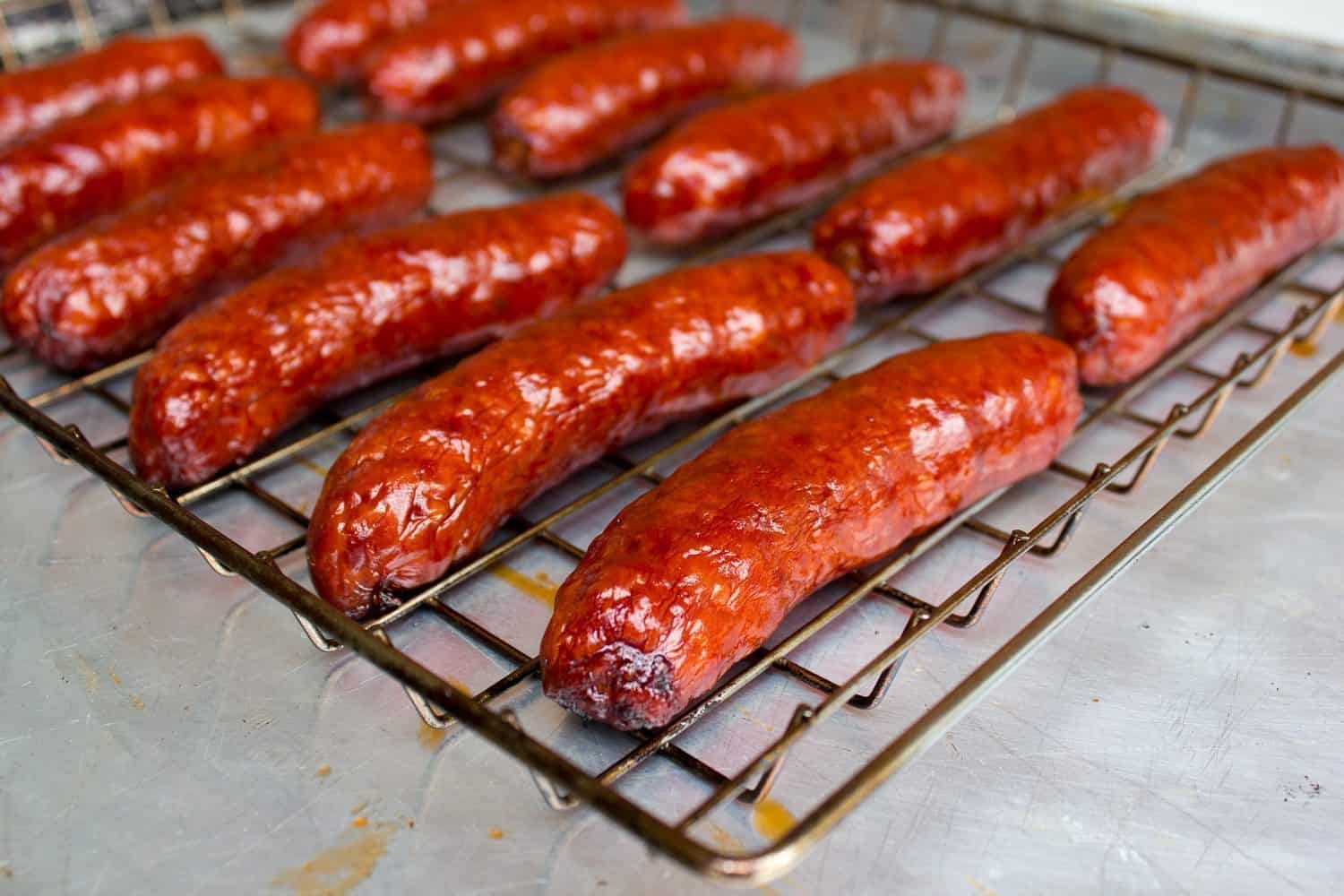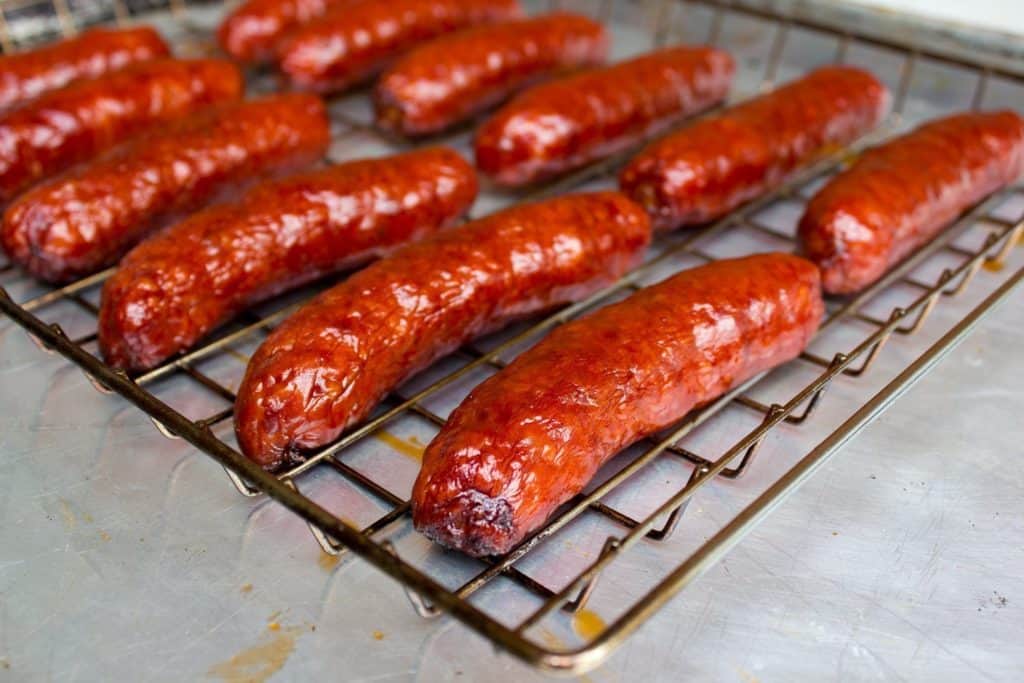 Smoking sausage can be a simple and quick way to spice up mundane meals with a delicious smoky taste. There are no limits to what kind of sausage you can smoke, so it ultimately comes down to your personal preference and recipe.
However, you'll have to keep a close eye on the sausages as they cook and give them enough time to cool off.
Pork Belly
This meat comes from the animal's lower stomach region and can be remarkably tender when it's smoked correctly. This is because it has a lot of marbling and fat, making it the best meat to smoke.
A popular way of smoking pork belly is to cut it into small cubes and smoke them for about three hours.
Tri-Tip
This is one of the best meats to smoke and has been gaining popularity over the past few years. This meat comes from the rear of the animal, or the lower part of the sirloin, and can be identified by the meat's triangular shape.
The average tri-tip will weigh about two to three pounds after being trimmed – the untrimmed counterparts will weigh more. It's a fairly lean cut, so it doesn't take long to smoke, making them a great choice if you don't want to do a traditional day-long brisket smoking session.
Make sure that your tri-tip has enough marbling to give you tender results. It smokes in about two hours, making it perfect for work night meals.
What is Smoking?
Smoking is a cooking method that uses very low cooking temperatures with long cook times to make food. Smoking can take any piece of meat that has a lot of fat, marbling, and tissue into a tenderized, delicious cut of meat that's infused with flavor.
Because smoking is focused on meat, it's the perfect companion for grilling. In fact, there are some cuts of meat that start in the smoker and are finished on the grill.
The smoking times are much longer than it would be with other cooking methods. This is because the smoking process is designed to soften and melt the meat's fat, which then infuses and bastes that meat with a smoky flavor.
The general rule of thumb is to cook meat slow and low at 225 degrees F, but there are some circumstances where you can smoke at lower or higher temperatures. The cooking time will depend on the size and quantity of the meat you're smoking. So, often, you'll see smoking times in reference to the weight of the meat.
When choosing your choice of meat to smoke, it feels counter-intuitive. For instance, you typically go for the best lean and expensive cut of meat if you're going to grill. But if you're smoking, you can go with the cheap, fat-filled, tough piece of meat and have it turn out tender and moist.
The fat content not only enhances the flavor, but the low cost of the meat means that you can buy in bulk and smoke in a large quantity.
If you don't already have a smoker, check out our articles about the best offset smoker, the best pellet smoker, and the best electric smoker. These guides will help you find the best smoker for your needs and show you some of the best units available on the market today.
Final Thoughts
Smoking meat is a great way to add additional flavor and tenderize it. The slow, long cooking process can transform any tough, cheap cuts into tender and delicious meals for the whole family.
By now, you should realize that the best meat to smoke are those cheap, tough cuts. You should avoid any lean, expensive cuts of meat in the smoker because they can overcook and dry out.
But with the fat, tissue, and marbling of the cheap cuts of meat, you'll find that smoking it leads to it melting away and leaving behind a delicious meal.
Remember that the cooking times will vary depending on the cut of meat that you want to prepare. Additionally, the best type of wood chip to use will vary depending on the type of meat you're smoking.
So, it's always best to do some research before smoking any meat to ensure that you're smoking it at the right temperature, for the right amount of time, and with the right wood chips.
We hope that this generous list of the best meat to smoke has given you some inspiration to get started on your smoking journey.
You can smoke any kind of meat you want to, regardless of whether you're a beginner or expert. Just know that some cuts will need more maintenance than others.